Honor 10 review
A premium phone on a budget that gives the OnePlus 6 a run for its money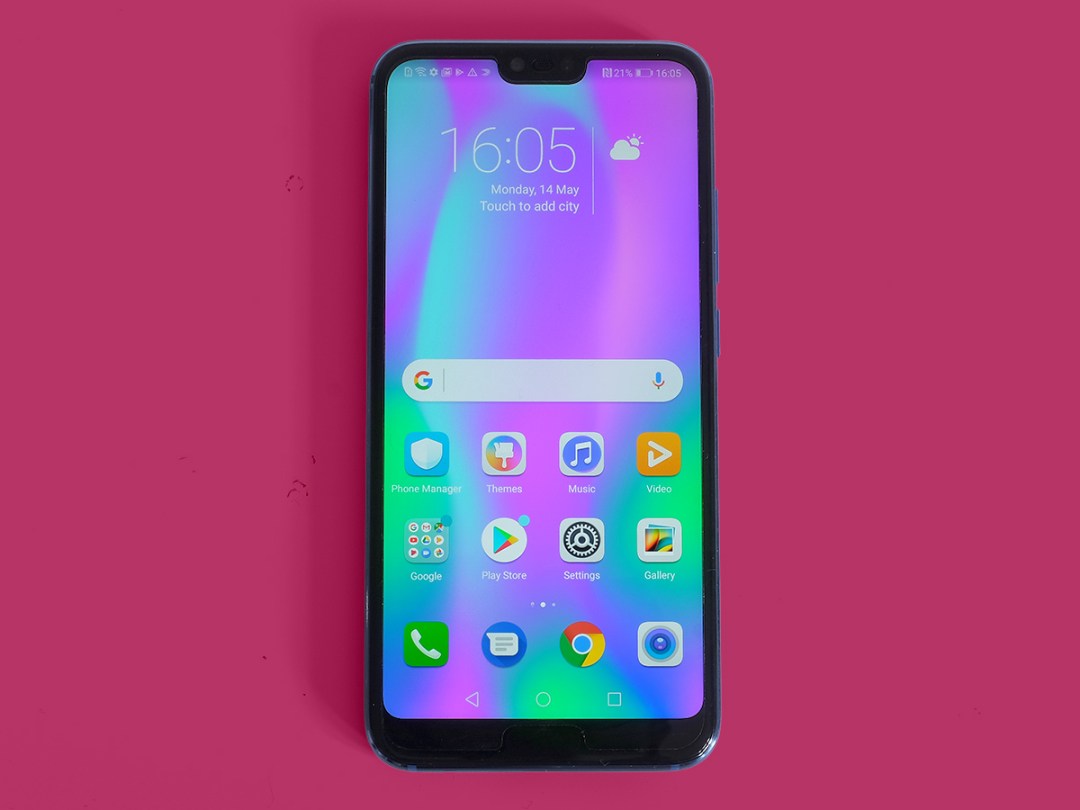 If you'd told us five years ago we'd be paying £1000 for phones, and not diamond-encrusted ones either, we'd have been horrified. Are we in a tech dystopia? Maybe we are.
But every slice of dystopian fiction has to have a hero or two. The Honor 10 is one of them. It has specs that sound like they belong in one of the pricier phones around, but costs just £399.
Sure, that's not peanuts, but it is even more affordable than the value king OnePlus 6. Once a few of the bugs are squashed the Honor 10 will be one of the best mid-price phones to buy.
Design: Oh! You Pretty Things!
When a gadget seems a bit cheaper than you would normally expect, you have to wonder where costs have been cut. There's no sign of this when you look at the Honor 10, though.
This is one of the spangliest phones you can buy right now, regardless of price. It's a glass and metal construction, like just about every higher-end phone released this year.
However, Honor has put some fizz into the glass. It calls this Aurora glass, a 15-layer finish that reacts as it catches the light, causing a bit of a show. Bright streaks of blue jump across its back, and not just when you put it under a lightbulb. It's also available in grey if you'd prefer a subtler look.
It's also very easy to handle and has a significantly smaller screen than the OnePlus 6, but at just 7.7mm thick, it's not best suited to the big-handed.
There's another flashy part too. The Honor 10 is the first phone we've reviewed to have an invisible fingerprint scanner built into the display glass. Honor has put a little dotted line around it, so you can see where it is. After all, making a finger scanner completely invisible is going to make it worse, right?
It's fast and pretty reliable, just like most other Honor scanners, although not as fast as Honor's best.
The Honor 10 also has a massive 128GB storage, loads for a phone this affordable. OnePlus charges £519 for the 128GB OnePlus 6. The Honor 10 does have an IR blaster, allowing you to replace your TV remote or any other compatible gear.
So what's missing? Not much, really, aside from water-proofing. You'll have to switch to the Samsung Galaxy A8 if you want a phone you can drop in the bath.
Screen: Everything's Alright
In some areas the Honor 10 goes all-out. At first glance the screen seems like another of these. It has a notch just like the most expensive phones, and this gives it a wildly tall aspect ratio of 19:9. Not much space is wasted.
Hate the notch look? You can block it off with a bar of black. Little notification icons still sit in the bar, but you get a screen with a more familiar rectangular shape.
However, the display spec is otherwise not quite as bold as the priciest phones. Its resolution is a sensible 2280 x 1080 and it uses an IPS LCD screen rather than an OLED like the iPhone X and OnePlus 6. The only obvious difference is that the Honor 10 isn't quite as bright as some, making it less visible on an ultra-bright day.
Having trouble with this? Try removing the factory-applied screen protector. It's useful, but picks up fingerprint smears more than the Gorilla Glass underneath, and reduces clarity a little in certain situations.
The Honor 10 has a pretty great screen all-round, though. If you want punchy OLED-like colours, just switch to the Vivid display mode in Settings. You can also change the colour temperature.
And at this size, the difference in sharpness between this and a display with twice the number of pixels like the Galaxy S9 isn't all that obvious.
Software and Performance: Tumble and Twirl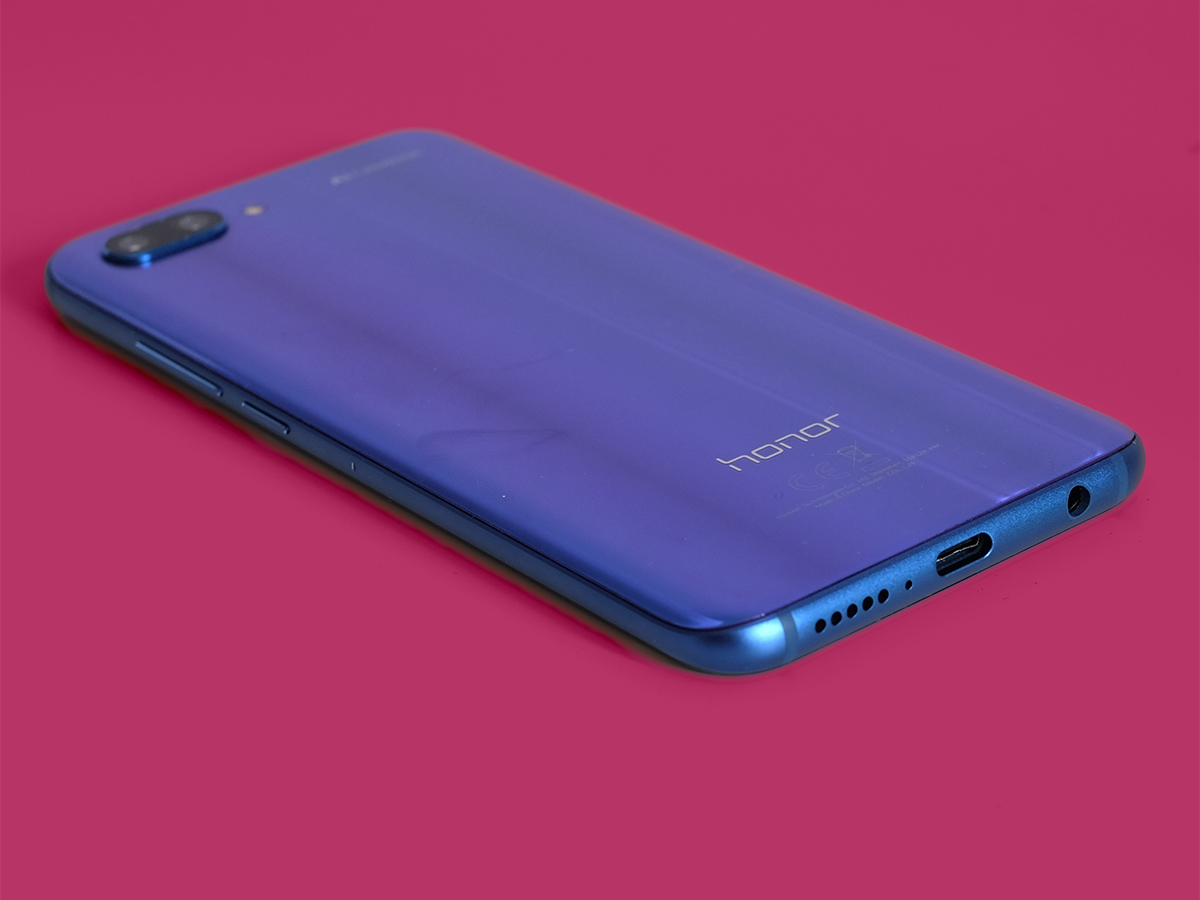 The Honor 10 runs Android 8.1 and has EMUI 8.1 on top. This is the Huawei custom look for Android, also seen in phones like the Huawei P20.
EMUI used to be the most criticised of all the custom versions of Android, but nowadays it's pretty good. You can choose whether or not to have a separate apps menu, or just homescreens, and how many icons are packed into each screen. EMUI themes also give the Honor 10 a quick zero-effort facelift.
It's fast for the most part too, as it should be given the phone has a Kirin 970 CPU. This is a high-end processor just one level below something like the Snapdragon 845. It has eight cores, and scores 6638 in Geekbench 4. This trashes a cheaper phone like the Motorola Moto G6 Plus, which scores around 4200.
High-end games like Asphalt 8 and Real Racing 3 run beautifully.
However, there are definite performance niggles with the Honor 10 at launch. Some have reported the fingerprint scanner not working properly. Others say there's general lag. The only obvious issues I've seen are in the camera. This phone has all the potential to be great, there are just few stabilising updates which are likely to be rectified in the not so distant future.
Camera: Hang on to your-selfie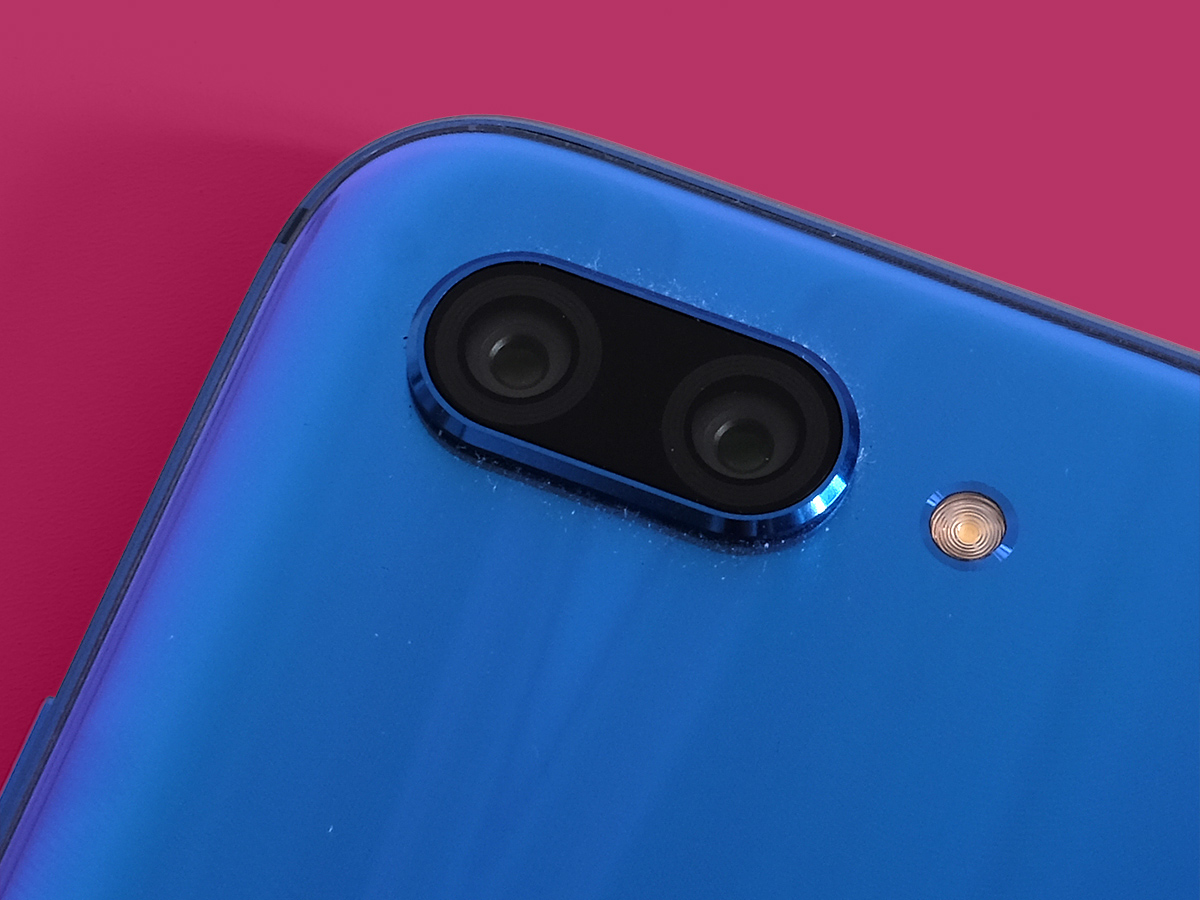 At the very beginning the Honor 10's camera seemed fast. However, it has developed a few glitches. Sometimes the camera takes too long to load. There's often significant lag between pressing the shutter button and the phone actually taking a picture and filing it away in the gallery. This is inconsistent too, suggesting it's a software bug rather than just how the phone behaves.
The Honor 10 has a 16-megapixel main camera on the back and a 24-megapixel secondary one, used for the background blur mode and to improve general image quality.
The most notable part of the Honour 10 camera is the AI mode. This analyses the scene to tell what you're taking a picture of, tweaking it in real-time.
However, it goes too far a lot of the time. Shots often end up looking oversaturated, processed and over-sharpened, as if they've been put through social network filters rather than just enhanced.
You can turn off this AI mode too, which is what I do a lot of the time, but AI also brings out loads of shadow detail. You just have to accept its version of "good" isn't natural and entirely realistic-looking. Ideally we'd like to keep the "intelligence" and lose some of the "artificial".
The Honor 10 camera doesn't challenge a Samsung Galaxy S9 or Pixel 2. But don't forget those phones are much more expensive. Even the OnePlus 6, whose camera is a little more consistent, is pricier.
Even at night the Honor 10's photos are fairly good, although it is beaten by the cheaper Nokia 7 Plus. Thanks to its lower-res, high quality sensor it seems to hold onto greater sharpnesss at night than the Honor 10.
The Honor fires back with a x2 zoom camera, which uses the 24-megapixel black and white sensor to reduce the detail loss of what is effectively a smart digital zoom. Again, it's nowhere near as effective as the Huawei P20 Pro's 3x camera, but for the price we get a good deal here.
Its front camera is excellent and can take selfies up to a mammoth 24 megapixels; they hold up extremely well in poor lighting thanks to some clever backroom smarts.
Battery life: Sense of doubt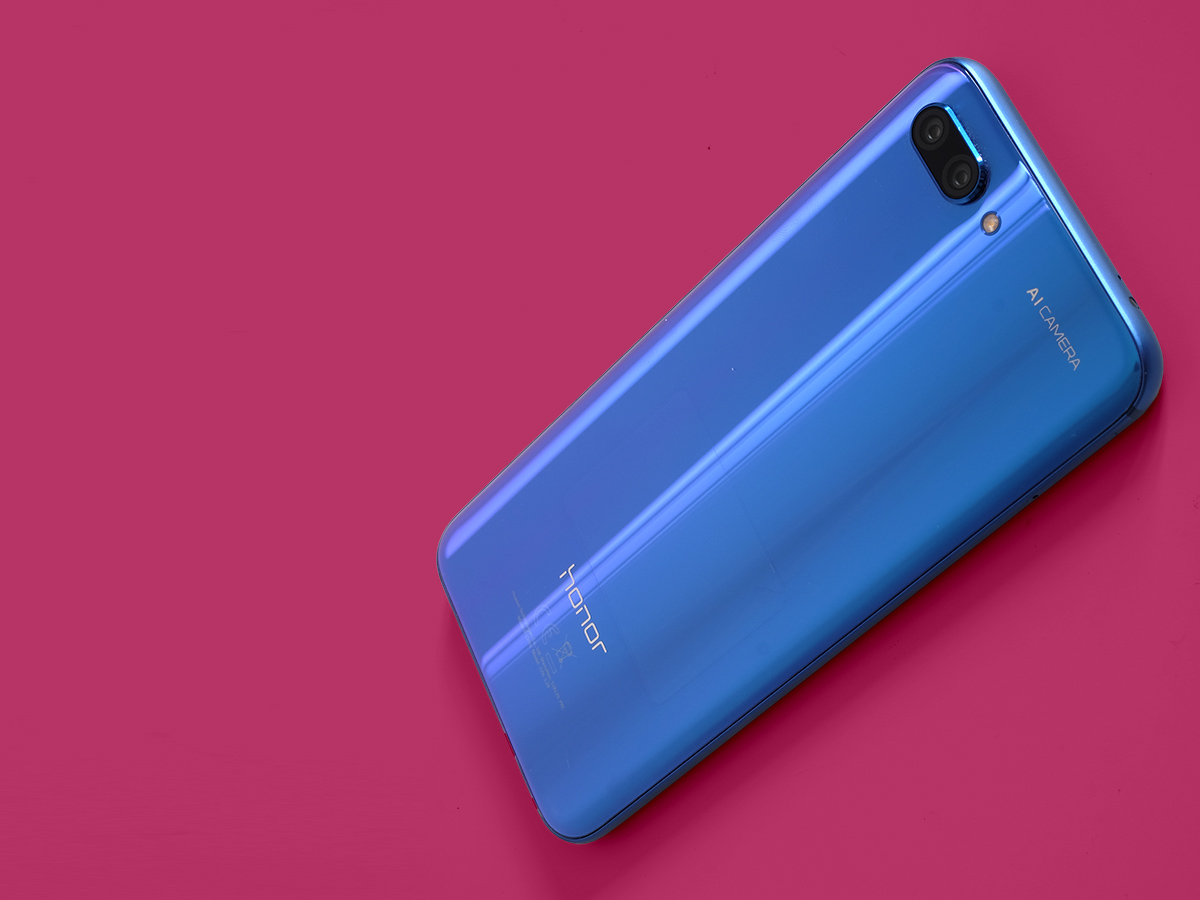 The Honor 10 is a relatively petite phone, without the extra room that makes fitting in an super-size battery easy. It has a 3400mAh cell, a fine size but nothing too special.
This phone's stamina is more-or-less average. It'll last a full day but there's not a chance at two unless you basically don't use the Honor 10. I've also found it quite easily to drain the battery down almost completely before bed time if I stream some video.
Both the OnePlus 6 and Nokia 7 Plus clear have better real-world battery life. The Honor 10 does at least have fast charging, making it easier to live with just decent longevity.
Honor 10 Verdict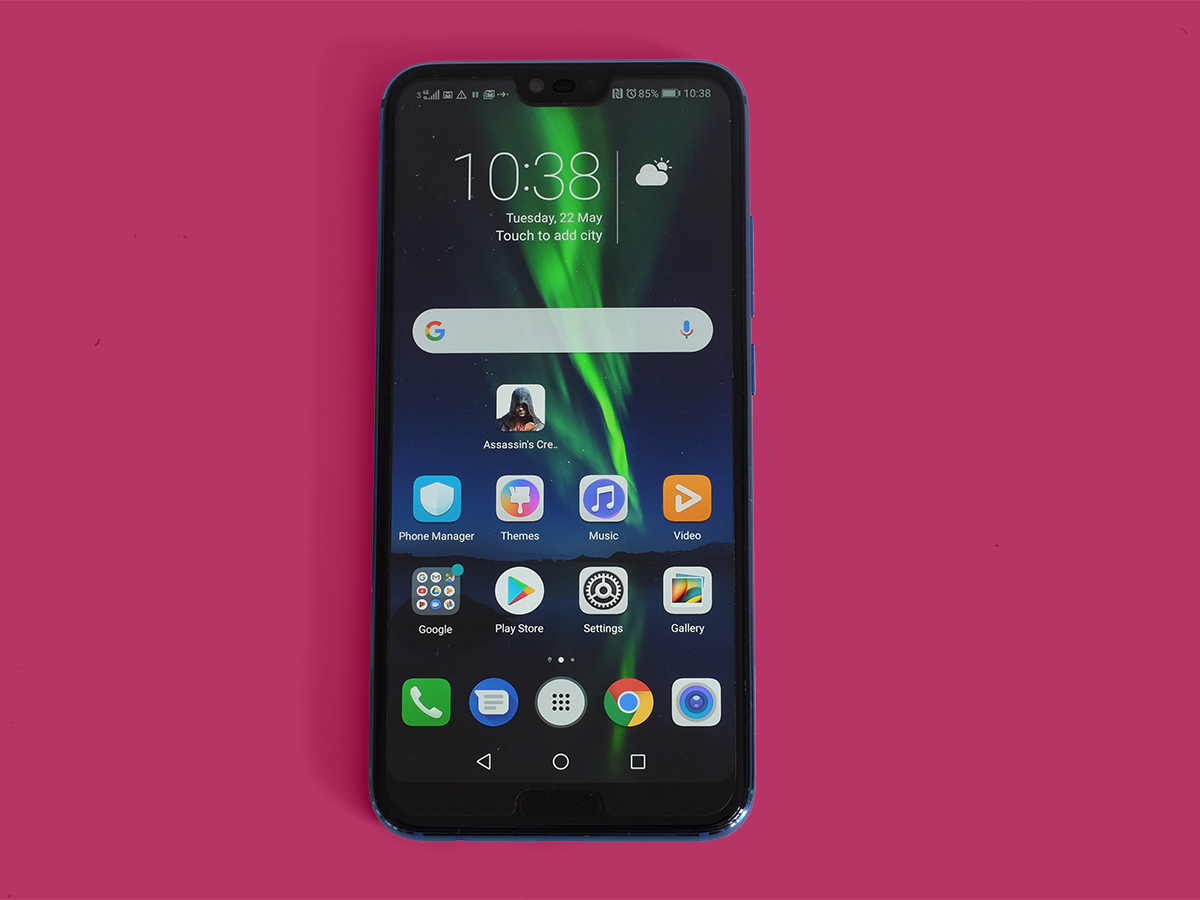 The Honor 10 is an adventurous little phone, and one of almost unbeatable value. It looks striking, has an interesting "invisible" fingerprint scanner and fantastic specs for its £400 price.
It just needed a few little extras to really trip up the OnePlus 6. The Honor 10 launches with a few performance bugs and the battery life is nothing special. With an ultra-bold finish and hyperactive AI camera mode, it flirts with the limits of good taste for some too. However, it's certainly one of the best value high-performance phones of 2018.
Stuff Says…
It needs a few software fixes and the battery life could be better but the Honor 10 represents stunning value
Good Stuff
Masses of storage
Bold screen
Fab value
Bad Stuff
Camera is glitchy
Battery life could be better