First stop on the comeback tour?
After two long years in the wilderness, courtesy of some controversial geopolitics, budget smartphone specialist Honor is back in Europe.
Former parent company Huawei might still be on the blacklist, but now Honor is its own entity, and free to use whatever software it likes. So you'd better believe Google apps are on the menu again. The Honor 50 is the first handset to be released under the new regime, so needs to make a splash.
Headline-grabbers like a 108MP camera and curved display certainly sound good on paper – but while trade embargoes were keeping the brand away from UK customers, have rivals managed to better blend near-flagship performance and styling with wallet-friendly prices?
Design and features: Looks familiar
With its curved edge screen, svelte dimensions and what looks like a glass back (but is actually plastic), the Honor 50 has a real premium vibe going on. You even get an under-display fingerprint sensor – not always a given at this price – which is satisfyingly quick to recognise your digits.
It also happens to very closely resemble the Huawei P50, with two giant camera bumps on the rear hiding four separate snappers. Apparently the design was locked down before Honor and Huawei split, and while it's admittedly a great-looking handset given the price, we can't shake the feeling there's been some copying of homework here.
At 175g it's something of a featherweight, given the screen size, and the curved sides let it sit comfortably in your hand. Both sides are real fingerprint magnets, though, so expect it to need a regular polish to keep it looking spangly.
With no 3.5mm headphone port, and no dongle in the box, it's a case of either bringing your own Bluetooth buds, or rely on the bundled USB-C in-ears for solo listening.
Display and sound: Visual delight
The Honor 50's OLED screen punches well above its weight, with a 120Hz high refresh rate and Full HD+ resolution able to compete with far more expensive handsets.
There's no fully variable refresh cleverness here, meaning it's either silky smooth 120Hz or the more power efficient 60Hz, although a dynamic mode can at least toggle between the two on the fly. There's not a huge battery penalty for forcing 120Hz on all the time, either, so it's well worth doing.
At 6.57in the screen is sizable without being unwieldy. It delivers the punchy and vibrant colours we expect from OLED, albeit with a slightly cool colour temperature out of the box, but there's no shortage of calibration settings to get the image just the way you like it.
Brightness levels don't hit the same retina-searing levels you'll get from a proper flagship, but HDR footage from YouTube is still very easy on the eye. The holepunch selfie camera isn't too distracting when watching video either.
Sadly audio is nowhere near as impressive, the down-firing mono speaker sounding fairly limp at all volumes. It gets fairly loud, at least, but you're going to want headphones for any critical listening.
Camera: Connect Four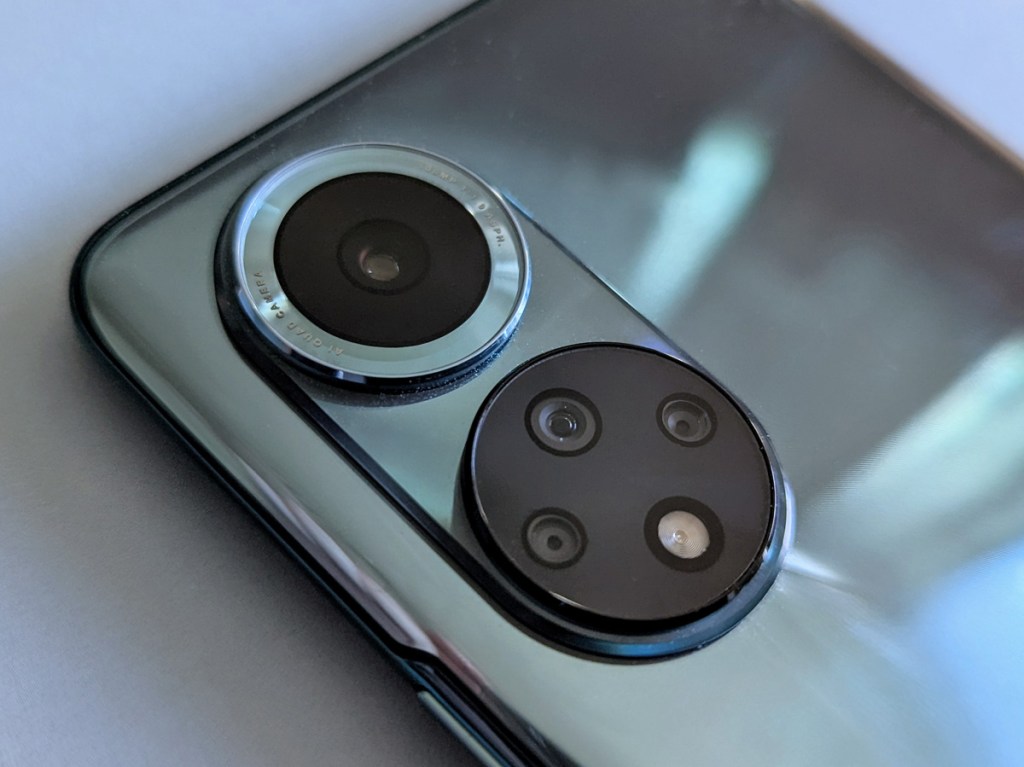 Don't count the lenses on the back of the Honor 50 and think they're all worth your attention: only the 108MP main event takes photos you'd be proud to post to your social media.
The 2MP depth sensor is only good for portrait mode, and even then isn't any better than what rivals can do purely in software. The 2MP macro lens is merely OK, as long as you can get in the very narrow focus distance sweet spot – which is easier said than done if your subject is moving even slightly.
The 8MP ultrawide lens isn't much cop either. It doesn't give a significantly wider view than the main sensor, and is nowhere near as detailed. Colours are more washed out, too. Results are still usable, but they rarely have much of a Wow factor.
At least the main snapper is capable of taking high quality shots, with the level of detail you'd expect from such a high pixel count. Pixel binning is used to good effect, preserving fine patterns and textures without generating excess noise. Detail really is the Honor 50's strong point, even for far away subjects.
Colours are largely true-to-life, and exposure is handled well in all but the trickiest of conditions. Honor still hides the dedicated HDR shooting mode in a menu, rather than letting it activate automatically like many rival phones do, so shooting towards bright light sources can be hit-or-miss, but it's easily on par with other sub-£500 phones..
The sensor is physically much bigger than any of the other cameras, which should help when it comes to low light, but we actually found the Honor 50 rather disappointing here. With no optical image stabilisation and no auto night mode, point-and-shoot snaps can look dull and blurry.
Things improve when you manually turn on night mode, but in general you've got to be willing to work for killer images, rather than have the phone handle most settings automatically.
Selfie fans will appreciate the 32MP front-facing cam, which performs similar algorithmic trickery to the main sensor to produce 8MP images with plenty of detail – as long as you feed it enough light.
Image gallery
Performance and battery: Just a snap
Now that Honor isn't getting its mobile silicon from Huawei, Qualcomm's Snapdragon CPUs are the star of the show. Instead of flagship-level grunt, however, the Honor 50 opts for a slightly less beefy Snapdragon 778G.
It's still an octa-core chip with built-in 5G networking, and it's paired with a healthy 6GB of RAM, so is perfectly capable when it comes to typical Android duties. Swiping between homescreens feels smooth, apps open fairly quickly and multitasking isn't much of a struggle. If you're coming from a high-end phone, though, you'll notice how it's just not as snappy in more demanding apps, and can take that little bit longer to load apps
Gaming is a similar story: the Honor 50 can play just about anything available in the Play Store, but don't expect frame rates that take advantage of the 120Hz display in hectic 3D titles like Call of Duty Mobile once you've cranked the detail settings. Find the right balance, though, and the action looks buttery smooth.
128GB of on-board storage is plenty for a mid-range phone, but it's a shame there's no microSD card support for adding extra capacity later.
More impressive was the Honor 50's battery life. The 4300mAh cell isn't the largest around, but clever software tweaks get the most from it: even with the screen forced to 120Hz, you'll comfortably last the entire day away from the mains. Keep usage light and it's possible to squeeze two days between top-ups – but only just.
OS and software: A touch of magic
Google apps might be just a few taps away again, but don't expect to get a stock Android experience. The Honor 50 sticks with the familiar MagicUI custom interface, which hasn't changed all that dramatically from the versions released under Huawei ownership.
There's the usual blend of Android- and iOS-inspired elements, with colourful icons filling multiple homescreen pages instead of an app drawer. Honor hasn't stripped away its baked-in apps now that the Play Store is present and correct, either – meaning two email clients, two photo galleries, and Microsoft Swiftkey instead of Google's onscreen keyboard.
If you're fully onboard with Google's app ecosystem, there's a whole load of software here you'll never use, but at least the phone lets you remove a lot of it to free up storage space. The UI is generally less overbearing than previous iterations, so should prove fairly hassle-free to live with on the daily
Honor 50 Verdict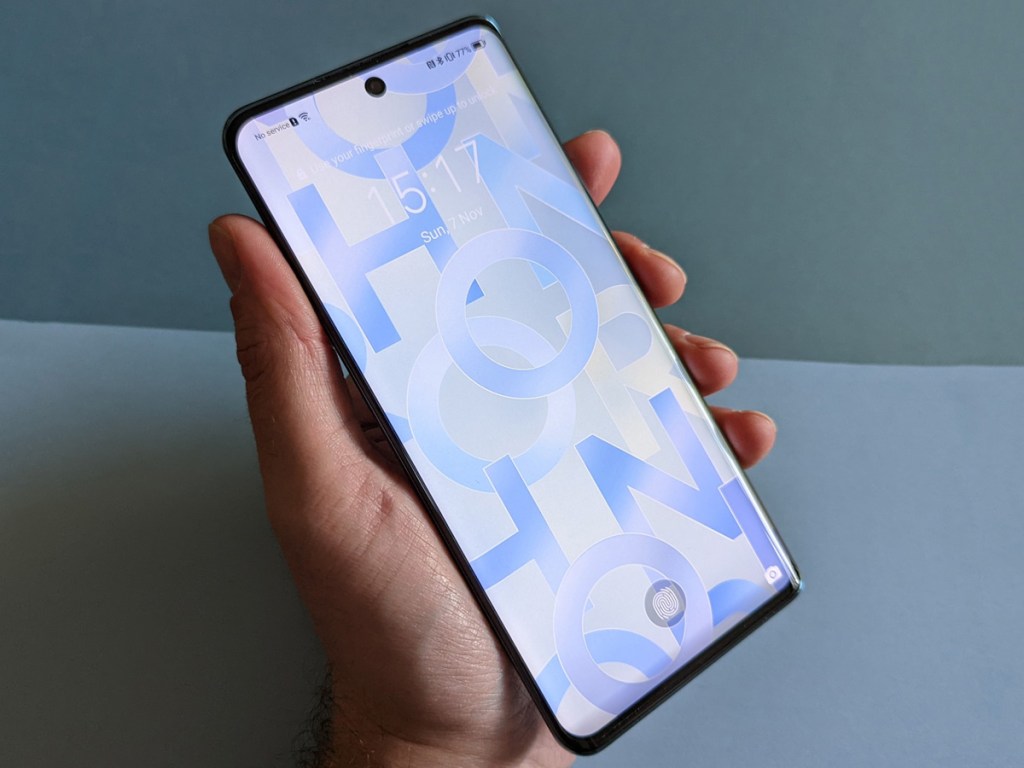 With its slick screen, rapid charging and premium looks, the Honor 50 appears to be a promising return to form.
Bargain-hunting power users might be put off by the not-quite-flagship grade CPU and sub-par secondary camera lenses that don't pull their weight, but Google apps making a comeback goes a long way to make up for it.
Unfortunately this isn't a true value champ, though. In the year the brand has been absent from the UK, rivals like the Realme GT and OnePlus Nord 2 5G have flexed their mid-range muscle. The honor should only be your first choice at this price if you don't mind paying extra for added design flair.
Tech specs
| | |
| --- | --- |
| Screen | 6.57in, 2340×1080 OLED w/ 120Hz refresh rate, 19.5:9 aspect ratio |
| CPU | Qualcomm Snapdragon 778G 5G octa-core |
| Memory | 6GB RAM |
| Camera | 108MP, f/1.9 main w/ phase-detect autofocus, plus 8MP, f/2.2 ultrawide, 2MP, f/2.4 macro and 2MP, f/2.4 depth. 32MP, f/2.2 front |
| Storage | 128GB on-board |
| Operating system | Android 11 w/ Magic UI 4.2 |
| Battery | 4300mAh non-removable |
| Dimensions | 160x74x7.8mm, 175g |
Stuff Says…
Honor's first solo effort away from the Huawei mothership packs design punch and a gorgeous screen, plus it finally brings Google's apps back into the fold – but rivals either match it for the money, or offer more for little extra cash
Good Stuff
Mostly competitive hardware
Sleek styling
Rapid charging
Bad Stuff
Extra cameras add little value
Too many unwanted apps
Rivals offer similar for less