Honor 6x review
It's double vision for Honor's latest mid-ranger, but the price is still right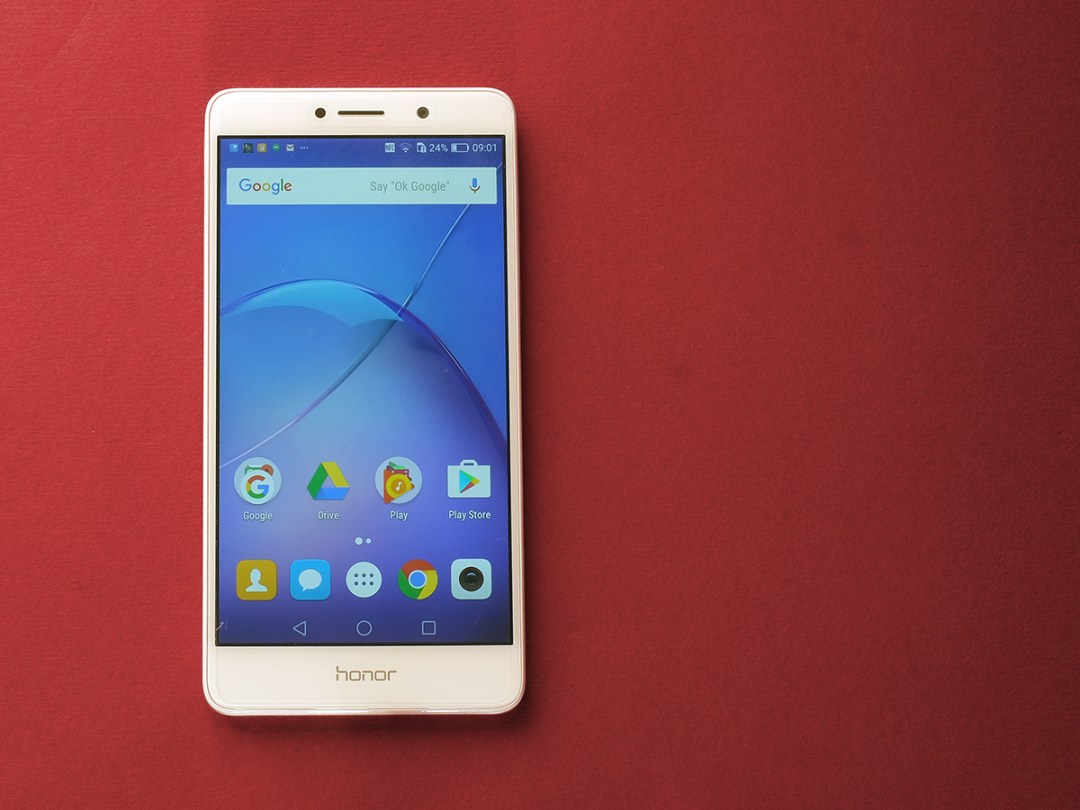 The Honor 5X should have been one of the best phones of 2016. So why has no-one heard of it?
The 5X was the cheapest high-spec phone of last year, but it had one big problem: it was slow. It's now down to the £200 Honor 6X to fix that – and if it can't, it'll merely show that Honor doesn't know how to make a great cheap phone anymore.
Let's not leave you in suspense. It does a solid job, making this one of the better picks if you have £200 to spend rather than £600.
Keep at arm's length
The 6X has one classic Honor design trait. It's a "stay 3ft away and I look about £400's worth" phone.
Its back is bronzed gold, made of aluminium, and the combo of a fingerprint scanner and a dual camera on the back tell anyone with a strand of nerd DNA this isn't a cheapo phone. Actually get the Honor 6X in hand, though, and you can see where the budget elements are. Thankfully, none are clangers.
For example, the bits at the top and bottom of the back are plastic rather than aluminium, and so are the buttons. The 6X also feels a bit thicker than the sort of phone you might buy for £500-plus. Saying this about something 8.2mm thick seems faintly ridiculous, but that's the level of tech entitlement we've achieved. One more civilisation goal ticked off.
After using the Huawei Mate 9 Porsche Design edition, the Honor 6X also feels a little chunkier all-round. But at a sixth of the price, we'll take the sacrifice.
It's a nice-enough phone, one that if your friends turn their noses up at, it's because they're brand snobs. Honor: it's no Samsung, but the phones are a helluva lot cheaper most of the time.
Gadget side orders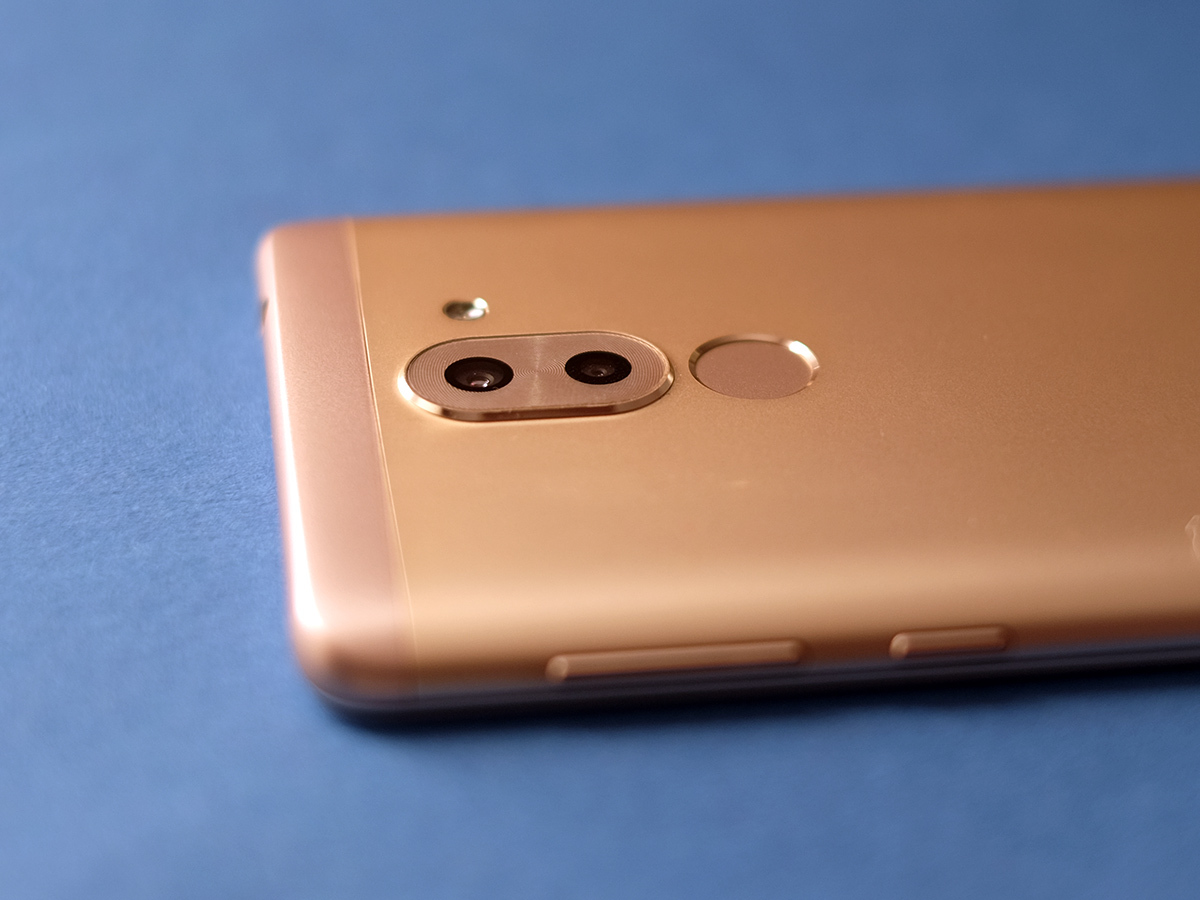 The 6X has some good bonus features too.
As with recent more expensive Honor phones, a fingerprint scanner sits on the back, rather than the front. It's extremely fast and generally reliable: there's no button to press, you just place your index finger over the recessed pad and the phone unlocks.
This being an Honor phone, there are also loads of gestures you can use, like flicking down to open the notifications menu, silencing alarms and taking pics in the camera app.
There's a chunky 32GB of storage too, and the SIM tray has a microSD slot. Sure, there's no IR transmitter, but even Honor doesn't feel the need to cater to that level of nerdery anymore.
The one surprising part of the 6X hardware is that it uses an older microUSB port instead of USB-C for charging. Some previous Honor phones had slightly outdated specs because they launched in China several months (decades in tech terms) earlier than here in the UK, but this one is actually pretty new. We're going to have to shrug this one off: who knows why?
Big screen, smaller price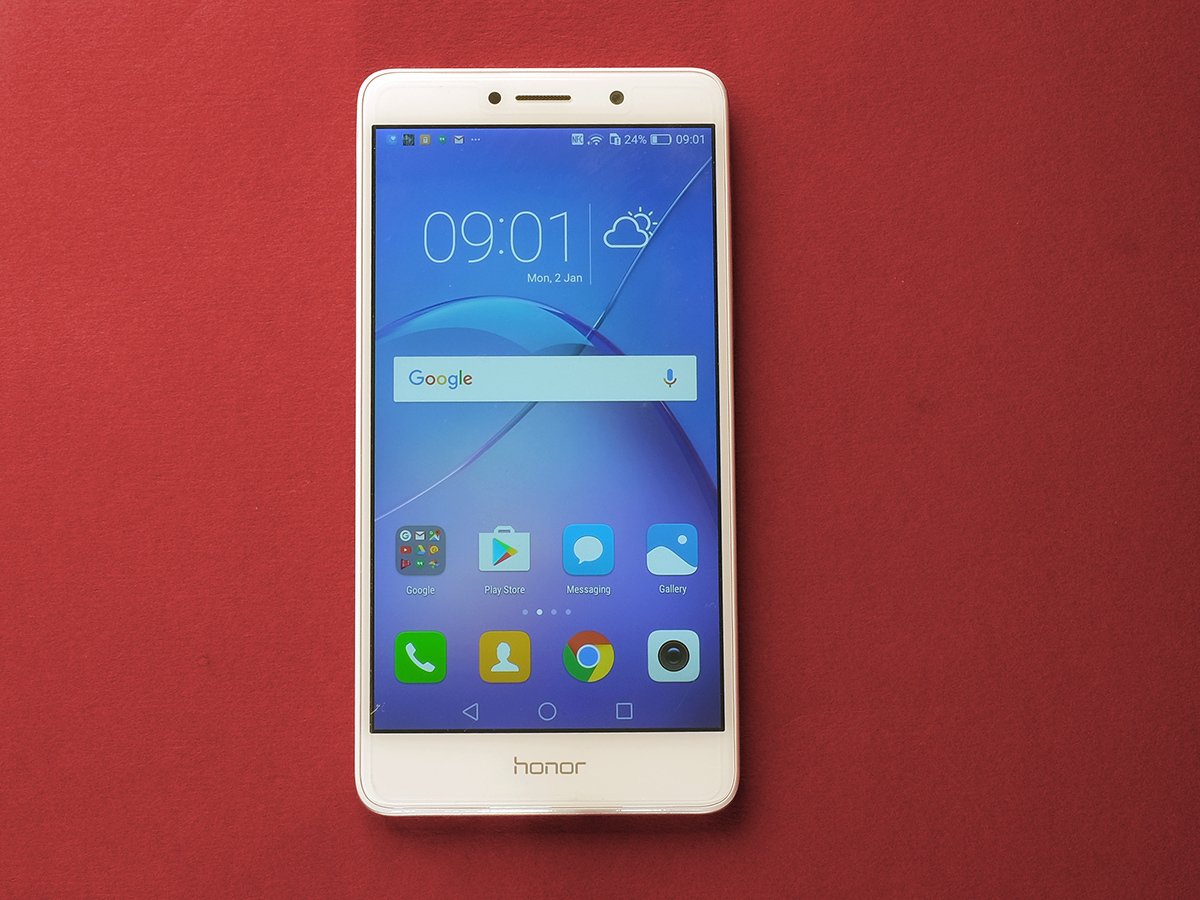 One of the main draws of the Honor 6X is that it gets you a big, sharp screen for not that much cash. It's a 1080p, 5.5-inch IPS LCD screen – the same sort you find on Sony's most expensive phones.
This being a much cheaper phone, the colours are that little bit less poppy, and the contrast just a little less strong. However, it's still a great display for the cash. Good for games, good for Netflix and not so huge the Honor 6X needs a briefcase rather than a phone case.
Right out of the box, the colours looked a little bit, well, off, but you can fiddle with the tone using a rainbow temperature slider in the Settings menu. Quite why anyone would want a purple tinge to their phone is a mystery to us, but there are standard "warm" and "cool" presets that tweak the display without making it look flat-out odd.
Hard software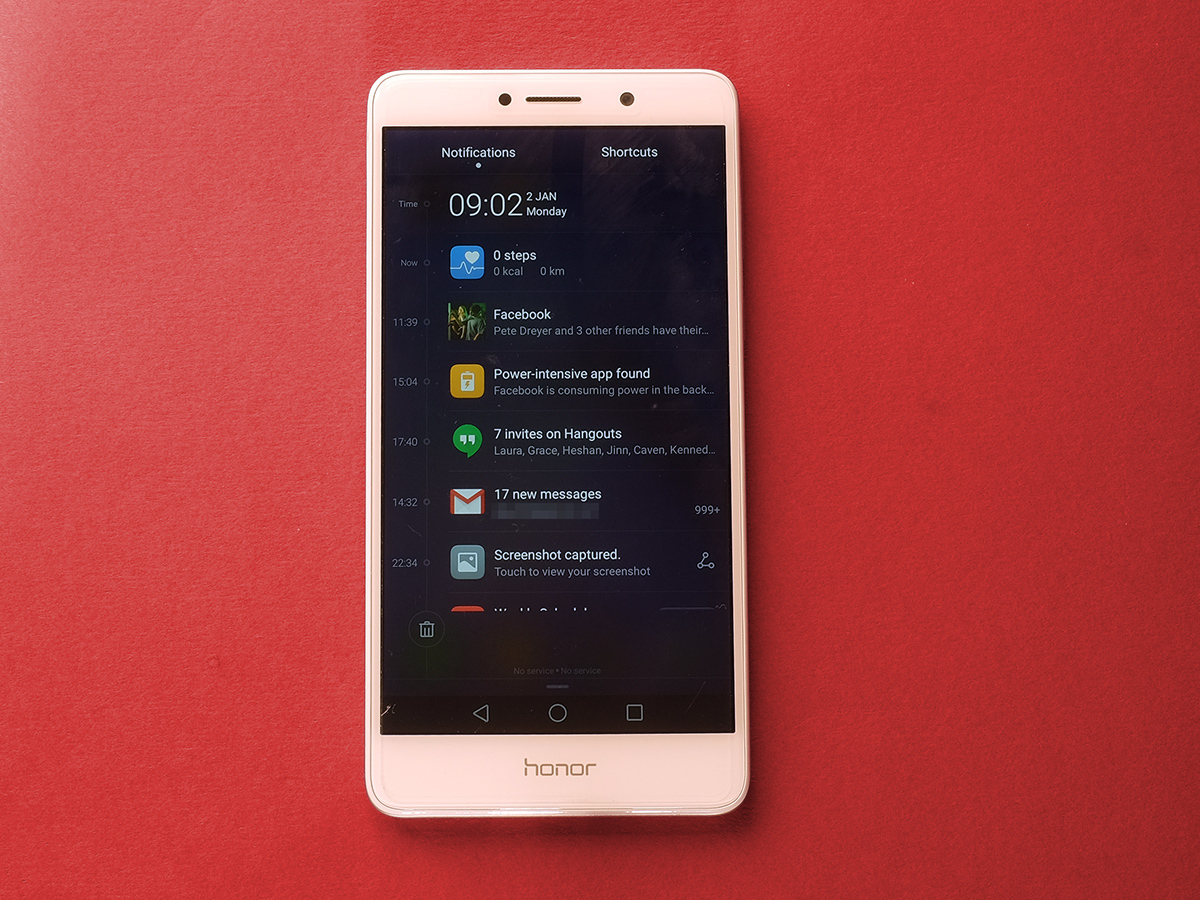 That Honor packs in a great screen for the price is no surprise. It usually does. Honor's classic contentious software is back too, though.
The 6X has Android 6.0, with the custom EMUI 4.1 interface sitting on top. It switches things up a bit, and as this isn't the latest EMUI 5.0 we saw on the Huawei Mate 9 Posche Design edition, you don't get the option to make the software feel more like normal Android.
EMUI 4.1 snips off the apps menu, leaving you with just homescreens. Install 100 apps without arranging them in any way and the 6X will become a mess. You can always organise them into folders, but when there's any effort required you can be sure some people are going to get upset.
On the positive side, EMUI 4.1 is very customisable, letting you alter how many icons are crammed onto the screen and change the look of the system with themes. Unlike some more expensive Honor phones, the standard one is fairly tasteful too.
If you really hate EMUI 4.1, you always have the option of pasting the Google Now launcher on top anyway. This makes the Honor 6X seem a lot more like a normal Android Marshmallow phone, reinstating the apps menu.
Honor 5X vs 6X
EMUI hater or not, what made the Honor 5X a disappointment was its fairly slow performance. The 6X doesn't seem to have the same problem.
It feels as fast as the Moto G, its nemesis, most of the time. There's no crippling lag, no delay to keyboard inputs and apps don't take an annoyingly long time to load.
The 6X has a HiSilicon Kirin 655 CPU, one made by Honor's parent company Huawei. It's fairly similar to the Snapdragon 616 used in the Honor 5X, but revs a lot harder.
It has four Cortex-A53 cores clocked at a very snappy 2.1GHz, and another four at 1.7GHz. This is paired with 3GB of fast DDR4 RAM, which is a lot for the price. In Geekbench 4 it scores 3246 points, well above the 2700-odd you might get from a Moto G4.
Performance isn't perfect, though. Day-to-day it's great, but gaming cred is a bit limited. The Kirin 655 uses a Mali-T830MP2 graphics chip, and with certain games it struggles a bit on account of the 1080p resolution.
Play Asphalt 8 and the game automatically switches to the 'High' graphics setting. However, it's a bit choppy like this. Drop down to 'Medium' and it's a lot more fun. Perhaps that's no great sacrifice, as the game still looks good, but the Motorola Moto G can handle games like Asphalt 8 maxed-out much better. It's a shame HiSilicon cheaped-out with the Kirin 655 GPU.
The speaker doesn't offer a consolation prize either. While there are two grilles on the bottom of the 6X, there's only a driver behind one of them and neither the tone nor the volume is particularly impressive.
It dismally fails the ultimate phone speaker test: making a podcast audible while you're boiling the kettle for a cuppa. No chance.
Two-eyed camera
You also need to watch your excitement about the 6X's camera. From a glance it looks great, with a dual-lens 12-megapixel setup just like some of today's most expensive phones.
However, the results are actually just up there with the best of the £200 brigade, not the £600 crowd. Why? Its second camera is a weakling, with a 2-megapixel eyeball, and there's no optical image stabilisation.
Stop yourself from expecting a Huawei P9-beater, though, and you should be more than happy. In decent lighting the 6X produces detailed photos with virtually no noise, typical of a high-quality 12-megapixel sensor.
Honor hasn't confirmed whether the 6X uses the same Sony IMX286 hardware as the Honor 8, but from the images we've captured it certainly looks like it does.
This is a lower-end take of the sort of camera you get in a Google Pixel – one that keeps the resolution sensible to improve low-light photo quality. As such you can get slightly better night shots than a Moto G, and much better ones than an old OnePlus X.
You can expect a decent amount of detail in these shots, although as the 6X only has a mid-grade camera, there's still quite a lot of colour noise in low light and you'll get some blurry shots if you don't keep your hands pretty still.
We'd much rather use a OnePlus 3 camera, but now that you can only actually buy the newer OnePlus 3T, the price difference between an Honor 6X and OnePlus is pretty huge.
As with other Honor phones, there's loads going on in the software too.
Make do with the default camera screen and you get a basic shooting experience plus the 'shallow depth of field' mode that blurs-out the background or foreground by using the second camera to work out which objects are far away. As the second depth camera is pretty crude, the results aren't anywhere as good as the best Huawei/Honor phones, but you can still get some striking results as the processing is the same as those mobiles.
Just shooting with Auto works well too, as the 6X is a pro at working out when a shot needs a bit of a dynamic range boost. Flick upwards on the screen and you'll see the menu of extra modes, including a full-fat manual mode, slo-mo video and time lapse photography. There's loads to play with.
Around the front, the 6X has a perfectly solid 8MP selfie camera. It's good enough to reveal some truly unflattering face details, but there's also a Beauty if you'd rather see them smoothed-out. It also makes your cheeks look skinnier, so bear in mind selfies are slightly disconnected from reality before giving up your 2017 health kick.
A bigger battery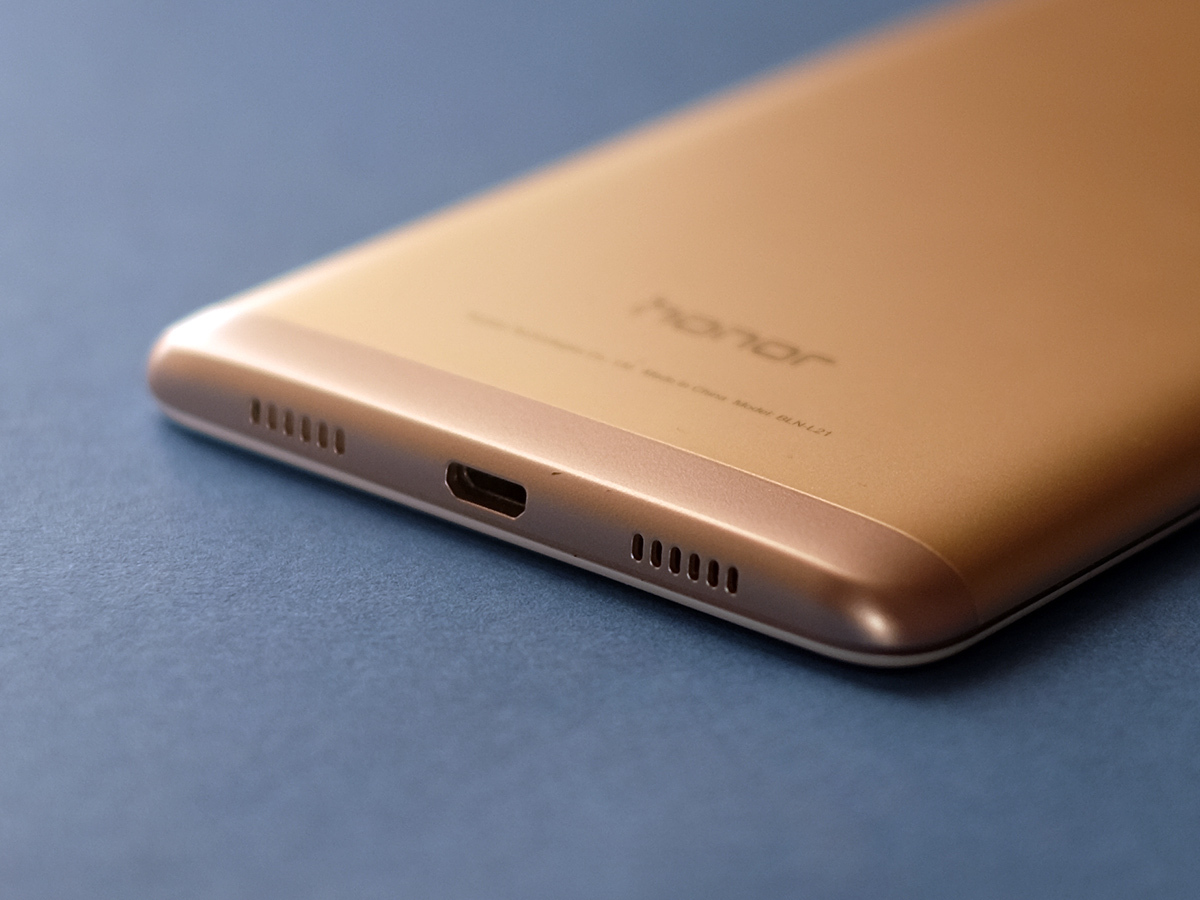 The battery, like the camera, also tries to wow us with pure spec goodness. It's a 3340mAh cell, a good 10 per cent larger than the battery of the Moto G4 Plus.
Sure enough, stamina is very solid with real world use. It's not a true two-day phone like the Moto Z Play, but we never struggled to get the 6X to last a whole day.
It also lasts for 12 and a half hours of locally-stored video playback. That doesn't challenge the much more efficient Samsung Galaxy S7 Edge, but it's not to be sniffed at either.
Honor 6X Verdict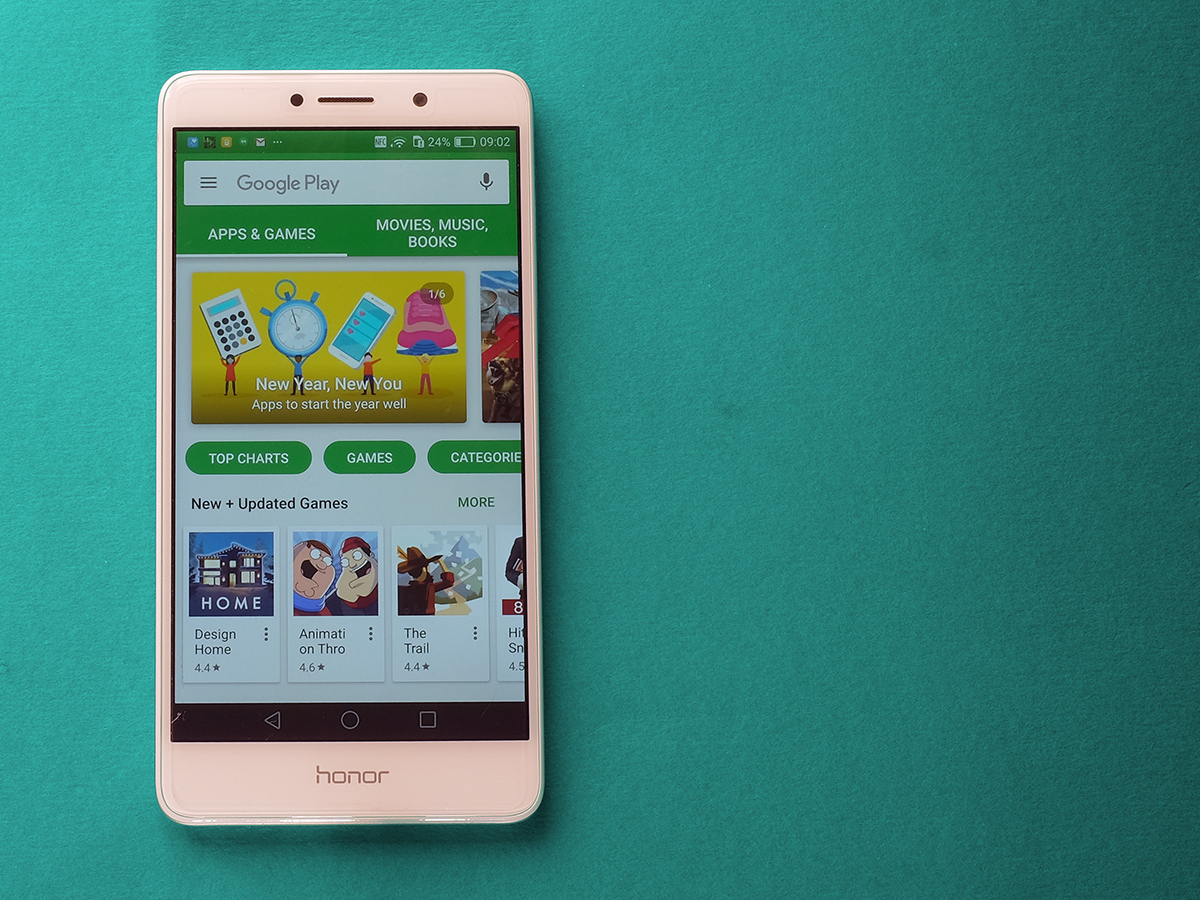 The Honor 6X is a decent alternative to the Motorola Moto G4 Plus, particularly if you'd prefer a metal backside and something a little out of the ordinary.
It looks better than the Moto too, with a fingerprint scanner that's actually elegant, rather than an eyesore.
Buyers are at risk of believing a little too much in the Honor 6X's amazing-sounding specs, but with a solid camera and good screen there are only two things to put you off. First, the EmotionUI software won't be to all tastes, and the weak graphics chip means the phone struggles with some top-end Android games unless you lower the visual quality a bit.
Otherwise, the 6X shows Honor still has what it takes to tackle the mid-range and come out on (close to) the top.
Tech specs
| | |
| --- | --- |
| SCREEN | 5.5in, 1920×1080 IPS LCD |
| CPU | Kirin 655 octa-core |
| MEMORY | 3GB RAM |
| CAMERA | 12MP rear w/2MP secondary, 8MP front |
| STORAGE | 32GB onboard, microSD expansion |
| OPERATING SYSTEM | Android 6.0 with EMUI 4.1 |
| BATTERY | 3340mAh |
| DIMENSIONS | 151x76x8.2mm, 162g |
Stuff Says…
A solid budget phone that could just do with a little more graphics power.
Good Stuff
Big, sharp screen
Metal body
Good value
Bad Stuff
Dual camera benefits are minimal
So-so gaming performance
Some will hate the interface