Honor 8X review
Watch out for the police, because it's an absolute steal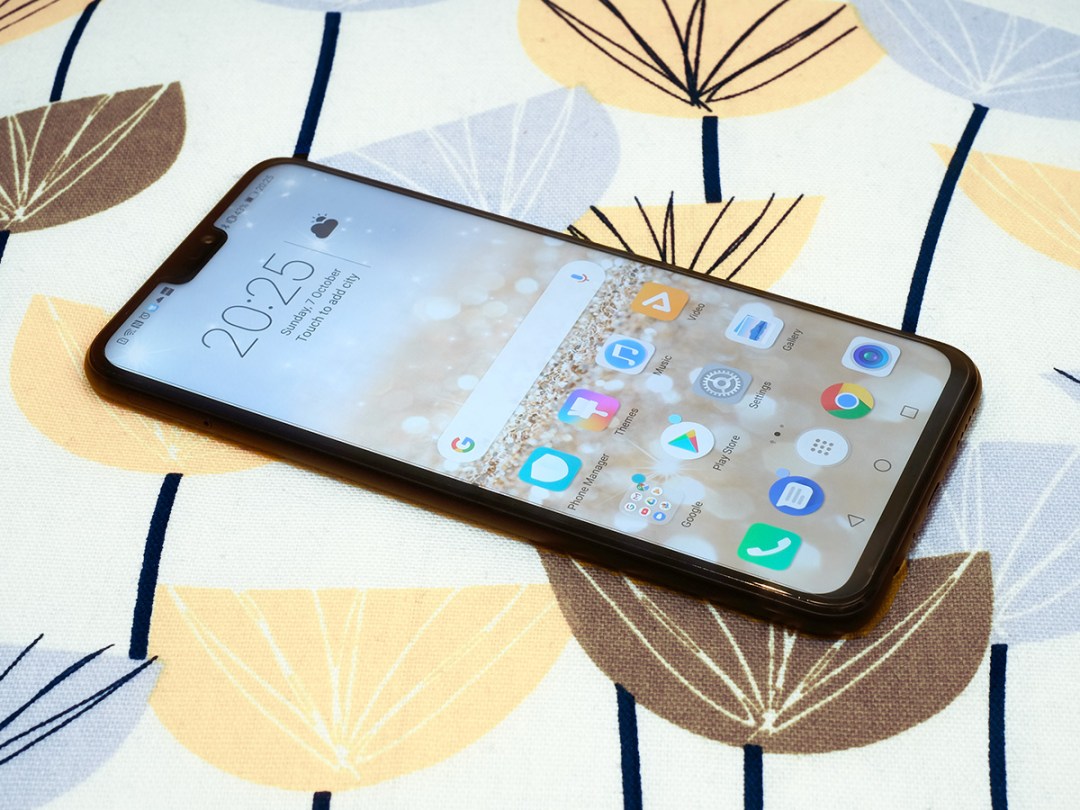 Phones with notches: until now they mostly just showed you had paid big bucks for your mobile.
A dam has broken, though. The Honor 8X, Nokia 7.1 and Motorola Moto One all offer notches just like the iPhone XS's. And the Honor 8X costs £249, not £999.
This means it's not only cheaper than the big names, but slightly more affordable than the Moto and Nokia alternatives too.
As long as you can live with Honor's EMUI software and microUSB charging there are few reasons to back away from the Honor 8X. It's one of the better phone deals of the year.
Design: Oh! You Pretty Things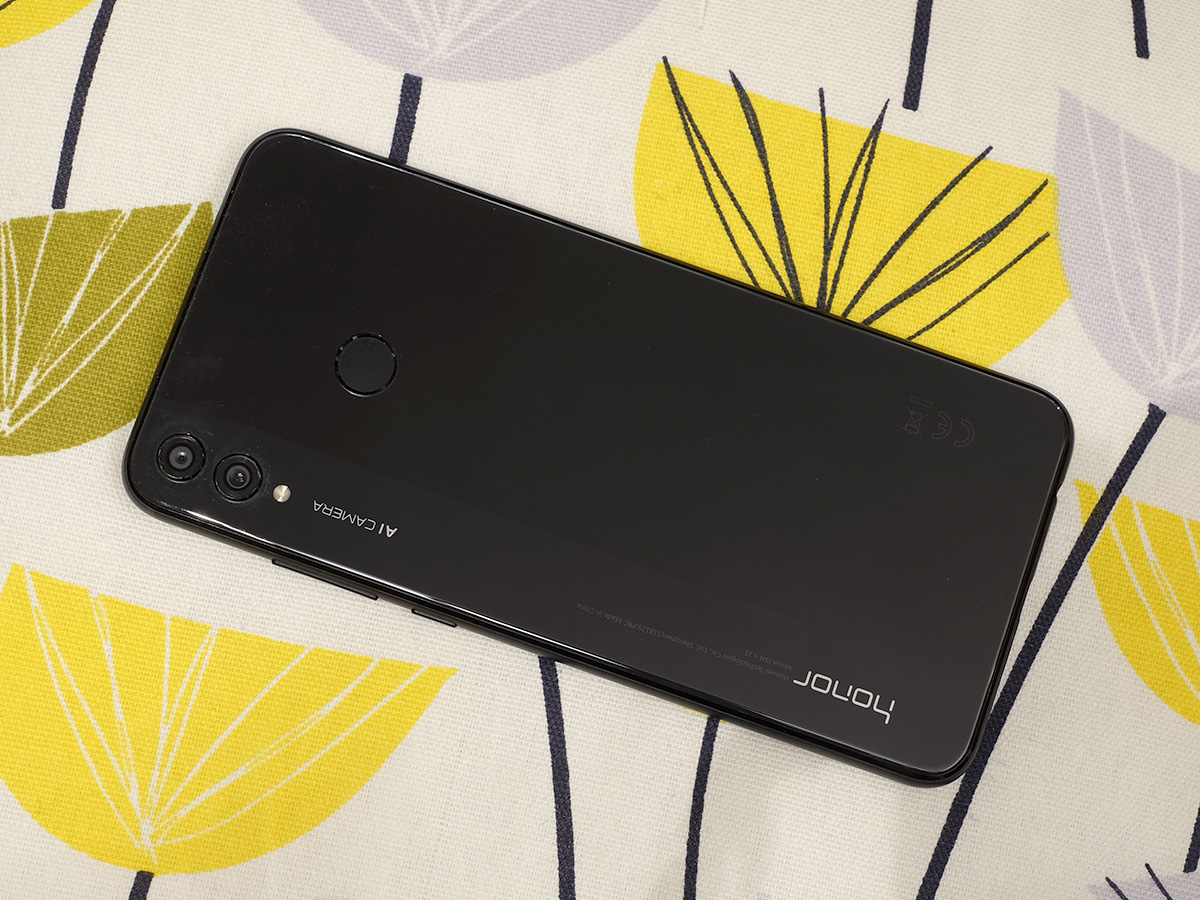 The Honor 8X is a show-off phone, but not in the usual sense. It's not for people who love to whap their mobiles out in pubs and restaurants as a display of what they can afford. This is Honor showing off.
A 91% screen to surface ratio makes this, by our calculations, the most screen-packed phone we've ever reviewed at the price. Look at the thing and you can see why. The notch lets it dig right up in to the top of the Honor 8X's front, and those surrounds are as slim as you'll find in a phone under, well, about £700.
Some brand snobs may make fun of Honor, but it has pulled it out of the bag here. All the right materials are used too. The Honor 8X is glass on the front and back, aluminium on the sides. It feels and looks quite pricey.
So what are they budget giveaways? The big one is the charge socket, and it really is one of the Honor 8X's few issues. The phone has a mciroUSB charge point. Both its arch rivals, the Moto One and Nokia 7.1, have the newer USB-C socket.
This phone may age like a fine cheese and wine combo in other senses, but this part is already a bit musty. And not an "expensive brie must" either.
To prove the point the other parts are in place, the Honor 8X has a fab 64GB storage, a great rear fingerprint scanner and even comes with a factory-applied screen protector. It's not tempered glass and will probably pull away after a while, but will stop you damaging the most important part of the phone for a bit.
Screen: Natty notch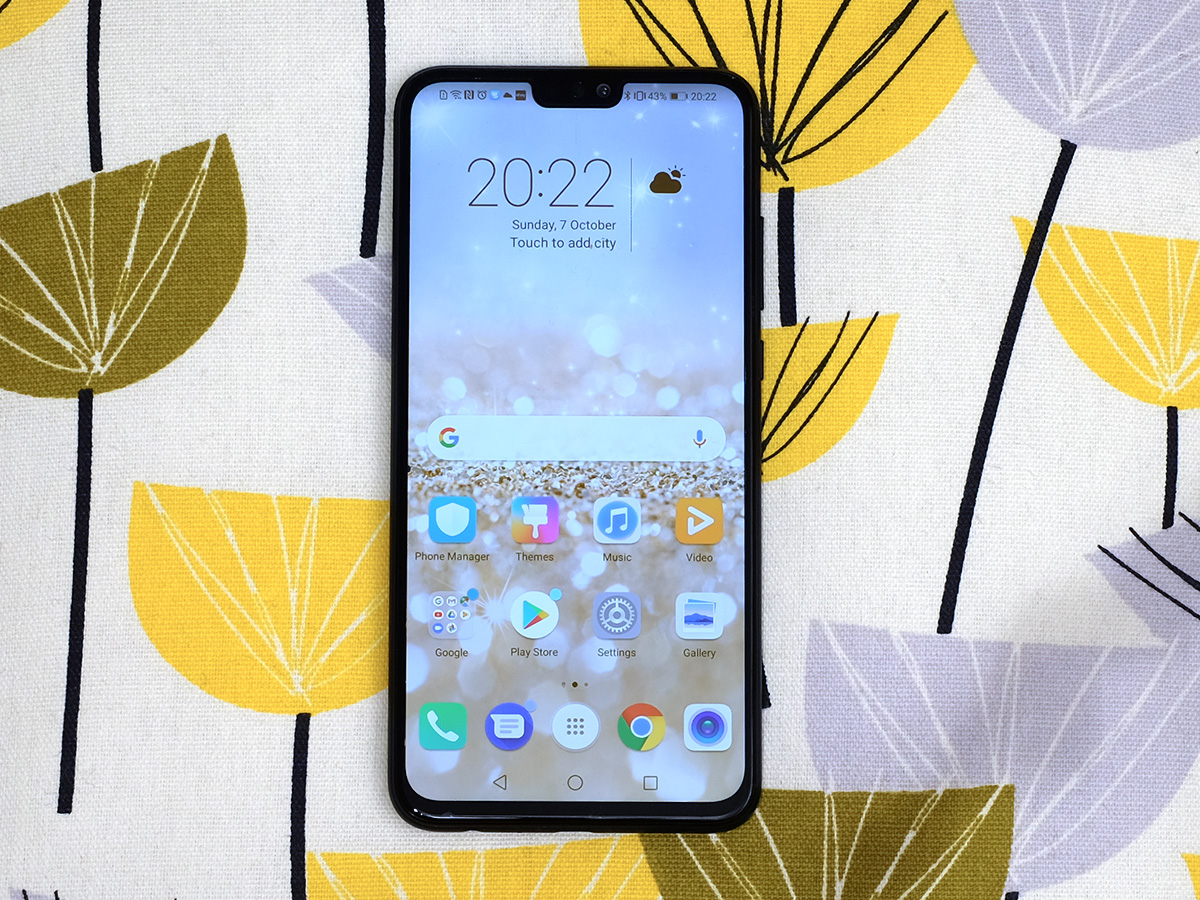 That part? The screen, obviously. The Honor 8X has a 6.5-inch LCD screen with 2340 x 1080 pixels. It's sharper than the Moto One's, much larger than the Nokia 7.1's. In this one sense at least, this phone is the obvious choice for money-maximisers after a modern look.
The screen itself is good too. There's enough backlight power for bright days, the colour looks vivid and natural enough after a quick play in the Settings menu, and it's very sharp. Want to know the best bit? It's big, real big.
Switching between the Honor 8X and the £20-more Moto One, the Honor gives games, websites and video more room. Sitting on a comfy stool might be nice, but wouldn't you prefer this big squishy armchair instead?
There's also an important feature missing from the two big rivals, that Moto and the Nokia 7.1. You can block in the notch with a black bar if you like. This makes the Honor 8X feel like a phone with a standard rectangular screen. The hidden notch is still populated by your notification icons, so doesn't sit there doing nothing.
Software: Punching above its price tag
This extra bit of customisation is thanks to EMUI, the custom software of Huawei and Honor phones. The look isn't quite like vanilla Android. If that's what you're after, get the Nokia or Moto instead. However, this isn't cut-price stuff.
The same software is used in the Huawei P20 Pro. It's slick and nowadays looks coherent, even stylish. In standard Honor style there's no apps menu as standard, but you can bring it back with a quick trip to the Settings menu.
Only a few little quirks remain, like the lock screen that flashes up different stock images each time you wake the Honor 8X. And a strange party mode app that links up Honor phones' internal speakers to play the same tune.
The visual extras can be zapped too, because EMUI supports themes that change elements like the lock screen, your icons, fonts, clock widgets and wallpapers. If you've been a Huawei hater in the past because of its software, it's worth updating your opinions.
Performance: Smooth operator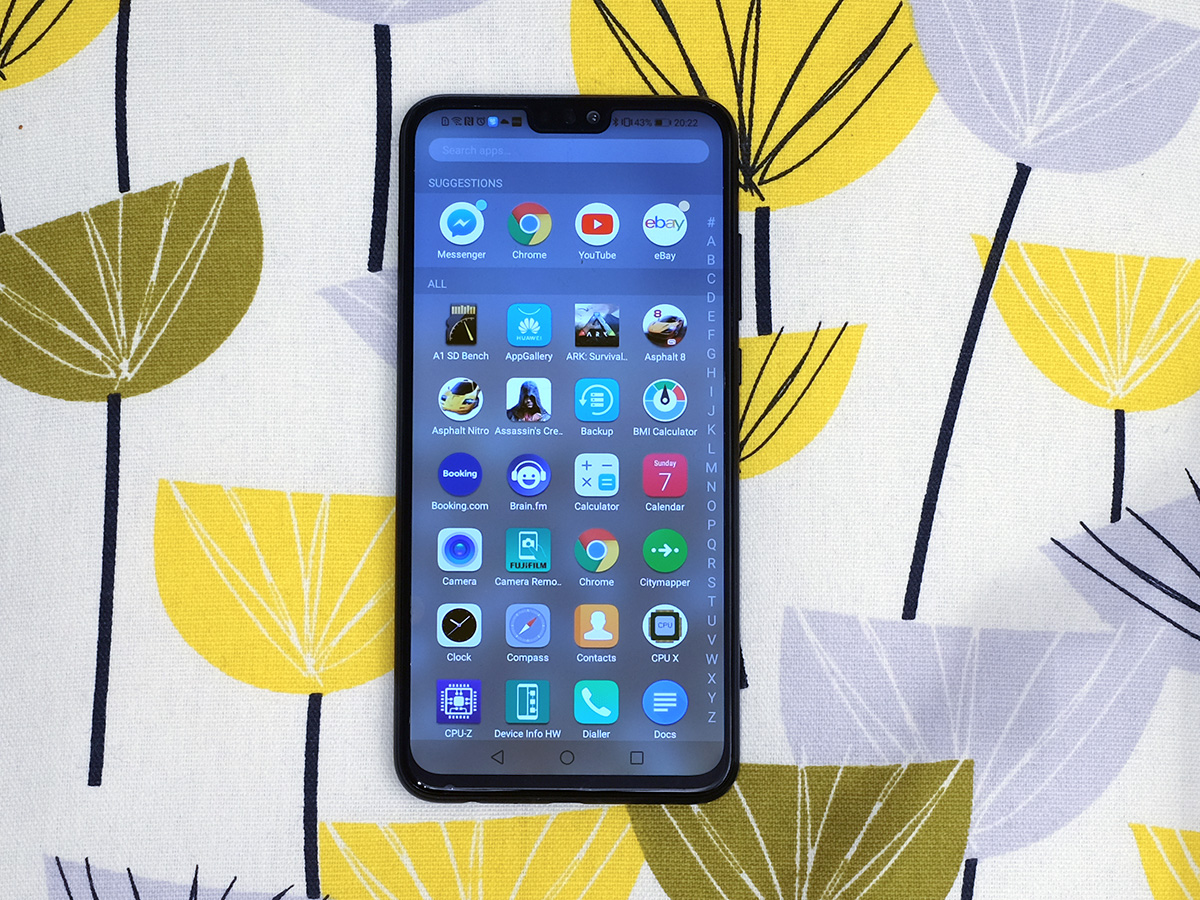 The Honor 8X also has more power than its main rivals, largely because it uses chips from sister company HiSilicon rather than Qualcomm. You get a Kirin 710, with eight cores, four of which are Cortex-A73s, a step above what we usually get at the price. In Geekbench 4 the phone scores 5565 points, beating the Moto One.
Its Snapdragon 625 only snags 4328. A bit more rev power is nice, but it's actually not incredibly meaningful day-to-day. Why? Once you get a smooth Android experience, power tends to show when you play very demanding games.
And the Kirin 710's graphics chipset isn't a PS4-melter. It uses the quad-core Mali-G51, which is about on-par with flagship phones from 2014. The Honor Play, which is almost the same price, has a 12-core GPU seen in some of 2018's top phones. It's called "Play" for a reason.
The Honor Play is better for gaming than the Honor 8X. This phone isn't bad for gaming at all, mind. It's still one of the best at the price. The Honor 8X handles games like Asphalt 8 and 9 well, and that huge screen is just brilliant for console-like titles.
But you can't max out the graphics in PUBG, and Ark: Survival Evolved seriously stutters if you crank up the graphics too high.
Camera: Best of Blur
What you get in return is a great little camera setup. There are 20-megapixel and 2-megapixel sensors on the back. A good one for the actually images, and a rubbish one just to create a depth map for background blur photos.
There are a few little weak points, but the Honor 8X's camera game is strong. With the helping hand of Honor processing, daylight photos are sharp, detailed and have great dynamic range for a phone at this price.
As usual, shoot at night with the Auto mode and the results often are pretty ropey. Photos look smushed and low on detail. But that all changes if you use the dedicated Night mode. This is based on the crazy-effective, AI-assisted mode introduced in the Huawei P20 Pro. Images take around 5-7 seconds to shoot as the Honor 8X stitches together a whole barrage of shots.
However, you can use this mode handheld as long as you stand fairly still and the results are almost miraculous. The usual disappointing affordable phone fare turns into sharp images with sharp details and, relatively, great dynamic range. Images don't look anything like 20-megapixel shots, more like 8 megapixel ones.
But this kind of mode is exactly what we wanted to start dripping down to mid-range models. Warning: try to take a photo of someone with this Night mode and they'll have to keep still for a small age, like a family portrait from the 1860s.
The Honor 8X also gets the AI shooting mode seen in pricier Huawei and Honor phones. Calling it "AI" is a bit of a stretch, mind. It analyses the camera feed to auto-select a scene mode, like a blue sky scene, a food pic and so on.
There are 22 categories. And roundly comparable camera scene modes have been around forever. What these modes do is pretty consistent. You get jacked-up colours for a punchier image. Sometimes they look great. Sometimes they're just a little too unnatural. Extra-blue skies can look good, but neon grass often doesn't.
If you find a killer landscape shot, take a pic with AI both on and off to be sure. The background blur mode isn't the greatest either. While the blur effect itself looks decent, the low-res secondary camera means the Honor 8X only has a basic depth map to work off.
That leaves pretty faulty edges on all but the simplest object, compared to an iPhone XS or Huawei P20 Pro. After that glut of features, you'll be disappointed by the video side. You can't shoot 4K video even though the Honor 8X has megapixel dripping out of every port.
1080p at 60 frames per second is your max. The Moto One can shoot 4K at 30fps, so this is one area where Honor legitimately falls behind. 1080p video is properly stabilised, though, so that's probably the mode you'd want to use even if it did have 4K.
Battery life: iPhone XS beating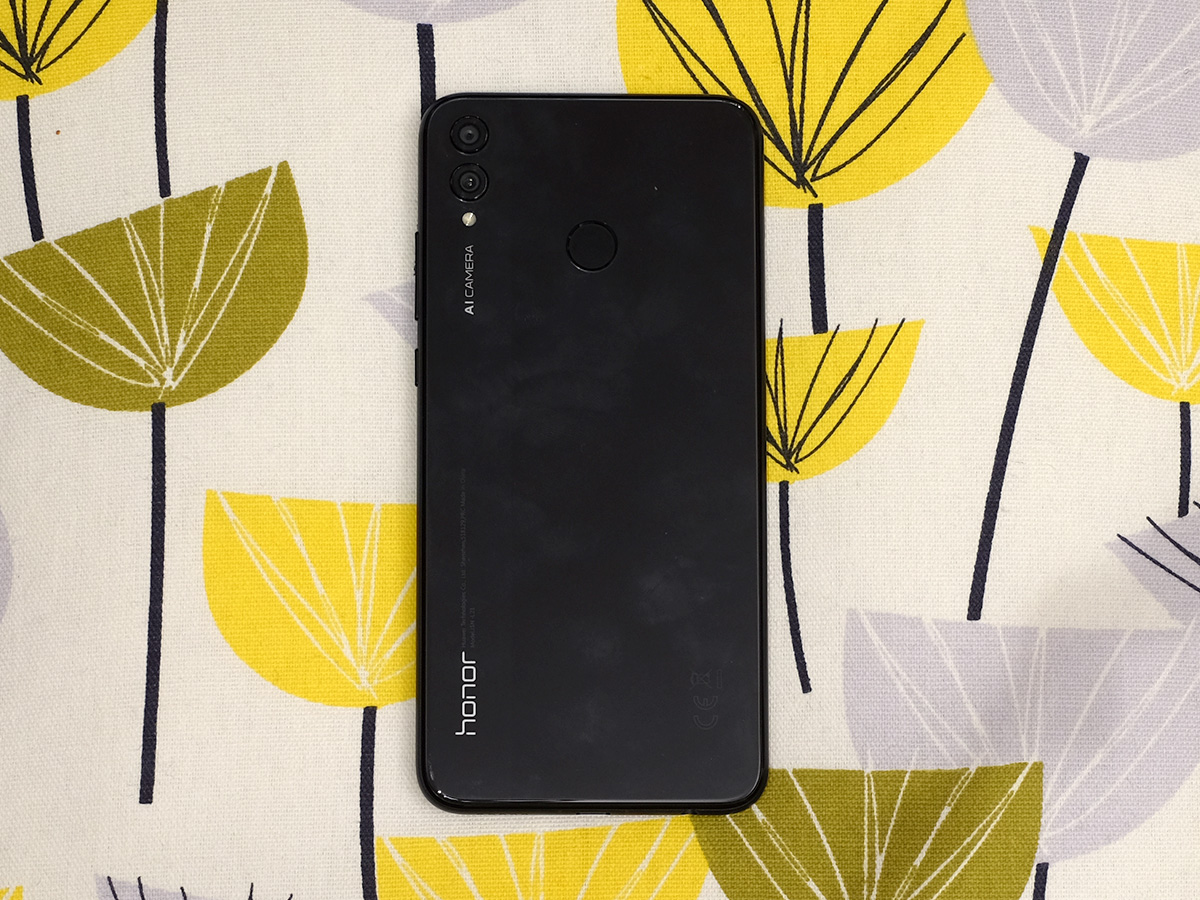 Some phones are made to last two days, like the Motorola Moto E5 Plus. The Honor 8X aims, and does, get you through a full day of heavy use, but two days seems a long shot unless you barely use the thing.
And if that's the plan, why buy a large-screen enthusiast phone like this? It has a 3750mAh battery, and it consistently lasts 'til midnight with at least a little juice in the tank after hours of podcast streaming, far too much milling around on FaceBook, the odd YouTube video and a lot of WhatsApp.
It's in the same longevity class as phones like the Samsung Galaxy Note 9, Motorola Moto One and other solid, if not class-leading, performers. They'll outlast an iPhone XS, that's for sure. We do wish the Honor 8X didn't use a microUSB for charging, though. It's a small point day-to-day. You just can't plug it in either way around like USB-C. That's it.
However, it means in this one area the phone already seems dated. Hardly any new phones above £200 use microUSB nowadays. The important technical parts are still there under the surface, though. You get reasonably fast charging, and a battery saver mode for when a full day of solid use just won't quite cut it.
Honor 8X verdict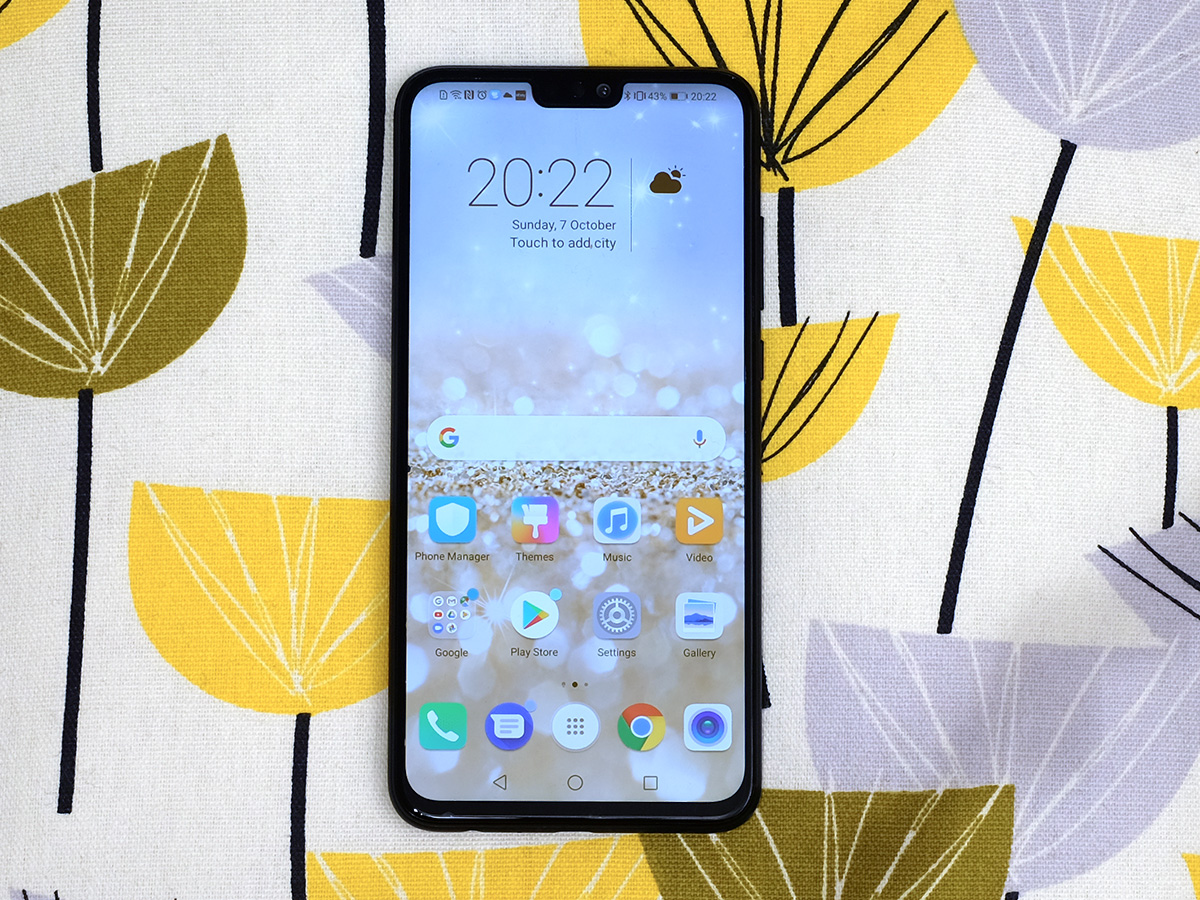 This is what Honor's about: great value, and more phone for your cash than most. Up against its big rivals, the Moto One and Nokia 7.1, the Honor 8X simply has more stuff and costs less.
It has a bigger screen than either, one with loads more pixels packed in than the Moto One. There's more CPU power, more camera megapixels, more mAh in its battery. More, more, more.
There are just a couple of spots where the Honor 8X seems lesser. We don't want to use microUSB charging in a £250 phone anymore, Honor, and there's no 4K video capture. That may be a deal-breaker for some of you, but this phone still seems like a bargain to us.
Stuff Says…
A bigger and better screen, more power than its rivals, plus serious camera upgrades, and all at a very reasonable price point? It's a no brainer.
Good Stuff
Great price
Big, bold, clear screen
A very sharp look for the cash
Feature-packed camera
Bad Stuff
No 4K video
microUSB charging in 2018?