Honor View 20 review
Is this the next best mid-range smartphone?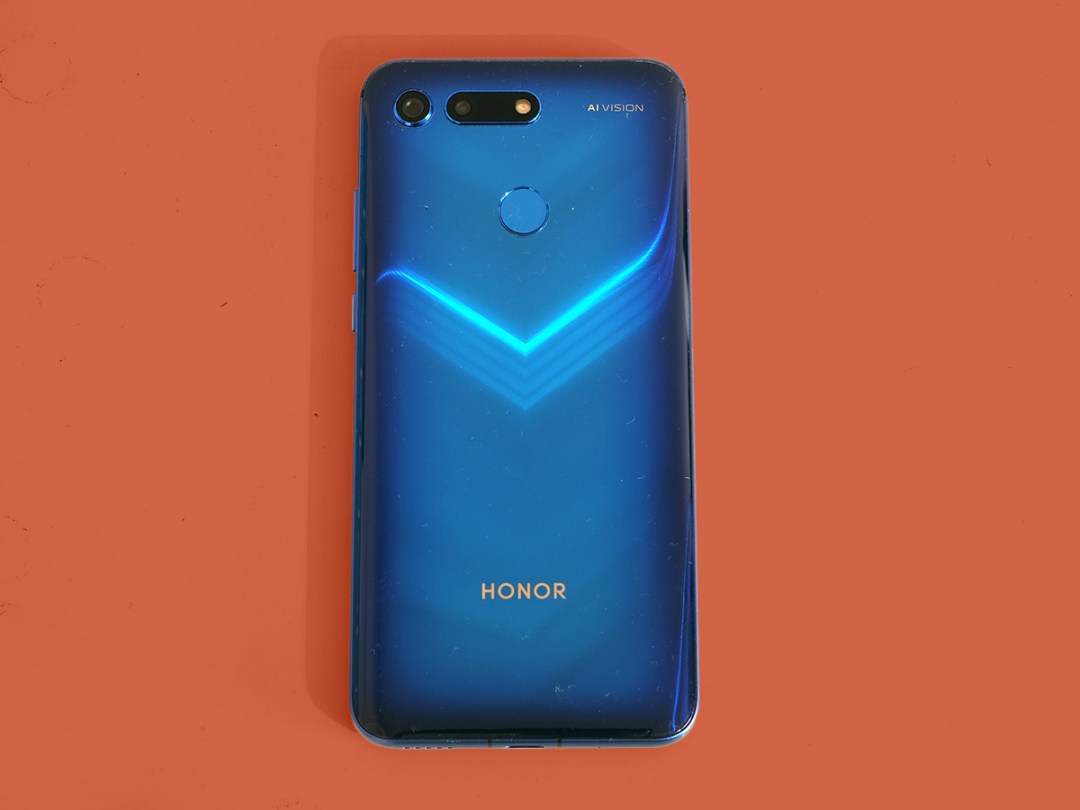 The Honor View 20 claims a whole bunch of "firsts". It's the first phone we've used with a punch hole display, the first to have one of Sony's fancy new 48-megapixel cameras.
And, most important of the lot, this is the first Honor phone that feels like a could-take-on-a-flash-Samsung flagship.
A £499 Honor phone sounds like a bold move. But when you can pay double that for a phone (yes, the world has officially gone mad), the Honor View 20 actually seems, and is, great value for money.
You get an advanced camera, superb battery life, a great screen. And, the extra that topples the Honor View 20 over into 5-star heaven, a headphone jack.
Design: eye-catching finish
Phones are boring, nasty things. They all look the same and they're often so expensive they seem determined to make sure you can never have a holiday again. And when you think about it, they'll all let you WhatsApp your mum and play that inane casual game as well as each other.
However, the Honor View 20 does have a few eye-catching bits we've not seen before. We're talking about the punch-hole display and Honor's out-there finish.
Honor's punch hole gets the tech plaudits. These displays were discussed a lot last year, called the successor to the notch. They use a tiny "hole" in the screen to make space for the front camera.
The View 20's front camera doesn't poke out of the display, though. It sits behind a transparent circle in the LCD layer.
The result is the same, mind. It's a screen with a wee hole in the top-left corner. Get used to these punch hole screens. You'll likely see a load more of them in 2019.
Honor's other eye-catching part, the finish on the back, is more conventional. It's just turned up to 11. A lot of glass backed phones now have a light reactive layer. But where many use a subtle "s" swirl, the equivalent of a name of a perfume whispered at the end of a TV advert, the Honor View 20's is more a sequin-shirt-leather-trousers-jazz-hands affair.
This finish will react to a tea light candle at 50 paces, casting loads of bright blue arrows down its back. The blue also fades to near-black at the edges, an attempt to make virtually no square inch of the View 20's back look the same as another. It's bold, about as bold as phones come.
Take away that phone glitter and the View 20 starts to look a little like a OnePlus 6T. They're roughly the same price, the same size. Both are metal and glass. Their side features are different, though.
You get an in-screen fingerprint scanner with a OnePlus 6T. The View 20 has a more traditional rear pad. It's fast, but not quite as flashy.
The View 20 also has a 3.5mm headphone jack and, the extra almost no-one asked for, an IR blaster that lets it control your TV and other equipment with a traditional remote.
The headphone port isn't in the most convenient spot possible, up on top near the punch hole. But it might be enough to sway some of you the View 20's way. Headphone jacks in new phones above £300 are rare.
You get 128GB storage as standard, and an upgrade to 256GB for a very reasonable £70.
The Honor View 20 and OnePlus 6T both lack water resistance, so there's no clear winner between these two £500 middleweights on the outer hardware. Well, unless you can't get on with Honor's bright finishes.
Screen: Punchy and bright
The Honor View 20's screen measures 6.4in across, and is an LCD of 2340 x 1080 pixel resolution. It's not the sharpest, and it's not OLED. But most of you will have to actively try to nail down the difference in real-life terms.
There's a super-punchy colour mode, and one with more natural-looking colour. Contrast is great, so is top brightness. Visibility outdoors matches some top-tier phones, there's HDR support, and you even get a factory applied screen protector.
At £499 there's really nothing to complain about here. But how annoying is that punch hole screen?
Unlike a notch, the idea is you can make videos fill the Honor View 20's entire display. Put a 1:2.39 aspect movie on there and you'll get an actual movie area similar to a 7in 16:9 display. That sounds great, but you do have to put up with a black hole in the corner of the image.
Directors don't tend to put the star of a scene in the bottom-left corner of the image. But it is the visual equivalent of a 4K TV with about 100,000 dead pixels in the corner. Would you buy that set?
Of course, you don't have put up with this hole. The View 20 lets you block off the circle, and make any app behave as if the phone has an 18:9 screen. It doesn't even affect 16:9 videos and movies either, unless you choose to crop off the top and bottom of the picture. And Stanley Kubrick is waving his fist in anger from beyond the grave at that idea.
Punch hole screens aren't perfect, but you do lose less of the display than with a notch. It also gives the View 20 very "new" look, and that's really the point. Honor has also done a great job, on first try, of making this display design work.
For the ultimate maxed-out screen experience, consider the Xiaomi Mi Mix 3. It has a slide-up front camera, letting the display fit the entire front: no punch hole, no notch.
Software and Performance: Magic UI
The View 20 kinda marks Honor's split from Huawei. These two brands are owned by the same parent, and Honor phones often seem to sit in the shadow of corresponding Huawei ones. No Huawei phone has any right to throw shade on the View 20, though.
And, sure enough, Honor now gives its software a different name. For years, Honor and Huawei phones have used EMUI, aka the most hated Android interface of all time. Honor has rebranded it "Magic UI". But it's basically the same as EMUI.
For those new to Honor and Huawei phones, it's also no longer bad, at all. You may just have to tweak it a bit. There's no apps drawer, but you can add one if you like. There are a few bits of bloat installed too, but you can get rid of almost all of them.
There are no complaints about performance either. It's fast, apps load quick. The View 20 feels like a high-end phone. It should do, because it has the same Kirin 980 CPU as the Huawei Mate 20 Pro.
High-end games? No problem. You also get 128GB storage or, if you pay an extra £70, 256GB. If you manage to fill the latter, we have one question: how?
Gaming also highlights another smart Honor design choice. When you play a console-style game your thumb will often sit over the punch hole, making it much less obvious than if you watch a film.
Camera: Megapixel monster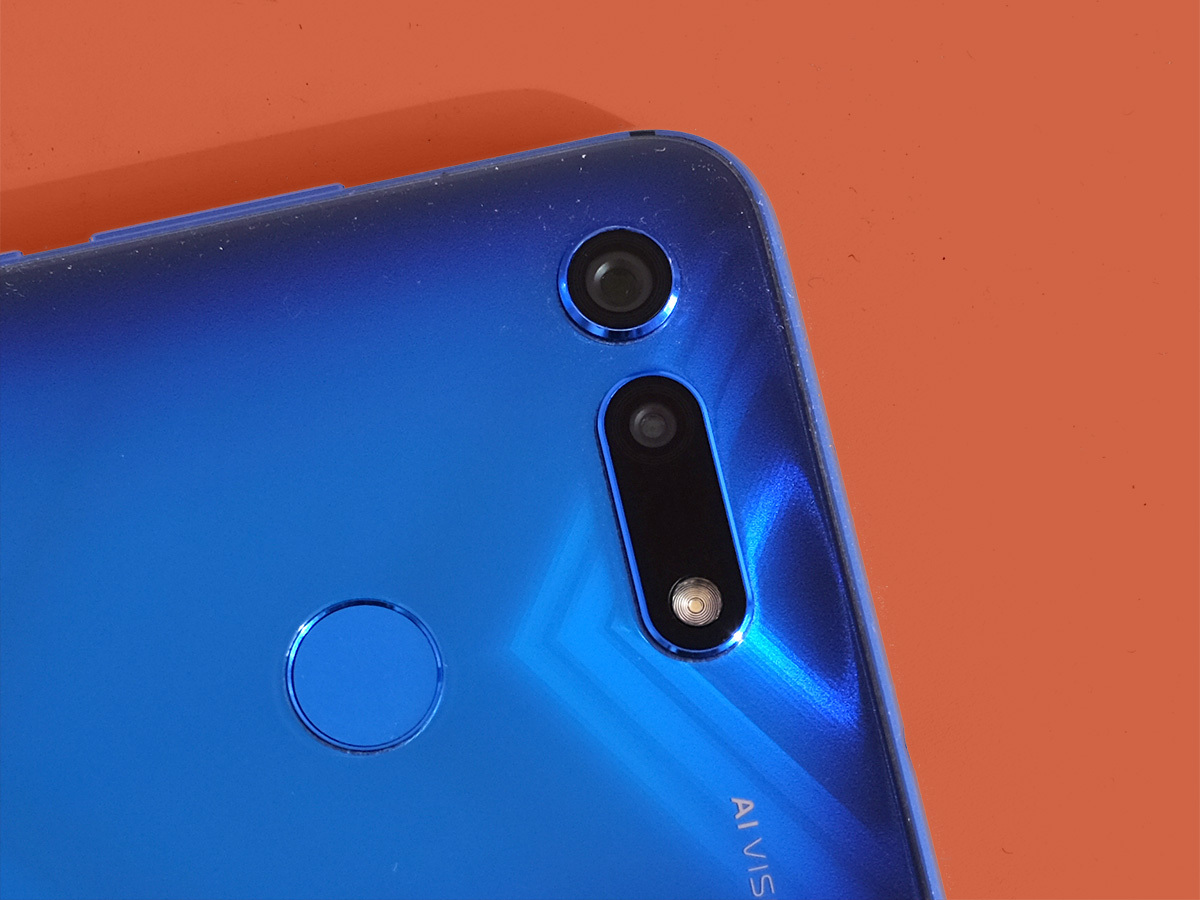 The View 20 is also the perfect phone camera to start off 2019, as it shows off some brand new tech we'll likely see appear several times this year.
There are two important bits. First, it has one of Sony's fancy new 48-megapixel sensors. That's right, more megapixels than a Canon EOS R.
These pixels are absolutely tiny compared with those of a DSLR. However, Sony and Honor know this. Shoot without looking at the Settings menu and you end up with 12-megapixel pics. Four camera sensor pixels gets you one in the final image, so it's kinda like having an ultra-large 12-megapixel camera.
The View 20 also gets a lot of the same ultra-smart processing tricks seen in phones like the Huawei Mate 20 Pro. Dynamic range tweaking is great, and so is night photo quality. You can just snap away casually and the pics look sharp and detailed. It's kinda bizarre considering the View 20's camera doesn't seem to be stabilised.
There's also a separate night mode that takes several seconds to capture an image, but whacks up the dynamic range even more when doing so, just like the Huawei P20 Pro. In all conditions, the View 20 nails its shots, among its £500 peers at least.
A similar mode lets you also max-out the resolution of the 48-megapixel camera, making all those sensor pixels mean something. This one, called AI Ultra Clarity, is pretty smart. It works just like the night mode, taking a bunch of shots and merging them to increase detail, but you're meant to use it during the day rather than at night.
With a bright scene and reasonably steady hand, the amount of detail you can capture is sensational. It reminds us of the Nokia Lumia 1020, one of the "OG" phone camera kings, from back in 2011. It had a 41-megapixel camera with a sensor even larger than the View 20's. But its camera housing was absolutely massive. This one isn't.
Other great benefits include properly stabilised 4K video, 960fps slo mo and generally great shooting speed. The View 20 camera is fab, particularly when you consider the phone is half the price of some. Its front camera has a 25-megapixel sensor.
Just like the rear camera it's great at juggling all kinds of lighting and is among the best at the price, even if doesn't challenge the Pixel 3XL's selfies.
An ultra-wide or "native" zoomed view is what you miss. This is because the View 20's secondary camera is what's called a ToF sensor. ToF stands for time of flight, and it's the next generation of depth camera. Honor calls it a "3D" camera on some of its View 20 ads.
Right now it's not hugely useful as the phone doesn't even support ARCore yet, Google's augmented reality platform.
However, Honor demos that show the kind of body-tracking tricks the hardware is capable of make you hope Google is about to announce ToF hardware support in ARCore. If not, what's the point?
Honor is ahead of the curve on this one.
Battery Life: Long lasting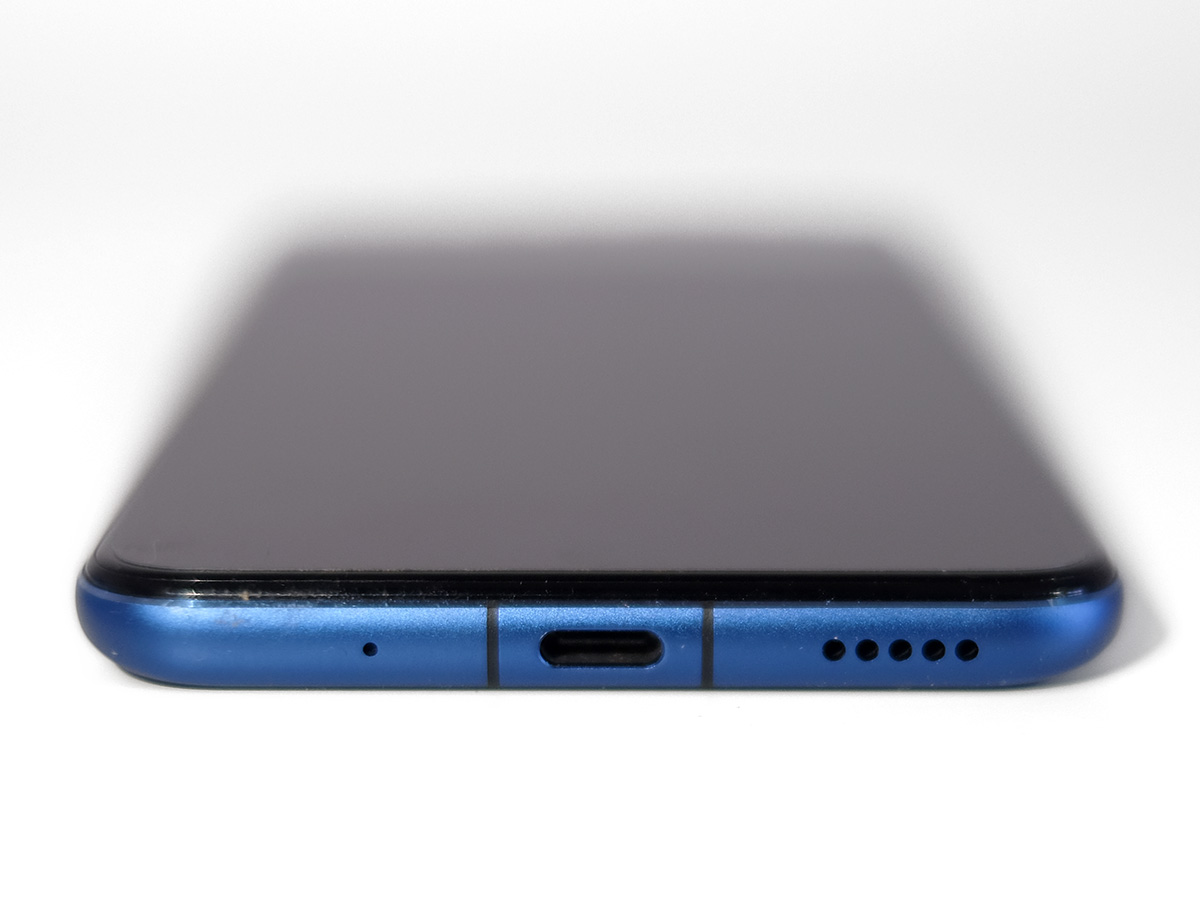 Battery life is even more remarkable, though. The View 20 has a 4000mAh battery, just like top-end Huawei phones such as the P20 Pro.
While only around 10% higher capacity than some rivals, stamina here is refreshingly excellent. You can use the View 20 liberally and still have over 40% charge left by the time you microwave your Horlicks and get ready for bed.
Honor and Huawei tend to keep tighter reins on battery-sapping actives of apps running in the background than most phone-makers. The approach can backfire sometimes, restricting and closing apps like a housemate who continually "cleans up" your stuff so you can never find it, but this isn't the case here.
The View 20 offers a flagship-like experience, but with even lower maintenance.
Like a lot of £500-ish phones, though, the View 20 does not have wireless charging. But wired charging is at least quick. It gets you from flat to near-full under 90 minutes.
Honor View 20 verdict
The Honor View 20 is the best alternative to the OnePlus 6T you'll find. Is it actually better? Well, the camera is. So is battery life. And it's certainly more eye-catching.
Oh, and it has a headphone jack too.
For many, this is the Android to buy on a £500 budget. It's also more daring, and more polarising than the OnePlus, which is a true crowd-pleaser.
However, that Honor has managed to make one of the most compelling phones at this price rather than its usual £100-250 wheelhouse is a real achievement. Nice work, Honor.
Stuff Says…
Honor enters the big leagues with one of the most impressive phones in its class
Good Stuff
Strong camera
Great battery life
Good price
It has a headphone jack
Bad Stuff
No wireless charging
No water resistance certification