HP Envy x2 review
Snapdragon's silicon arrives in a hybrid notebook – but can the HP compete with Intel-based rivals?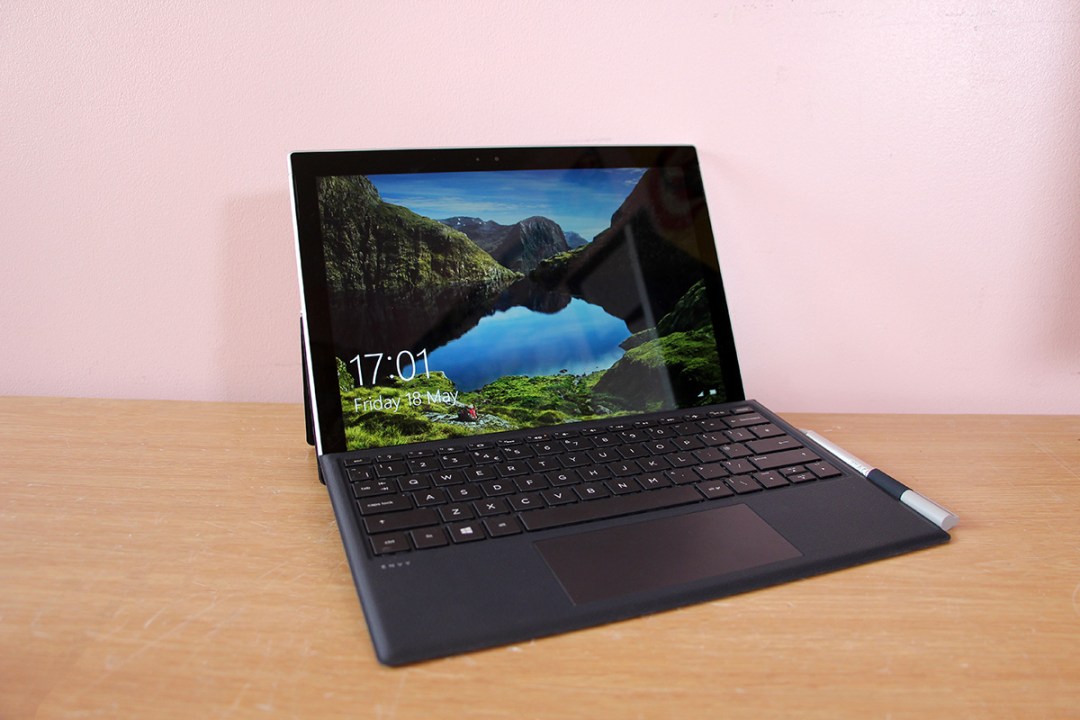 Laptops don't tend to be a very adventurous bunch. When it comes to the chip that powers them, Intel pretty much has the market share, with AMD mopping up the rest.
That could be about to change. The HP Envy x2 is an eye-catching hybrid that packs a new kind of punch – a Snapdragon processor at its helm.
Sound familiar? It's a chip that's usually found powering the latest smartphones. But can it make a convincing step-up to hybrid powerhouse? 
Design & Build: Slim competition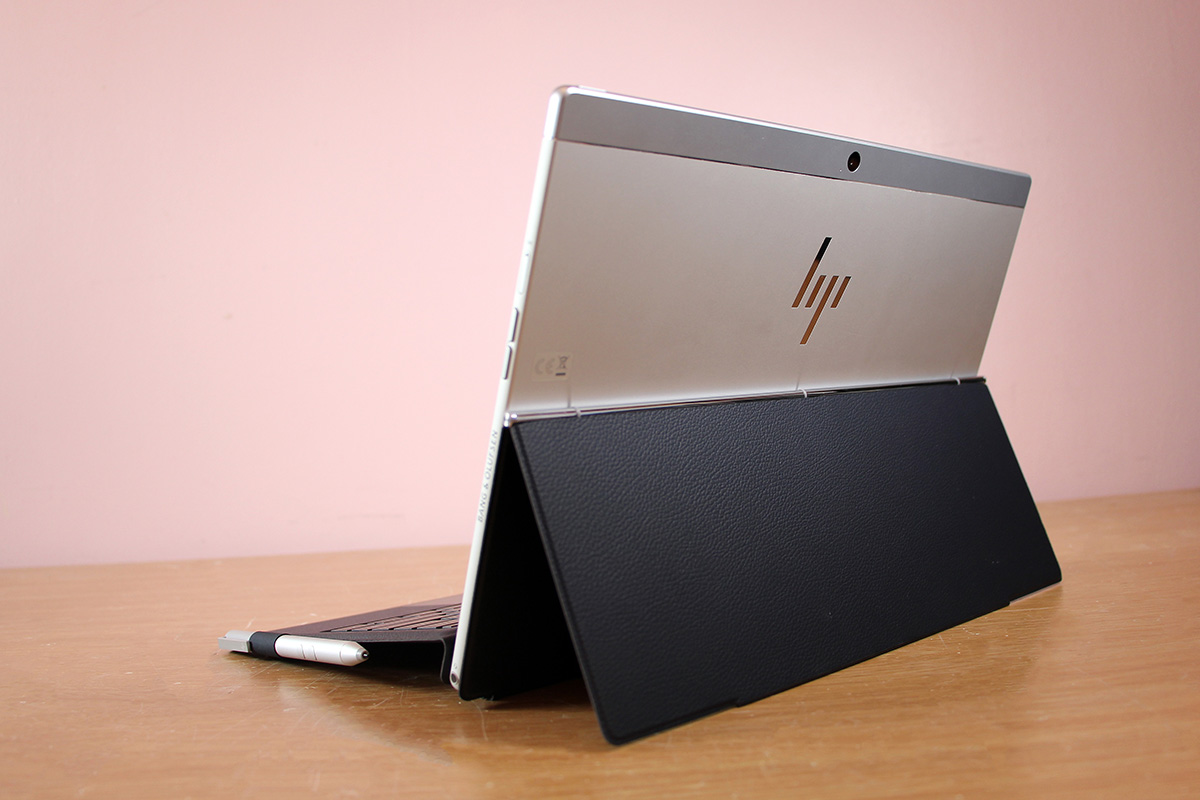 The Envy x2 certainly looks the part. It's built with CNC-machined aluminium, with neatly bevelled edges and HP's latest logo in a glossy finish on the rear.
At the back you'll find a 13MP camera, and at the bottom there are magnetic contacts that link the tablet to its dock. On the right side you've got volume buttons, a micro-SIM slot and a headphone jack; on the left, there's a USB Type-C connector and a microSD slot.
That's great, but we still miss a full-size USB port, and HP doesn't include an adapter. Better save some cash for some additional accessories, then.
The tablet weighs 0.7kg, and it's 6.9mm thick. Add the case, and those figures rise to 1.2kg and 15mm. Either way, those dimensions are pretty impressive, and trade blows with a hinged hybrid like the Dell XPS 13.
The tablet seals to HP's detachable keyboard case with a satisfying snap. The navy unit has a sturdy hinge that means the tablet can be propped into all sorts of angles – although the hinge does mean the tablet can't lay perfectly flat. It isn't very comfortable when propped up on a lap, either.
Screen & sound: Fun over accuracy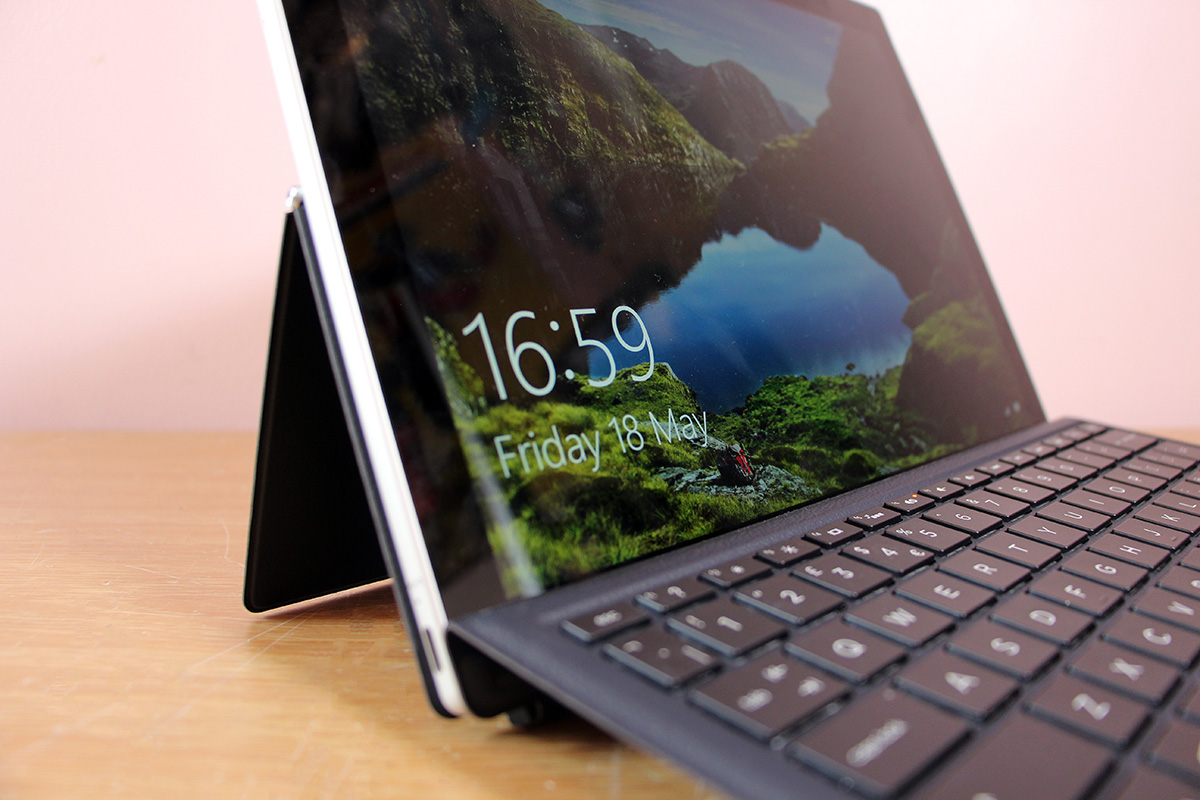 The full- HD IPS screen is coated with Gorilla Glass, so it'll withstand knocks, but it's very glossy – something that can prove a bit of an issue outdoors, or under bright office lights.
Get the right angle on things though, and the HP's screen is impressive. The panel served up a huge peak brightness of 562cd/m2, and the black level of 0.38cd/m2 is fine. Those figures combine for a stonking contrast ratio of 1,478:1. Colours in films will pop with vibrancy, while darker areas will look suitably inky.
The great contrast is paired with solid uniformity. The screen's backlight strength only deviates by around 6%, even in the far corners of the panel. That's better than most laptops manage.
That said, the Envy x2 only delivers middling colour accuracy. The colours are great for movies, TV and web browsing, but they're a little too wayward for accurate colour work, like design or photo-editing.
Stick to the fun stuff, and this hybrid is at its best. The Bang & Olufsen speakers ensure movies sound great, and deliver surprising volume, with a high-end that offers accuracy and depth without proving tinny.
Performance: Speed limit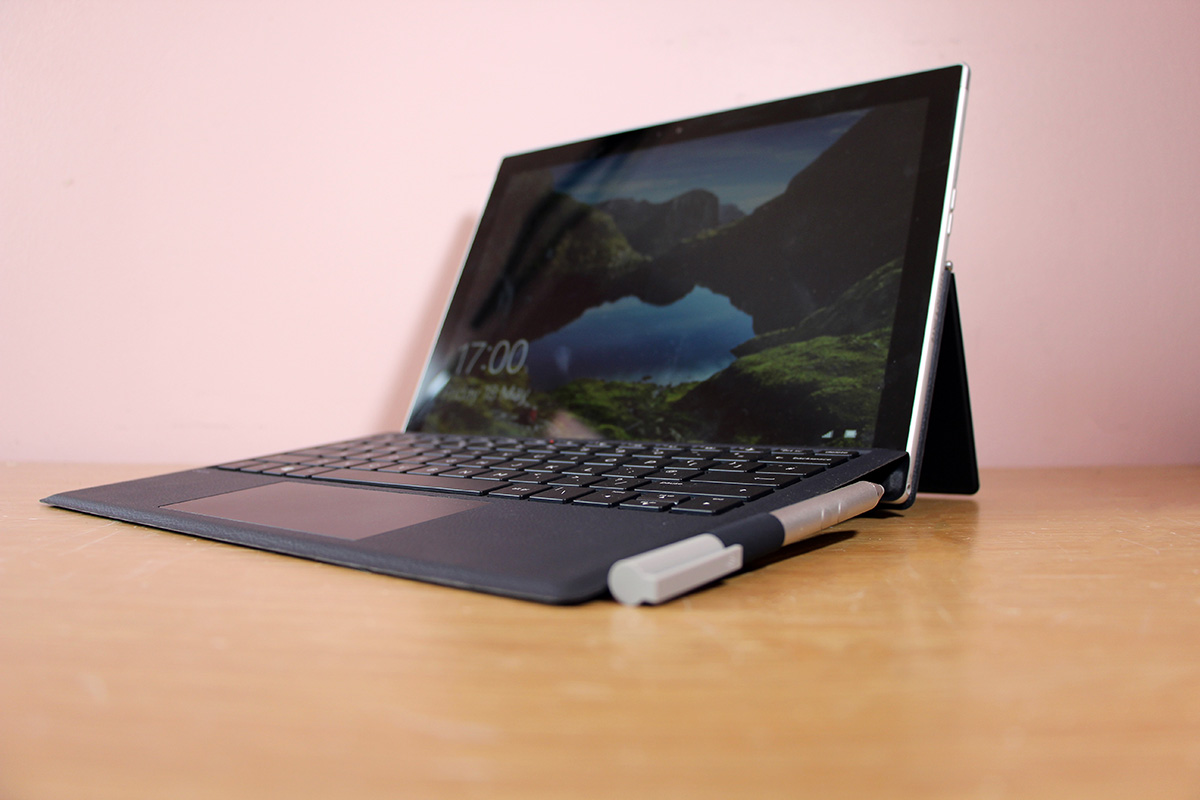 The Snapdragon 835 running the show here has a solid specification: it's got eight 2.45GHz cores, and it's paired with an Adreno 540 GPU, a 256GB SSD and 8GB of RAM.
There's more than enough power here to handle web browsing and run Google Docs, Word and Excel. It won't have any issues with Netflix, streaming services, movie playback, or music. However, the HP does run Windows 10 S out of the box, which is a concern, as it means you can only install apps from the Windows store.
Thankfully, upgrading to Windows 10 Pro is free, and accomplished within minutes. That brings more software to the table, but more Snapdragon-related problems arise. You'll notice stuttering and pauses as apps open, with those times extending when you try to use tougher apps or run several tools at once.
If you need more evidence of the Snapdragon's lack of raw power, look at the benchmarks. In Geekbench's single- and multi-core tests the HP returned results of 817 and 3,166. The Kaby Lake-based Intel Core i7-7Y75 used in the XPS 13 regularly outpaces those scores by a considerable distance.
The included active pen suffers similarly. It's good enough for casual use, but it doesn't have the responsiveness required for proper work.
The Envy x2 performs far more impressively in battery tests. HP claims 22 hours of battery life for this machine – and, remarkably, the Envy almost delivers.
During web browsing, media playback and low-intensity work tasks – and with the brightness toned down a little – the Envy lasted for almost 19 hours. That's fantastic – the Dell XPS 13 may have lasted for a day, but the HP can conceivably last through two.
Keep the brightness high or run tougher work tools, and battery life will decline – but you're still going to get more than a full day with plenty of juice to spare.
Keyboard & touchpad: Like the real thing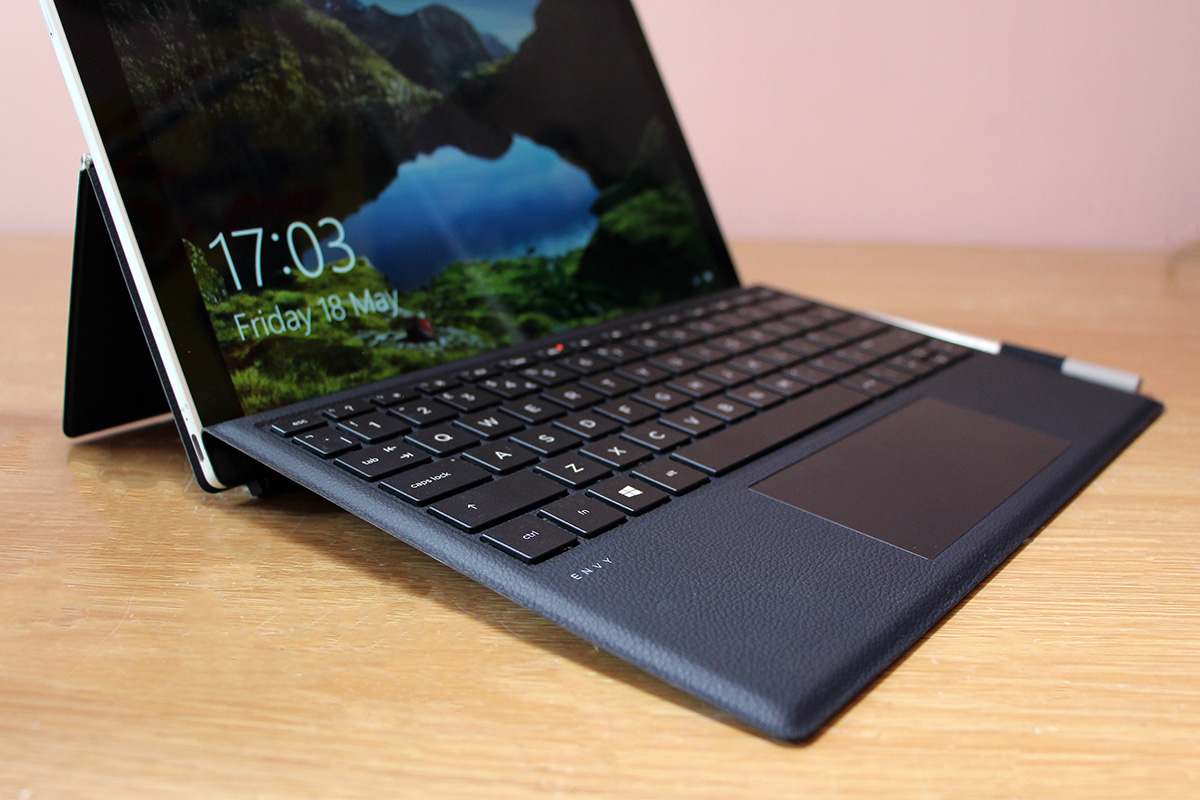 The HP's buttons have just as much travel as proper laptop keyboards, and they hammer down with similar speed. Their action is consistent, which helps you blaze through word processing with minimal errors.
However, the slim case does have an impact. Its lack of underlying strength means the keyboard feels a little bouncy, which is distracting compared to proper laptops. Like much else about this machine, the keyboard is good – but you'll want something more solid for proper work.
As for the trackpad, it is short but very wide. The surface is smooth and responsive, with full gesture support, and the two buttons are snappy. Thumbs up.
HP Envy x2 verdict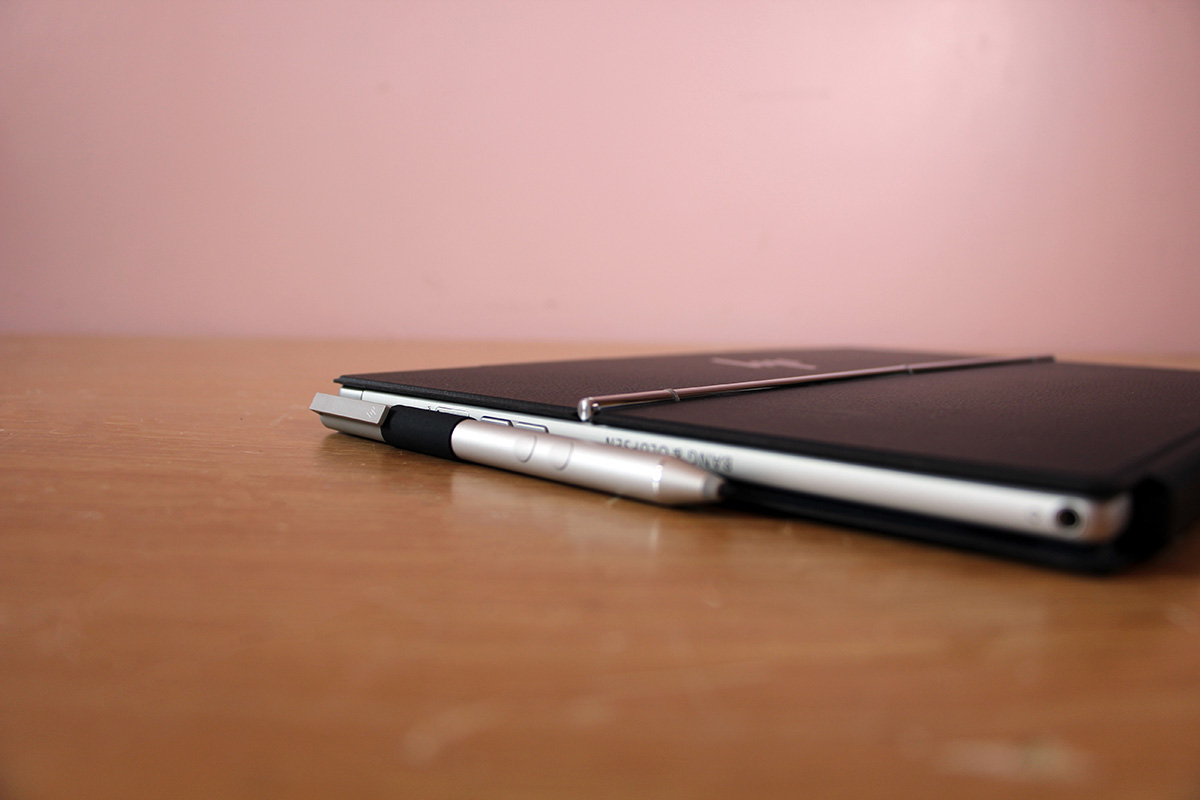 The Envy x2 starts well: its design, build quality, speakers and screen are excellent. The keyboard is decent, and the case is slim and strong. And then there's the battery: it's exceptional, with twice the longevity of Intel machines.
Push the HP, though, and you'll find its weak points. The Snapdragon processor can't compete with Intel's silicon, especially in tougher tasks – so this system just isn't cut out for proper work. The lack of ports doesn't help, either.
The HP Envy x2 is slim and smart, and its battery life and media abilities are where it really shines – but we expected better from a £1,200 device. Snapdragon certainly has potential in this arena, but this is a slightly disappointing start.
The Competition
Royalty among Windows laptops, this is an ultraportable we wish we could keep for good
Tech specs
| | |
| --- | --- |
| Screen | 12.3in, 1920×1080 Full HD IPS touchscreen |
| CPU | Snapdragon 835 |
| GPU | Adreno 540 |
| RAM | 8GB |
| Storage | 256GB eUFS SSD |
| Operating system | Windows 10 S |
| Connectivity | 1 x USB-C, microSD card reader, 3.5mm headset jack, 1 x nano-SIM |
| Battery life | 20 hours |
| Dimensions | 293 x 210 x 15mm, 1.2kg |
Stuff Says…
Stonking battery life and great design, but performance is hindered by the underwhelming Snapdragon processor
Good Stuff
Two-day battery life in most tasks
Bright screen with great contrast
Sturdy, smart exterior
Bad Stuff
Snapdragon CPU offers underwhelming performance
Meagre port selection
A little too expensive