HTC One M8s review
The One M8 reborn in budget form
The fast-moving world of phones can be a bargain hunter's paradise. Manufacturers make phones that ship in the millions every year, yet when the new model comes out the old one is instantly out-of-date.
HTC has tried to take control of this insta-obsolescence, with the HTC One M8s. It's basically an HTC One M8, but with some of the expensive innards replaced with much cheaper ones.
What you end up with is a £300 phone that has quite a lot in common with some phones £100 less. However, pretty everyone is going to assume you've forked out for a top-end mobile.
That's right: the HTC One M8s is a phone for show-offs on a budget. And its camera is far from the best in a £300 phone. But otherwise it's a handset we'd happily live with.
Metal Appeal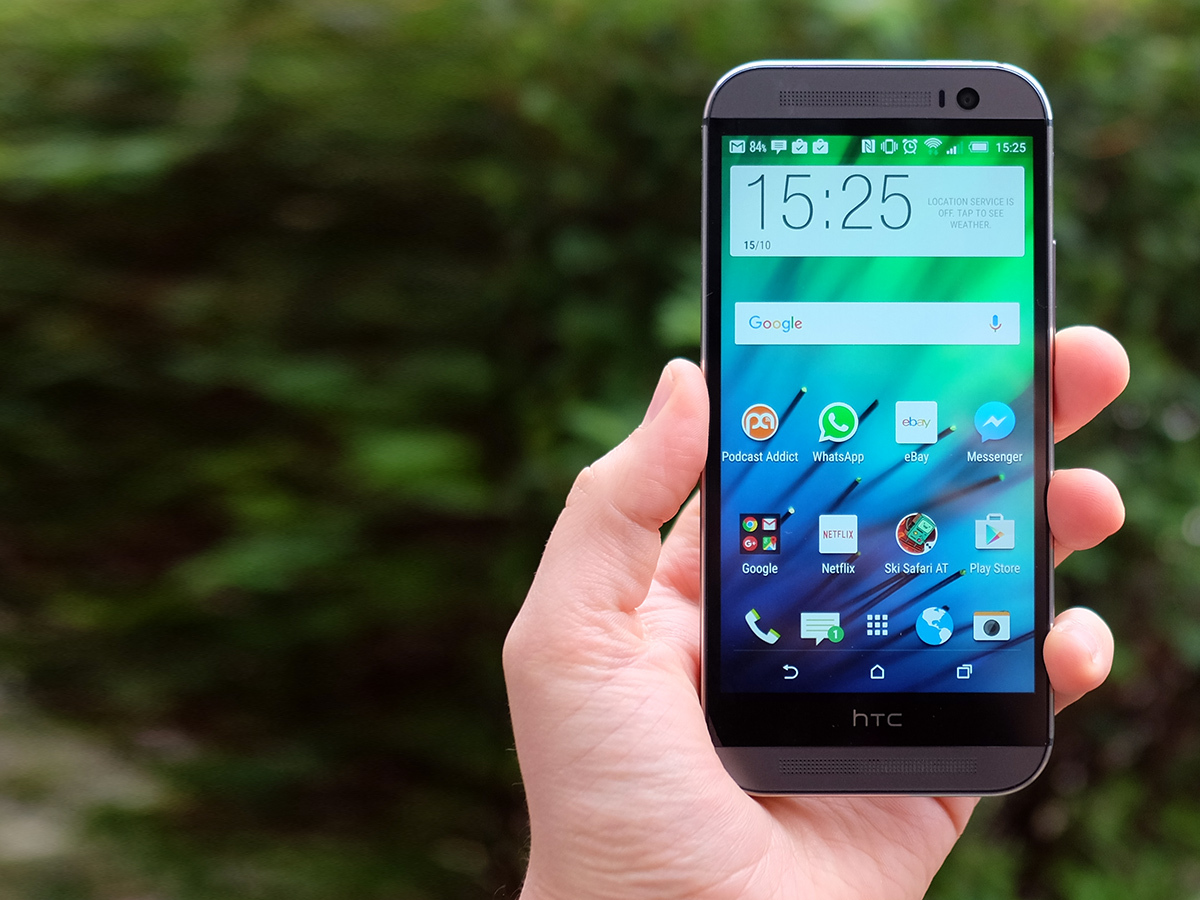 Faint praise? Not really. The HTC One M8s has pretty much exactly the same body as the One M8, which in turn is pretty similar to that of the newer, fancier One M9.
Much of the phone is a single piece of ultra-smooth curved aluminium with a good-looking brushed finish. It's a similar size to something like the Motorola Moto G, but feels at least three times fancier than that budget king.
The HTC One M8s is the 2015 equivalent of the 'Mini' versions of flagships that were pretty popular until this year. But this time there's no sense that the phone's build has been cut down or cheapened in any way.
It does highlight one way the One M9 improved the design, though. The One M8s keeps its power button up on the top edge, where in the latest versions it's finally makes the transition to the side – a much more natural position.
Now I've been thoroughly spoilt by great fingerprint scanners on the iPhone 6S, Galaxy S6 and Huawei Mate S, having to reach up to the top to take the phone out of standby feels so 2014. And kinda awkward too.
MIA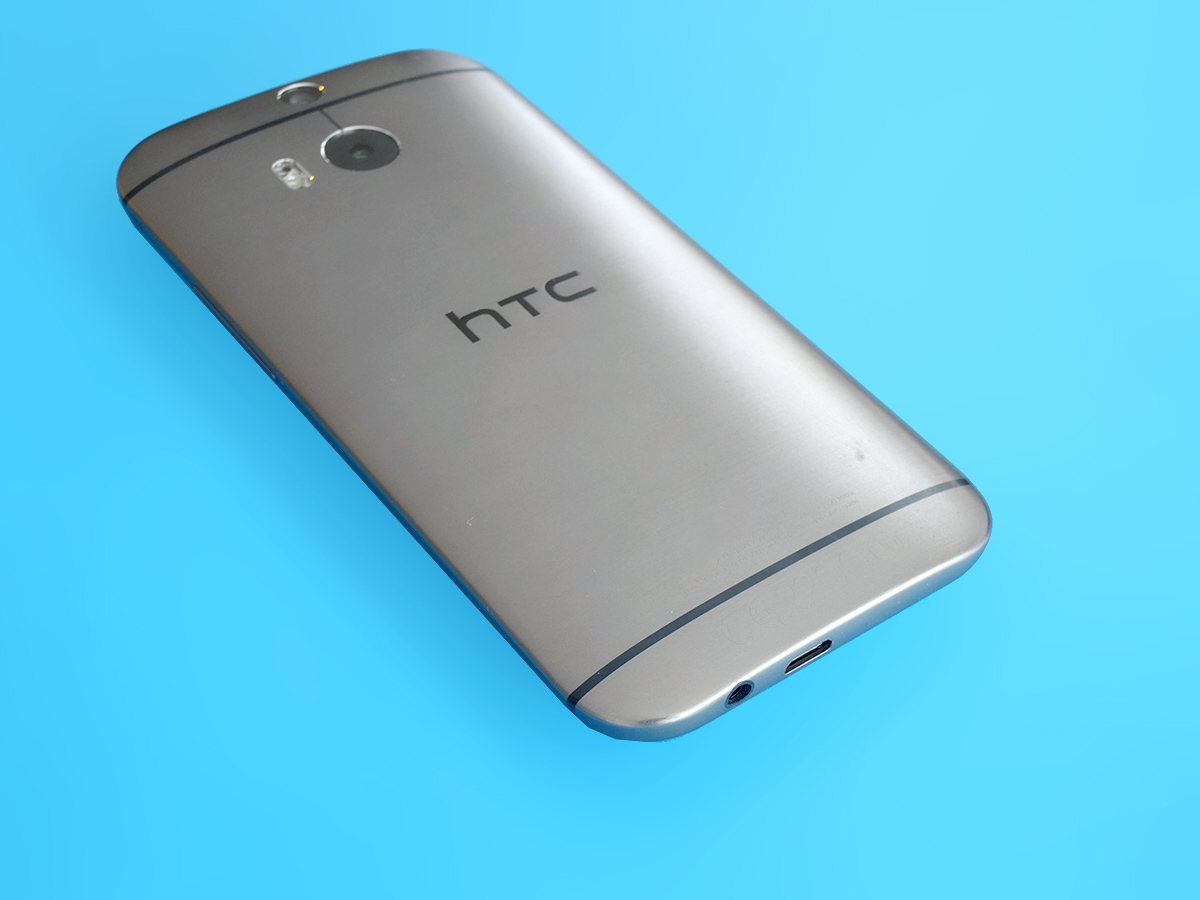 Still, there aren't any other ergonomic quibbles. Thanks to its sensible-size 5in screen, it's not hard to reach any soft keys or poke out of the top of jean pockets. It comes across as an ordinary phone with an extra injection of luxury.
Is there anything missing that was in the HTC One M8? You still get a microSD slot and the version I'm using has 16GB storage. Getting a bit sleuth-ier, there's no IR blaster this time. Most manufacturers seem to be chopping these out these days, but this bit go extra hardware lets you control TVs and other entertainment boxes with your phone.
It's neat. But hardly anyone uses it. I can live with the loss.
The Boom is back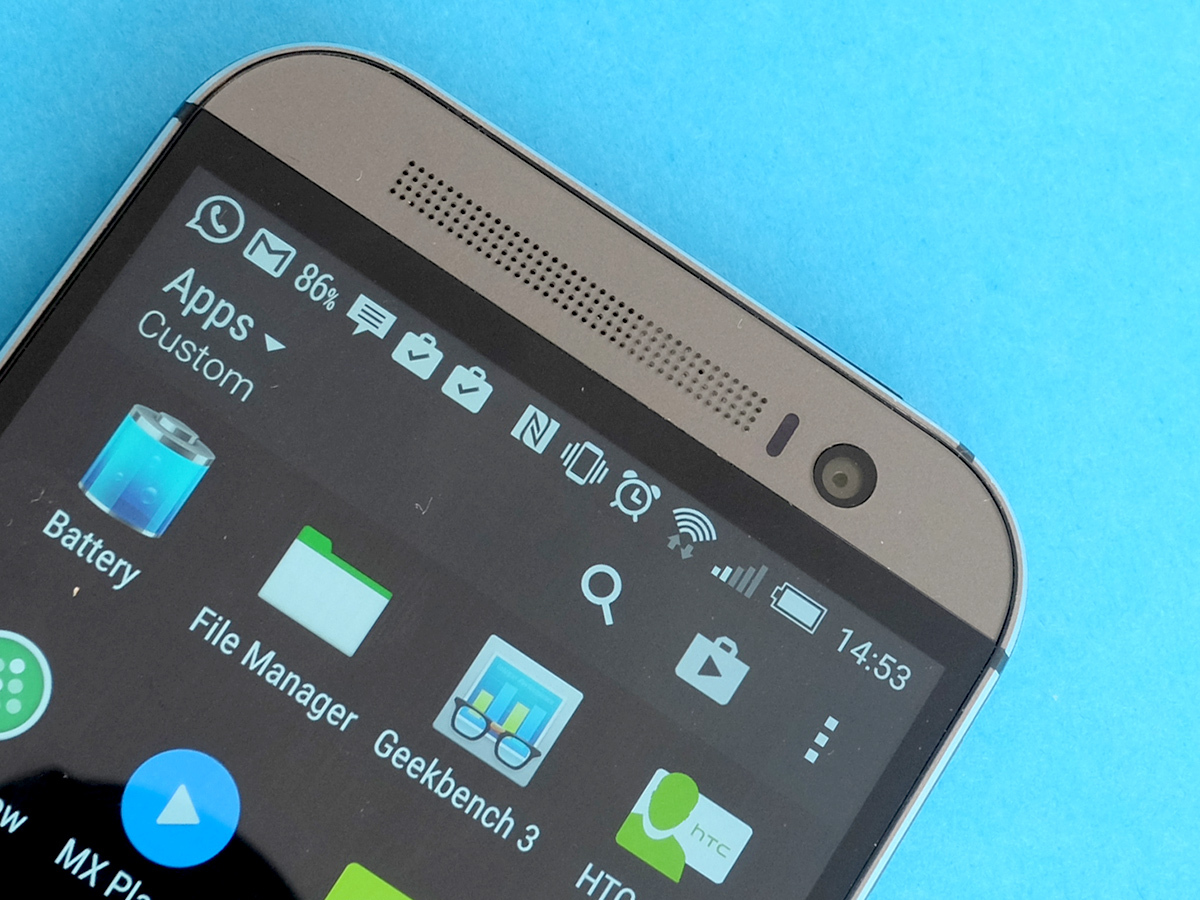 I'm much happier to see HTC has kept the BoomSound speakers that have become one of the most enduring draws of the One series.
BoomSound speakers blew everything out of the water then they appeared, making other manufacturers up their game and really work on their internal speakers. They sit on the front, getting you a direct-to-your-ears stereo setup.
They're still just about the best you can get in a phone. Samsung's most expensive phones get close-ish and the Alcatel Idol 3 5.5 is louder, but harder to get hold of. This has to be among the best-sounding £300 phones.
A familiar Screen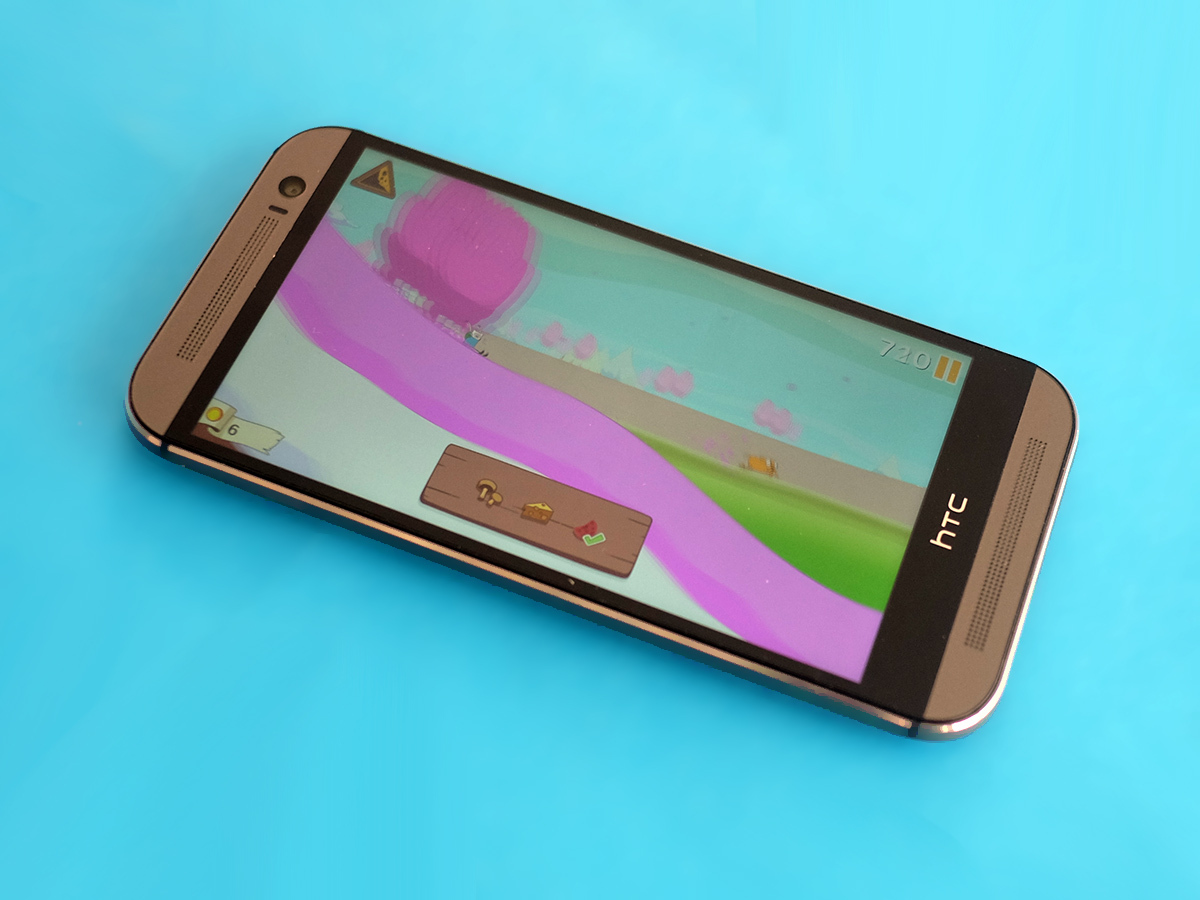 On the specs front, the HTC One M8s seems like a dead ringer for HTC's latest phones, and its screen isn't too far off either.
It has a 5in 1080p SLCD screen, getting you great sharpness and decent viewing angles. Anyone saying the One M8s could do with a higher-res QHD screen has the wrong priorities. The 441ppi you get here is more than enough. Particularly in a £300 phone.
The one bit I don't love is the colour tone. While the saturation level is good: no day-go radioactive colours here, the colours do look a bit cold and sterile. I found the warmer style of something like the Honor 6 that bit easier on the eyes. Reds look that bit less rich on the One M8s.
However, I think this is otherwise a good screen that has no quality worries as part of a £300 phone.
Talking Sense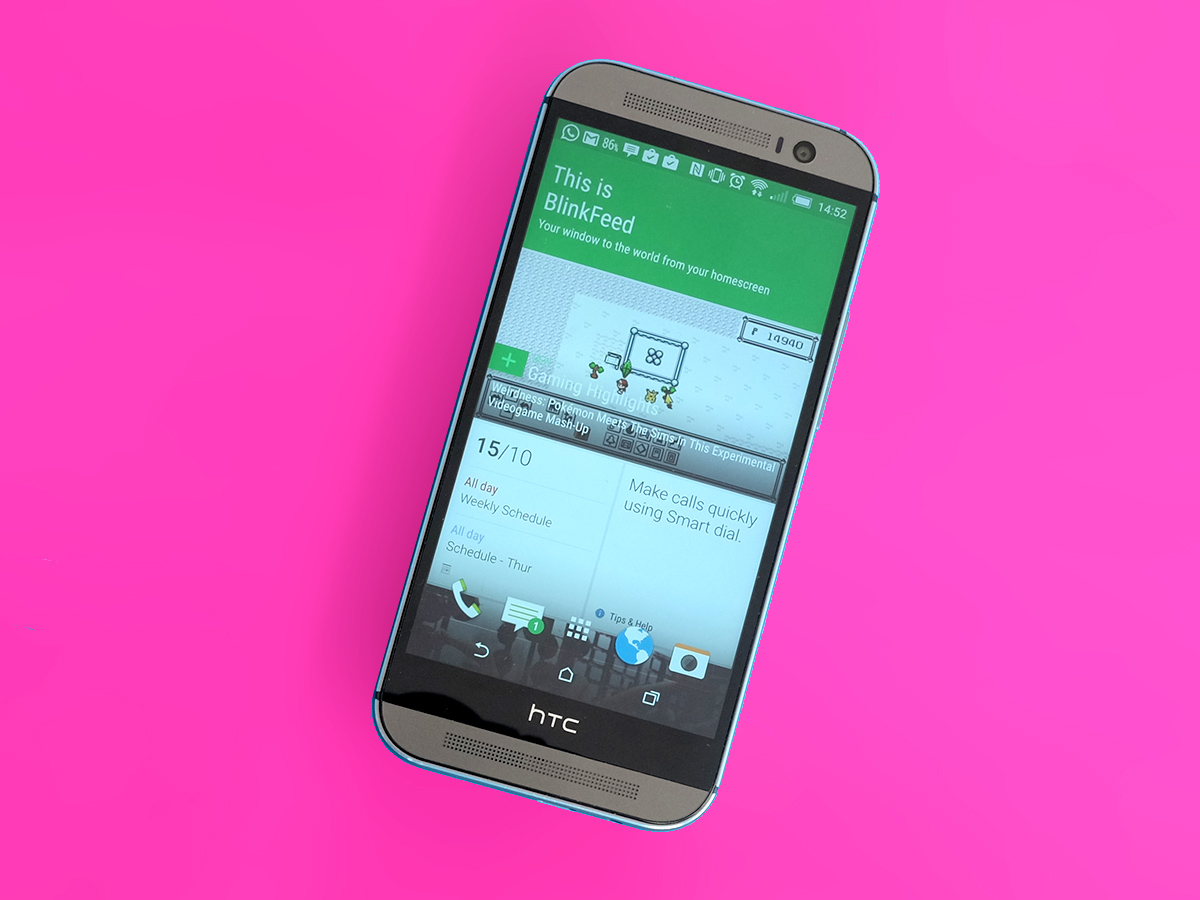 As a phone that's a bit of a blast from the (recent) past, it's funny that Google has actually come to meet it. I'll explain. The HTC One M8s uses a custom HTC skin called Sense 6.0, and part of what it does to 'normal' Android has become standard in Android 6.0 Marshmallow.
Namely, the apps menu moves vertically rather than horizontally. Has Google nicked the idea from HTC? I think Windows Phone is the inspiration rather than Sense, but it means it feels as if there's a bit of tasty Marshmallow fluff in the HTC One M8s, even though it actually runs older Android Lollipop.
In other respects, HTC's custom UI could do with a visual spruce-up. With its style not having changed all that much since 2013, parts look a bit busy and cluttered compared to what you get in phones like the Sony Xperia Z5 and Samsung Galaxy S6. The keyboard is also a must-replace. As usual, the HTC one makes it ridiculously easy to accidentally change the language of the internal dictionary.
Still, we're talking about small-fry stuff here. The One M8s still has decent software, and BlinkFeed remains one of the better additions to a custom Android skin. In case you've not encountered an HTC phone in the last few years, this is a scroll of updates from your favourite websites, and your social networks if you so choose, that sits just to the left of your normal homescreens.
Some people like it, others want to turn it off as soon as they remove phone from box. I used to be part of the latter crowd, but I now think it's a pretty good way to kill a few idle minutes.
Confident performer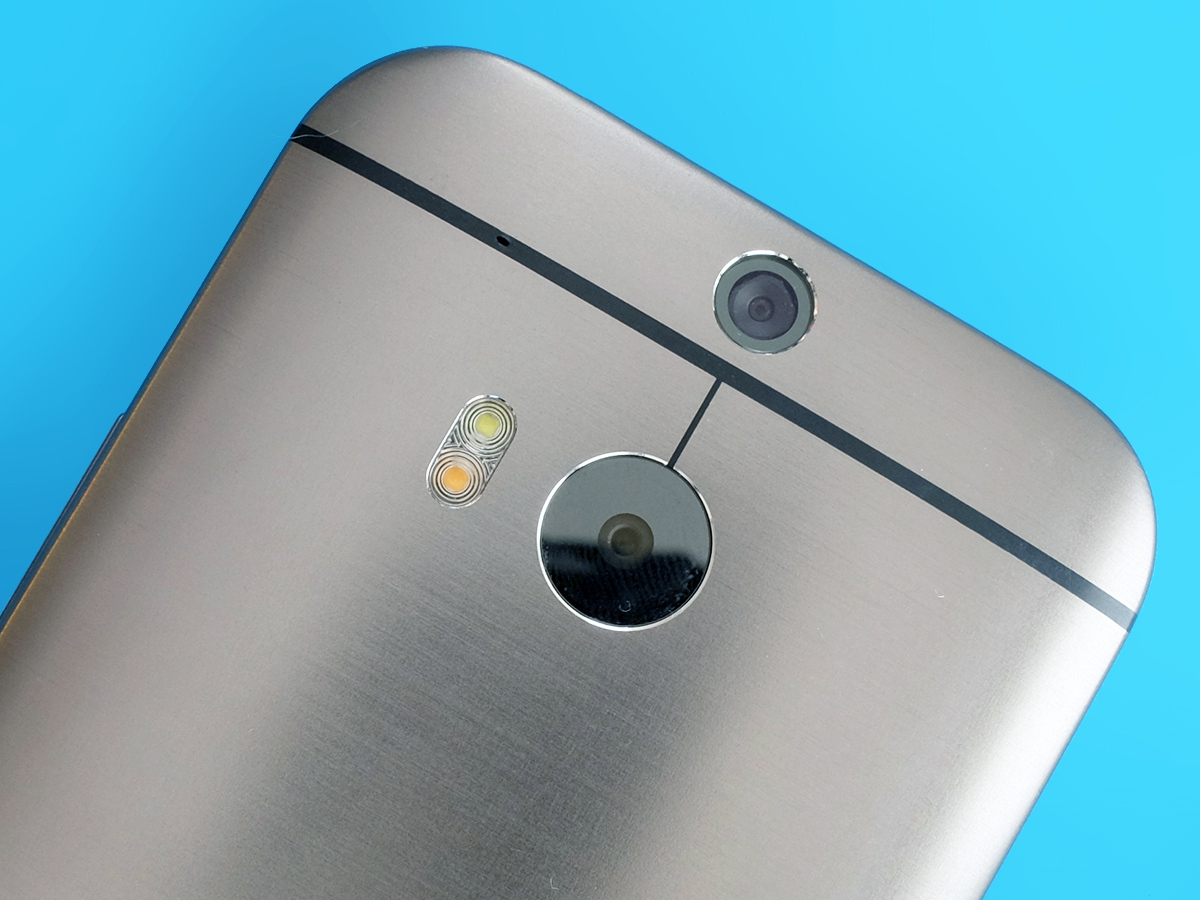 What's a real win for the HTC One M8s is that it doesn't actually feel much slower than its higher-profile brothers much of the time. There's no major lag, and while a few of the highest-end games won't run quite as well with all the fanciest visual effects turned on, it's not as though you can't play every Android game out there and have it run just fine.
The key part of this is what while HTC 'only' uses the mid-range Snapdragon 615 here, it also comes with 2GB RAM. Having lots of this system memory to spare is the often-uncelebrated hero of getting good Android performance these days.
Its benchmark results aren't too shabby either. In Geekbench 3 it scores 2631 points, roughly doubling what you get from the budget rival Motorola Moto G. That's no surprise when the Snapdragon 615 is much like two Snapdragon 410s stuck together, then amped up a bit. It has eight cores, humming along at 1.65GHz.
Cashing in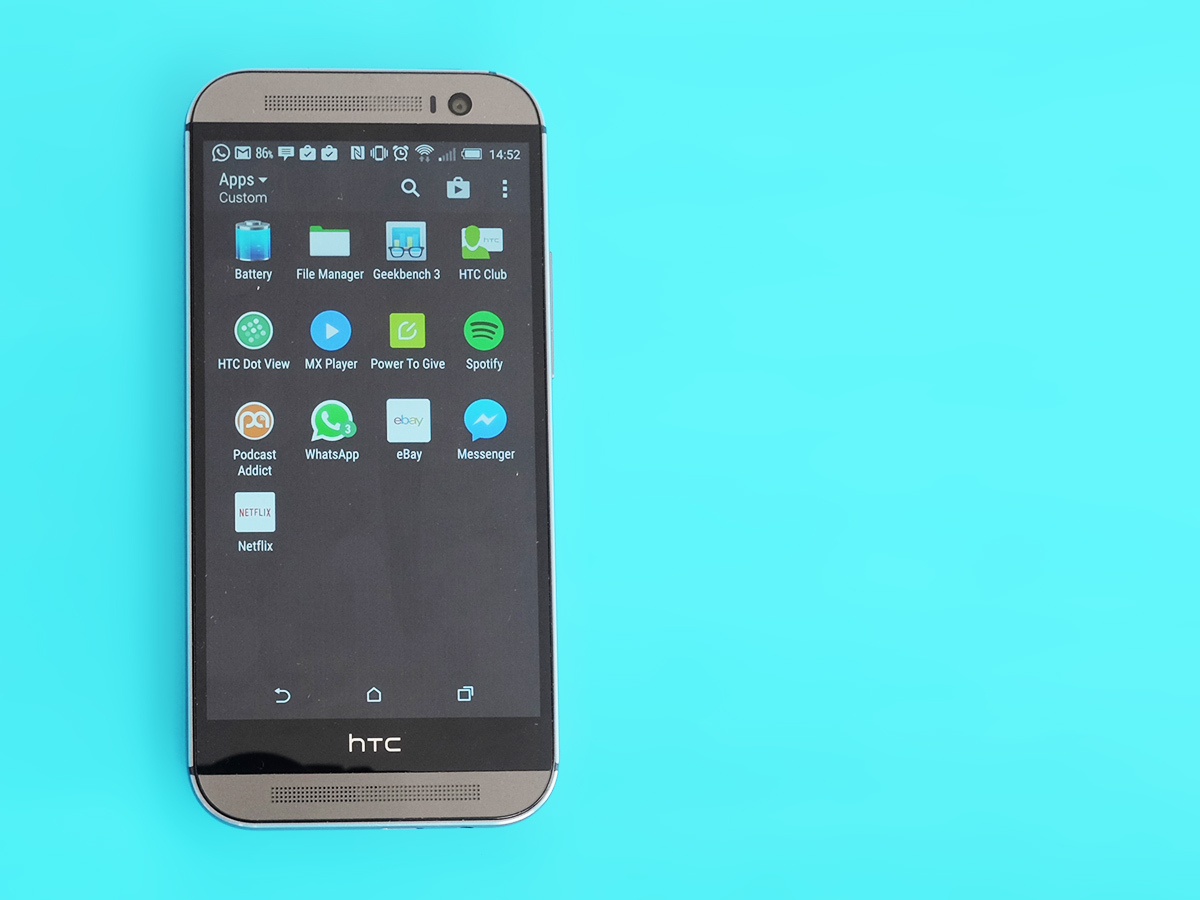 The HTC One M8s is a tricky phone, that cycles between great traits and slight obnoxiousness. For example, you'll find similar specs in way-cheaper phones like the Sony Xperia M2 Aqua and ultra-value Vodafone Smart Ultra 6. Is it cashing in on the HTC One name?
But then this phone looks nice and has those great speakers. Plus it runs well and there are little hidden extras, like how its storage is about twice as fast as that of the Moto G and other ultra-budget phones.
The battery life is less strong, though. It's a head-scratcher, because the actual battery capacity suggests it should be pretty good.
The HTC One M8s has a 2840Ah battery, which sounds like a pretty good size for something with a 5in screen. However, I found that its real-life performance is passable at best.
With a bit of podcast streaming and some short browsing spells, the One M8s drains down to 10 per cent charge by 6pm. It seeps down quickly enough to be an issue.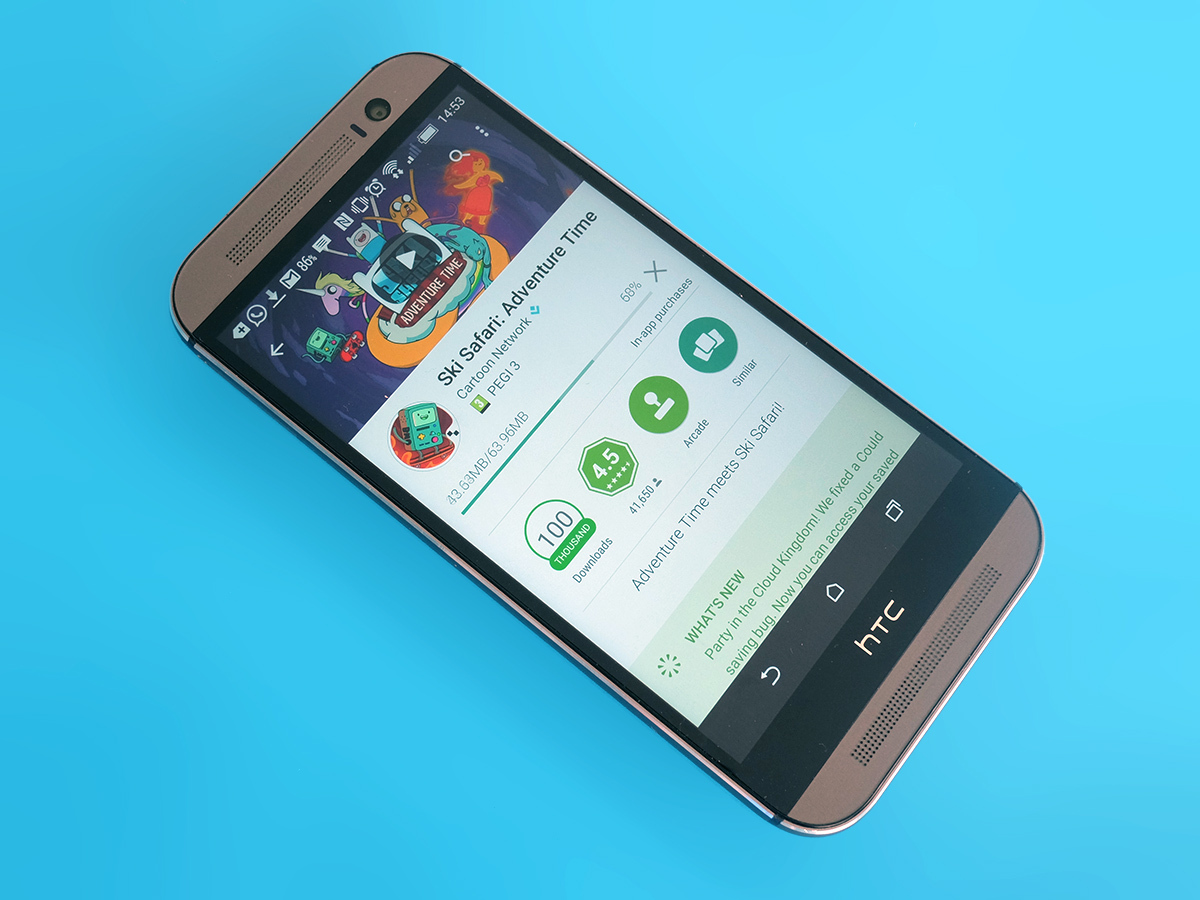 Wondering why a fairly chunky 2840mAh battery would drain down quite this quickly when it seems pretty well-matched for the hardware, I tried a few basic tests that wouldn't be affected by any weird things I'd been doing in general use. They only reaffirm that the HTC One M8s's stamina ain't that great, though.