Huawei Band 2 Pro review
This £60 fitness tracker is big on features, but low on charm...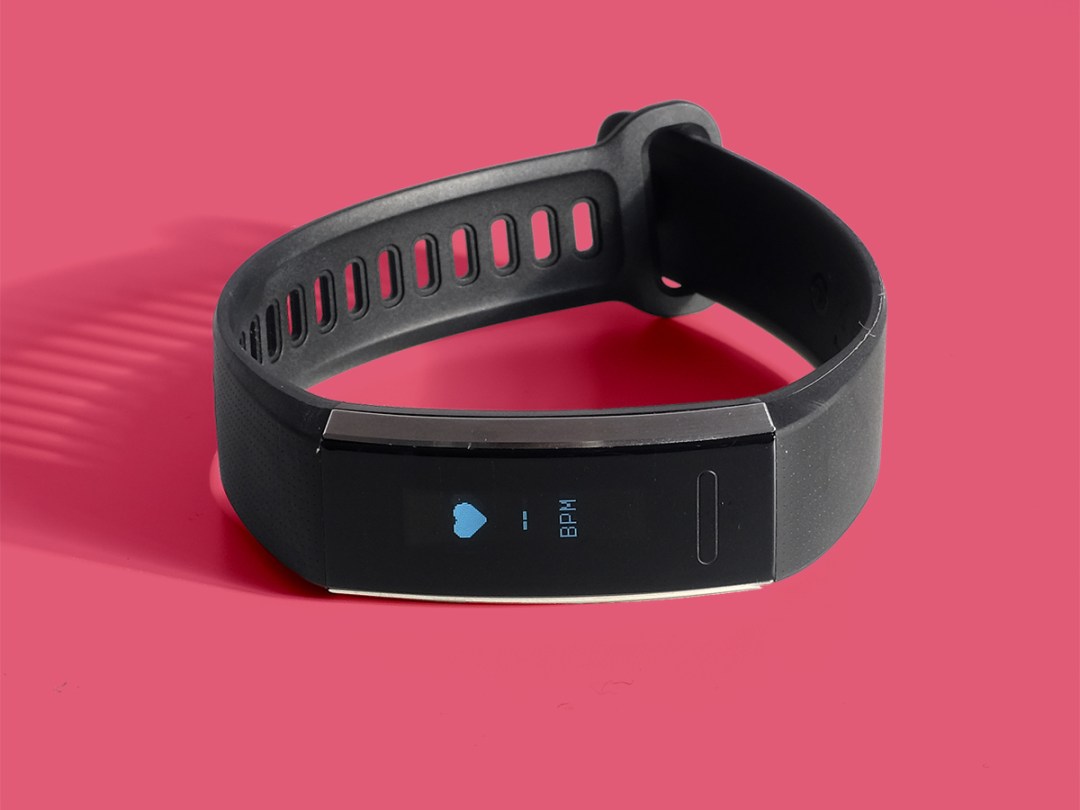 The Huawei Band 2 Pro is a wearable that promises the world. GPS, notifications, multi-sport tracking and good battery life for just £60? That sounds like a snake oil-grade swindle.
It's real, though. The Huawei Band 2 Pro has tech leaking from every pore. It's just a shame the band is not all that much fun to use. For us folk just looking for a way to get us motivated to lose a few pounds, it's up against the Chinese imports, not Garmin, Fitbit and TomTom.
Harsh? Sure it's harsh. But that doesn't mean the Band 2 Pro is bad. It's still great value, and you won't have to send it back to Shanzhen if something goes wrong.
Design: dressing up for the occasion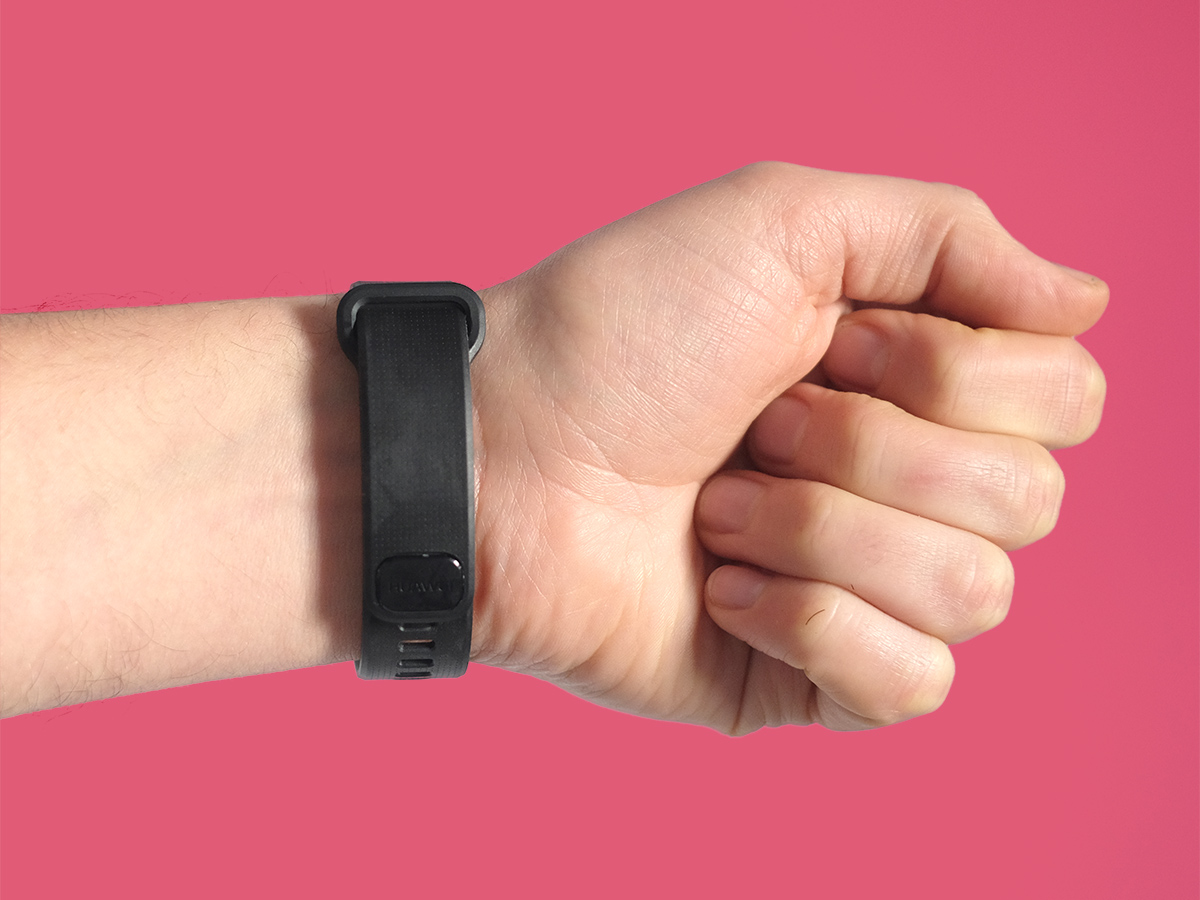 The Huawei Band 2 Pro's aim is to look like the definition of "premium fitness tracker", even though it costs just £60.
This means it's an inch-wide band of rubber and plastic, but has aluminium inlays to tell you: this isn't that cheap, we promise. It works.
The look is similar to a Fitbit Alta's. And while the Alta is significantly smaller, and cuter, you could easily believe the Huawei Band 2 Pro is more expensive than it is. That's what two little strips of aluminium can do.
The Huawei Band 2 Pro's first knock comes when you put it on. It's not as comfortable as most of its big-name rivals. And to start with, this doesn't make much sense. It's curved to fit your wrist, and has a silicone rubber strap. Even so, I still found myself deliberately loosening the Huawei Band 2 Pro whenever I didn't need to get an accurate HR reading.
Comparing it side-by-side with the Garmin Vivosport, the rubber of the Huawei's strap has much less give to it. When do you it up tight, it really feels tight, as if it's quietly trying to cut off your blood supply. Looser it's fine, but then the HR sensor won't work properly.
Interface: slow going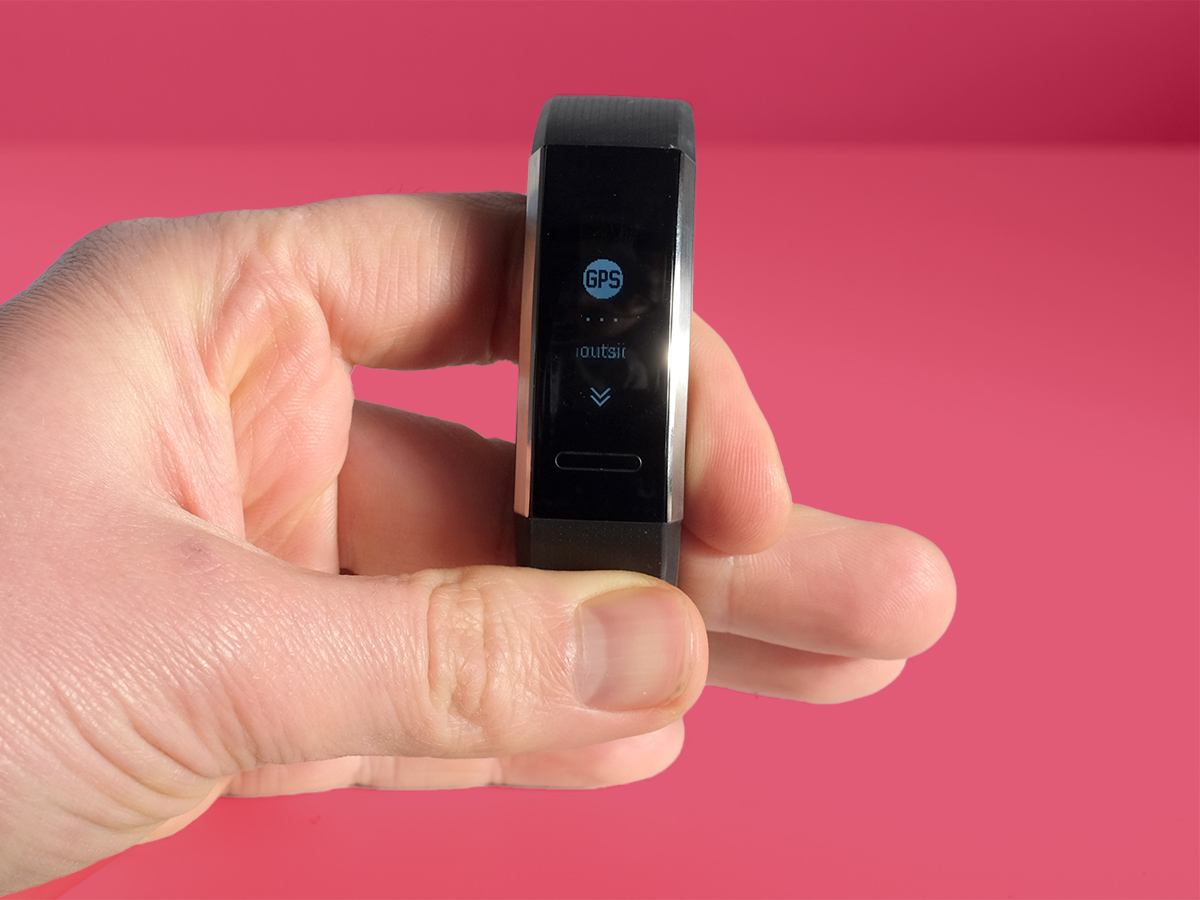 The second issue of the Huawei Band 2 Pro is that it's a bit of a pain to use.
To flick through the wearable's interface you tap on a tiny touch panel below the screen. A 1mm thick oval below the screen, it looks great. But it's your only point of interaction.
There's no touchscreen. And as the pad doesn't recognise swipes, just taps, each time you want to see a metric or track an activity you have to laboriously cycle through all your homescreens. It gets old quick, particularly as the Huawei Band 2 Pro doesn't respond all that quickly.
A long press on one of the activity screens starts monitoring. There's Outdoor Run, Outdoor Cycle, Swim, and Indoor Run. This band may look quite slick, but doesn't feel all that slick in use.
Notifications are the worst affected. The Huawei Band 2 Pro lets you read your text and WhatsApp messages, and you can pick which apps' notifications come through. But flicking through them is clunky in the extreme, and they sit there like soggy puddings until you flick through them (often several "pages"), getting in the way.
A single, dumb touch panel isn't enough to juggle the Huawei Band 2 Pro's many features.
Screen: fits the budget billing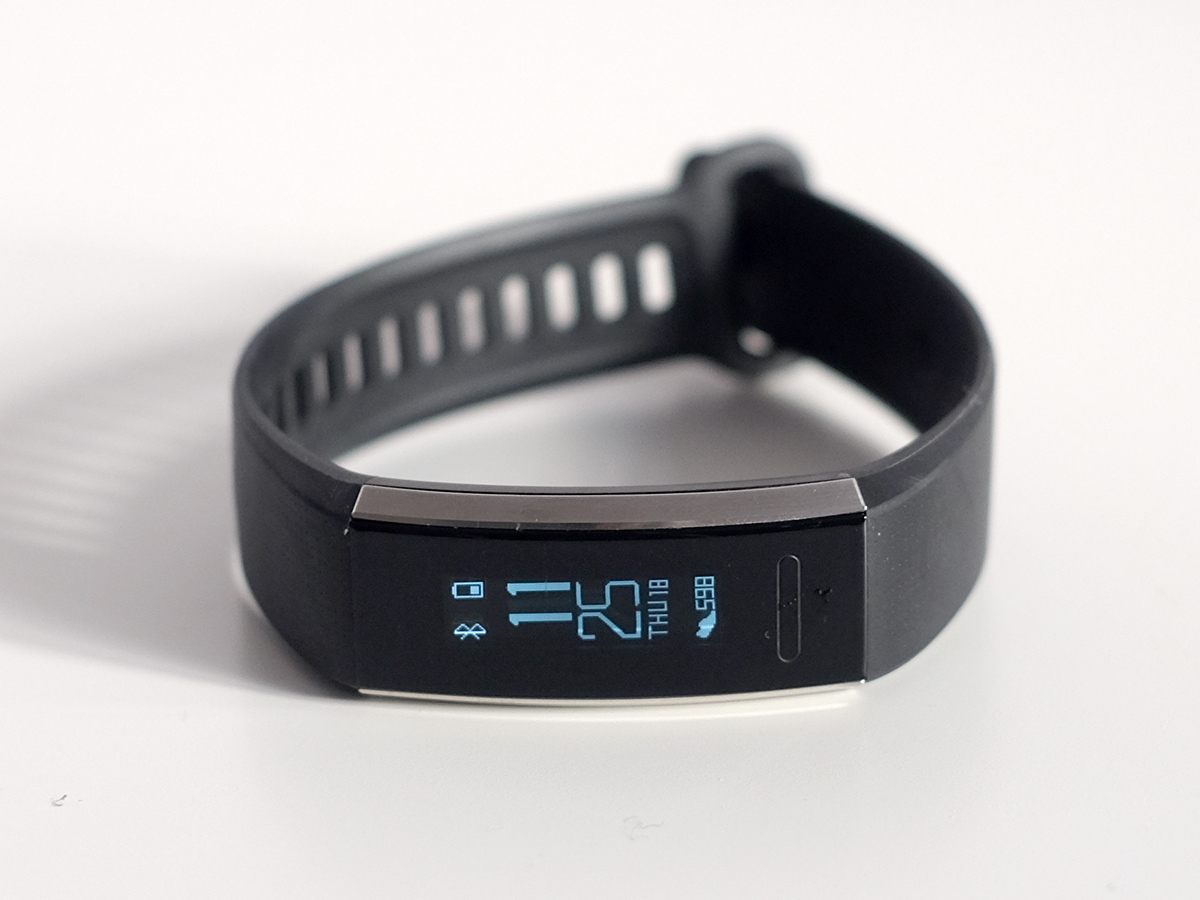 The Huawei Band 2 Pro's screen is monochrome, like a lot of cheap trackers, but fits the design well.
Like the Fitbit Alta, it's an OLED panel, meaning the display more-or-less sinks into its black surround. It's nothing too flash, but is crisp and bright enough to be visible outdoors. You can't keep it on 24/7, and the display lights-up when you press the touch panel or flick the Huawei Band 2 Pro around to your face.
After the comments about Huawei missing the mark on a few important finishing touches, it's reassuring this gesture at least does work well.
There are other neat extras too. The Huawei Band 2 Pro is water resistant to 5ATM, letting you swim with it on. You'll want to treat it fairly carefully at other times, though, as the screen covering is plastic, and ours has already picked up a few light scratches. Who knows how: it's only had to brave South East London, not the Yorkshire moors.
Swim tracking only counts calories and time spent too, so isn't all that useful. By now you're probably picking up a vibe. The Huawei Band 2 Pro isn't as fun to use as a Garmin Vivosport. Or a Fitbit Alta. And it's nowhere near as simple as a Misfit Ray.
Fitness tracking: punching above its price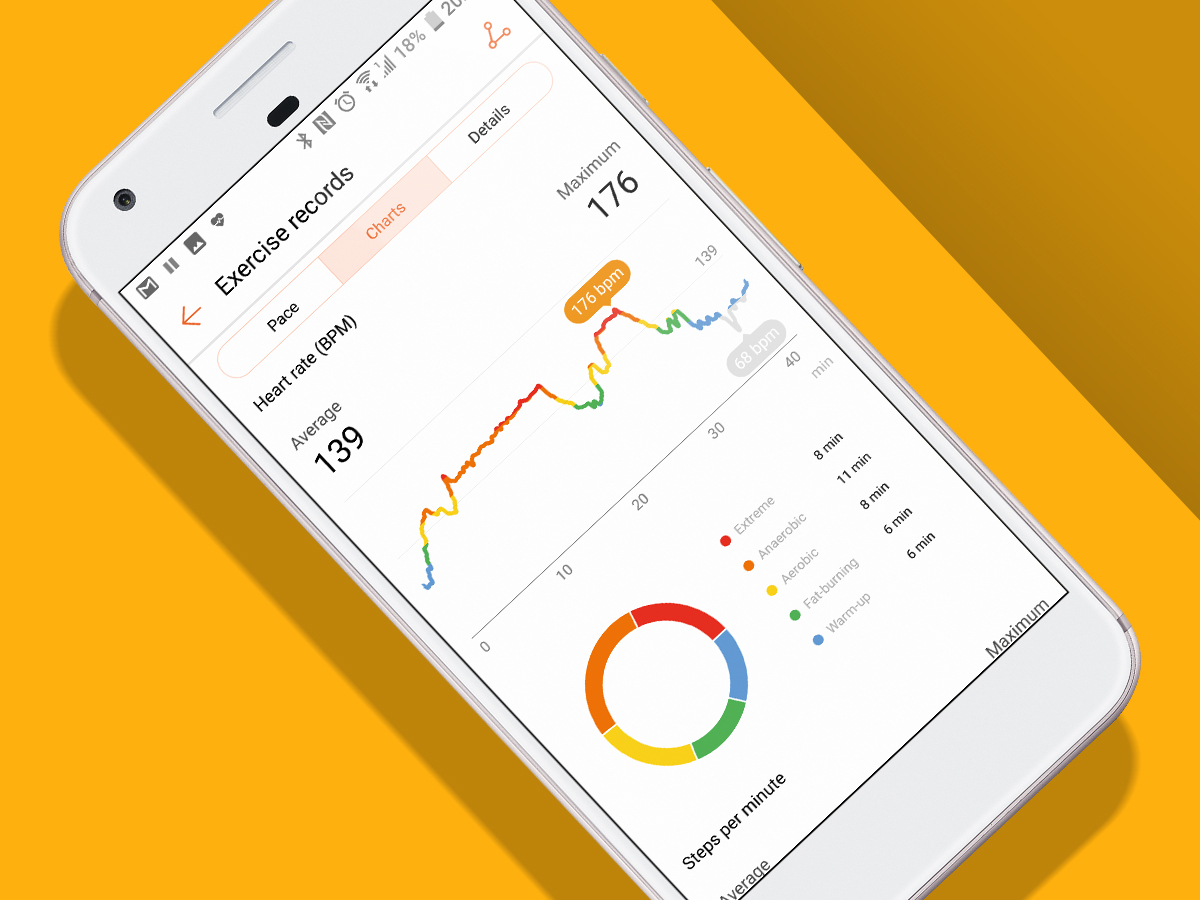 Being too nasty to the Band 2 Pro seems unfair, though, because what it can do for its price is amazing.
First, it has GPS. Real GPS, it doesn't just take location data from your phone. It's not bad either. It locked onto our location in just a few seconds, and while its recorded routes are a little messier than those of a Garmin Forerunner, accuracy really isn't too bad at all. Most GPS watches cost over £100. Getting the feature for £60 is, well, unusual.
The Huawei Band 2 Pro also has a heart-rate sensor on its back. It takes a few seconds to settle down to an accurate reading of your resting heart rate, but performs perfectly fine. It even did fairly well when monitoring a 5K run with a couple of slower pace intervals.
We've seen complaints that the Huawei Band 2 Pro gets its measurement wrong by up to 25bpm under pressure, but with the band tight we were impressed by its accuracy for such a cheap band.
This improvement could also be down to a software update. All of your data ends up in Huawei's Health app, but as this can share data with Google Fit, UP by Jawbone and MyFitnessPal, you're not tied forever to Huawei.
Battery life and features: stretching itself thin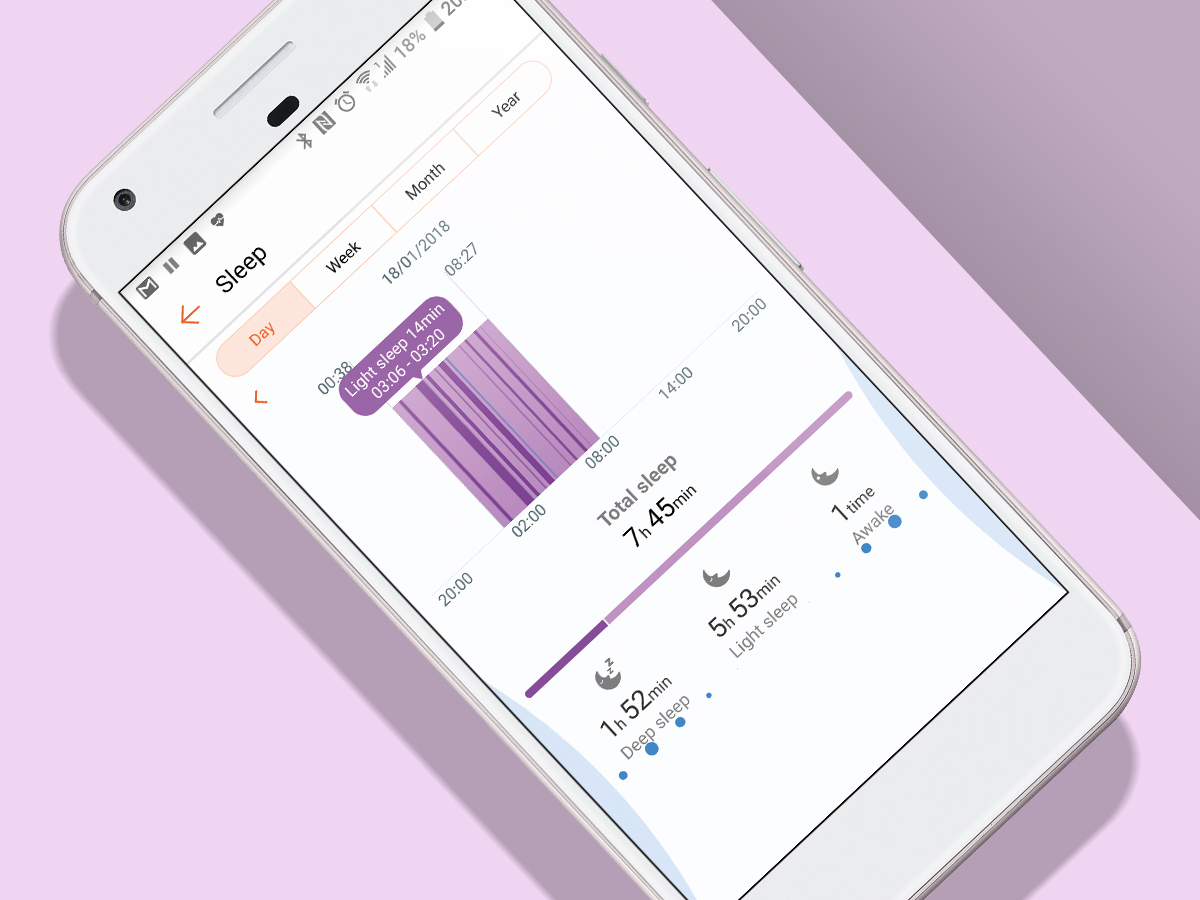 This band has ridiculous battery life too. Huawei says it'll last up to 21 days of general use, and judging by our experience you should be able to get a full week even with some notifications and GPS use.
There are a few other disappointments to the Huawei Band 2 Pro, though. If it lasts this long, why doesn't it have a proper 24/7 heart rate tracker mode like the Garmin Vivosport? There's an "automatic" heart rate mode that claims 24-hour monitoring, but still only takes readings every now and then.
Distance tracking when running indoors is also 10-15% off, and the Huawei Band 2 Pro doesn't (yet) offer a way to alter your stride length to fix this. It makes a profile based on your height and, well, that's it.
That said, if you're running in a gym you can always use the distance read of a treadmill to work out how far you've really slogged through.
Given the missing parts of the HR and general accelerometer fine-tuning, it's a little surprising Huawei has put extra effort into sleep tracking. Huawei TruSleep is a team-up with a Harvard Medical School teaching hospital, using your REM, deep and light sleep stats to work out a quality score for each night in bed.
Mining the "quality of life" side, there's a breathing trainer too. It's not much more than an animation telling you when to breathe in and out, and it makes you breathe quicker than any mindfulness meditation course we've tried.
You can use the Huawei Band 2 Pro to wake up as well. It has a fairly powerful vibrate motor for a band and support for multiple alarms in the app. You'll struggle to find a band from a big brand that does anywhere near as much as this one. We just wish it was more fun to use.
Huawei band 2 Pro verdict
For £60, the Huawei Band 2 Pro is almost unbeatable in terms of what it can do. GPS, heart rate tracking, swim-readiness and notifications: you'll normally pay £100 more for this.
uawei needs to work on its wearable interface, though. While it functions and offers the stats any good tracker needs, it's also clunky and fiddly. This makes the Huawei Band 2 Pro less fun to use and kills the appeal of its smart notifications.
If you want GPS tracking at a rock-bottom price, go ahead. Just don't expect it to match the Garmin Vivosport, which is a lot easier to use.
Stuff Says…
A certified bargain with surprisingly good GPS tracking, but it's not as comfortable or as fun to use as its rivals
Good Stuff
Superb value
GPS really works
Great battery life
Bad Stuff
Not as comfy as rivals
Poor UI
Inaccurate accelerometer distance readings
Clumsy notifications