KEF LSX review
KEF delivers compact, sleek speakers with great sound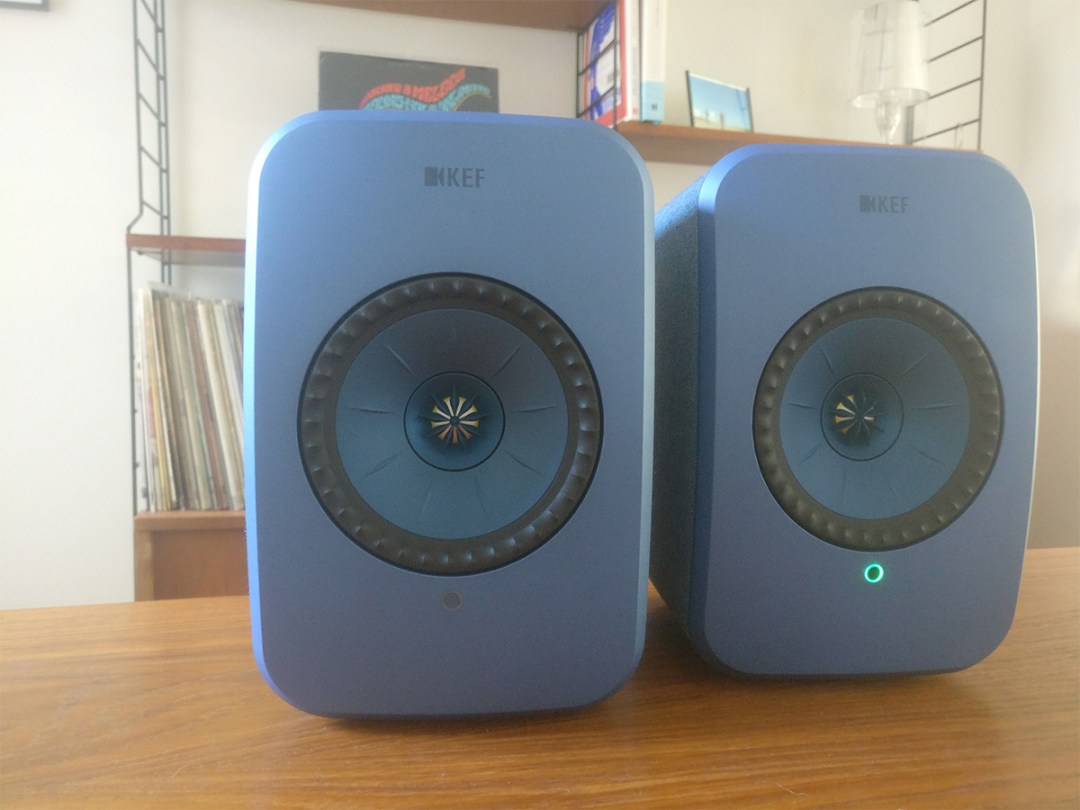 If it ain't broke, of course, you don't fix it – it's a cliché because it's true. But if you can make it smaller and more affordable without breaking it in the process, we say: go right ahead.
That's exactly what KEF has done with its new LSX wireless stereo speakers. It's taken everything it's learned from the runaway success of its £2k LS50 Wireless speakers and produced something, well… the same, but less so.
Less expensive and less bulky, certainly – but not especially diminished in terms of performance or desirability.
Design and build: compact and portable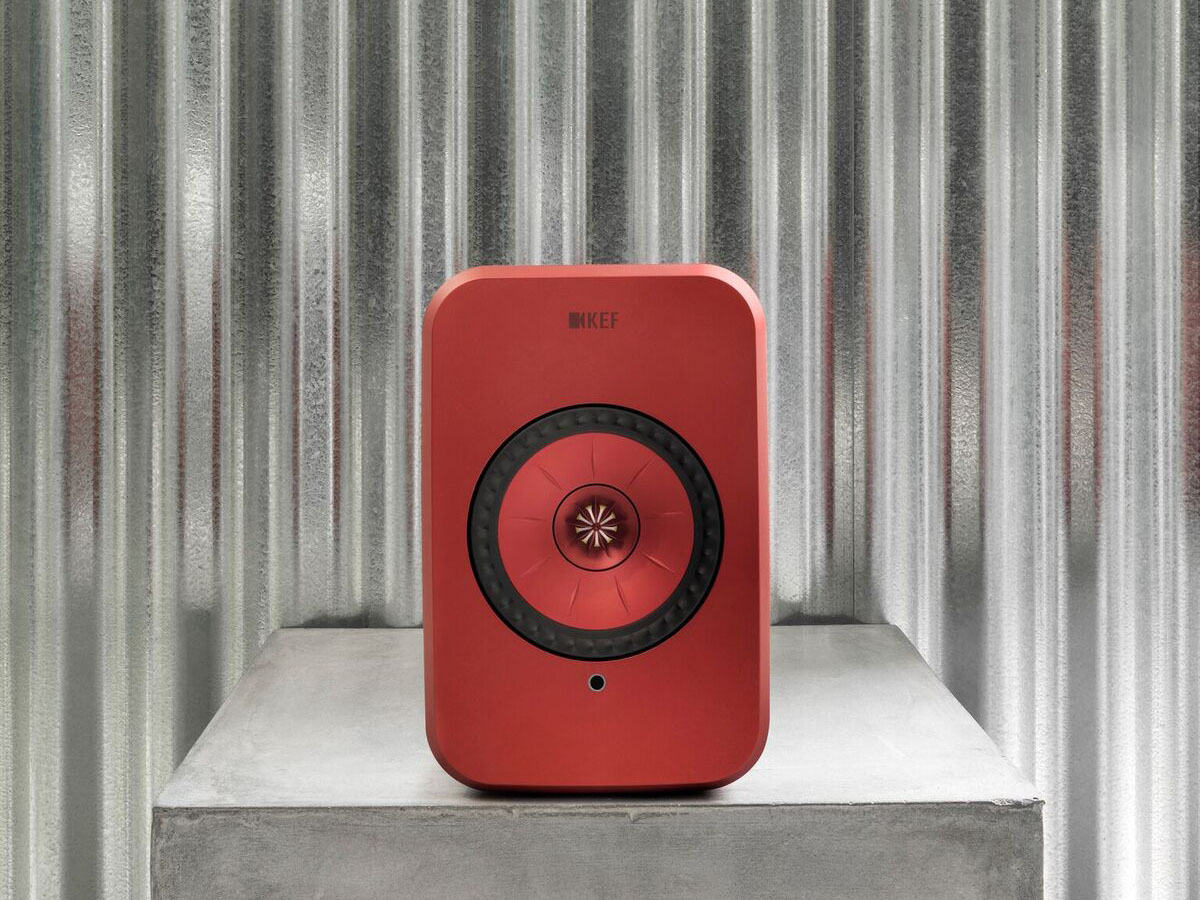 Anyone familiar with KEF's (excellent and wildly well-received) LS50 or LS50 Wireless loudspeakers will be broadly familiar with the design language KEF has deployed here.
The elegantly curved front baffle (which helps disperse sound pressure variations away from, rather than back into, the cabinet) and the Uni-Q driver arrangement (which sees the tweeter positioned in the throat of the mid/bass driver) are immediately recognisable.
With the LSX, though, the design is on an altogether more compact scale. Each speaker is just 24cm high, 15.5cm wide and 18cm deep – tiddlier than the vast majority of stereo speakers and an authentic desktop proposition (provided your desk is reasonably big and reasonably tidy).
Keeping costs down and dimensions diminutive has necessitated some fundamental changes over the bigger, pricier LS50 Wireless on which the LSX is based, though.
The use of Class D amplification throughout means the LSX doesn't need the heatsink of its larger sibling, which means a tidier cabinet.
And where the big brothers are built of MDF with a smattering of high-tech polyester resin DMC, the LSX is made of plastic. High-quality and inert-as-possible plastic, though – and all but the gloss-white finish are wrapped in tactile, hard-wearing and not inexpensive Kvadrat fabric.
(Those finishes, by the way, include the blue of this review sample as well as red, black, olive green and the aforementioned gloss white. The olive green variant also features the signature of Michael Young, the British designer who had input into the look and feel of the LSX.)
Overall build quality is impeccable – which is just as well, as the weight, size and sheer portability of the LSX means it may well end up being carted from room to room as the need arises.
Features: Functional flexibility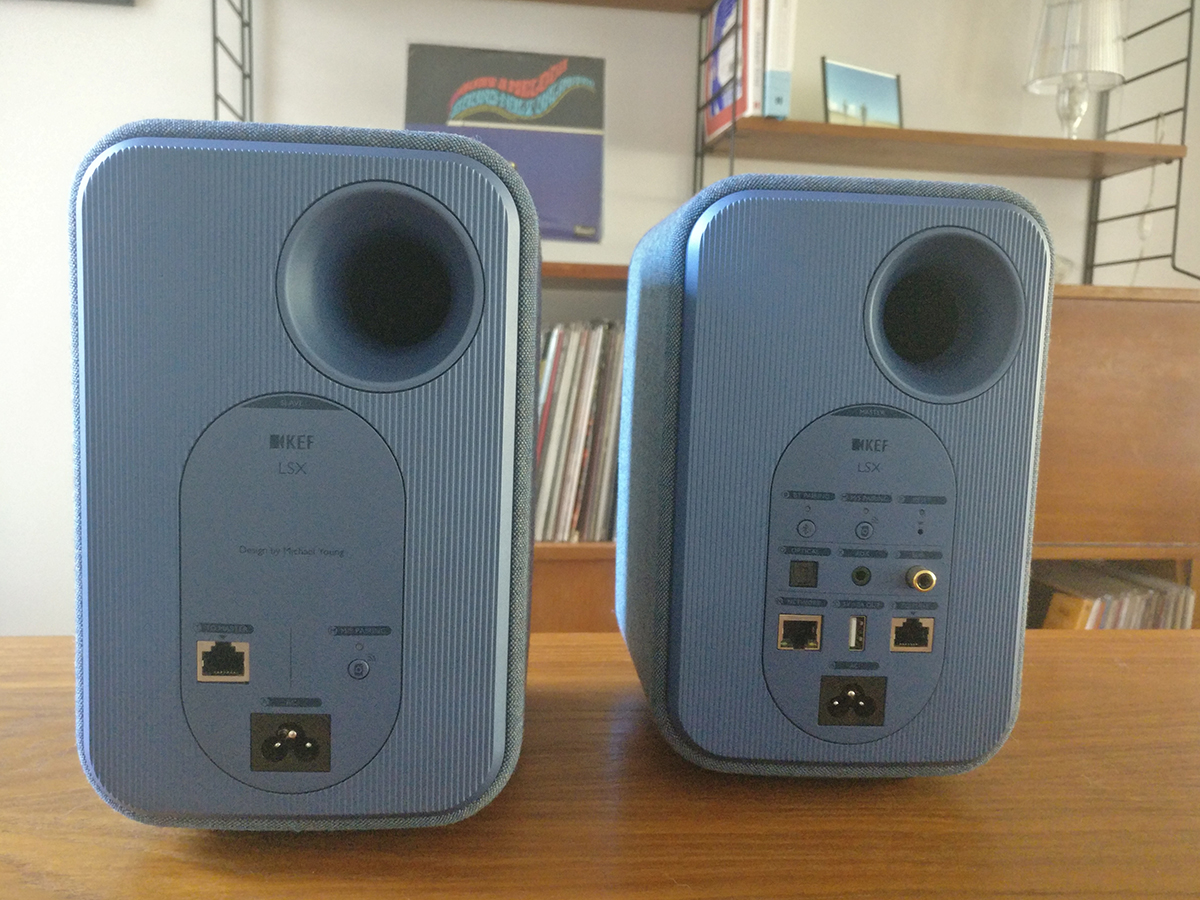 Just because LSX forgoes some of the LS50 Wireless feature-set, that doesn't mean it's in any way badly specified. On a fundamental level, all you need add is a smartphone and a Spotify subscription and you've a complete stereo system.
But, of course, you've access to more sources of music than that. Use the ethernet socket or dual-band wi-fi to stream via DLNA or Tidal. Use aptX Bluetooth or (from early 2019) Apple AirPlay 2.
The master speaker also includes a 3.5mm analogue input and a digital optical socket too, as well as a subwoofer pre-out for the bass-crazy.
The Class D amplification each speaker employs is divided into 30 watts for each of the 19mm aluminium dome tweeters and 70 watts per 115mm magnesium/aluminium alloy mid/bass driver. That's a total of 200 watts, which proves ample to fill a medium-sized space with sound.
Both speakers need plugging into the mains, naturally, and the option of connecting them together via a (supplied) ethernet cable is useful in terms of absolute stability. Unlike the LS50 Wireless, though, it's possible to use LSX without physically connecting the speakers to each other.
Should you opt to connect the speakers, then LSX is capable of delivering 24bit/96kHz audio – it can accept files up to 24bit/192kHz but will downsample them. Should you go down the 'as wireless as possible' route, any file above 24bit/48kHz will be downsampled to that standard.
Compared to an (extremely accomplished) rival like Acoustic Energy's AE1 Active speakers (which also cost a grand or so), the KEFs seem to have a distinct upper hand. They're more compact, they're arguably nicer to look at, and they have a great deal more flexibility.
If you crave painless convenience and extensive functionality, the LSX makes a very strong case for itself. In fact, the one-box elegance of Naim's Mu-so is probably a more likely rival for your affections (and your cash).
Performance: tone and texture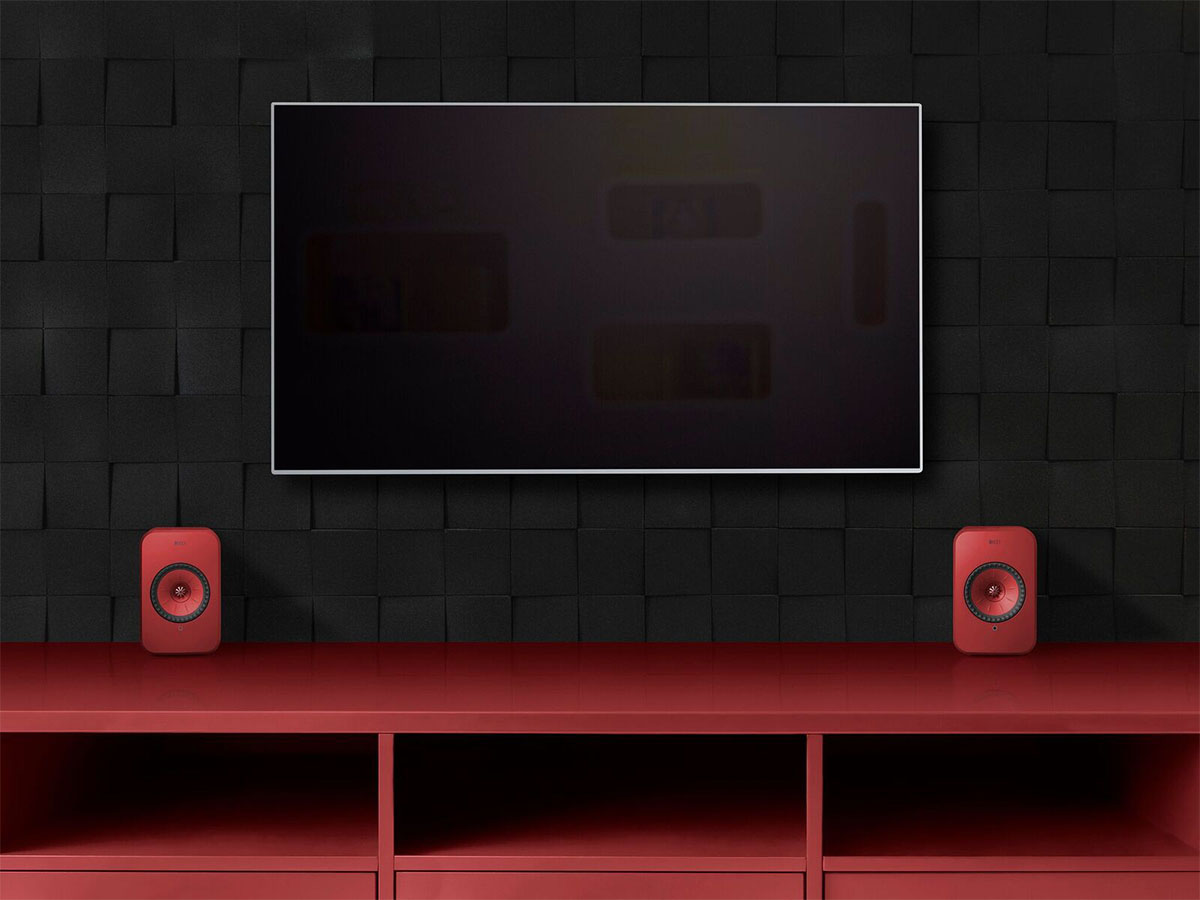 From the first piano note of Kamasi Washington's remarkable retooling of Debussy's Clair de Lune, it's obvious LSX is closely related to both its LS50 and LS50 Wireless associates. The levels of detail, poise and expressiveness are unmistakable.
When properly supported and positioned, the LSX focus and image well, giving a good impression of the numerous players on Washington's stage and their position relative to each other.
It's a spacious enough sound-stage, too, with each instrument given sufficient elbow-room and space to breathe. The suggestion of an ensemble performance, rather than individual and dislocated elements, is strong – and that, in part, is what makes the LSX so enjoyable to listen to.
Tonally, too, they're impressive. Switch to the rather less cerebral Whitest Boy on the Beach by Fat White Family and the scuzzy drums, scuzzier guitars and none-more-scuzzy keyboard sounds are packed with details of tone and texture. You can almost hear the dirt under the collective fingernails here.
The sound is pleasingly even throughout the frequency range – treble sounds are crisp without getting hard (unless you really wind up the volume) and the midrange, so critical if singers are going to be given a fair crack, is sweetly expressive too. These little boxes with their little drivers even manage respectable bass extension – and those low frequencies are deft and speedy, too.
In most circumstances, in fact, that subwoofer pre-out won't be required. If you plan on using the optical input to connect a Blu-ray player or set-top box, though, you may want to consider adding a subwoofer for the full-on crash-bang-wallop movie-watching experience.
You'll want one that responds as rapidly as LSX does, mind you, or you'll find the truly low frequencies sound a bit estranged from the rest of the action.
Along with the tweeter-in-driver arrangement, which is intended to aid time-alignment, KEF uses its almost-but-not-quite-trademarked Music Integrity Engine digital signal processing to deliver remarkably convincing timing from LSX. A swampy, dense tune like The Roots' 100% Dundee flows along at pace, with a unity and integrity that's by no means a given in systems costing this sort of money.
The only areas where LSX doesn't knock it all the way out of the park, in fact, are pretty predictable: outright scale, and dynamic reach. It shouldn't come as any kind of shock to learn LSX can't generate a huge, shout-to-be-heard-above-it presentation – although in most domestic situations it's plenty hefty enough.
And it's not the last word in dynamic expression, either: the distance from 'quiet' to 'loud' isn't all that far before LSX runs out of headroom. But these traits are far from uncommon in compact one-box (or, in this instance, two-box) solutions, and they're by no means severe enough to put LSX's position near the top of your short-list in any jeopardy.
Interface: two apps, one speaker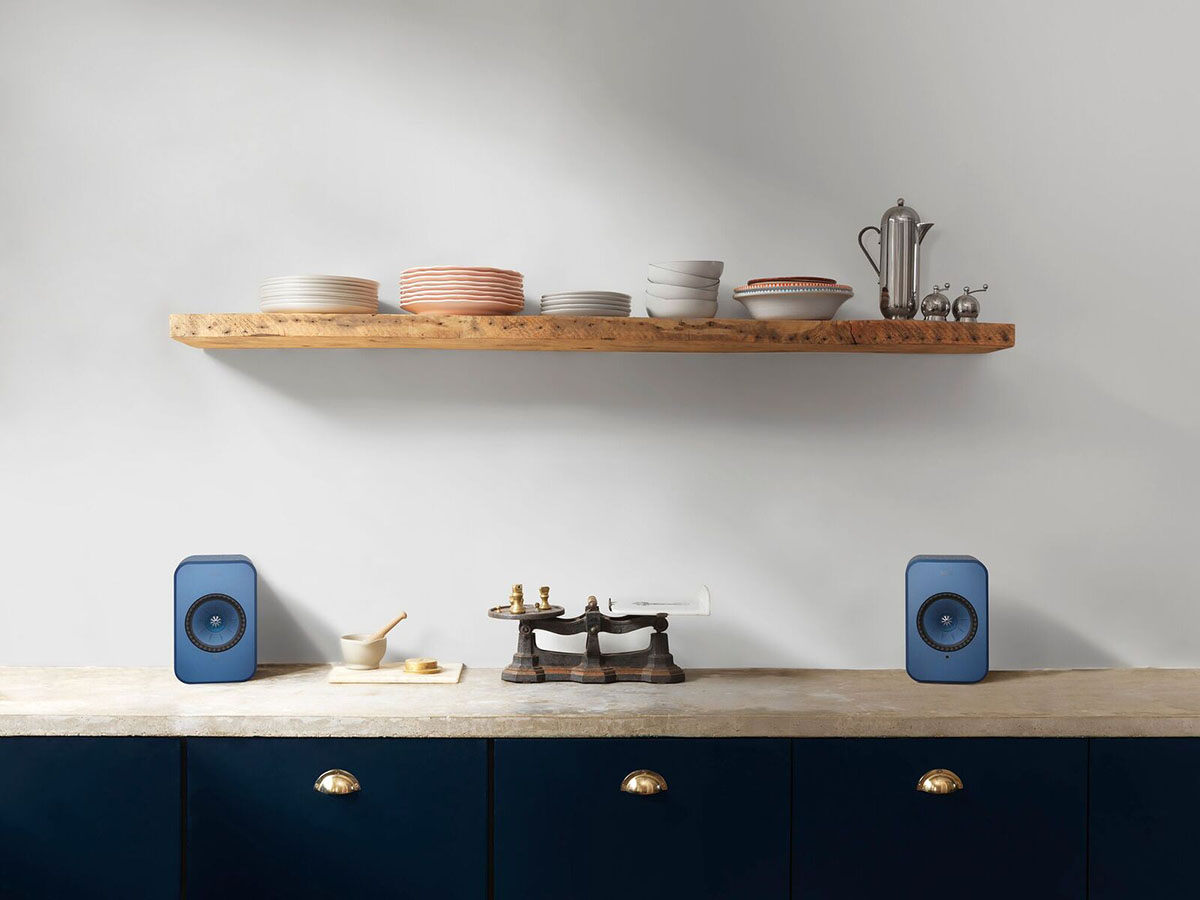 There's a rudimentary remote control in the box – it's of hard plastic, its few buttons aren't illuminated or especially logically positioned, and it feels a fair bit cheaper than the speakers it controls.
Far better to use the two apps KEF has developed to operate the LSX. Quite why there needs to be two is beyond us, as the functions of the KEF Stream and KEF Control apps aren't all that wide-ranging – certainly we've used single control apps with all this functionality and more.
But then we're not app developers, so we're sure KEF has done what's best (or most convenient, or most affordable).
In any event, KEF Stream allows you to access networked music via DLNA, Tidal or Spotify, while KEF Control handles set-up, EQ settings, firmware updates and source selection.
Aside from rather slow-witted responses to inputs when using Tidal or Spotify, both apps seem stable enough – plus they're either mercifully free of design flourishes or visually rather humdrum, depending on your point of view.
KEF LSX: Verdict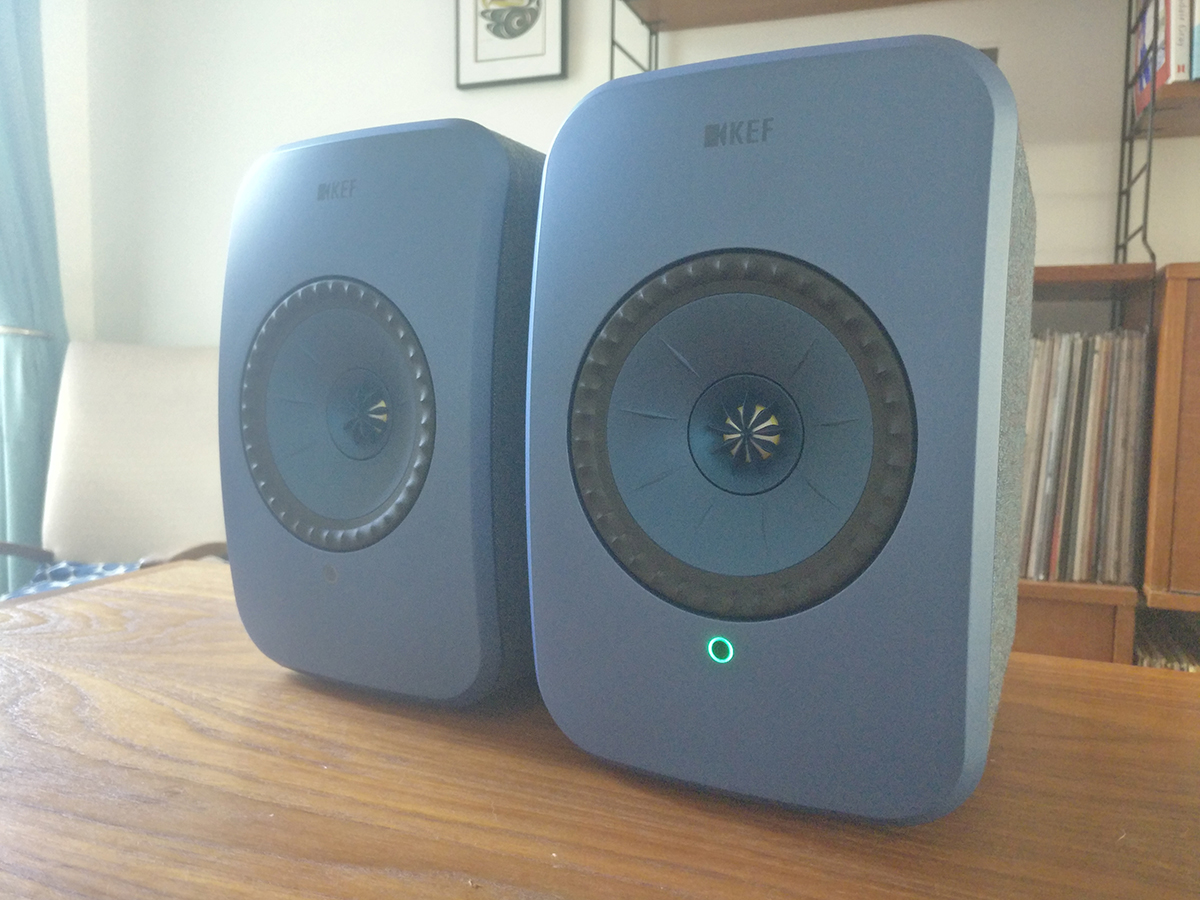 What LSX represents is more far-reaching, and less steely-eyed, than KEF simply stripping features out of proven product to drive costs down.
It's taken a proven product, and carefully and successfully re-designed it – to the point that it looks, feels and sounds far more than half the price of the LS50 Wireless. It's about as impressive an all-round system as we've heard for the money.
Stuff Says…
Uber-convenience and great sound at a real-world price – and in some vivid colours, too
Good Stuff
Sleek, compact design
Impeccable build quality
Impressive tonally
Great textured sound