Libratone Zipp 2 review
Alexa, have you been working out?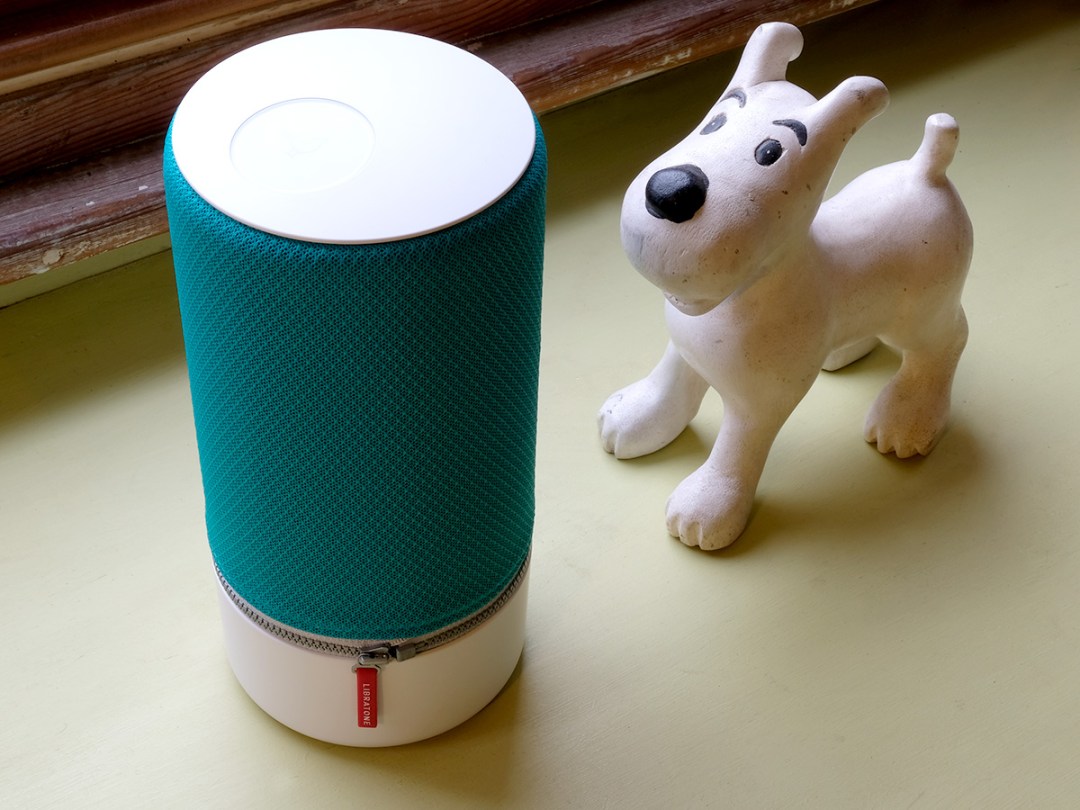 The Libratone Zipp 2 is a portable wireless speaker with Alexa voice control. See how we crammed all the key words into the opening sentence there? Search engine optimisation gold.
More importantly, going on Libratone's pedigree in mains-free audio – and that distinctly non-throwaway price – it should be a bit good.
Libratone is a Danish company, which always helps, and the original Zipp was widely praised for its punchy 360° sound. This new version has the same cylindrical form and 'designer' colour options, but it adds the one thing every speaker apparently needs in its locker for 2019: a in-built voice assistant.
Let's be clear, though. It may look a bit like an Amazon Echo, but this is really a music machine with added Alexa smarts rather than an AI butler with added tunes. That is to say, the Zipp 2 doesn't want to sit in the kitchen giving you weather updates while you grate cheese – it wants to party.
DESIGN: CYLINDER CARLISLE
Size is key with portable speakers: you need enough room in there for decent-sized drivers, but not so much bulk that the 'portable' part involves hiring an industrial crane. The Zipp 2 is certainly light and compact enough to sling around, aided by the neat leather strap, but it's also chunky enough to promise some proper sonic beef.
Inside there's a 4in neodymium woofer with a reflector to spread the love in all directions, plus a 1in tweeter and two 4in passive radiators. The amp is Class D but there's no power rating stated; we're guessing it's the same 100W as the original Zipp.
Libratone calls this colour 'pine green', but really it's teal, isn't it? If you think there are too many teal things in the world, it's also available in red, black and grey, and in theory you can unzip the cover (thus the name) and fit a new one. In practice we couldn't get ours off, but not to worry. It's a very pretty zip anyway.
CONNECTIVITY: MARIAH PAIREY
You have plenty of options for firing tunes at this thing. Wi-Fi is of course essential for Alexa, bit you can also use it for direct streaming from Spotify Connect (for which you'll need a Premium account), Amazon Music, Tidal or TuneIn internet radio. AirPlay 2 means you can use the Zipp 2 to talk to Siri and control your Apple HomeKit, as well as connecting up to 10 speakers wirelessly for stereo and multiroom music.
You also get jack and USB inputs around the back for wired listening… or, of course, you could use this as a standard Bluetooth speaker, like what the ancient peoples of November 2018 used to have. This isn't necessarily as easy to arrange as it should be: our speaker wouldn't even try to pair with a phone once we'd set up the Wi-Fi, which is what it asked us to do first, so we had to reset and start again.
SOUND: WHITNEY BOOSTIN'
All those fancy features count for nothing if a speaker makes your music sound like three cows having a farting contest. Luckily, that's not a problem for the Zipp 2. There's a nice clean thump in the bass, a reasonably spacious midrange and plenty of crispy detail at the top.
The 360° spread is convincing, but bear in mind this is still a fairly small speaker – and when you push the volume beyond 75%, it starts to sound like it. Mind you, while it lacks the bass power of the cheaper (but mains-tied) Sonos One, its treble response feels a lot less constricted when running close to full blast.
There are two ways to tweak the sound in the app – using 'voicing' EQ presets for different music styles, and 'room settings' to compensate for where your speaker is placed – but both become less and less effectual as you nudge the output level closer to the limit. They're handy options, but not miracle workers.
Alexa's listening via six far-field mics, and they work well. Make your request at normal conversational level, at the other side of the room, while the speaker is playing Fugazi at cat-upsetting levels, and she'll still hear you.
CONTROL: TRACY APPMAN
You might find Alexa to be the easiest way to control the Zipp 2. The physical dial on top of the speaker is really not much use, and you're certainly better off using voice control – or the app – to change volume, for example.
That app is basic but does the job. Our only real complaint – aside from that Bluetooth setup issue – is the amount of time it takes to find the speaker again when your phone has gone to sleep, even if it's still streaming music. A minor irritation, yes, but these are precious Courtney Barnett-skipping seconds you'll never get back.
On the subject of time, we got about 10 hours of battery life from this thing – shy of Libratone's claimed 12hrs, but not criminally so. That was mostly Bluetooth streaming and internet radio, with just the occasional "Alexa, what does a cow farting contest sound like?" request. (She didn't know.)
Libratone Zipp 2 verdict
As we may have mentioned earlier, the Libratone Zipp 2 is a portable wireless speaker with Alexa voice control. It looks pretty good, works pretty well, and sounds pretty tidy considering its compact and portable form.
There does seem to be a bit of a gap in the smart speaker market between party animals like the UE Megablast and more serious mains-powered units like the Marshall Stanmore II Voice. And while we have a few quibbles with Libratone's user interface, the Zipp 2 might well have that mid-range market zipped up.
Stuff Says…
A classy little hi-fi speaker that's smart in more ways than one
Good Stuff
Hi-Fi clarity
Decent output power
Handy Alexa smarts
Bad Stuff
Irritating app
No USB charging