Logitech G502 X Plus review: gamer-friendly glow-up
New take on a gaming classic improves in many areas - but will leave fans cold in others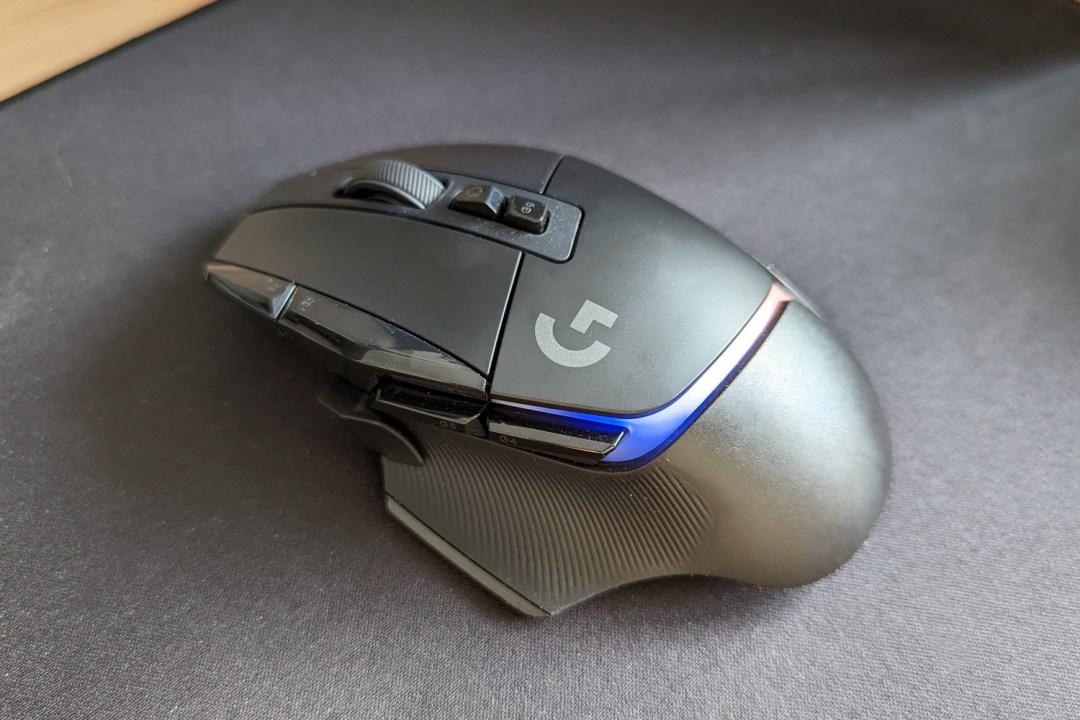 No gaming mouse is perfect – but there's plenty of people that would argue the Logitech G502 comes close. It has been the firm's best-selling mouse, in various forms, since it first rocked up nearly a decade ago. Still, there's always room for improvement, which is where the Logitech G502 X Plus comes in.
It's a 2022 take on the familiar formula, with uprated switches and an emphasis on weight reduction, rather than weight addition. Naturally it's got a healthy lashing of RGB lighting, too. The wireless wonder headlines the new line-up, which also includes the non-RGB G502 X Lightspeed, and wired G502 X.
Has Logitech made gains across the board, then – or is it a case of two steps forward, one step back?
Design & build: under the thumb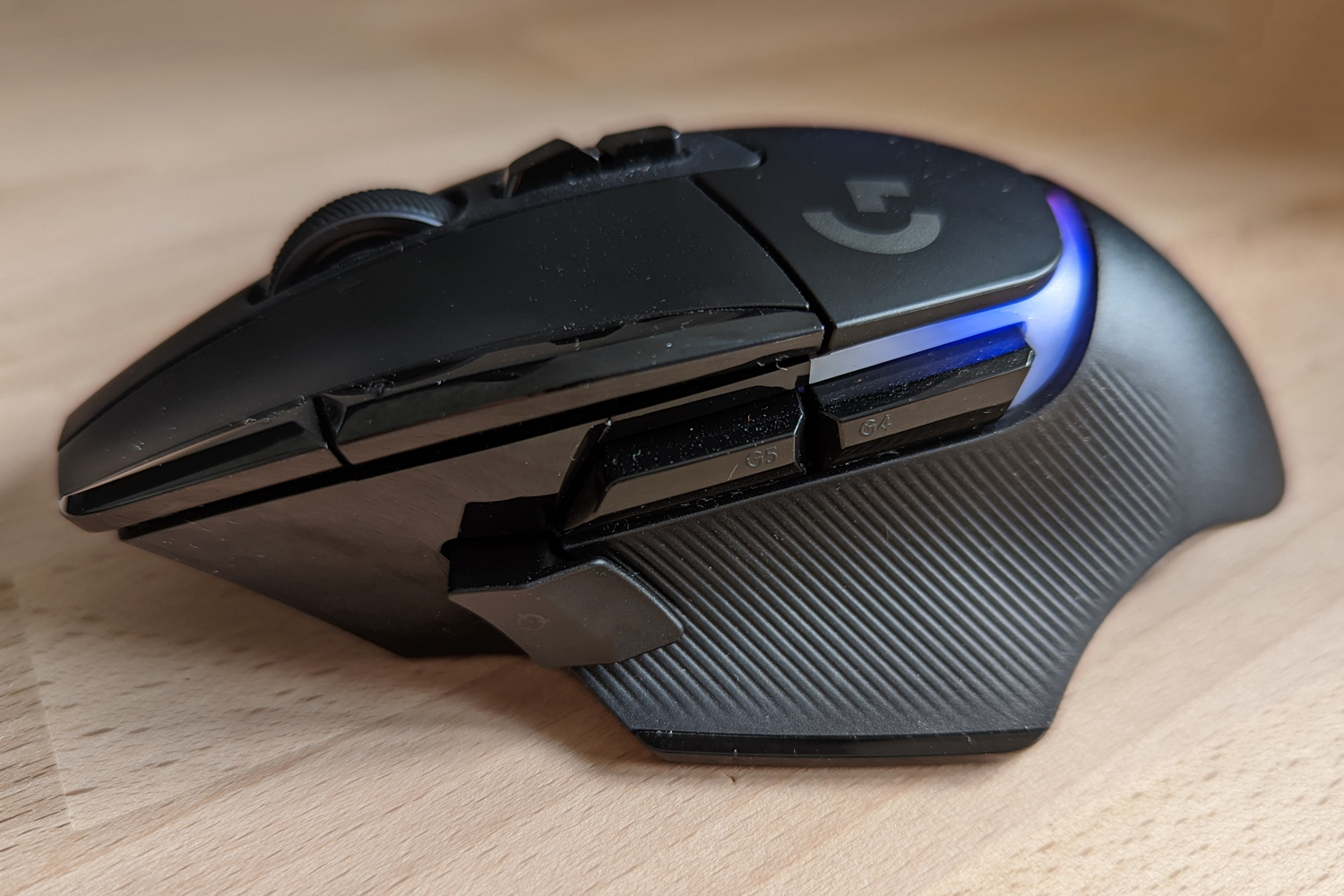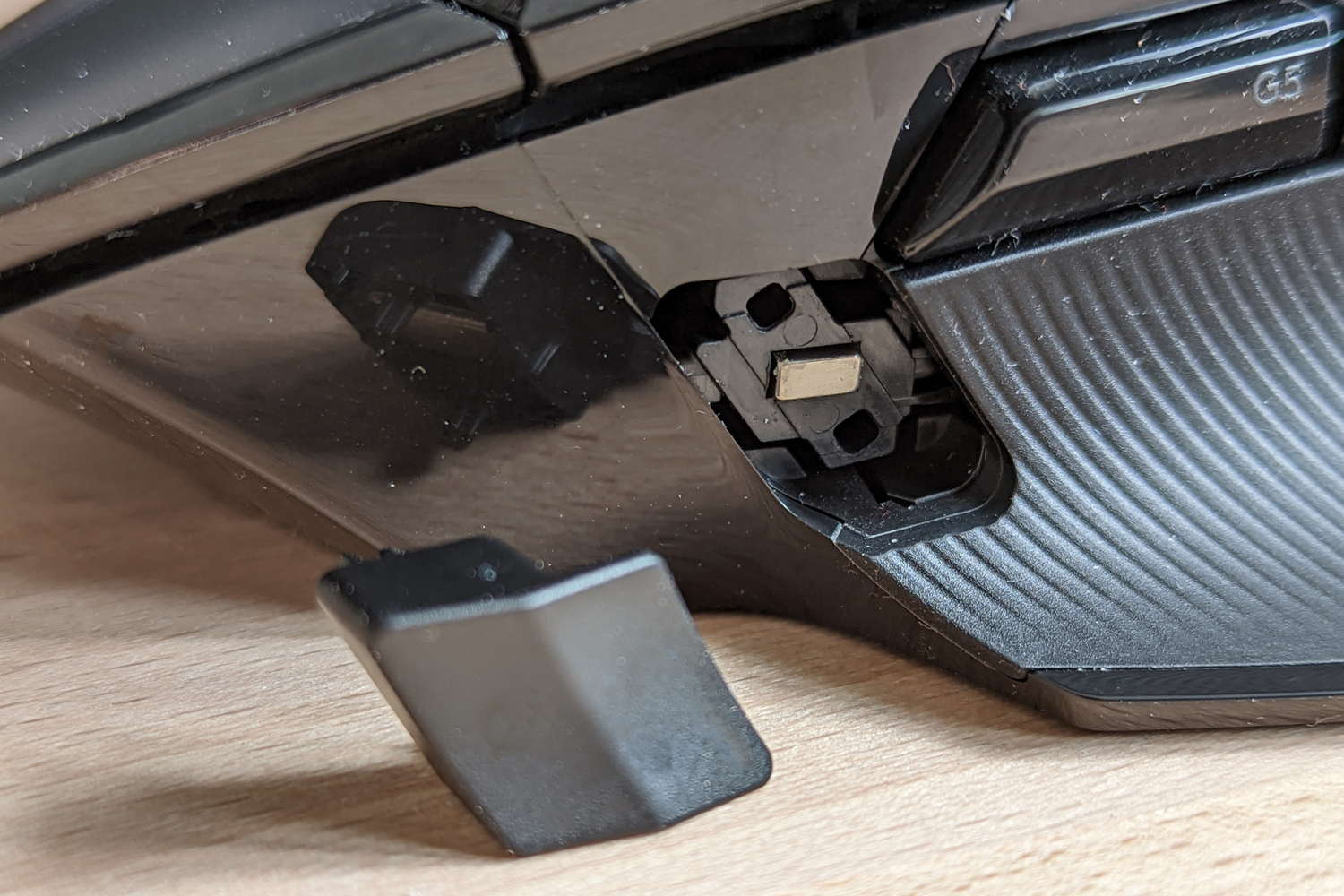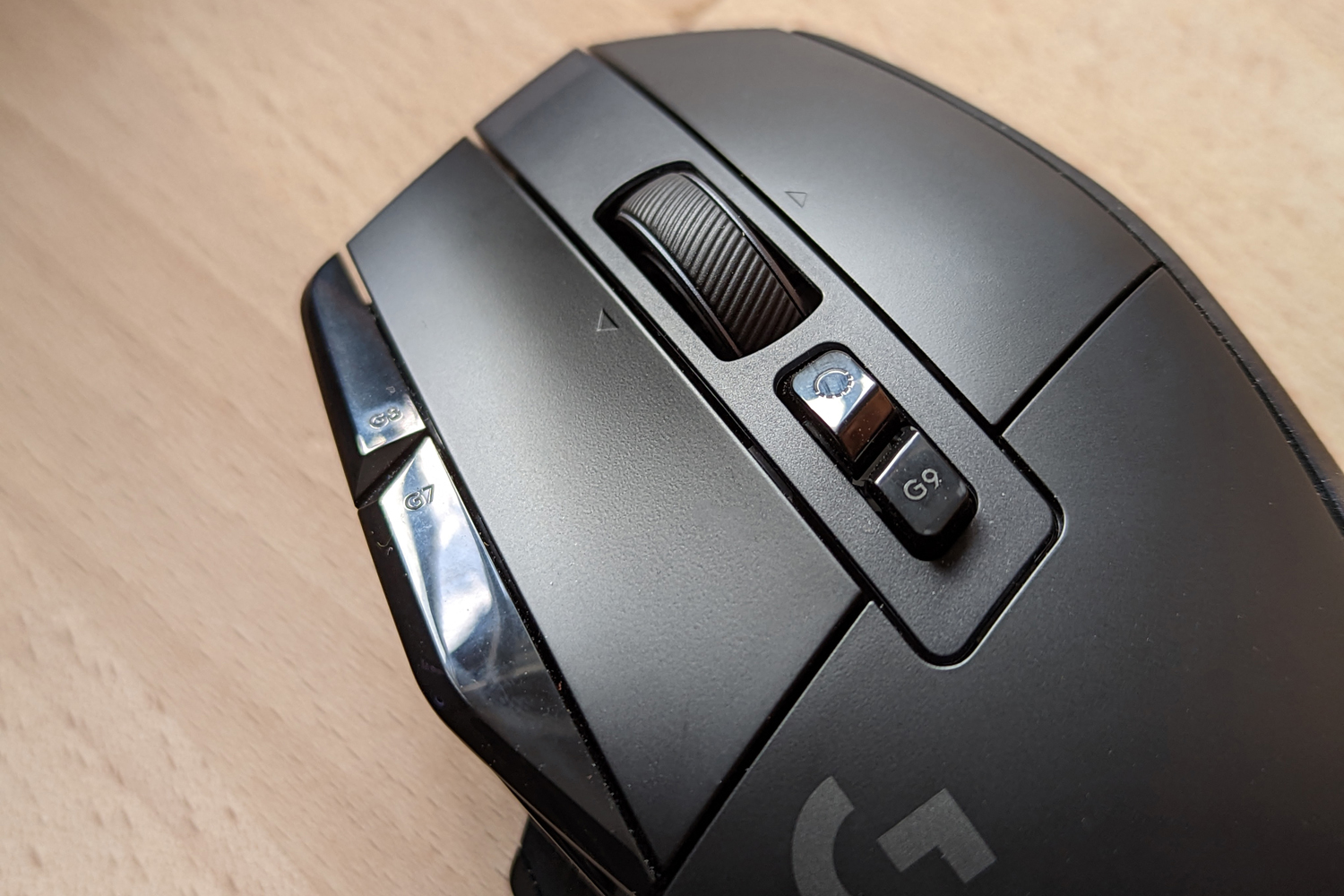 The G502's shape is embedded in the muscle memory of millions of PC gamers, so it's no surprise Logitech hasn't tweaked it all that much for the latest version. It's still a palm grip mouse that's bursting with buttons, including a dedicated DPI shift by your thumb and a dual-mode scroll wheel for a choice of precise ratcheted scrolling or super-quick freewheeling.
The overall shape has been smoothed out a little, with most of the superfluous grooves and gaps removed. The triangular pattern textures seen on the OG mouse have also been swapped for lined grooves, which should make it less of a dust magnet. There's still rubber on the sides, which might improve grip, but will also get grubby over time.
The original G502 had an interchangeable weight system for bulking up if you preferred a heavier mouse. That flies in the face of today's love for lightweight mice, so Logitech has ditched it here. The only way to beef up the G502 X Plus is by adding the optional Powercore wireless charging puck to the dedicated slot in the underside: it'll let you keep the mouse constantly charged if you've got one of Logitech's nifty Powerplay mouse pads, although that's a £95 extra on top of the cost of the mouse. That slot can also hold the USB dongle, so it doesn't disappear while taking the mouse with you on the move.
This new generation is considerably lighter than the mice they replace, with even this RGB-packing Plus model being 10g lighter than the original wireless variant. Still, it's no featherweight; the Pro X Superlight remains Logitech's mouse of choice for those that obsess over every gram, although it has considerably fewer buttons.
Features & battery life: see the light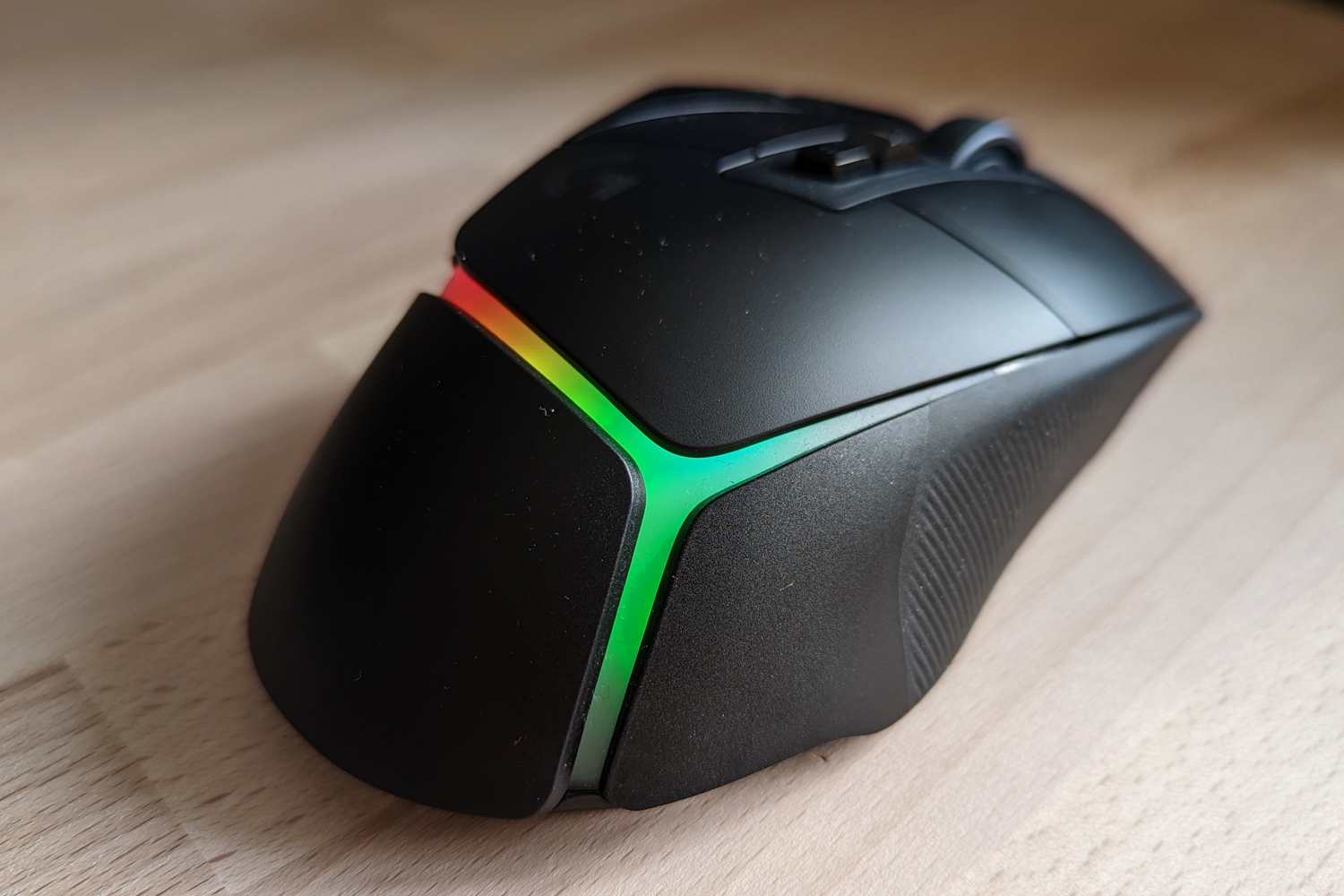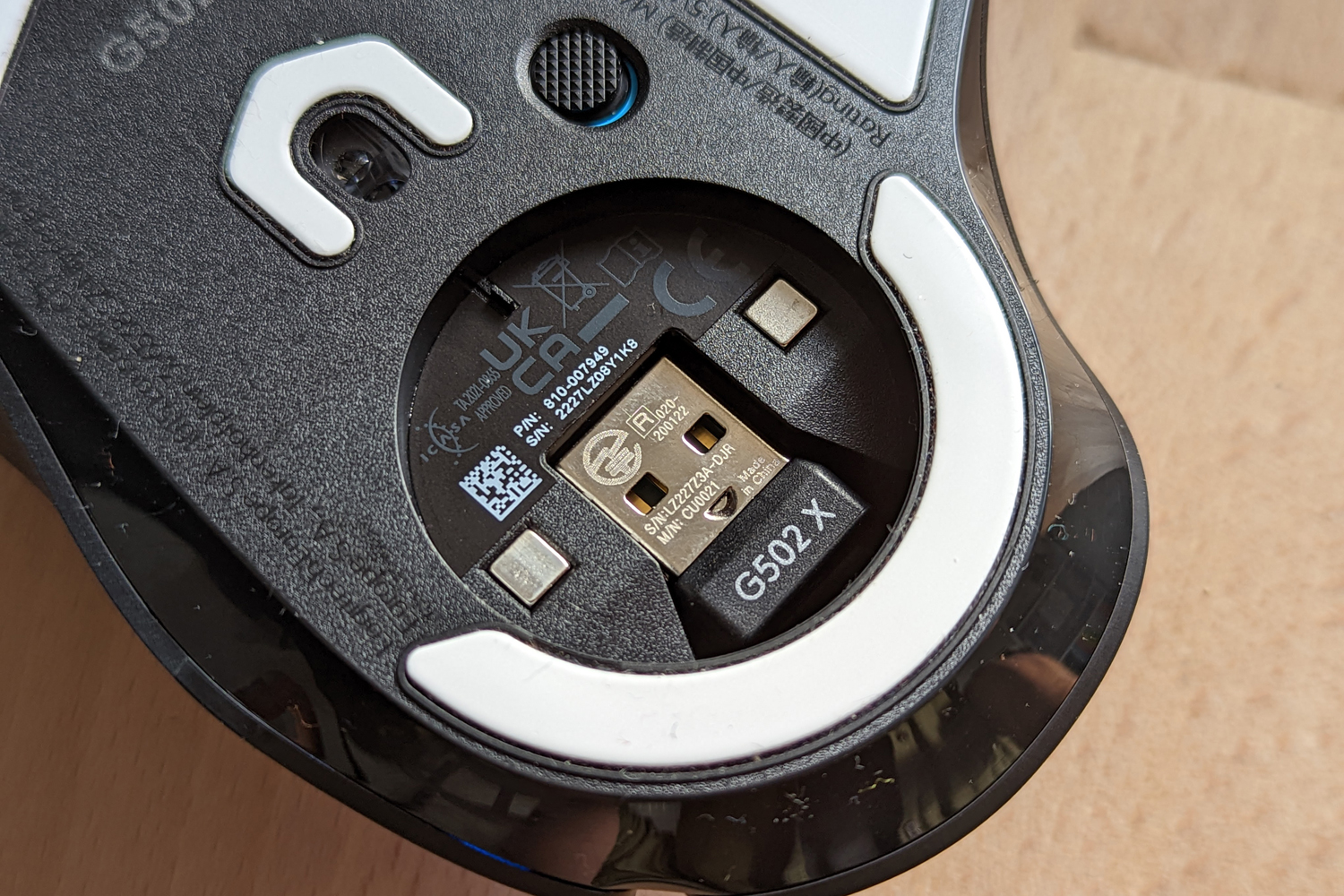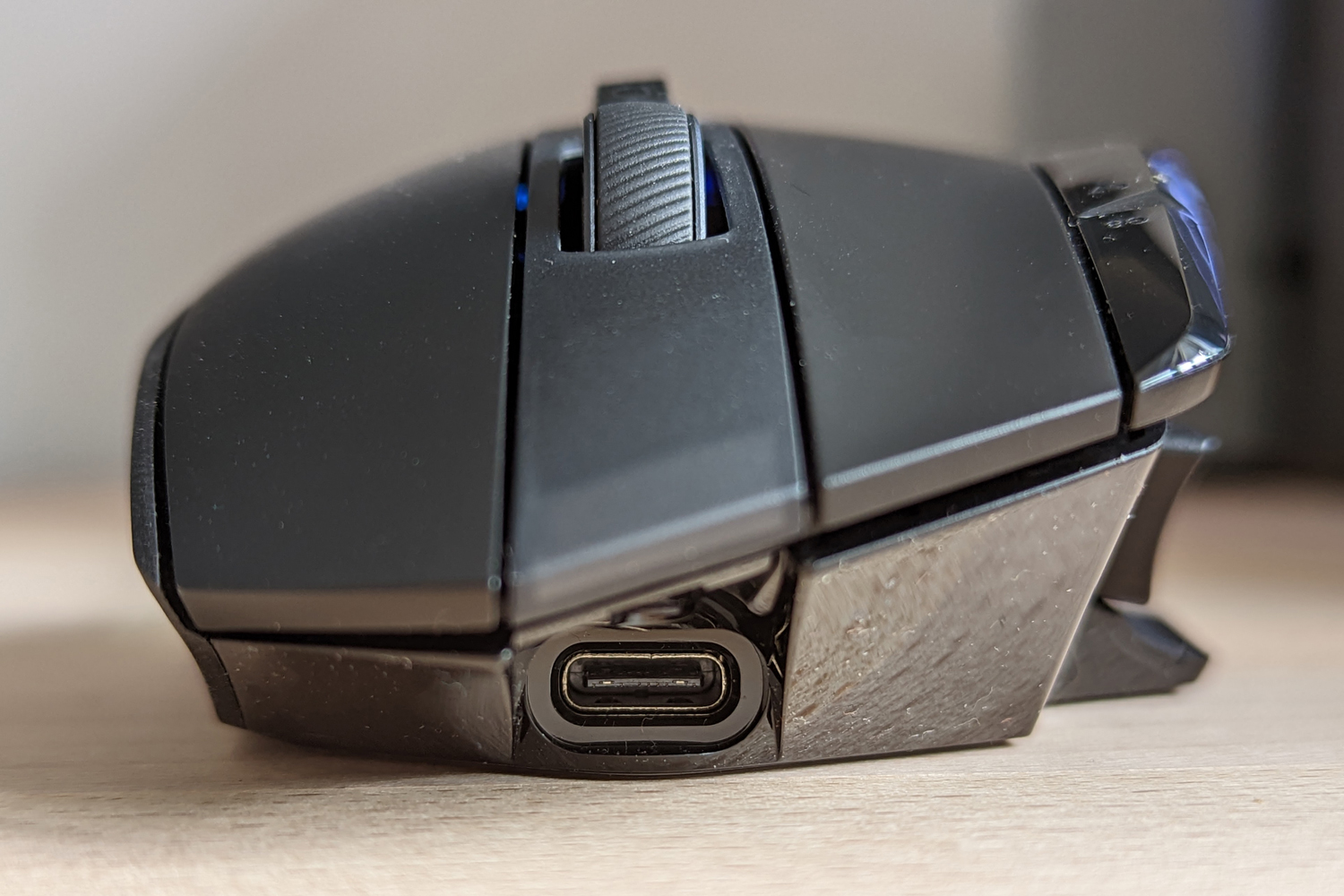 RGB is the big new visual upgrade, with an angular bar of light carving up the palm rest. It's sensibly placed so it doesn't interfere with your grip, and has play detection that dims the LEDs on the right side while you're gaming.
There are eight different zones to customise through Logitech's G Hub software, and it'll sync with a decent selection of games for screen-matching effects. Not that you can see 'em beyond one tiny sliver near the side buttons once you're actually holding the mouse, though.
The lighting effects take a considerable toll on battery life, managing up to 37 hours versus the 120 hours it can hit if you disable the RGB altogether. We found a middle ground with lowered brightness that was good for 50 hours between top-ups. The USB-C charging port is a welcome addition; plenty of Logitech's other popular gaming mice are still rocking microUSB.
With two side buttons, plus a further two next to the left mouse button and another behind the mouse wheel, there's no shortage of options when it comes to setting up macros and rebinding controls for quick access. We're also big fans of the detachable sniper button, which lowers the mouse DPI for greater precision while held down. It's held in place with magnets, and has a 'tail' you can spin around to bring it a little closer to your thumb. Logitech also includes a flat, non-clickable cover if you aren't getting much use from it.
Performance: switch hitter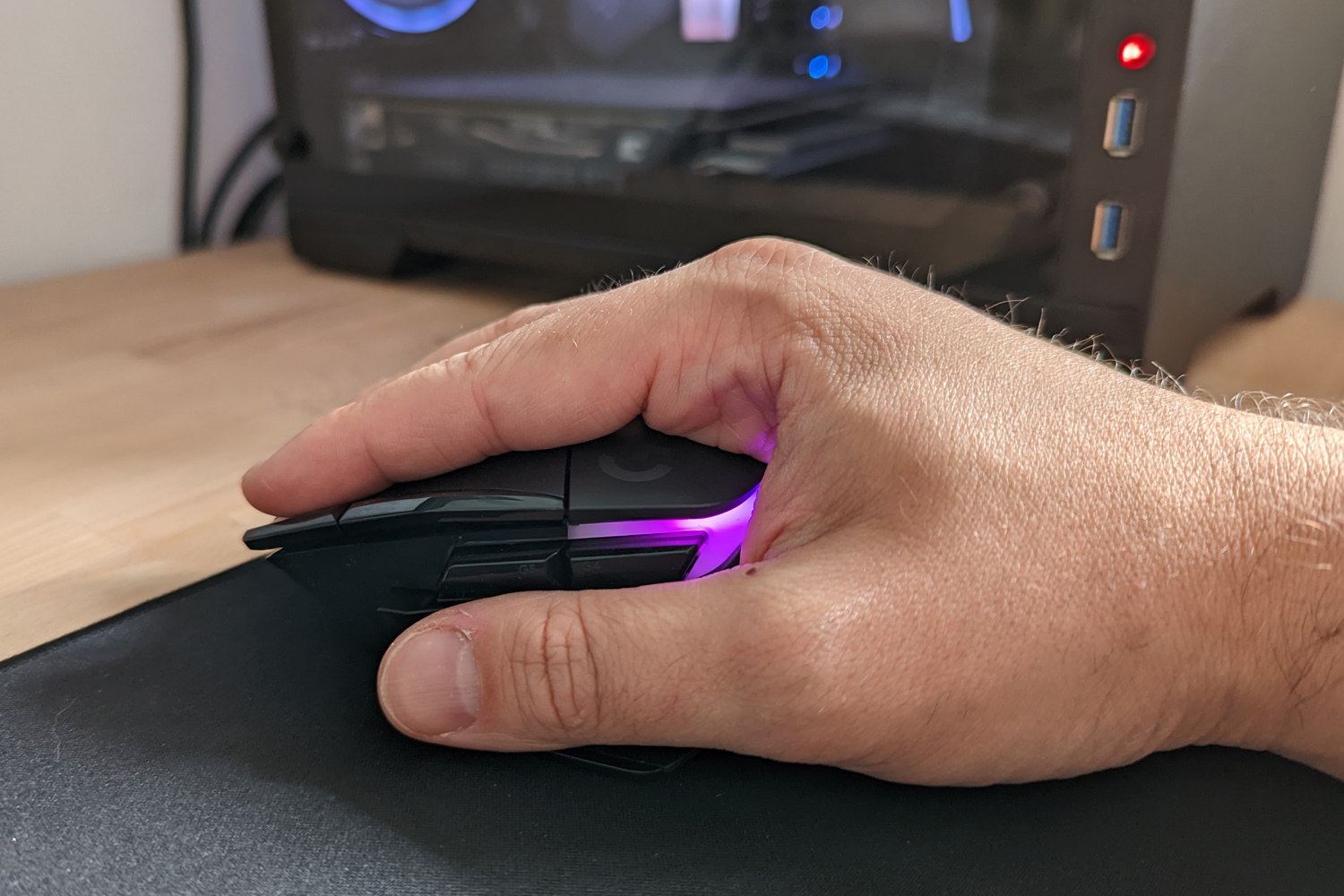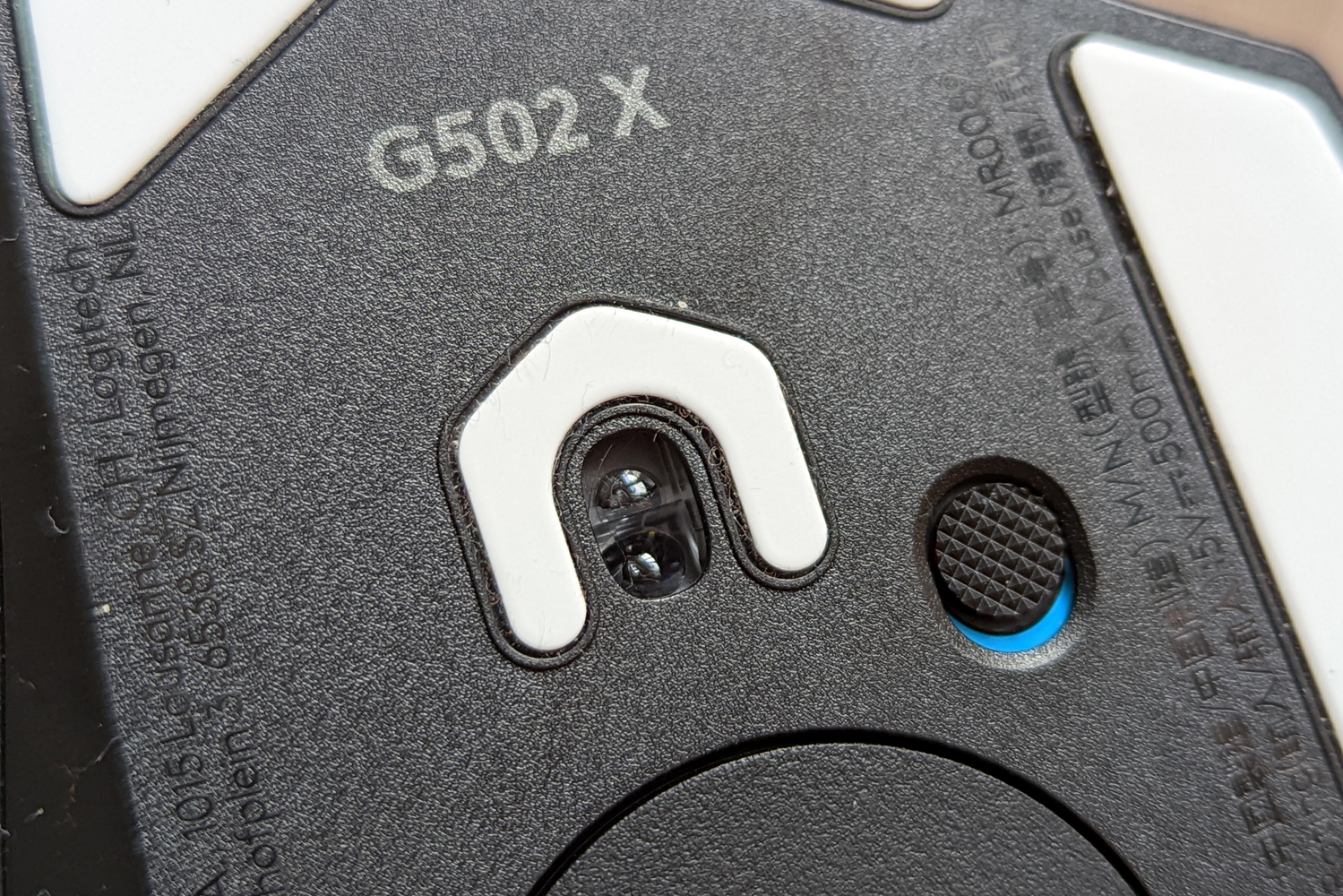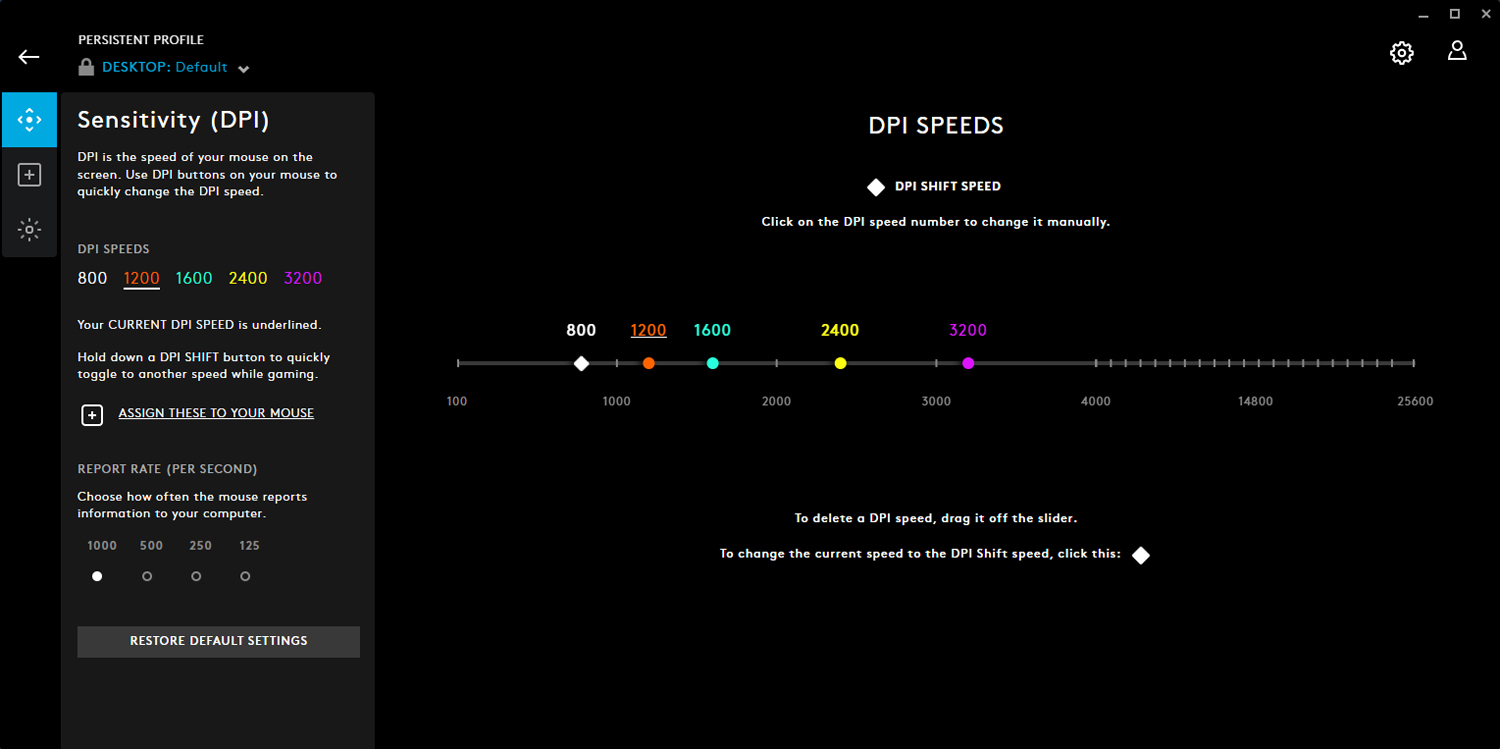 The G502 X Plus is the latest in line for Logitech's hybrid switches, which feel like mechanical ones but have the reliability of optical. There's a fair bit of travel to the main mouse buttons before they activate, but none of the switches need very much pressure before they'll register an input. You'll know when they have, too, as they make clicks that are especially audible.
What hasn't changed from the previous generation is the Hero 25K optical sensor. It was already super-responsive, with smooth movement and accurate tracking. It's unlikely you'll get anywhere near its maximum DPI, which is unbelievably sensitive, but it's great to have a wide range to cover all play styles.
PTFE mouse feet ensure the G502 X Plus glides over most mats and surfaces with minimal friction, and are a big step up over the rubber pads seen on the original model.
Logitech has upped the ante with its new-gen Lightspeed wireless tech, which it reckons has a 68% faster response rate than the previous version. There's basically no discernible difference between wired and wireless play now, so you're not giving up any performance by cutting the cable. You're also able to pair it to another Lightspeed accessory's USB dongle now, so you don't need to take up a USB port for each if you're using a Logitech G mouse and keyboard.
Logitech G502 X Plus verdict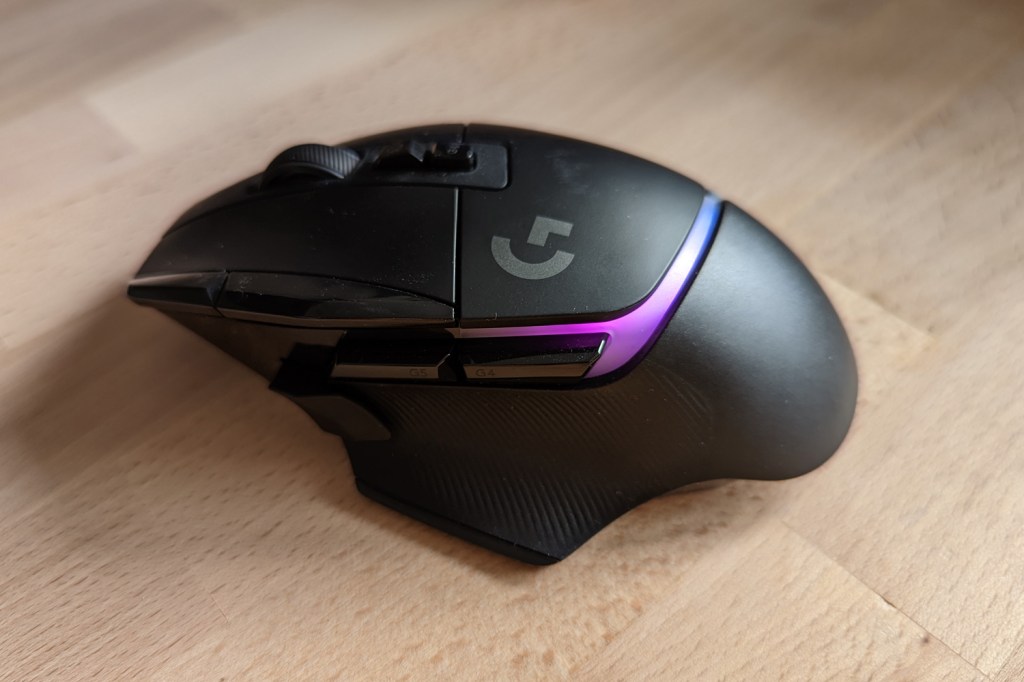 The hybrid switches and faster wireless are welcome upgrades to what was an incredible competent gaming mouse, and RGB lighting should widen the G502 X Plus' appeal even further. Fans of the original might not appreciate the loss of the interchangeable weight system, though, and at £150 it's undeniably expensive.
It's not our pick for claw-grip gamers, either, although that was also true of previous versions. If you tried one and didn't get along with it, things won't have changed here. A Pro X Superlight would be the better choice.
For players that insist on as many buttons as possible, though, there's an awful lot to like here.
Stuff Says…
Improves on a classic with RGB lighting, optical switches and lighter weight. Fans of the original might miss some features that didn't make the cut, and it's a pricey upgrade, but the G502 X Plus is a great choice for gamers that want many buttons within thumbs' reach.
Good Stuff
Optical switches are slick
Buttons are comprehensive, and customisable
Great battery life with RGB off; decent longevity with it switched on
Bad Stuff
Weight customisation has been ditched
Shape might not suit your grip style
Premium price
Logitech G502 X Plus technical specifications
| | |
| --- | --- |
| Sensor | 2K HERO optical |
| Buttons | 13 programmable |
| Connectivity | USB-C, Lightspeed Wireless |
| Battery life | 120 hours (RGB off) 37 hours (RGB on) |
| Dimensions | 131x41x79mm, 106 |