Marshall Uxbridge Voice review
Marshall gets mouthy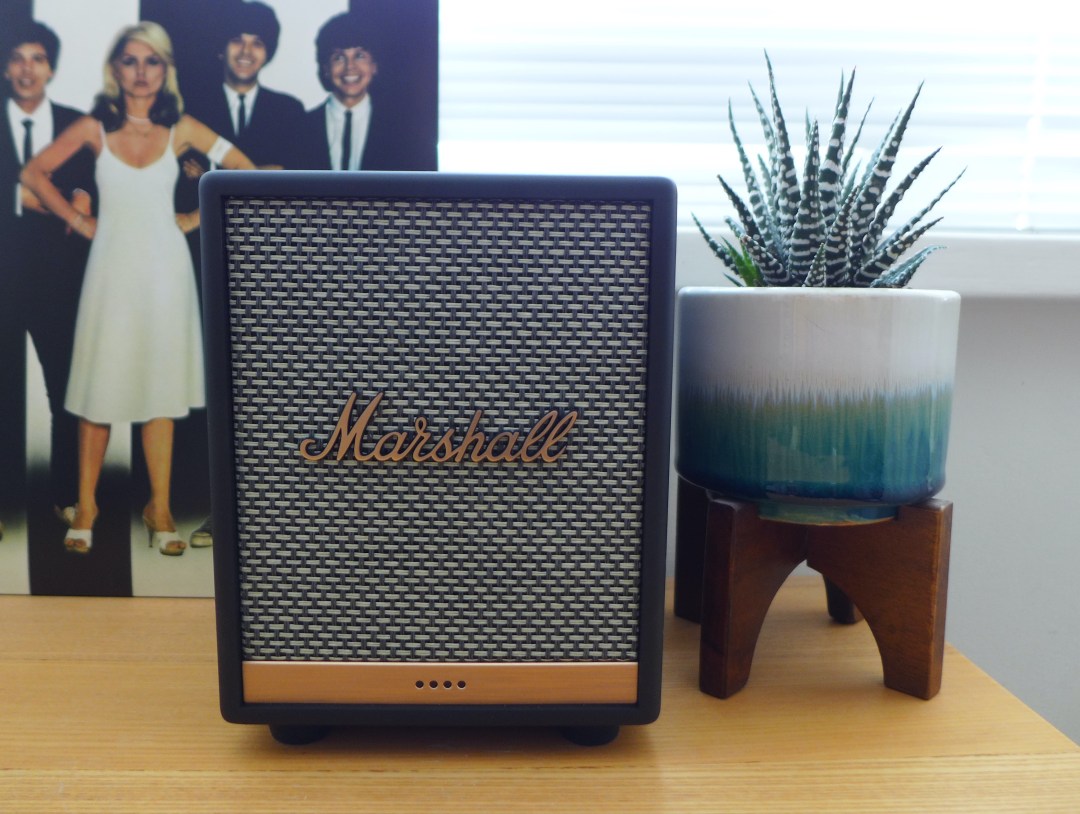 The latest Marshall speaker brings Alexa voice control to a pint-sized package.
Carrying on the tradition of naming its speakers after seemingly random sounding areas of North London (which are actually important places in Marshall's history) the latest model gets its moniker from Uxbridge Road, the location of Jim Marshall's first shop.
The Marshall Uxbridge Voice with Amazon Alexa, to give it its full official name, is perfect for those who want their Alexa with a bit of rock star quality. And as Marshall's smallest and (equal) cheapest speaker, it's a solid option for those who don't have the space or cash for Marshall's pricier models. Described by Marshall as a "compact sonic powerhouse", the compact speaker will set you back £169.99, but is it worth out? Let's take a look.
DESIGN AND BUILD: CLASSIC ROCK
The Uxbridge features the familiar script logo baring Jim Marshall's name along with the classic 'salt and pepper' grill cloth. Build quality isn't quite as hefty as its older siblings, but it still looks the part.
Matte black plastic replaces the faux leather finish that we're used to seeing on other Marshall speakers. Inspired by guitar frets, new rocker buttons on top of the cuboid unit can be used to control volume, bass and treble. They look cool and are nicely responsive but it's hard to make subtle volume tweaks. The jumps between each volume level are quite large, so the speaker goes from fairly quiet to pretty bloody loud with one or two presses.
While the 'Moana' soundtrack may be an absolute banger, we didn't really intend to momentarily blast our secret Disney habit through the open window at ear-shattering volume. Sorry, neighbours.
Rubber feet give the Uxbridge a study non-slip footing for its compact 128 x 168 x 123mm frame, while the textured bronze front panel gives it a premium finish.
FEATURES: HANDS-FREE HEAVEN
You can can opt for either an Amazon Alexa or Google Assistant-flavoured model – and we tested out the Alexa version.
The voice control works well, with four blue lights on the front panel lighting up when Alexa is roused. There are far-field microphones on board so that Alexa can hear your demands, even if the music is cranked up. But like all Alexa speakers, you might have to say it a few times if your tunes are turned up really loud.
Connectivity-wise, the Uxbridge allows you to build yourself a multi-room system using Amazon Echo speakers and other Alexa-friendly or Airplay 2-enabled speakers.
INTERFACE: KEEPING IT SIMPLE
The Uxbridge is really easy to set up, just plug it in, download the free Marshall Voice app and follow the instructions. This includes connecting to Alexa and setting it up as an AirPlay 2 speaker. The app includes an equaliser with presets for rock, metal, pop, hip-hop and spoken and there's also a custom option if you think you know better than the world's most famous amp makers. The app will also deliver any firmware updates when they're released.
The speaker uses Marshall's nifty little startup guitar riff sound effect on startup, which is actually incredibly satisfying every time you hear it. You can turn it off in the app if it bugs you. The slightly tricksy volume rockers mean that you're probably better off using the app or the volume slider on whatever you're streaming from to control the sound level.
Like pretty much all other Alexa-powered speakers, there is no off button. Because Alexa is omnipresent. Always there. Listening. Waiting. If you want to mute the microphone, you can just hold down the mic button on the top of the unit until the indicator lights glow red.
The only other buttons are the play/pause button on the top panel, plus a Bluetooth pairing button on the back. You can connect with Bluetooth, Airplay 2 or Spotify Connect.
PERFORMANCE: ROOM FOR IMPROVEMENT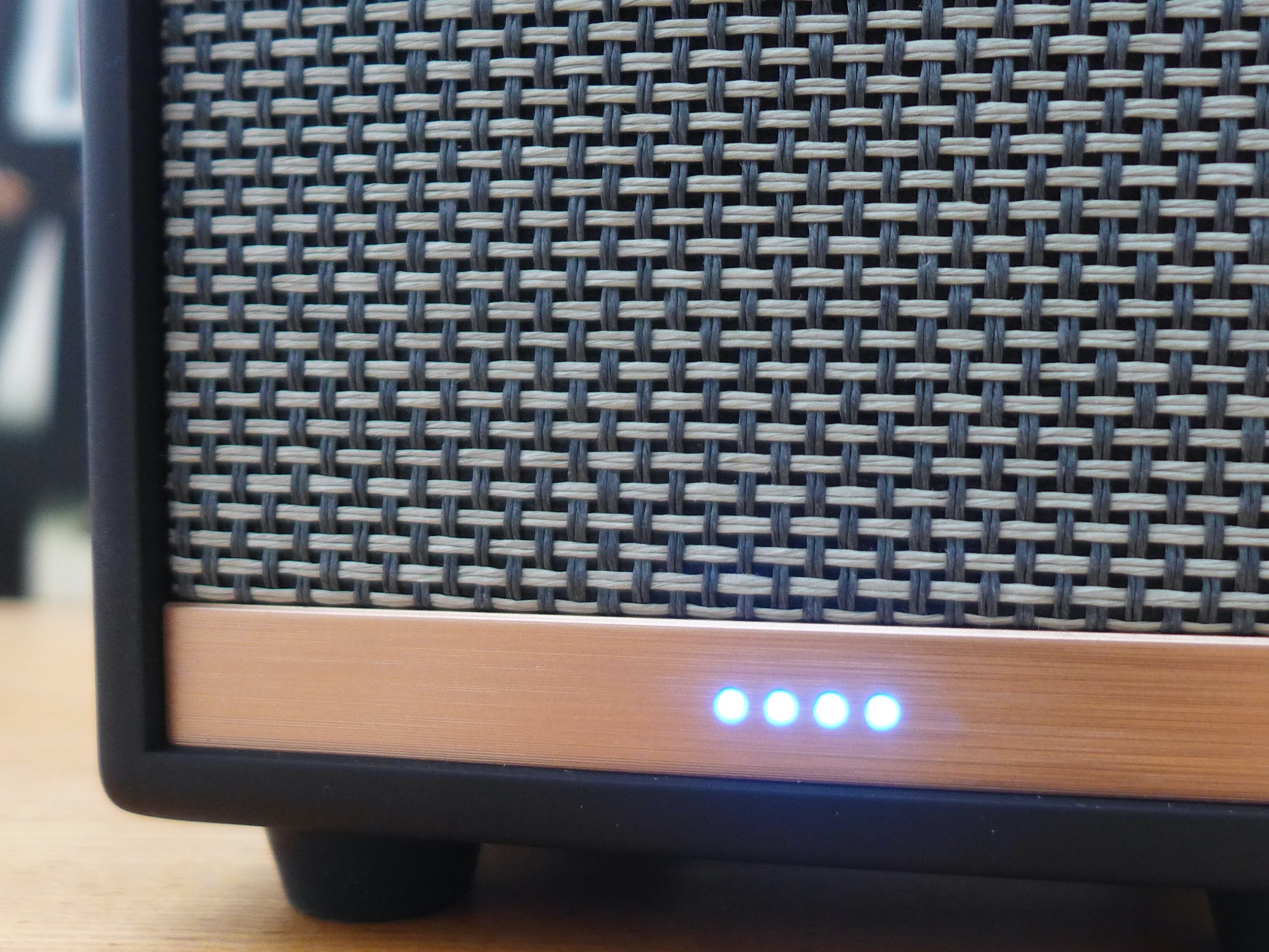 Let's be honest, the sound on a speaker this size is never going to be Earth-shattering. But the Uxbridge doesn't embarrass itself. The tiny speaker offers 30W of power and it sounds pretty good in a small space like the kitchen.
It's been engineered to create a big sound from a tiny frame and while the Uxbridge is better than some other compact speakers we've heard it has less depth to the audio than you get from the bigger Marshall speakers.
The bass is also rather less meaty. It sounds pretty good at medium volumes but as you crank it up to higher levels, the sound gets a little more muddled.
VERDICT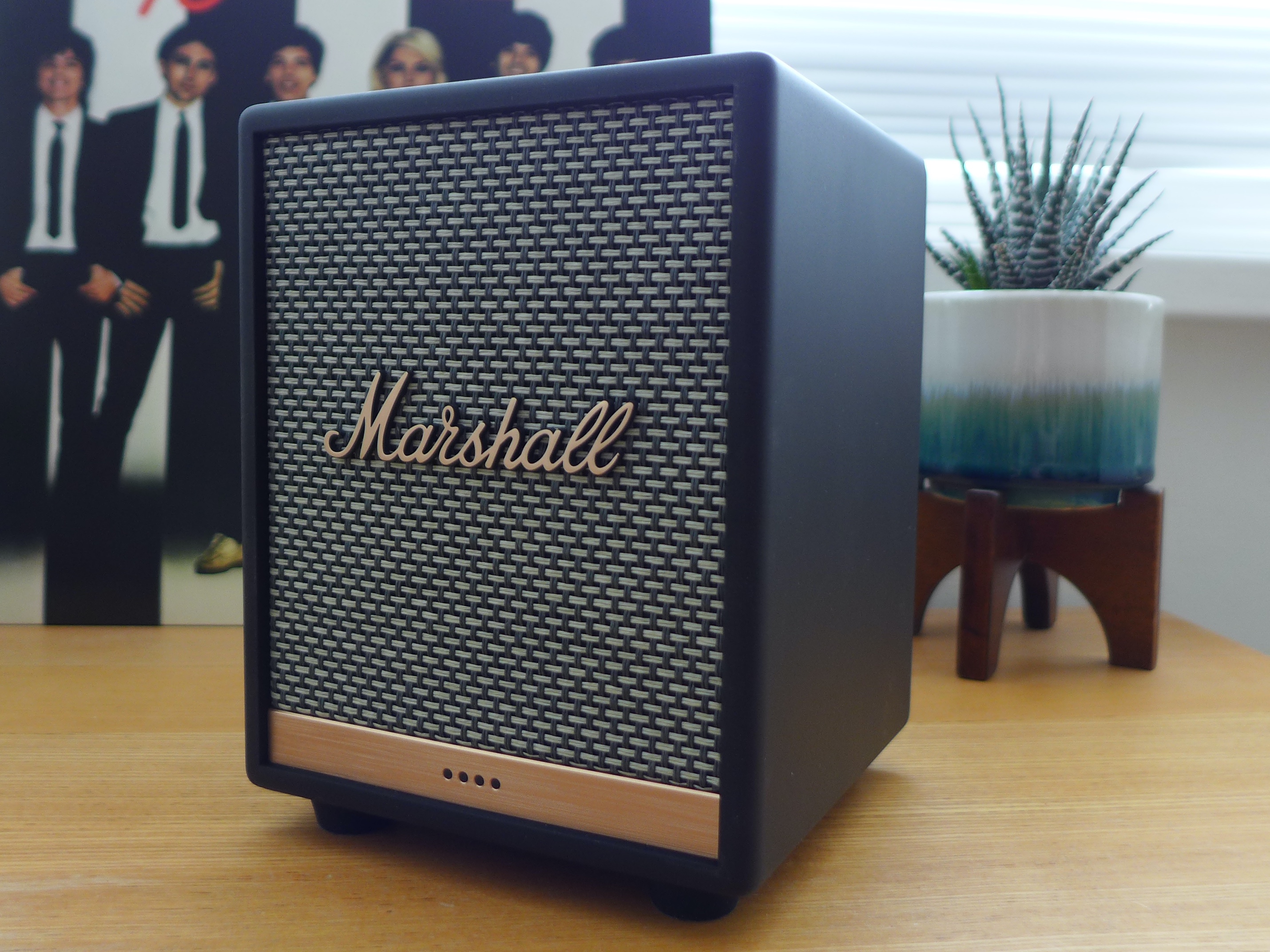 With design nods to Marshall's classic amps, the Uxbridge is a fine looking little gadget, and one of the best-looking Alexa speakers around. Sound performance is nowhere near audiophile level, so if your sonic standards are high, you're out of luck.
There's definitely room for improvement when it comes to the audio output. Having said that, the Uxbridge isn't really meant to act as your main sound system. It's a good choice as a desktop speaker or a mini kitchen boom box. And with Alexa on board, it even doubles as a hands-free kitchen timer.
Stuff Says…
Big sound from a small speaker, but audio quality could be better
Good Stuff
Rock star design
Compact
Decent price
Bad Stuff
Audio quality could be improved
Massive incremental jumps on rocker controls