Microsoft Surface Duo 2 review: built for business
Second stab at a foldable phone gets more right, but remains a niche proposition
Is it a phone? Is it a tablet? With two separate screens, is it technically even a foldable? The Surface Duo 2 is in a class of its own – it just happens to also be a bit of a niche one.
While other brands experiment with displays that bend in, on or around themselves, Microsoft's second-gen effort continues to keep things (relatively) simple. But it's not trying to be mainstream like the Samsung Galaxy Z Flip 3 – the focus remains on business users that put productivity above all else.
The dual-screen device first landed in October last year, but was in a bit of a sorry state, with numerous software bugs. Microsoft was quick to act, though, and multiple updates later it's a completely different beast. We thought it was time to see if it's now the next best thing to having your own office PA.
Microsoft Surface Duo 2 Design & build: slim yet sturdy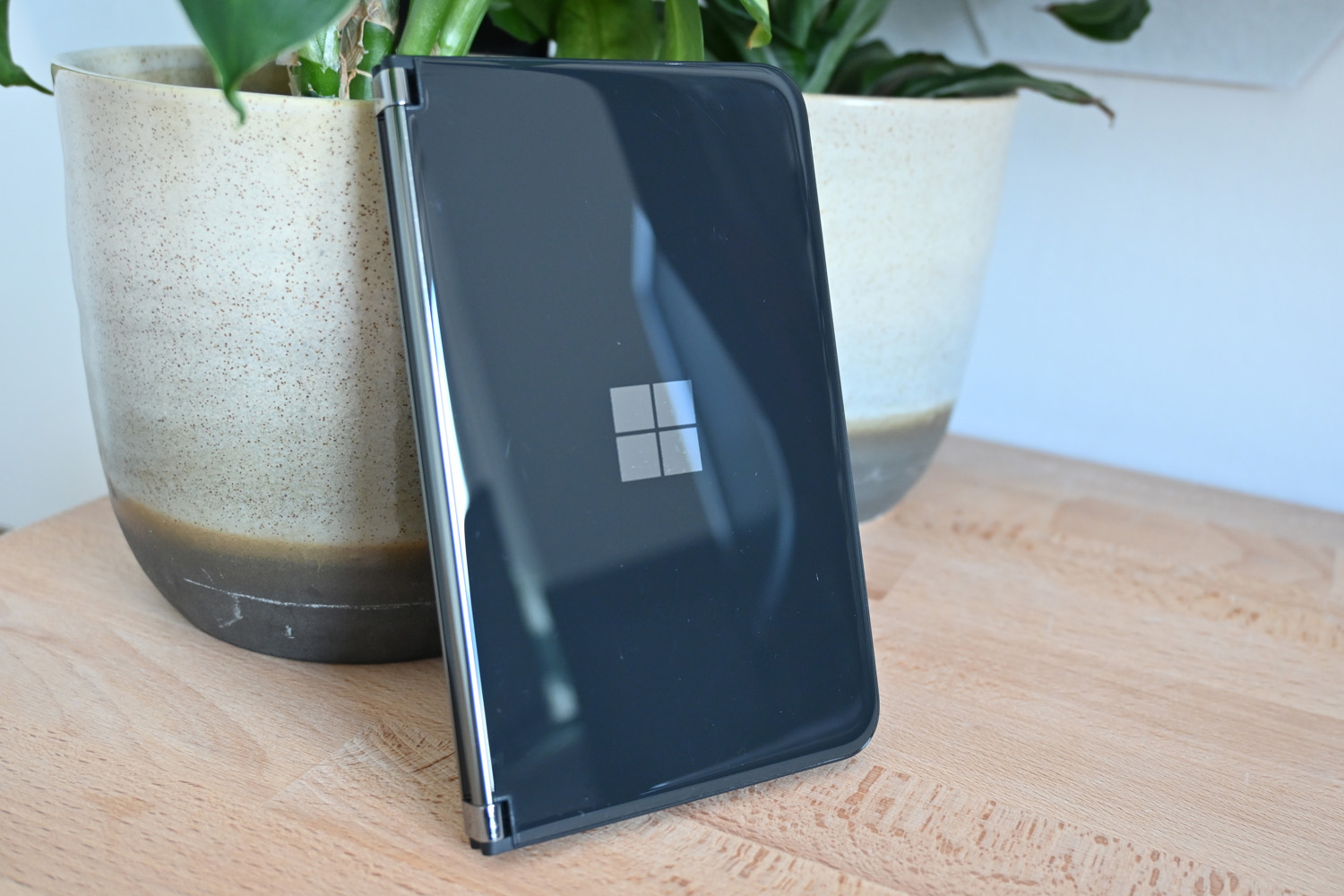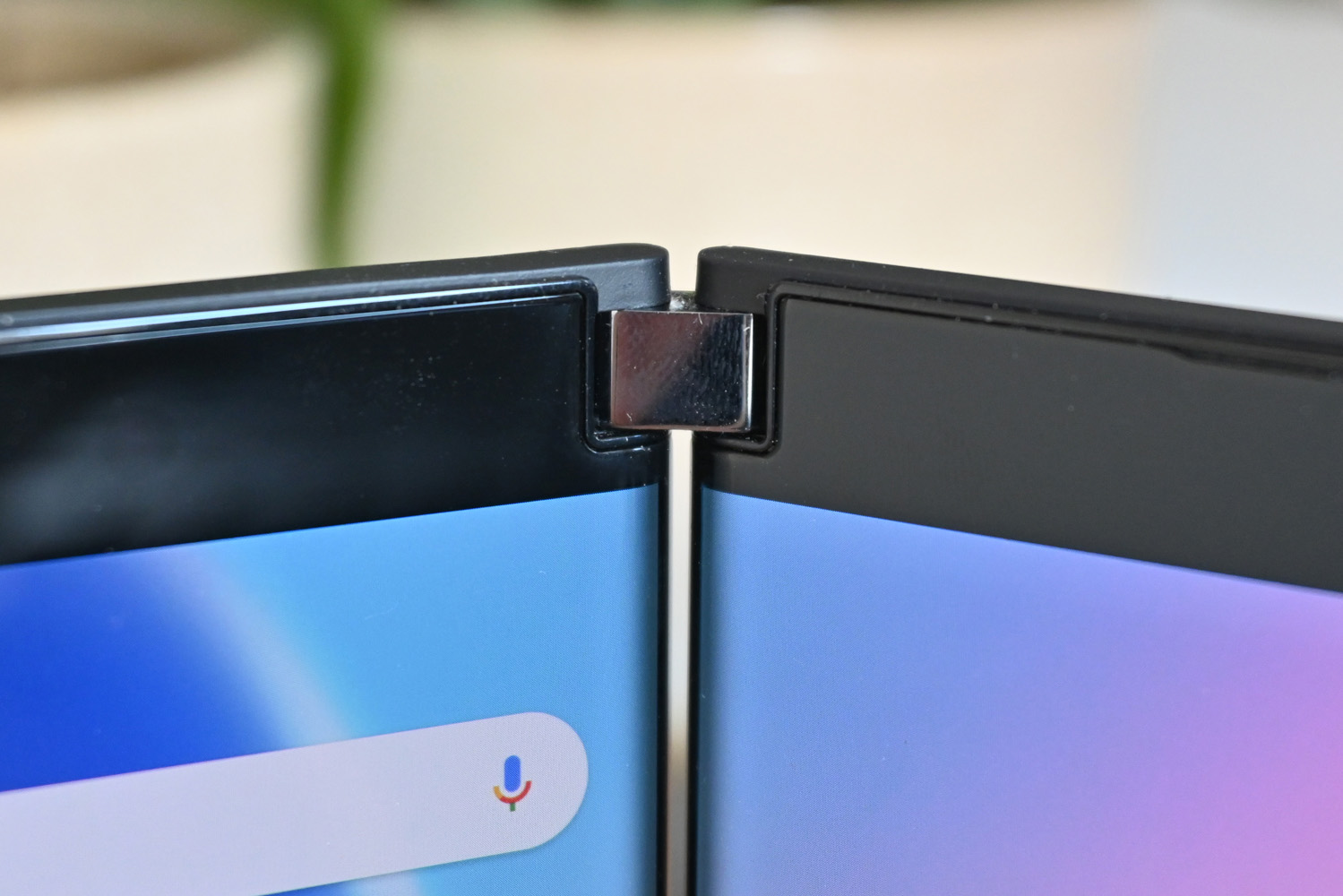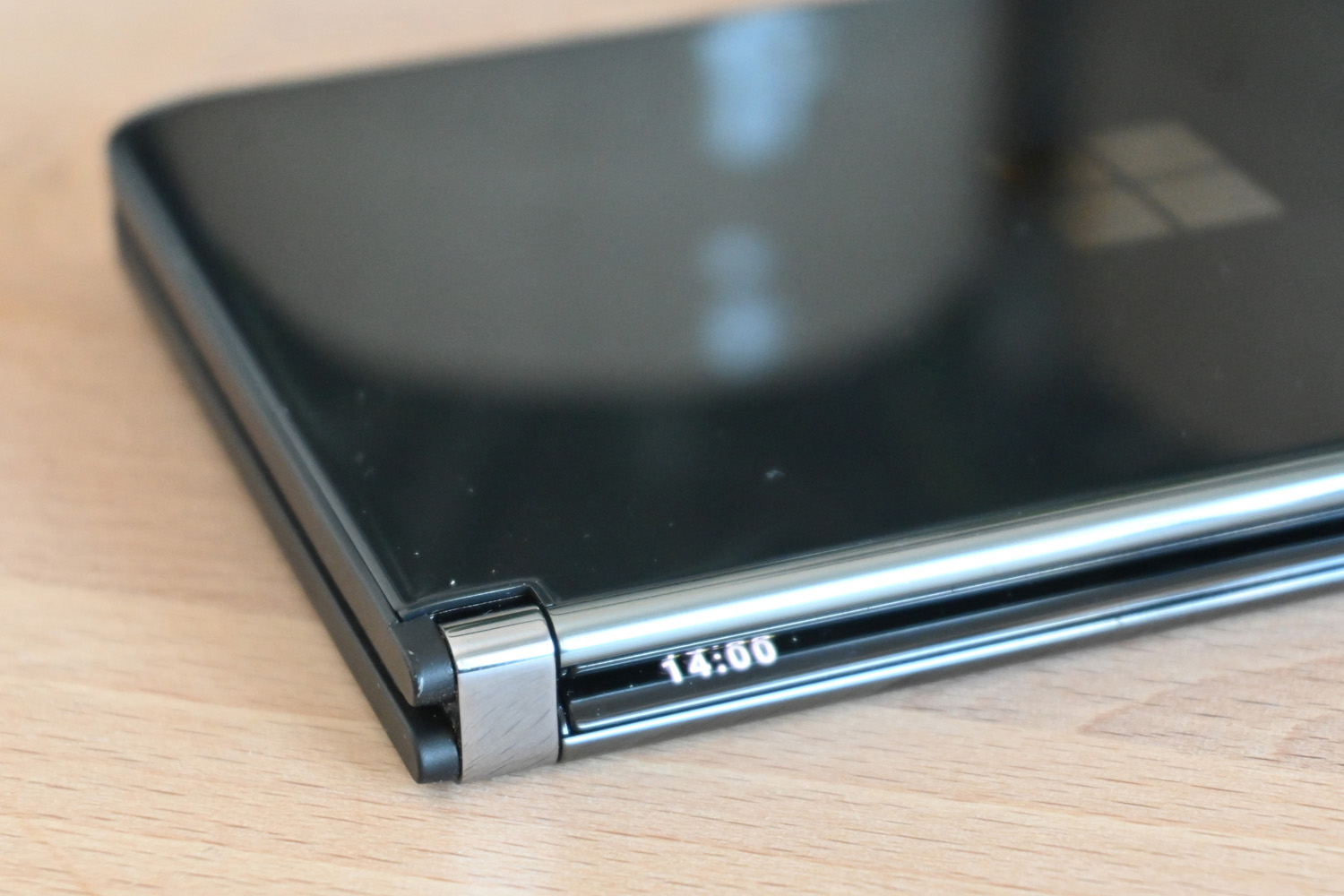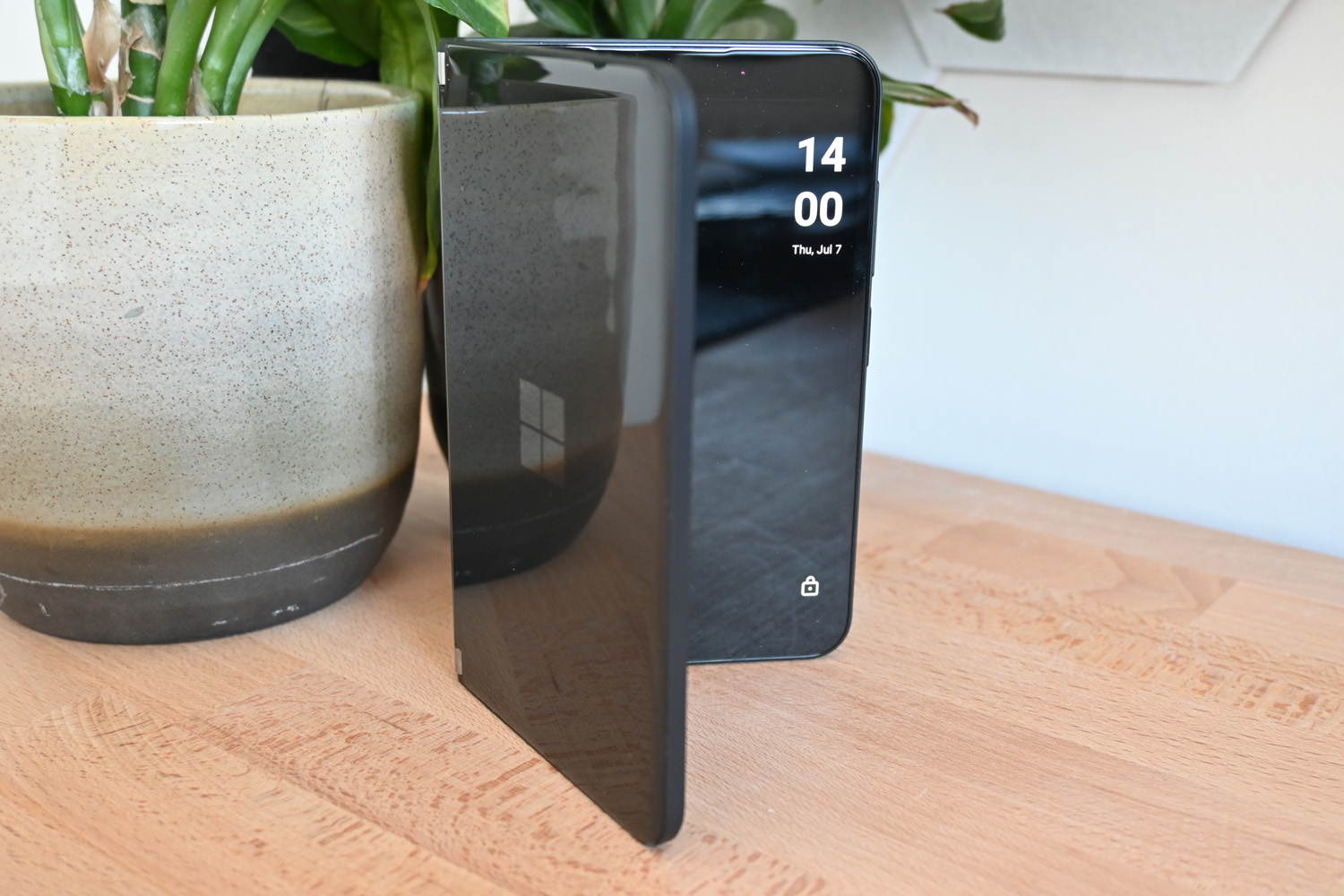 It might look a whole lot like the first Surface Duo, but the sequel is improved in all the ways that matter. For starters, you can have it in black now. The "Obsidian black" finish is far subtler than the "Glacier White" of the old one, although that also makes a return if you like your tech to make a statement.
You're still looking at two individual screens, held together by a particularly sturdy hinge that lets you open it up to any angle, with just the right resistance not to fold under its own weight. The addition of a sizeable camera module on the rear stops you folding the phone completely back on itself, but the flex is minimal when pushing down on the gap that remains. There's a thin strip of plastic surrounding both the camera module and the internal screens, so there's no glass-on-glass nastiness when folding the phone.
Each half is impressively thin, with barely enough room for a USB-C charging port and SIM card tray along the bottom edges. When folded, it's small enough to slip in a pocket – just. This is a wide gadget, and not especially comfortable to use with one hand.
The placement of the power button/fingerprint sensor combo isn't great for left-handers, and its modest surface area means it isn't as quick to recognise your prints as other phones with similar setups, like the Sony Xperia 1 IV.
Microsoft has gone for glass on the front and rear of each half of the phone, which looks and feels suitably premium – but fingerprint smudges quickly build up. It also does away with the rubber bumper that protected the OG surface Duo, so don't plan on simply slinging this in your bag unless you don't mind picking up scratches.
The biggest improvement is the new "glance bar" along the spine, which shows incoming notifications without having to open the thing up every time it vibrates. It also shows the time when you press the power button with the screens shut, and charging progress when plugged in.
Microsoft Surface Duo 2 screen & sound: seeing double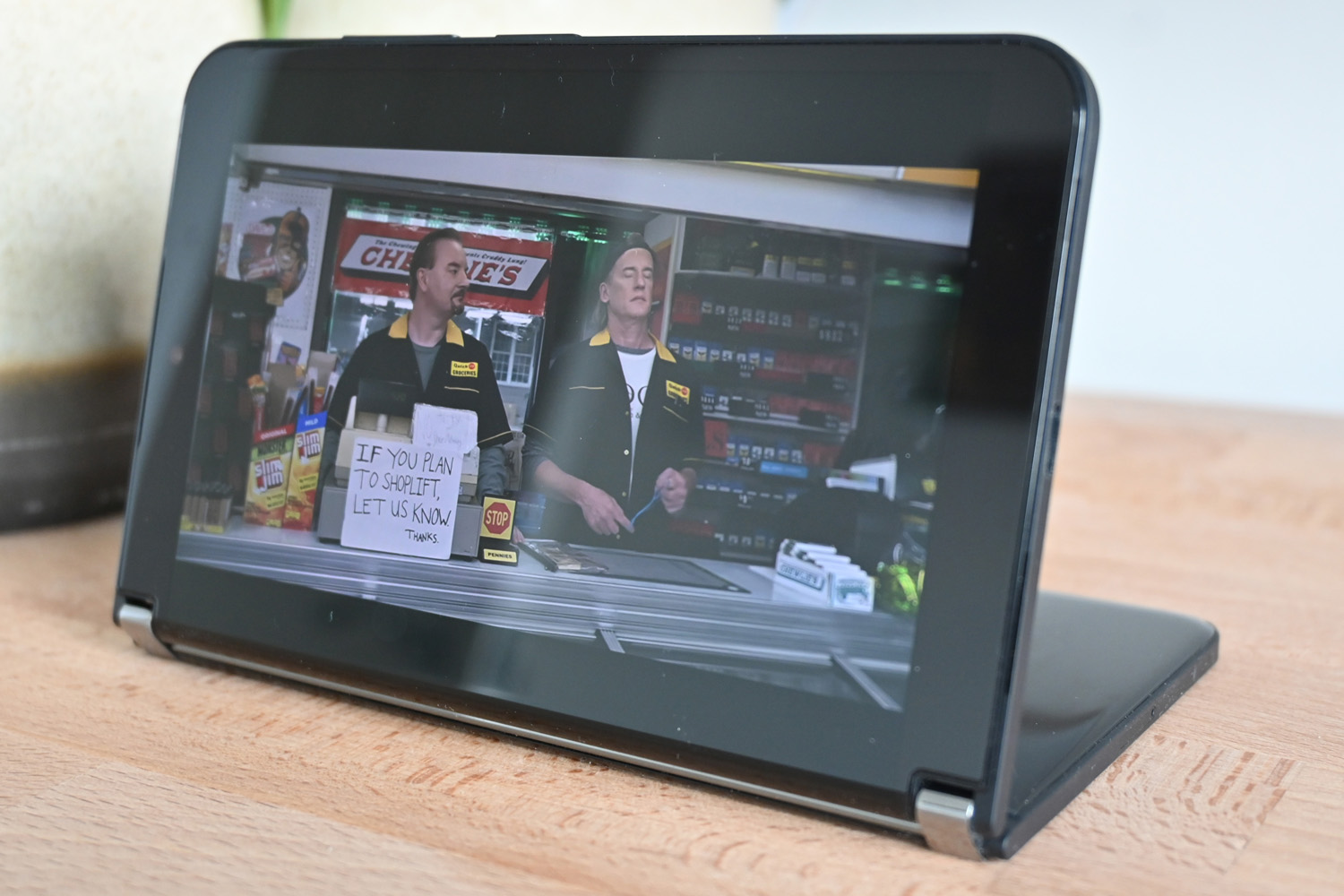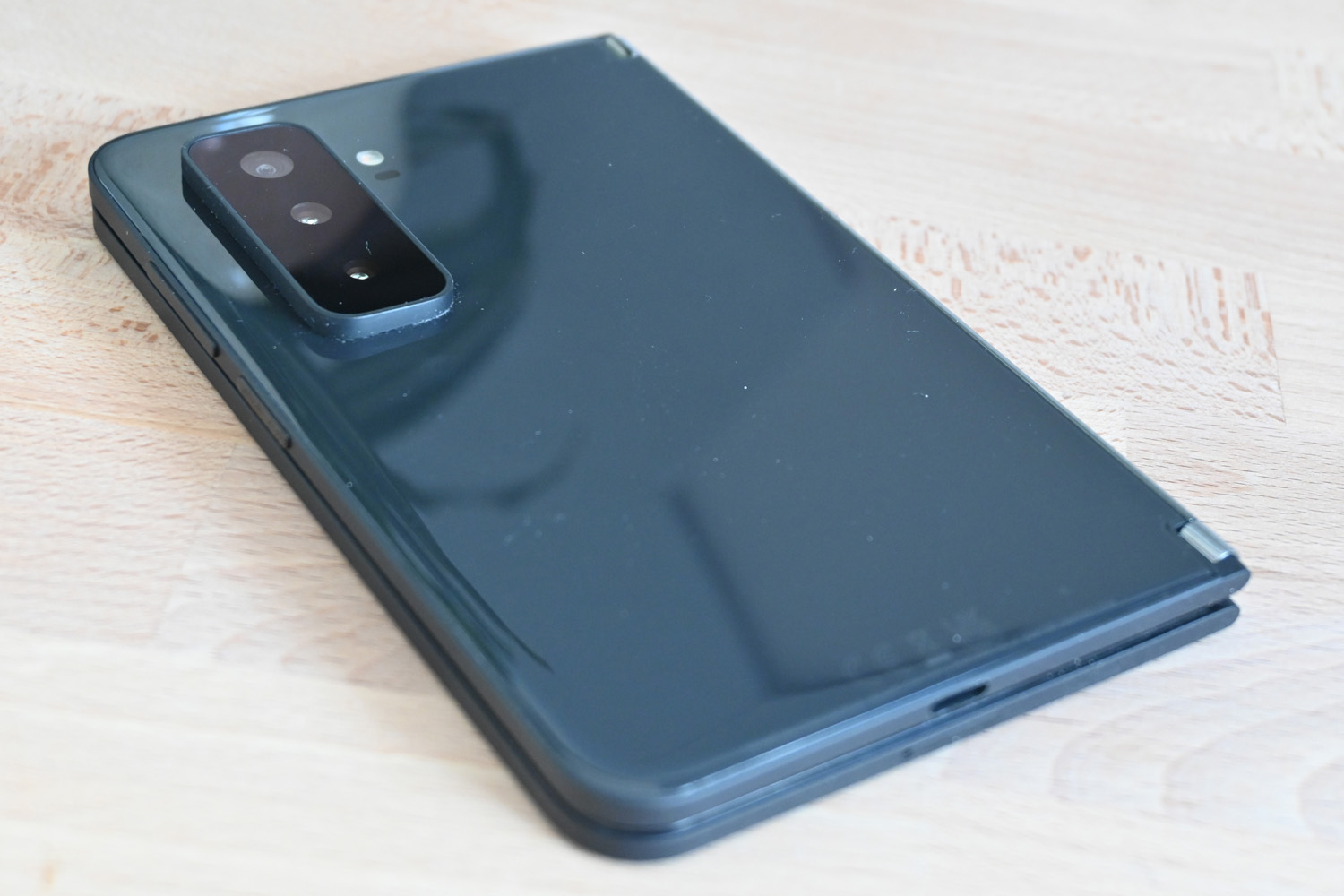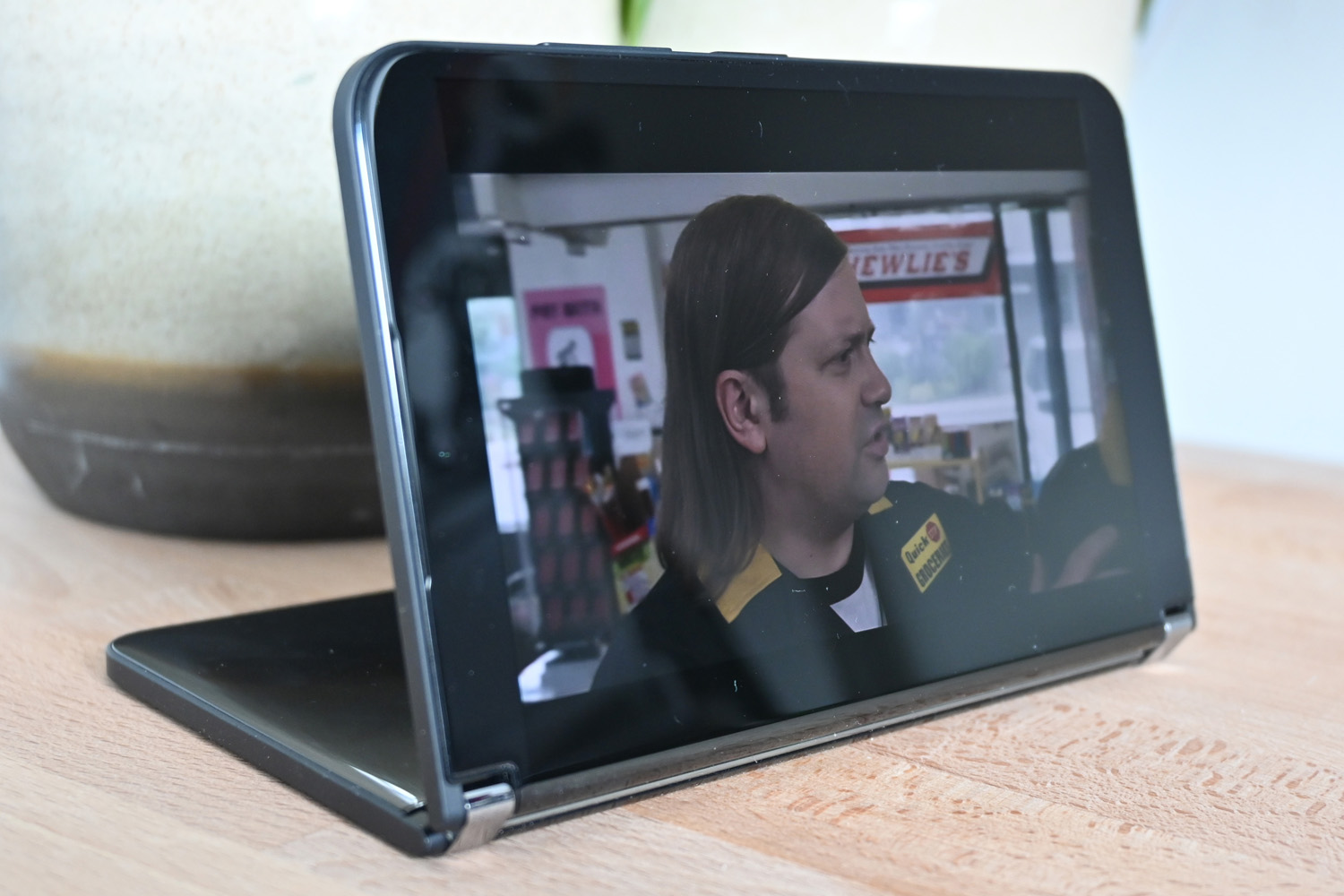 With some strategically slimmed-down bezels, the Surface Duo 2's two screens have grown to 5.8in each, opening up to an 8.3in "single" display. That's a welcome improvement over the 5.6in/8.1in combo you got on the first-gen model. The top and bottom bezels are still on the chunky side, as they have to make room for the hinge, but that just means there's always somewhere to grip the thing without accidentally tapping the touchscreen.
Even with a slight resolution bump, pixel density largely stays the same as it was before. At 1899×1344 each, or a combined 2688×1892, you're still getting plenty of detail – whether using one screen at a time or both at once. Refresh rate has been bumped to 90Hz this time around, which makes for a much smoother experience when scrolling through web pages or flinging apps between the two screens. There's no option to dial it back to save battery, though.
These are OLED panels, with the sort of epic colour saturation and contrast we expect of the tech. Photos and videos look superb, with largely accurate hues in the Natural colour mode and respectable brightness for a premium phone. We're not talking Samsung Galaxy S22 Ultra levels of retina-scorching light, but plenty to use outdoors without having to squint. It'll play nicely with HDR content, too.
Multimedia and gaming aren't exactly in the Duo 2's wheelhouse, though. Stretch content across both screens and you're left with a distracting gap in the middle, but stick to one display and the 3:2 aspect ratio leaves you with black bars topping and tailing your videos. The stereo speakers put in a decent enough showing, but with no 3.5mm headphone port you'll need a dongle (or Bluetooth) for personal listening.
Microsoft Surface Duo 2 software: positive steps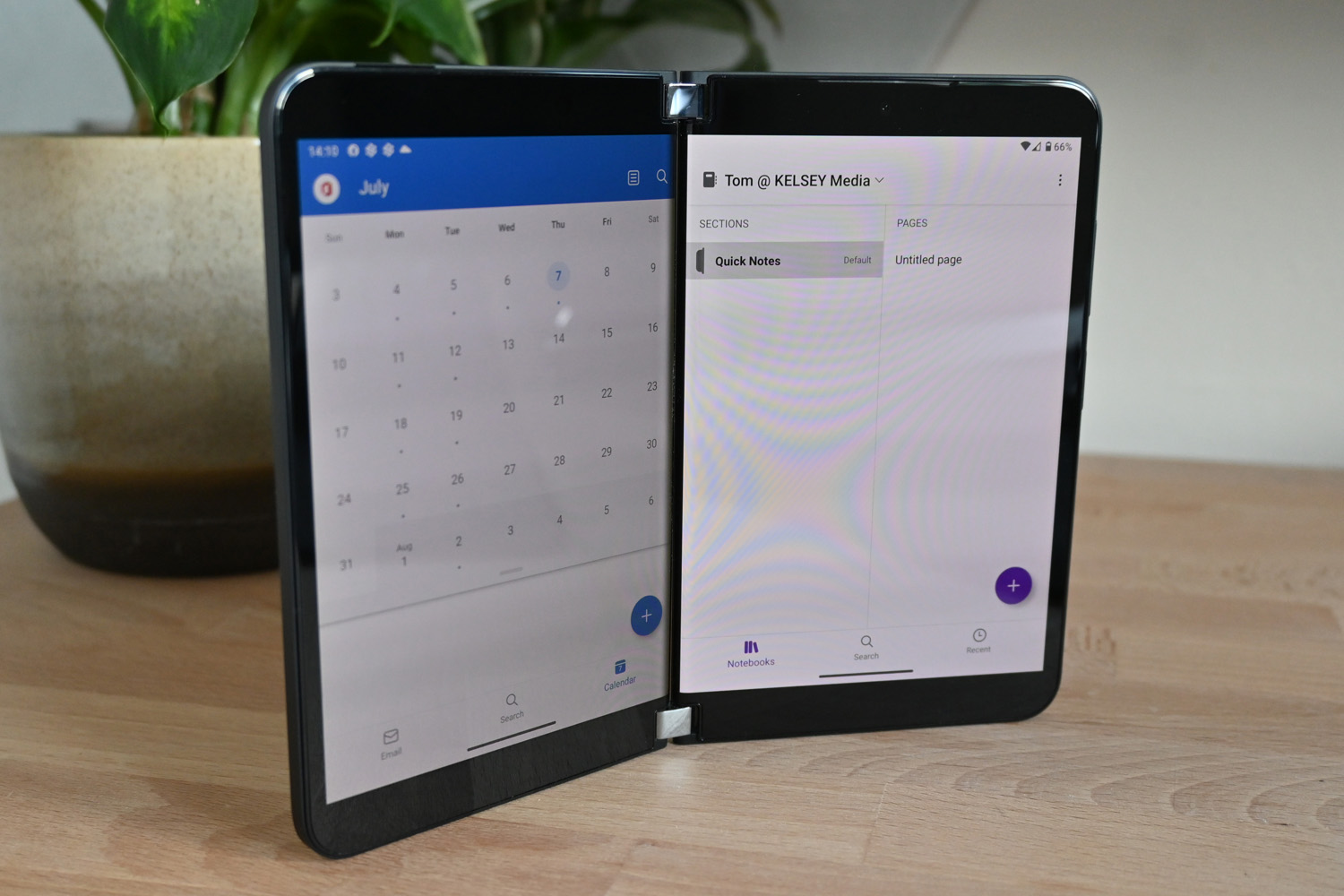 Gesture-based controls and well thought-out multitasking modes were the order of the day for the original Surface Duo, and that's still true here. The Duo 2 lets you drag and drop apps together so they open as a pair, with swipes along the bottom of the screen moving windows between screens – or expanding them to fill both.
It works brilliantly for Microsoft's apps like Outlook or OneNote, which are optimised for dual screens, but can still be a bit flakey with other Android apps. Things aren't as bad as they were at launch, but we still encountered a few crashes. Some third party apps don't like portrait view either – but that's true on all Android phones, so it's hard to fault Microsoft here.
A cool new addition for 2022 is support for Xbox Game Pass cloud gaming, with one of the screens turning into a touchscreen controller – but only for certain games. Given the productivity focus, it's nice to see Microsoft give some thoughts to what people are doing in their downtime too.
Twin-screen interaction aside, the whole thing sits on top of Android 11 with a lightly customised skin. A Microsoft feed replaces Google Discover, and there are a handful of pre-installed Microsoft apps, but it otherwise won't feel too alien for first-timers.
According to Google the firm is working to bring the tablet-optimised Android 12L to its devices later in 2022, but there's no concrete timeline. Microsoft is clearly committed to supporting the Surface Duo range, given the number of updates we've seen over the last ten months, so that bodes well for future support.
Microsoft Surface Duo 2 performance & battery life: last year's model
A Snapdragon 888 CPU brings 5G support to the Surface Duo range for the first time, and is a welcome step up in performance from the Snapdragon 855 used in the original version. It's still a generation behind today's top phones, though (soon to be two), so won't be smashing any benchmark records. It's paired with 8GB of RAM, and your choice of 128, 256 or 512GB of on-board storage.
For daily use, there's more than enough grunt here, with apps loading quickly enough and no noticeable slowdown. 8GB is on the cusp of what we'd deem 'enough' for the amount of multitasking you'll be doing, and rapid swaps between pairs of apps could result in more reloading than you expect for such a pricey handset.
It's quite the capable gaming machine, with compatible titles looking smooth thanks to the 90Hz refresh rate. Certain titles know how to use the two screens effectively, but others just span both – complete with gap down the middle that makes certain genres all but impossible to play. You'll want to play on a single screen for the highest frame rates, and even then might need to dial back the details on the most demanding of games.
Battery life fares better than the OG Surface Duo, managing around eleven hours of video playback on a single screen. That's enough to get you through an average work day in regular use, which should see more emails and spreadsheets than streaming video, but it falls well short of traditional premium phones – and doesn't hold up well against rival foldables, either. 18W wired charging is basic, too – expect close to three hours for a full refill.
Microsoft Surface Duo 2 camera: three's charming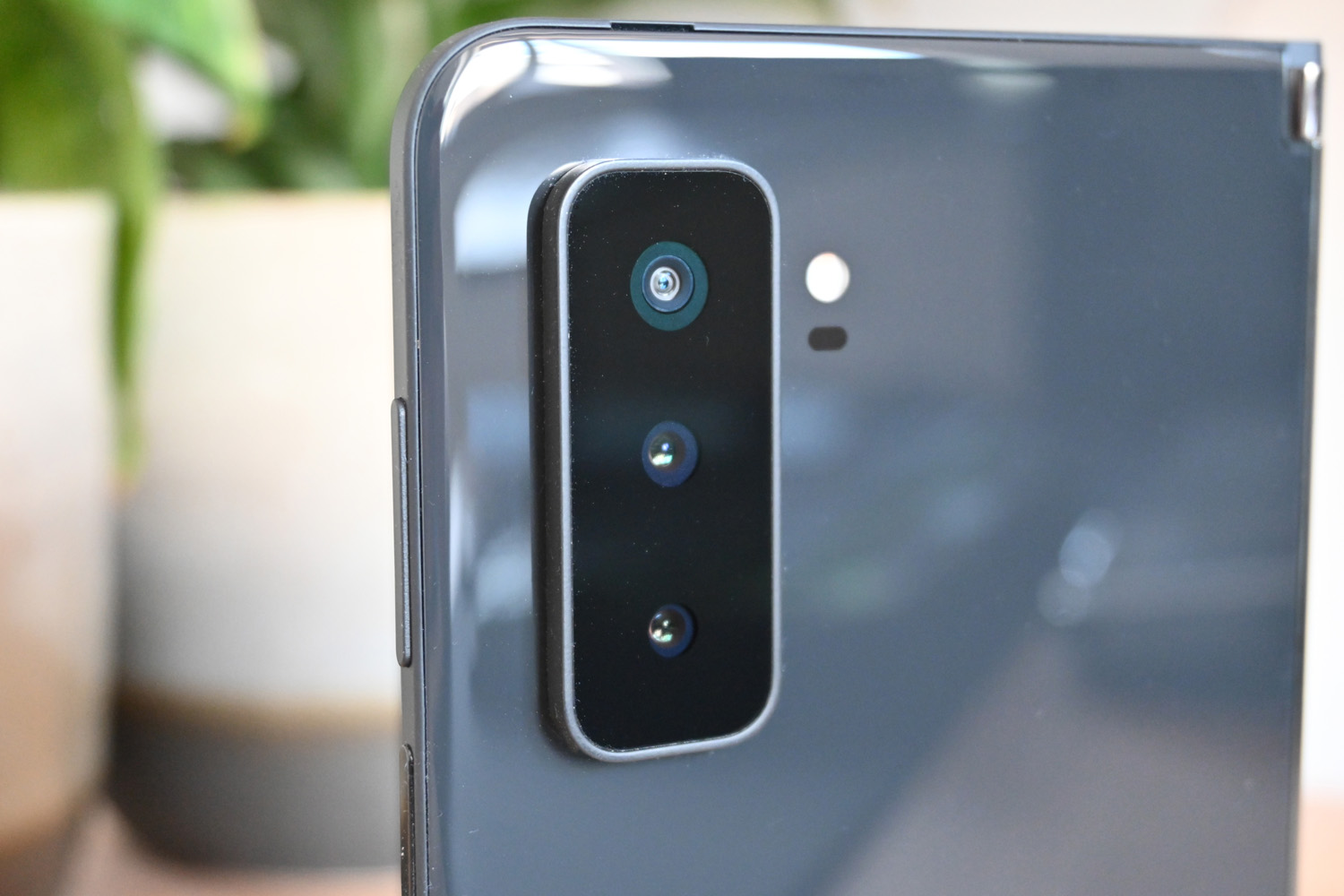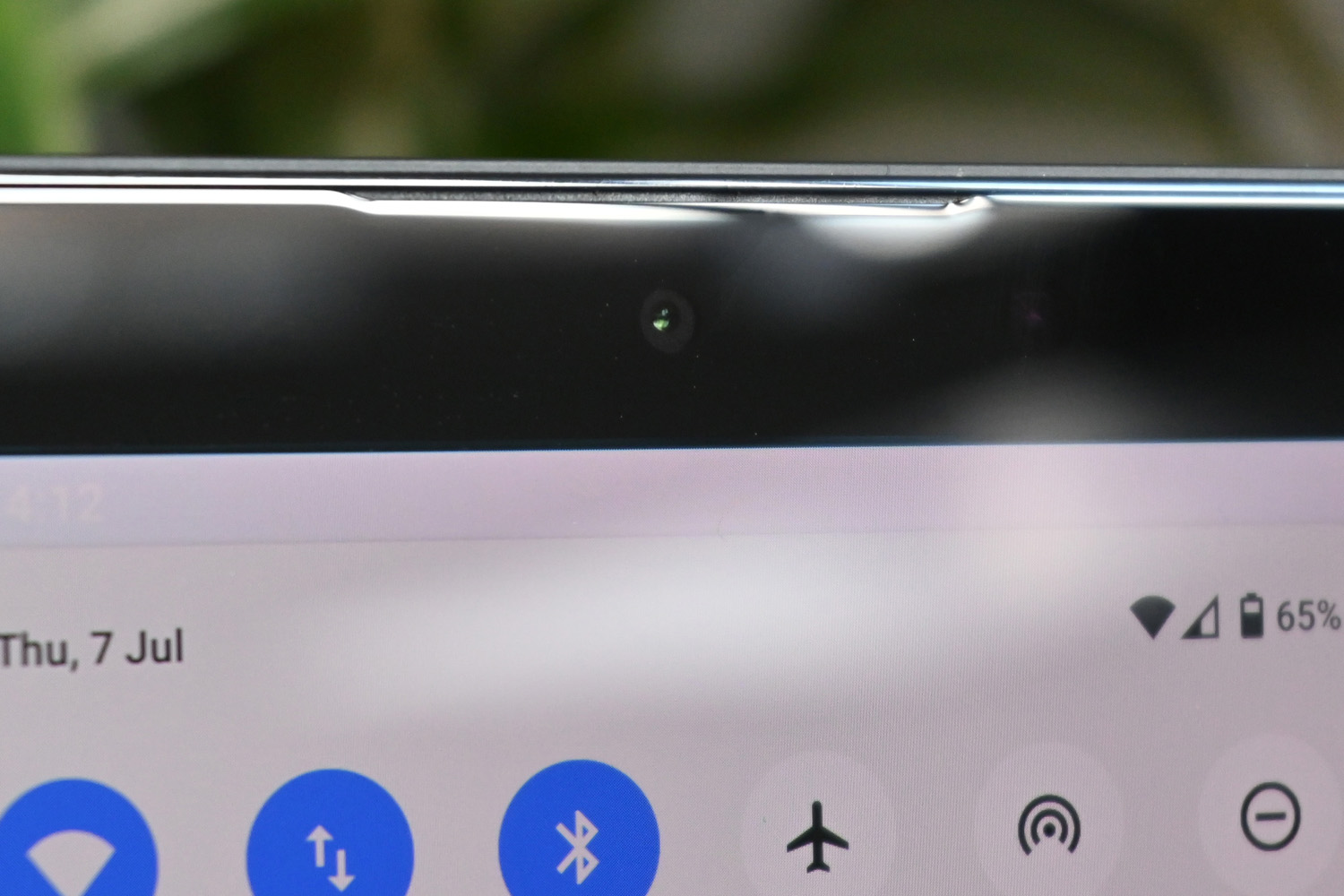 The original Surface Duo's inward-facing camera was meant for video calls, not taking photos. The Duo 2 makes amends with a trio of capable snappers: a 12MP main, 12MP zoom (good for 2x telephoto shots), and a 16MP ultrawide. They're not going to rival the Google Pixel 6 Pro, Samsung Galaxy S22 Ultra or Apple iPhone 13 Pro for versatility or image quality, but all three lenses can take a reasonable photo regardless of lighting conditions.
Colours are varied, sometimes prioritising lifelike hues (particularly reds and greens) but other times pushing towards more vibrant shades that aren't quite as true to life. HDR does a good job of balancing highlights and shadows in all but the trickiest of lighting, and autofocus is satisfyingly quick.
Detail looks well preserved on the surface, with the main camera being best and the ultrawide falling behind. Zoom right in and you'll spot where the image processing is simply giving the illusion of clarity, but overall results are pleasing enough.
Low-light shooting sees noise levels creep up, but not to outlandish levels. An iPhone or Pixel still has the edge here, but there's a good amount of preserved detail on show. Optical image stabilisation on the main and telephoto lenses means you don't need a super-steady hand to get usable snaps, either.
We like how the camera app makes use of both screens, putting the viewfinder on the right and the gallery on the left so you can preview your shots straight away.
Microsoft Surface Duo 2 verdict
Software updates really have transformed the Surface Duo 2. It was a mixed bag at launch, but now it's far slicker, and able to juggle multiple apps much easier. From a productivity standpoint, there's an awful lot to like, even if it's not quite perfect. It also has a capable set of cameras and battery life is respectable, given how often you'll be using both screens at once.
Performance isn't up there with the best flagship phones, and the design has its limitations – which makes us think it's best used as a companion device rather than as a replacement for your smartphone. Given the price, that's a tough ask. For the same amount you could buy an iPhone 13 and still have cash left over for an iPad.
That said, the pocket-friendly form factor and Microsoft service integration could still be enough to convince you otherwise.
Stuff Says…
It had a rough launch, much like its predecessor, but Microsoft has streamlined the Surface Duo 2 with regular updates. It's still a niche device, but absolutely nails its multitasking and productivity brief.
Good Stuff
Premium, pocket-friendly form factor
Regular updates have stabilised performance
Capable rear camera trio
Bad Stuff
Undeniably pricey
Missing features expected of premium phones
Microsoft Surface Duo 2 technical specifications
Screen
5.8in, 1344×1892 AMOLED (folded), 8.3in, 1892×2688 AMOLED (unfolded) w/ HDR
CPU
Qualcomm Snapdragon 888 5G octa-core
Memory
8GB RAM
Cameras
12MP, f/1.7 main w/ dual pixel PDAF, OIS + 12MP, f/2.4 telephoto w/ PDAF, OIS, 2x optical zoom + 16MP, f/2.2 ultrawide + TOF 3D rear.
12 MP, f/2.0 front
Storage
128/256/512GB on-board
Operating system
Android 11
Battery
4449mAh non-removable
Dimensions
145x92x11mm (folded) / 185x145x5.5mm (unfolded), 284g