Microsoft Surface Laptop 2 review
The Surface Laptop was far from broken, but does it sequel fix enough to be worthwhile?
The greatest surprise about last year's Microsoft Surface Laptop? It wasn't its carpeted design, all-round finesse or MacBook-beating price.
No, it was the fact that it had taken the Windows-maker decades to create a laptop in the first place. Unsurprisingly, the follow-up hasn't taken quite so long to come around.
In truth, the Surface Laptop 2 does little to alter what was already a winning formula. It's faster than ever before, runs full-on Windows 10 instead of the solely app-based Windows 10 S seen in 2017's model and that's about it. Neither of these changes are enough to reinvent this computer into an entirely new device, but – let's face it – this is a laptop we're talking about.
You can only reinvent the wheel so much here. If you're looking to upgrade to a new computer, then there are few better alternatives.
Design: Keyboard and Screen Dream
You could be happily forgiven for looking at this year's Surface Laptop 2 and assuming it's one of last year's models. Indeed the 13.5in Laptop 2 is exactly as thin (14.48mm) and light (1.25kg) as its predecessor. What about the Alacantra fabric cloth surrounding it's keyboard?
While you've got to give Microsoft props for not going for the all-metal MacBook-alike aesthetic, we're not entirely convinced a year on from its introduction. Why? It looks great on first impressions but can discolour over a year's usage unless you really make an effort to keep your mitts clean.
So much so that this is probably the reason Microsoft has introduced all-black as a colour option in addition to the grey you see here. Because, hey, if it works for covering up stains on your jeans then why not a computer?
Elsewhere in 'small changes that don't really matter' news, Microsoft claims the Laptop 2's keyboard is quieter than before. While we didn't test this in an ultra-pedantic side-by-side test, we can confirm it's still an excellent companion for typing out documents, penning a quick note and everything in-between. The keys are lovely and big with plenty of travel, and you also get an ample trackpad for scrolling about. We're huge fans.
The same goes for its 13.5in touchscreen, which again is unchanged but looks just as good as before. With a 2256 x 1504 pixels resolution, text is pin-sharp when you're editing docs, video is punchy with plenty of detail and the whole affair is comfortably bright enough so you'll never find yourself squinting at imagery.
Whether you're catching up on The Good Place or just trying to get your inbox down to zero, you'll get on great with the Surface Laptop 2's display. You probably won't want to sit through an entire movie with the thing, but that's down its so-so speakers that lack finesse at loud volumes.
OS: Windows 10 on Board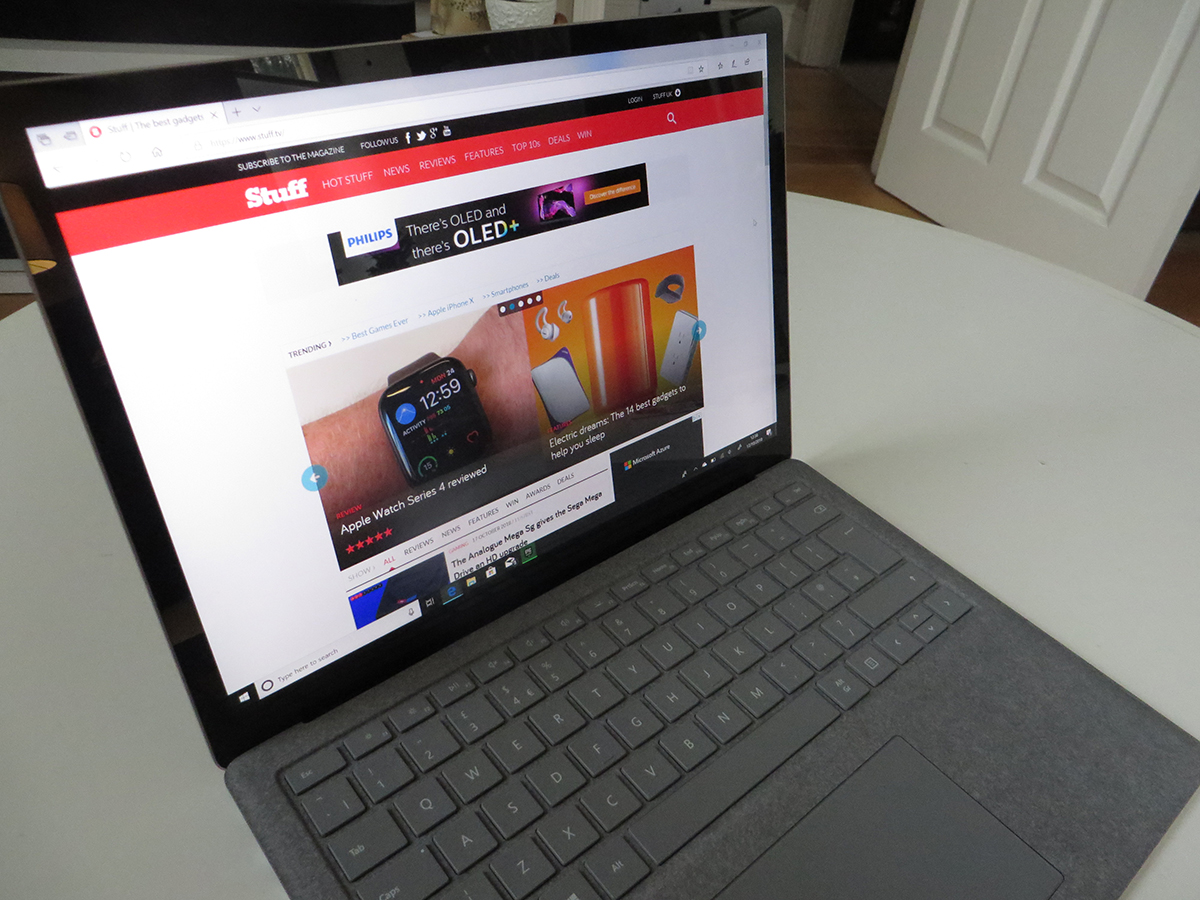 If anything held you back from splashing out on the original Surface Laptop, then it was probably the fact that it ran on Windows 10 S. You know, Microsoft's solely apps-based version of Windows 10. The one that would let you run anything off the Windows Store and nothing else unless you upgraded to Windows 10 proper.
That meant no Steam, Photoshop,1Password or any other programs you might be fond of. Was this a huge problem? Probably not for most folks, but if there's one thing that's guaranteed to catch a person's ire it's being told they can't do something. Even if they've never used a piece of photo-editing software in their life.
Sensibly, the Surface Laptop 2 sidesteps this problem entirely by running Windows 10 straight out of the box. So you can load the thing up with bloatware and viruses until your heart's content.
In all seriousness, being able to do whatever you want with this near-on £1,000 machine feels like the right call. Especially since Windows 10 is a genuinely great operating system that's really come into its own since its release three years ago. It's intuitive to use, packed with great features and just works in a manner that's close enough to Apple's own software.
Honestly, if all you're using your Surface Laptop 2 is the usual office-related drudgery then there's little difference between it and a MacBook.
Performance: Multitasker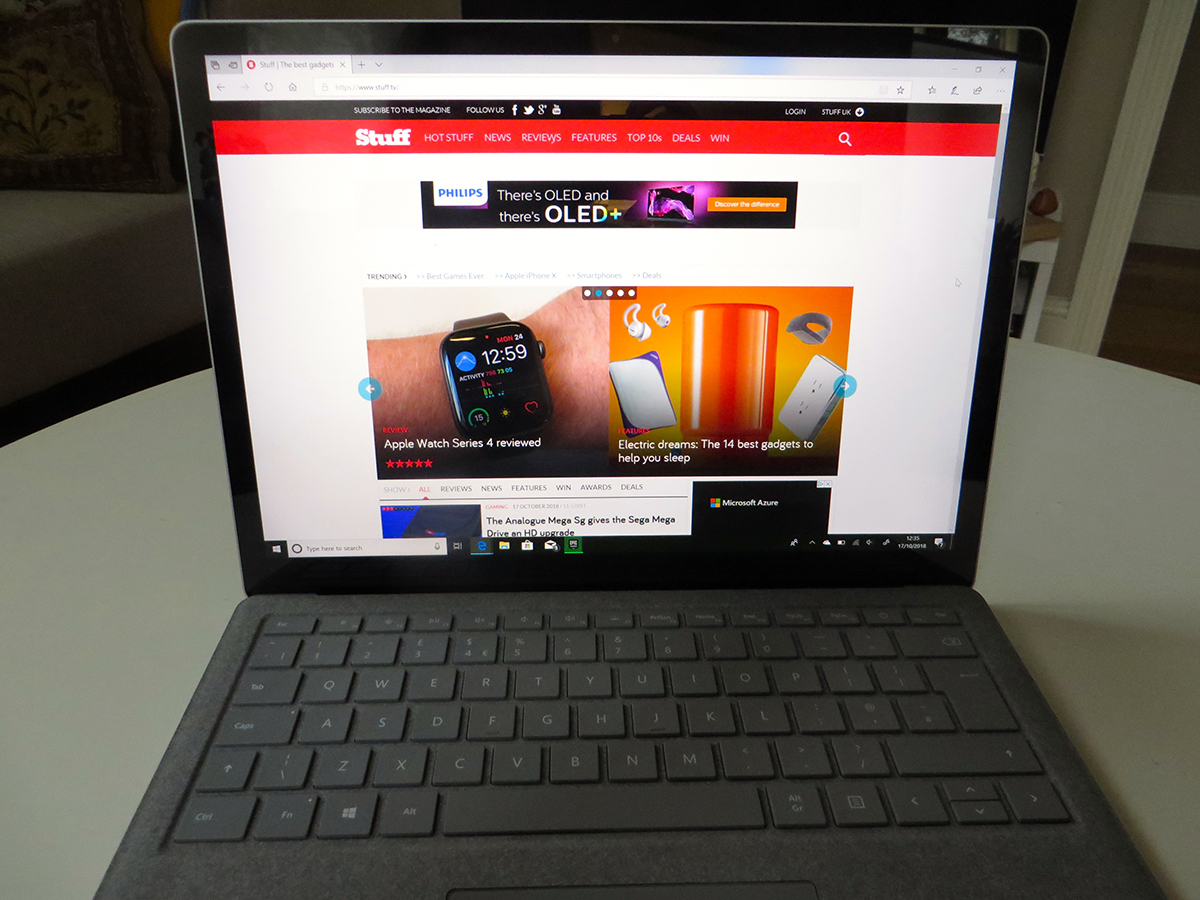 And if you want to squeeze your full money's worth out of the thing? An 8th Gen Intel i5 processor ensures you've got the power to do so. Thanks to the inclusion of these quad-core chips and 8GB RAM, the Surface Laptop 2 is far better suited to multitasking across beyond the basics. In fact, Microsoft reckons it's 85% more powerful than last year's model.
As such, this device ranks almost on par with Apple's entry-level MacBook Pro for power. If you're going to be editing video on the regular then you'll want the Pro and its superior graphical powers. For everything else, the Surface Laptop 2 can do exactly the same for less of your hard-earned dollar. It zips between programmes with no trouble at all and is generally slick and responsive to use. Just don't expect to go reigning supreme on Fortnite with this thing.
You also get plenty of storage too with a 256GB SSD to fill up with music, movies and, well, actually important documents. Plus, the Surface Laptop 2 has the stamina to trundle on for 14.5 hours before running out of battery as well. So you're covered if you need the thing to survive a day out of the office.
And if you need to plug in a USB-C cable to the Laptop 2? Not so much. With only a single USB 3.0 port – not the faster 3.1 alternative with double the transfer speeds of upto 10 Gbps – and a mini DisplayPort to its name, this isn't a device that's blessed with incredible connectivity. So long as you don't need to plug in more than a mouse on the regular you should be OK. Otherwise, you'll need to get yourself a dongle.
Microsoft Surface Laptop 2 Verdict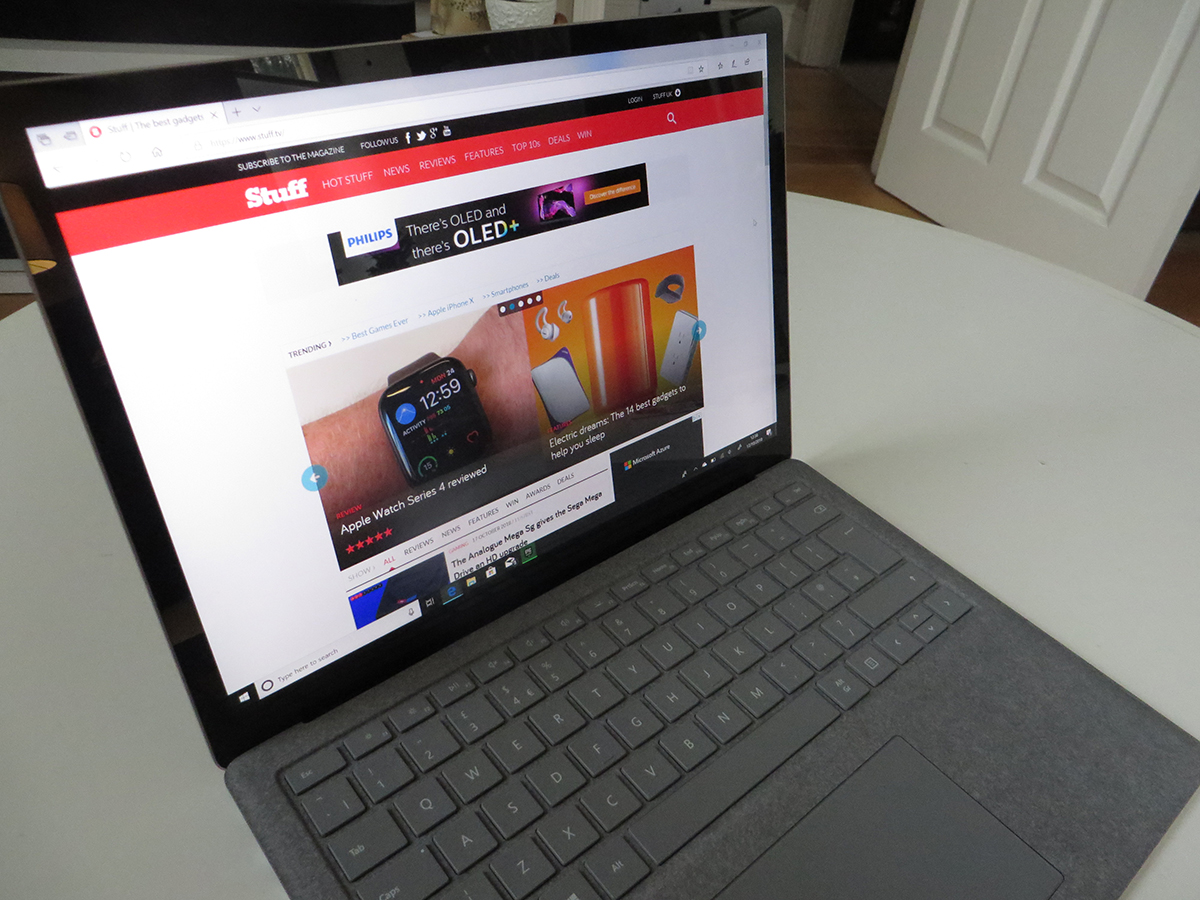 While there's little that's truly new about Microsoft's Surface Laptop 2, that also means this computer has kept everything that made it such a phenomenal device in the first place. Better still, the addition of Intel's latest processors and the full version of Windows 10 ensure it's a better all-round proposition than it was last year.
So much so that the Laptop 2 happily ranks ranks alongside the Dell XPS 13 and Huawei MateBook X Pro as one of the best laptops around.
Our only major complaint? That carpeted keyboard still has the potential to get mighty dirty without too much of an effort on your part, and there's no real way round that problem. Oh well, we guess they've saved that tweak for next year.
Stuff Says…
The Surface Laptop 2 is far from a revolutionary sequel, but it changes just enough to retain all the accolades we heaped upon it last year
Good Stuff
Windows 10 instead of 10S
Faster internals for more versatile work
Fantastic screen and keyboard
Bad Stuff
Carpeted keyboard can get dirty
Could do with more ports