New Balance RunIQ review
It's New Balance by name, but old and uneven by nature...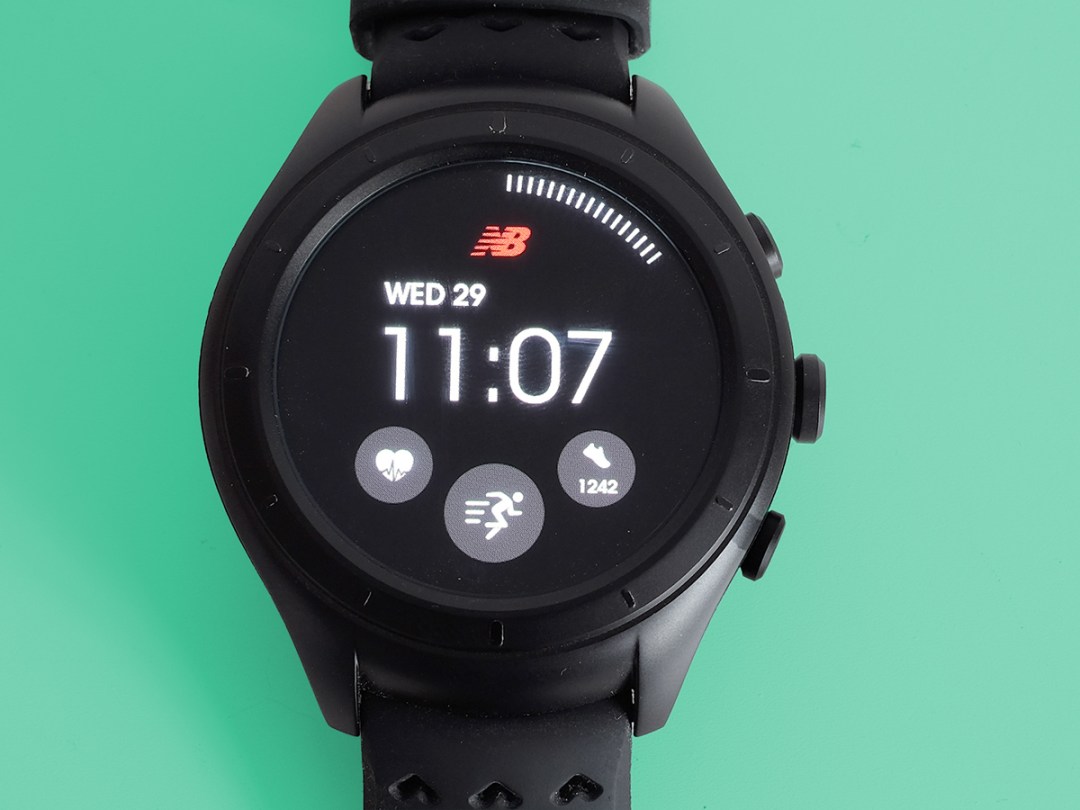 This year's theme for Android Wear is…watches you can wear while you run.
But, wait for it, you don't need to take your phone with you either. Killer feature, right? It should be, but the New Balance RunIQ isn't a patch on a dedicated runner's watch when you start using it out on the street. Or the track. Or the moors. Wherever. It's clunky, the battery life is not good and it runs an outdated version of Android Wear.
It looks a bit cooler than a Garmin Forerunner, but if you're really buying this for the sporty side, you'd be better off with one of those dedicated trackers. Especially when the New Balance RunIQ costs £329.
New Balance RunIQ design: Supermassive black hole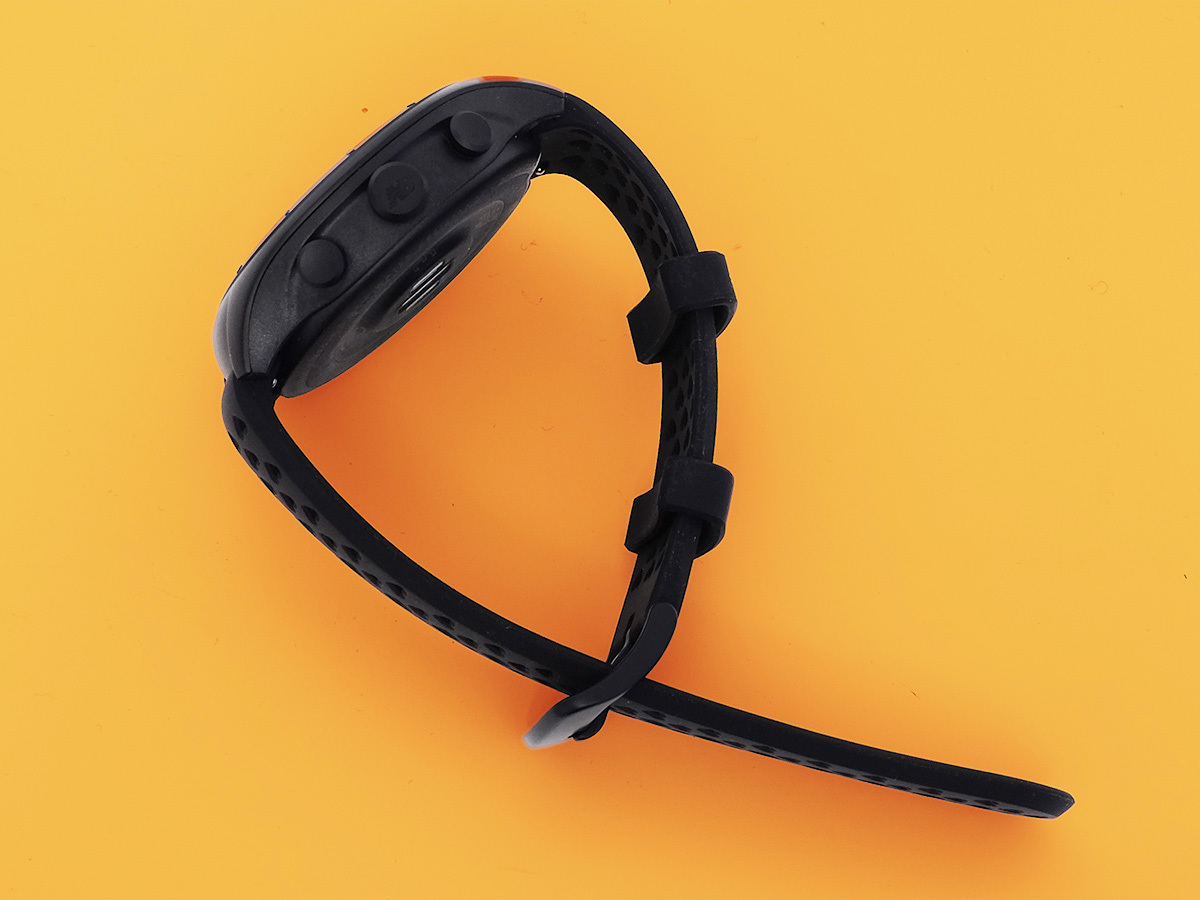 New Balance has picked a very moody look for the RunIQ. It's all-black, and the fine details get sucked into this little wrist-worn black hole.
For example, there are little blips around the watch face at the usual 5-minute marks of a watch face. It's no biggie if you like an ultra-simple look, and the New Balance RunIQ doesn't have the try-hard look of the Huawei Watch 2.
The entire watch body is made of finished steel, making it hard as nails. The RunIQ is also chunky, particularly as the face of the thing is pretty large thanks to the generous 1.39in screen.
Obvious luxury isn't really the aim, but there are no complaints about how expensive or well-made the watch feels. It's also water resistant to 5ATM, meaning you can wear it in the shower or swimming pool if you like. The strap doesn't really emphasise the high-end build because, like most sport watches, it's rubbery rather than leathery.
There are dozens of little hearts cut out of the silicone to let it breathe and I'm glad the pure black look downplays this. Hearts are fine, but if they were obvious they'd look odd on what is otherwise the watch equivalent of the weights section of a gym.
The RunIQ has three buttons on its side. One looks like a dial, but they're just buttons. The top one starts the exercise app, the middle one is a wake/sleep button and the bottom one fires-up Google Play Music. It's unusual for a Wear watch to make a big deal of music, but the RunIQ is available with a Bluetooth sport headset. New Balance works the upsell angle like a pro.
New Balance RunIQ performance: Off the pace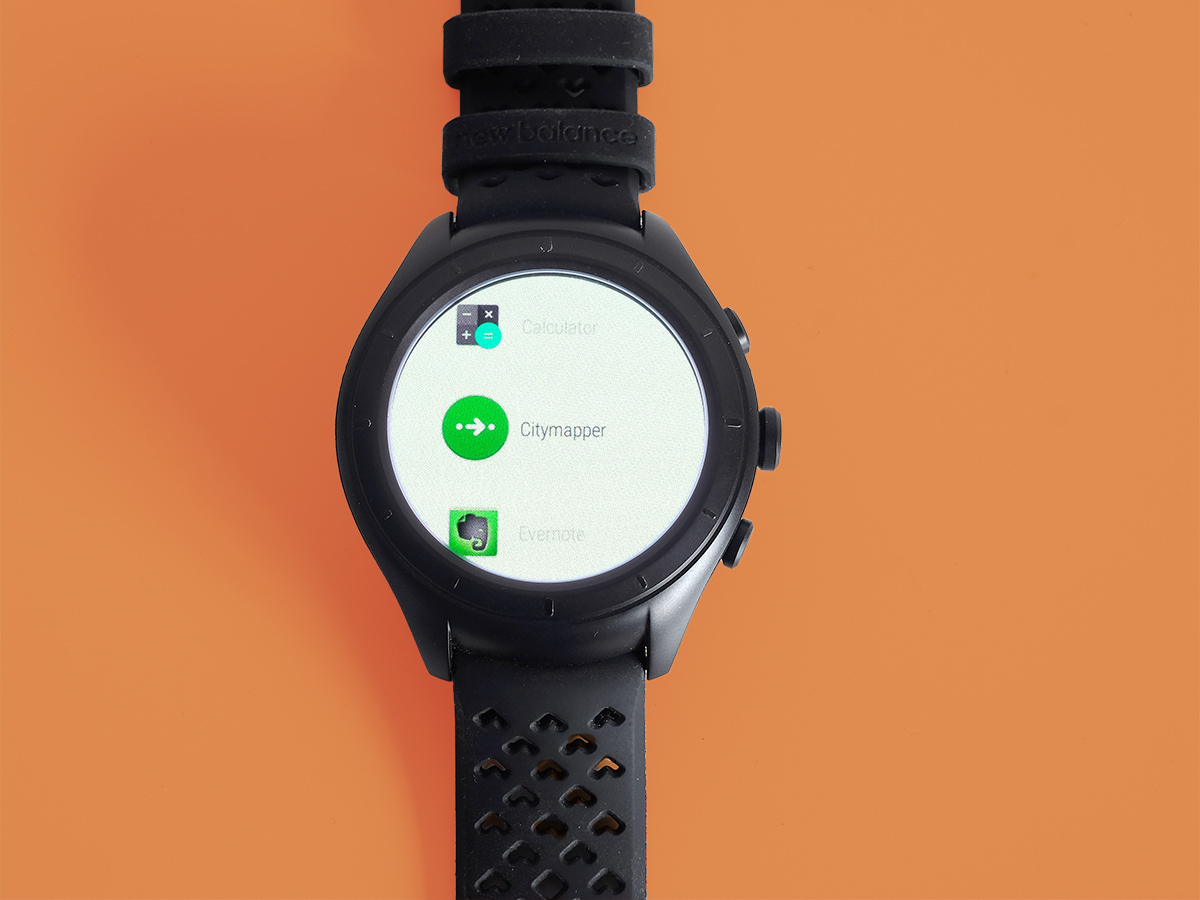 New Balance has also teamed-up with Intel to make this watch. It uses the Intel Atom Z34XX CPU, rather than the more popular Qualcomm Snapdragon breed. There aren't any good benchmark tools for Android Wear to let us find out quite how peppy this processor really is, but in person the results aren't great.
Sometimes swipes and taps don't seem to register properly, apps seem to take a while to load, the responsiveness of the buttons is poor. Coming from using the Huawei Watch 2, the New Balance RunIQ feels slow. It's often annoying, although I put a good chunk of the blame for this on the software.
Google has already released Wear 2.0 and it's a huge improvement, but the New Balance RunIQ still runs bad old Android 1.5 at the moment. It's less intuitive, more complicated, uglier and less useful. This is a watch designed for occasional use without your phone, but it's Wear 2.0 that introduced next-gen standalone apps. Returning to the old version of Wear is an unpleasant blast from the past. It's a mess, but at least the RunIQ is one of the watches that's been confirmed to be getting Wear 2.0.
New Balance RunIQ screen: The dim porthole
The New Balance RunIQ does at least have a big screen. It's 1.39in across and uses an OLED panel, the best kind for a watch. Resolution is 400×400, for a pixel density of 287ppi. Thanks to the inner workings of the screen it looks a bit fuzzy close-up, but at the sort of distance you'll actually hold the New Balance RunIQ, it's sharp.
I've been trying to work out if the watch has an ambient light sensor, and if it does, it's not used anywhere near enough. Used out on a bright day the screen is almost invisible unless you use the Brightness Boost function.
And that turns off after a few seconds anyway, leaving you in the (relative) dark. Using the New Balance RunIQ out on a bright summer run isn't much fun. The most important question, does it have the fitness chops to make it worthwhile? Not really…
New Balance RunIQ fitness features: Hit and miss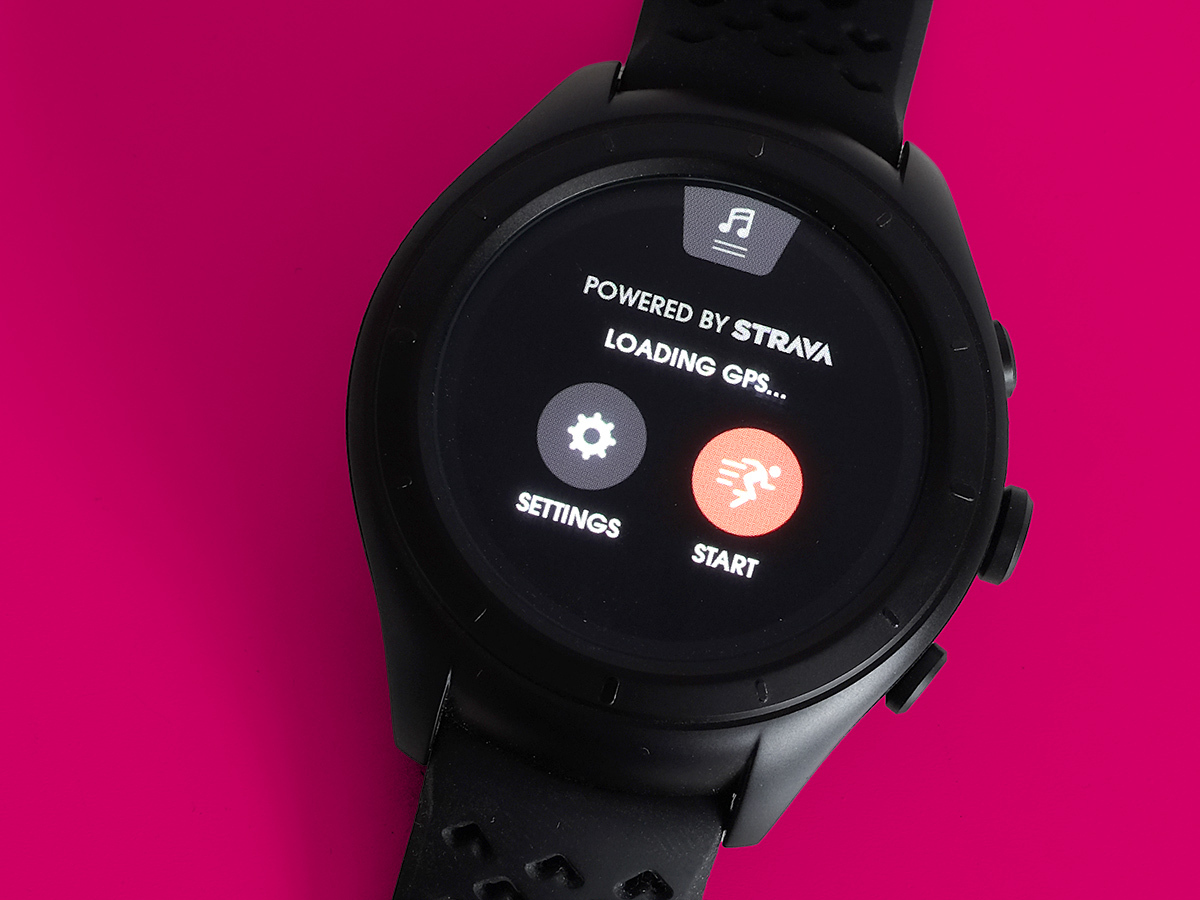 The New Balance RunIQ has its own fitness app and watch faces, designed to hook up with Strava to give your data somewhere to go. It's only designed to accommodate outdoor running and cycling, though, so if you want to track gym sessions or other sports you'll have to investigate another app.
As you run or ride you can look at your distance, speed and time on the main screen. Flick to the left and right and you can check out your heart rate, cadence and lap times. Swipe down and you get music playback controls. There aren't lots of on-watch music player options with Wear yet, so you have to use Play Music.
If you're running with a phone, though, the playback controls of whatever app you use end up in here. As usual, run with your phone connected and the mobile's GPS will be used. Leave the phone at home and the New Balance RunIQ's own GPS chip kicks in. It works pretty well, with much better results than I got from the Huawei Watch 2. Tracking accuracy isn't pin-point, but it seems to lock on within a few seconds, letting you start a run without missing on the first 200m.
I'm disappointed the whole thing feels so clumsy, though. A lack of phone-like immediacy is to be expected when you're using a runner's watch that hasn't had scores of dev working on the interface for years, but the slow, intermittent unresponsiveness of the RunIQ is not what I'd expect from what should be a next-gen tracker.
As is the norm with this sort of watch, the New Balance RunIQ has a heart rate sensor, an optical model with two green LEDs and a sensor in-between. And, similarly common, its performance isn't reliable. Let it track over an hour-long session and it might get you a reasonably believable average bpm figure.
But I use an HR sensor to see if that feeling of my heart trying to escape my rib cage really relates to a super-elevated heart rate when running, and for that sort of snapshot look, it's not much use. The results just aren't accurate.
New Balance RunIQ battery life: Marathon stamina (just)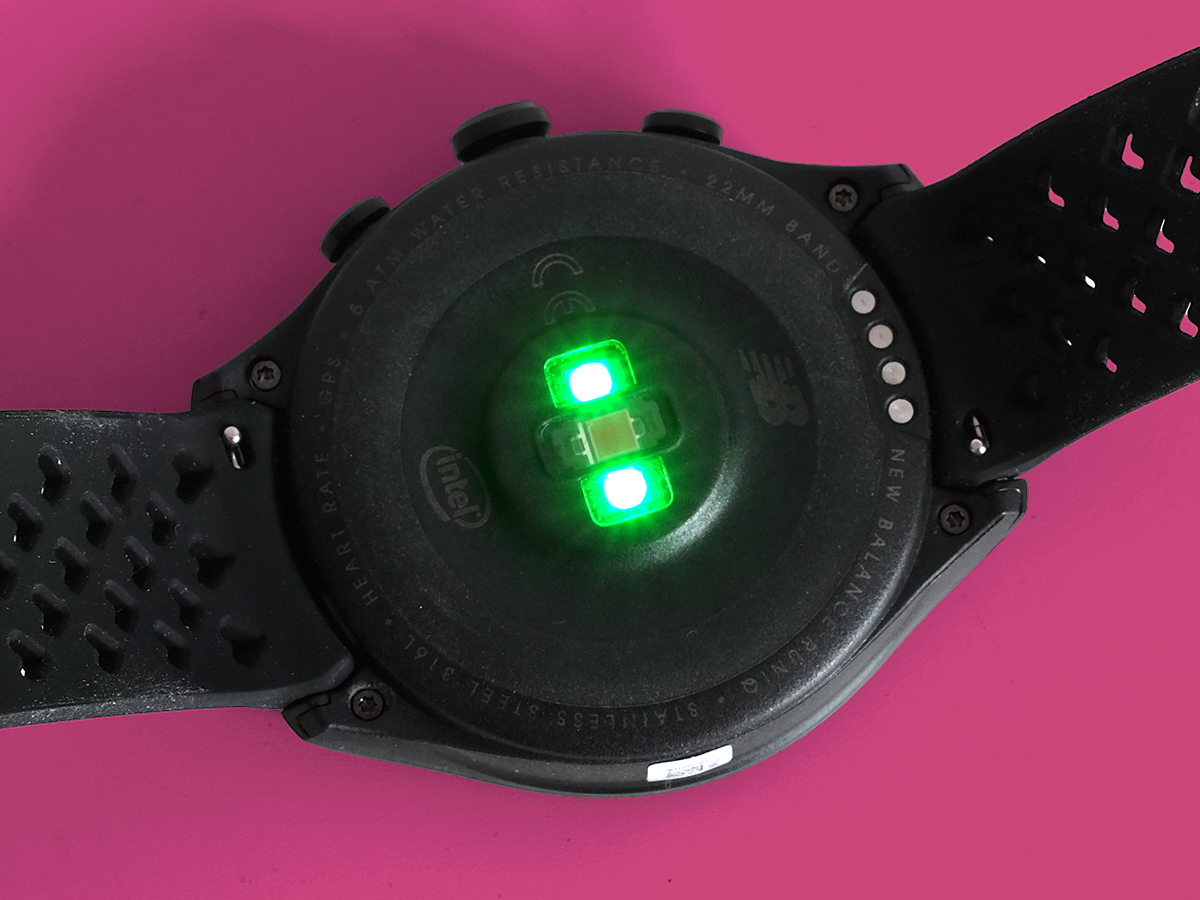 The RunIQ also only has just about enough battery to last through a marathon, with a quoted five hours of GPS tracking. As I tend to run 2-5K at a time rather than 26 miles, I tried this out with a walk rather than a mammoth run, and sure enough the battery level ran down pretty quickly.
You'd be lucky to get the quoted five hours when using the maxed-out screen brightness needed to make the display visible outdoors on a bright day. For more conventional Android Wear use, the New Balance RunIQ lasts about a day, but not much more. It's not one of the longer-lasting smartwatches, despite having a decent 410mAh battery.
You charge it using a little docking plate. It looks like a wireless charger, but actually has a set of metal pins that connect to a series of metal points on the back of the watch. Charging takes a couple of hours: nothing special there.
The RunIQ may come from a sports brand, but its sporty USPs are pretty thin. You get the dedicated watch face and app, but this only really amounts to a veneer in-between your watch and Strava.
With any GPS-equipped Wear 2.0 watch you can use Strava's own standalone app for the same results. This wouldn't matter so much if the New Balance RunIQ was a great Wear watch in its own right, but it isn't.
As long as you don't mind the chunky shape the design is fine, but it already feels out of date thanks to the dated Wear software and generally quite poor performance.
New Balance RunIQ verdict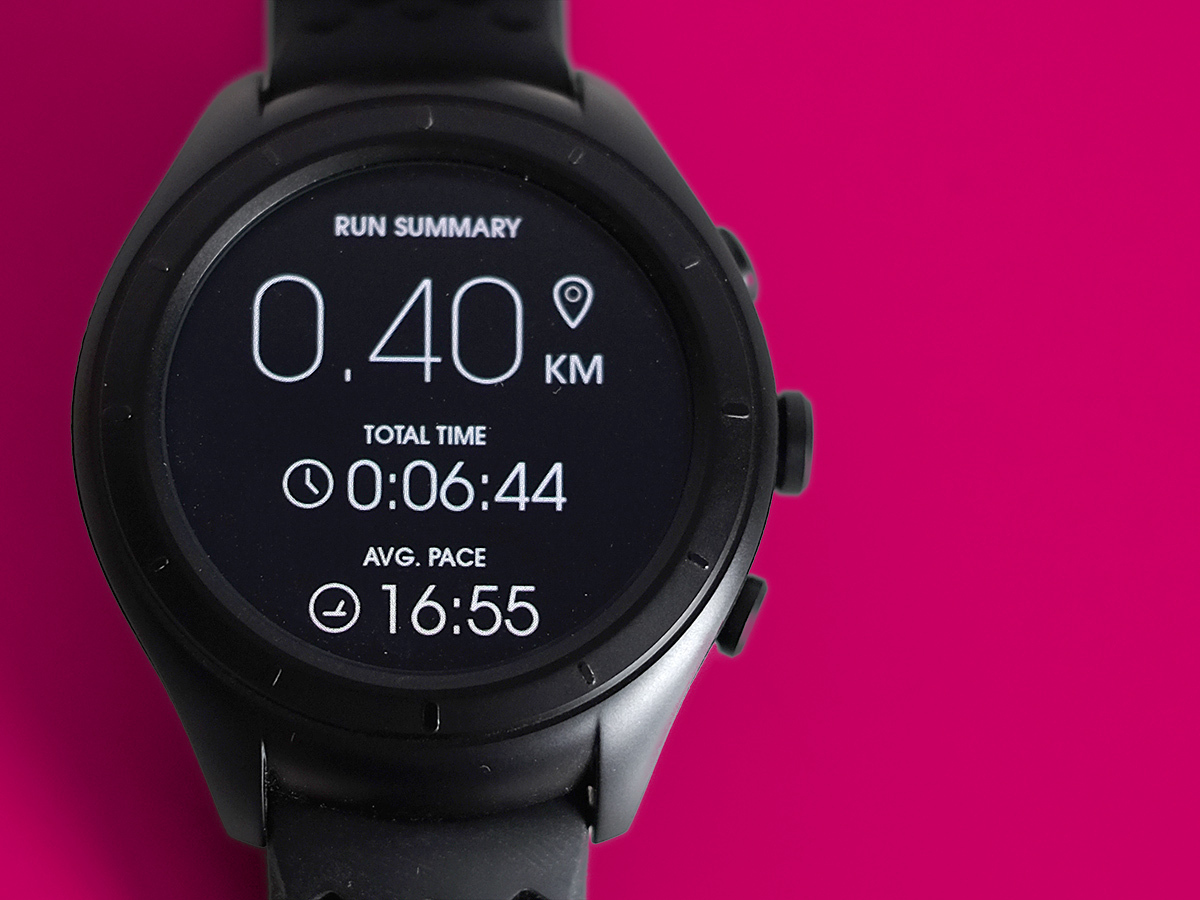 Android Wear watches are becoming more autonomous, and that's great news if you like the idea of a smartwatch that works as a proper, marathon-tracking sport watch. The New Balance RunIQ is all up for the standalone concept, but is too dated in other respects to pull it off.
Wear watches simply can't launch with pre-2.0 versions of the software anymore, and the difference is compounded by oddly wonky performance here. We're likely to see several better takes on this concept in 2017. But if exercise tracking is your real goal, a dedicated runner's watch is still a better idea.
Tech specs
| | |
| --- | --- |
| DIsplay | 1.39in, 400×400 |
| Sensors | GPS, accelerometer, heart rate monitor, gyroscope |
| Storage | 4GB |
Stuff Says…
Sporty features can't disguise the fact that this is an uninspiring smartwatch
Good Stuff
Tough, water resistant case
Has reasonable in-built GPS
Bad Stuff
Clunky and slow
Uses out-of-date Wear (for now)
Poor battery life
Thin sports software