NuraLoop review
The Australian audio startup's latest engineering efforts pay off in this in-ear version of the full-size groundbreaker
After what was quite a rocky start due to a few delays in getting to market, the super smart in-ear headphones – NuraLoop – have finally arrived for testing at Stuff HQ.
Australian earphone company Nura, already made waves in the audio industry back in 2018 thanks to Nuraphone – the firm's debut pair of over-ear cans. These offered music enthusiasts something other brands never had: a personalised sound that uses AI to automatically learn and adapt to users' hearing.
Two years later, in what's quite an impressive feat of engineering, Nura has managed to squeeze this tech down into an in-ear model while still retaining some nifty features such as active noise cancellation, touch controls and Immersion Mode, a bass-enhancing tool that makes you feel like you're in a live music venue. However, will this impressive set of features prove just as impressive as its predecessor when it comes to the most important factors: audio and comfort?
It's time to find out.
DESIGN: COMFY BUT CUMBERSOME (COMFY-SOME?)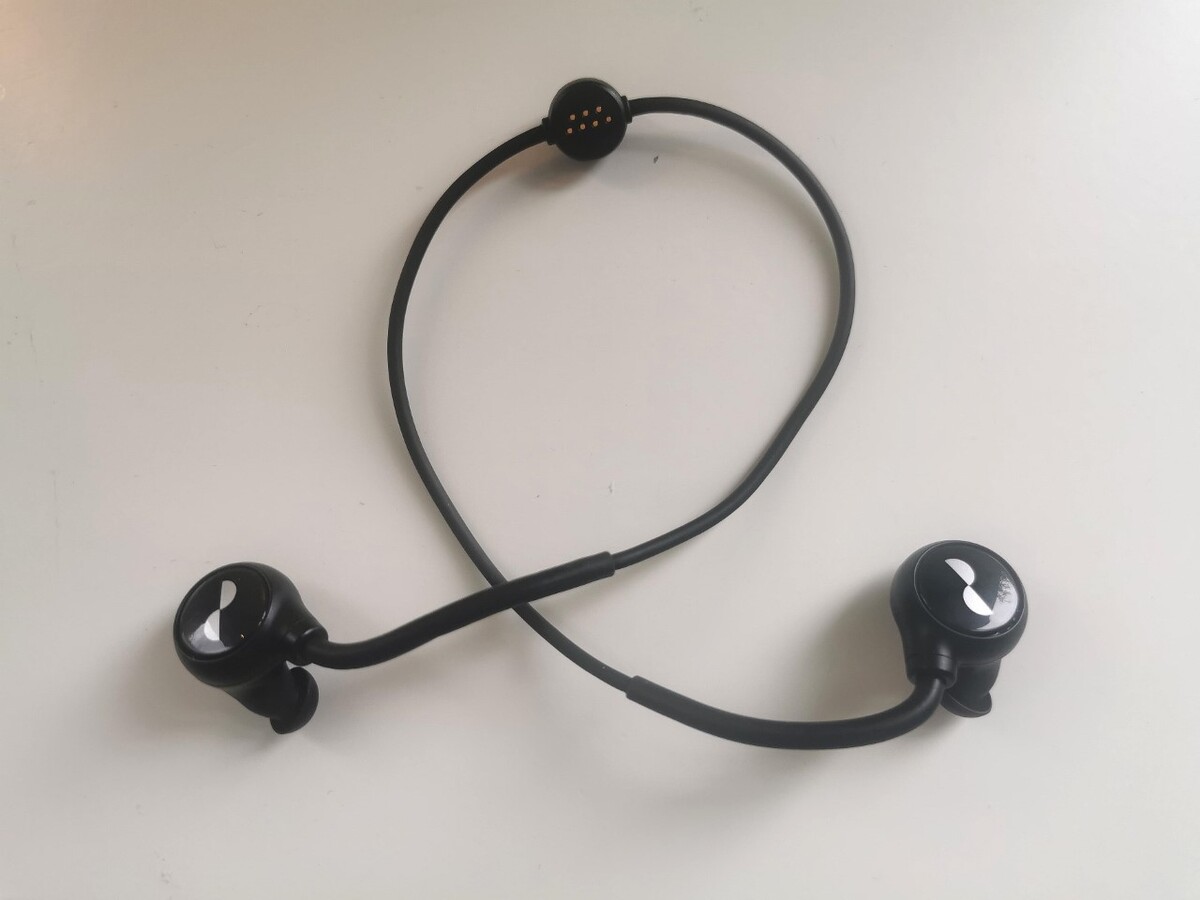 One thing that Nura prides itself on is designing for function over form.
On first inspection, they aren't the most beautiful-looking earphones you've ever seen. For starters, they're quite clunky and only come in a matt black colourway, leaving much to be desired for those on the hunt for a kooky ear accessory to match their quirky personalities. Nevertheless, potential buyers should take solace in the fact that they've been engineered this way to deliver the best sound possible.
The NuraLoop connects to a device via the latest version of Bluetooth (v5). It's worth noting that while these babies are wireless, they're not true wireless like the Apple Airpods or Huawei's FreeBuds, for instance, as they have a cable connecting both earpieces. This cable, in my opinion, is a little too short. Then again, maybe I have an exceptionally thick neck? Still, when wearing a jacket with a collar, I found the cable could catch and annoyingly tug on the buds in my ears. This, I think, is due to the arrangement of the spherical, proprietary connector in the centre of the cable, which is not only where the earphones are charged, but where an aux cable (included in the box) can be attached so that the NuraLoop can be plugged into 3.5mm audio port. While this is a very clever design feature, the connector does tend to get caught on things from time to time, especially when turning your head.
Despite this, I do still prefer a wired setup over a true wireless pair of earphones. Not only do you have less stress about losing one, but if someone is mouthing something at you it's easy enough to pull the buds out and let them rest around your neck while you ask them why the hell they are disturbing you. This is as opposed to awkwardly holding true wireless buds in your hands and hoping not to drop one down a grate (yes, that has happened to me before – weep!).
Generally, though, Nura's buds are very comfortable in and around the ear. They have two flexible arms that loop over the top of your lobe and down to the back of the neck. Being able to adjust how the arms flex around your lugs is very satisfying indeed and it doesn't take long to get the exact fit you want.
As you'd expect, the NuraLoop comes with different sized buds to fit different ears. While the standard medium-sized ones worked perfectly for me right out of the box, some early testers did report issues getting a good seal. Happily, as of September 2020 a firmware update seems to have resolved this.
SOUND: PERSONAL-EARSED TO YOU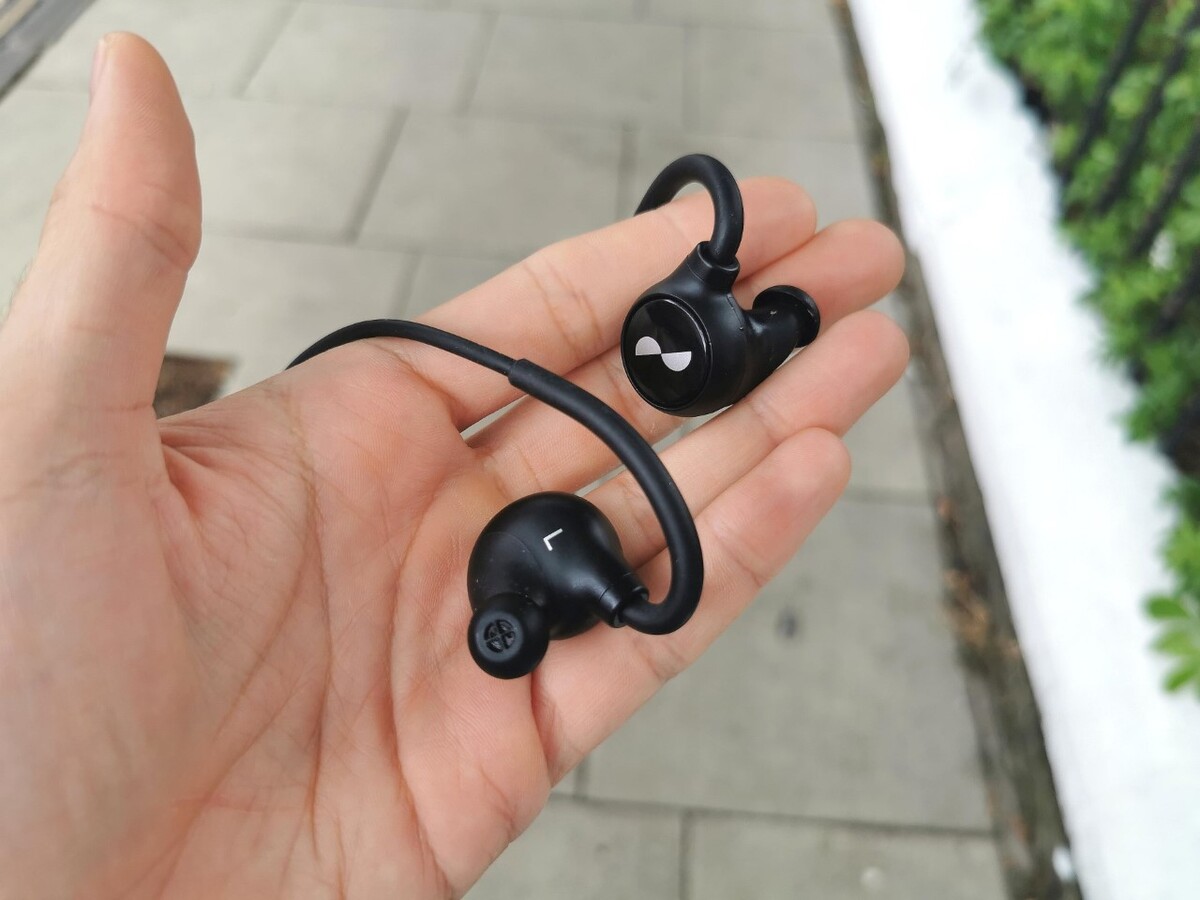 What makes the NuraLoop special is that they provide a sound that is unique to you. This is thanks to their ability to listen to the inner sounds of your ear canals via a pair of internal microphones. How your music will sound is established during the setup process via quick measurement within the app, with the earphones playing a range of tones that, in turn, forces the ear to generate its own sonic responses (known as otoacoustic emissions). While these are inaudible to the human ear, the NuraLoop's microphones are able to pick them up and understand how you hear sounds to create a compensating EQ profile based on this information.
It's a quick, easy (and painless) process that simply ensures you hear every aspect of the audio you're listening to properly. For example, if you're sensitive to high frequencies then your profile will tone these down and amplify parts of the sound you might be less receptive to. The resulting sound is nothing short of stunning. It's like you can hear every instrument in a piece of music for the first time. Well, everyone hears differently, so it makes complete sense to produce a set of earphones capable of this.
Best of all, though, is the built-in active noise-cancellation. This neat little feature blocks out external sounds impressively well but can also be cleverly adjusted. For instance, it can be lowered using the touch buttons (which I'll explain later) on the ear units until it reaches Social Mode, Nura's name for its listen-through option that lets you hear what's going on around you through four external mics. This is particularly helpful if you're cycling and want to half-listen out for that sneaky Prius silently creeping up behind you.
Nevertheless, on full whack you'll probably only just hear an ambulance if you've got the music pumped up.
PERFORMANCE AND APP: JUST A TOUCH OF YOUR LOVE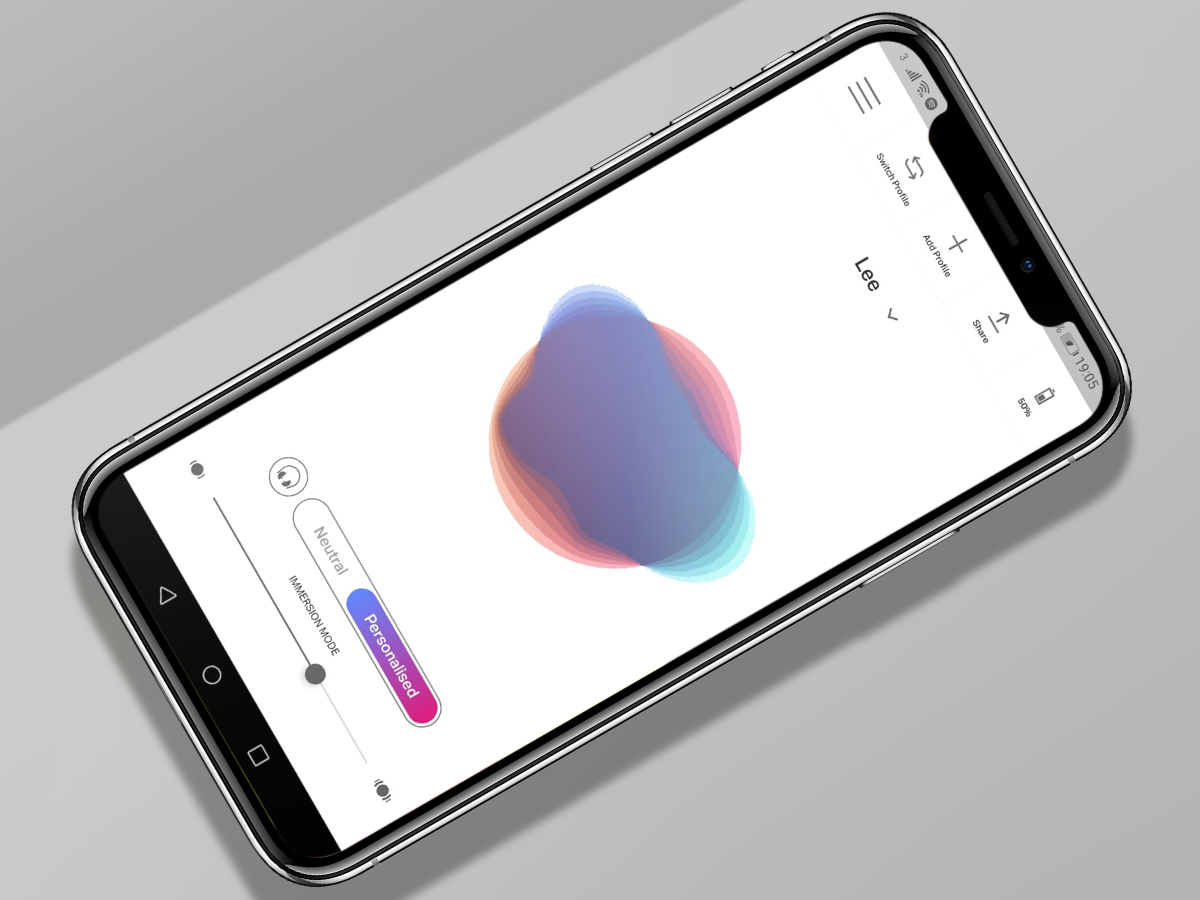 On the circular ends of each earphone is a touch-sensitive button. Nura refers to these TouchDials as they allow you to use your finger in a clockwise or anti-clockwise motion to turn up or turn down different settings, depending on what function you've assigned to them.
For example, this can be the level of volume, immersion (essentially bass) or noise-cancellation. These buttons can also be tapped to perform different actions, such as play/pause or skip, and customised to your preferences within the app. At launch this customisation was quite limited, with no option to double-tap as you'd find with most wireless earbuds, but here again the September firmware update has come to the rescue: double-taps are now an assignable option on both dials, and work well.
The only other niggle we have with the NuraLoop is that the automatic on/off and pairing/unpairing when you take them out of your ears can be a little… off. Sometimes they continue to play and sometimes they go into standby. And then you can put them back in and they don't turn back on. We're not quite sure what's happening there, but the good news is the improved firmware now allows you to turn the buds off manually by holding both dials for three seconds.
In terms of battery life, our NuraLoop required a recharge about twice a week when using them for a good four hours a day, so the rated 16 hours of battery life seems about right.
They're easy to charge but it is a shame the connector is proprietary and not USB-C, if solely for convenience. The aux add-on capability by far makes up for this, though.
And the app? Well, it's pretty basic but it does the job. There's not a huge deal to have to work out here, which is kinda nice. You can check the remaining battery life, go through your hearing profile setup to make any tweaks as well as customise the TouchDials.
NuraLoop Verdict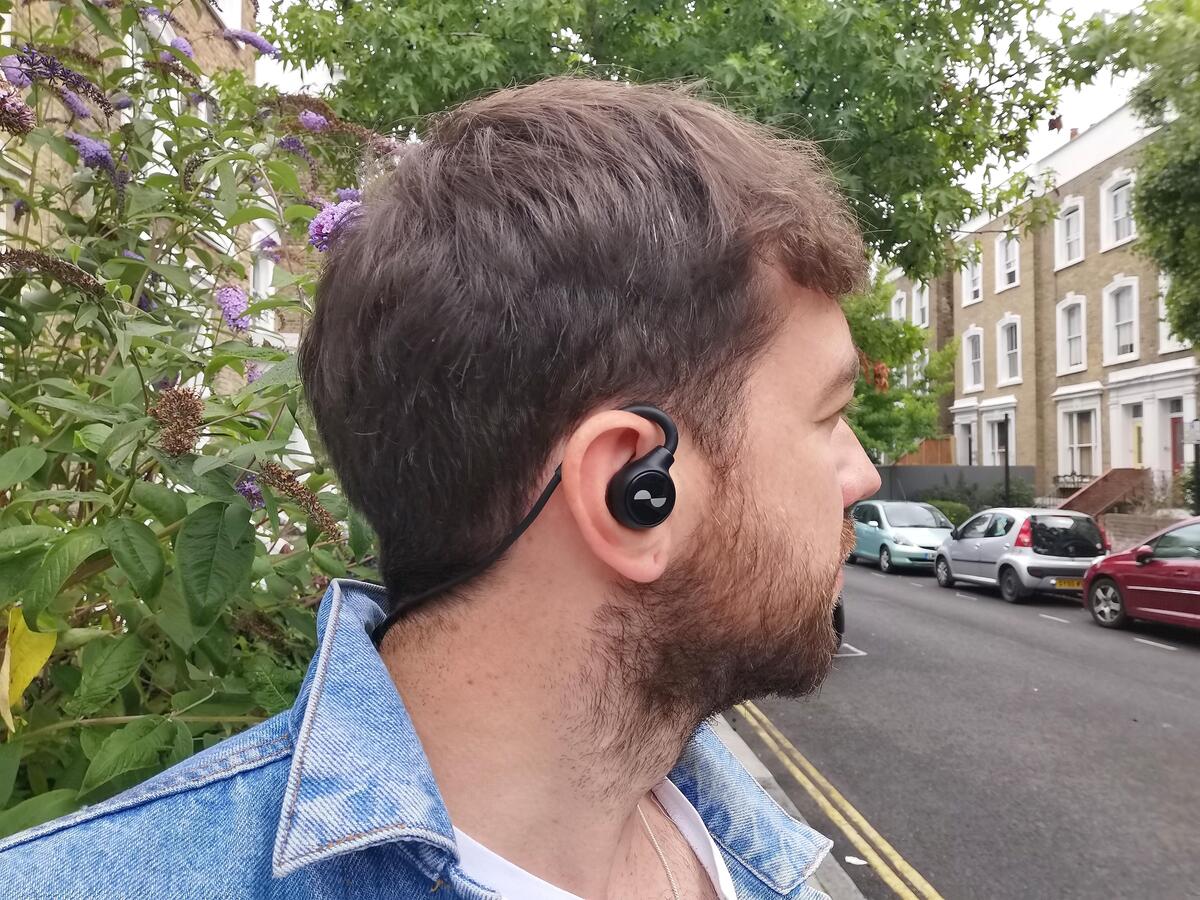 The Nuraloop is an exceptional pair of earphones pretty much guaranteed to pleasure your earholes with a sound made especially for you, along with a mostly very comfortable fit and great battery life.
Oh, and did we mention the aux add-on cable? With so many great, unique features, it should come as no surprise that the NuraLoop is at the pricier end of the in-ear headphone market, retailing at £199.
Still, it's a pretty good package for the price considering Nura's personalised sound technology is patented, so the only other place you'll find it is in the Nuraphone headphones, which cost £350.
Stuff Says…
An amazing set of in-ear 'phones that offer up a sound that's more than quite literally music to your ears
Good Stuff
Amazing personalised sound
Excellent noise-cancellation
Comfortable fit
Bonus aux cable
Bad Stuff
Look elsewhere if you want true wireless
Neck strap can feel tight on some necks