OnePlus 6 review
The original flagship killer aims for bargain status once again
Want to get your head around just how ridiculous smartphone prices have gotten recently? Apple's very first iPhone cost £300 when it launched over a decade ago. The very first OnePlus One? That was even less at £219.
Placed in that kind of context, the OnePlus 6 doesn't seem like much of a bargain at all, but neither does any blower you care to mention. Not least the iPhone X and Samsung Galaxy S9, which both ask for several hundreds of pounds more of your hard-earned dough than this new OnePlus.
As ever, the successor to last year's OnePlus 5T serves up top-level specs for considerably less than you'd expect in a design that's as polished as ever. That means an AMOLED screen, lightning-fast performance and a dual camera to boot.
Still sounds like one hell of a deal, right? Well, you're bang on the money. Despite a few quibbles here and there, this is a phenomenally good phone. So long as you're OK with spending the extra this time around.
Design: It's glass again
Already familiar with the OnePlus 5T? There aren't a huge amount of surprises to be found with the OnePlus 6. Other than its newfound glass design, which replaces the matte-aluminium vibes of old. It's a very Samsung-inspired choice of aesthetic and one that I'm pretty ambivalent about.
While OnePlus' phones have always been an ergonomic delight with welcome flourishes such as a headphone jack and volume rocker, they've never really wowed in the hand and this edition is no different. Its glass back is well done, but no different to the many handsets that have done the same thing before and certainly a par below the shimmering effects of the HTC U11 and Huawei P20 Pro.
Where other OnePlus handsets were unrefined, this one is smart and functional. And there's nothing particularly wrong with that. It's lightweight to hold at 177g, and is thin enough to tuck right into your pocket without a problem. Even if you've got a case clamped onto it, such as the one that handily comes boxed in here.
So as much as I'm not all that fussed by the OnePlus 6's build, the only gripe I have with it is a rear-facing fingerprint scanner that's a strip instead of a circle, which means it can be tricky for the phone to get a read on your index finger. Apparently, this was done so it didn't look there was a giant exclamation mark on the back of the phone. There's an insight into the mindset of multinational corporations for you.
Luckily, the addition of Face Unlock means that you won't end up reaching for this scanner all that often. Train the OnePlus 6 to recognise your mug via its front facing camera and it'll do the work for you instead, unlocking the phone almost instantaneously. Although this feature might seem similar to Face ID on the iPhone X, it's nowhere near as secure. So you can't use it for really important stuff like mobile payments.
Finally, while OnePlus says this phone has been protected against rain and the odd splash it doesn't have an official IP water-resistance rating. How waterproof is it really? I don't know, I'm not about to break the thing to find out. Rest assured, some numpty on YouTube will investigate soon enough.
Last year's OnePlus 5 was the manufacturer's first phone to bring a dual camera to the party, but this double whammy was necessarily refined by the OnePlus 5T for a superior low-light performance. Expecting another leap forward here? Well, it's more of a leisurely stride in the right direction.
As per previously, you get a 16MP main camera that's backed up by a 20MP secondary camera. Both have an f/1.7 aperture, while the main camera now has both a larger sensor and optical image stabilization. All of which should serve you better in dim-lighting conditions, as the OnePlus 6 will be able to capture more light and now shouldn't be as thrown off by things like camera shake or the necessity for longer exposure. Bottom line, your drunken bar shots should look better than ever on this phone.
How does it work out in the flesh? Well, this is a pretty good camera. More than good enough for the money, but once again photos and design are the main dividing lines between a OnePlus phone and the flagship competition it's chasing.
Rather than dwell on the fine margins between the OnePlus 6 and Samsung Galaxy S9, it's worth emphasising just how much this camera gets right for starters. Pictures are punchy and full of detail, especially when there's plenty of sun about to illuminate the scenery around you. Combined with its accomplished handling of skin tones, this is a snapper that'll travel well on your summer holidays.
It's certainly been made with Instagram in mind, and that's actually my biggest complaint about the thing. When the skies of London look almost as blue as the Bahamas – especially when combined with a sometimes overzealous OLED screen – it's probably fair to say the colours on your camera are a bit much. Some people will be absolutely fine with this, but those like myself who prefer more natural snaps will find it annoying, especially as there's no option to dial back the intensity as per a phone like Huawei's P20 Pro. Combined with a few exposure-related hiccups, I'd say the OnePlus 6's camera sits a rung below those it's taking aim at.
All that said, you're still getting a lot of bang for your buck here. That dual camera allows for shots with 2x optical zoom and those bokeh snaps with a blurry background that everyone's gotten so fond of recently. That bigger sensor has helped in dim-lighting conditions too. Your photos might look overly bright, but what they lack in accuracy is made up for in a lack of graininess and a good amount of detail.
As for selfies? This phone again sticks with the 16MP front facing sensor we've seen before in the 5T, but now promises to deliver a blurry bokeh effect around your handsome mug should you so please. In my experience, its selfies aren't too shabby but their focusing and exposure can be a little off at times leading to smudgy-looking shots. Usually, this can all be solved by taking the same photo again.
So what would it take to make the OnePlus 6's camera a world beater? As much as you could point to techy tweaks we've seen elsewhere like optical image stabilisation on both camera lenses, a dual-exposure lens or even a triple-lens camera, I'm inclined to say it's the image processing side of this phone that could do with being worked on. Besides, any hardware-related tinkering is simply going to totally blow the budget here. And that's why OnePlus phones do so well in the first place.
Display: The only way is OLED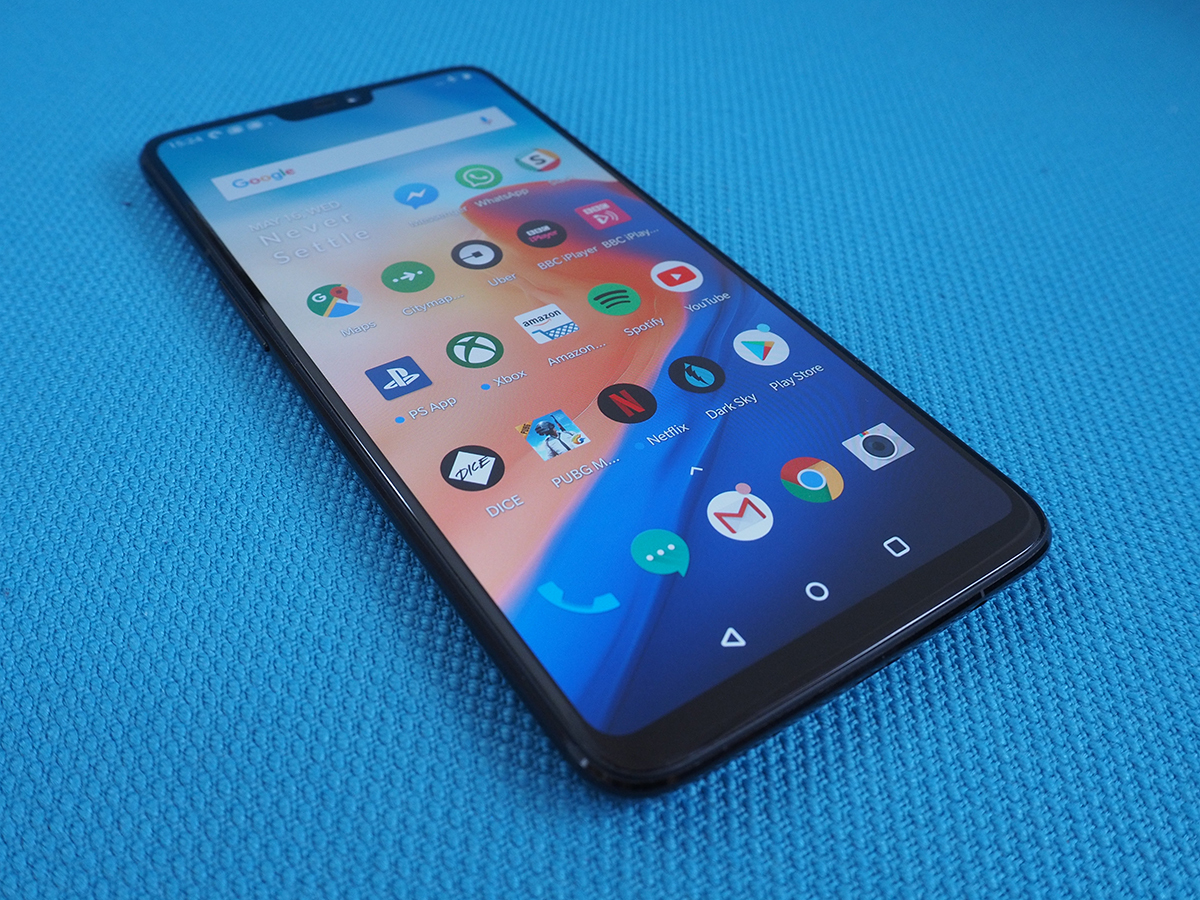 As we all know from both screen sizes and The Fast and The Furious movies, bigger usually means better. So that's why the OnePlus 6 has gone with a 6.28in AMOLED screen with a 19:9 aspect ratio.
If you're not an aspect ratio nerd like I'm employed to be, then that probably means nothing to you other than a lot of screen to be getting on with. And you'd be right all the same. Still, to dwell on the details here a little a 19:9 ratio is slightly bigger than the 18:9 ratio found on most new phones such as the Samsung Galaxy S9, but that's because the OnePlus 6 comes with a notch.
Honestly, I'm a bit tired writing about notches now, so let's just say this one is pretty small and can be turned off in the phone's settings menu if you please. I think it looks fine.
The far more important thing to note here is that this is a fantastic screen to behold with an ample 1080×2280 resolution. There's a great balance between brightness, contrast and detail that serves you well regardless of what you're watching. Even the frenetic pace of UFC 224 doesn't catch this display off guard. As usual, there's a fair bit of letterboxing going on with some content, but that's par for the course with these screens.
The best compliment I can pay the OnePlus 6's display? A non-techy friend remarked on how good it was after we'd been YouTubing World Cup highlights down the pub. So don't just take my word for it.
While this phone's speakers can be a little muddy at full volume, it's loud enough for you to stick a podcast on while you're in the shower and still hear what's going on. Plus, you've got that headphone jack to fall back on if you're in a bind. No more forgetting to charge your Bluetooth headphones and then having to go without Football Weekly on the commute to work.
Software & OS: Taste the future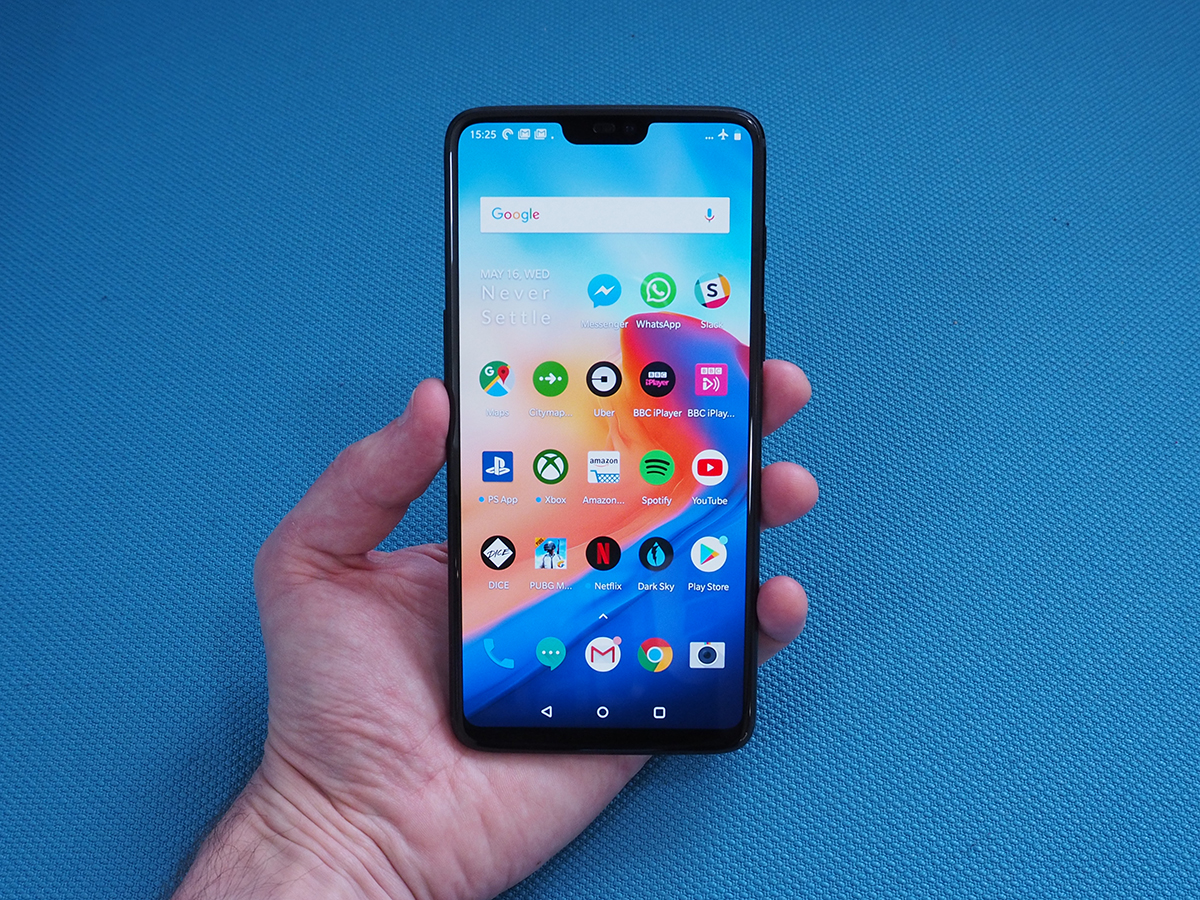 As you'd expect, the OnePlus 6 runs on Android Oreo 8.1 via the manufacturer's slick Oxygen OS interface. Such is the stripped-back nature of Oxygen, I'm not enough of an Android geek to really tell the difference between it and pure Oreo. It's smooth, responsive and I haven't had any issues flicking between apps and the like for the week or so I've been using this phone.
If that makes the OnePlus 6 sound as though it's no longer a phone for super-nerds, then rest assured that's not the case. Why? This is one of the few handsets that supports the Android P beta straight out of the box. That means the opportunity to try notification muting, smarter volume controls and all new gestures months ahead of their official launch.
Since this Android P is a work in progress, you'll likely have to put up with a few bugs and awkward ticks along the way. That's why Oreo is what comes installed on the OnePlus 6 as standard, and most folk will have a fine time sticking with it for the meantime.
Power and pricing: All killer, no filler
Such is the oomph that's been packed into the OnePlus 6, you could actually argue it's overpowered. With a Snapdragon 845 and up to 8GB of RAM to its name, the OnePlus 6 chomps through pretty much any app you care to throw at it. Where other flagship phones, such as the Huawei P20 Pro, get toasty under pressure this handset shows no such signs of strain. Even a quick crack at the intensely demanding PUBG Mobile is no trouble at all.
You get plenty of storage for apps, music, movies and the like as well. The entry-level OnePlus 6 comes with 6GB RAM and 64GB storage and will set you back £469, but stepping up to 8GB RAM and 128GB storage is no great stretch at £519.
Whatever OnePlus you plump for, you'll have a 3300mAh battery to power it. That's the same capacity as last year's model with a slightly larger panel to power, but happily proves enough juice for a day and a bit's use, especially since this phone again comes boxed with a fast charger that claims to give 'enough power for the entire day' in a half-hour charge.
Competition: A matter of Honor
If you're the kind of person who's in the market for a OnePlus 6, then there's little point comparing this handset to the iPhone X, Samsung Galaxy S9, Huawei P20 Pro et al. Are those phones better than the OnePlus 6? Probably. Are they worth the extra cash? Not if you'd rather spend that money elsewhere.
That means the OnePlus 6's greatest rival is the Honor 10, a £399 mid-range smartphone with a dual camera, glass design and notched screen. Sounds familiar, right? Only the Honor 10 costs even less.
Our full review of the Honor 10 is due later this week, but having gotten hands-on with it already I'd say probably the OnePlus 6 hits a better sweet spot between price and performance. Also, I'm really not a fan of the Honor's shiny glass back. Your tastes may differ but it's far too gaudy for mine.
And if both the OnePlus 6 and Honor 10 prove far too dear for your budget? Motorola's recent Moto G6 Play should prove just the ticket.
OnePlus 6 verdict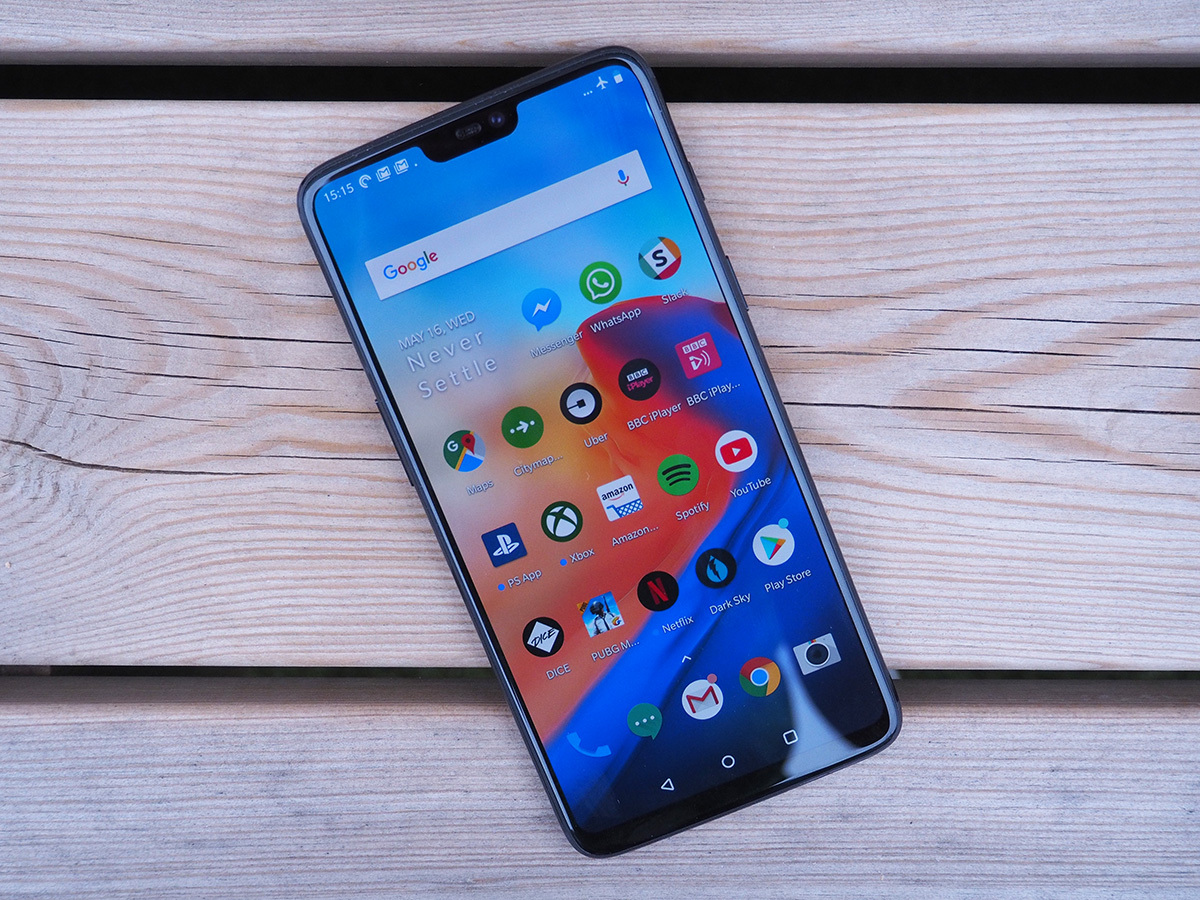 It might be the most expensive OnePlus ever made, but stack this phone against any of its flagship rivals and it still offers incredibly good value for your cash. From a huge OLED screen to those ridiculously speedy internals, everything you'd expect from a flagship phone is here for hundreds of pounds less. Crucially, all these specs hang together seamlessly in what is an extremely polished product.
Sure, there are even better looking glass phones out there and dual cameras with more in the way of finesse, but that's why the OnePlus 6's rivals all cost closer to a grand. For less than half that total, you really can't say fairer. If you're not minded towards flagships such as the iPhone X and Huawei P20 Pro, this phone should be your first port of call.
And if you are? The OnePlus 6 should be reason enough to reconsider.
Stuff Says…
New OnePlus phone, same old unbelievable value
Good Stuff
Fantastic screen
Speedy internals
Amazing pricing
Bad Stuff
Humdrum design
Camera can disappoint