OnePlus 6T review
An already great phone gets a few welcome upgrades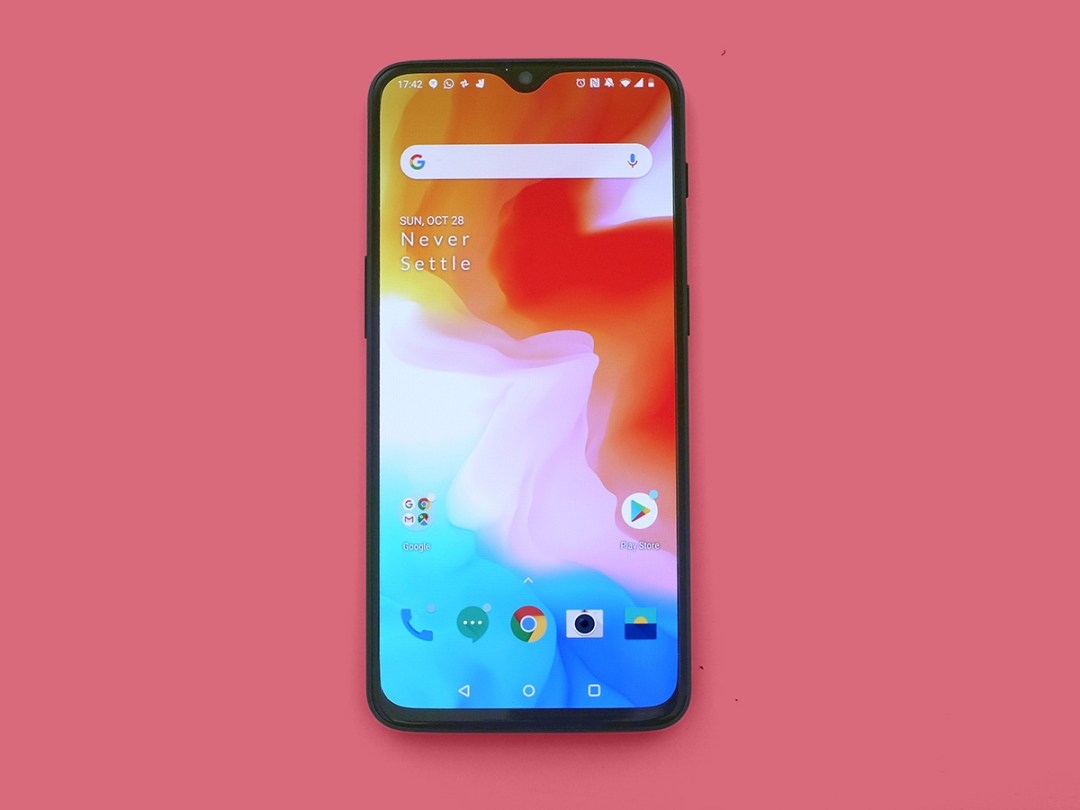 OnePlus doesn't make a lot of phones. But it does update its one phone quite a lot.
The OnePlus 6T arrived six months after the much-loved OnePlus 6. It is pretty similar in most respects. The camera hasn't changed much. Neither has the build. And the processor is the same.
However, it does have the best example yet of an in-screen fingerprint scanner. You'll see loads of these in phones next year.
Should you upgrade from a OnePlus 6? Probably not. Should buy one instead of a Pixel 3 XL or Huawei Mate 20? As ever, the massive OnePlus savings mean many of you should.
Design: recast
Put a OnePlus 6T next to a OnePlus 6 and they look virtually the same. Almost identical in size and shape, you can tell in an instant this isn't meant to be a ground-shaking update. It's here to keep the OnePlus line up-to-date until next year's bigger refresh.
There was nothing too wrong with the OnePlus 6 look anyway. The OnePlus 6T is curved Gorilla Glass on the back, mostly-flat glass on the front. And in-between there's matt aluminium.
OnePlus's micro perforated finish option is the unusual bit. This gives the OnePlus 6T a matt look and a soft-touch feel. It's still glass, but seems different from the norm.
There's also an iPhone-like silent mode switch, a long-standing OnePlus signature move.
So what's new? The OnePlus 6T has a small teardrop notch instead of a standard one, and the screen digs into the corners slightly more than the last model.
There's also no fingerprint pad on the back, because the OnePlus 6T has an in-screen scanner. A camera lives behind the display panel, which lights up your finger with a green light when you put it on a specific little area towards the bottom. It inspects the fingerprint to check it's your own.
It really works too. The OnePlus 6T has the best in-screen fingerprint scanner we've used, beating the Huawei Porsche Design Mate RS and Mate 20 Pro for both speed and reliability.
For a first go at the tech, this is impressive. Sure, on the odd occasion it seems to crap out, lighting up and not doing anything. But it's as fast as a great scanner pad, and those bad moments are pretty rare.
Maybe change the animation, though. As standard you'll see a green mist of swirling sparks around your finger that looks like an effect from some sort of Mickey Mouse kids' phone. The other two animations are much classier. An option to remove them completely would be nice, mind.
Is it a major upgrade from a scanner pad? Not functionally, but make the most of the techy bragging rights while you can, as this kind of feature is likely to become very common in just a few months.
We lose something too. The OnePlus 6T doesn't have a headphone jack. Yep, OnePlus has joined that club. It's annoying, and will continue to be so for years for anyone without Bluetooth headphones. You do get an adapter in the box, though.
OnePlus has also used the freed-up space to improve the speaker. This one isn't a monster like the Razor Phone's stereo array. There's just one driver here, even though there are two driver grilles on the bottom. However, it's both louder and baser than the OnePlus 6 speaker, by about 20 per cent judging by out ears.
Any other missing bits? Only the same parts people banged on about in the OnePlus 6. It has "everyday" water resistance but no IP67 or IP68 rating. It'll handle rain, but not necessarily a dunk in the bath.
Wireless charging is absent too. It seems a fair trade off given the money you save versus the big names.
Screen: Ambient display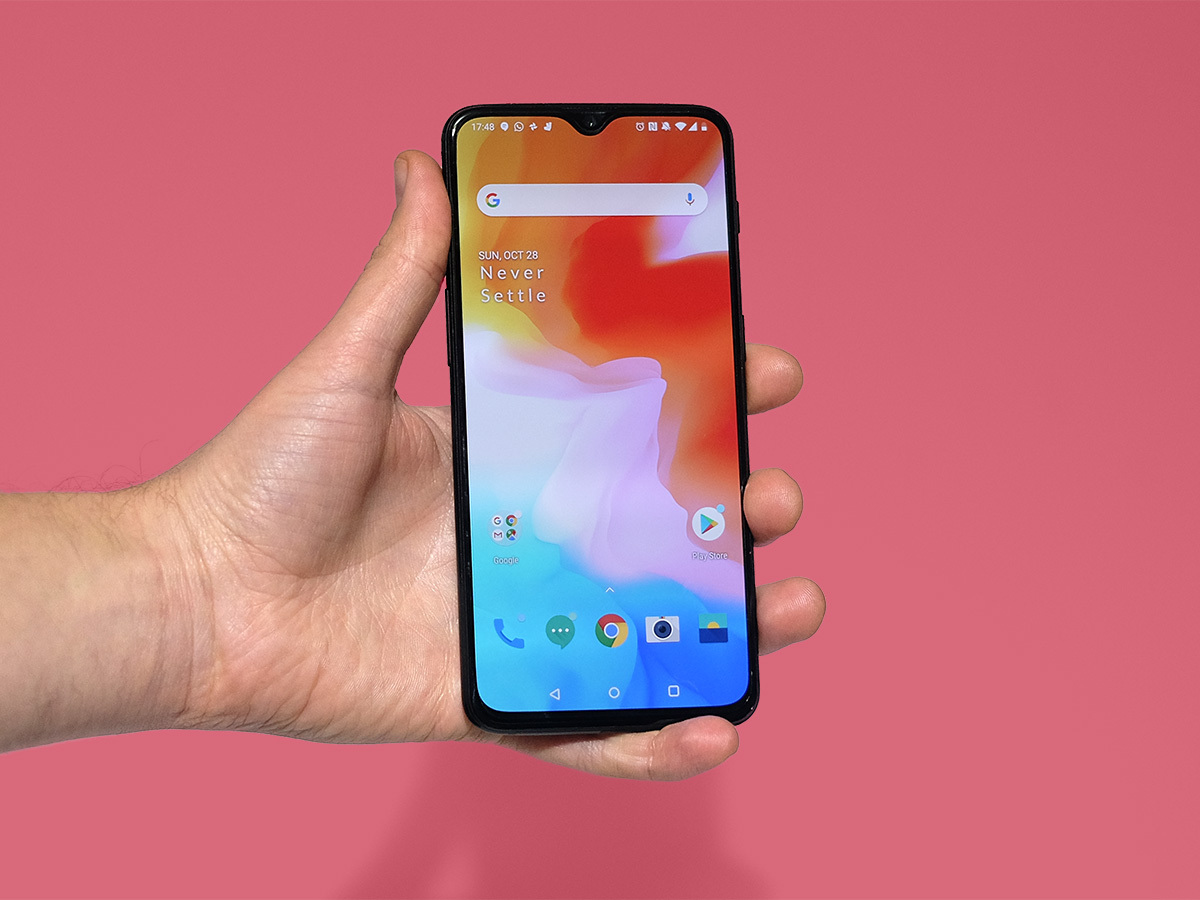 The OnePlus 6T has a 6.42in Super AMOLED screen. It's a wee bit bigger than the OnePlus 6's, but otherwise very familiar.
You don't get the supremo sharpness of a Galaxy S9. You'll find a tiny bit of OLED fizz if you look for it. But you do need to look for it.
Contrast is superb, and you have a choice of sRGB or DCI-P3 colour modes as well as the unrestrained oversaturated default one. Colour accuracy doesn't seem quite as good as Samsung or Apple's. But having the option of a more natural look is the main thing.
And you can, of course, block off the notch if you want a more traditional look. Like last time, the blacked-out bits are used to show notification icons. There's more free space here for them than in almost every other notched phone too.
Ambient display is one of OnePlus's little extra features. This shows you the time, battery level and a few recent notification icons whenever you move the OnePlus 6T. Handy.
Software and Performance: Hidden treasures
The OnePlus 6T runs Android 9.0 and has a new version of OnePlus's ColorOS interface. Fundamental parts of this UI are pretty clean-looking.
Its homescreens and apps menu could almost pass for stock, but there are lots of extras packed in too. There's an added homescreen that's just a scroll of widgets.
And many features are hidden away in the Settings menu. Shortcut gestures, a game mode that tweaks the phone's behaviour when you play and a handful of other extras are there for the enthusiasts. And they don't get in the way too much for those who just want a simple experience.
The most obviously changed part of Android 9.0 is here too: the new-look app switching screen. It's closer to iOS's style now.
This phone runs, unsurprisingly, just like the OnePlus 6. It has the Snapdragon 845 CPU and 8GB RAM. We're not far off the arrival of the next generation of Qualcomm phone chipsets now, but at launch this is the fastest Snapdragon you can get for phones.
Android runs brilliantly, and there's easily enough power to handle the trickiest games. Ark: Survivial Evolved runs smoothly even at at "Epic" graphics settings.
In Geekbench 4 the OnePlus 6T scores 8327 points, roughly the same as the Pixel 3 XL.
Camera: Selfie sensor
The camera is where the OnePlus 6T can't quite match the very best. But it's not too far off.
A 16-megapixel main sensor on the back is matched with a 20-megapixel secondary one. It doesn't have as great a zoom as the Huawei Mate 20 Pro, the HDR contrast of the Pixel 3 XL or the indoors lighting noise handling of the Galaxy Note 9.
However, it still holds up pretty well in almost all conditions. The HDR kicks in when needed, it can brighten up night shots fairly well and in good lighting you'll get some flat-out gorgeous photos.
Its depth mode works reasonably well, spicing up portraits or normal pics with a bit of DSLR-style flair. OnePlus has even had a crack at the handheld ultra night mode Huawei introduced in the P20 Pro. The idea is you can take a photo that looks like a long exposure without needing a tripod. And let's be honest: who uses a tripod with their phone?
It works most of the time, getting you much better dynamic range than a normal night image. However, it's not as good as Huawei's versions, which provide more realistic colour, more detail and better dynamic range. Still, better than nothing, right?
The OnePlus 6T also has a new selfie sensor, with 20 megapixels up from 16. You don't get the supremo definition of the Pixel 3 XL's 8-megapixel selfies. But they look perfectly decent and you can use background blur with the front camera even though there's a single sensor.
For video you can shoot at up to 4K resolution, 60 frames per second. All modes but this very top one use software stabilisation, and even 4K/60 makes use of the optical stabilisation to take the edge of the handshake wobble.
The OnePlus 6T does not have the greatest software stabilisation around. Some make their video look almost like steadicam footage. This doesn't, but there are plenty of toys to play with. You can also shoot slo-mo footage at 480fps (720p) or 240fps at Full HD.
Battery Life: in charge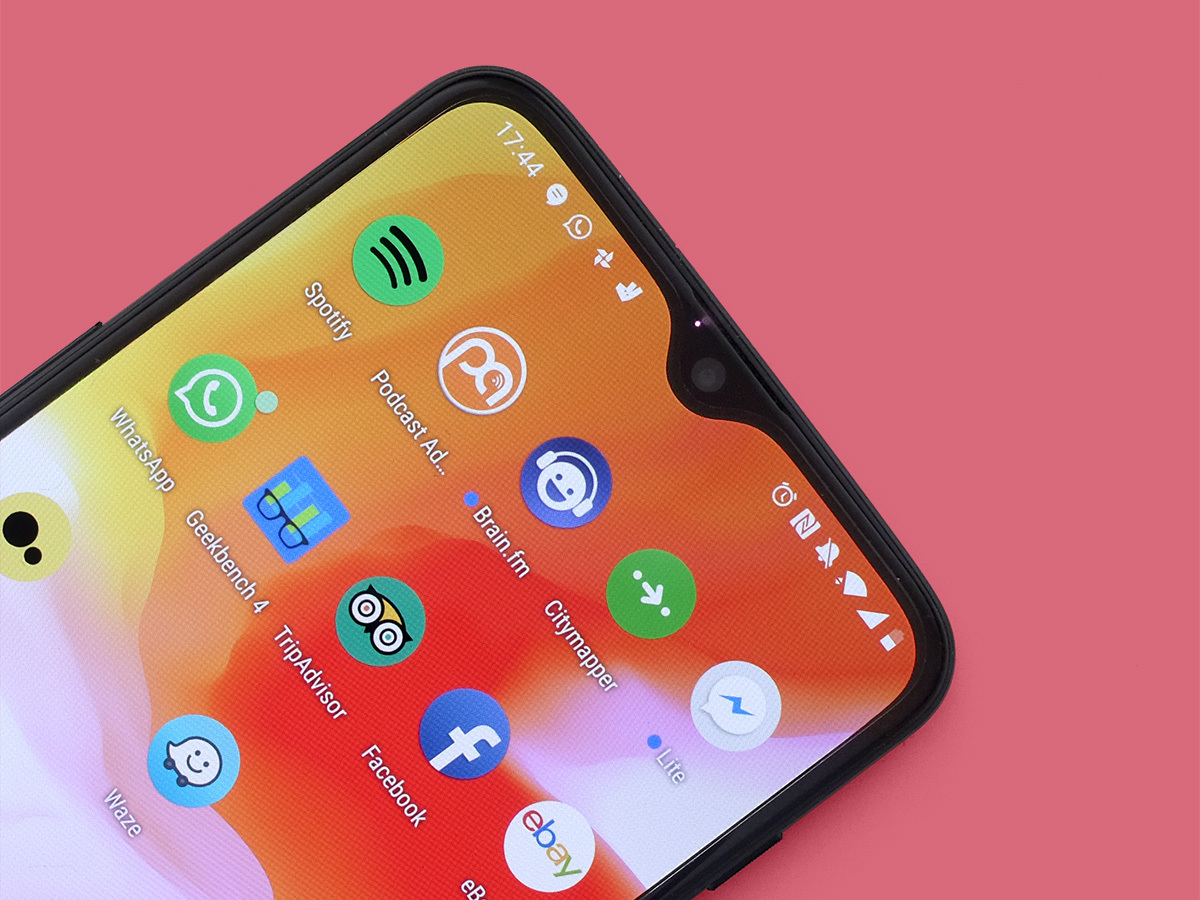 Thanks to the rejigging of its insides, OnePlus managed to fit more than 10 per cent extra battery capacity in the 6T. It has a 3700mAh battery, up from 3300mAh last time.
It doesn't seem to make a world-changing difference, though, perhaps because of the OnePlus 6T's slightly larger screen. You can expect to have around 30 per cent charge left by bed time, perhaps up to 35-40 per cent at weekends if you use your phone less then. It's in the same league as some of the top Android models, including the Note 9. Not bad at all.
As usual, the OnePlus 6T uses Dash charging, which whacks up the current to let you charge quickly without any risk of overheating.
OnePlus 6T: Verdict
The OnePlus 6T is as good as the OnePlus 6. You get an in-screen fingerprint sensor, and lose the headphone jack.
Its selfie camera and screen have been tweaked. But the cost has been nudged up yet again. You win some, you lose some. And we all get on with life.
For the kind of buyer who might have been well into the idea of the original OnePlus One, the Honor Play or Honor 8X are arguably better buys these days. But if only the legit top-end vibe will do, the OnePlus 6T is killer value next to the biggest names.
Stuff Says…
It may be a tweak of the last model, but this is the best way to avoid spending £800 or more on a phone
Good Stuff
The fastest in-screen fingerprint scanner yet
Has all the main bits a top-end phone needs
Great price point
Bad Stuff
No headphone jack
Mostly similar to the OnePlus 6