OnePlus 7 Pro review
OnePlus just levelled-up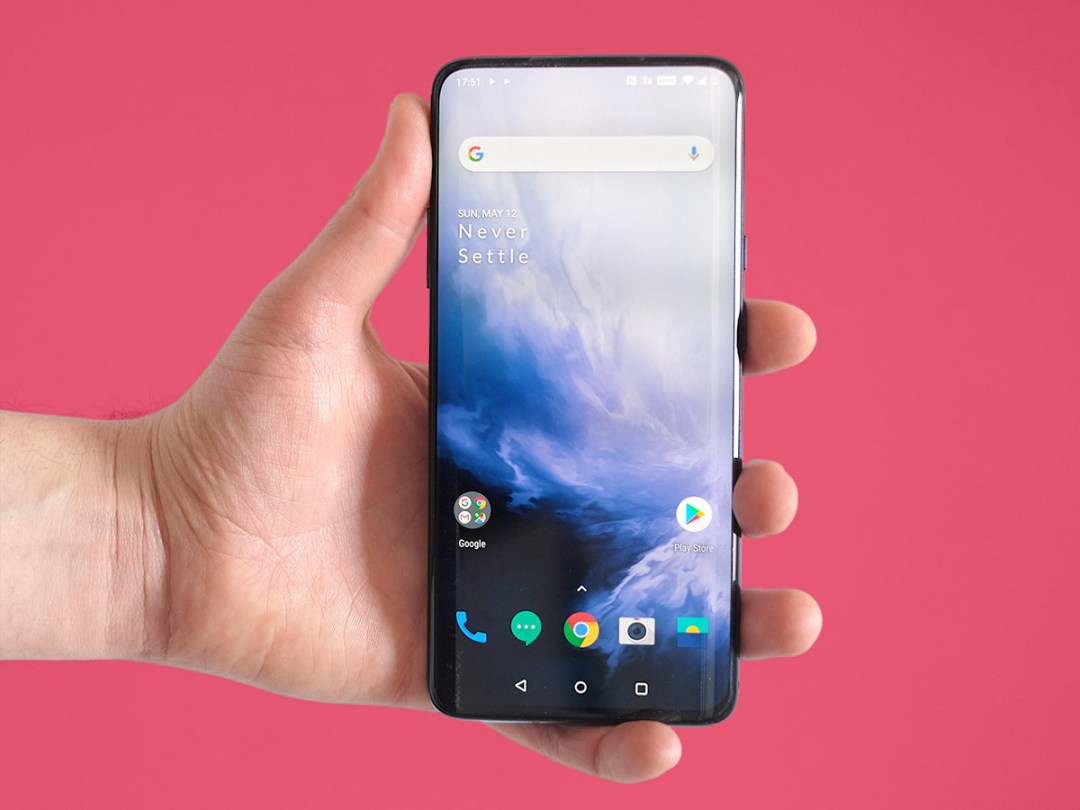 OnePlus just levelled-up. The OnePlus 7 Pro is easily its most tech-packed phone to date. It has an amazing screen, the most discreet selfie camera you've ever met and a brilliant rear camera.
Nothing is free, though. Not in this world.
OnePlus is all grown up, but its £799 price (12GB) might not please those who lost their minds over the £229 OnePlus One back in 2014. Even the £649 base model's price tag is a fair bit larger than the OnePlus 6T or the standard OnePlus 7.
The OnePlus 7 Pro's pop-up camera is the first thing that'll make you coo about this phone. But its triple rear cameras are more important. However, is it worth the extra £££s?  
In a word, yes
DESIGN: JOIN THE CURVE
You probably need to be convinced those extra pounds are worth spending. But you need to spend them to get something that looks genuinely new. The OnePlus 7 looks just like the OnePlus 6T (more or less).
The OnePlus 7 Pro does not. It has what every self-respecting, scarily-expensive Android phone needs: curves. Just like the Galaxy S10 Plus and Huawei P30 Pro, the sides of the back and front swoop around on the frame.
These curvy bits let it into the "cool kids" club, like a nine-year-old with all the games consoles. It's no guarantee of actually being "cool" or popular, but the OnePlus 7 Pro has much more to its hardware too.
OnePlus gave us the absolutely gorgeous colourful version, called Nebula Blue. It has a colour gradient like Honor and Huawei's most eye-catching phones. But unlike those, the matt finish stops it looking like an exploded crate of tinsel.
You get the stripped-back style of OnePlus, but with some extra gloss. It reacts to light too, but again not in the manner of a Huawei. This might sound a bit odd, but the effect looks a little like the Northern Lights, even if it is just a reflection from the LED bulbs in your living room.
Size is the one bit to consider if you're hoping for a normal OnePlus, but fancier. This phone has a genuinely big screen. A few may find it a handful. The OnePlus 7 Pro is several millimetres wider than the Huawei P30 Pro.
SCREEN: TO THE MAX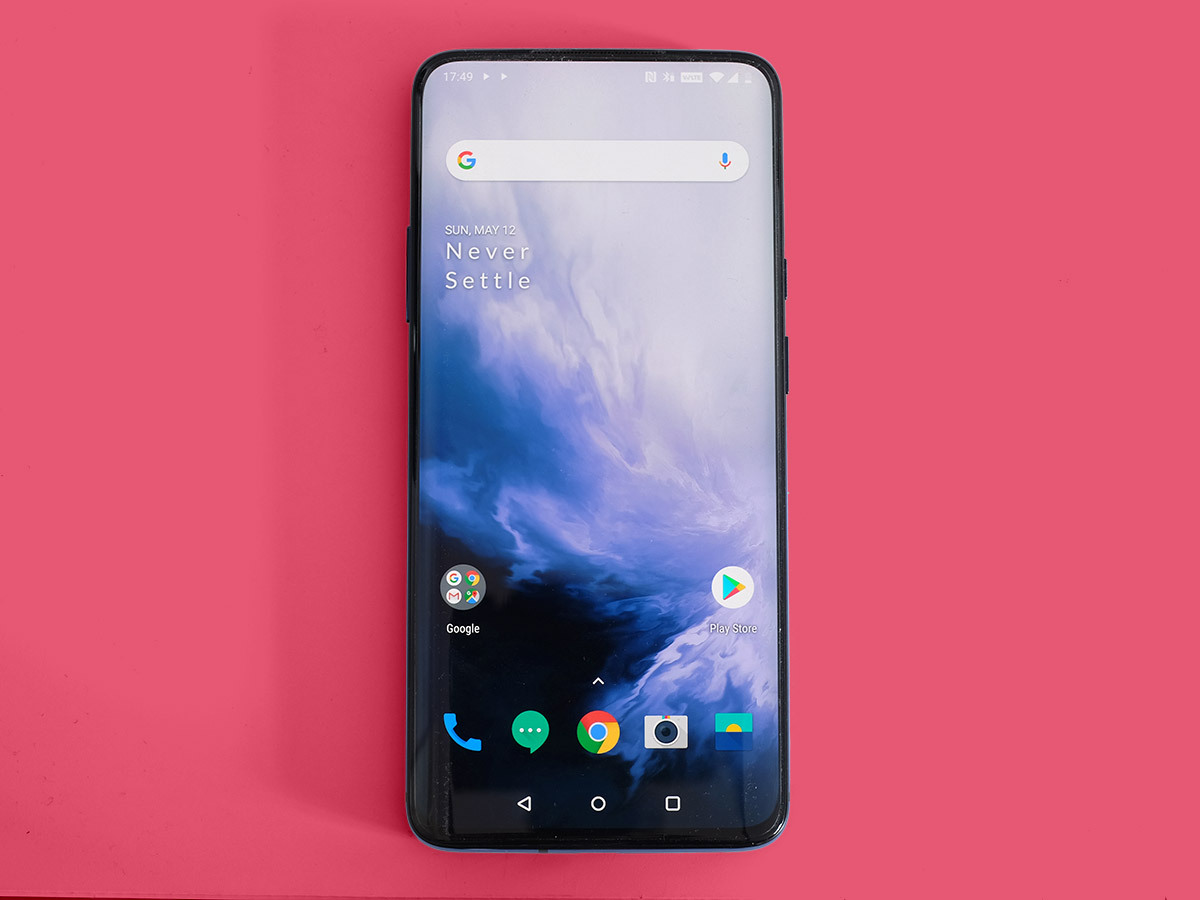 This is deliberate. The screen is one of the stars of the show here. It's special in several ways.
First, it's huge: 6.67 inches across. Your first reaction may be, "Where's the notch?" The OnePlus 7 Pro does not need one because it has one of the least annoying, ultra-ambitious ways to fit in the selfie camera without eating into the display.
The selfie sensor sits on a little motorised nubbin that pops out of the top of the phone whenever needed, with a little whirring sound. This is the Johnny 5 of phone tech.
It sounds like a recipe for disaster, but is fast enough to avoid ruining face unlocking. Thorough some crazy feat of software engineering, the phone still unlocks in about half a second, seemingly before the little camera has even popped up fully.
Will it fall off in six months? You never know with new tech. Just look at the Samsung Galaxy Fold. But it feels sturdy and OnePlus says the mechanism has been tested for 300,000 repetitions. Just don't pick it up by the camera, OK?
Back to the main event: this pop-up camera gets you a more cinematic screen than the Galaxy S10 Plus or Huawei P30 Pro. This is a Samsung OLED display, with 3120 x 1440 pixels. It's bright, sharp, colourful, and contrast is superb.
There's plenty to please the traditional OnePlus tech nerd too. It's a 90Hz screen, technically more advanced even than the Galaxy S10's own.
Most screens fresh 60 times a second. This one revs up to 90. Razer bigged-up this feature in its gaming phone, as if it was the phone equivalent of a gaming PC with a £2000 graphics card. Total nonsense, of course. But as OnePlus is a "normal" phone, it's easier to appreciate what a high refresh rate actually does bring.
Ready? It makes the screen appear to scroll more smoothly. That's it. Twitter looks smoother. The app drawer looks smoother. BBC News website? Smoother. It reduces the battery life (not by much in our experience) a bit, so it may not actually be worth switching on for some. But it does do something at least.
You also have loads of control over how the screen looks. The "Vivid" and "Nature" modes do the job for most, but there are also sRGB, DCI-P3, and a no-holds-barred OLED mode with enough colour to make you feel slightly sick.
FEATURES AND PERFORMANCE: POWERHOUSE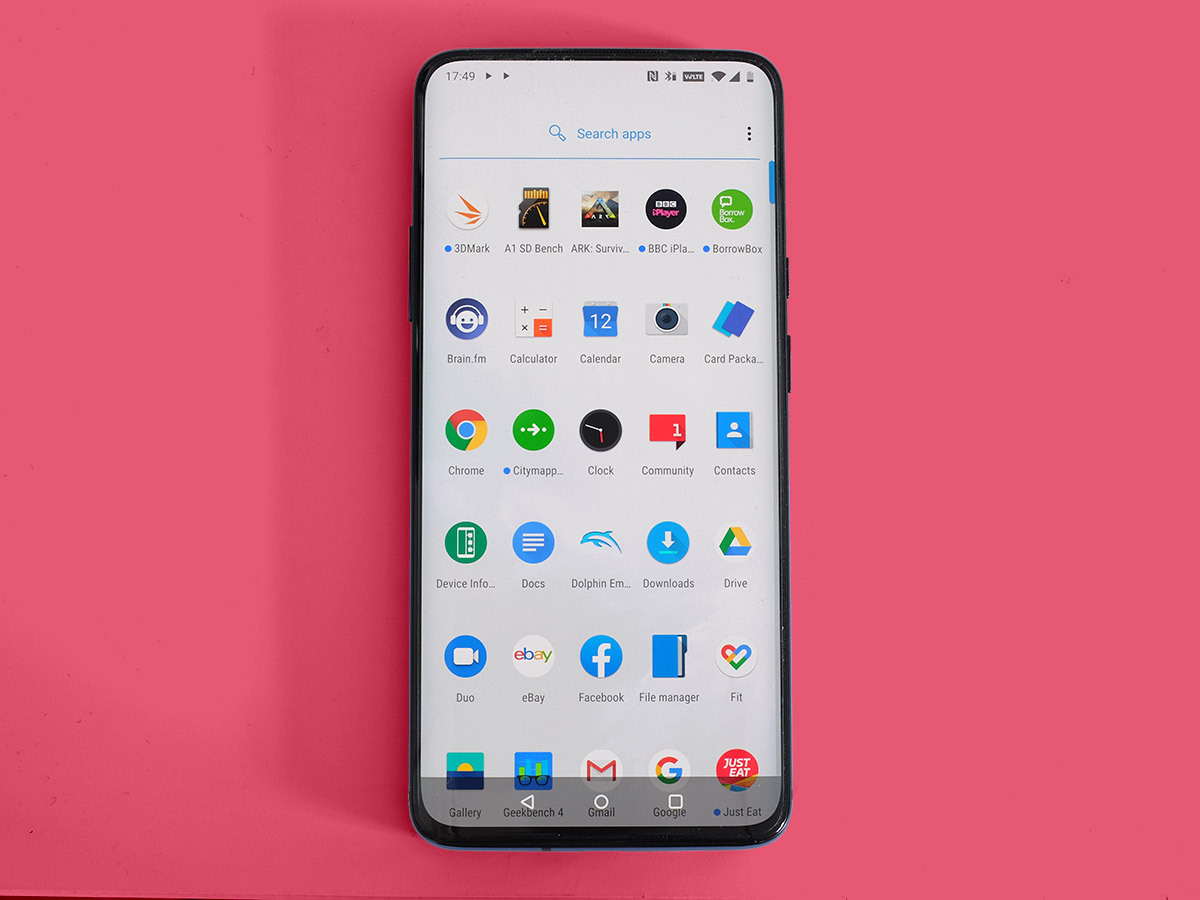 OnePlus has upgraded the in-screen fingerprint scanner too. These things are going through an awkward, pimpled, screaming-at-you-to-leave-their-room adolescence at the moment. But the OnePlus 7 Pro's is the fastest we've used.
That is, once it actually starts sensing your finger. You need to give the screen or power button a tap to bring wake up the finger scanner. Surprisingly, face unlock is faster out in the real world.
And other features? You can get 128GB or 256GB storage, and all versions have very good stereo speakers. There's one on the bottom and one in the earpiece position. The front speaker only provides some treble, but the effect is still real, immersive stereo. There's plenty of volume and power too, for a phone speaker.
The OnePlus 7 Pro doesn't have a headphone jack, but that's no surprise. Ours didn't have an adapter in the box. But OnePlus told us yours will. Lucky things.
There are no surprises in the software. The OnePlus 7 Pro runs Android 9.0 and OnePlus's Oxygen OS. It'll apparently be infused with new community-designed features later on, but at launch looks just like it did in the OnePlus 6T.
That's no bad thing. This is a plain and simple take on Android. It's fast, and feels even faster if you use the 90Hz mode.
The OnePlus 7 Pro also has masses of power. It has a Snapdragon 855 CPU with up to 12GB RAM. This is a mammoth brain. It scores 11234 points in Geekbench 4, roughly matching the iPhone XS Max. You won't find a more powerful Android at launch.
Even high-end Android games don't really challenge this setup, so we tried some GameCube emulation to get a OnePlus 7 Pro sweat on. Using the Dolphin app you can play a backup of Mario Kart: Double Dash at 1080p, 50 frames per second. It looks marvellous, much sharper than the original GameCube.
Playing dress-up as a console from 15 years ago may not sound impressive, but emulation demands a lot of power.
CAMERA: AUTOMATIC HIGH
The OnePlus 7 Pro's pop-up camera is the first thing that makes you coo about this phone. But its triple rear cameras are more important.
There's a 48-megapixel primary camera (that takes 12MP photos as standard), a 16-megapixel ultra-wide and an 8-megapixel 3x zoom with OIS. This is a fantastic trio, with one problem: the Huawei P30 Pro did a similar thing, but better. Its 40-megapixel main camera is stronger, the zoom has a more magnified view, and it handles ultra-low light better.
But this is still one of the best phone cameras out there, and a league above the OnePlus 6T.
Use the auto mode and you get fantastic dynamic range, natural colour and a high-contrast look. The OnePlus 7 Pro handles night scenes well too. It has a dedicated Nightscape mode that squishes multiple exposures together to get you a sharper, more detailed-looking final image. It's not quite at the Huawei P30 Pro's level, but is hugely quicker.
You have to wait a bit for the Nightscape processing to do its thing, but actual capture is barely slower than the normal mode.
The zoom is great too. At 8 MP its detail levels won't blow you away, but OIS makes taking sharp images a cinch. Like previous OnePlus zooms it uses software tricks, merging images from the main camera and the dedicated zoom. And we have a suspicion the actual zoom hardware may be a 13-megapixel sensor rather than an 8-megapixel one. But it's the results that matter. And we get 'em.
Want to take actual 48-megapixel images? You can, using the Pro mode. But while a detail upgrade, they look dead swirly down at the pixel level. Processed until algorithmic worms start popping out of the things' eyeballs. And, weirdly, shooting RAW files outputs 12-megapixel photos.
Our takeaway: the OnePlus 7 Pro's sensor is made to take 12-megapixel photos, not 48-megapixel ones.
There are plenty of video modes too, but nothing quite as special as the Galaxy S10's ultra-stabilised mode. You can shoot at up to 4K60 (30fps if you want the best stabilisation) and slo-mo at up to 480fps.
This is all standard, unremarkable stuff for a phone at the price. Our favourite bit is the OnePlus 7 Pro's ability to switch between the 3x and 1x views as you shoot. You can play a terrible, terrible James Cameron as you direct your holiday videos on the fly.
BATTERY LIFE: CALL IT A DAY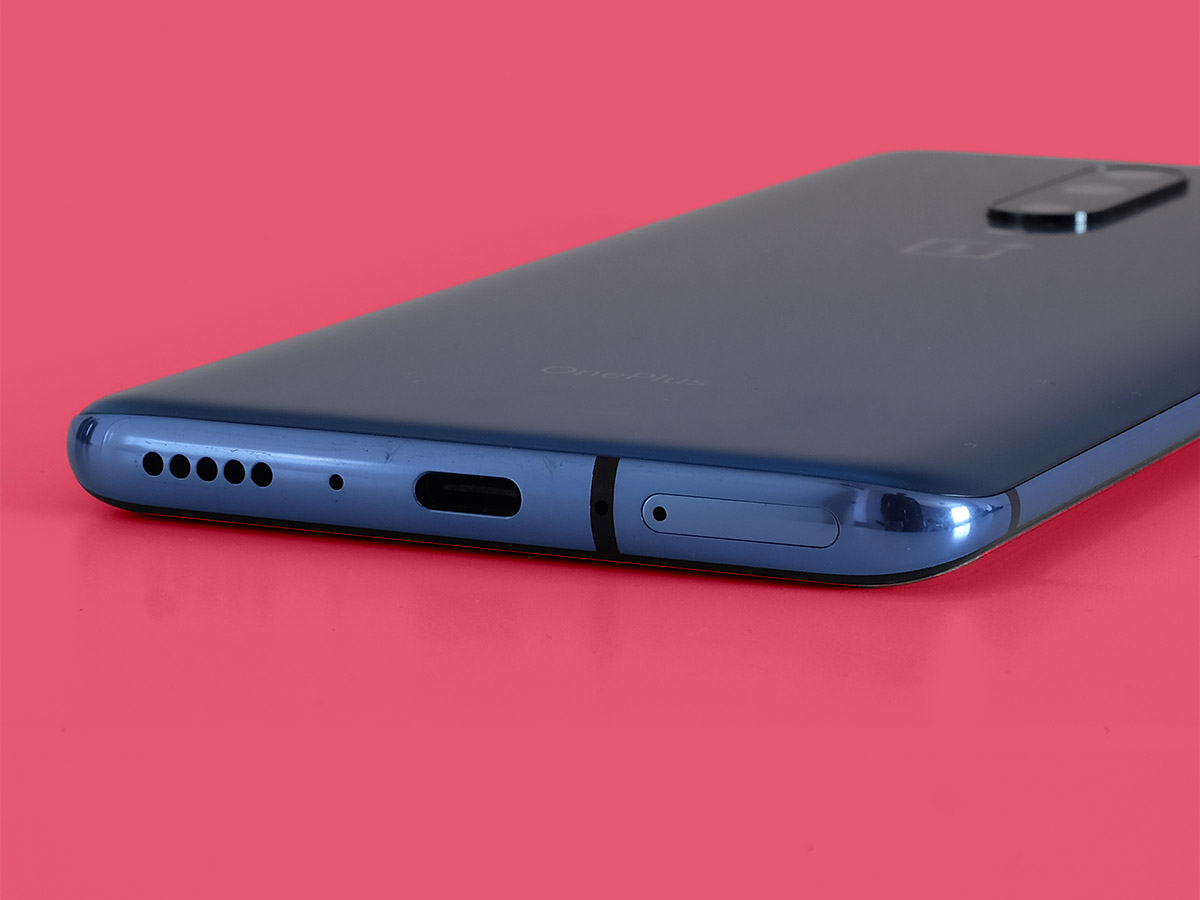 The OnePlus 7 Pro has a 4000mAh battery. That sounds, and is, large.
Thanks to the gigantic screen, and possibly backroom software that's a little less restrictive than some, battery life is very good rather than mind-blowing. You'll get a full day of use from a charge, but not the two-day potential of a Huawei P30 Pro.
We're pretty happy with that, particularly as OnePlus's usual fast-charging style gets you a solid top-up in just 10 minutes or so.
Just like the older OnePlus phones, the OnePlus 7 Pro does not have wireless charging. Is that a bit stingy with a phone this pricey? Perhaps. But these days we're too accustomed to fast charging speed to get too upset about the missing, relatively slow, wireless charge feature.
ONEPLUS 7 PRO VERDICT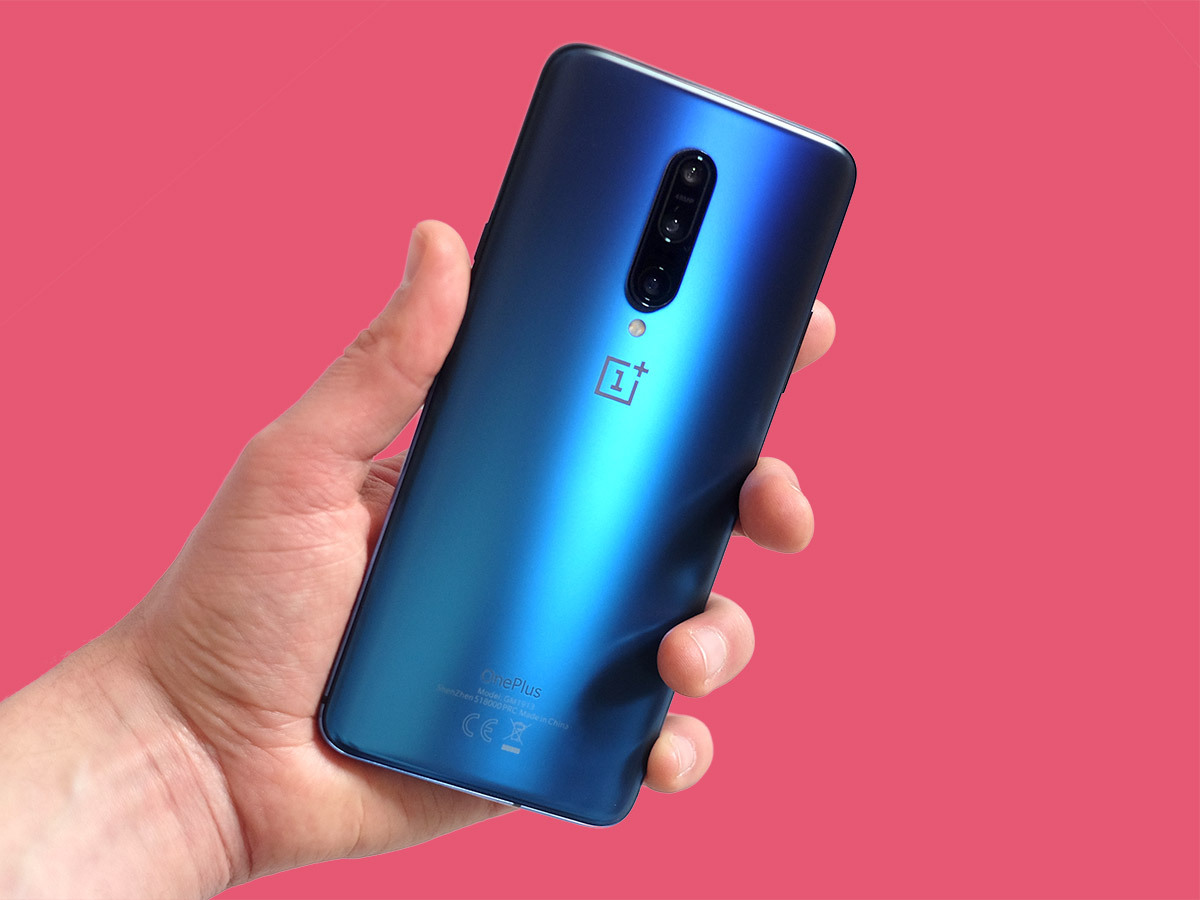 You could argue the OnePlus 7 Pro loses some of the classic OnePlus identity. It's not an affordable phone of the people (of the internet).
But if you forget the demographics and marketing, this is just the sort of ultra-high-end phone OnePlus should make. It has the features a lot of people want, not a load of extras that look good on an Amazon web page.
OK, the 90Hz thing is one of those wingding'y extras, but you can bet it's here because you don't end up paying that much more for it.
If you want mobile phone sci-fi, buy a Huawei P30 Pro. But if you want the meaty bits of an "ultra premium" phone for a little bit less, buy one of these.
Stuff Says…
OnePlus makes an ultra-high-end phone the OnePlus way, by leaving out the fluff. Well, apart from a motorised selfie camera.
Good Stuff
Huge, notch-free screen
Versatile camera
Good stereo speakers
Bad Stuff
Lacks some of the eye-popping extras rivals have