OnePlus 7T Pro review
Double vision meets deja vu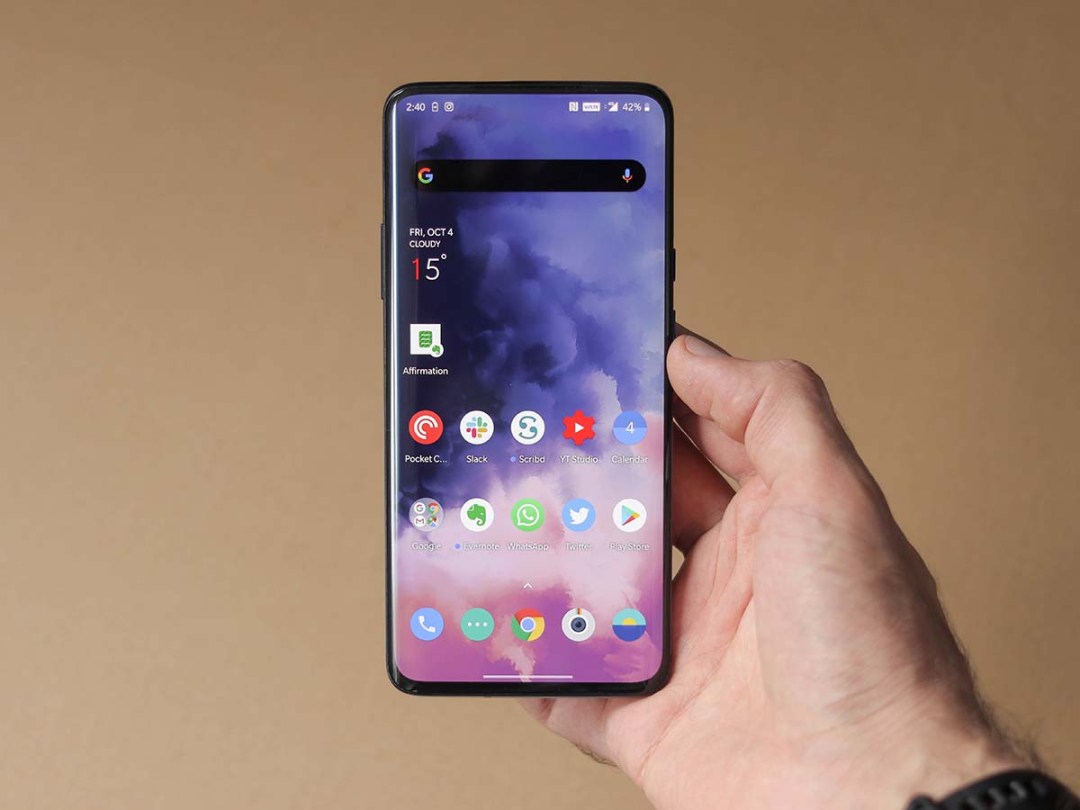 OnePlus has done an Apple; its latest flagship, the OnePlus 7T Pro is almost identical to its last flagship, the OnePlus 7 Pro – and that's okay.
The OnePlus 7 Pro was one of the best flagships of the year; ahead of its time and while not 'affordable' in the traditional sense of the word, starting at £699, no banks were broken in the buying of this smartphone.
Now, OnePlus has spec-bumped the 7 Pro with a faster processor, a slightly more versatile camera, a smidgen more battery power and Android 10.
Why's that okay? Because OnePlus is bringing back that 90Hz screen that's still smoother than phones like the Samsung Galaxy Note 10, as well as that all-screen design and its trademark slick performance.
What's more, if it costs the same as the 7 Pro, which it's expected to, then it still represents excellent value.
Design: You again
The OnePlus 7 Pro looked great when it launched, which is lucky, because its design has been totally recycled for the 7T Pro, save for a new colour scheme – Haze Blue.
It's still the same beefy bit of kit, weighing in at 206g – heavier than the Note 10 Plus; this definitely isn't a phone for small hands or pockets, but the curvy front and back do make sure it sits about as well as a phone its size can in the hand.
The 7T Pro is a Gorilla Glass sandwich with a shiny metal frame, has a frosted curved back, a USB-C port at the base and OnePlus's trademark slider for on-the-fly sound profile toggling on the right.
Up top is that pop-up camera, and bookending the whole thing are stereo speakers.
While frosted and fancy, the glass back still loves to savour fingerprints, but luckily, there's a case in the box to keep it squeeky clean, and unlike the 7 Pro, the 7T Pro has a pre-fitted screen protector for added safeguarding.
Display: Glides like an air hockey puck
The OnePlus 7T Pro has the exact same screen as the 7 Pro – curved 6.67-inch Fluid OLED goodness with a pixel-peeper-friendly 3120 x 1440 resolution and a 516 pixel-density. Coupled with a 90Hz refresh rate and while it's nothing new, it still out-performs almost every display around on paper.
Indoors, it doesn't get as bright as other smartphones like the Sony Xperia 5, but take it out and peak brightness climbs right up to over 800 nits which is excellent.
OnePlus also loads up a lot of screen tweaking options, from Reading Mode which lets you customise saturation or just go black and white, through to colour vibrancy.
As for that refresh rate, with most phones like the Galaxy Note 10 and Mate 30 Pro still capping at 60Hz, the super-smooth OnePlus 7T and 7T Pro 90Hz refresh rate ensures that words float across the screen beautifully, adding a sense of extra speed and an air of premium to the mix.
Interface: Inner peace and Fnatic raaaaaawr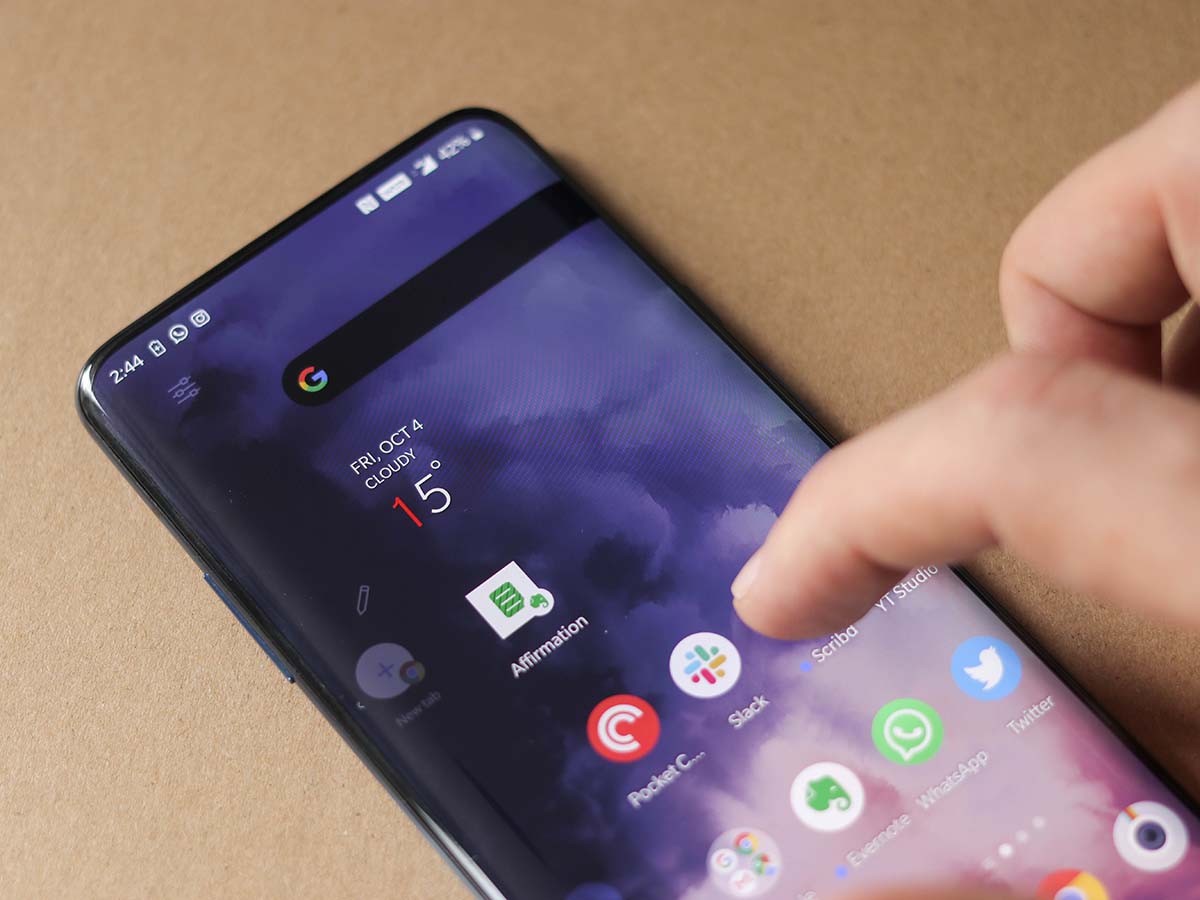 OnePlus has a little something for everyone when you dip into its interface, Oxygen OS. Want some privacy? You can password protect your apps or stow them away in a hidden apps drawer. Meanwhile, Fnatic mode puts gaming front and centre with shadow boosting, background process limiting and notification muting, and Zen mode locks down your phone so you can put it away and enjoy your non-digital life for up to an hour at a time.
The whole interface looks as smooth as silk, thanks to OnePlus's optimisations and that floaty 90Hz screen refresh rate, app support is plentiful and OnePlus doesn't load up much in the way of uninstallable bloatware.
For any geeks out there, a whizz through the settings will open up a world of customisations, from gesture shortcuts to specific apps, icon, font and theme personalisation and scheduled power-on/off options.
Camera: Come a little bit closer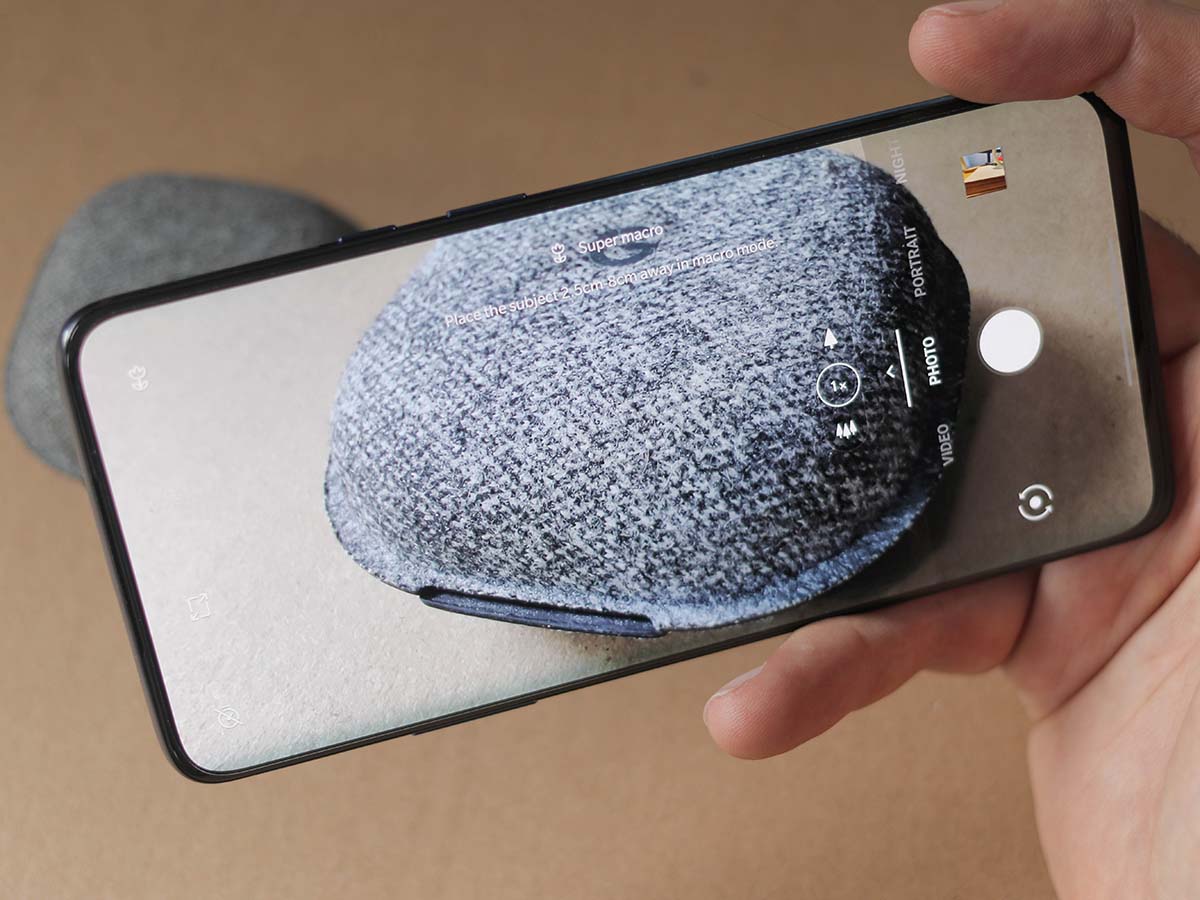 Since the OnePlus 7 Pro launched, OnePlus has been powering through software updates and making the camera so much better than it was.
Now, in the 7T Pro, it really does feel like a turbo-charged 7 Pro, with a combination of refined software and tweaked hardware.
The camera consists of a main 48MP sensor (f/1.6), a 3x zoom, 8MP telephoto camera (f/2.4) and an ultra-wide 16MP camera (f/2.2). All three can autofocus, and new to the 7T Pro, the ultra-wide camera gets you as close as 2.5cm from your subject.
Shooting modes are plentiful, but we found ourselves sticking to Auto most of the time – it really is very good now. That said, with Pro, Portrait, Nightscape, Panorama, Time-lapse and Slow Motion, you have options.
Pictures are captured at 12MP by default, and the 48MP sensor can capture full-res images in pro mode too. Detail across all resolutions is impressive, and focus is generally on-point, though quality drops massively when you use a third-party app like WhatsApp to take a picture – more so than on most phones. So be sure to try and take all your shots in OnePlus's dedicated camera app, then share it out that way.
Low light photography on the OnePlus 7T Pro is absolutely fine thanks to Nightscape; it won't stack up to the Mate 30 Pro or iPhone 11 Pro, creating a softer shot.
Video is captured at up to 4K resolution 60fps, has plenty of punch, and stabilisation is solid at max resolution – though not class-leading like the new Super Stable mode introduced on the 7T.
It drops things down to 1080p, and grabs a bit more noise, so try and use it outdoors, but it also holds scenes incredibly still, making the OnePlus 7T Pro's footage look like it was captured on a gimbal or action camera like the DJI Osmo Action.
Finally, the 16MP selfie-camera pops up, takes sharp but flattering pictures, complete with background defocus, and then like a turtle that's done for the day, retracts back into its home – job done.
Performance: An all-screen gaming sensation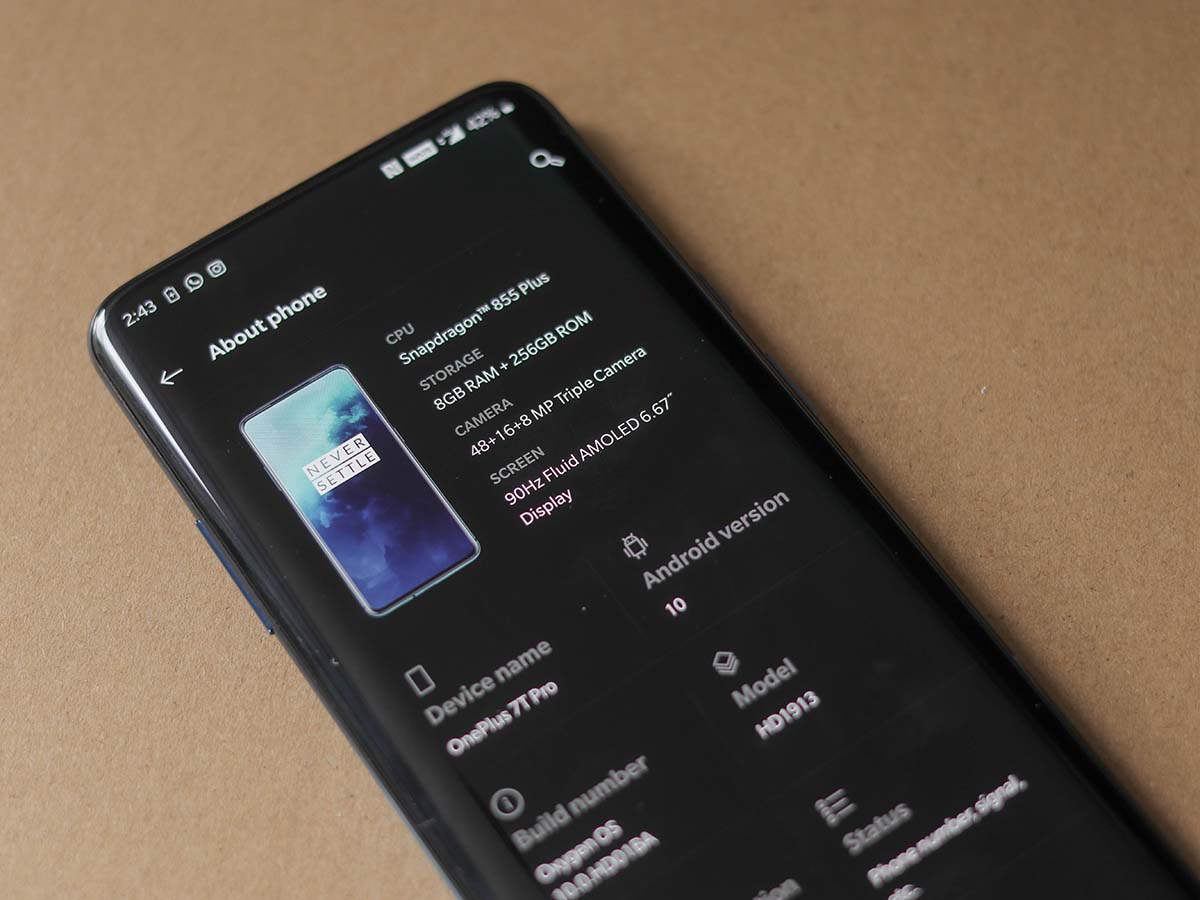 Don't expect the OnePlus 7T Pro's new Snapdragon 855 Plus chip to run circles around the 855 in the 7 Pro – this is not worth an upgrade from that phone! That said, if you're coming from a OnePlus 5, 5T, 6 or 6T then by all means, upgrade away – the OnePlus 7T Pro is a gamer's dream and is a bit more powerful than vanilla Snapdragon 855 phones.
OnePlus has also made things a bit less complicated – you can pick up the OnePlus 7T Pro with 8GB RAM and 256GB storage and that's it – no 12GB options available. That's ample power and space for most, but if you want more, maybe consider the ROG Phone 2.
The fingerprint scanner under the display isn't the fastest we've used, though does a reliable job, and there's face unlock too for anyone who doesn't mind a pop-up camera creeping out every so often.
As for the speakers, they're loud with their stereo sound and Dolby Atmos tuning, not to mention customisable, with a quick dip into the settings letting you swap out your 'Scenario-based enhancement' setting to suite 'Dynamic' listening, Film or Music.
Battery: Fast charge, slow drain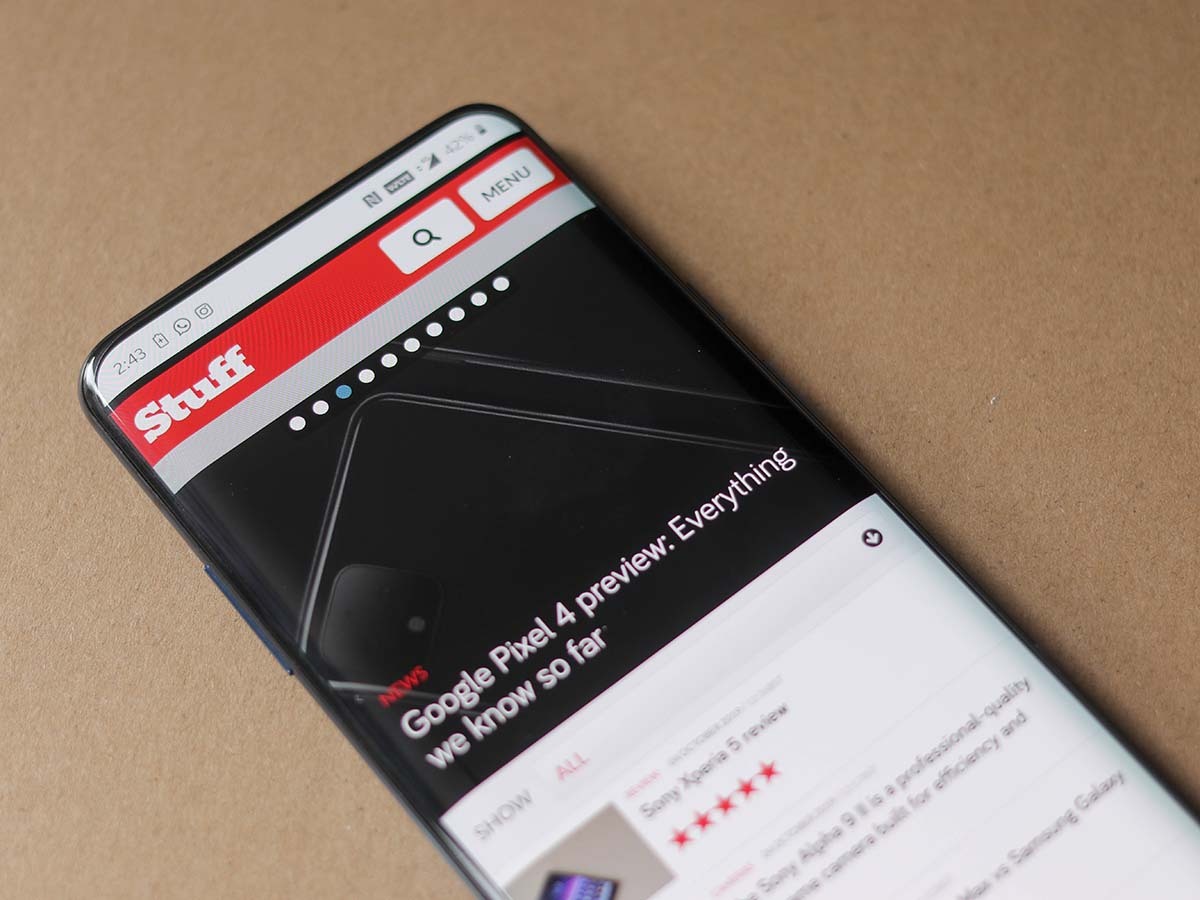 The 7T Pro could have dropped the batton at the final hurdle, but it didn't; it has excellent battery life and very fast charging. Easily getting us through a full day and night with over 20-30% power remaining, we didn't have to be mindful to be sparing when out and about.
There are power-saving modes available, and with those fired up, we're confident light users could get the best part of two days from it.
As for charging, with the new Warp Charge 30T, the brains of the charging operation have gone out of the phone and into the power plug, so the phone doesn't get hot and you can charge while you play. It also powers up that massive 4085mAh cell pretty quickly, getting us from 0-50% in under 30-minutes. Nice.
OnePlus 7T Pro Verdict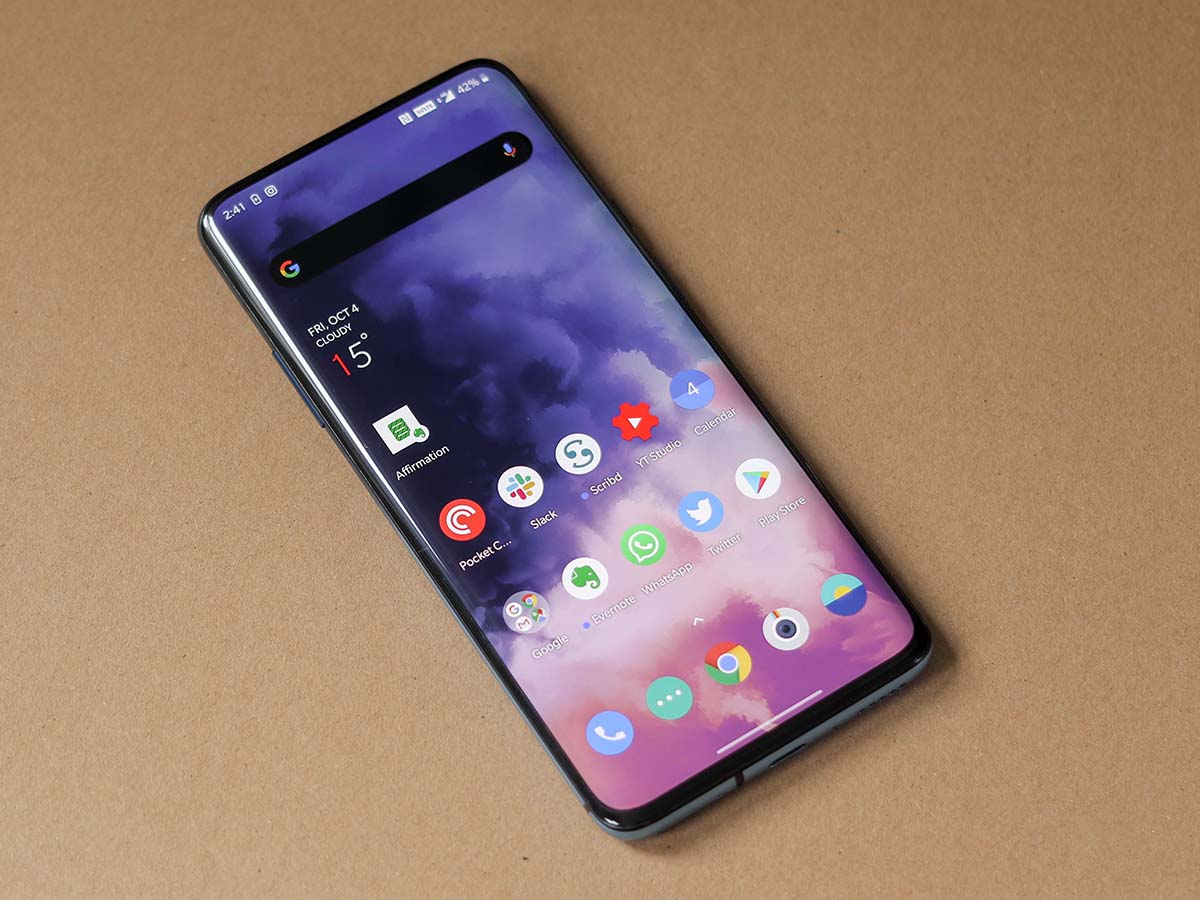 If OnePlus pulls this rehashing stunt again with the 8 Pro, we won't be so kind, but it's gotten away with it this time – the 7T Pro really is an excellent phone.
The fact it still holds its own design-wise is a testament to how well the OnePlus 7 Pro has aged, and its power, screen and camera performance are all exceptional, outclassing pricier phones from Samsung, Sony and Huawei.
If you don't care about an all-screen experience or need a fantastic telephoto camera, then the OnePlus 7T is a great alternative, as too is the Xiaomi Mi 9T Pro, but if you do, the 7T Pro should be at the top of your list.
Stuff Says…
It might look like a rehash, and, truth be told, it is one; but that doesn't detract from the 7T Pro's excellence
Good Stuff
Plenty of power
Versatile camera
Good battery life
Bad Stuff
No wireless charging
No headphone jack
No waterproofing