Oppo Pad Air review: a dependable debut
A sizeable, affordable Android alternative to an Amazon Fire HD 10
It might not be the firm's debut attempt at an Android tablet, but the Oppo Pad Air is the first of its kind to go on sale in Europe and the UK. Oppo has firmly focused on the more affordable end of the tablet totem pole here, choosing a sensible spec sheet but not skimping on things like a large display and quality construction.
With prices starting from £239, it massively undercuts the cheapest iPad, and as it runs the full version of iPad there should be a little more app freedom than Amazon's loss-making Fire HD 10 Plus. But there's no shortage of cut-price competition right now, with Honor and Redmi out to challenge established budget players like Samsung and Lenovo.
Is there room for Oppo at the table – or is the Pad Air simply too cut-back to make an impression?
Design & build: slick slab
The Oppo Pad Air really doesn't feel like a budget tablet. The (mostly) aluminium construction, iPad-esque flat sides and rounded corners make a great first impression, and while the "3D Dune" strip along the back panel is made of plastic, the textured effect is pretty neat. Oppo has also kept branding to a minimum.
At 440g it weighs less than an iPad Air, but shows no signs of flex or weakness. The power and volume buttons don't rattle and are reassuringly clicky. The gunmetal finish does a great job of disguising fingerprint smudges, too.
We'd say the only real giveways this is a more affordable device are the rather weedy-looking rear camera lens and the reasonably chunky display bezels – although the latter gives you somewhere to rest your thumbs when holding it. The selfie cam sat in the middle of the longer bezel is a clue Oppo intends the Pad Air to be used mainly in landscape, though it's perfectly comfortable to hold vertically as well.
Oppo also gets a thumbs up from us for including a microSD expansion tray for adding extra storage, should you fill the 64GB of built-in memory.
Screens & sound: size matters
Oppo hasn't strayed too far from the rest of the budget tablet world when it comes to screen size and resolution. You're looking at a 10.36in, 2000×1200 LCD with a 5:3 aspect ratio, which is big and sharp enough for catching up on the latest streaming series without needing to squint. There's no HDR support, but at least it'll manage 1080p playback.
This isn't the brightest screen around, even around the £250 mark, to the point bright sunshine can make it a challenge to see things clearly. Contrast is merely average, and colours are a little cool out of the box. There's a colour temperature slider, but it's not great for making fine-grain adjustments. Colours shift a fair bit at sharper angles, too. Anyone after a tablet for colour-accurate work will likely be spending a lot more, though, and YouTube videos still look decent enough.
It's a 60Hz panel, which isn't too surprising given the price – although the Redmi Pad does manage to include a smoother 90Hz for not a whole lot more money. That's not to say the Pad Air is a stutter-fest, but you can certainly spot the difference if you're used to higher refresh rates on your other gadgets.
The quad speakers are Dolby Atmos branded, but there's no way you'll get a home cinema-thrashing performance from them. They don't get especially loud, and while speech is clear enough, everything sounds overly airy. There's not a lot of depth, which can be partly chalked up to a real lack of bass.
A headphone jack would have been a nice inclusion, but Oppo has decided to go without – and there's no USB-C dongle included in the box either. It'll be Bluetooth for any solo listening, then, unless you've got an adaptor already.
Performance & software: does the job
A Snapdragon 680 CPU and 4GB of RAM are about the baseline for a budget tablet in 2022, so we weren't expecting to be dazzled by the Oppo Pad Air's performance. It'll do just fine for the basics, like web browsing or scrolling through social media apps, and can play 1080p videos without dropping frames. Stick to one task at a time and you'll be happy with the amount of grunt on tap for the price.
Oppo's take on Android 12, ColorOS 12, makes multitasking easy enough with a two-finger swipe down from the top of the screen. The tablet can play a YouTube video and open a few Chrome tabs side-by-side without grinding to a halt, but images take a little longer to load. Anything more intense is probably asking a bit much, though.
That's true of gaming as well. You can play modern 3D titles, but you'll need to drop the detail and resolution settings to their lowest for the most playable frame rates. Better to stick to simpler 2D games, which run more smoothly, instead.
Elsewhere ColorOS remains fairly faithful to stock Android, only with custom icons and brighter colours for the UI. There's a largely complete set of Google apps, with just a few of Oppo's own thrown in for good measure, and little in the way of genuine bloatware.
Battery life: no surprises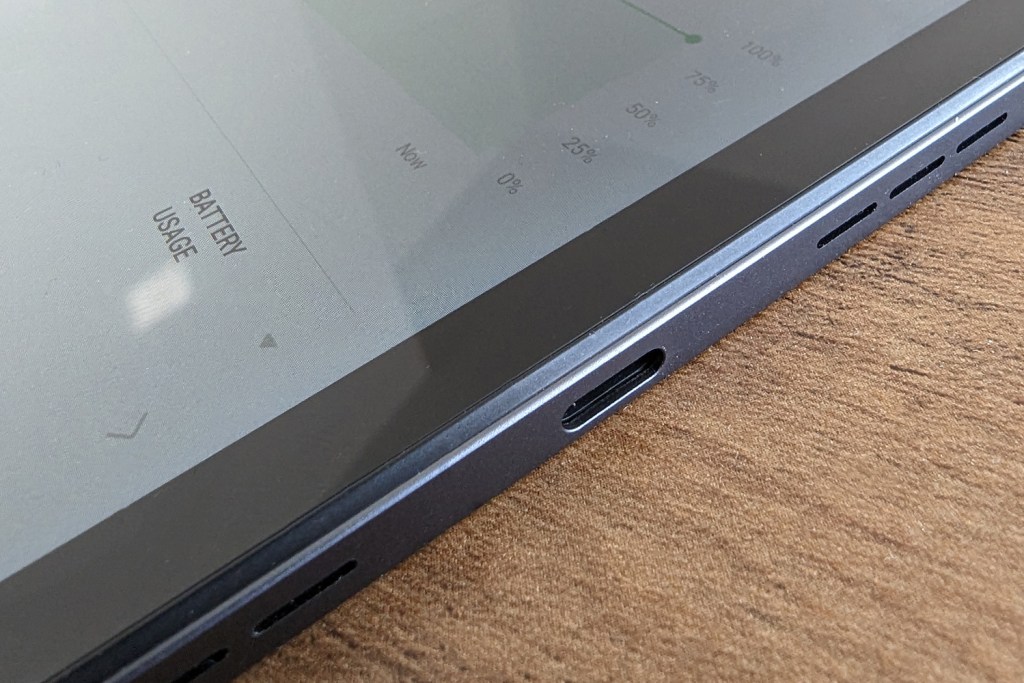 With 7100mAh inside, the Oppo Pad Air is roughly on par with Android-powered alternative tabs when it comes to battery size – but it isn't especially adept at squeezing a lot of life from it. You're looking at around ten hours of general use between top-ups, which is a full hour (or two in some cases) behind the competition.
That's still enough for a full working day, with a mix of web browsing, app scrolling and video streaming, but we've seen better for similar cash. You can also expect less if you plan on getting your game on. The Snapdragon 680 doesn't have the most powerful GPU, but it can still suck down watts when running 3D titles.
Oppo does include an 18W power brick in the box, so you won't need to scramble to find one of your own, but be prepared to hang around while it does its thing: a full charge takes close to two and a half hours, with a 30 minute session only good for around quarter of a tank. You can use the tablet to juice other gadgets using USB OTG, though, which is a nice addition.
Oppo Pad Air cameras: back to basics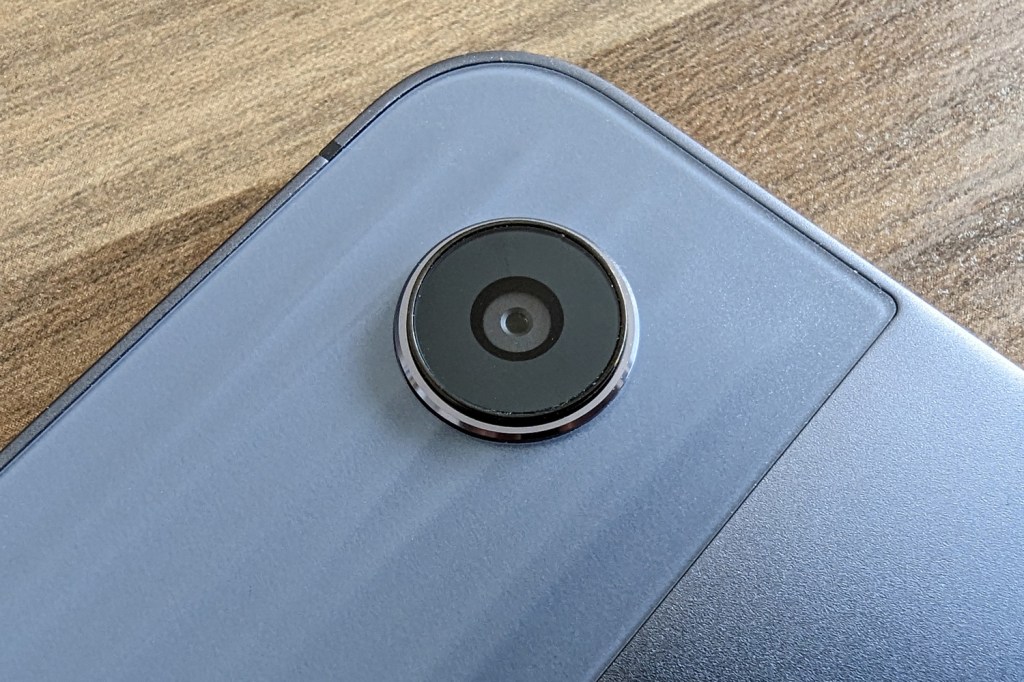 Given its budget nature, it'll come as no surprise the Oppo Pad Air isn't especially well endowed in the camera department. It has a single 8MP snapper on the back, and a 5MP webcam up front. The former has autofocus, but there's no flash to help out in low light. Video tops out at 1080p, and you're limited to 30fps recording.
The duo are OK for video calls, but not much more. Still images don't have very much dynamic range and colours are oddly muted. Focusing is slow, even when tapping to pick a focus point. There's a disappointing lack of detail, even in good light, and things really fall apart at night with lots of noise. A dedicated low-light mode is MIA as well.
There's a 2x zoom option in the camera app, but you should avoid it: results are even less defined, with a lot more noise even in daylight settings.
Oppo knows the Pad Air isn't going to replace your smartphone, which is why one of the shooting mode shortcuts is dedicated to document scanning instead of anything fancier like a Pro mode.
Oppo Pad Air verdict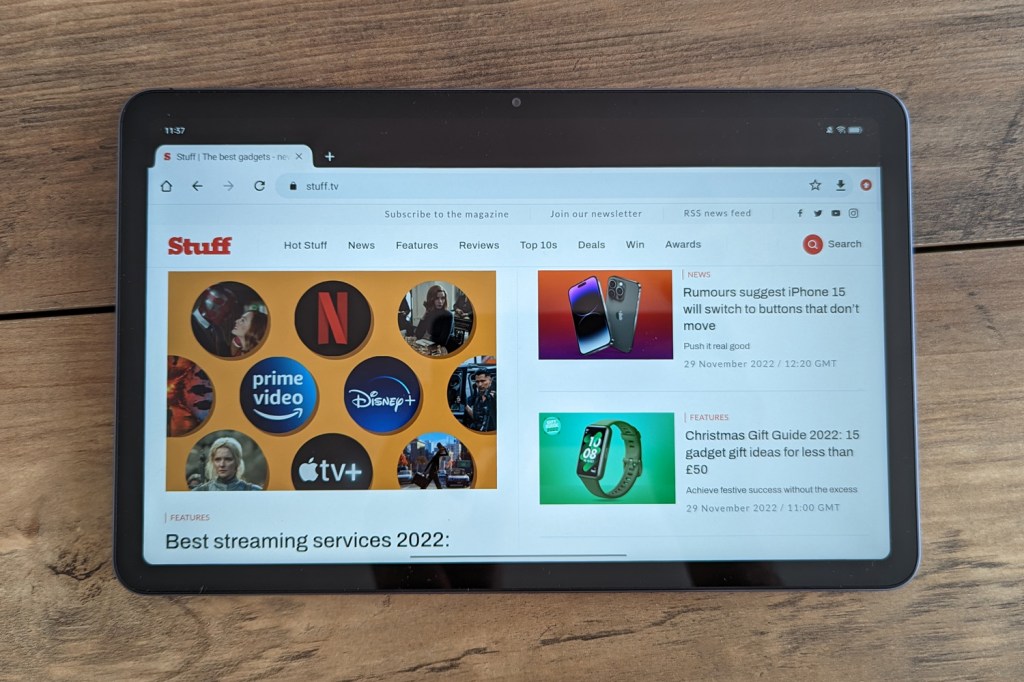 Are you after an affordable Android tablet that covers all the basics? The Oppo Pad Air fits the bill. It's well-built, has decent performance and will only set you back £239.
The problem is that big-name rivals are equally tempting, and expandable storage aside, there's little here you won't also find elsewhere. The Redmi Pad might be a little more expensive, but it comes with niceties like a 90Hz display – and still undercuts the cheapest iPad.
With only average battery life, quiet speakers and a basic camera, it just doesn't stand out enough to earn a recommendation.
Stuff Says…
A perfectly capable budget tablet that's far more versatile than an Amazon Fire HD, but one that isn't short on Android-powered competition.
Good Stuff
Slim yet sturdy build
Decent enough performance
Has expandable storage
Bad Stuff
Battery life only average
Cameras a token inclusion
Speakers a bit weak
Oppo Pad Air technical specifications
| | |
| --- | --- |
| Screen | 10.36in, 2000×1200 LCD |
| CPU | Qualcomm Snapdragon 680 octa-core |
| Memory | 4GB RAM |
| Storage | 64GB on-board, microSD expansion |
| Cameras | 8MP rear, 5MP front |
| Operating system | Android 12 w/ ColorOS 12 |
| Battery | 7100mAh |
| Dimensions | 245x155x6.94mm, 440g |