Oppo Reno 2 review
Style, power, and crammed with features – the Reno 2 delivers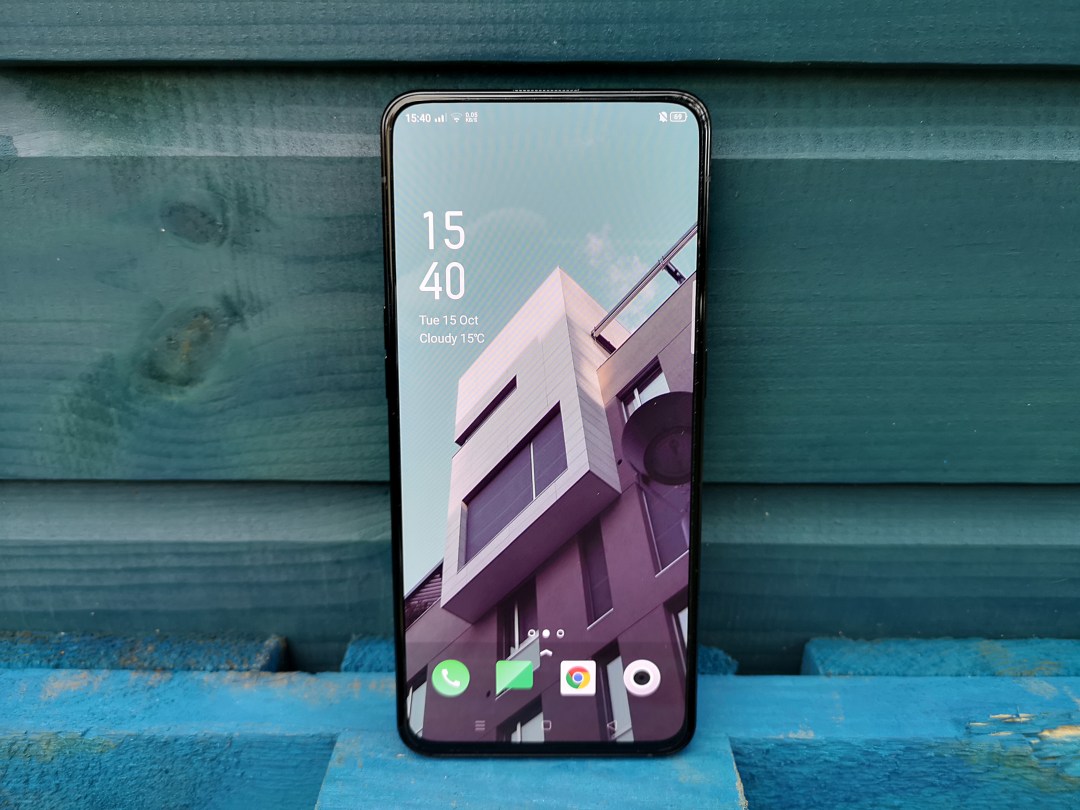 According to Wikipedia, "Reno is a city in the northwest section of the U.S. state of Nevada, approximately 22 miles (35 km) from Lake Tahoe, known as "The Biggest Little City in the World". From what we can gather, it has nothing to do with the naming of Oppo's Reno smartphone series, but it's always nice to discover new places.
Dodgy segue aside, we've been putting the new Oppo Reno 2 through its paces to see if it's worthy of your hard-earned cash.
Falling between the original Reno and flagship Reno 10x Zoom, the Reno 2 joins its siblings crammed with multiple lenses and camera smarts, coupled with a big bold screen, fast-charging, and a swanky pop-out selfie camera that'll steal the spotlight in any gadget gathering.
Read on to see if the Oppo Reno 2 deserves a home in your pocket.
Design: otherworldly
The Reno 2 looks like it fell out of a careless alien's ship as they were taking a panoramic Earth selfie, and it's all thanks to some stunning colour trickery on its slick rear.
Slathered in Gorilla Glass 6, the back of the Reno 2 is gloriously smooth, with a 'Twilight Mist' iridescent finish. That's fancy marketing slang for shiny, two-tone colours that magically shift around when they catch the light – magpies, take note. It's most noticeable around the edges and Oppo- branded stripe, and its all too easy to lose yourself in the hypnotic colour shifts. The effect on the stripe is so powerful, in fact, that you'd be forgiven for thinking it's surrounded by an LED strip.
The lack of unsightly camera bumps is another design feature that lets the Reno 2 stand out from the crowd. The four lenses are completely flush with the rear of the phone, and they're protected by the single slab of glass that makes up the entire back.
Beneath the lenses there's a curious small metal bump, resembling a metal BB pellet. Far from the Reno 2 surviving an attempted phonocide however, this is in face a small ceramic node called the O-Dot, which serves the purpose of ever so slightly raising the rear of the Reno 2 off of flat surfaces, to protect the precious lens-covering glass from scratches. Clever stuff, and very useful if you opt not to use the faux leather case that Oppo includes in the box.
Flip it over, and you're faced with a whole lot of screen – 6.5 inches, to be exact, with slim bezels and nary a notch or cut-out to be seen. The latter is due to the hidden front-facing selfie camera, which is lives within the Reno 2 itself, and pops up to say hello when summoned.
If you're a notch-hating, clean line aficionado, the Reno 2's clean façade will make your design senses tingle. The bottom of the handset houses a USB-C port, speaker grille and – we can't believe we're excited about this in 2019 – an honest to goodness 3.5mm headphone jack.
The internet is awash with pro-jack vs no-jack arguments, but this reviewer believes that there's no good excuse not to include one, and it's always nice to have options – especially when the Reno 2 offers Dolby Atmos equaliser settings for wired headphones.
Screen: Bold and colourful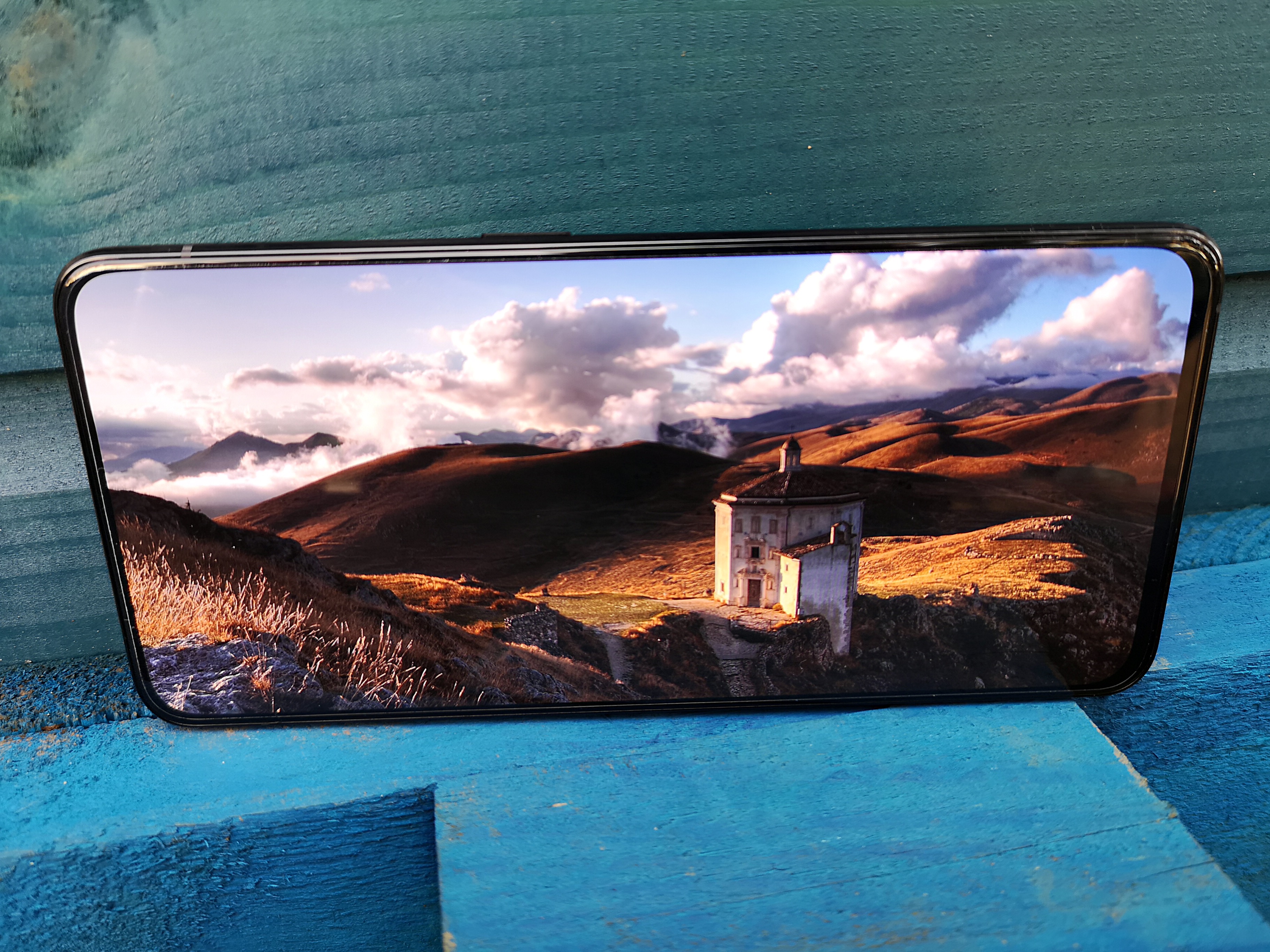 The Reno 2's 6.5in AMOLED screen dominates its front. Curved edge fans might be disappointed by the more traditional flat design, but that's down to personal preference and, presumably in Oppo's case, keeping costs down.
Its 2400 x 1080 resolution (that's 401 ppi for the pixel counters out there) may not be the sharpest on paper, but you won't notice a difference at all in regular use, where it's perfectly sharp and comfortable for gaming, reading, movies, and everything in between. Sure, you'll notice a little lack in details during a direct comparison with sharper phones – especially if you zoom in and take a closer look.
The AMOLED panel provides rich, bold colours and deep blacks, and you can tweak the display settings to opt for more natural tones, if you wish. We felt that the default settings were a little on the warm side, but easily found our preferred white balance in seconds.
It doesn't pack the brightness of other devices like the Galaxy S10+, but it's still perfectly useable in day light. Contrast too, could be a little better when compared to some other AMOLED displays we tested, but overall this is an in-your-face, uninterrupted notch-less display, that will serve your eyes well.
Camera: a bag of tricks
The Reno 2's four rear cameras are driven by 48MP, 8MP, 13MP and 2MP sensors respectively, serving different purposes – from snapping single 48MP shots, to 2X optical zoom, 5X hybrid zoom (a combination of optical and digital), 20x digital zoom, and a wide-angle lens for cramming more into your shot.
Unlike the Reno 5G and Reno 10X Zoom, the Reno 2 doesn't support hybrid 10X zoom.
In broad daylight, it takes great point-and-shoot shots, bolstered by the optional built-in imaging AI which automatically detects the scene. While you can choose to go all out and shoot single 48MP shots, the miniscule gains in detail simply aren't worth the 15MB file size, unless you plan on zooming right into shots with a magnifying glass in hand.
Both the 2X optical zoom and 5X hybrid zoom work well, allowing you to capture shots from a distance that a standard digital zoom would ruin with noise. While totally serviceable, we did notice that the Huawei P20 Pro (which we happened to have on hand) retained more detail in its 3X and 5X zoom shots. This is particularly noticeable in the highlights, which the Reno 2 tends to overexpose when zoomed in, losing a little detail.
Overall however, the Reno 2 takes solid pics, and allows you to capture subjects from a distance that a regular smartphone simply couldn't handle. The touted 20X zoom, however, is a different story. It's impressive on paper, sure, but it's also a digital affair, which means any shots you take in at 20x are absolutely peppered with noise, to the point where they are, in almost all cases, unusable. It's impressive if you want to show off how far you can zoom into an object from a distance, but the reality is that you're more than likely going to leave the 20X zoom alone, unless you're really after a specific shot from a large distance. The fact that Oppo hasn't included a 20x zoom button and instead requires you to manually pinch in to achieve it, is more than likely a testament to its real-world usefulness.
The wide-angle lens serves its purpose well, and lets you fit more into the shot, at the expense of some distortion at the edges, which is expected from any wide-angle lens. It's best used for landscape or architecture shots, but it also enables the Reno 2 to take rather impressive macro shots, which retain clarity and detail at a surprisingly close range.
Now, for low light. The Reno 2's Night mode is impressive in netting you snaps that you would otherwise have no hope in achieving, by taking multiple shots at different exposures, before stitching them together. In a dimly lit, almost dark room, it brings out more than enough details in a shelf of knickknacks. Again, though, some details are lost in the highlights, thanks to a smidgen of overexposure – apparent, when compared to the same shot taken in the Huawei's Night mode.
Another niggle, is the inability to see a real-time representation of the Night mode photo as it's being taken. Huawei's offering lets you see the photo expose before your eyes, and you can even cut it short before It's finished, if you want to prevent over exposure.
In near-total darkness, the Reno 2's Night mode offers a more impressive performance. Bravely gracing a London park after hours, the Reno 2 did a superb job of turning an almost pitch-black photo into a brightly lit park scene. The same shot on the P20 Pro wasn't as bright, but it did however have noticeably less noise, with a little more detail thrown in.
The Reno 2 doesn't produce the absolute best shots compared to the top-class flagships currently available, but despite the insanely fierce competition, it takes great looking shots in all lighting conditions, and you won't be disappointed.
On the video front, you have various options which 4K 30fps, and 1080p 60fps. The stabilisation is decent too, though you'll want to look elsewhere if you're after a device for proper videography. All we know is that we took a majestic 4K video of our cat on top of a shed, and he's never looked better.
we're happy to say that selfie connoisseurs will find plenty to like here with the iconic 'shark fin' camera. The 16MP front-facing camera produces crisp, sharp selfies, and the adjustable bokeh effect lets you blur the background to your heart's content.
The edge detection of this blur is decent too, although, as with most blurred-background selfies, you can spot a few 'halo effects' around your body and head, if you actively hunt for them. When it comes to dimly-lit pubs or dance-floor group shots, some detail is, as expected, naturally lost, but that's the case with the competition as well. If you find yourself trapped in a dark cave, there's also a front-facing LED to ensure your grimy face can still be captured in enough detail.
Power and performance: no slouch
The Reno 2 doesn't pack a flagship processor, but you honestly wouldn't notice. The Qualcomm Snapdragon 730G residing beneath its slick shell is technically a mid-range chip, but coupled with a generous 8GB of RAM, we failed to cause the Reno 2 any trouble.
It handles demanding games like Asphalt 9 and PUBG on their highest settings with ease, even with other apps open in the background and screen recording taking place. Whether this is purely due to Qualcomm's silicon, or Oppo's included Game Space settings which optimise performance for gaming is unclear.
All we know is that everything flies along without a hitch. While we're on the subject of things running smoothly, it's worth mentioning that the in-display fingerprint scanner is insanely fast, and incredibly reliable.
We haven't experienced a single delay or failed scan, and it's a standard that all other manufactures should be matching. In terms of the look and feel, Oppo's ColorOS 6.1 isn't our favourite Android flavour, and the settings in particular can be buried under confusing menus, but that's all we really need to say here. We're fans of using custom launchers and icon packs any way, so if you're really offended by the home screen, you can take advantage of Android's near-infinite customisation options.
Battery life: it won't let you down
Reviewing a phone can be quite strenuous on battery life. You download apps, play games, browse reddit for hours, listen to music and take lots of photos. These are all just some of the tests we ran the Reno 2 through on its first day, and we still went to bed with 45% of juice left, with 12 hours of use, and four hours of screen-on time.
The second day with more conventional use left us with 40% remaining, after 16 hours and 43 minutes of being on, and 5 hours and 18 minutes of screen-on time. That's an impressive feat however you slice it, and even the most hardcore power users should be able to go to bed without draining all of the Reno 2's 4,000mAh battery.
If you're pulling an all-nighter, you'll be glad to hear that Oppo's fast charging tech works a treat, giving you 0-100% in under 1.5 hours, and letting you charge up to around 60% in less than 40 minutes for a handy boost.
Oppo Reno 2 verdict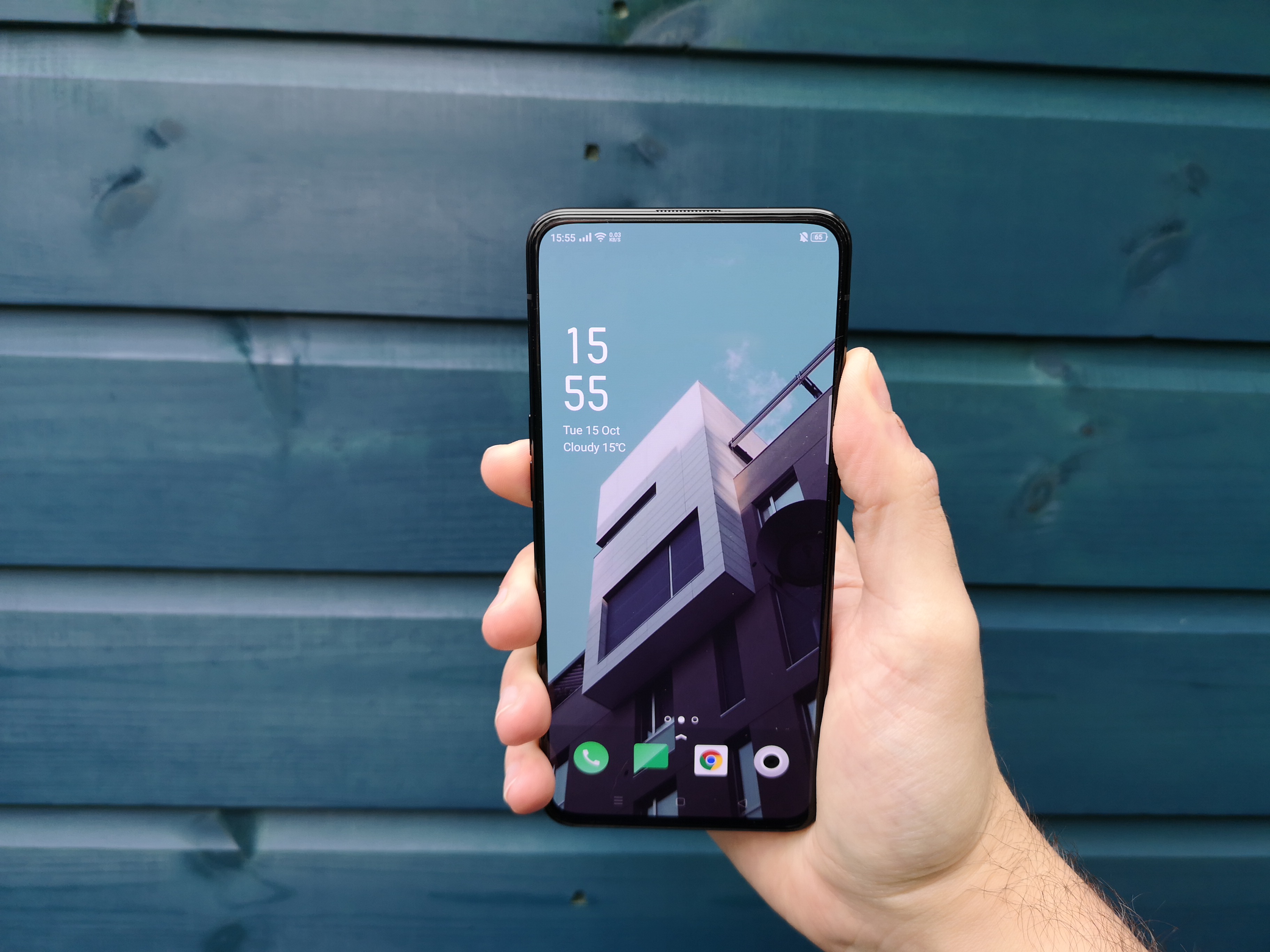 The Reno 2 is an eye-catching, luxurious-feeling handset that ticks all the boxes you're likely to need in a smartphone. It packs camera capabilities for almost any situation, including a standout pop up selfie cam, and it doesn't compromise on power and performance either, despite it's not-quite- flagship innards.
With more than enough stamina to last at least an entire day with impressive fast charging to boot, there's little here not to like, especially given its sub-flagship £449 price tag.
It may not have the absolute best camera around, 5G, or the very latest processor, but if you're after a rock solid performer with some quirky features that separate it from the plethora of other options available, this could very well be the phone for you.
Tech specs
| | |
| --- | --- |
| Size | 160 x 74.3 x 9.5 mm |
| Weight | 189g |
| Display | 6.5in, 2480 x 1080 (401 ppi) |
| Processor | Qualcomm SDM730 Snapdragon 730G (8 nm) |
| Memory | 8GB RAM |
| Camera | Quad cam – 48MP (wide), 13MP (telephoto), 8MP (ultrawide), 2MP (B/W) |
| Battery | 4,000mAh |
Stuff Says…
Stylish, innovative and full of stamina, the Reno 2 delivers in spades
Good Stuff
Sleek design
Powerful performance
Good battery life
Bad Stuff
Camera shots lack detail
Not the sharpest screen around
Software could be slicker