Q Acoustics Q Active 200 review
On a Q tip
In much the same way people find Benedict Cumberbatch or Serge Gainsbourg oddly attractive, Q Acoustics' Q Active 200 speakers have a certain sexiness that immediatey stands out.
The British audio brand is responsible for a hot streak of sonically excellent home cinema and passive speaker solutions, but despite a momentary flirt with Bluetooth, these bookshelf boomers represent their first serious foray into active sound systems without the need for a separate amp.
It's a comprehensively connected high-resolution package too, with everything from Apple AirPlay 2 to Google Chromecast catered for, along with a choice of voice assistant integrations, and HDMI ARC for plugging them into your tellybox.
The Q Active 200 speakers have a party trick too. It's called 'dynamic widescreen sound' and should deliver a vast Cliff Richard soundstage (if there is such a thing) no matter where you're sitting or standing. So we've got the Q, but what about the A? Read on for our verdict.
Design: wire in the thud
The Q Active 200 look distinctly different to most bookshelf speakers for two immediately obvious reasons – an off-centre placement of the front-facing BMR (Balanced Mode Radiator) drivers and those striking optional Tensegrity stands.
It might be lopsided, but those BMR placings serve a purpose because you can choose whether to place them on the inside or outside edge of the coated MDF cabinets for further fine-tuning to the 'dynamic widescreen sound', which we'll explain in greater detail further down.
We happen to like the industrial look that continues from front to back via a corrugated control panel and onto the rear subwoofers. Pick from a black or white matte finish Q says is "gently reflective of ambient light". In other words, they're stealthy and not showy.
If the economic gods have been merciful, we'd strongly advise you invest an extra £349 and plonk the Q Active 200 on a pair of geometric wire stands, said to be inspired by the 1951 Festival of Britain's Skylon structure. We say they turn things impressively The War of the Worlds.
Erecting and attaching the speakers can be a bit of a faff with the bundled nuts and bolts, but the end result is unquestionably cool, plus the stands help to minimise resonance from the floor and reduce muddiness in the sound.
Features: Finding your voice
Features on the multi-faceted Q Active 200 run deep with masses of connectivity options and some intricate toggling of switches for fine-tuning in the final stages of setup – but first, a tad more faff.
The speakers come with a separate black plastic hub, which although way smaller than a separate amp and requiring far less wiring, is an annoying extra device to plug in and power up given the individually-powered speakers have already taken up a socket each.
Along with a bundled black plastic remote, and on-speaker controls, the hub provides a portal into the Q Active 200's myriad of connectivity options. They can be configured for Google Chromecast with Google Assistant, Apple AirPlay 2 and Siri, or Amazon Works with Alexa.
It doesn't stop there. Bluetooth 4.1, Roon, Spotify Connect, in fact pretty much all the major streaming services are supported, so are NAS drives, as is HDMI ARC or optical for your TV, and they'll handle high-resolution audio at a maximum of 32bit/192kHz over a 5.8Ghz wireless frequency.
Cut away the cabinets and you'll find two 2.25in BMR drivers, a rear-firing 4.5in long throw subwoofer, and six discrete amplifiers resulting in a total power output of 280W. Plump for the more expensive Q Active 400 floorstanders for two extra amps and 440W of power.
Performance: I can hear clearly now
The Q Active 200's unique looks are down to their headline feature of 'dynamic widescreen sound'. By opting for BMRs the soundstage gets a more generous spread instead of focusing on a sweet spot and can hit the midrange down to 150Hz before passing things to the subwoofer.
And so to the fine-tuning. A switch on the back of the speakers designates left/right depending on whether you want the drivers on the inside or outside. A second boundary setting switch designates whether the speakers are close to a rear wall, in a corner, or out in the open.
This allows the Q Active 200 to further tune its low-frequency response. So after all that, how do they sound? Absolutely stonking. What becomes immediately apparent is just how smartly the Q Active 200 can cope with separating high and mids from those beautifully wobbly lows.
Kicking off with Busta Rhymes Extinction Level Event 2: The Wrath of God via Apple Music and Apple AirPlay 2, frequencies feel clearly defined with impressive levels of clarity – no mean feat when 'Bus-a-Bus' is attempting to cut through the mayhem his chosen producers have conjured up.
That trend continues with the punchy square bass and acidic squelches of Leftfield's Rhythm and Stealth. The fact those elements are so neatly controlled allowing Nicole Willis's haunting lyrics to have room to breath on the track 'Swords' feels pretty masterful.
Switching to Bluetooth and The Avalanches' We Will Always Love You via Spotify Premium and there's no discernible loss of impact, and man do these things go loud without worrying about distortion either, no doubt down to those stands doing their job.
Verdict: Q Acoustics Q Active 200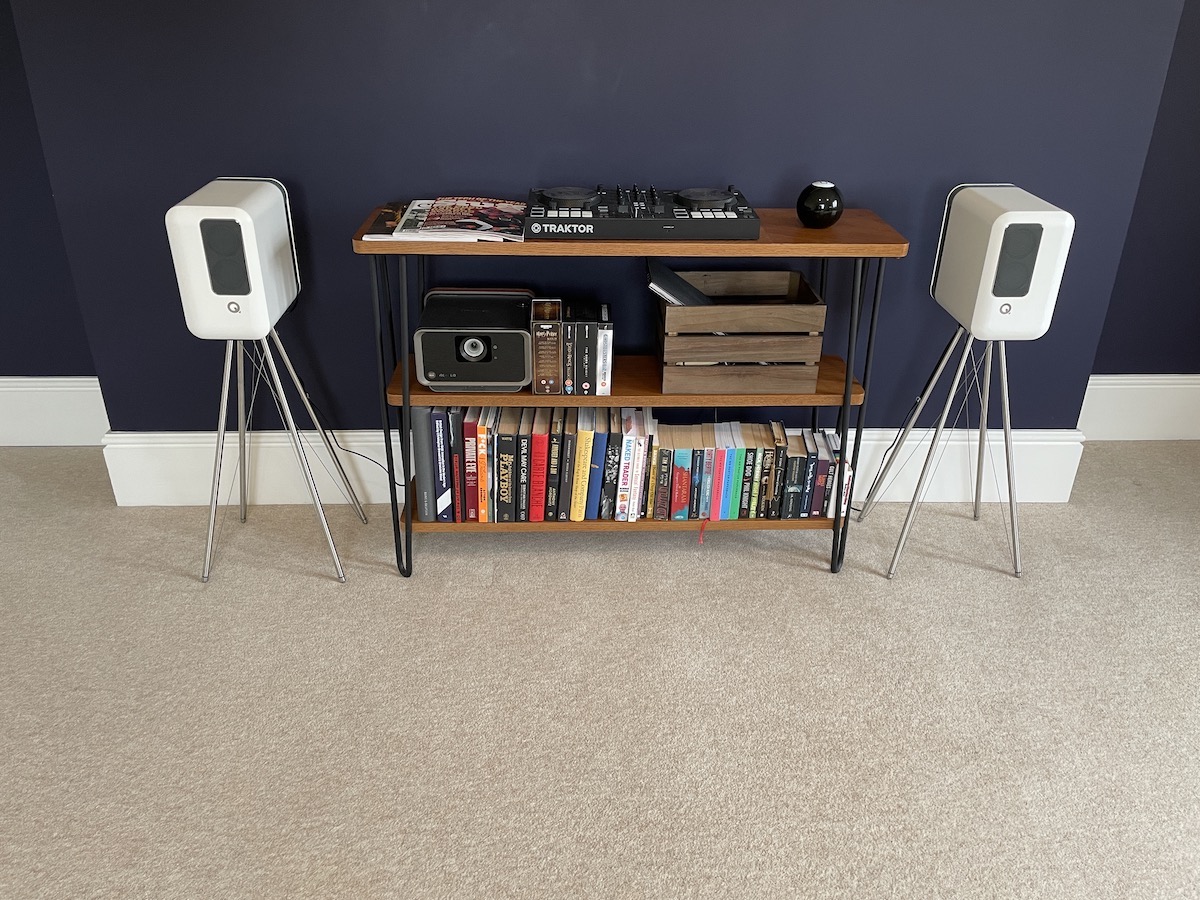 In short, the Q Active 200 sound exquisite, but then at this price so they should. After all, we're not talking about a couple of rudimentary, stereo paired Bluetooth speakers here.
Bridging the gap between basic wireless speakers and full on hi-fi is, however, clearly a tricky business, and Q have put in what feels like an awful lot of R&D to make the Q Active 200 as good as they possibly can be for under £1500.
The hub is annoying, the stands awkward to erect and an expensive extra outlay, and we found ourselves constantly re-pairing the remote control, but you can't grumble about the eye-catching design, rock-solid connectivity, numerous streaming options, or the excellent sound quality.
Use the Q Acoustic 200 to their fullest as your main living room sound system, connected to your TV, and added to a multiroom setup, and you won't be disappointed with your investment.
Although, we do have a KEF LS50 Meta review in the pipeline – wireless bookshelf speakers coming in at £500 less – so you might want to hang on for that verdict first.
The Competition
Tech specs
| | |
| --- | --- |
| Drivers | Full range 2 x BMR (2.25in) / Subwoofer (4.5in) |
| System frequency | 46Hz to 20kHz (-6dB) |
| Peak power | 280W |
| Hi-res wireless link frequency | 5.8GHz |
| Max source resolution | 32bit/192kHz |
| Sample frequency/bit depth | 96kHz/24bits |
| Connectivity | Wi-Fi, Bluetooth 4.1, Apple AirPlay 2, Chromecast built-in, Amazon Alexa, NAS support, Roon, Spotify Connect, UPnP, HDMI ARC, optical, Ethernet |
| Speaker dimensions | 284 x 170 x 290mm |
| Speaker dimensions with stand | 922 x 286 x 338mm |
| Weight (per speaker) | 7.5kg |
Stuff Says…
They cost a pretty penny, but then the Q Acoustics Q Active 200 marry serious audiophile qualities with tonnes of connectivity options
Good Stuff
Ace industrial design
Method to the mad looks
Special sound quality
Bad Stuff
Not cheap
Additional hub is annoying
Design not to everyone's taste