Rode Rodecaster Pro II review: essential for audio creators
Podcasters and game streamers take note
Podcasting: it's dead easy, right? Plonk down in front of a microphone, hit record, and you'll be top of the iTunes charts in no time. Sorry to break it to you, but there's a lot more to it than that: controlling volume levels, mixing channels and balancing EQs make all the difference, and without dedicated hardware getting usable recordings can be a challenge for those not in the know. Enter the Rode Rodecaster Pro II.
This compact audio mixer is for everyone, not just those with a background in broadcast radio. It's got all the inputs, sliders and effects pads a budding podcaster could want, and is flexible enough to also appeal to music producers, game streamers, and basically anyone that has anything to do with recording audio.
The second-gen model has been overhauled with uprated preamps, a more eye-pleasing design and some slick software integrations. Does that make it a must-buy for budding podcasters? We've been finding out.
Rode Rodecaster Pro II design & build: all hands on deck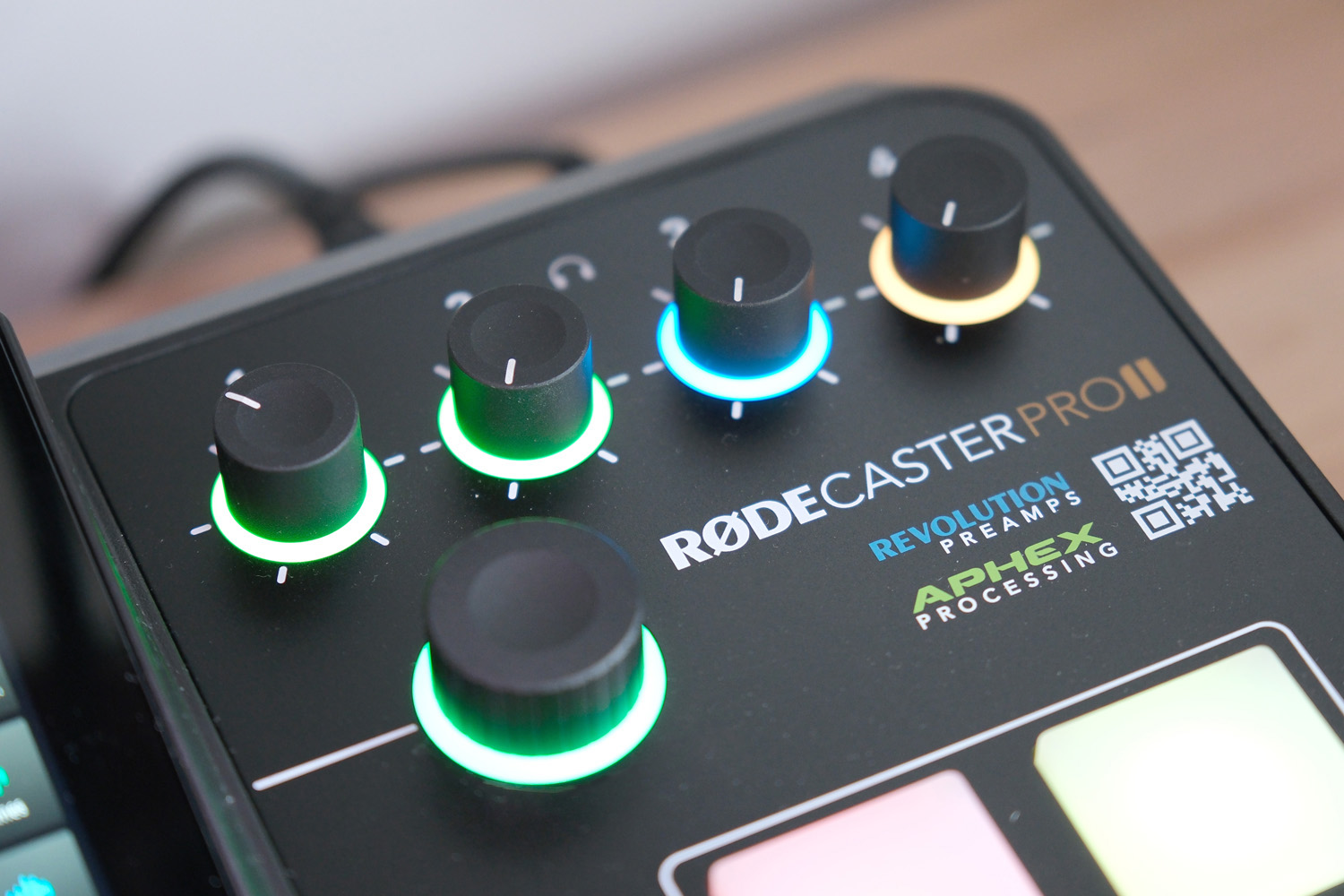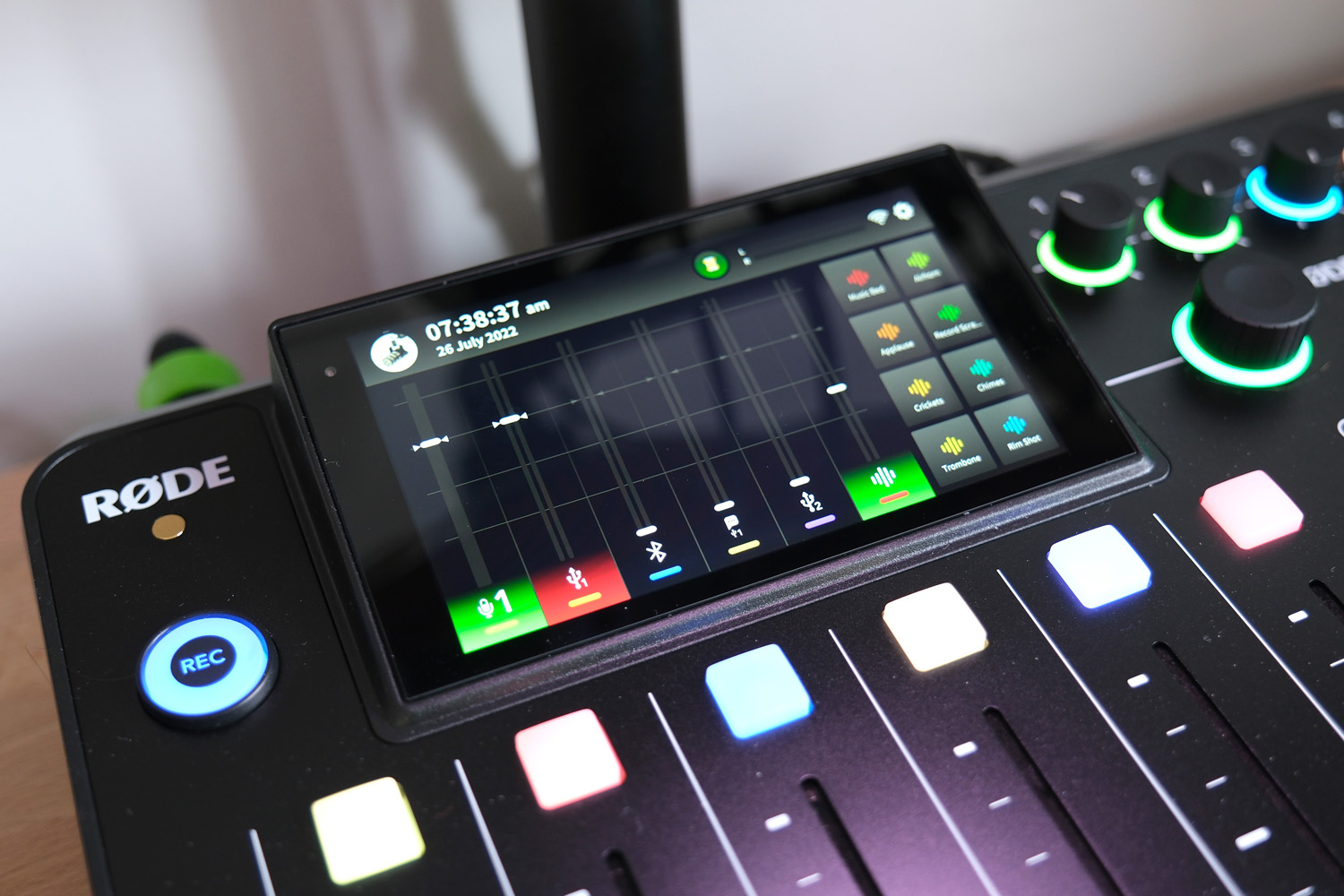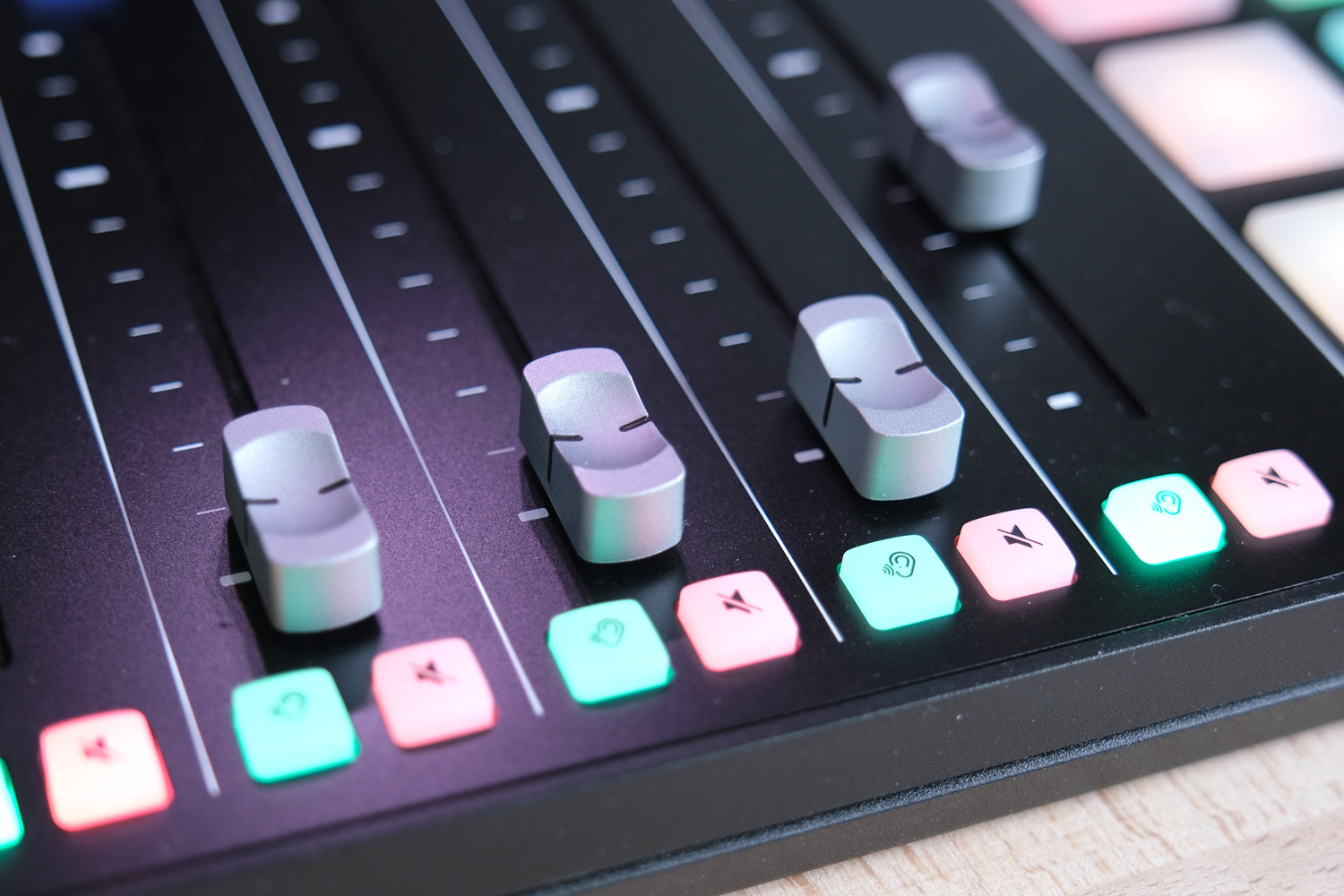 While the OG Rodecaster Pro wouldn't have looked out of place in an audio engineering rack, this updated model is a little less industrial. A smaller footprint takes up less space on a desk, and the touchscreen is now angled upwards so you don't have to lean over the thing just to get a glimpse at your levels.
The overall layout has been streamlined, with the monitoring volume dials more evenly spaced apart and the record button no longer looking like it came from a 1970's recording studio. The rotary dial is all-new, and gives you something physical to twiddle rather than relegating all the advanced settings entirely to the touchscreen.
You get six physical faders. That's two fewer than you got from the original model, but a handful of those were labelled up for the smartphone, USB and Bluetooth channels. Here, you're free to assign each fader to whatever you like, and there are a further three virtual ones available on the touchscreen.
Each channel gets a three-band EQ, along with a compressor, high-pass filter, de-esser and noise gate. Naturally you can control the levels individually too. Anything more and you'd be able to run a commercial radio station through it.
Around the back there's enough ports for a presenter and up to three guests to record and simultaneously monitor their audio. You get four XLR inputs for microphones or instruments, which are wired through preamps designed specifically for this unit. They've got a lower noise floor and higher gain than the OG model, which means there's no need for signal-boosting add-ons any more – a cost saving for anyone just getting started with high quality recording. Bluetooth is also on-board for pairing a phone, which is handy for hosting remote guests or call-ins.
There are also four 6.3mm headphone outputs, plus two balanced line outputs for hooking up to a set of speakers. It's a shame Rode has ditched the 3.5mm headphone jack up front, though: it makes for a slightly messier setup, with a cable having to snake around from the back to whoever is running the desk. Back channelling is handy for prompting guests without breaking the flow of your recording.
The whole thing is powered by USB-C now, and there's dual USB-C ports for hooking up two computers at once – handy if you game on one but stream using another. The power button on the back is a little spongey, but that's a minor gripe. We're more peeved at having to pay another £50 on top of the cost of the unit for the branded dust cover.
Rode Rodecaster Pro II interface: touch of class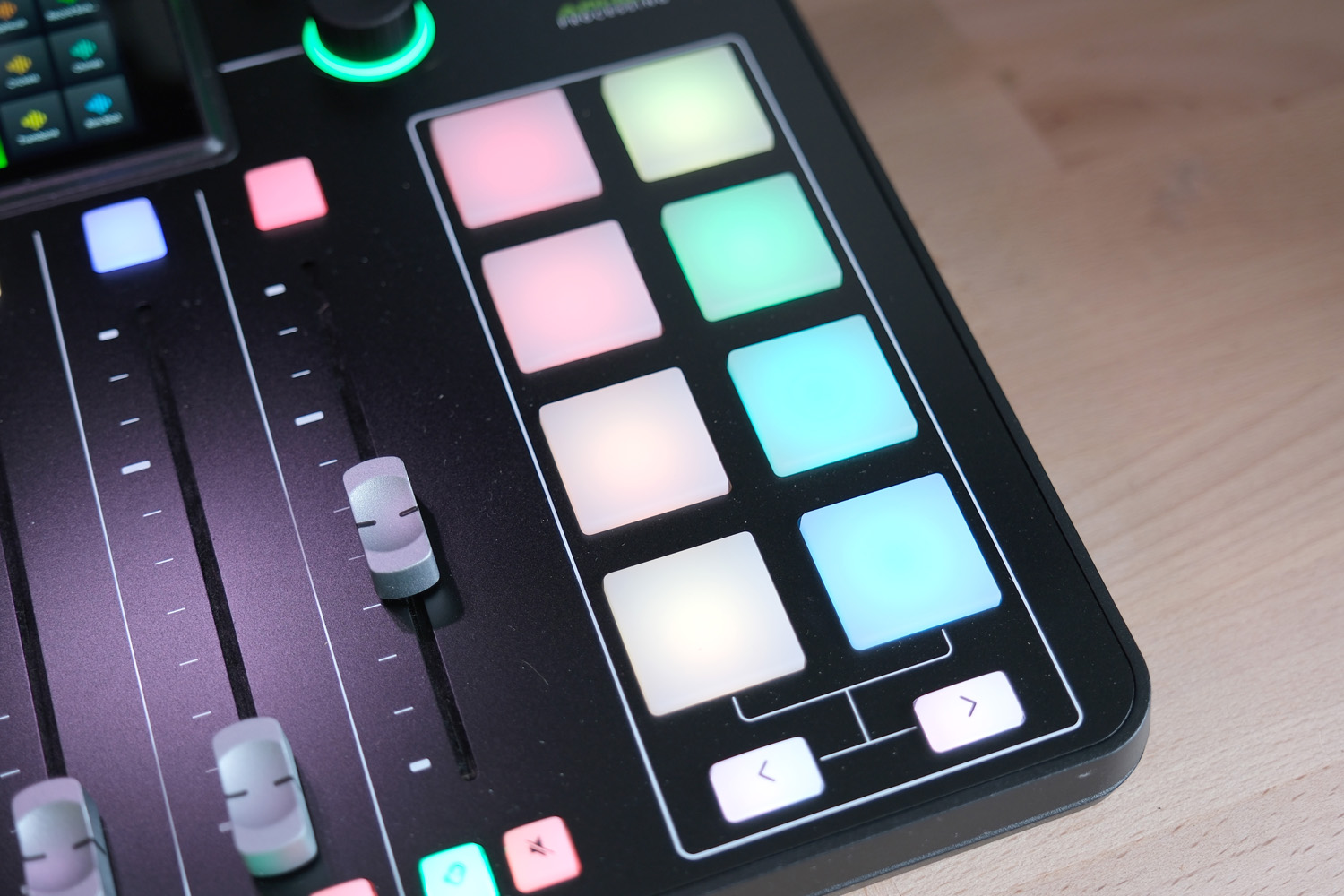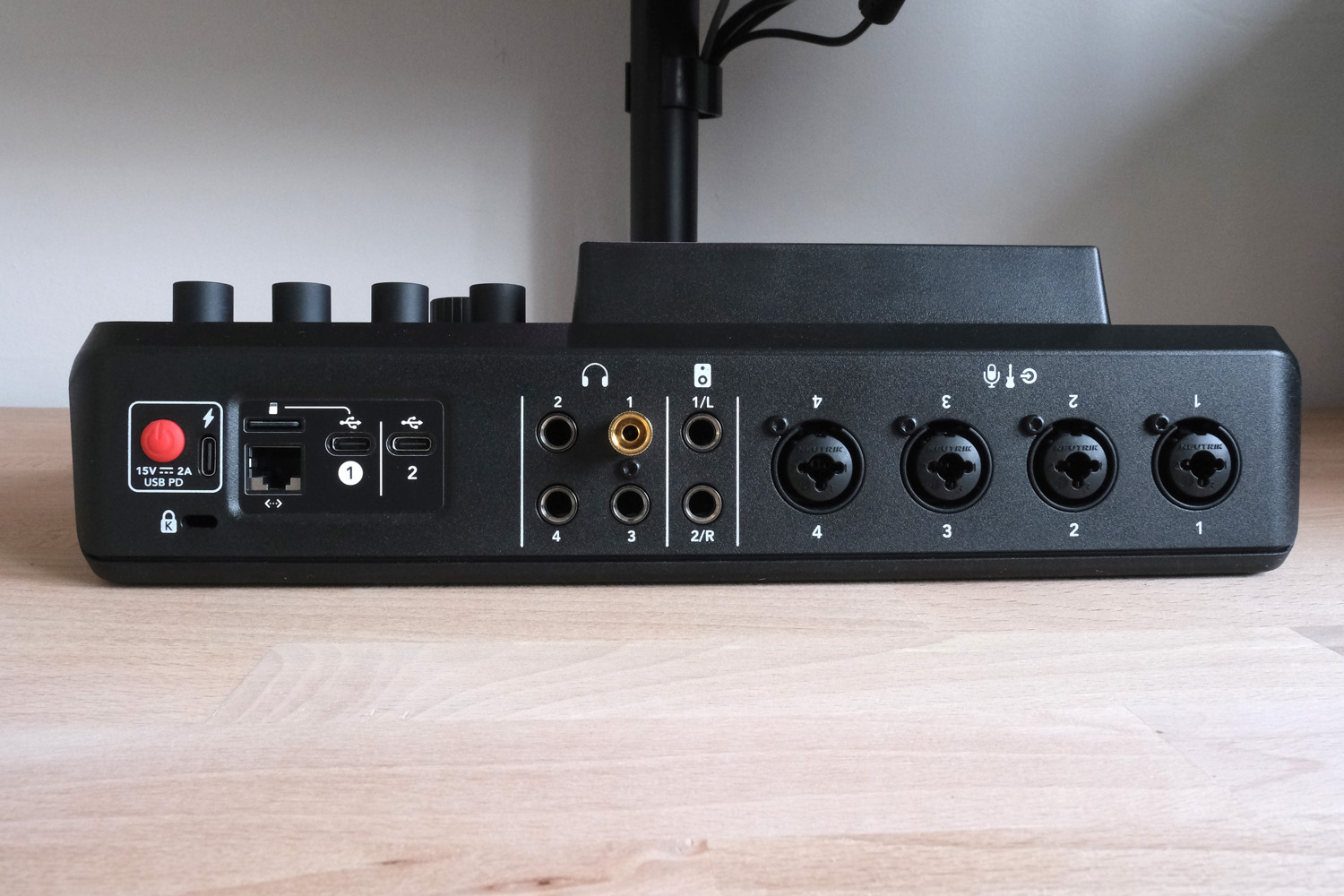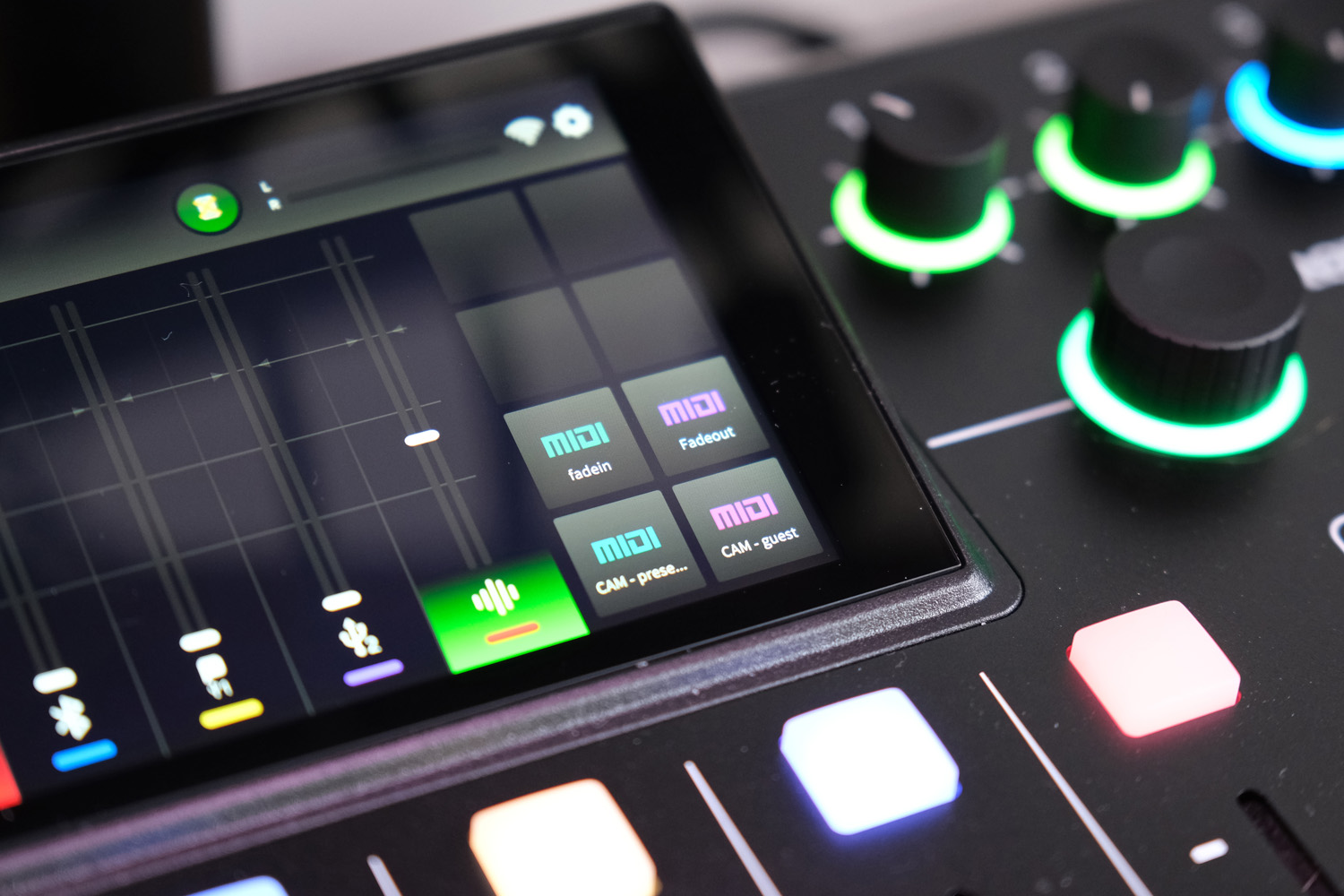 The first-gen Rodecaster Pro was all about podcasting. This version's new-found flexibility is all down to its SMART pads. These used to just play on-demand sound clips, but are now totally customisable. You get eight of 'em, with two buttons beneath letting you scroll through eight virtual banks of music beds, sound effects and pre-recorded tracks stored to the desk's built-in memory. They can smoothly fade channels in and out, too.
It's how they play nicely with MIDI commands that should raise an eyebrow for game streamers and vloggers. A few taps of the touchscreen sets up MIDI triggers, which can be assigned in third-party apps like OBS to toggle between camera angles, activate transitions, or start and end broadcasts. It's perhaps not as slick as an Elgato Stream Deck, which has tiny screens built into each of its buttons so you don't have to memorise what each one does, but means you don't need an extra bit of kit cluttering up your desk.
MIDI support also means you can reassign the sliders and control dials to specific functions within your recording software, which is a big plus if you've already learned the ins and outs of a specific app.
Boot it up and the Rodecaster's 5.5in touchscreen gives a great overview of your recording setup. Each channel is highlighted green when live and red when muted, with levels being front-and-centre to avoid sound clipping. It also shows the currently active bank of smart pads, and the current time – always handy to know when trying to keep your recording's runtime in check.
The screen has haptic feedback, so you can be sure your taps have registered, and is perfectly bright, so you'll have no trouble seeing what's on display. Icons are on the small side to squeeze plenty onscreen at once, but not so tiny they're impossible to spot or tap accurately. The on-board APHEX audio processing and effects are also more granular here than they were on the original Rodecaster, where things were mostly just on or off.
Built-in Wi-Fi lets you check for firmware updates without needing to hook up to a computer. Rode has promised new features and ongoing support, with multiple versions being released during our testing. Among the most recent additions is the power off shortcut, letting you switch off the unit with a double-tap of the power button, instead of confirming using the touchscreen.
Rode Rodecaster Pro II performance: we play my way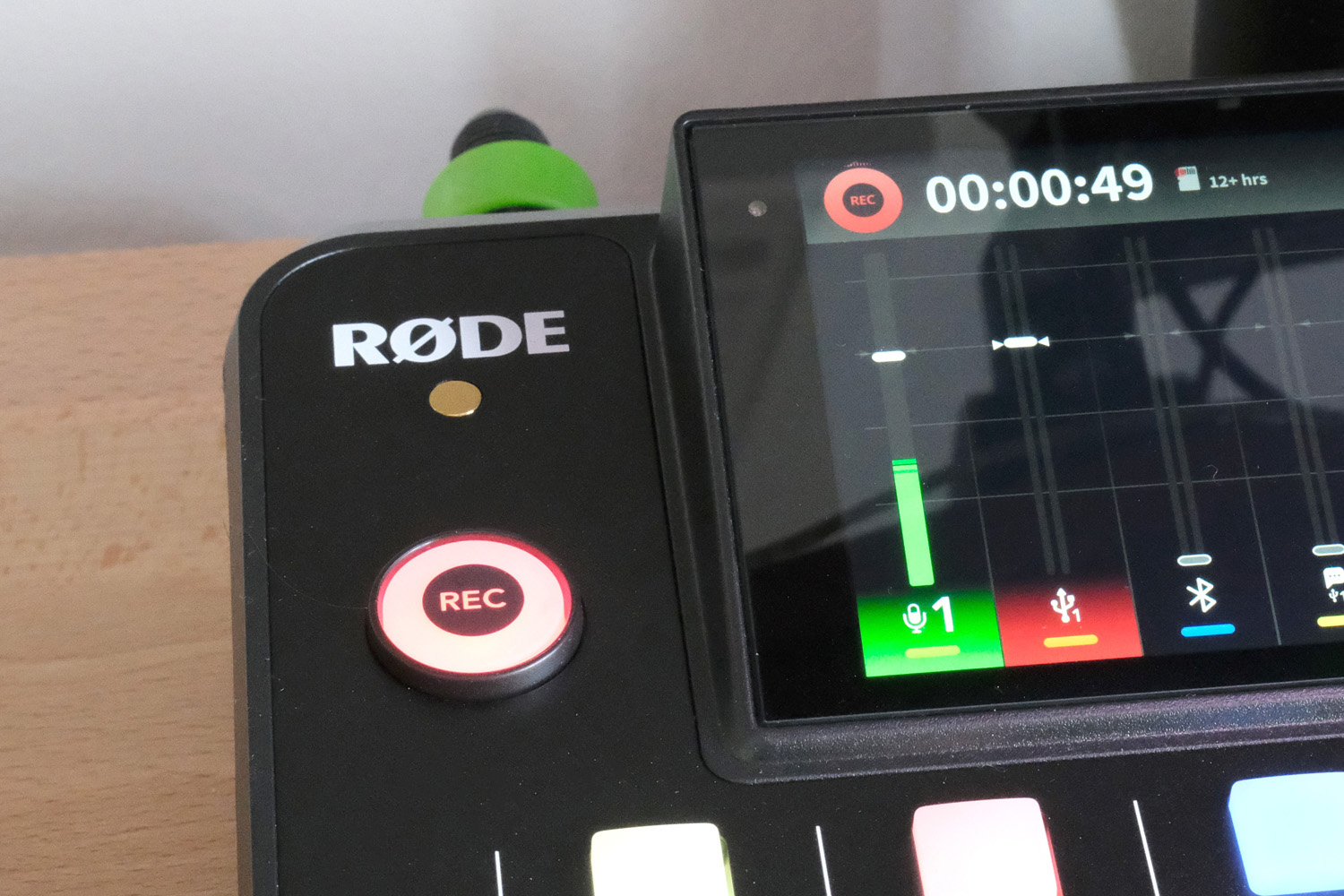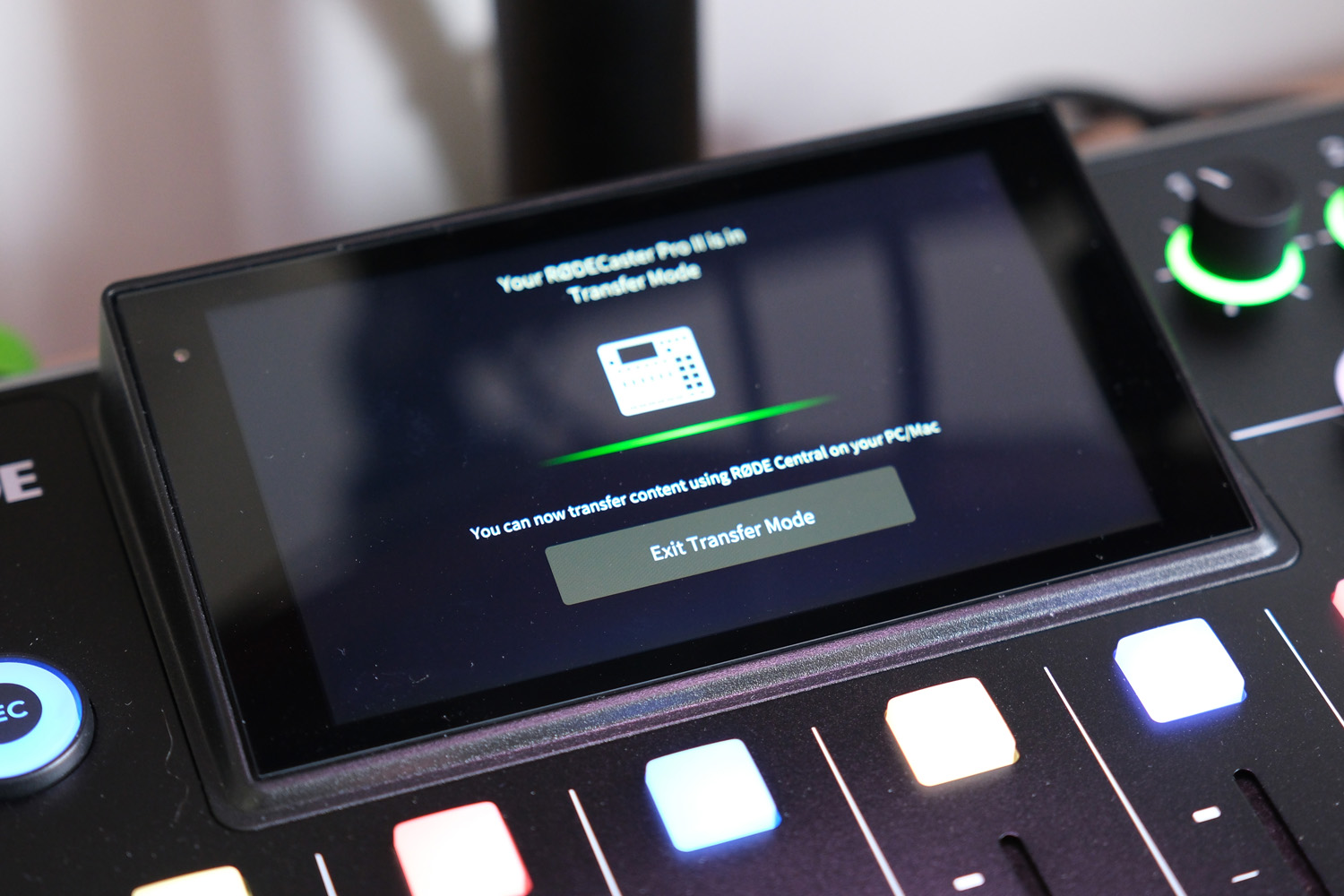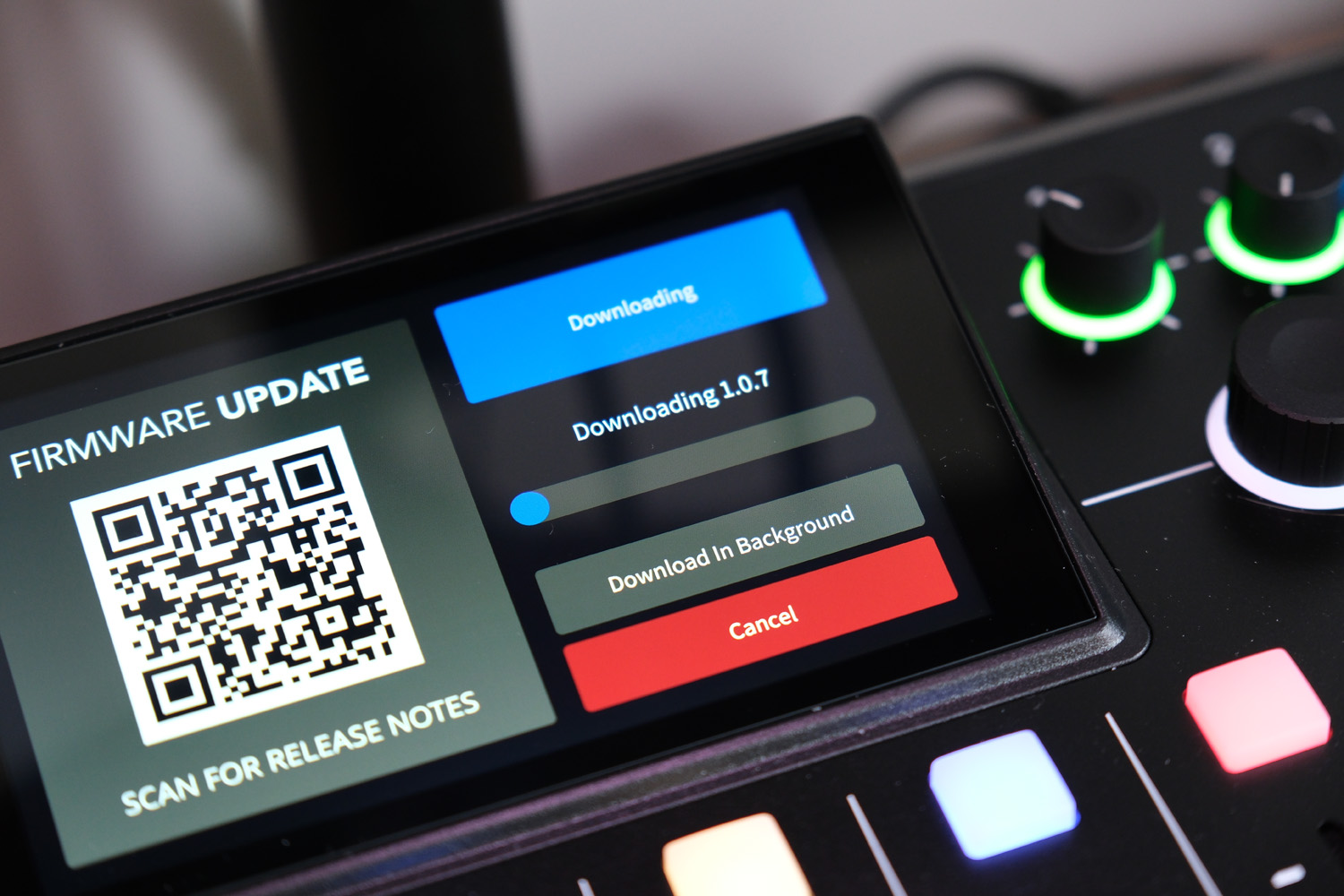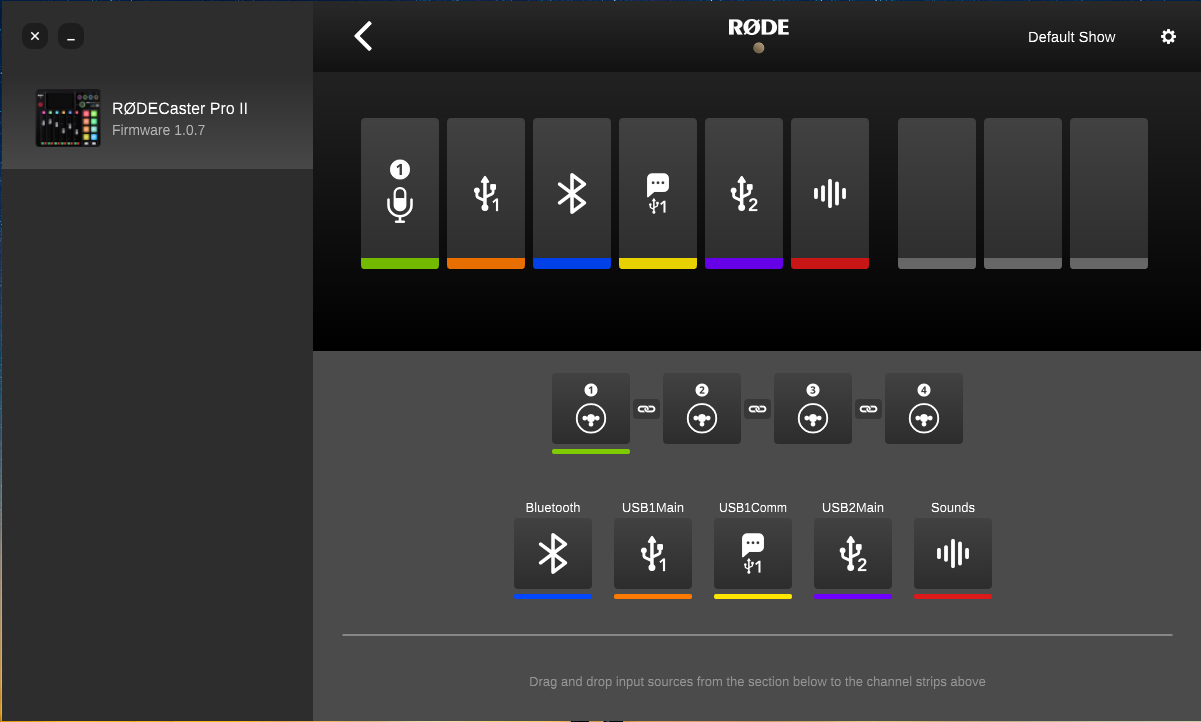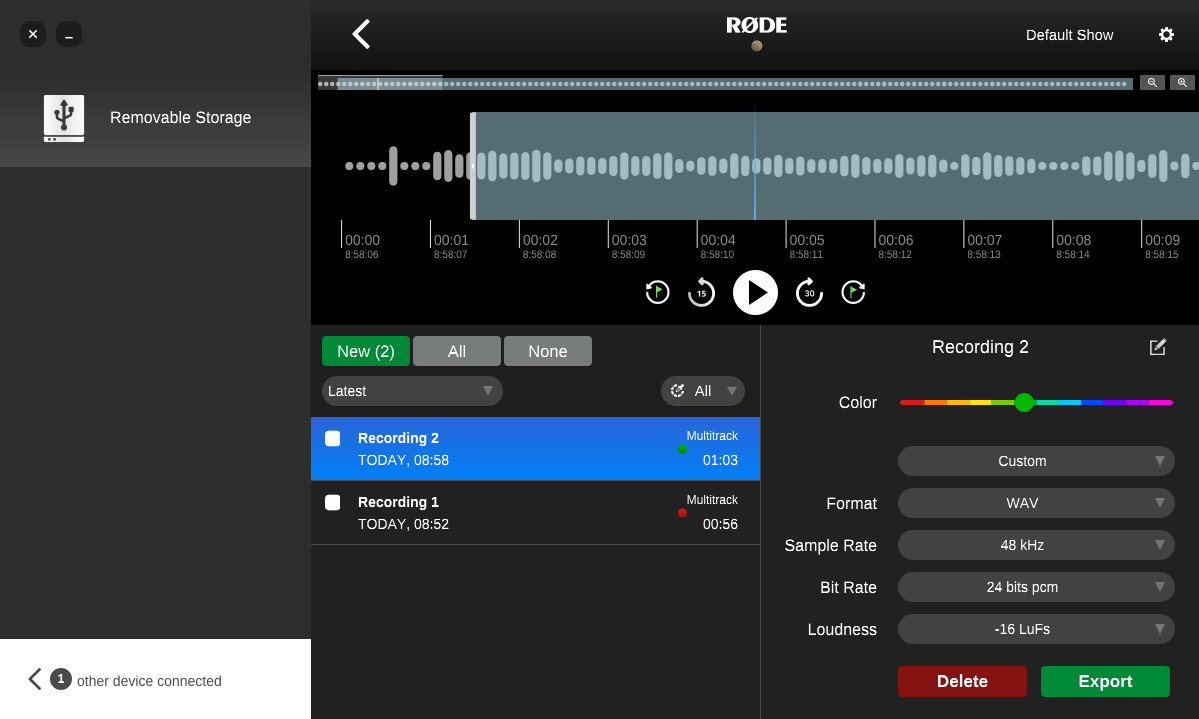 The Rodecaster can record directly to microSD card, to external storage over USB, or via a connected PC using third-party software. You have the choice of stereo recording the master signal, or multi-track polyWAV recording, both at 24-bit/48kHz. Rode's software suite can split multi-track recordings to standard WAVs if your production software doesn't support them. Transferring saved recordings from the device to a PC no longer mutes the audio being passed through it, like it did on the OG model.
It's all brilliantly slick, recording on device with no need for a PC, although Rode's software can do pretty much everything that's available through the touchscreen in case you prefer using a mouse to tweak settings. It can also apply file format presets for specific audio hosting services, and apply normalised loudness across all your channels before you upload.
Headphone monitoring is exceptionally clean, with no hiss or background buzz. There are built-in presets for Rode's own equipment, including the excellent NTH-100 headphones, plus more generic settings you can adjust and save for your specific gear. The firm has even added a few non-Rode microphones, simply because they're so popular in the podcasting world.
For basic, one-mic recording, you really can do everything on the device itself once you've created a few audio stings, intros and music beds. Adding a guest or co-presenter is delightfully simple, and the audio processing options let you get a professional sound without having to completely soundproof your room first.
Rode Rodecaster Pro II verdict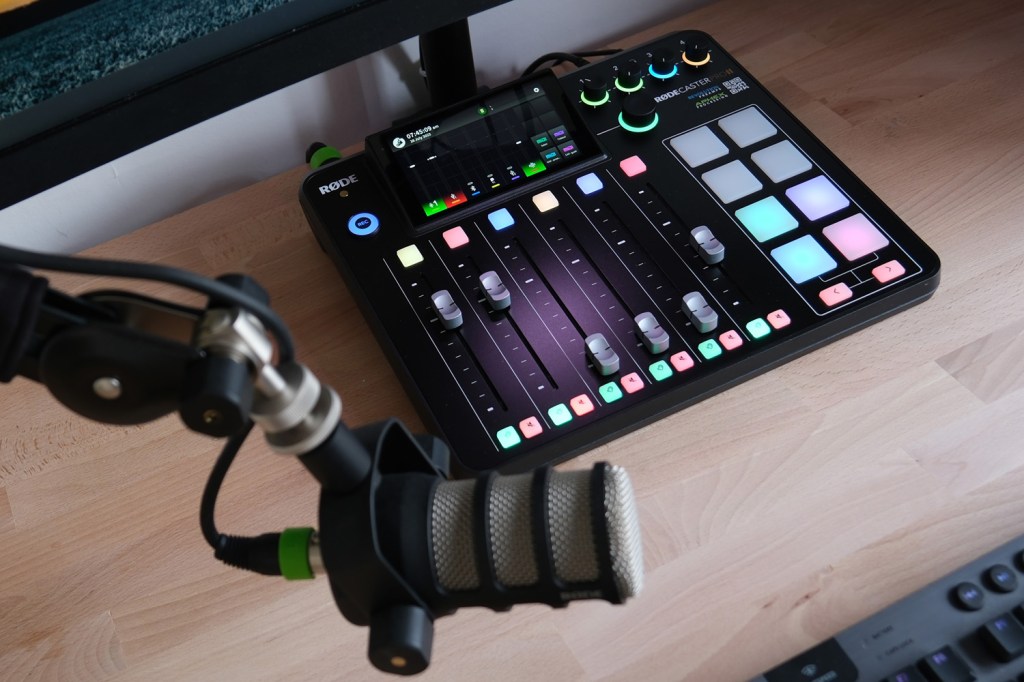 With ample connectivity, plenty of physical controls and a comprehensive touchscreen UI, the Rodecaster Pro II is about as advanced as home audio mixers get. Anything more and you're looking at professional, broadcast-grade equipment – which is far pricier, and would be overkill for podcasters only just finding their feet.
There's a lot to wrap your head around here – much more than with a basic mixer – and it'll take practice to get the best out of it. Still, Rode was careful not to bombard you with features out of the box, so it's not a case of "only audio experts need apply". Gamers willing to put in the effort can replace multiple bits of kit with one, and podcasters after a professional sound won't be disappointed.
Stuff Says…
A comprehensive mixer with fine-grain control and advanced features, but one that also nails the basics. For at-home audio production, it's a killer bit of kit.
Good Stuff
Flexible interface and all the manual controls you could want
Doesn't overwhelm at first, but has layers of more advanced features
Bad Stuff
Rear headphone inputs add to cable clutter
Overkill for newbie podcasters
Rode Rodecaster Pro II technical specifications
| | |
| --- | --- |
| Inputs | 4x 3.5mm combo |
| Outputs | 2x balanced line output, 4x headphone output |
| Connectivity | 2x USB-C, microSD, Wi-Fi, Bluetooth |
| Dimensions | 305x270x60mm, 1.96kg |