Roku Express (2017) review
A much improved HD streaming stick with lots to offer for the money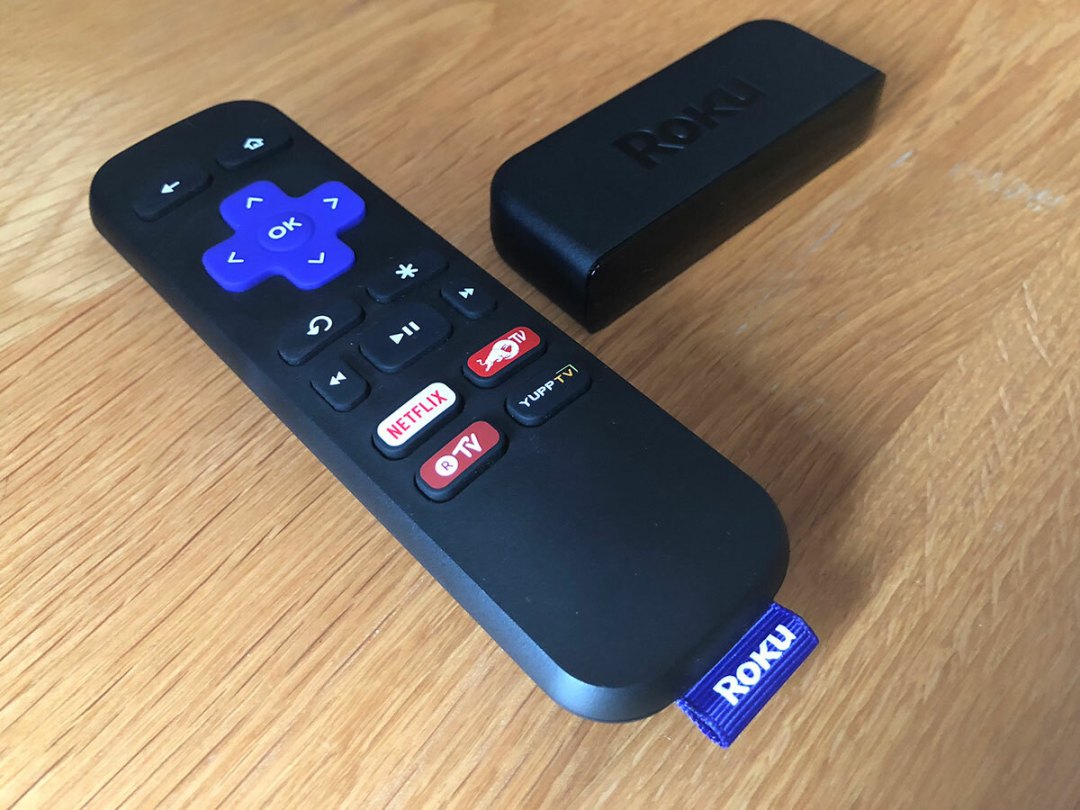 Come with us on a journey to when TVs weren't smart, and your boxsets weren't just a couple of clicks away. Back when they were stored on your dusty DVD shelf next to the questionable stand-up your Nan got you for Christmas.
Unless you've forked out for a new TV in recent years, you could still be stuck in such a nightmare. At the very least, the telly in your bedroom may well be. Thankfully, streaming sticks are a relatively inexpensive way to bring smarts on board your TV, and the Express is Roku's latest – and most affordable.
There's no 4K here: we're talking strictly 1080p only, pitting the Express against the likes of Amazon's Fire TV Stick and Google's Chromecast in a fight to be the streaming king of HD. 
Design – teeny, tiny streaming box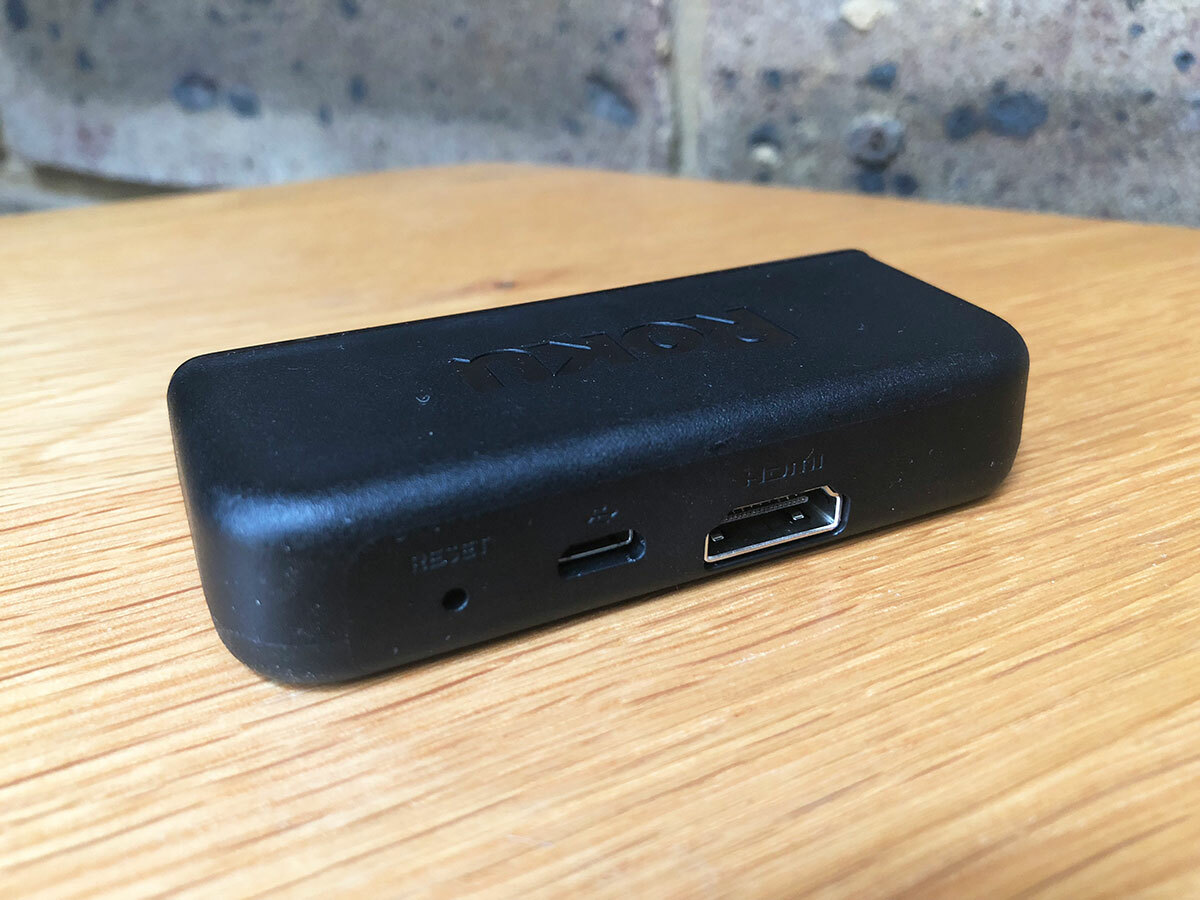 Unlike its rivals, the Roku Express isn't a dongle. Instead, it's a teeny tiny streaming box, with leads in the box for plugging into your TV's HDMI and USB ports.
This means it isn't quite as tidy as Amazon Fire TV Stick's nigh-on invisible form factor (once it's hooked up to your telly, anyway), and can't be tucked entirely away out of sight if you want the IR remote to actually, y'know, work – but it does help those with a tight squeeze on their HDMI ports.
It comes with a simple remote that controls basic playback and navigation, with a handy shortcut button for Netflix, alongside the slightly more random selection of Red Bull TV, Rakuten TV and Yupp TV. These can't be changed through the UI, either, so expect them to gather dust unless you're already a subscriber to these services.
The whole thing is made from black plastic, but it's plenty sturdy and absolutely fit for purpose.
Interface – inelegant but effective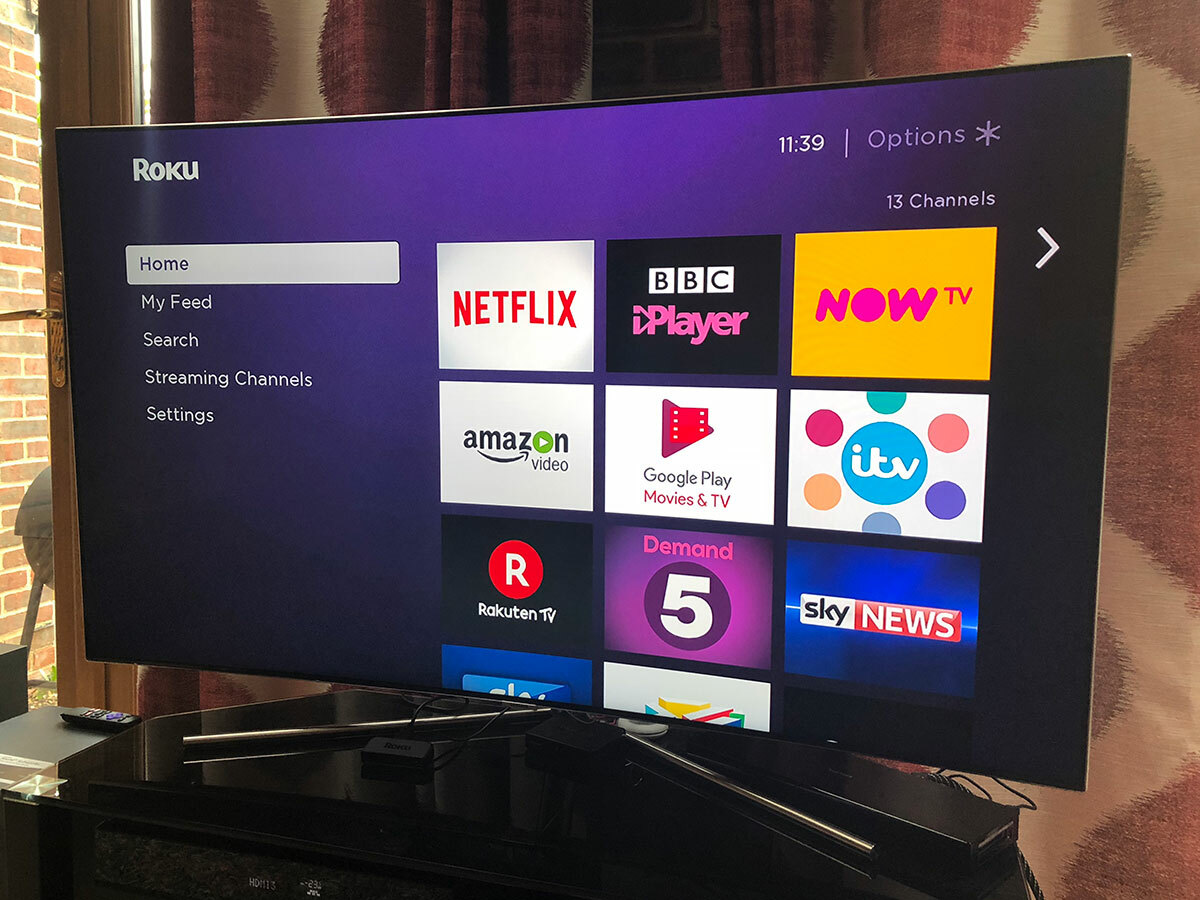 The Roku Express is really easy to get up and running, with on-screen instructions that'll help you get it onto your wi-fi and then check for any updates. Once that's done, it will automatically check your display and connection, and optimise itself accordingly – ours adjusted immediately from the 720p setup screen to 1080p (so don't worry if it's a bit fuzzy during setup).
If your connection isn't as strong, you'll have to go with whatever Roku deems best, as there's no option for hardwiring. The built-in Wi-Fi is also the slightly older 802.11 b/g/n, rather than the faster dual-band 802.11ac in the 4K-capable Streaming Stick+, but it should be plenty good enough for HD video.
Next, you're prompted to go to Roku's website on a laptop or mobile device to register your device and add the streaming services you want. They'll start downloading to your Roku account there and then, and once finished, you're good to go.
The homescreen is clean and simple, if not the most elegant we've seen, with the thumbnails of your selection of apps taking up most of the screen on the right, and a short menu on the left. The options are pretty straightforward, and include settings, a search function and a link to the channel store for browsing more apps.
There's also a section called My Feed, which pulls through a curated selection of popular TV shows and movies, with options to watch them through Now TV or Amazon (via subscription or payment). There's nothing from Netflix or iPlayer though, nor any of the UK catch up services for that matter. You'll have to go direct for recommendations from them.
There's an option to "follow" movies too – those out now, those coming soon, and even the ability to follow actors you like . Roku will then notify you when the price of a followed movie comes down, or when new movies you've followed (or a movie with a followed actor) becomes available. A nice option, but still limited to content from Amazon and Now TV.
As for the apps themselves, most look similar to how they'd look on a smart TV, but the Amazon app is more basic than we've seen it elsewhere. It's still just as easy to navigate, and comes with a lot of the same functionality, it just doesn't look as pretty.
Spotify is similar, with only the search function, What's New and Top Tracks, and no access to playlists. Plenty for getting a bit of music through your telly, but not as sophisticated as the same app on Amazon's Fire TV.
These small design niggles aside, you won't struggle finding your way around – it's easy to navigate and you won't need to lose yourself in menus to get to the content you want.
Performance – great for the money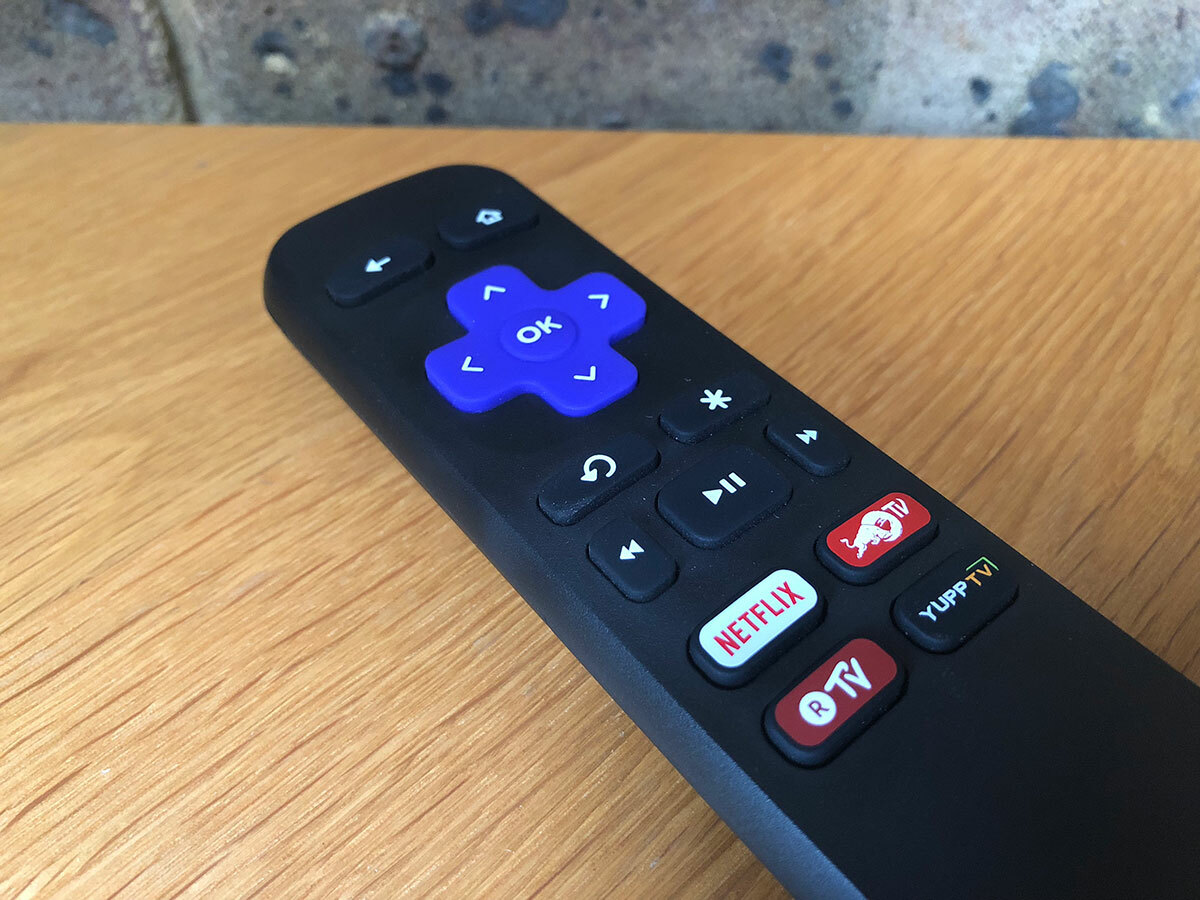 The second-gen Roku Express is reportedly five times faster than its predecessor. Owners of the original will notice a big improvement for sure, but it's still not the fastest or smoothest streaming stick around. You'll still get a bit of lag when scrolling, and a touch longer loading times than we've noticed elsewhere.
At £30, it's a perfectly acceptable level of performance, but for £10 more, you'll notice the Amazon Fire TV is a touch snappier – and provides a much better experience for Amazon Prime subscribers.
Picture performance is great though. Once buffered to the full 1080p resolution, video is crisp and sharp with plenty of detail. Nothing to grumble about here in the slightest.
In terms of apps, there's pretty much everything you could want. Netflix, Amazon Prime Video, BBC iPlayer, All 4, ITV Player and Demand 5 are on board – even Sky Store and Now TV are here for Sky programming.
There are thousands more lesser-known apps and streaming channels (split into genre in the channel store for easy browsing), as well as over 100 games. The games are much more simplistic than those offered by Amazon's app store though, if that's on your streaming stick list of must haves.
Roku's mobile app is worth a quick mention, as it offers a good – and sometimes handier – way to browse through the Roku interface. There's voice search functionality, but it's not as clever as Alexa's abilities on the Fire TV Stick – although it does a fine job for basic searching.
It also offers the ability to share music, photos and movies from your device on your TV, plus an option for "private listening", which will throw the sound from the TV to a pair of headphones connected to your device.
We tried this with a pair of Bluetooth headphones and found the sound to be out of sync though, so we'd recommend wired headphones for a better experience.
Roku Express (2017) Verdict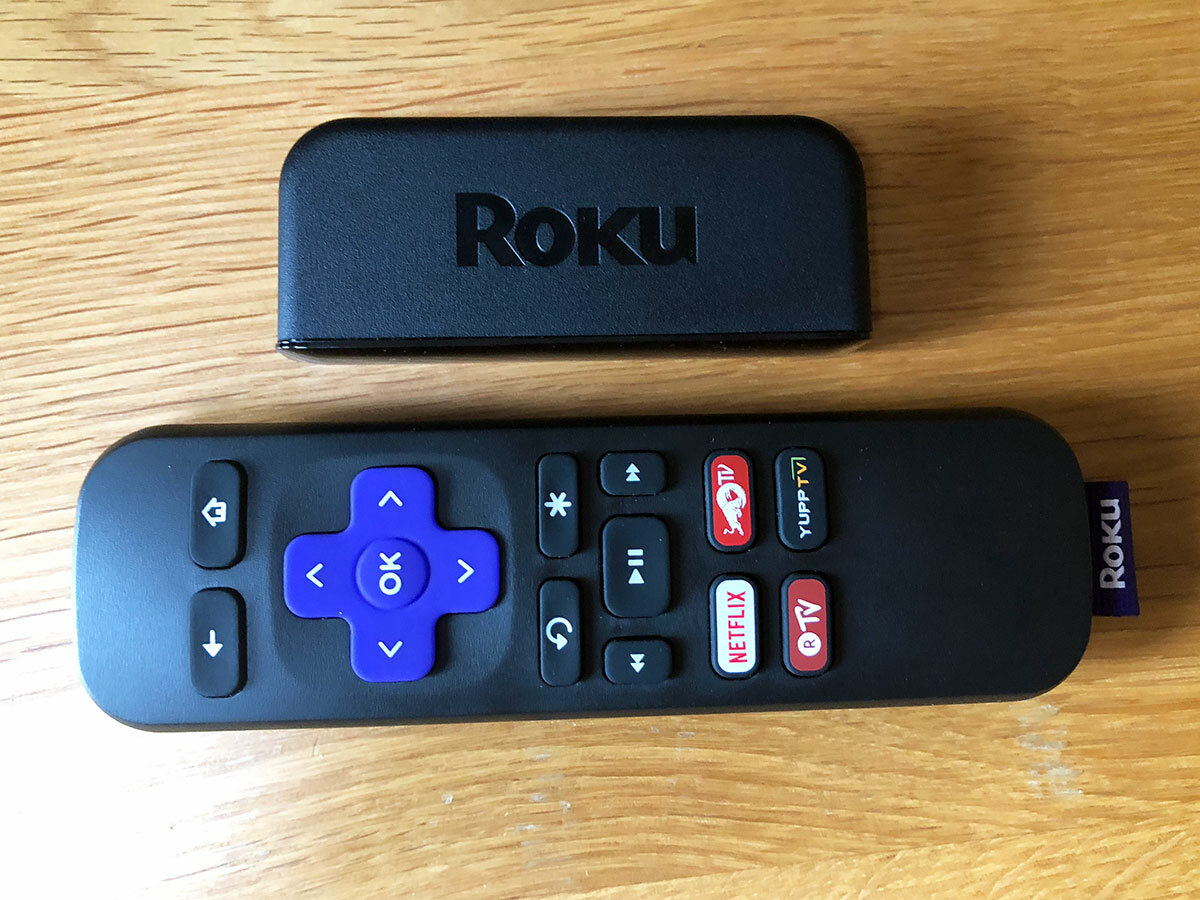 The Roku Express is a well-priced way of getting full HD streaming smarts into a not-so-clever telly, and at £30, it's bit of a bargain, but with some noticeable cuts to keep that price down. Having to keep the box on display is nowhere near as slick as other streaming sticks, which are easily hidden.
For £10 more, you'll get a prettier, slicker and more honed experience through the Fire TV Stick – plus better voice control – but one that's also much more Amazon focused, which could be annoying if you're not a Prime subscriber. The 1080p restriction means it's absolutely not for everyone now that UHD has plummeted in price, too.
As long as you won't be looking for 4K smarts anytime soon, the Roku Express offers a more neutral approach to streaming that's hard to argue with at this price, especially if you're looking to outfit a spare bedroom or bring your gran's TV kicking and screaming into 2017.
Stuff Says…
A simple and affordable way to get HD streaming smarts to a not-so-clever telly
Good Stuff
Great app selection
Easy to navigate
Improved performance
Cheap
Bad Stuff
Some dated app designs
Still not the fatest in use