Samsung Galaxy Buds 2 Pro review
End-to-end 24bit sound aims for audiophile appeal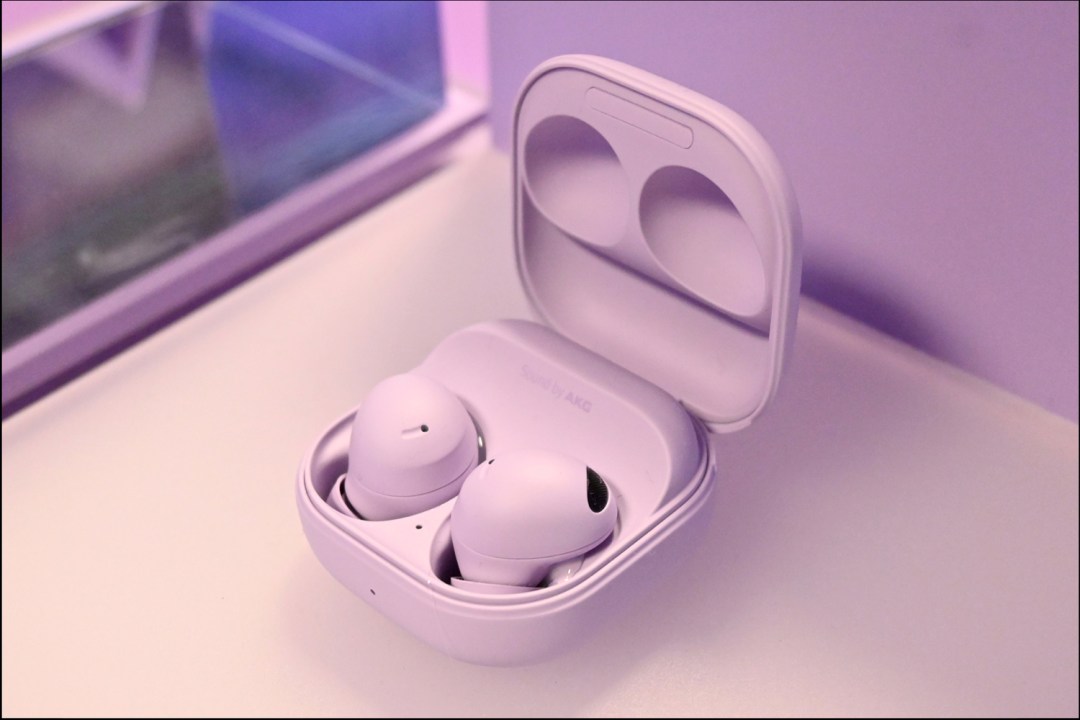 Samsung doesn't do things by halves, so you'd better believe the Galaxy Buds 2 Pro are busting with features. Active noise cancellation, spatial audio and wireless charging all go towards justifying the "Pro" label, as do audiophile-friendly features like end-to-end 24-bit playback. The AKG-tuned dual drivers promise high quality sound to boot.
The second-gen in-ears still manage to undercut the Apple AirPods Pro, while also gaining more audiophile-friendly features like end-to-end 24-bit playback. It all sounds pretty promising on paper – but do they hit all the right notes in reality?
Design & build: soft touch
Gloss and shine are out for 2022: apparently matte is where it's at. The Buds themselves and the charging case now have a soft-touch finish that's not as blingtastic as last year's version. That said, you can still pick up a pair in head-turning Bora Purple if that's what you're in to. The Graphite (black) and White versions are a little more subtle.
The shape of the case hasn't changed all that much, sticking to a squircle design with minimal branding, a USB-C port on the back and LED charging indicator up front. It slips into a pocket easily enough, though perhaps isn't quite as compact as some rival in-ears.
It might seem like the Buds haven't changed much either, but Samsung has managed to shrink each one down by around 15% compared to the first-gen model. They still use silicone ear tips to create a tight seal, with a wing-like shape that nestles comfortably in your ear. They fit brilliantly, and didn't fall out after some vigorous headbanging – although they're not quite so secure when running, with the left bud needing regular adjustment to stay in our ears, even after experimenting with different sized ear tips. IPx7 water resistance at least means they'll cope just fine as exercise in-ears.
Each bud has an air vent to help relieve pressure on your ears during long listening sessions. This is pretty common on top-tier in-ears right now, but we can't argue that it works well here. We kept the Buds 2 Pro in all day and had no complaints.
Features & software: where's your head at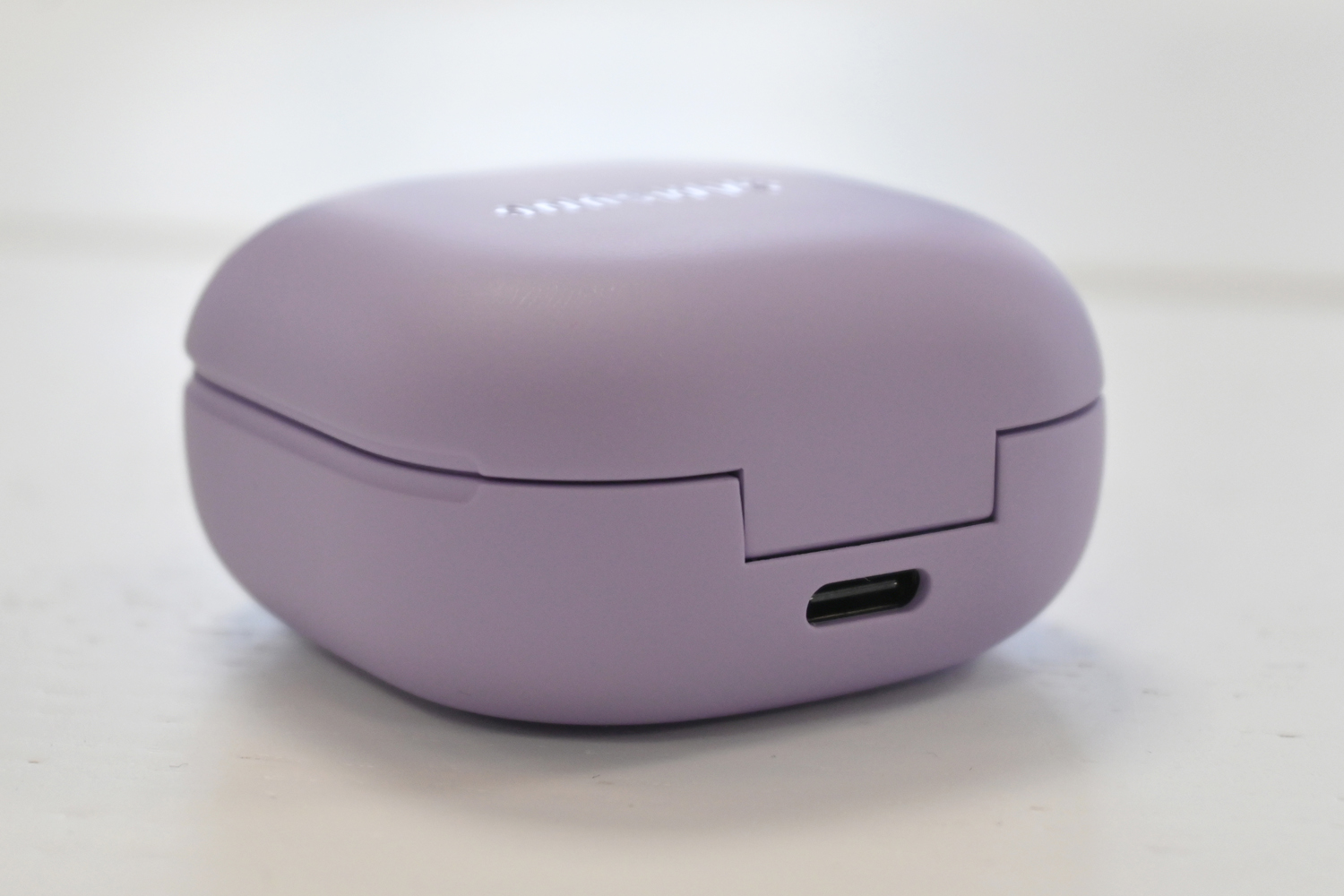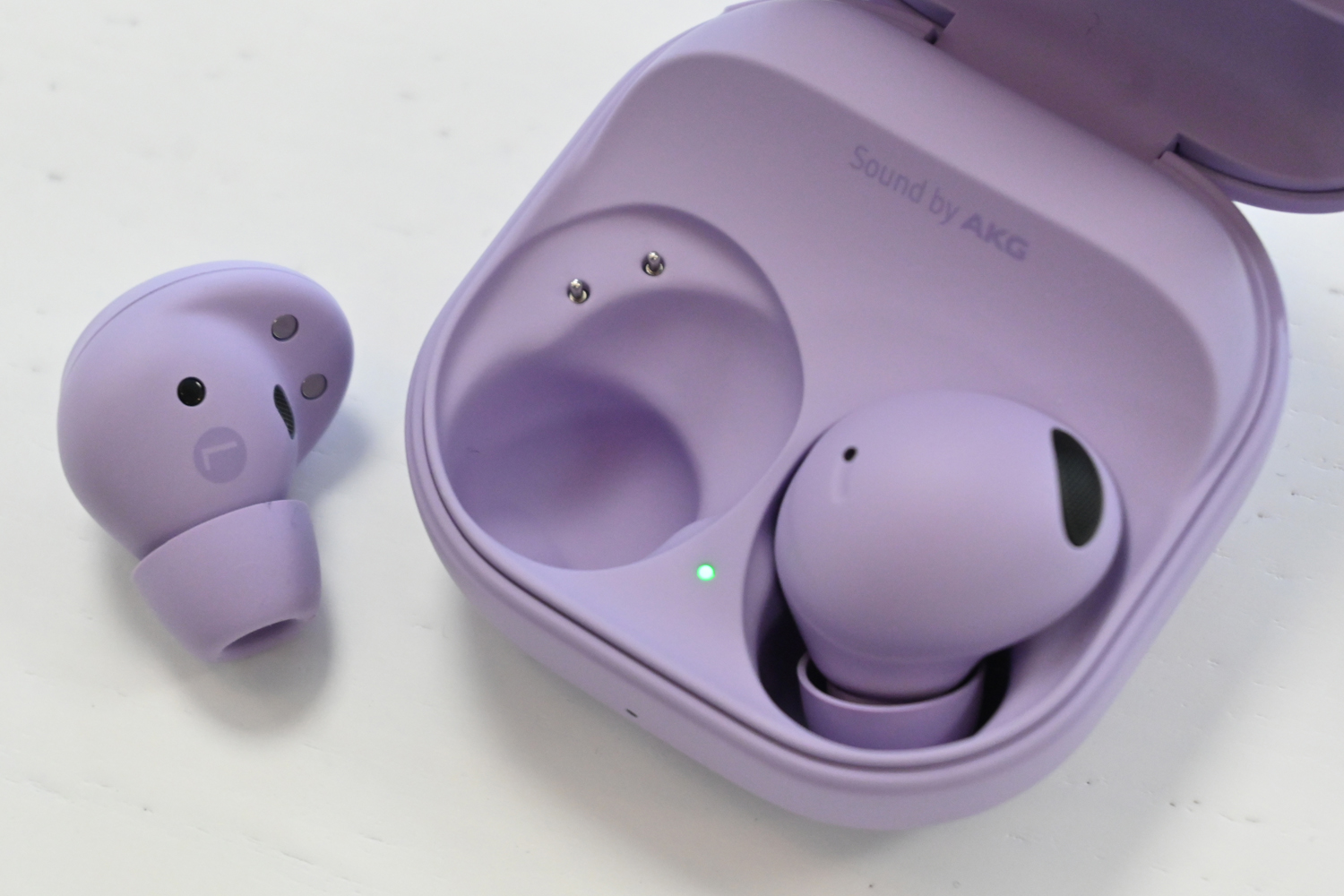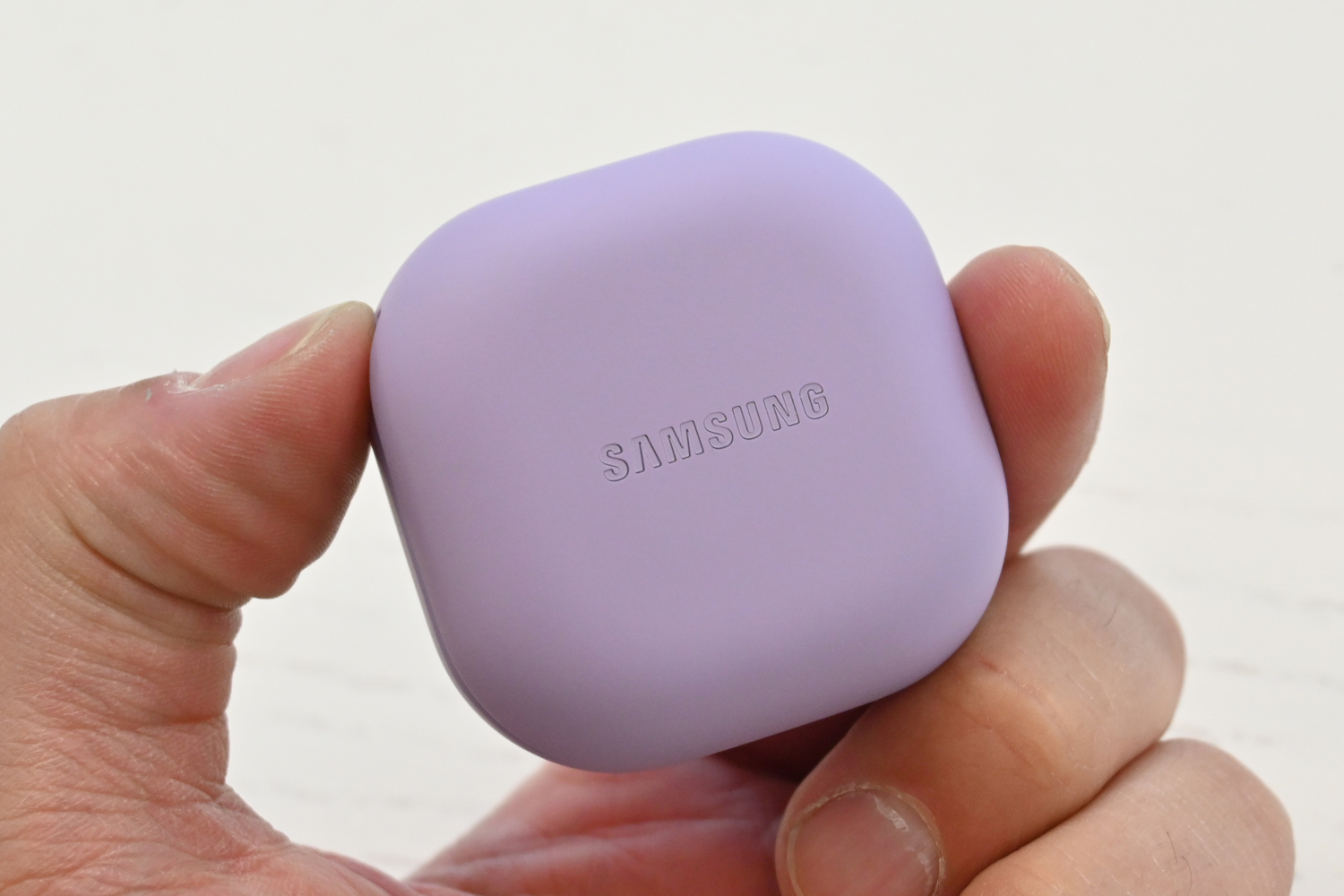 Samsung's top-tier earphones have had active noise cancellation for a while now, but this year's effort promises to be a bit smarter and knowing when and when not to silence the outside world. Start talking to someone and transparency mode automatically kicks in after a second or two, which is neat.
Low-frequency background hums are no challenge for the ANC algorithms, but higher-pitched chatter and sudden loud sounds are more of a struggle. They're a step behind the links of Bose and Sony for silencing the outside world, but are still effective for the price. ANC doesn't discolour the audio at all, but has keener ears might detect a slight hiss while it's active. Wind noise is nicely stripped back while on voice calls though.
Spacial audio makes a return, with Dolby Atmos-compatible head tracking for a more dynamic listening experience. Whether this is the next step in music mixing or merely a gimmick is up for debate (we reckon some tracks sound pretty good – others, not so much) but the effect is convincing. AirPods Pro aside, there aren't many in-ears that feel as accurate as these at knowing which way you're facing at any given moment.
Samsung is also bigging up the ability to pair the phones directly to one if it's 2022 model-year TVs, for private listening so as not to disturb the rest of the house. That's in addition to Auto Switch, which makes a return for quickly swapping between Samsung phones, tablets, laptops and other gear. We reckon it's on par with Apple's slickly integrated AirPods switching, but will be lost on anyone with Android devices from other manufacturers.
Samsung hasn't upgraded the Buds 2 Pro's battery at all, so it's a similar story to the OG Galaxy Buds Pro. Five hours of juice with ANC enabled isn't top-tier any more, although the case supplies three full top-ups with a sliver left in reserve. Owners of phones with power share will appreciate the wireless charging ability.
Sound quality: testing times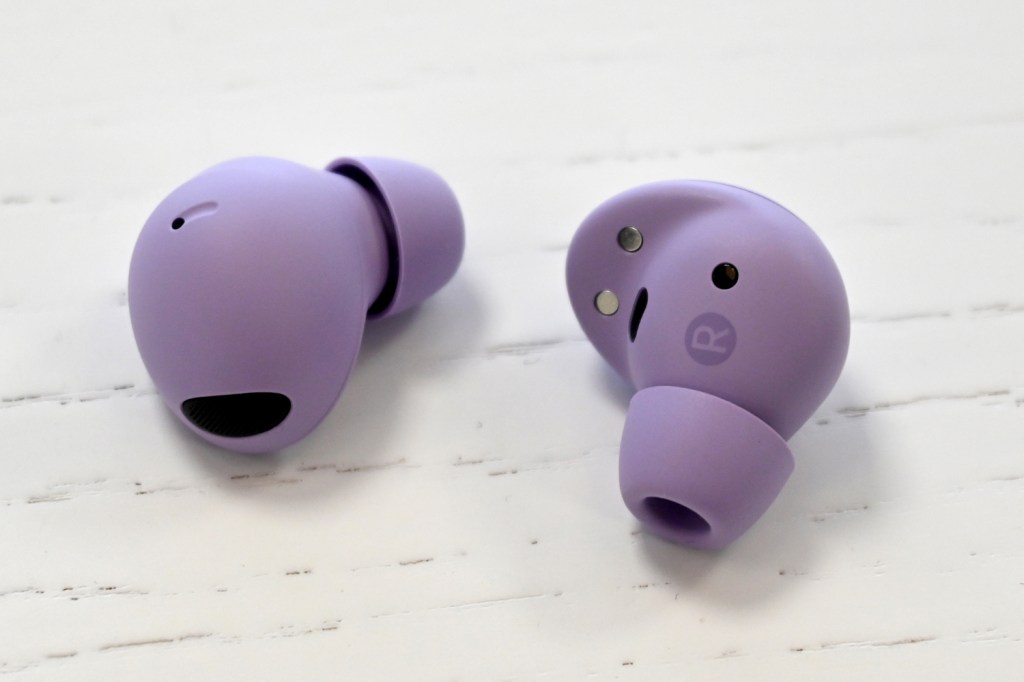 Given they use a dual-driver design, just like last year's Galaxy Buds Pro, we weren't expecting a massive difference in overall sound quality – although Samsung has mixed things up a bit here, with a 10mm woofer and 5.3mm tweeter driver.
Audio is detailed and dynamic, with a slight boost at either end of the frequency range. These are energetic in-ears, with a more bass-driven mix that slightly swamps vocal-driven tracks. They'll still please the majority, if not critical listeners, with no unpleasant sibilance at the high end.
Samsung's companion app lets you pick from a few EQ presets, but you can't make your own, and none are a major improvement over the standard setting. There's no ANC customisation either: just on, off, or ambient. The latter is handy for hearing tannoy announcements and the like. It kicks in automatically after a second or two when you're chatting to someone, so you don't need to fiddle with the buds themselves.
Samsung does have 24-bit audio on its side, as long as you're connected to one of the firm's more recent phones. The SSC codec already delivered adaptive bitrate playback on par with AptX adaptive, but here Samsung promises end-to-end 24bit from compatible hi-res sources. Everyone else must make do with AAC and SBC, which aren't cut out for hi-res playback.
Samsung Galaxy Buds 2 Pro verdict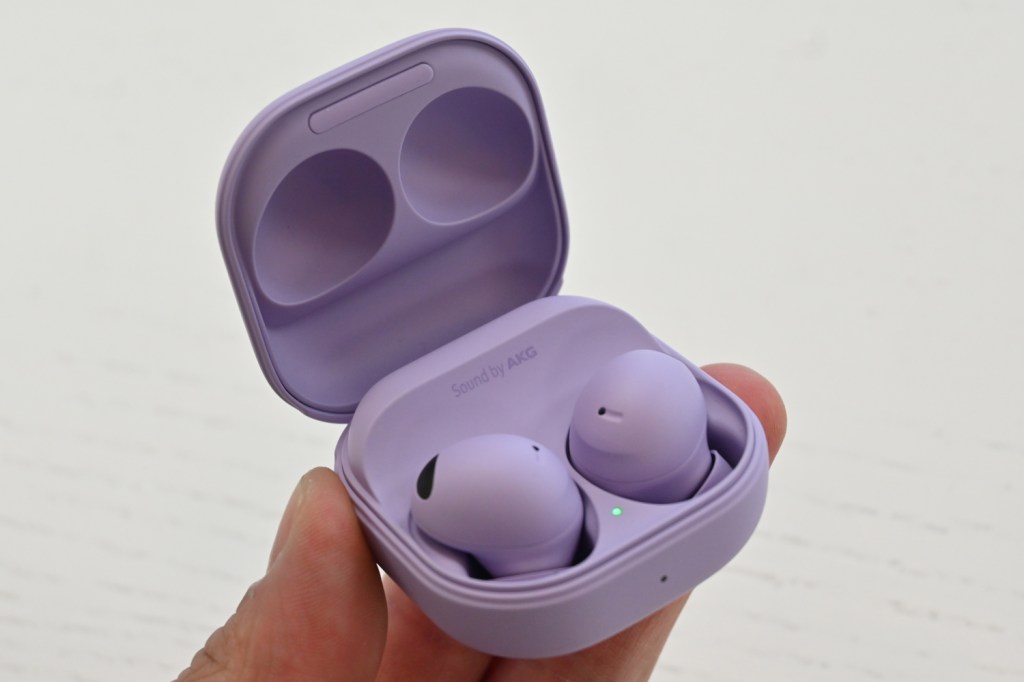 You could be forgiven for thinking there's little to the Galaxy Buds 2 Pro beyond a matte finish and new colour choices – but the changes are more than skin deep. Not only has Samsung managed to shrink them down, which results in a more comfortable fit and better passive isolation, but it has also improved the active noise cancellation too.
Smarter spacial audio, faster-acting ANC and the energetic sound signature we expect from AKG's tuning are all present and correct – but as before, you'll need a Samsung phone in your pocket to get the best out of them. Anyone with a different brand's hardware misses out on the best Bluetooth bitrate, and has to go through the rigmarole of pairing devices manually.
They do sound good for the money, though, and given how big Samsung's market share is, not many of the people picking a pair of these up will be getting a restricted experience.
Stuff Says…
Feature-stuffed and strong-sounding, but you'll need to own other Samsung kit to get the best from them
Good Stuff
Energetic and engaging sound
Doesn't skimp on features
Comfortable and pocket-friendly
Bad Stuff
Many features reserved for Samsung phones
ANC not the most effective at this price
Battery life only average
Samsung Galaxy Buds 2 Pro technical specifications
| | |
| --- | --- |
| Drivers | 10mm + 5.3mm dynamic |
| ANC | Yes |
| Bluetooth version | Bluetooth 5.3 |
| Codec support | AAC/SBC/SSC |
| Durability | IPX7 water resistant |
| Battery life | 5 hours / 28 hours (buds / case, ANC on) |
| Dimensions | 22x20x19mm, 5.5g (buds), 50x50x28mm, 43g (case) |