Samsung Galaxy Camera 2 review
Samsung's second smart snapper excels at sharing, but you'll pay for the privilege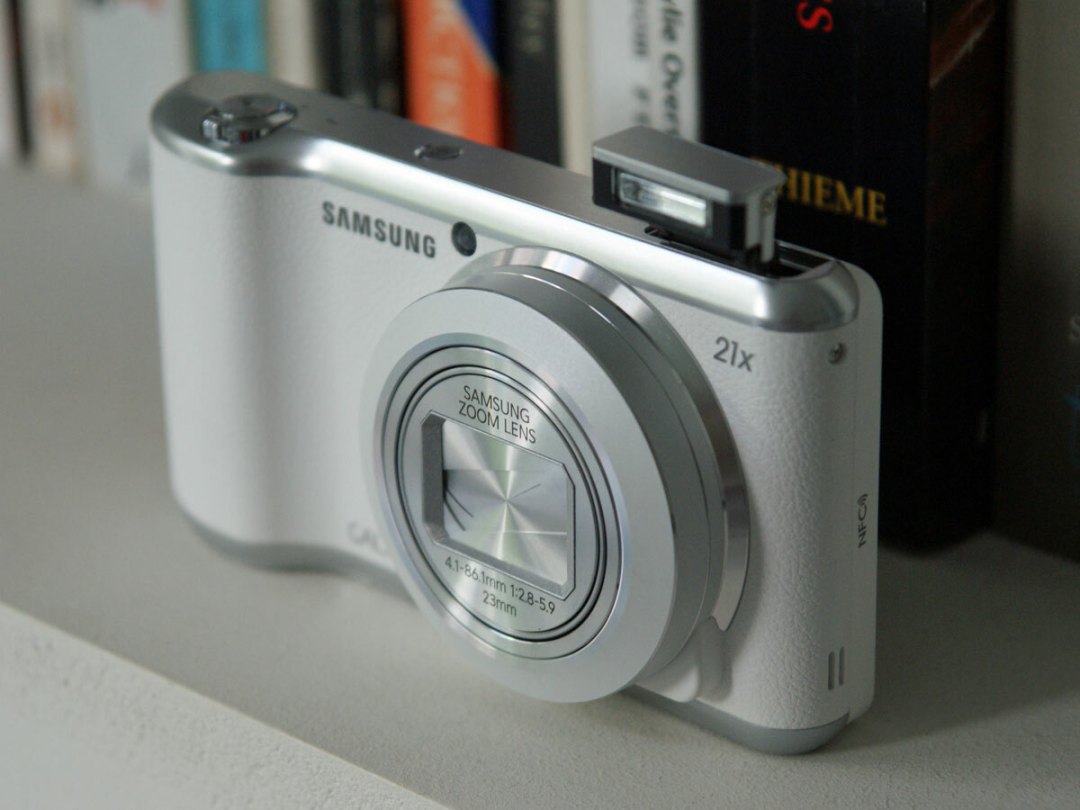 Samsung was the first manufacturer to introduce a 'proper' compact camera equipped with Android in the form of the Galaxy Camera, and one year later its successor has arrived, sporting a newer version of Android – but not a whole lot else in terms of innovation.
The Galaxy Camera 2's sensor, zoom lens and screen are all pretty much the same as those on its predecessor, so you're probably wondering: why upgrade? Read on and we'll tell you if you should.
Candy Crush snapper?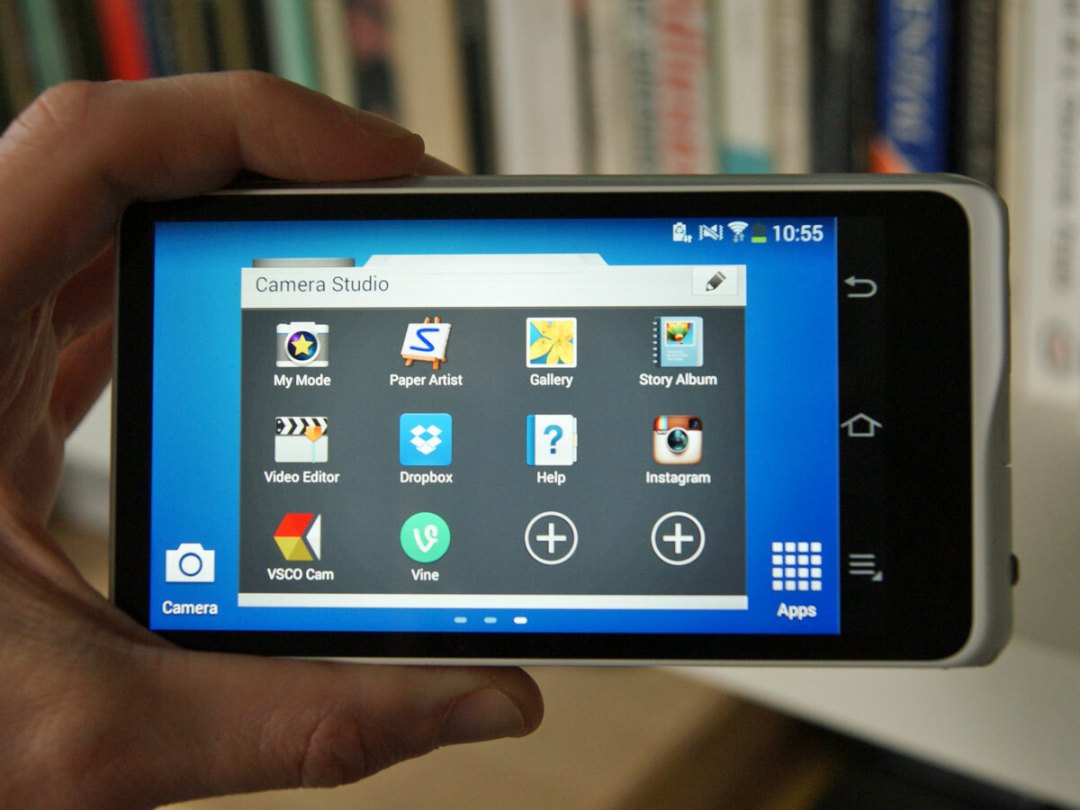 While the original Galaxy Camera came with Android 4.1.2 Jelly Bean, this one offers 4.3 Jelly Bean. It's not a major upgrade, in all honesty, but we won't gripe too much about it not being the latest 4.4 KitKat version of Google's operating system.
Why not? Well, this isn't a smartphone, and 4.3 runs the necessary photo, video and social media apps well enough, while also allowing you to listen to music (there's a 3.5mm headphone socket on board), play games and so on. The idea of playing games on a camera is odd, we know, but you can fire up Threes! or Candy Crush Saga if you want and they'll run as well as on any phone.
The photo app compatibility is the draw here though: as with the first Galaxy Camera, you can easily snap a good quality photo or video and upload it immediately to services such as Instagram and Facebook via Wi-Fi – and have it automatically backup to Dropbox (you get 50GB of free storage with the camera). The difference here? Not much, again. The Galaxy Camera 2 doesn't offer any connectivity options its predecessor didn't (both have a/b/g/n 2.4GHz and 5GHz Wi-Fi, Wi-Fi Direct and Bluetooth 4.0), but it does feature a very slightly faster processor: a quad-core 1.6GHz CPU as opposed to a quad-core 1.4GHz CPU.
There's also a slightly bigger battery aboard, which Samsung claims delivers around 400 shots per charge versus 340 on the first Galaxy Camera. We found it lasted a good three or four days of moderate use before we felt it needed recharging.
Selfie help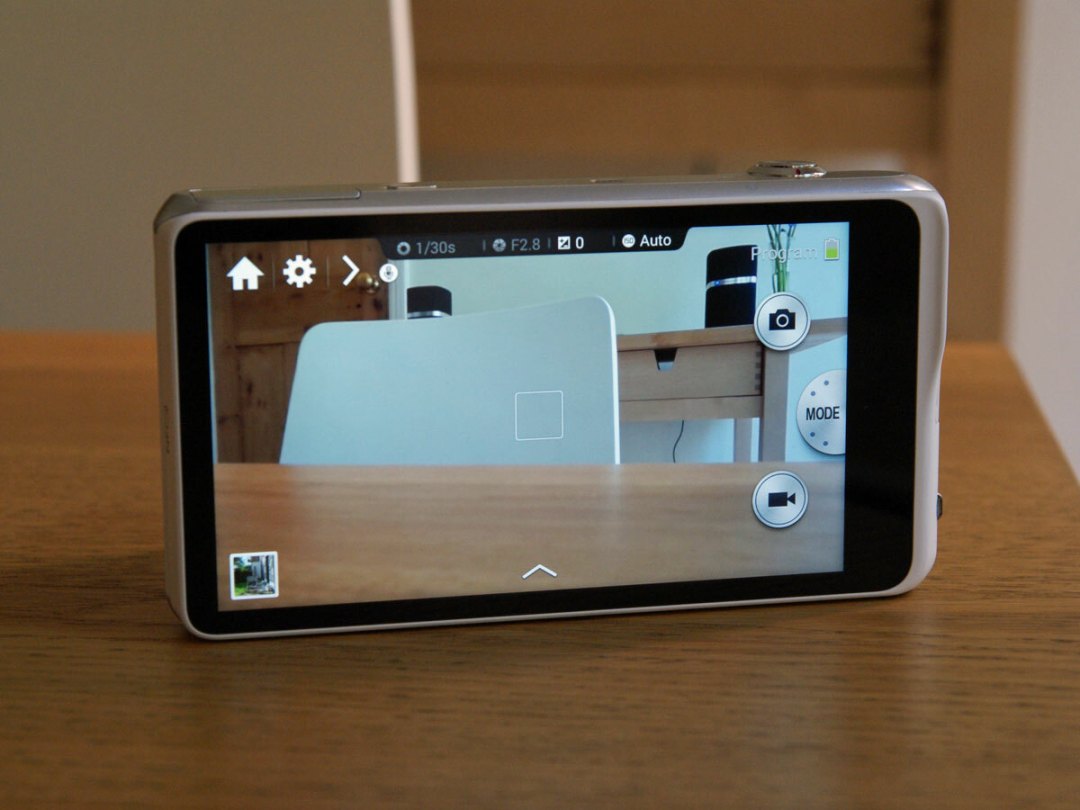 The 720p, 4.8in TFT display is the same as that on the original Galaxy Camera. With a pixel density of just over 300ppi, it's not as sharp as most smartphone screens – but it's sharper, and far larger, than most compact camera screens. The touch sensitivity works as well as could be expected, and overall it's a decent, if unremarkable display. Samsung claims its auto brightness mode means clear images even in bright sunlight, but we had trouble viewing it comfortably on a blazing morning without retreating into the shade.
With very few physical buttons, the screen is used for tweaking settings and selecting the focus point. You can initiate camera mode while in 'normal Android' by pressing the shutter button, and once within it you'll see dedicated on-screen buttons for capturing both stills and videos, as well as a Mode button which enables you to switch between Auto, Smart and Expert.
Smart mode now has 28 presets, nine more than on the first Galaxy Camera, including tricksy modes such as 'Selfie alarm' (which trips the shutter automatically when there are faces in frame, following a two-second warning tone), HDR and 4fps continuous shooting. You also get traditional scene presets including Landscape, Macro and Food.
The Expert mode, meanwhile, allows you to adjust almost any setting, plus there's a My Modes option, which gives you quick access to the last few you've used.
Samsung Galaxy Camera 2 tech specs
Sensor: 16.3MP CMOS
Optical zoom: 21x
OS: Android 4.3 Jelly Bean
Processor: Quad-core 1.6GHz
Movies:
1080p@30fps, 720p@60fps, 512p@120fps
Screen: 4.8in, 1280 x 720, TFT
Connectivity: NFC, Bluetooth 4.0, Wi-Fi, Wi-Fi Direct, HDMI
Storage: 8GB plus microSD up to 64GB
Battery: 2000mAh
Dimensions: 71.2 x 132.5 x 19.3mm
Weight: 283g
Quality control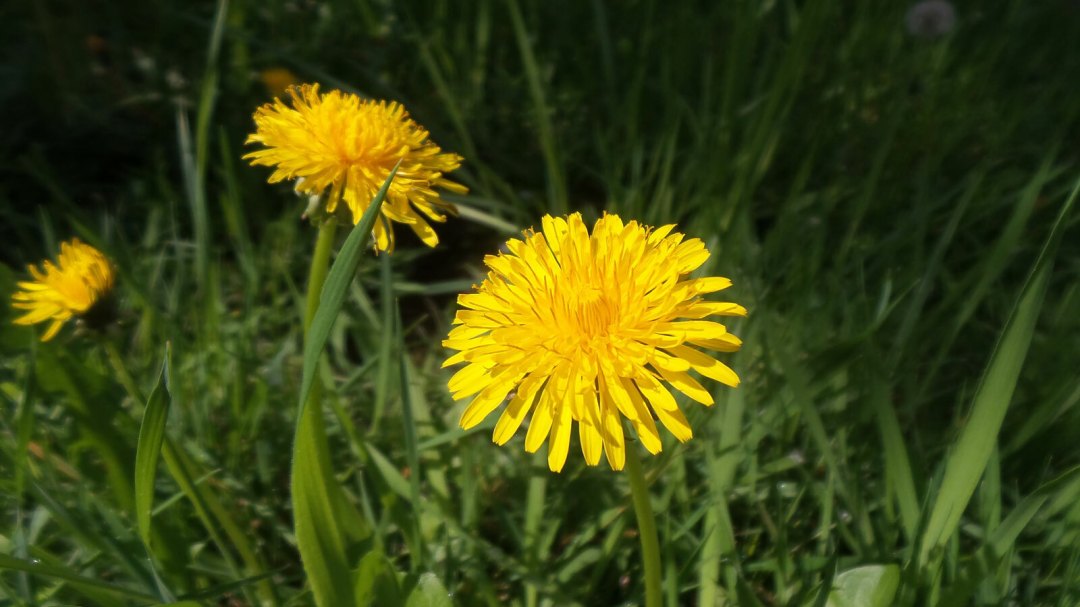 The Galaxy Camera 2 has a 1/2.3in 16.3MP CMOS sensor and 21x optical zoom lens, which is (yep, you've guessed it) precisely the same setup as the first Galaxy Camera. Ho-hum. We weren't particularly enraptured by the first model's photo and video quality, so for the replacement model to offer the same a year later… well, it's a big disappointment.
It's not that the images are terrible, because they're fine by mid-range compact camera standards. There's a pleasing amount of detail, noise isn't awful except at high ISO settings and colours are bright – but given that the Galaxy Camera 2 is being sold for £400 and is one of the few compacts with Android, we were expecting something a bit more special.
The 1080p and 720p videos are similarly acceptable without being excellent: smoother than you'd expect from a smartphone thanks to the inclusion of optical image stabilisation, but really nothing special. There's no sign of 4K here, for instance.
White elephant?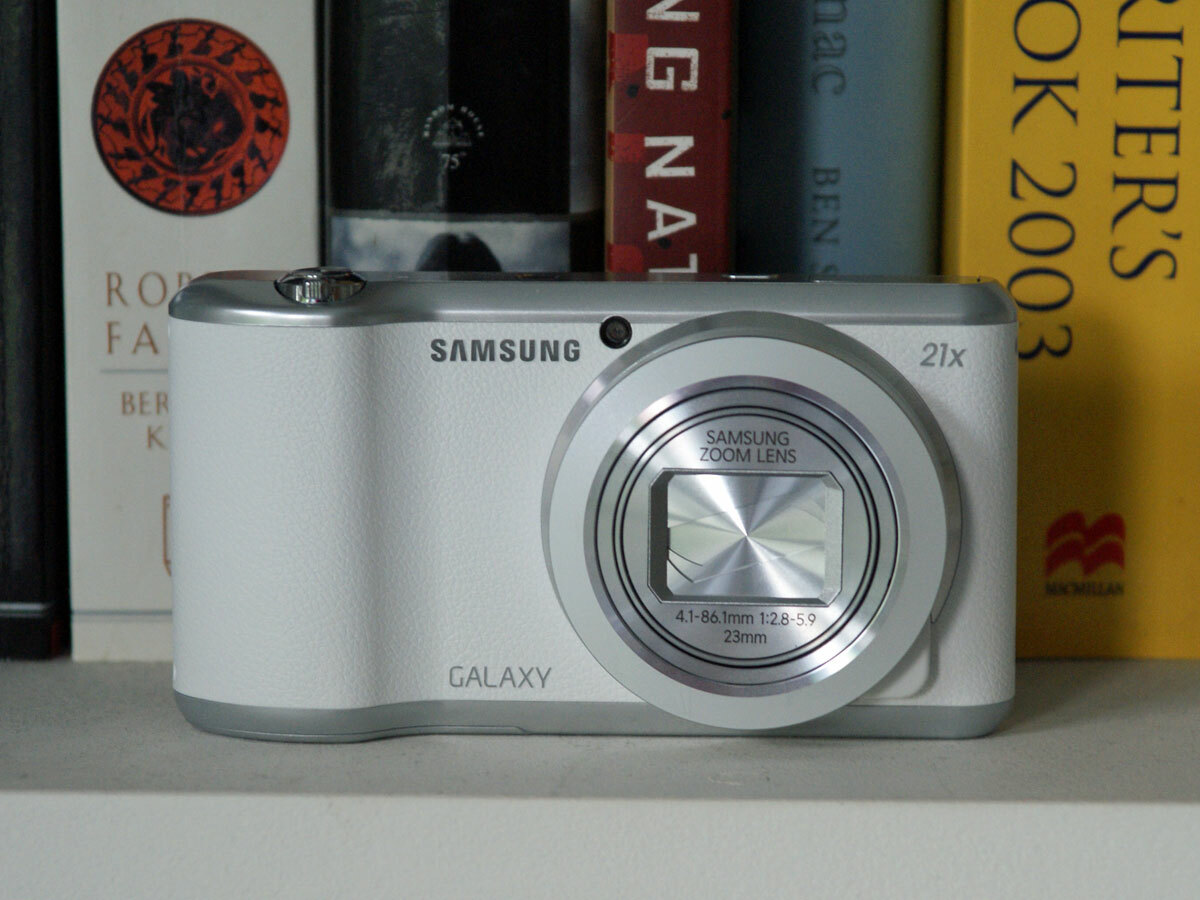 Again, it's a case of spot the difference here, with the Galaxy Camera 2 sharing a shape and control layout with the Galaxy Camera. The buttons, pop-up flash and zoom rocker are all in the same places, as is the grip on the right side. Like its predecessor, it's surprisingly large and wide for a compact camera (a consequence of having such a big screen at the back) but not especially heavy – you can easily hold it with one hand.
The variations are merely cosmetic, with the new model sporting a textured, leather-look (but hard plastic) body with silver panels at the top and bottom. Two colour finishes are available: white, which we were sent and were embarrassed to use in public due to its TOWIE-ness; and black, which seems like the sensible choice for anyone who spends less than half of their free time prostrated under a 'cheeky sunbed'.
Samsung Galaxy Camera 2 verdict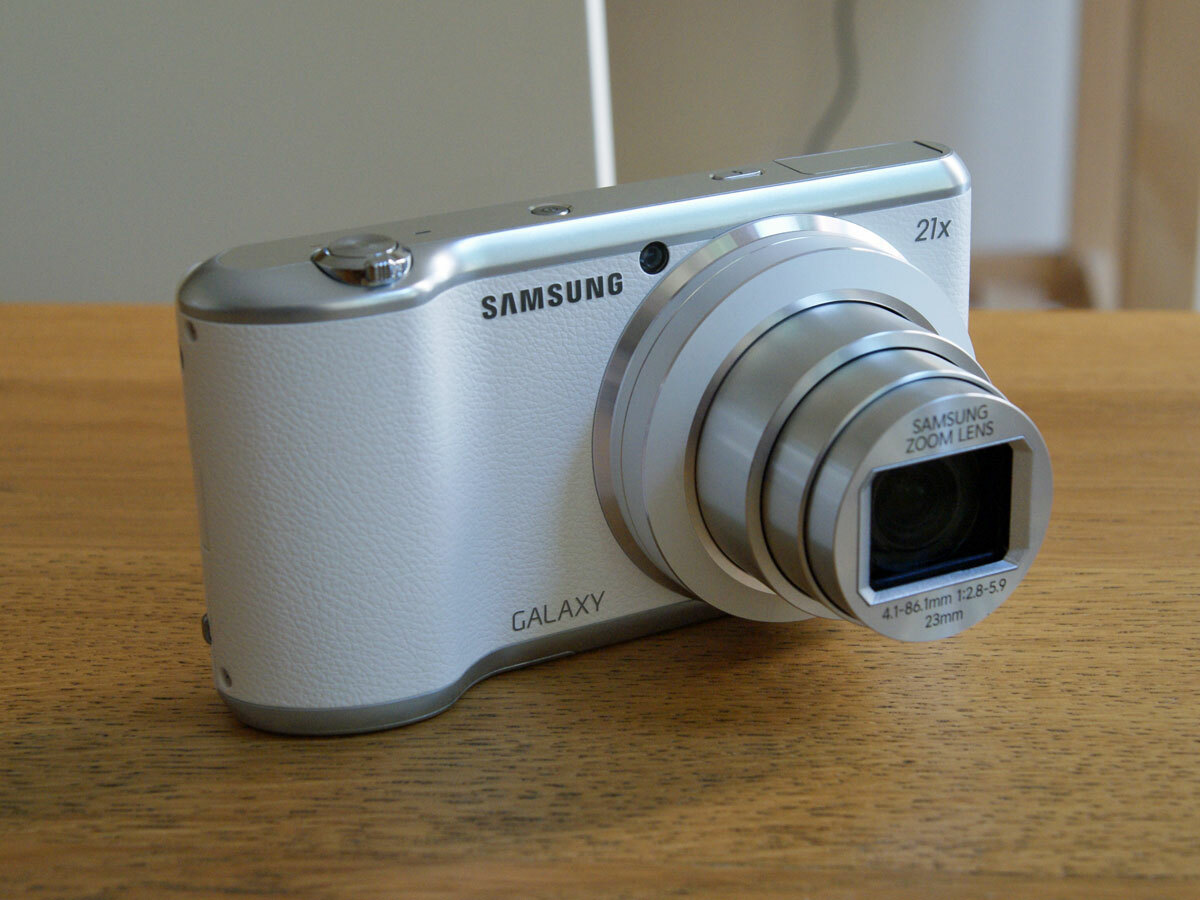 The Samsung Galaxy Camera 2 doesn't come across as an entirely new product, but more a minor update of last year's model – there are no significant changes, bar the slight update to the OS. It's a move that's somewhat out of character for a company such as Samsung, which thrives on innovating faster than most of its rivals.
If you own the first Galaxy Camera, there's absolutely no point in replacing it with this one, and the £400 price tag also seems steep for those looking to buy their first Android compact. The sharing and backup features remain impressive, but the photo quality needed a bump – and it hasn't got it here.
For the same price you could buy Canon's excellent pro compact the Powershot G16 or the supremely desirable Fujifilm X20, and both would do a better job of giving you what you (presumably) want a camera for: great photographs.
If you're more bothered about getting a snapper with photo-sharing and Android skills, maybe wait until the forthcoming Galaxy K Zoom appears; hopefully that will justify its price in a way the Galaxy Camera 2 can't quite manage to.
READ MORE: The 10 best compact cameras in the world right now
Stuff Says…
Minor improvements over last year's model make this feel oddly outdated, despite its Android smarts
Good Stuff
Android 4.3 means easy app sharing
Impressively large, sharp screen
50GB of free Dropbox storage
Bad Stuff
Taste-free looks
Image quality is merely OK
Almost unchanged from first Galaxy Camera