Samsung Galaxy S10 5G review
As good as 5G gets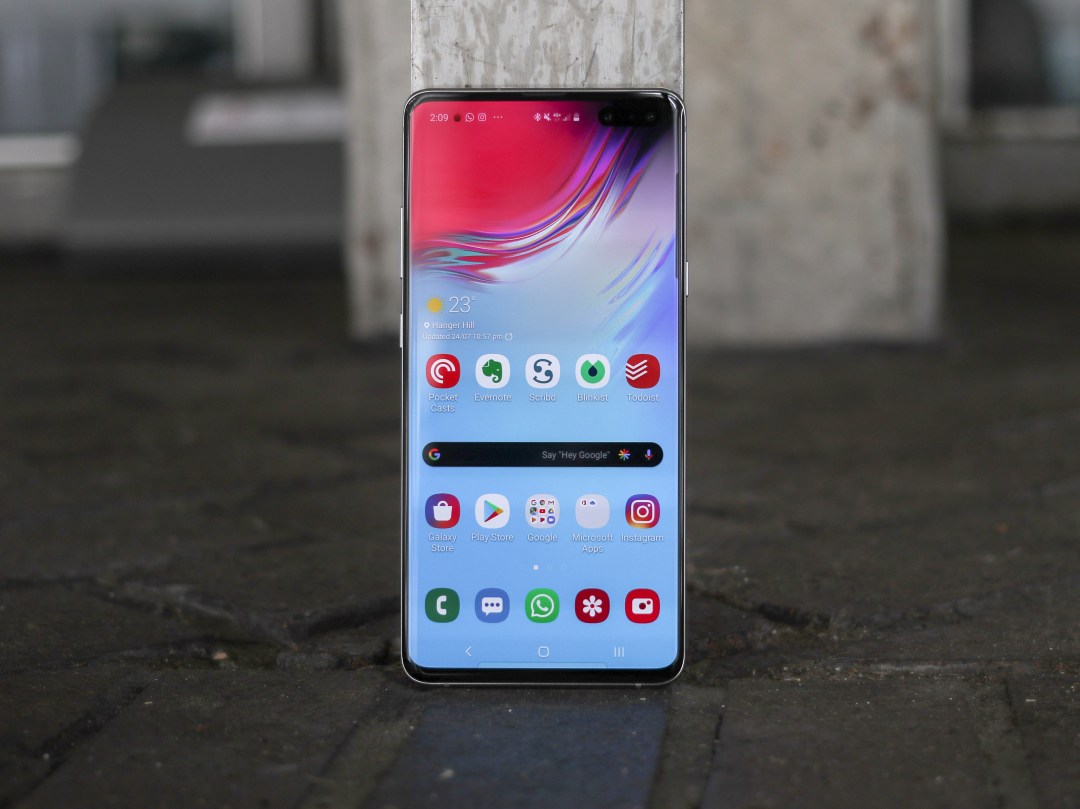 The Samsung Galaxy S10 5G pulls out all the stops, starting with its best-in-class screen, sleek finish, and six cameras that deliver. Factor in the 5G speeds it can hit, and we're almost sold, even with its £1,099 asking price – but just how good your S10 5G is will depend on exactly where you are.
If you're going for a 5G phone, 5G coverage needs to reach you; otherwise, you might as well just opt for a much cheaper 4G phone and contract. At the time of writing this review, only EE and Vodafone have gone live with their 5G services in the UK. Coverage is sparse right now, but the upshot is, it's only going to get better.
The other reason your experience of the Galaxy S10 5G will depend on where you are comes down to the phone's processor. If you're in the US, you get the Snapdragon 855, which has impressed us countless times, powering phones like the OnePlus 7 Pro, the Sony Xperia 1 and the Oppo Reno 10X Zoom; it's a cracking chipset. If, however, you're in the UK, you'll be getting the Exynos 9820. That's the version we reviewed, and in the S10s of old, it's been the weaker of the two.
Is there enough crammed inside the S10 5G Exynos version to make it a great device, though?
Design: How big?
Given its mammoth screen, the Galaxy S10 5G is surprisingly sleek, combining curved Gorilla Glass 6 with polished metal, and creating eye candy that feels as good as it looks. From the front, it's almost all screen, with an 89.4% screen-to-body ratio. There's a double punch-hole selfie camera in the top right and very thin bezels that frame the screen.
Dotted around the buffed aluminum frame are power, volume, and Bixby buttons. There's also a headphone jack, stereo speakers and a SIM slot.
The back of the phone sports a more pronounced curve than the front, and that's where the S10 5G's colour is showcased. Available in three colours, Crown Silver, Majestic Black and Royal Gold, we reviewed the silver version and it's by far our preferred choice for keeping fingerprints at bay. The back is also where the quadruple-camera sits horizontally on the back of the phone.
If you're a fan of skinny jeans, the S10 5G is big, so our advice would be to try before you buy. That said, we didn't find it totally unwieldy; it did fit in our pocket and our hand, and felt special given the sheer quality of the phone's fit and finish.
Screen: Infinity Oblong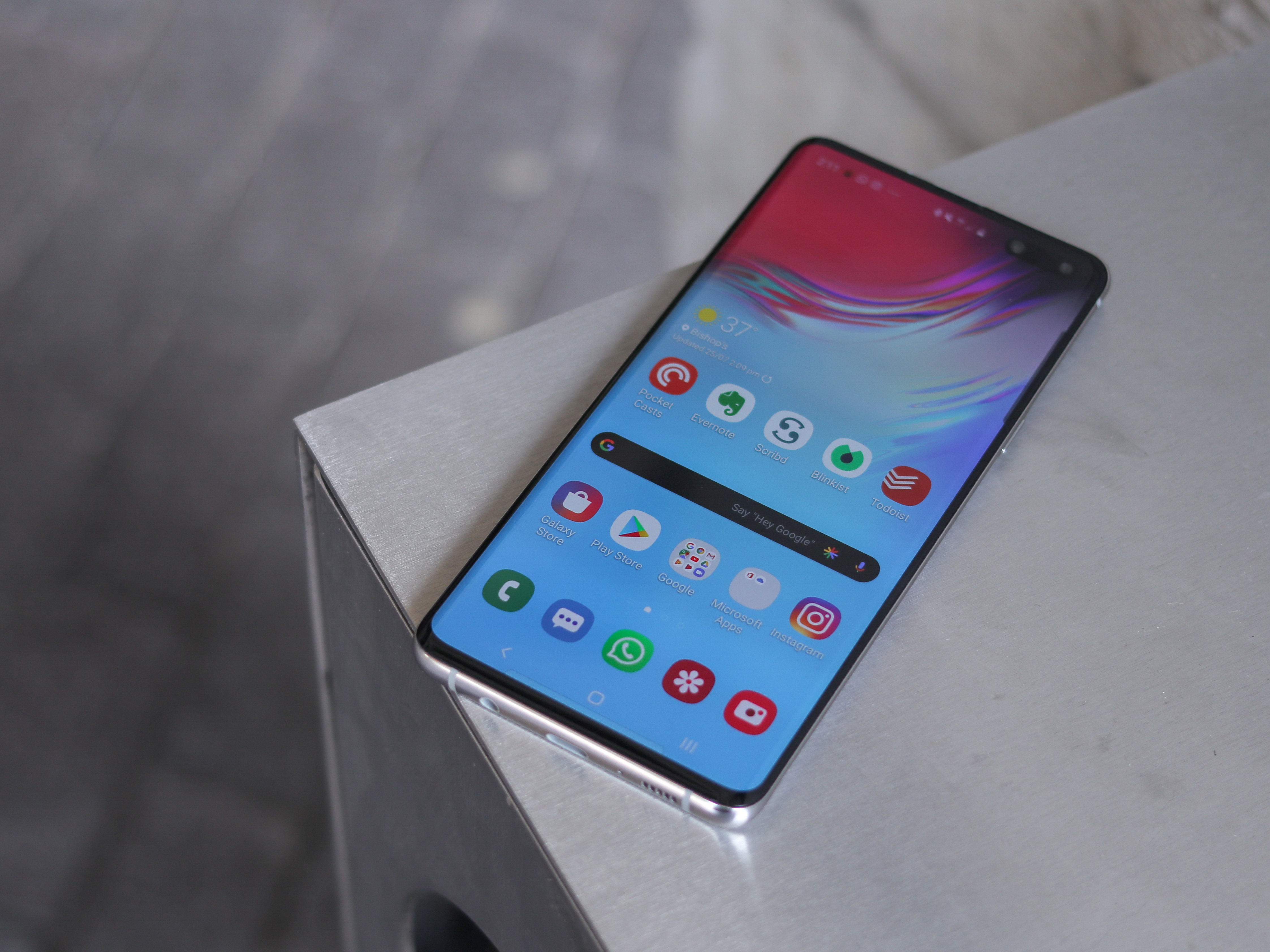 At 6.7 inches, the Samsung Galaxy S10 5G's screen is the biggest display money can buy when it comes to mainstream smartphones. It isn't just big though, it's also glorious. Samsung's Super AMOLED tech combines with pin-sharp 1440 x 3040 resolution, delivering a pixel density of 500PPI.
Brightness gets high, so outdoor viewing is never an issue, and viewing angles are really strong for an AMOLED, too. By default, colours look rich but tempered, although if you want to boost the zing-factor to another level, there's a Vivid Mode that makes life inside your smartphone look like a Willy Wonka world of pop and fizz.
The S10 5G features one of Samsung's fancy new Infinity-O displays, which removes the need for a notch by cutting out a hole where the selfie camera sits. Having an oblong missing from your screen's top right does take some getting used to, and, we actually prefer a subtle water droplet notch as found on the Huawei P30 Pro.
That said, the phone is thinner and lighter than the OnePlus 7 Pro and the Oppo Reno 10X, both of which have pop-up cameras – part of the reason the S10 5G feels manageable, so we're also glad it doesn't have one of those.
What's more, we're big fans of pictures taken on the front camera of the S10 5G, so if a noticeable oblong cutout can be justified by sensational selfies, you, like us will happily get used to it.
Software: Heavy, but handy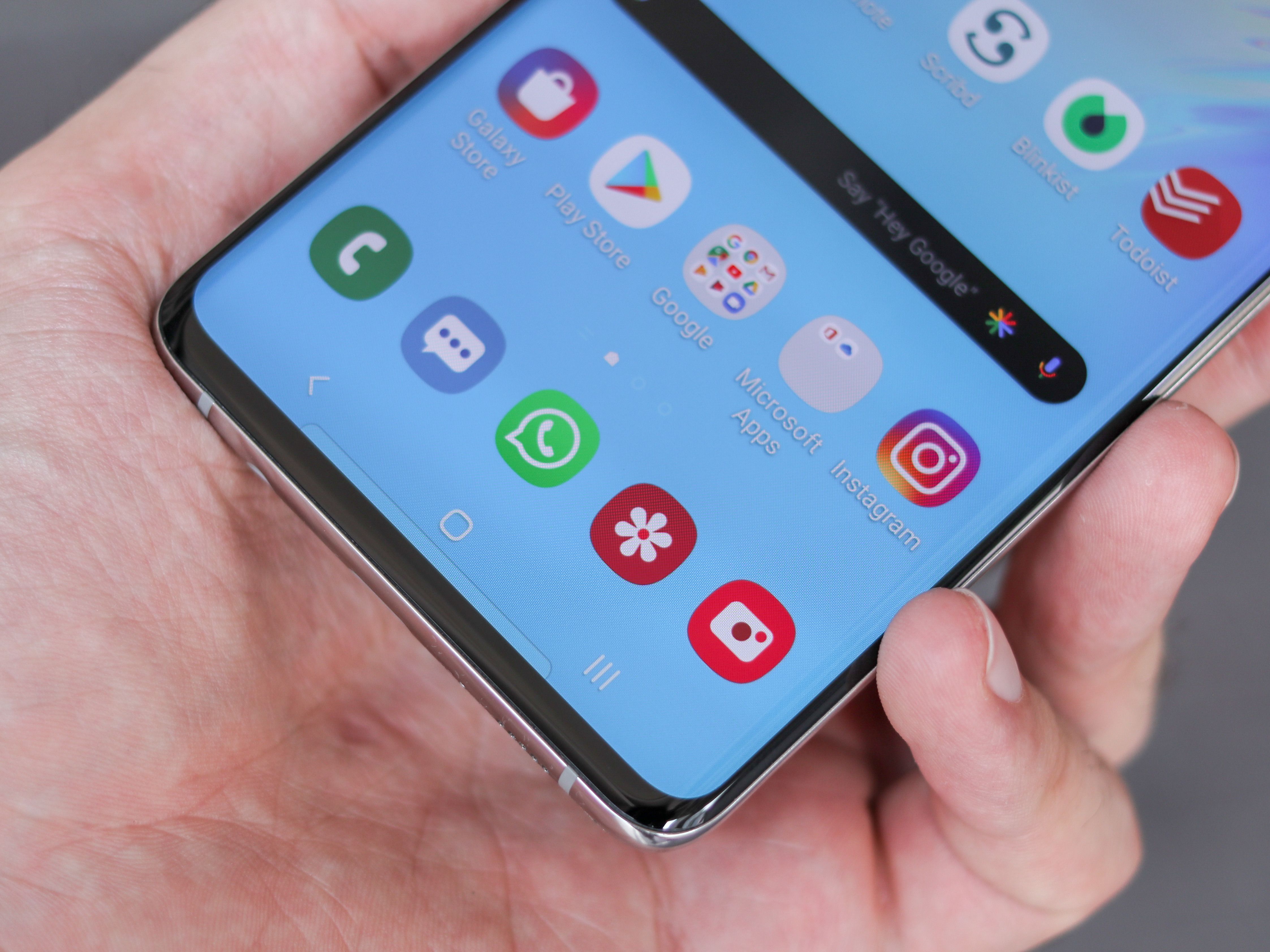 The S10 5G runs Android 9 with Samsung's One UI over the top. This is a streamlined version of Samsung's old TouchWiz, and a smooth UI to navigate through in day-to-day use.
Like most Androids, the Galaxy S10 5G features a customisable home screen. It has a grid layout that can be resized, you can add new home screens, deploy app shortcuts and widgets across them at will, and there's a Bixby Home screen on the left.
Bixby is Samsung's digital assistant, and if, like we used to, you do all you can to avoid it in favour of Google's assistant, the left-hand screen can be hidden. Unfortunately, the same can't be said of the Bixby button on the phone's left side, and it can't be remapped either.
If you do want to give Bixby a chance though, the Bixby Home screen displays nearby points of interest, news, suggested Spotify tracks, YouTube videos and gifs, while also pulling up old shots from your gallery, dropping a nostalgia bomb when you least expect it… you may want to get rid of pictures of you and your ex from now.
Bixby also features Routines, an 'If this then that' automated system, which, in tandem with the phone's digital wellbeing centre, is a great way of curbing your smartphone usage. For example, we set a routine for our WiFi and mobile data to switch off at 10:30 p.m., and switch back on at 6:30 a.m, thereby cutting the cord to the rest of the world on school nights.
The Bixby Voice feature, once a janky, unusable obstacle which kept firing up when we accidentally pressed the Bixby button on old Samsung phones, is much better this time around. "Show me pictures of cats", "Change the brightness", "What calendar events do I have today?" – all these work, going beyond Google Assistant when it comes to giving you access to your device with your voice.
There's also a lot of Samsung software that you can opt in to pre-install. The fact that it's opt-in is great, making the software experience significantly better than the obnoxiously overbearing Oppo Reno 10X Zoom. That said, the Galaxy Apps store is still gloopy by comparison to the Google Play Store, and that part isn't optional.
Samsung's clearly done a lot to enrichen the S10-series' UI, and in most ways, it's succeeded. The S10 5G delivers a premium interface that steps ahead of the pack with customisations that are welcome for the most part.
Camera: A defocusing dream
If you want the best Samsung Galaxy S10 camera setup, it's here. Six cameras in total, a combined 50MP+ across the front and back of the phone, and the motherload of background defocus modes deliver depth-sensing like no other.
The reason these cameras get depth is down to the fact the main camera and the selfie camera include a Time of Flight (ToF) sensor. This shoots out a signal and measures the time it takes for that signal to bounce off an object and back to the camera. It's not the first time we've seen these; the P30 Pro has one on the back, and the LG G8 ThinQ has one on the front. This tech is much more accurate when it comes to gauging depth than multiple traditional cameras.
For that reason, the Galaxy S10 5G is the dream for anyone who loves a bit of background defocusing, and it works for videos, too.
Before diving into image quality, it's worth talking about specs, and other than the ToF camera, it's very similar to the other S10s. There's a 12 MP, f/1.5-2.4 (variable aperture) primary camera with OIS, a 12 MP, f/2.4 telephoto camera with OIS, and a 16 MP, f/2.2, ultrawide camera. As for the front, it's a 10MP selfie cam with an f/1.9 aperture and autofocus.
Shooting modes are also extensive, with everything from full-automatic through to manual mode. There's also a long exposure night mode, which has finally made its way onto the Galaxy line, and the Live Focus (background defocus) mode works across both front and rear cameras, across photos and videos, with extensive defocus effects you can apply after the beat.
The picture quality doesn't disappoint. The three fields of view combined with the range of modes give you an imaging Swiss Army Knife with which to capture everything beautifully, from gigs to casual snaps.
Clarity across lighting conditions is very good, and while Samsung does sharpen detail and pop colour a fair bit, everything is optimised for the S10 5G's screen. The optical image stabilisation, paired with the phone's wide aperture, means that even in low light, images showcase a fair amount of detail, and the new night mode is a treat, exposing the shot for longer to grab more light in seriously bleak conditions. This is a great addition to the mix, and while it doesn't perform as well as the Pixel 3 or Huawei P30 Pro, it outperforms the iPhone Xs tenfold.
Selfies shot on the S10 5G look great. The front camera strikes the balance between flattering and realistic, and that extends to video, too. Speaking of which, video can be recorded at up to 4K across both the front and rear cameras, with the rear cam recording at up to 60fps. The image stabilisation across both is immense, as too is the general quality.
We'd go so far as to say the S10 5G is one of the best smartphones around if you're a vlogger, if not the best, and the inclusion of the background defocus selfie video is great. While the effect doesn't work perfectly all the time, it outperforms the competition, elevating selfie videos nicely.
Performance: On fire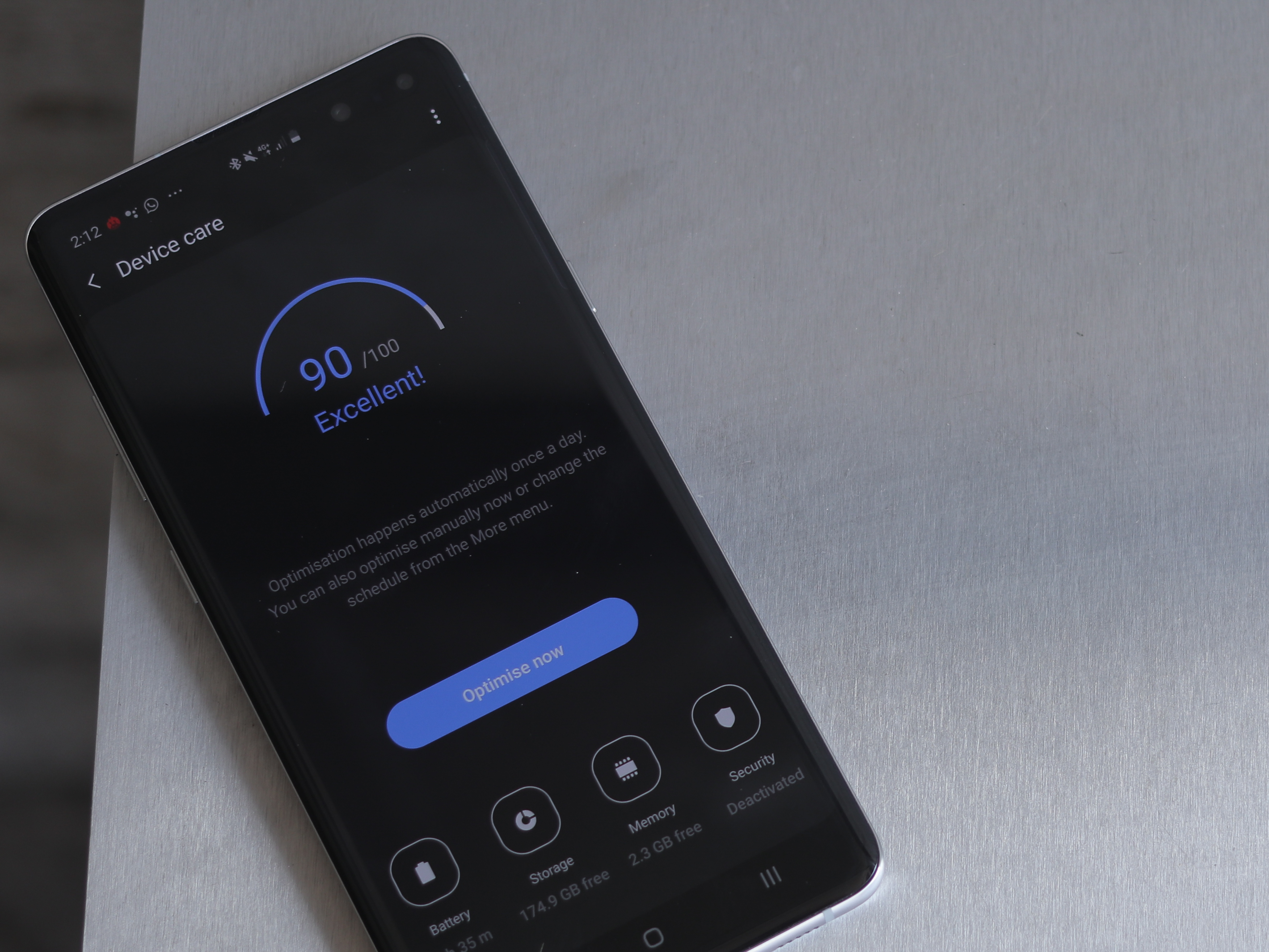 The Samsung Galaxy S10+ has an Exynos 9820 CPU in the UK. It's an 8nm processor with eight cores and a lot of phone to power. That's all coupled with 8GB RAM, which is great, despite the fact some other phones like the OnePlus 7 Pro offer as much as 12GB.
Benchmarks impress, with an Antutu score of 315,453. Meanwhile, its Geekbench 4 score is 9640 Multi-Core. While that can't stack up to the iPhone XS Max, and falls behind top-tier Snapdragon 855 devices too, it's still enough power to deliver smooth day-to-day interaction and top-tier 3D gaming without any hitches.
The sound from the stereo speakers is also great, with Dolby Atmos tuning. The phone gets loud, there's a decent amount of sound separation and you can tweak the sound EQ in the phone's settings.
The Galaxy S10 5G is sorted when it comes to storage and connections, with 256GB of internal space, a headphone jack, NFC, wireless charging, reverse wireless charging and fast charging, up to 25W.
It isn't all roses, though. The phone gets hotter than your average flagship, as too did the S10 and the S10+ Exynos versions. Also, despite its huge, 4500mAh battery, it doesn't last any longer than a day with relatively heavy use. In fact, it fell short for us on occasions, dying by around 10pm, before we made it back home.
Of course, we can't talk about the Galaxy S10 5G without talking about the 5G part in a bit more detail. Specifically, we reviewed the phone in London on Vodafone's 5G network, and in the first few weeks of the service being live, no less. As a result, to say the coverage was spotty is an understatement – we had to hunt for it.
There are currently 14 active spots in London. However, even when we found 5G signal, we were never able to get speeds above 200Mbps, with the average 5G speeds looking more like 70–120Mbps. This wasn't much slower than our Huawei P30 Pro's data speeds on 4G, on which we recorded 50–80Mbps downloads in the same environments. These stats are way behind Vodafone's online claim: "Where 5G will work at average speeds of 150–200Mbps, 4G works at average speeds of 23–35Mbps".
This isn't an indictment against the phone, it's great to see 5G hardware is already so slick, but will likely hit the point home: in July 2019, 5G is a nice-to-have for early adopters, not a need-to-have. Still, it was a lot of fun downloading an HD episode of Queer Eye in a few seconds.
Samsung Galaxy S10 5G verdict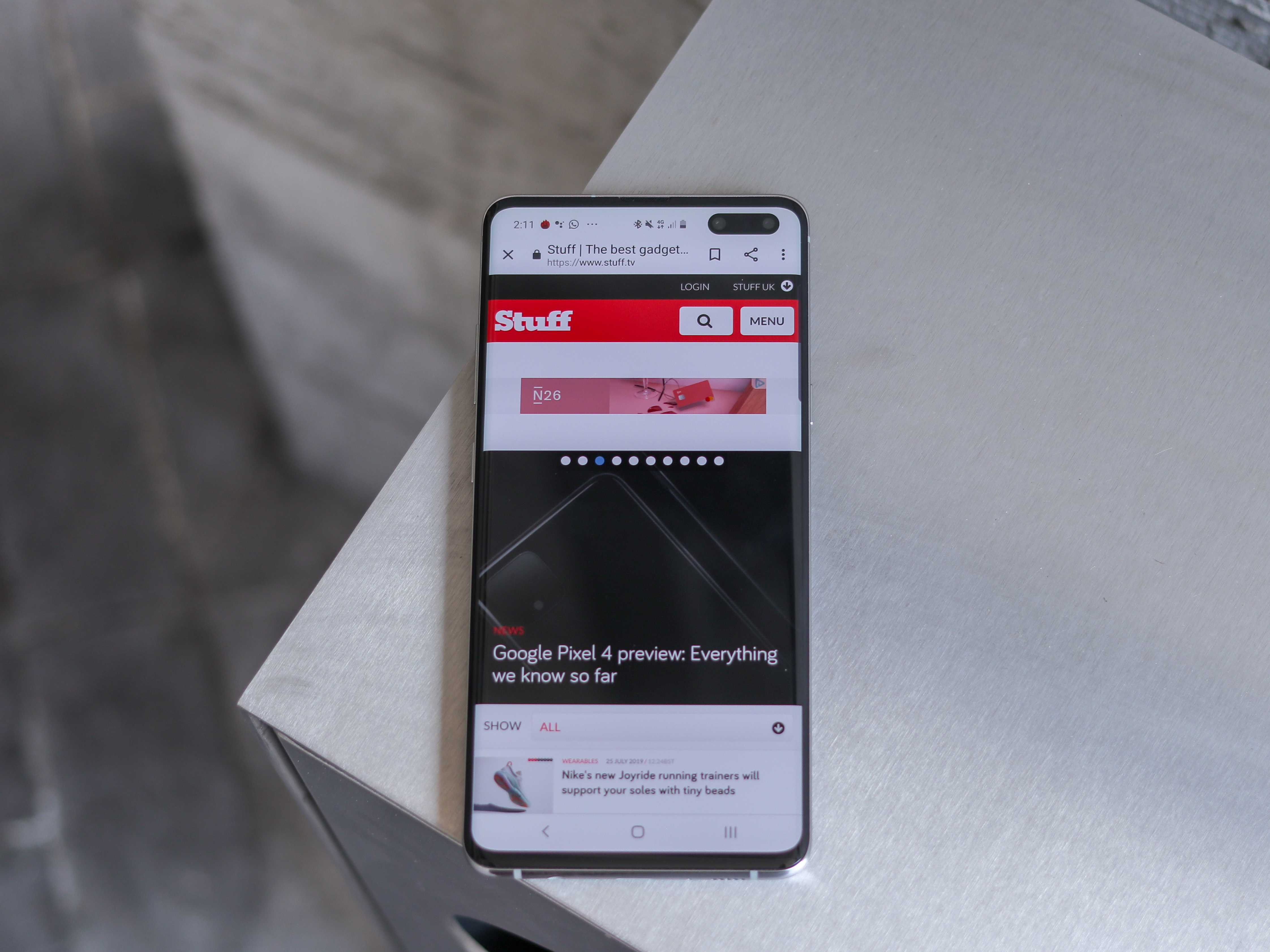 The best-looking screen we've ever seen joins forces with a stellar camera and very fast mobile internet. It isn't a flawless victory; the S10 5G gets hot under the collar, and its battery won't last for more than a day.
With everything else it can do, though, it's still easy to recommend if you desperately need 5G data speeds or just like to be on the cutting edge of tech. If you don't, the Galaxy S10+ is a fine alternative.
Stuff Says…
Cutting-edge everything never looked this good; while 5G isn't where it needs to be for mass adoption just yet, at least this piece of 5G hardware will have you future-proofed with sensational snaps and a stunning screen for streaming video.
Good Stuff
Stunning screen
Premium design
Futureproofed with 5G
Bad Stuff
It gets hot with intense use
Will be too big for some
The battery could be better