Samsung Galaxy Z Fold2 5G review
A Solid Fold effort from Samsung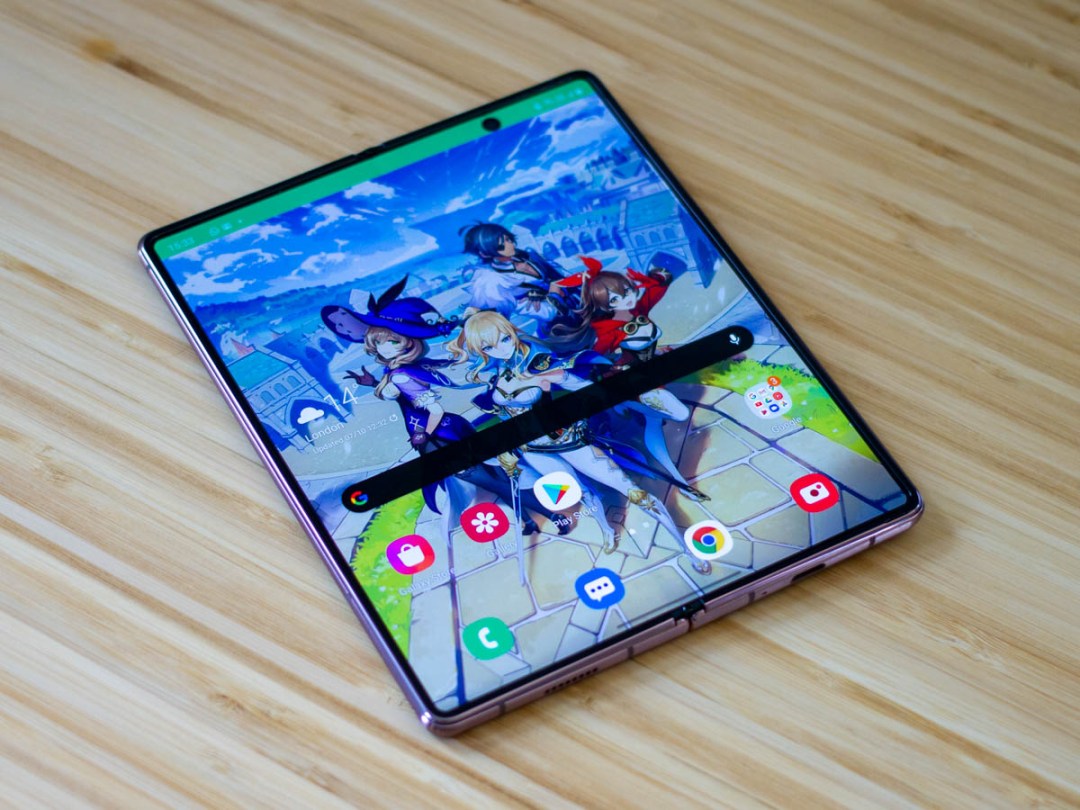 Folding phones; where to start? Since Samsung launched the original Galaxy Fold, the running theme of foldable reviews has been: very cool, too expensive, not there yet, better luck next time.
Samsung hopes to change everyone's mind with the Galaxy Z Fold2 5G, the successor to its seminal foldable. This time, Samsung's ditched much of what made the first Fold meh, like the dinky front display and the dodgy side-notches, and smartened up the design.
Good start, yes. But this is a £1,799 phone, so saying it has to be good is an understatement. To get a recommendation for anyone without a huge amount of disposable income, the Samsung Galaxy Z Fold2 has to be near-perfect. So, is it?
Design and screen: Fold everything
Combining a 6.23-inch cover display with an 816 x 2260 resolution, the Fold2 is an instant improvement. The front screen is tall with a 25:9 aspect ratio, so almost as novel as the inner screen. While it doesn't have a nippy refresh rate, it is punchy, packing Super AMOLED tech.
Clasp the top half of the Fold2 5G with one hand, the bottom half with another, ease the phone open, and as you engage the smooth hinge mechanism, the magic happens – a big, bright, bold, notch-free tab gloriously presents itself.
The updated inner screen is slightly recessed for protection, and clocks in at a high-impact 7.6 inches with an almost square shape. Packing a resolution of 1768 x 2208 (373 pixels in every inch), it's sharp too, and with HDR10+ support and a 120Hz refresh rate, every swipe and tap is seriously special.
Yes – there's a crease. Unlike the Motorola RAZR 5G, Samsung's flexible display doesn't curl inwards when folded, so you see a visible line down the middle when viewed off-angle. You get used to it, but it's definitely worth noting. Another point: the inner screen is plastic, flexible, and susceptible to damage when knocked – a given with all foldables. As a package, though, it feels more secure than its predecessor, the Huawei Mate Xs and the Motorola RAZR 5G.
Unfolded, the Z Fold2 is a svelte 6.9 mm thin. Folded, that number more than doubles, making it one of the chunkiest phones around at 16.8 mm. Skinny jeans are out of the question, but that doesn't mean the Fold2 doesn't look stunning – clever distraction technique Samsung.
With a similar matte glass finish to that of the Samsung Galaxy Note 20 Ultra 5G, it keeps fingerprints at bay, catches the light in a demure, diffuse way, and proudly shows off the buffed hinge, which sports a subtle Samsung insignia etched in its metal spine. The fingerprint scanner is in the power button, there's a USB-port at the base, and the top and bottom of the phone are bookended by stereo speakers.
The design highlight has got to be just how well the hinge mechanism locks in place throughout its range of motion. Set it half-open, Nokia Communicator style (remember those?), and it balances itself up like a mini laptop – oh so satisfying.
Cameras: Fold faithful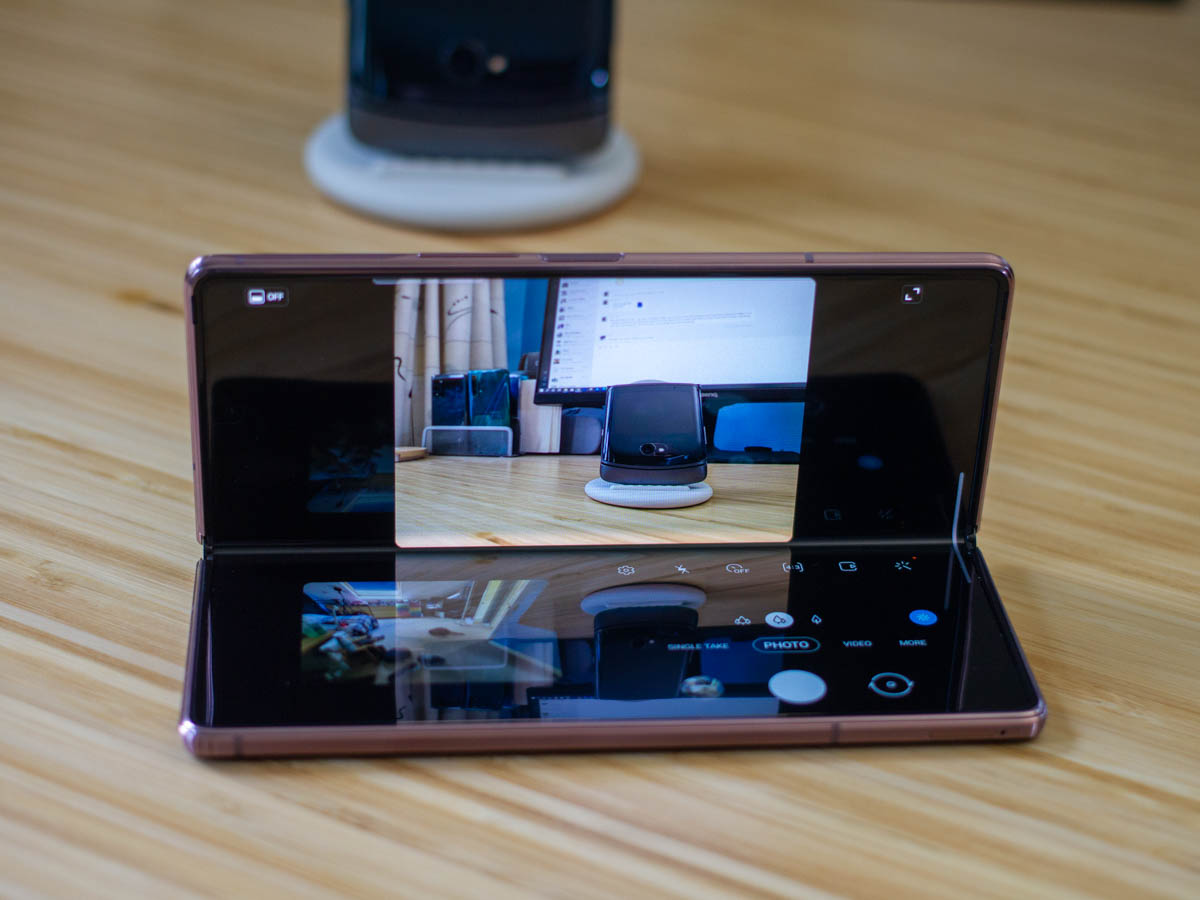 The Samsung Galaxy Z Fold2 5G's cameras aren't show stoppers.
You won't find the 108MP resolution the S20 Ultra packs here. Instead, you get three traditional 12MP cameras. The primary camera has an f/1.8 aperture and the biggest sensor of the bunch. Alongside it, there's an ultrawide camera and a 2x zoom equivalent telephoto camera. The primary and telephoto cameras sport OIS and phase detection autofocus.
Samsung's shooting modes are comprehensive, with AI photography detecting the scene you're in and optimising snaps accordingly. There's a handy Pro mode too, as well as the Single Take mode introduced on the S20 series, which makes a suite of almost perfect content to distribute across your TikGrams and InstaToks.
Photos taken on the Fold2 5G have Samsung's trademark punch to them, clearly sharpened with contrast boosted, but they don't look bad. Across lighting conditions, your camera time will be helped along by a decent night mode that helps zap grain, but it falls way behind that of the Huawei P40 Pro and Google Pixel 4.
The Fold2 5G shoots up to 4K resolution video at 60fps, and supports Pro Video capture, so you can get manual with your moving images too. The most exciting thing about the camera experience is using the gorgeous tablet screen as a viewfinder – maximum novelty-factor. Using the Z Fold2 half-folded as its own 'tripod' is also fun and handy.
Not content with one selfie camera, the Galaxy Z Fold2 5G packs in two, one on the front and another inside. They both shoot 4K resolution video at 60fps, making them exceptional on-paper, and very good in the flesh.
Software: Not quite flexible enough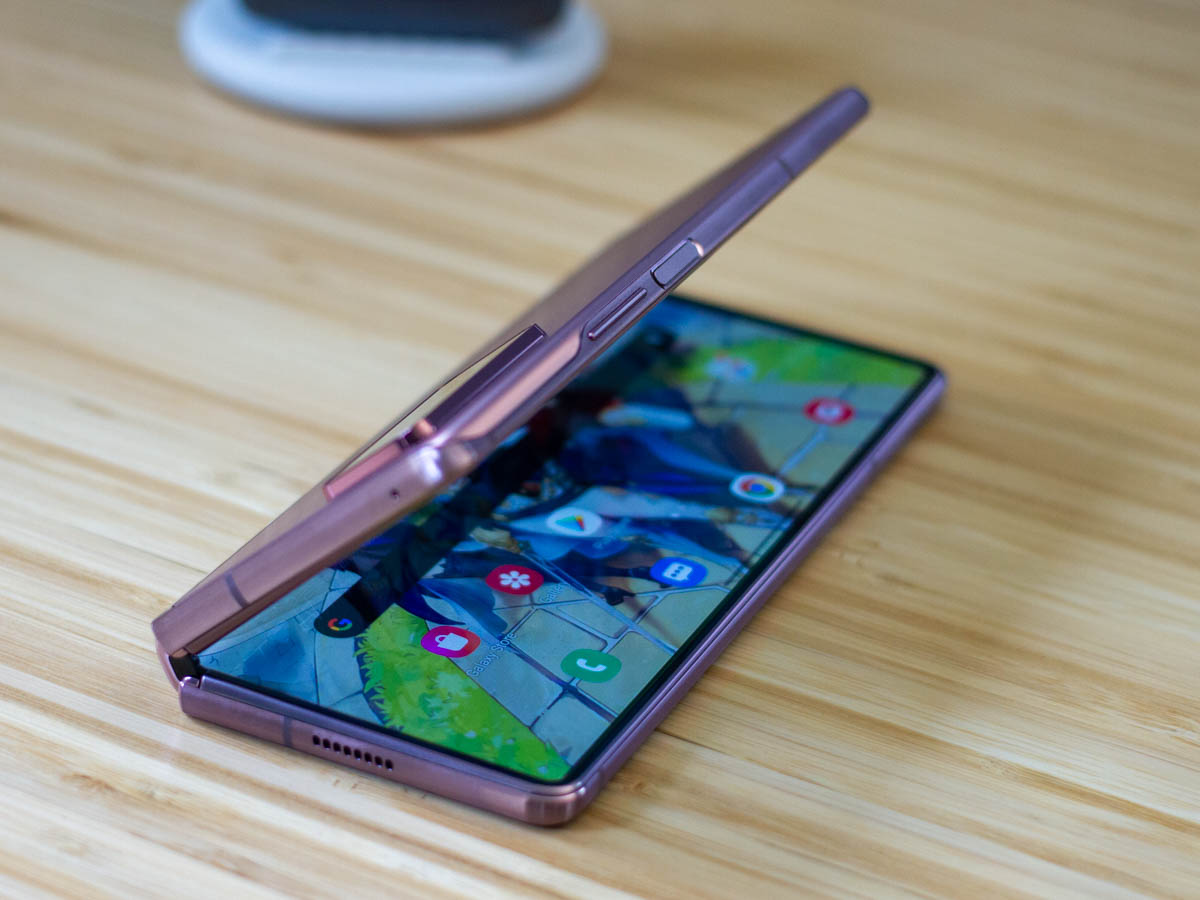 Samsung's had to get heavy-handed with its customisations to make Android 10 play nicely with a folding form-factor, and there are both wins and woes here.
Many apps seamlessly transition from the external screen to a tablet view when the Z Fold2 5G is opened up, but not all. To access them in a different view, they need to be force closed and reopened.
You can multitask across up to four apps simultaneously on the tablet – a bit much, but still cool. That said, when you close the Z Fold2 and open it again, you've lost your carefully orchestrated layout. Again, annoying.
Then there's the core UI. When in the camera app, if you half-open the Fold, the interface reorients to beautifully occupy the two halves of the screen optimally. Go back to the home screen, however, and you're forced into portrait mode.
The orientation can be changed in the settings, however, even when corrected for, it doesn't beautifully divide the display as per the camera app, so you lose elements in the crease. This lack of TLC given to using the Fold in its 'laptop' orientation is a massively missed trick from an 'ooooh' and 'ahhhh' point of view.
Thankfully, Google Play Store access means lots of apps, Samsung's UI optimisation coupled with the 120Hz screen means smooth interaction, and the fact the Galaxy Z Fold2 doesn't sport an Exynos processor means decent heat management.
Performance and battery life: 22-carat fold
What you do get from the Galaxy Z Fold2 5G, however, is beautifully nippy performance. Powered by a Qualcomm Snapdragon 865+ paired with 12GB RAM, it's one of the most powerful Android phones money can buy right now. You're paying for it with that £1,799 price tag, but the internals make the Fold2 5G much easier to stomach than the midrange-powered Motorola RAZR 5G (£1,399).
Gaming is a treat on the Fold, with the stereo speakers booming, both displays shining brightly and the power under the hood able to keep framerates up and lag down. After an hour of playing Genshin Impact, the phone warmed up, though not uncomfortably so. Unlike most Samsung phones, there's no microSD card slot here, though the 256GB starting capacity should suffice for most.
Finally, the 4500mAh battery lasts a full day very easily. You'll get great mileage from it if you mainly use the front screen, which is entirely doable now it isn't awful. Sorry original Fold. Open it up a bit more often and by 8pm 10-15 per cent should be left in the tank if you're anything like us; whatsapping, watching, and gaming a bit too.
Another highlight – the Fold sports 25W fast charging and 11W fast wireless charging (plus 4.5W reverse wireless charging).
Samsung Galaxy Z Fold2 5G Verdict
The Samsung Galaxy Z Fold2 5G is a glimmer of hope that foldable phones can be excellent. It isn't the best camera phone around, nor does it charge the fastest – but who cares? It folds and doesn't do anything badly.
Everything the Z Fold2 does, it does at least well. It's reassuring (glorious-looking) design delights every time you look at it, and the masterful hinge makes the two-in-one functionality we've been craving a reality. A handsome front-display only adds to the utility and enjoyment the phone delivers.
At £1,799 for the 256GB storage version, it doesn't matter how good it is; the Galaxy Z Fold2 won't appeal to most people. Nevertheless, the annals of technology history will remember the Samsung Galaxy Fold2 as the first foldable that was great – all-fold, no caveats.
Tech specs
| | |
| --- | --- |
| Screen | Cover display: 6.23 inches, 816 x 2260, 60Hz, 25:9 aspect ratio Tablet display: 7.6 inches, 1768 x 2208, 120Hz, HDR10+ |
| CPU | Qualcomm Snapdragon 865+ |
| Memory | 12GB Ram |
| Camera | 12MP, f/1.8 12MP, f/2.2 12MP, f/2.4(2x zoom equivalent) |
| Storage | 256GB |
| Operating System | Android 10 with OneUI 2.5 |
| Battery | 4500mAh, 25W fast charging, 11W wireless charging |
| Dimensions | Unfolded: 159.2 x 128.2 x 6.9 mm Folded: 159.2 x 68 x 16.8 mm |
Stuff Says…
At £1,799, the Samsung Galaxy Z Fold 2 5G doesn't mark an end to foldables being prohibitively expensive, but it does mark an end to them feeling like awkward prototypes
Good Stuff
Great screens
Solid hinge mechanism
Plenty of power
Bad Stuff
Visible crease
Expensive
Good, but not great cameras