Samsung QE55Q7F review
If a bright, vibrant picture is top of your TV wishlist, this Samsung has you covered
OLED TVs might be the hot new thing in tellyland, but Samsung is betting big on its decision to stick with its tried-and-tested LCD technology, cunningly rebranded as the distinctly OLED-sounding 'QLED'.
We've only tested one QLED set so far, the QE49Q7F, but that impressed us so much that we gave it our full five-star approval. That said, we weren't really able to compare it to the best OLEDs, because OLED screens are all at least 55 inches and that was only 49 inches.
Enter the 55in version of that flagship QLED, ready to take on the big guns. Its main rivals? The LG OLED55B7 and the Sony KD-55A1, which both show off the very best of what OLED can do right now. But LCD has its strengths too, and a cheaper price to boot. You can be sure that QLED is ready to shout about that. 
Picture: bright and punchy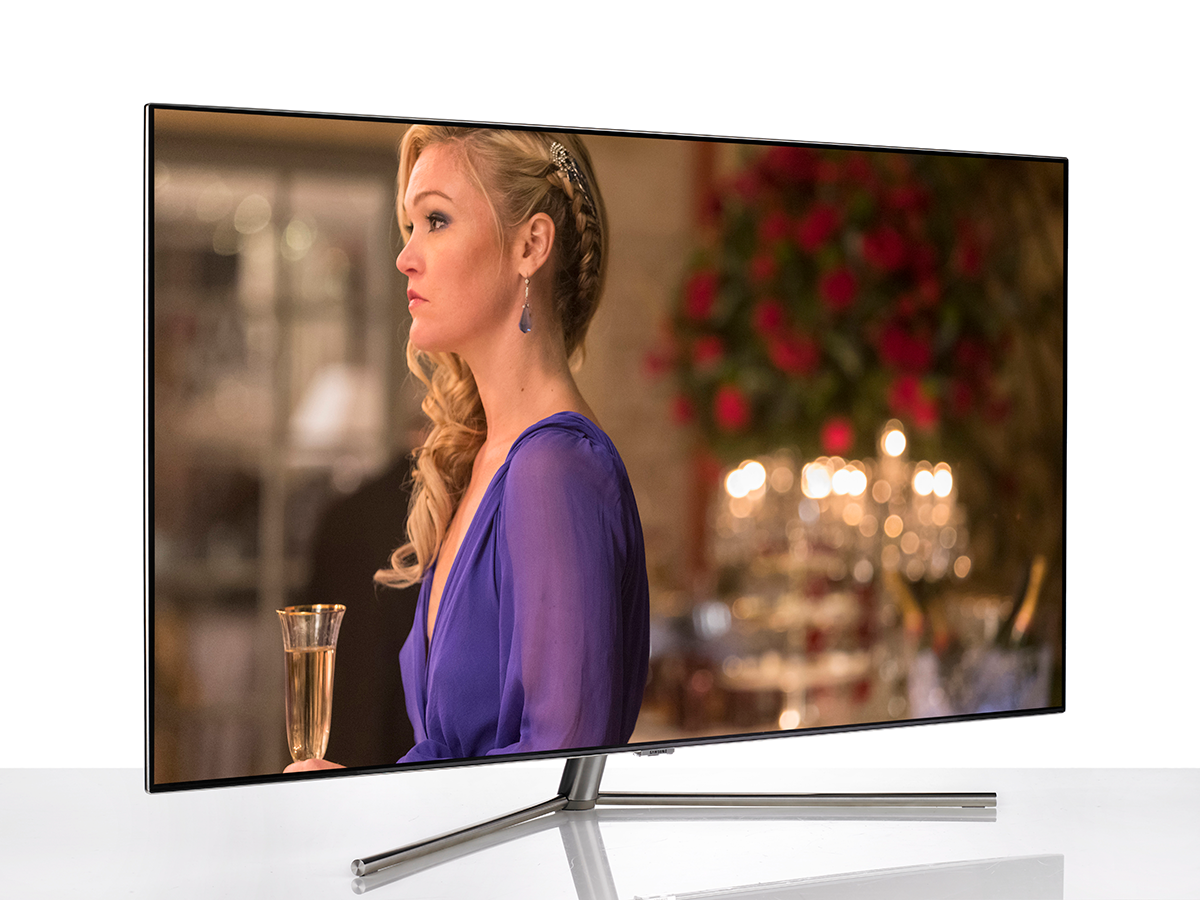 One of the biggest strings to the LCD bow is its ability to chuck a whole lot of light behind its picture, thanks to its LED backlighting.
OLED isn't capable of the same amount of punch, and that won't go unnoticed in any comparisons. The QE55Q7F is clearly brighter than the LG B7, putting some real welly behind colours and adding sharpness and solidity to bright highlights.
There's a price to be paid for this punch, though, and that's black levels, which can't reach the inky depths that OLED does. That's because LEDs can't be as precise with their light placement as OLED pixels can, so upping the brightness in one area affects the whole picture – especially in side-lit TVs such as this one.
It has to be said that the QE55Q7F fares much better than much of its competition here though, and its black levels aren't a total deal breaker – particularly when you consider its strengths elsewhere.
For a start – HDR. The QE55Q7F supports both HDR10 and HLG formats of the technology, covering you for discs, streaming and broadcast. The extra brightness on offer here works with the wider colour gamut found in HDR to deliver images with more vibrancy than we've seen on OLED.
But this TV is no one-trick pony. It's also hugely insightful, with a sharp image that'll pick up subtle detail and run with it. The lines on a face; the creases in clothes; the texture of a landscape – everything looks tangible, and there's a superb sense of depth to images too.
Colours sit on the warm side of neutral (even in the "Cool" picture mode), particularly with HD content, but don't take this to mean that they're overblown. While colours are bold and vibrant, the likes of skin tones are perfectly handled, suggesting it's a style choice rather than anything else. It might not the most accurate representation of what you're watching, but it's certainly an eye-catching one.
That is, until you take a seat off-axis. If you've got a lot of people gathered around this TV at various angles, they're likely to see colours with less punch and less impressive blacks than those sitting in front of it. Something to bear in mind if you're a fan of big family movie nights.
Drop down from 4K and HD to standard-def content and while the Q7F stays true to its strengths elsewhere, you will get some considerable noise and instability in the picture. Rivals like the LG B7 and Sony A1 are able to clean this up more convincingly, and also offer better motion handling too – the Q7F is good, but not quite as natural.
Gamers will be pleased with its though. Not only will its bright screen be a hit with computer graphics, but an input lag of 23.8ms will keep any gaming stutters at bay.
Picture settings
Samsung's menus have always been pretty easy to understand, but this year it's simplified them further. That's good, because you'll want to dive into them to make sure you're getting the best picture.
We start by switching Eco settings off, changing the Colour Temperature to Cool and notching down Sharpness a little to prevent over-sharpened edges.
We find Contrast Enhancer is best off too – it'll get blacks a bit deeper but will kill black detail, which we don't want.
HDR content will turn this back on automatically, but that's fine. All the default HDR settings work well and can be left as they are.
Design: slim and smart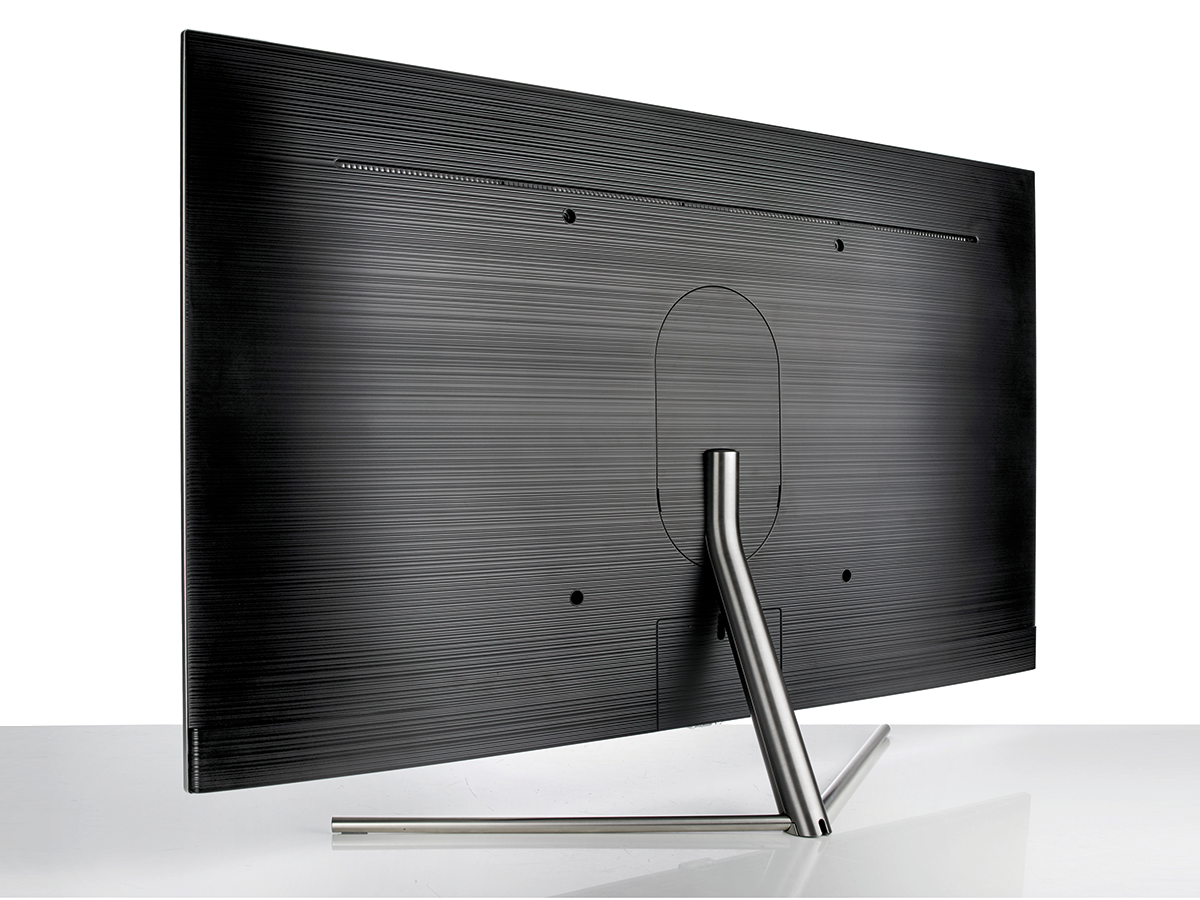 There's no doubt that OLED has the upper hand in the design stakes over LCD, but Samsung has managed to dress up the Q7F very nicely indeed, with super-slim bezels and a pretty skinny profile, too.
It's not going to challenge the waif-like dimensions of the LG B7, but it's not bad for a backlit TV with its bulkier tech.
Samsung's One Connect box helps to make this possible, by storing all of its connections separately to the TV. That's handy from a design perspective, but the fact it needs its own power supply this year is a bit annoying if you're short on sockets.
As usual, the Q7F ships with two remotes – the bog-standard plastic one, and a more stylish silver option. The latter is less cluttered, with controls for only the things you'll need most, plus there's voice control. It's not as accomplished as Alexa but works well for simple commands, like activating Game mode.
Samsung continues to lead the way when it comes to smart TV, offering a bright and easy-to-use interface alongside one of the most complete on-demand line ups available.
Alongside the usual roll call of Netflix, Amazon and all the UK catch-up services, Samsung has also included Now TV for Sky content without a full contract.
Sound: it'll do, for now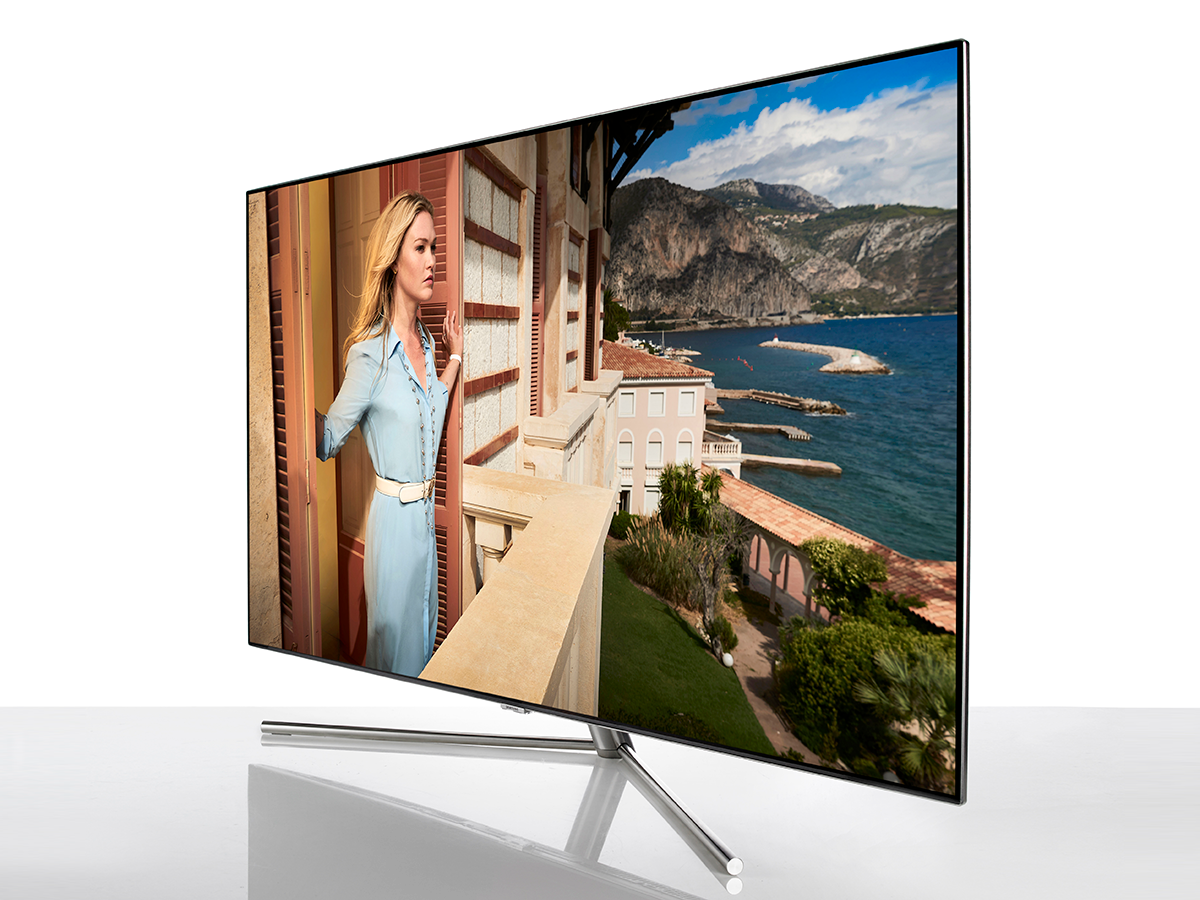 Yes, yes, we always bang on about investing in a better sound solution than your TV's built-in speakers, but if you can't do it immediately, the Q7F's audio is fine for day-to-day watching.
It won't offer the power or authority you'll want with movies, but for a TV, it's a weighty, full-bodied sound with a fairly wide soundstage. It's not as detailed as the LG B7 or as direct as the Sony A1, but it's not bad, all things considered.
We decided to stick with the Standard sound mode for our tastes, but it's worth playing around here to see what suits your own preference and your room.
Samsung QE55Q7F verdict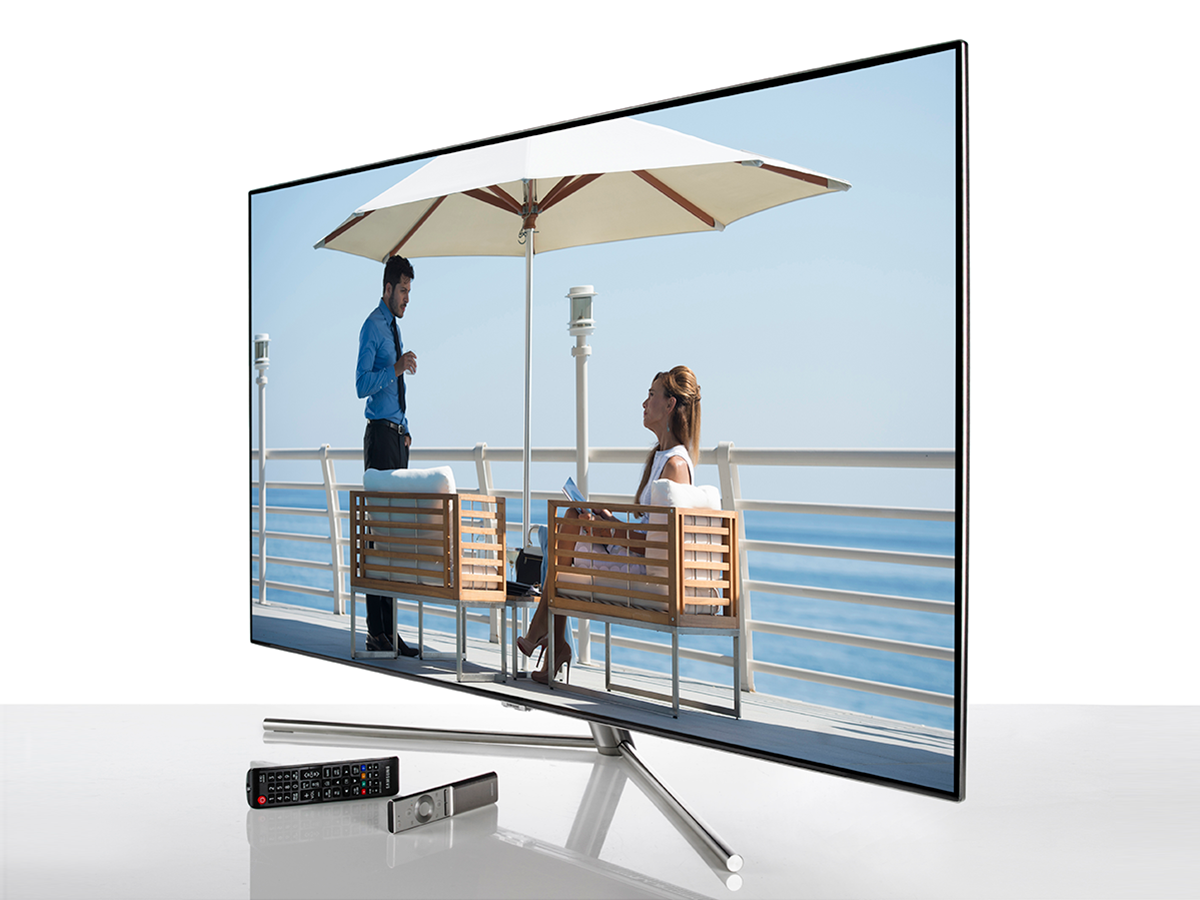 As much as Samsung wants to claim that its QLED TVs can give OLED a run for its money, the QE55Q7F instead runs its own race entirely. And that's not a bad thing.
For all of OLED's brilliant deep blacks, the Q7F responds with unrivalled brightness, creating an engaging picture that's dynamic, sharp and exciting to watch. It's a different balance, but no less compelling.
Motion could be better, and it's not the most natural picture we've seen either – the LG B7 or Sony's A1 will both pip the QE55Q7F for that.
If money were no option, we'd take them over the Samsung for that very reason. But with a recent price drop putting a £1000 difference between the Q7F and the cheapest of those sets, the QLED's take on things is well worth considering. There's a whole lot of life left in LCD yet.
Stuff Says…
A bright, detailed picture that's easier on the pocket than OLED
Good Stuff
Bright, vibrant picture
Crisp and detailed
Great, easy-to-use smart TV interface
Attractive design
Bad Stuff
Forgoes black levels for brightness
Motion is hard to get right
Narrow viewing angle for best picture