Best 4K TV in the UK 2023: OLED and LED for every budget reviewed
From affordable displays to bank-breaking screens, these are the best 4K TV options for every budget, all reviewed by us
Forget going out – the best 4K TVs can bring the home theatre experience right to your living room. Keen on a private viewing? Save the money you'd spend on multiplex tickets and stick it into a new TV. Even with limited cash to spend, you can treat your peepers to an entertainment upgrade. If you're in the US, then check out our main best 4K TV guide.
And if you've got a blockbuster budget, there's no shortage of classy gear to transform your movie room. Need help to pick the right panel for your pad? We've tested a battalion of big-screen TVs to bring you the best 4K TVs fit for every budget (need to upgrade your audio? Check out the best soundbar too)
Before we dive into the list though, it's also worth mentioning that there are a plethora of unreleased TVs that have yet to hit shelves. These include LG's gigantic 97in OLED TV M3 (complete with a wireless Zero Connect box for cable-free connections), and Panasonic's super-bright MZ2000 OLED.
In fact, brighter OLED TVs were somewhat of a CES 2023 tech trend, with Samsung revealing a plethora of shiny new TVs, including an ultra-large 77in OLED model. Oh, and let's not forget Displace's crazy, completely wireless, battery-powered TV that has built-in vacuum-powered suction pads to stick to walls and other vertical surfaces without mounts.
Keep an eye out for future reviews of all of the above, as we'll be updating the below list accordingly. And with all that said, it's time to meet the best 4K TVs:
What's the best 4K TV for the UK?
Best budget 4K TV: Hisense A6BG (check price)
A large 65in 4K screen, decent picture, and Alexa/Google Assistant support? At this price? Officially a bargain, especially if you're not fussed about HDMI 2.1 ports (which it lacks).
Best mid-range 4K TV: Samsung S95B OLED (check price)
OLED performance used to require a second mortgage, but the S95B's stunning performance and picture quality is now within reach.
Best premium 4K TV: Sony XR-55A95K (check price)
Combining the brightness of QD-OLED, accurate colours, natural tones, and slick gaming performance, this is one of the best TVs that money can buy, with a price tag to match.
---
The best 4K TVs in the UK for budget buyers:
1. Hisense A6BG
Stuff Says…
This isn't the highest-spec TV at this price, but it's a big bargain.
Tech spec:
Display: 43/50in 3840×3160 VA LCD / Supported formats HDR, HLG, Dolby Vision / UI: VIDAA / Connectivity: 3 x HDMI, 2 x USB, Ethernet, Optical, Wi-Fi, Bluetooth
Hisense knows its stuff when it comes to delivering very good entry-level TVs, and this large 65in offering is an absolute bargain at this price. Serving up 4K resolution with HDR (including Dolby Vision support), there's also an auto low latency mode for gamers, along with built-in Freeview HD. Oh, and it works with Google Assistant and Amazon Alexa too.
Naturally, given its price, there are a few compromises. The HDMI ports are 2.0, not 2.1, for starters, and the screen itself had fairly limited viewing angles and can struggle with darker scenes. But there's a comprehensive selection of streaming apps on offer, and again, there's not much to complain about at this price. The perfect choice if you're looking for something simple, straightforward, and really rather massive.
---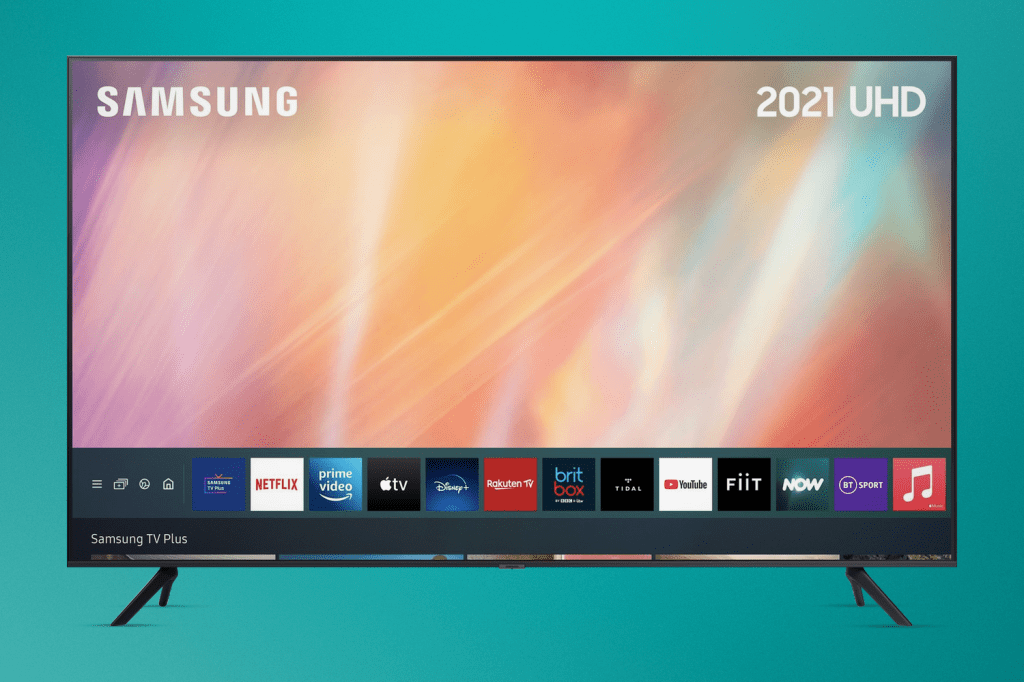 2. Samsung UE43AU71000
Stuff Says…
An almost ideal compromise between performance and price
Tech spec:
Display: 43in 3840×2160 LCD/LED • Supported formats: HLG, HDR10+ • UI: Tizen • Connectivity: 3x HDMI, CI, USB, RF, Ethernet, Wi-Fi, Bluetooth 4.2
When we go shopping for a new TV, few of us are looking for a flagship model. Buying an entry-level box? Samsung's AU7100 doesn't require you to make too many sacrifices.
With detailed, vibrant images, a solid build and a slick interface, the AU7100 represents excellent value – especially if you opt for the 43in version. Its materials might not be the most indulgent, but the AU7100 is flawlessly finished and built to last.
Front and centre is an LCD/LED panel with edge-positioned backlighting. It works best with native 4K content, serving up detailed, realistic images with nuanced tones – especially when there's HDR10+ dynamic metadata involved. Motion is handled confidently, too. Things only really deteriorate when you drop below 1080p.
Sound from the 20W drivers is better than you might expect, although there's no low-end punch. As long as you don't watch lots of vintage content – and you're not expecting the quality of the audio to match the quality of the pictures – this is one of the best 'real world' TVs around.
---
The best 4K TVs for mid-range money: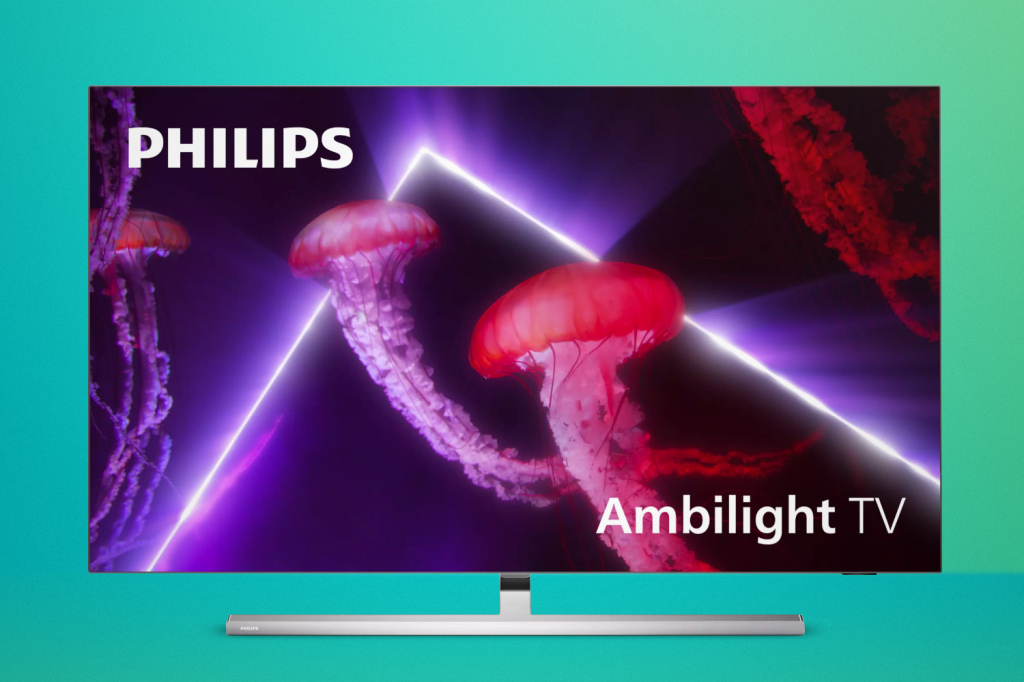 1. Philips 55OLED807
Stuff Says…
A new benchmark for mid-range OLED performance, the 55OLED807 is competitive in every respect – not least its profoundly impressive 4K HDR images
Tech spec:
Display: 55in 3840×2160 OLED • Supported formats: HDR10, HDR10+ Adaptive, HLG, Dolby Vision • UI: Android TV 11 • Connectivity: 4x HDMI, 3x USB, Wi-Fi, Bluetooth 5.0, CI+, Optical, Ethernet, Headphone, Satellite
Philips has established itself as a hero of the 4K TV sweet spot, delivering great sets where affordability meets performance. And the 55OLED807 knocks it out of the park again. Nicely designed and robustly built, it shows no signs of corner cutting. Philips has even added some swivel adjustment for easier positioning.
Its feature set doesn't come up short, either. The 55OLED807 works with every mainstream HDR standard and offers a stack of inputs, including a pair of HDMI 2.1 ports for next-gen console compatibility. Four-sided Ambilight also remains a perfect complement to pictures. We still found setup menus complex and relentless in testing, but the remote at least made it easier to battle through. And the reward is great picture quality in almost every circumstance.
Peak brightness is right up there with the best OLED panels, resulting in incredible contrast, with both white and black tones packed with detail. The colour palette is extensive yet natural, too. Spend time tweaking and you can also achieve smooth, expertly rendered motion. Upscaling is similarly effective and even the 2.1-channel sound system is pretty composed for the set's size. In short, this is one of the best pound-for-pound TVs around right now.
---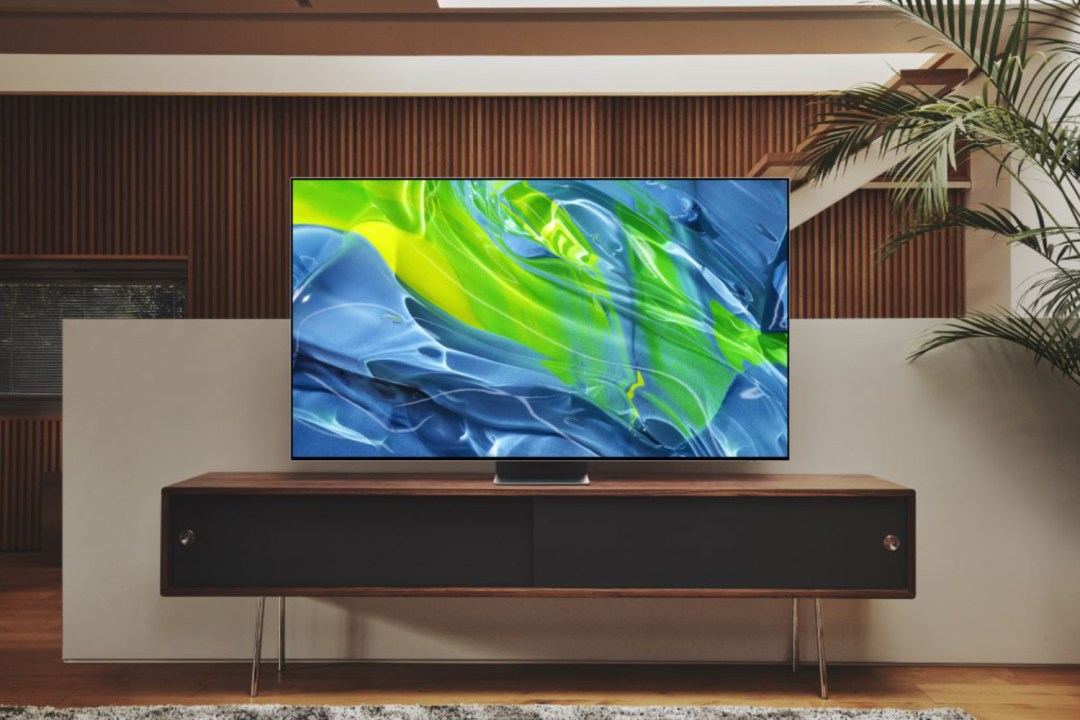 2. Samsung S95B OLED
Stuff Says…
You'll find a rather impressive picture with vibrant colours and the best brightness on an OLED telly… but you'll have to fiddle around to get there.
Tech spec:
Display: 55in 3840×2160 OLED • Supported formats: HDR, HDR10+, HLG • UI: Tizen OS • Connectivity: 4x HDMI, 2x USB, Ethernet, optical, Wi-Fi, Bluetooth
Samsung's S95B is incredibly bright for an OLED, although not as bright as any QLED (which is to be expected. Still, it's bright enough, and colours are beautifully vivid, if not the most realistic. If you're a stickler for colour accuracy without any tweaking, then you might want to look elsewhere. Most people though, seem to like punchy, saturated colours, and if you're one of them, then all the more power to you.
Another thing to bear in mind, are the size options available. The S95B has two models: 55in and 65in. If size is key, and you're after something bigger (or smaller), then you might want to look elsewhere. If it ticks all your boxes though, then you definitely won't be disappointed.
---
The best 4K TVs for premium prices: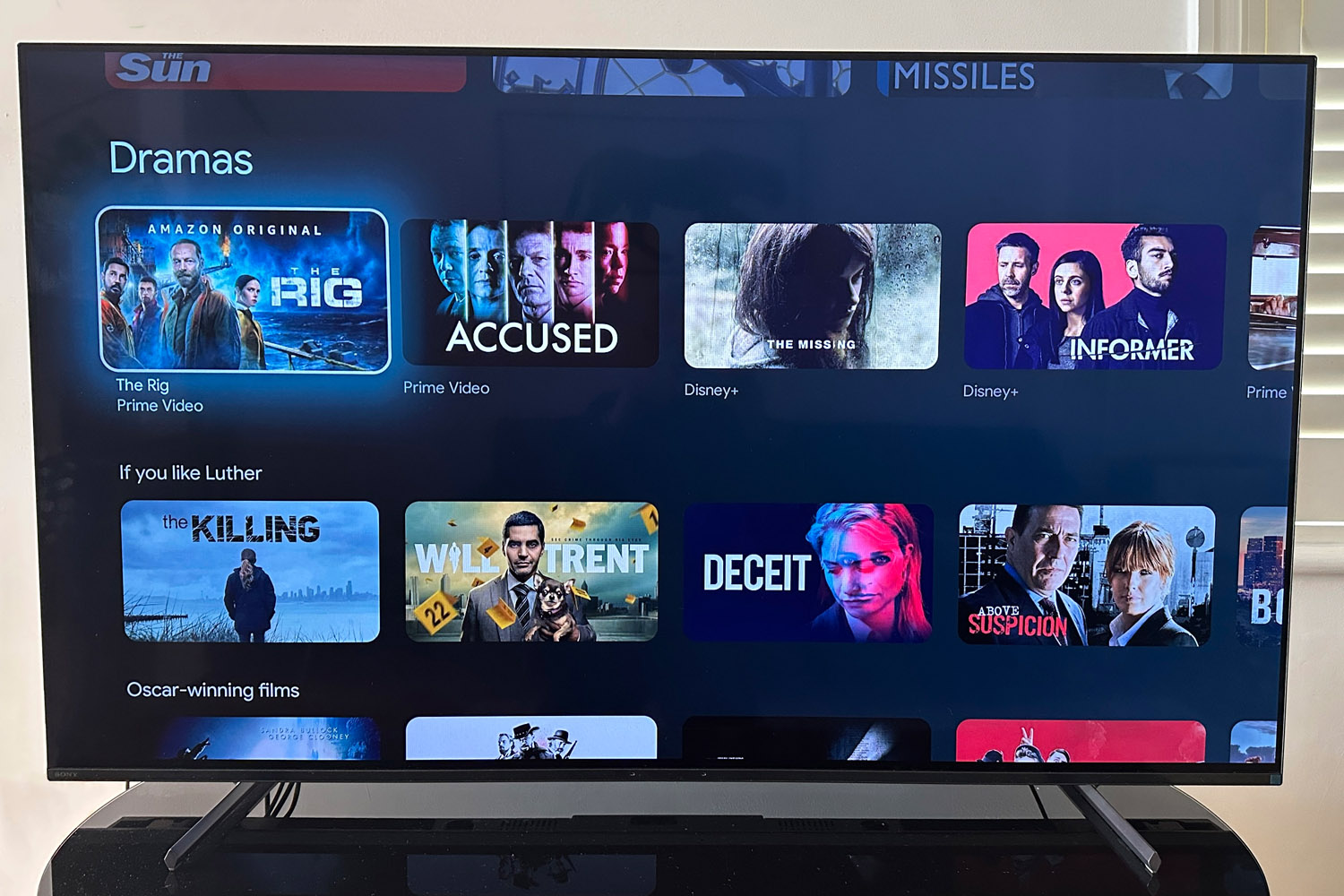 1. Sony XR-55A80L
Stuff Says…
Sometimes 'the current thing done really well' is just as good as 'the brand-new thing'. This is one of those times
Tech spec:
Display: 48in 3840×2160 OLED • Supported formats: HDR10, HLG, Dolby Vision • UI: Google TV • Connectivity: 4x HDMI, 2x USB, Ethernet, Wi-Fi, Bluetooth, Airplay
In short, the Sony XR-55A80L is a great TV. Subtle, and vibrant, it makes the very best of any content you feed into it. No, it's not the brightest OLED panel around, but the white tones it creates are clean, and there's detail and nuance in spades — especially when it comes to accurate colour tones such as those found on skin.
HDR performance is solid, as is motion control, with smooth edge definition too. Combined, all of these attributes result in a beautiful, pleasant viewing experience, bolstered by strong upscaling performance and slick gaming capabilities. You'll want to upgrade the sound with speakers or a soundbar though, as is the case for most of the picks on our list.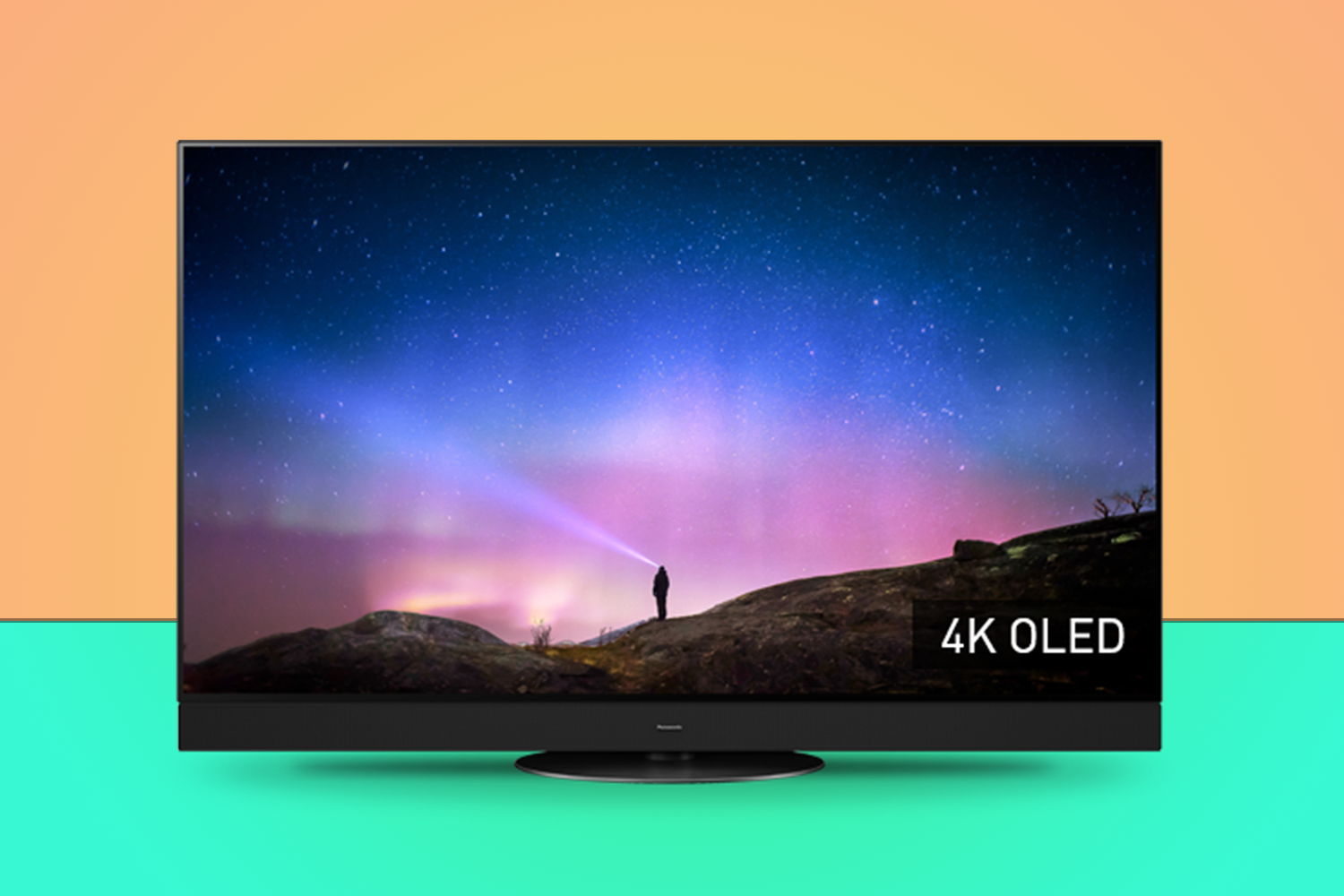 2. Panasonic LZ2000
Panasonic's brighter-than-ever OLED offering provides your peepers with some of the most superbly accurate cinematic viewing experiences you're likely to find, making it ideal for movie buffs.
Accuracy and impressive picture quality aside, it's also one of the best-sounding TVs currently available, producing a wide, impressive soundstage that will treat your ears and fully immerse you in the on-screen action. It sounds so good, in fact, that you could get away with the TV speakers alone — though there's no harm in bolstering your setup with a soundbar or extra speakers if you fancy even more auditory oomph.
---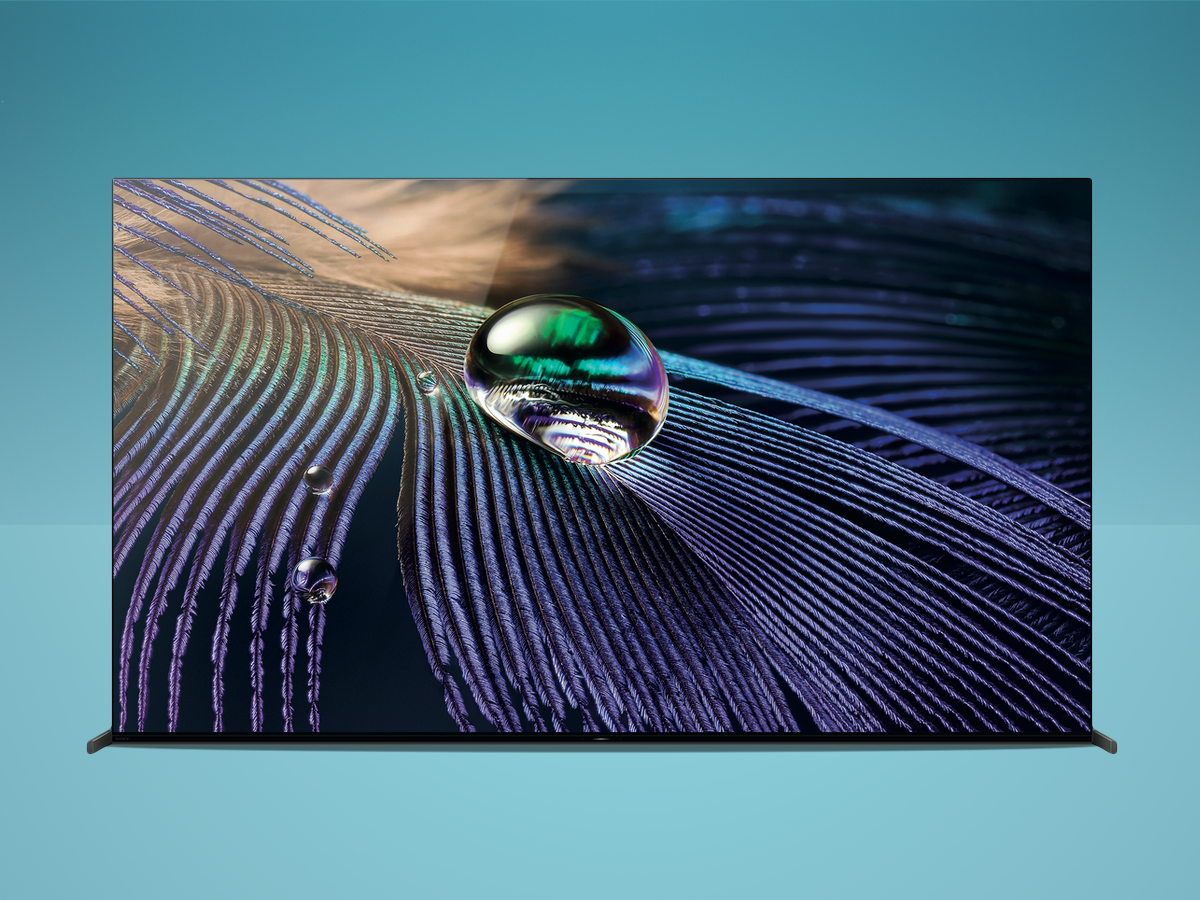 3. Sony XR-55A90J
Stuff Says…
Everything this TV does, it does to a dizzily high standard. In the end, the price seems fair enough
Tech spec:
Display: 54.6in 3840×2160 OLED • Supported formats: HDR10, HLG, Dolby Vision • UI: Google TV • Connectivity: 4x HDMI, 3x USB, Ethernet, optical, Wi-Fi, Bluetooth, AirPlay
Throwing money at something isn't always a solution. But in the case of the Sony XR-55A90J OLED, it very much is. Yes, it's super expensive for a 55in television, but it's also worth every penny. There's a lot of cutting-edge tech here: the super-fast and deeply intelligent XR processor is present, with Acoustic Surface Audio+ trickery. Google TV has replaced Android TV, which is a major upgrade. Sony's exclusive Bravia Core streaming service is included, too.
Performance, as the price demands, is profoundly impressive. The A90J is very bright by OLED standards, so contrasts absolutely pop from the screen. This TV can call on a seemingly limitless array of colours, and easily describe minute differences in shade and texture. It handles on-screen motion with casual effortlessness and can bring detail and subtlety to inky black tones. Plus it also upscales low- resolution content without having a panic attack.
The A90J's feet can sit low or stand high enough to fit a soundbar beneath, but Sony is so pleased with its in-built audio that it's fitted speaker binding posts on the back panel, so the entire screen can be the centre channel in a surround-sound setup.
---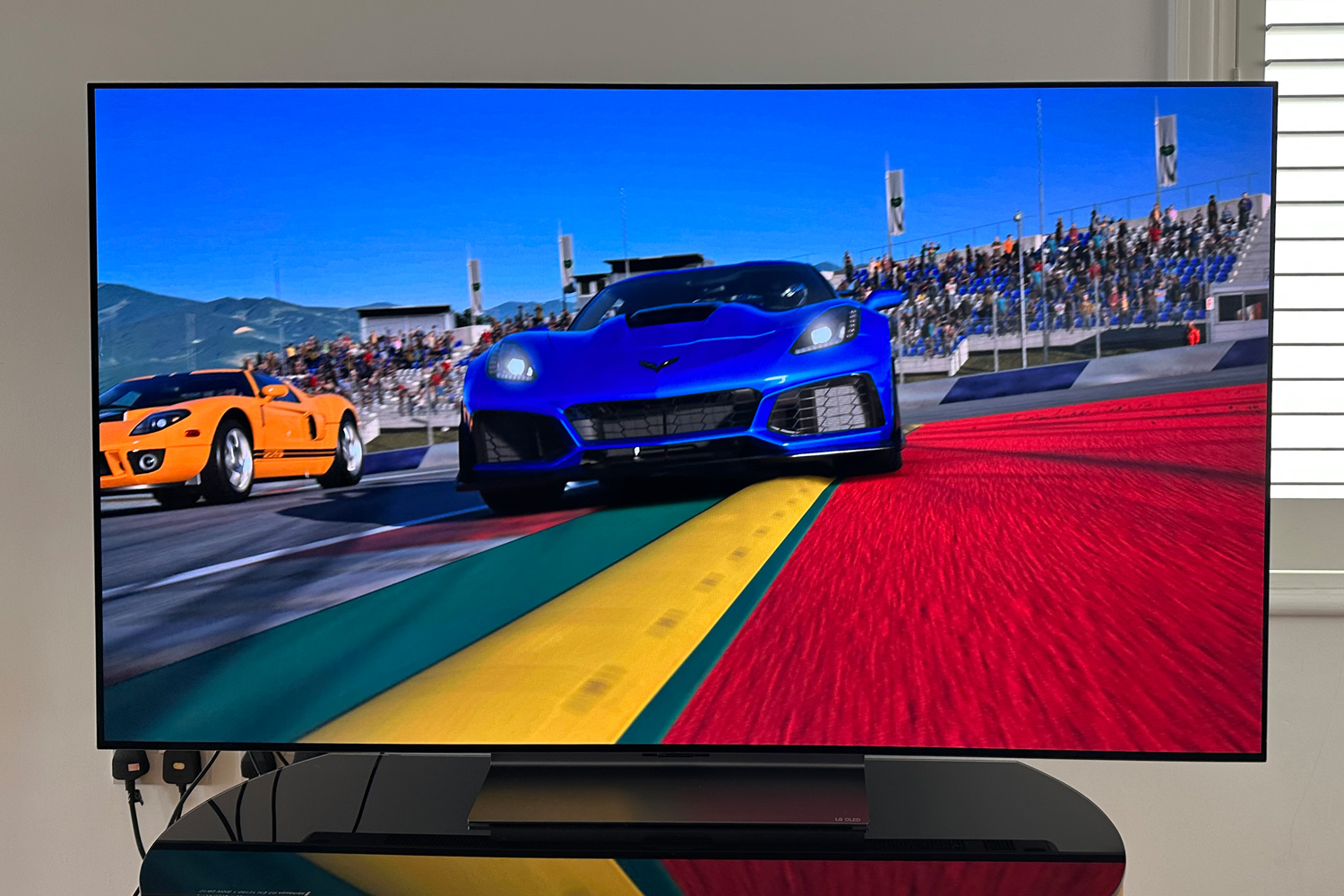 4. LG OLED65C3
Stuff Says…
Add the C3 to the long list of brilliantly accomplished OLED TVs LG has delivered over the last decade
Tech spec:
Display: 65in 3840×2160 OLED • Supported formats: HDR10, HLG, Dolby Vision • UI: WebOS 2.3• Connectivity: 4x HDMI, 3x USB, Ethernet, optical, line out, Wi-Fi, Bluetooth
The LG OLED65C3 has some obvious advantages over the C2 it replaces, not least in its HDR picture processing enhancements and the revision to its UI. Is that enough to tempt C2 owners into a costly upgrade? Probably not. The rest of us, though, can simply be impressed by what is the latest in a long line of high-achieving LG OLED TVs.
From strong gaming and upscaling performance to natural colour balance, true blacks, and wide-ranging contrasts, it's a joy to behold. As is usually the case though, you'll want to beef up it stock speakers with some external gear to do justice to the on-screen action.
---
5. Sony XR-55A95K
Stuff Says…
Unapologetically premium, Sony's top-spec telly isn't a huge leap forward, but it still proves that QD-OLED is the real deal
Tech spec:
Display: 55in 3840 x 2160 QD-OLED • Supported formats: HDR 10, HLG, Dolby Vision • UI: Android TV • Connectivity: 4x HDMI, 2x USB, Ethernet, Wi-Fi, Bluetooth, AirPlay, Chromecast
First out of the blocks with a QD-OLED telly, Sony's A95K promises to combine the advantages of OLED – deep blacks and vivid colours – with the brightness of LCD. In practice, it's one of the best out-of-the-box TVs you can buy.
All-screen from the front, build quality is everything you'd expect from a premium Sony product. Read: basically flawless. Its feature set is similarly superlative, with two out of four HDMI inputs supporting 4K at 120Hz. Less useful is the Bravia Cam, which attaches magnetically to the top. It will one day adjust settings based on ambient conditions, but for now it's a glorified webcam.
Like all of Sony's OLED TVs, the A95K's screen itself acts as a speaker, reinforced by a couple of rear-firing subs. When it comes to fidelity, detail and outright punch, it can sonically match any TV without a separate speaker bar.
Star of the show, though, is the picture. While it isn't startlingly brighter than the best non-QD OLEDs, the A95K can generate the most convincing and nuanced brightness of any OLED currently available. Detail is high across the board, colour fidelity is effortlessly natural and depth of field is almost three-dimensional, given the right material. All of which means the A95K is as enjoyable as 4K televisions get right now.
---
The best 4K TVs for big spenders: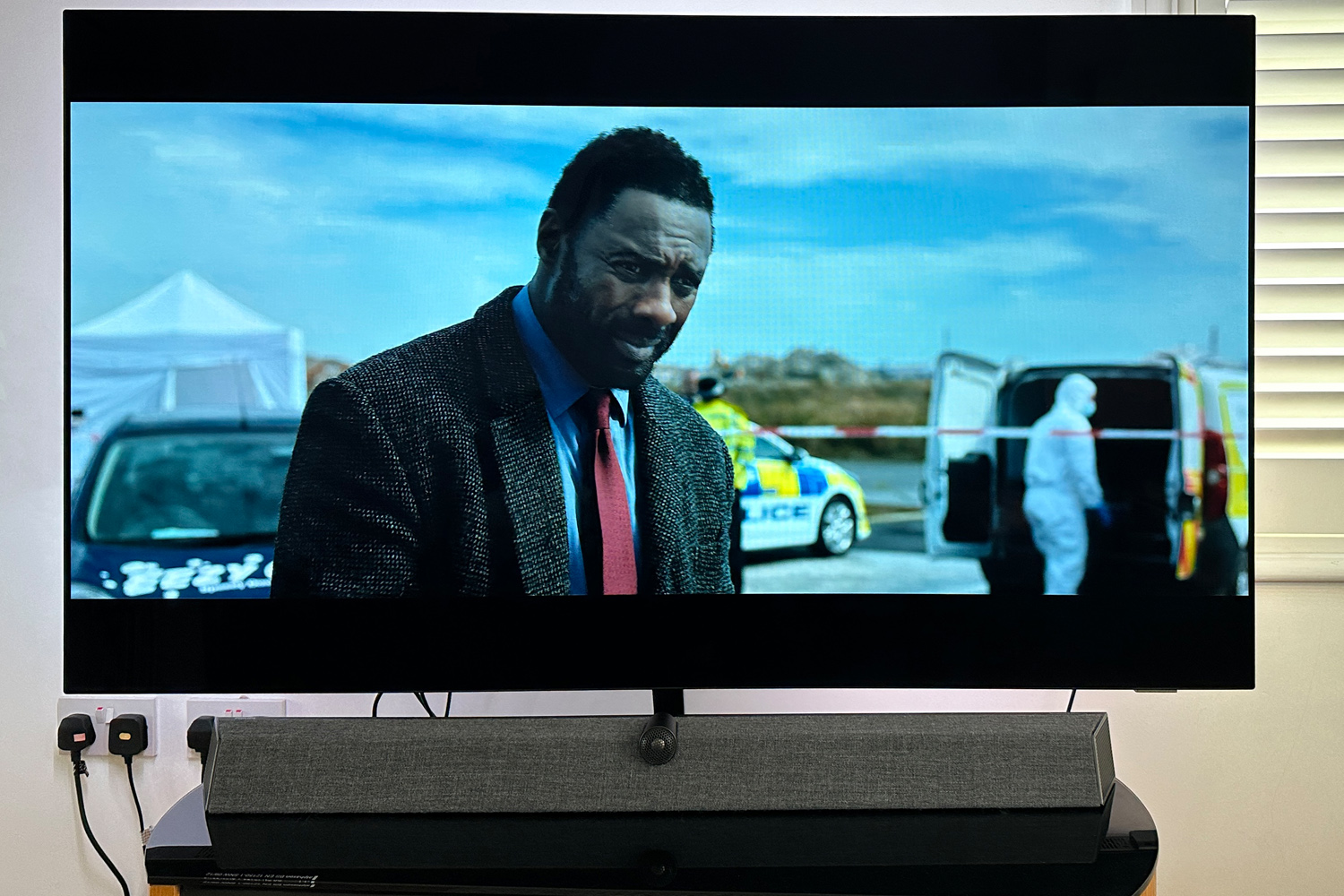 1. Philips 65OLED+937 
Stuff Says…
The Philips OLED+937 not only has it where it counts, it has it to an almost indecent degree
Tech spec:
Display: 65in 3840 x 2160 OLED • Supported formats: HDR 10, HLG, Dolby Vision • Android TV • Connectivity: 2x HDMI 2.1 2x HDMI 2.0, 3x USB, Ethernet, Wi-Fi, Bluetooth, Chromecast
Ever since Philips began collaborating with Bowers & Wilkins for its high-end TV audio systems, the company has set itself apart with high-quality sound, in addition to the brilliant Ambilight feature. In a market where most televisions seem to be far too similar to each other, this has certainly been a refreshing development. Of course, this sort of differentiation doesn't come cheap. But it's worth it.
Philips' gorgeously large eOLDE set delivers both stunning picture quality, and wide, immersive sound, thanks to the aforementioned partnership. A perfect,t high-quality TV for those who want the best experience with minimal faff, it'll hit your wallet hard, and your eyes and ears even harder. Worth it.
---
2. LG G2 77in OLED
Stuff Says…
Picture-perfect quality in a properly premium TV package, the G2 is one of the best and brightest OLED tellies on the market
Tech spec:
Display: 76.7in 3840 x 2160 OLED • Supported formats: HDR 10, HLG, Dolby Vision • webOS • Connectivity: 4x HDMI, 3x USB, Ethernet, Wi-Fi, Bluetooth, AirPlay, Chromecast
LG's long been an OLED pioneer and the G2 is a top-spec telly to cement its reputation. With an upgraded panel, brand-spanking processor and improved heat dissipation, it promises brightness to rival the best LCDs.
LG calls the G2 its "Gallery Edition" for good reason: it's designed to be wall-mounted. And in 77in guise, it does plenty to justify the framing, as well as the Picasso price tag. Hues are vivd, yet colour accuracy is second to none. Blacks are as inky as you'd expect, while its OLED evo panel is dazzlingly bright. Image clarity is similarly excellent, with clever AI upscaling to make older content look good in 4K. All of which combines to produce a masterpiece and definitely one of the best 4K TV options around.
Besides the occasional bug, LG's updated webOS interface remains intuitive and clutter-free. A new gaming menu lets you tweak refresh rates, with all four HDMI 2.1 ports supporting 4K at 120fps. The G2's down-firing speakers also pull off a convincing Atmos experience, simulating virtual surround with decent punch – which you can't say of many integrated TV speakers.
---
3. Samsung S90C
Stuff Says…
Samsung has seen the OLED light – and it is good
Tech spec:
Display: 65in 3840×2160 OLED • Supported formats: HDR10+, HLG • UI: Tizen • Connectivity: 4x HDMI, 2x USB, Ethernet, optical, Wi-Fi, Bluetooth
Samsung's OLED beast serves up glossy blacks and bright whites to deliver some seriously impressive performance, with plenty of nuance and shade in the tone department. Full HD upscaling is, as expected, formidable, with high details and solid contrasts on offer.
Gamers too, will appreciate the specs on offer here, which include more than enough HDMI 2.1 ports to satisfy multiple consoles, along with a low input lag and 4K 144Hz gaming. That's pretty impressive for a TV whichever way you slice it, beating other 4K/120Hz sets in the refresh rate department.
Best of all, given the fact that most TV speakers tend to sound rather anaemic, the S90C's built-in audio hardware actually provides a relatively decent experience — one that's good enough to stop you from automatically hooking up a soundbar. Not that that would be a bad idea, mind.