Samsung QE55Q80R review
"Every new QLED TV just enhances the technology's credibility"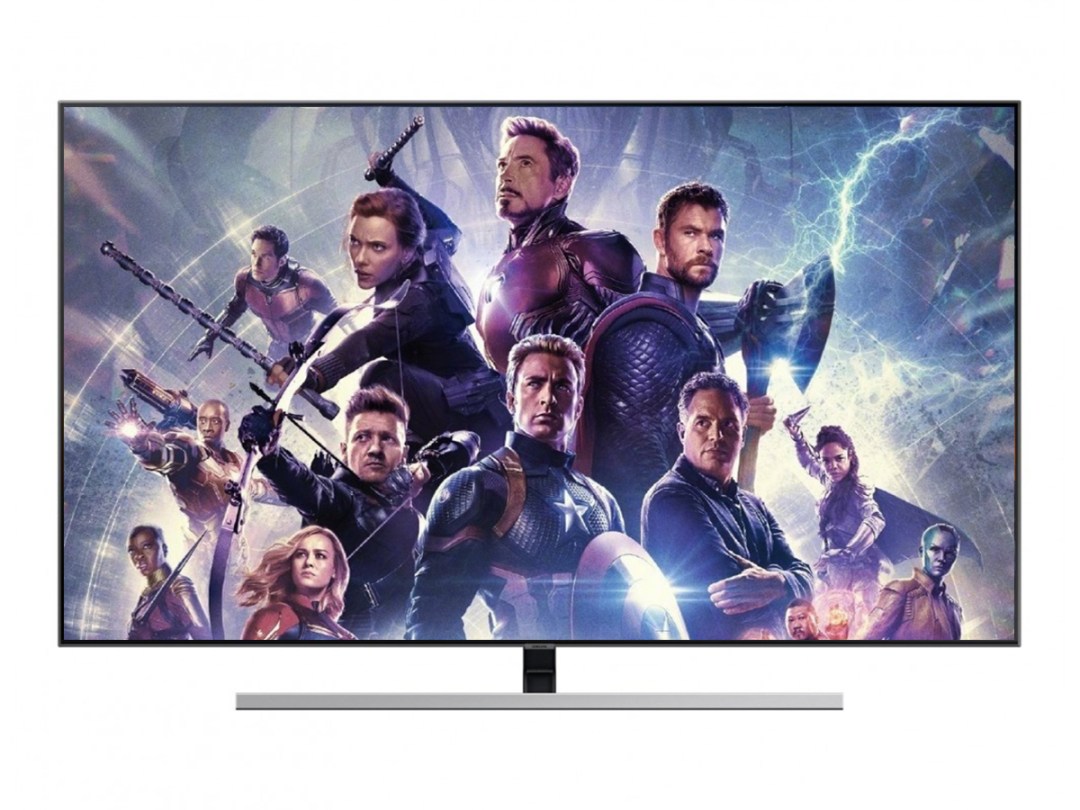 This time last year, all of Samsung's TV smarts were packed into its range-topping QLED TVs. If you fancied a bit of the QLED action without hefty price-tag and were looking further down the range, QLED specs got pretty humdrum pretty quickly.
Samsung is being a bit more generous (or, let's not pretend otherwise, a bit more pragmatic) with its current QLED range. Yes, the Q90 flagship screens have every whistle and bell Samsung can squeeze in, but moving down the range to the Q85, Q80, Q70 and Q60 models doesn't automatically mean you go without all the toys.
Reading between the lines, in fact, it becomes apparent Samsung considers the Q80 series to represent the value/technology sweet spot of its entire QLED range.
Can it possibly be true? Can £2000 dropped on a 55in QLED TV (saving £800 on the Q90 of the same size) buy enough of the bling and performance to stop you glancing enviously up the range?
Design and build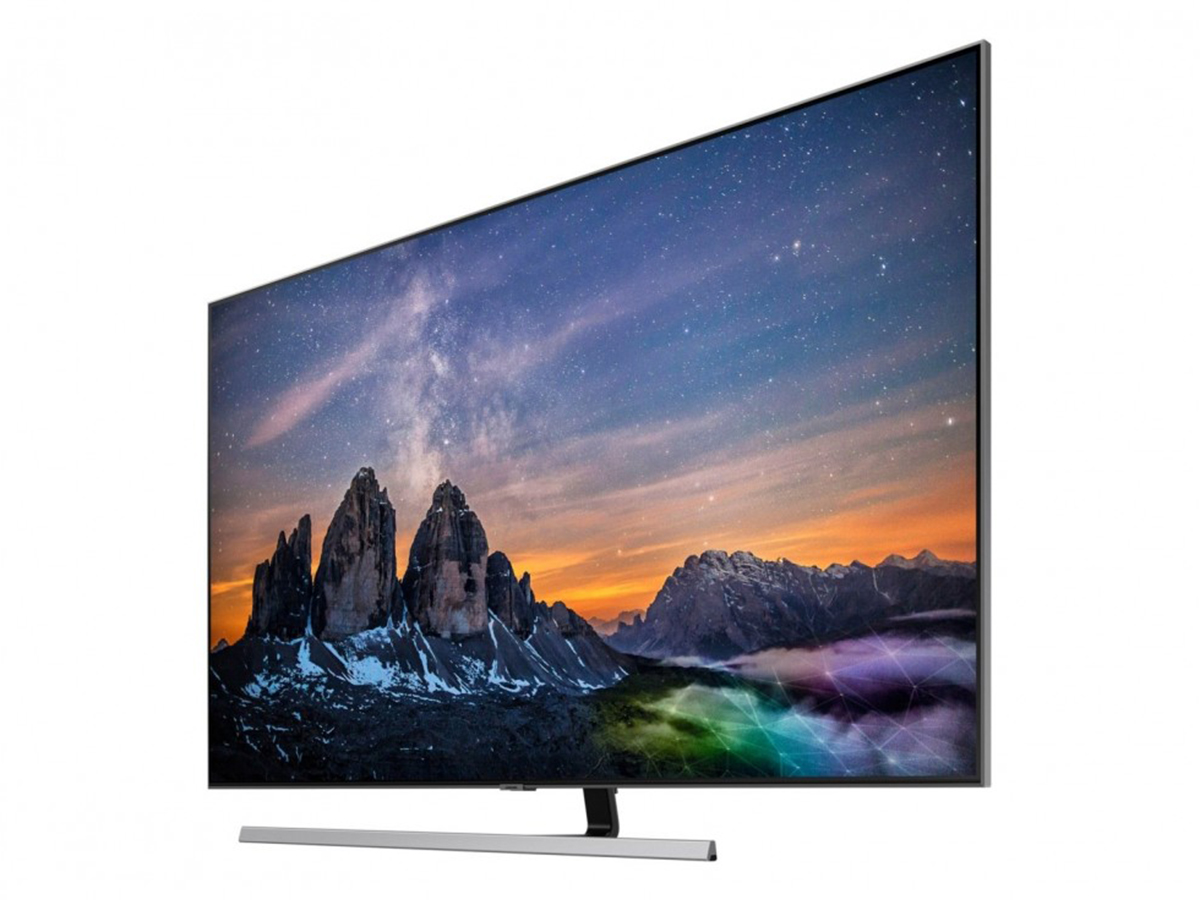 QLED is not all that compelling a showroom proposition. It's an LCD-based technology, so doesn't have the crowd-pleasing slimness of an OLED alternative – and visually there's nothing (like Philips' unique Ambilight feature, for instance) to distinguish it from the rest of the LCD masses.
Oh, there's no doubting the quality of the way the QE55Q80R is put together – it quite obviously will last for years. The thin metallic bezel wrapping around the screen is tidy, minimal and curved, rather than sharp, at the edges. It it supported by a central stand, rather than those impractical feet at either end that necessitate a super-wide surface to stand it on, and there's enough space between the stand and the bottom of the screen to position a soundbar.
Depth is a very ordinary 6.2cm, so a wall-mounted Q80R will intrude into your room a little more than you might expect at this point in flatscreen TV evolution. And this 55in version weighs a substantial 18.6kg, so don't expect to be able to put it on a partition wall.
But certainly none of this is due to the Q80R being a little way down the QLED pecking order – even the range-topping QE65Q90R we tested last month isn't much slimmer and is quite a lot heavier.
Features
Some big numbers are more welcome than others when it comes to a nice new TV, and the Q80R has them where it counts. This is a 4K TV, of course, with a native resolution of 2840 x 2160, and to make the most of HDR content it has a peak brightness of 1500 nits. This compares unfavourably with the Q90R's 2000 nits, but it still facilitates a very impressive brightness range. There's a reduction in the number of dimming zones compared to the Q90R, though there's still full array local dimming.
And talking of HDR, the Q80R follows the Q90R's template by supporting HLG, HDR10 and HDR10+. It's a shame there's no Dolby Vision support, but at least the exclusion is easier to justify on a £2k TV than it is on one that costs twice that.
One of the most impressive aspects of the Q90R's make-up – the Ultra Viewing Angle system, leading to remarkable off-axis fidelity – is carried over to the Q80R, and that's a big plus. The Q90R's One Connect box, which takes every socket away from the screen, leaving just a single, very narrow cable running from it, is absent here, though – so the Q80R's impressive suite of inputs are all arranged on the rear panel of the screen. These include four HDMI sockets, an Ethernet input (there's wifi on board too, naturally), a couple of USB inputs, two satellite TV aerial connections and a single terrestrial TV aerial socket.
Interface
As is usual with Samsung TVs, you've quite a number of options when it comes to navigating your TV's on-screen interface. There's the bog-standard, many-buttoned and rather haphazard remote control, to start with. Then there's a far more minimal, nicely curvy alternative handset with far fewer buttons – although it has lost the faux-metal finish it enjoys when it's bundled with the Q90R.
Or you could use Samsung's clean, straightforward and stable Smart Things control app – or, if this physical interaction seems a bit last-century, Alexa and Google Assistant voice controls are available too.
Most of important of all, though, is the fact you'll be navigating one of the clearest and most logical user interfaces no matter how you choose to do so. No matter of you're perusing the plethora of streaming services, changing channel or delving into the set-up menus to try and get the smoothest motion-tracking possible, the QE55Q80R's on-screen menus are sensibly arranged and easy to negotiate.
Performance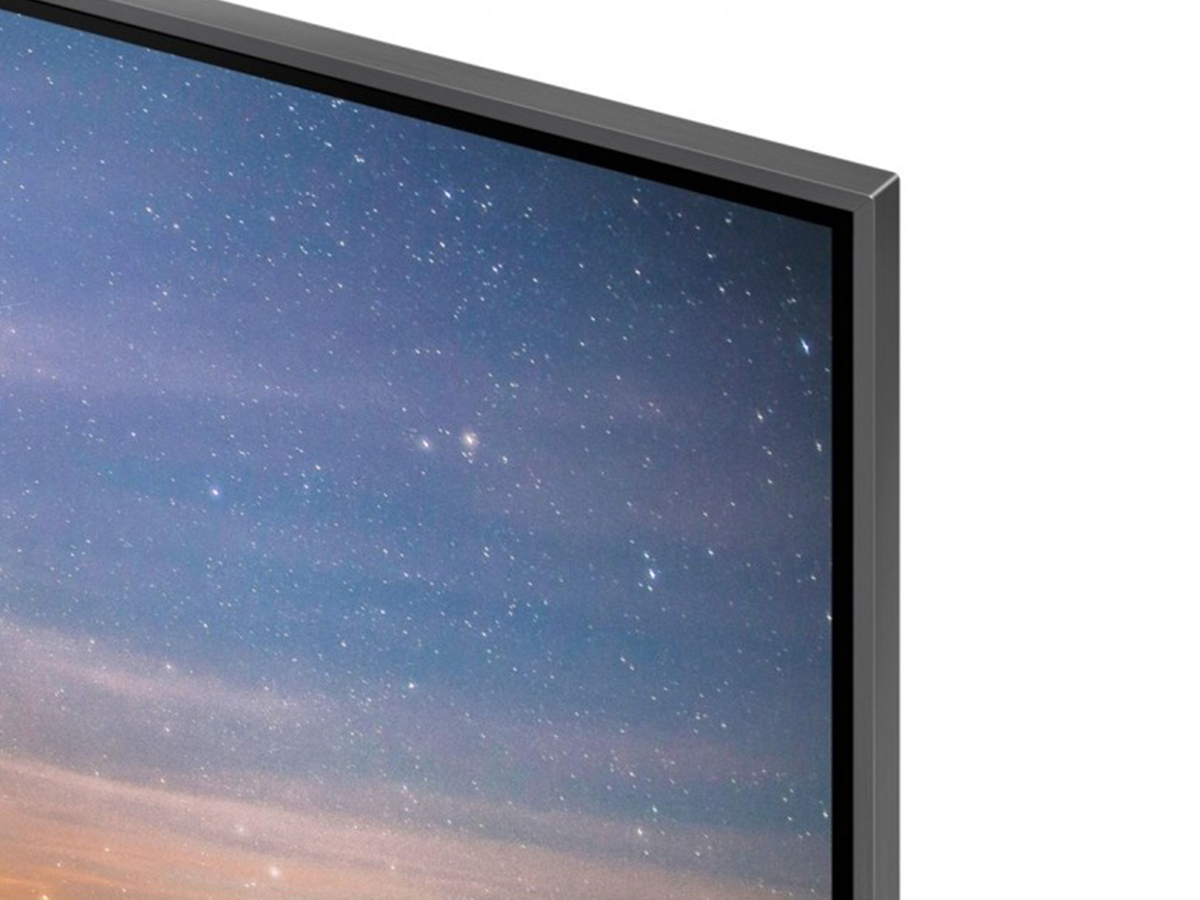 One of the truly startling aspects of the QE65Q90R's performance concerned its off-axis viewability – QLED had, until this TV arrived, a justifiable reputation for horribly diminished colour and contrast for viewers who weren't sitting directly in front of the screen. The Q90R's Ultra Viewing Angle added an extra panel layer for light-focusing and backlight leakage-prevention, and it worked a treat. So it's nice to report it's every bit as effective here – even those sitting radically off-axis get a proper taste of what the Q80R is capable of. And what it's capable of, in short, is very lifelike and natural picture quality.
Set-up is mercifully uncomplicated – Samsung is the anti-Philips in this respect, giving the end user a fairly limited number of options to fine-tune the image. So it should be the work of just a moment or two to get a satisfying balance.
Displaying a 4K Blu-ray disc of the ultra-vivid Avengers: Infinity War the Samsung impresses with the vibrancy of its colour palette. Reds and yellows pop when they need to, but during the movie's (few) moments of human realism there's great authenticity to skin tones and textures.
The QE55Q80R makes plenty of the HDR10-assisted contrasts, allowing convincing brightness to Thor's thunder-summoning while keeping the dark elements of the picture deep and detailed. There is lovely definition to the finest details, even if they're computer-generated rather than captured in reality. And motion is, one the whole, handled with confidence – only when the effects are piling up and the on-screen action is getting especially hectic does the Samsung betray how hard it's working. It's a mark of how accomplished the Q80R is – a slight hint of motion-smearing becomes disproportionately jarring partly because it's so rare.
The story is similar when taking steps down in quality. A 4K stream of Don't Worry, He Won't Get Far On Foot via Amazon Prime is stable and high-contrast, with a lot of detail contained in Joaquin Phoenix's complexion and the stifling surroundings of AA meetings.It doesn't have quite the vibrancy of a disc-derived image but it's thoroughly enjoyable nevertheless.
As an upscaler the Q80R is efficient rather than spectacular – you'll never mistake a BBC iPlayer stream of Lady Macbeth for a native 4K image, but it's very watchable nevertheless. The Q80R shares the picture processing technology of the Q90R, and maintains the same low-noise upscaling abilities. There's more of a drop-off in contrast and brightness compared to its more expensive sibling, but not so much that it's going to put much of a crimp in your enjoyment. Gamers will appreciate the sub-20ms response time just as much as the bright, stable HDR images of a game like FIFA19.
There's no doubt the Q80R doesn't enjoy quite the contrast headroom of the Q90R, due to its inferior peak brightness and reduced number of dimming zones, but there's never any danger of dynamic contrast disappointing.
No matter the source, the Samsung QE55Q80R impresses with its surprisingly bold, assertive sound. Thanks (in part) to the relative depth of the Samsung's chassis, its sound has more depth and punch than flatscreen TVs are generally associated with. That's not to say a £2k TV like this doesn't deserve/demand a half-decent soundbar to bring the audio closer to the standard of the video performance.
Samsung QE55Q80R verdict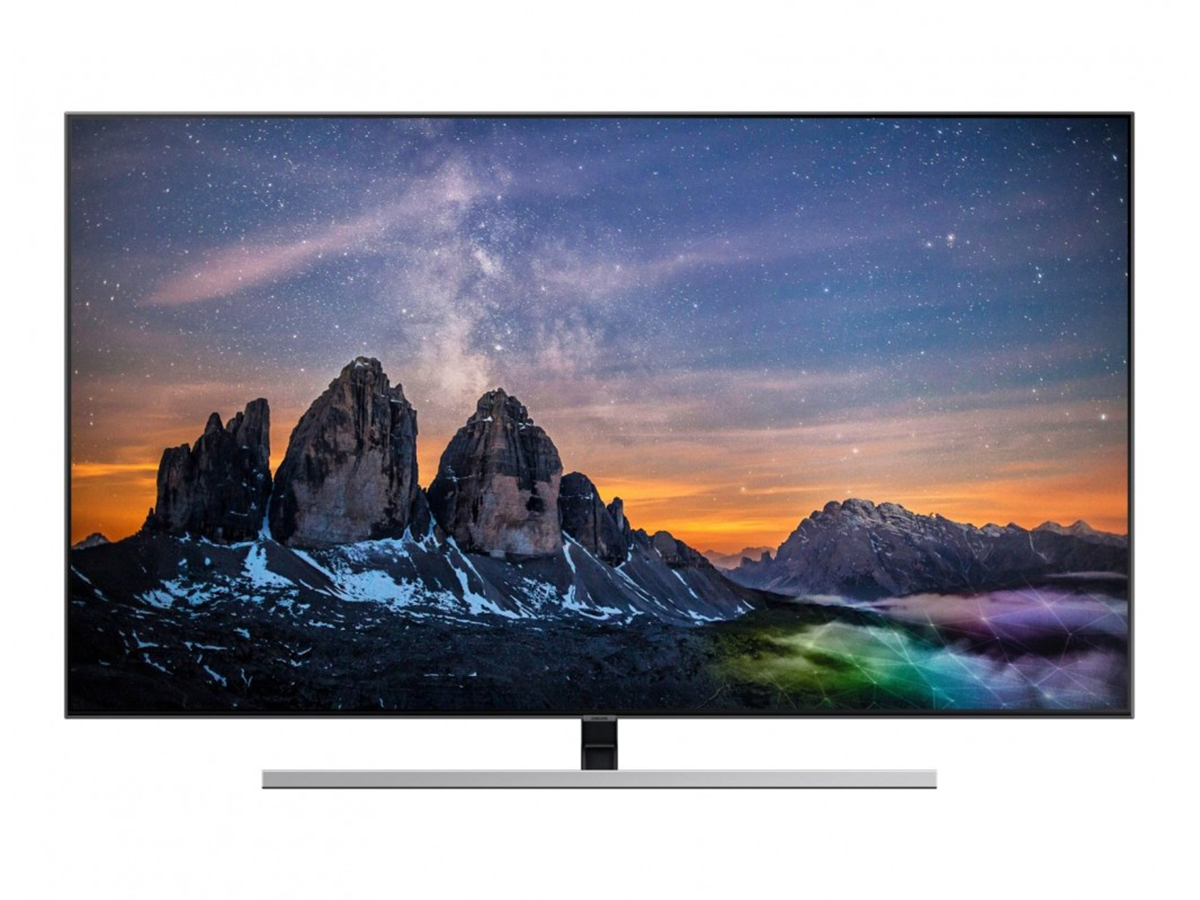 Almost all of the performance of a range-topping TV, not so much of the outlay – the QE55Q80R strikes a clever balance
Stuff Says…
Samsung's QLED technology is maturing nicely even as it gets more affordable – which can only be a good thing
Good Stuff
Bright, colourful, convincing images
Fine operating system
Good off-axis performance
Sturdy sound
Bad Stuff
No One Connect box
No Dolby Vision
Motion-handling isn't flawless