Samsung Sero review
Is Samsung's rotating TV Sero-ously impressive?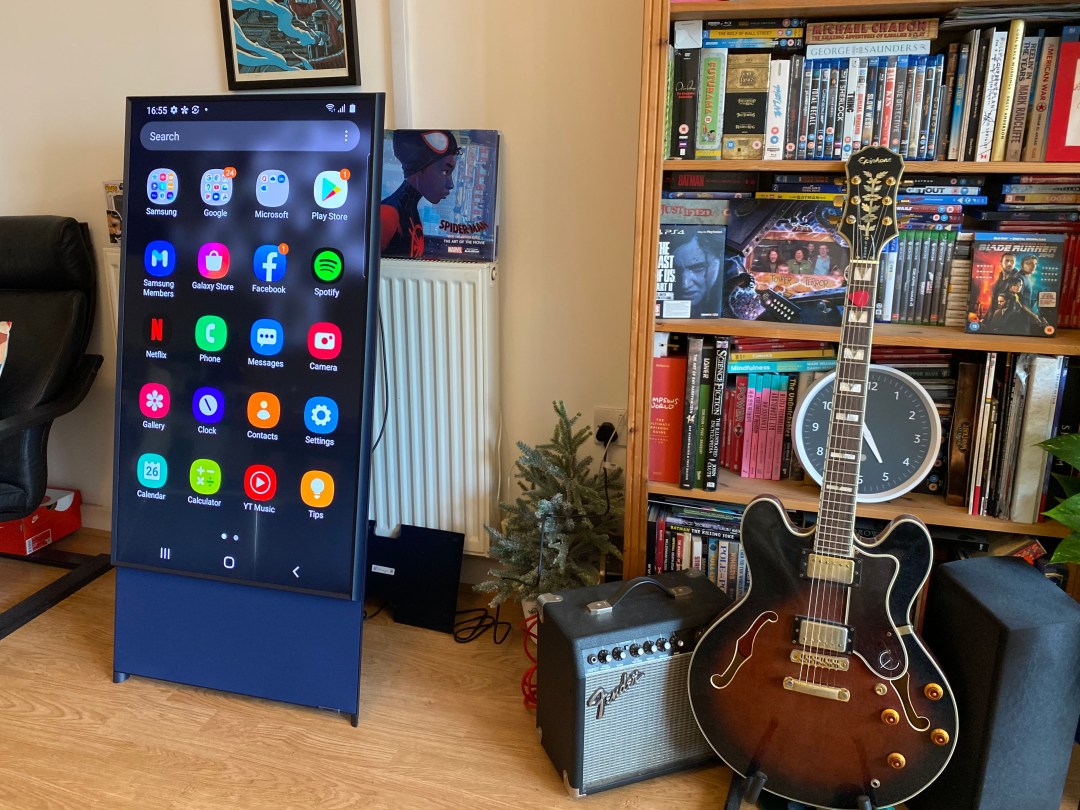 Allow us to make something very clear from the start: Samsung's Sero is a ridiculous piece of technology.
It's a TV that can rotate between landscape and portrait orientations, the latter essentially turning it into a ginormous smartphone onto which you can beam 15-second videos of thieving seagulls and dancing teenagers from your actual smartphone. And honestly, that seems to be the main and possibly only reason it exists.
It's a TV for millennials, then, except Samsung decided to fit it with one of its QLED panels, so it costs £1,299. At 43 inches it's probably too small for most living rooms, but the hefty stand and obvious added height means it likely won't work in a lot of bedrooms either. Add to all this the fact that it only seems to play nice with Samsung's own phones and you've got a real head-scratcher of a telly.
And yet despite all of this, we couldn't help but fall for the Sero. As well as being a pretty decent 4K TV when you're not binging TikTok, it has front-firing 60W speakers that are far better than the in-built audio solution on pretty much any TV we can think of at this size, and mechanically it's a bit of a marvel.
Nobody in the world asked for it, but should you want one anyway?
Design: You spin me (not quite) right round
Big or small, chunky or thin, post-4:3 TVs have always been horizontal rectangles. Until now.
By default, the Sero sits vertically on a kickstand that you could probably pop an ollie on if it wasn't so hefty. And, er, had wheels (which it apparently can if you buy some separately). The 43in panel is attached to a base wrapped in a quite attractive navy fabric, and this is where the speakers are hidden.
The bezels aren't the issue here that they might be on other less experimental tellies, as the Sero looks as much like an art installation as it does something you want to watch Gangs of London on.
What did take us by surprise, though, is just how heavy the thing is, weighing in at 33.3kg fully assembled. Setting it up was barely more complicated than screwing it into the stand and lifting it to our chosen spot in the living room, but it's definitely a two-person job.
Because of the relatively narrow distance between the screen and the kickstand, accessing the back of the TV is a bit trickier than we'd like, but with the right hand gymnastics you'll find a trio of HDMI 2.0 ports, two USBs, a CI slot, terrestrial input and eARC should you want to connect a soundbar. Although, good luck finding somewhere to put it.
The Sero's obvious party trick is its rotational capabilities. A tap of the corresponding button on either the Samsung Smart Remote or the SmartThings app on your phone will instruct the TV to rotate 90 degrees, a transition which is both quick and slick every time it happens. Just make sure you don't have objects in bashing distance on either side of the screen. As far as we're aware the Sero won't detect them before an unfortunate collision.
Out of the box, the TV will always automatically return to its more unique upright position when you turn it off, but if this is annoying you can change it in settings.
Features: TikTok XL
So you've got a bonkers portrait TV in your living room. You no doubt want to know what you can do with it.
The Sero is being marketed to social media-obsessed millennials for a reason. As Samsung sees it, they spend hours every day scrolling apps like TikTok, YouTube and Instagram on their phones, and the Sero allows them to supersize that content. Why waste your life away watching The Sopranos like a square when there's a near infinite library of young people exaggeratedly lip-syncing to pop songs you hate?
If you have a phone running the most recent version of Android you can simply tap your phone on the TV to mirror its vertical display, choosing between a full screen view on your phone or the TV (the differing aspect ratios means one will default to black borders).
That is, as long as it's a Samsung phone. Our Google Pixel 3a XL didn't seem to get on with the TV, and even traditional screen mirroring and casting (the less nifty alternative to tapping) proved temperamental. Tap View worked like a dream on the Galaxy S20 Ultra 5G though, and if you have Galaxy Android 10+ the TV will support auto-rotation in sync with your phone.
We'd go as far to say that iPhone users shouldn't bother with the Sero at all right now. While all Samsung QLEDs support AirPlay2, the Sero doesn't allow vertical mirroring on iOS, instantly removing its USP.
There is other functionality in Portrait Mode. You can load up a number of quite stylish animated clock face designs, posters and a sound wall to make the Sero look far more interesting than a black screen when you're not using it. And you can beam any vertical photo on your phone to the screen with various filters, something we were able to do with no issues on both the iPhone and the Android. Samsung's clever Ambient Mode+ is also available, but only horizontally.
Some apps will also, for some reason, allow you to watch widescreen TV in portrait mode with skyscraper-sized black bars above and below the screen. Go wild.
In terms of normal telly features, this a 4K HDR QLED with a 3,840 x 2,160 resolution, boasting support for HDR10, HDR10+ and HLG. No Dolby Vision though. Filmmaker Mode and Auto Motion Plus are also on board for those who appreciate their assistance.
Interface: As good as you'd hope
With the remote in your hand, the Sero operates in much the same way as any Samsung smart TV. Which is to say, very well indeed.
The Tizen platform is intuitive to navigate, with a row of all the icons you need accessible with a tap of the home button. The difference here is obviously the Portrait Mode icon on the left-hand side, which will rotate the TV to its vertical position when tapped.
Apps-wise, the likes of Netflix, BBC iPlayer, Amazon Prime Video and Apple TV+ all appear out of the box, while Disney+ and other compatible apps can quickly be added.
Some apps, such as Apple Music and Netflix, don't support portrait view at all, while iPlayer for some reason does. And only certain apps will automatically rotate the screen in order to open if they don't. It's for this reason that you might be better off disabling the auto-portrait setting when you turn the TV off. Having to immediately rotate it every time you switch it on is a bit of a faff.
Bixby is naturally built in, and there's support for Alexa and Google Assistant too.
When setting up the TV, Samsung points you towards its SmartThings app, which is available on both iOS and Android. Once you've paired your device with the TV through the app, you're able to control and rotate the TV using the virtual remote and cycle through the different Portrait Mode settings.
Performance: approved by our eyes and ears
No matter how enthused you are by Big Phone Telly as a concept, you're probably not going to throw nearly £1,300 at it unless it performs well as a regular old goggle-box too. Good thing, then, that the Sero is a thoroughly decent 4K HDR QLED in its own right.
We watched a range of different content, from a few HD/SDR shows on Netflix, which are upscaled admirably by Samsung's Quantum Processor 4K, right up to one of the streaming service's UHD showpieces (and the best TV episode of 2020), 'Bagman' Better Call Saul's fifth season. The Sero is vibrant and vividly detailed with good blacks and excellent contrast. Everything looks super sharp on the fairly small 43in panel, and we weren't bothered by any noticeable judder. If you find the picture to look a touch unnatural with judder reduction on max (as it was by default), it can be turned down in settings.
We generally left the TV's Adaptive Picture settings on, as they do a good job of balancing the brightness of your surroundings with the TV's output. Although it's worth noting that when we disabled them and switched from Standard to Dynamic while watching the Toy Story Pixar short, Lamp Life, it made for a decidedly more punchy viewing experience in a living room full of daylight. Filmmaker Mode in particular is also far too dim to be enjoyed during the day.
We also plugged in the Nintendo Switch for a few hours and found Samsung's trusty Game Mode to do a fine job with the latest very colourful Paper Mario title.
Even more impressive, and surprisingly so, is the Sero's 4.1, 60W audio setup, which includes a woofer at the base that helps your content sound much weightier and robust than your average feeble TV speakers. The 'Amplify' sound mode appears to boost dialogue and voices, which might come in handy for particularly mumbly movies.
We watched a few Hamilton numbers on Disney+ after watching the whole thing with a proper 5.1 setup a few weeks ago, and while we obviously missed the surround sound, the Sero's speakers didn't take away any of the show's epic nature. If it's to be a bedroom TV alone, they're more than good enough, and we were quite happy to listen to background music on it too.
Samsung Sero verdict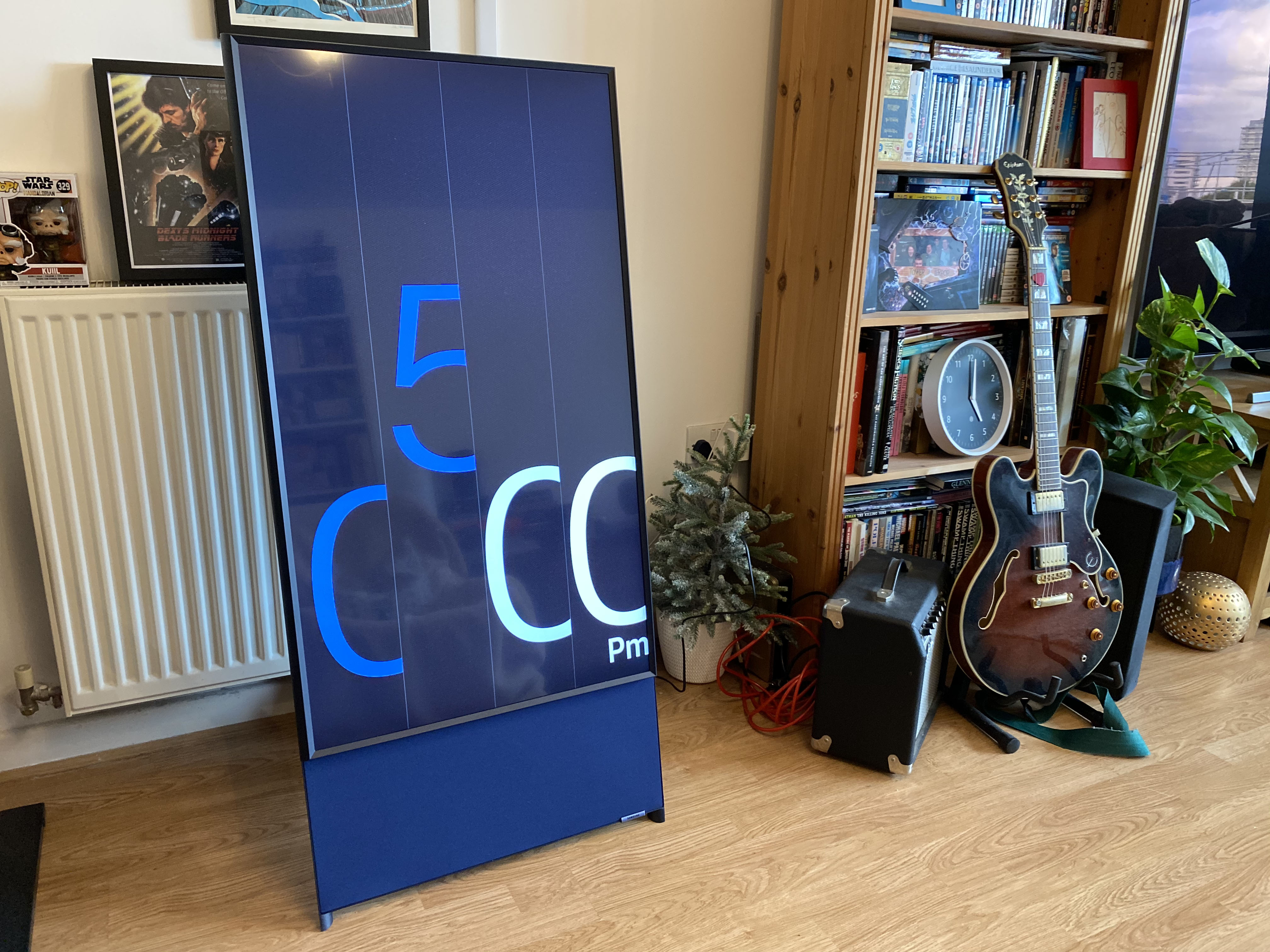 The Sero is the very definition of a hard sell. Without doubt, it's one of the most attention-grabbing and visually desirable TVs we've come across for a while, and a very nice 4K QLED too boot. It sounds better than most TVs of its size that aren't accompanied by a soundbar, and it rotates. As far as we're aware, no other TV rotates.
But it's also a £1,299 set that is probably too small to be your main TV, and you're paying a premium for a portrait orientation that is severely limited in its capabilities to everyone but Samsung phone owners – and possibly little more than a gimmick to all but the most devoted TikTok fiends.
We liked the Sero. We didn't want to give it back and daydreamed about making it our new bedroom set. But unless the vast majority of content you consume is of the vertical, viral variety, and on a Samsung-made smartphone, there are plenty of strictly horizontal televisions that, while a bit boring by comparison, are much easier to justify.
Stuff Says…
An instantly likeable and very good QLED TV but you'll need to be a social media-mad Samsung user to make it worth it
Good Stuff
Rotating TVs are fun
Good picture
Impressive audio
Eye-catching design
Bad Stuff
Requires a Samsung device to really shine
Only 43 inches
Portrait Mode pretty limited right now