Smeg ECF01 Espresso Coffee Machine review
The daily grind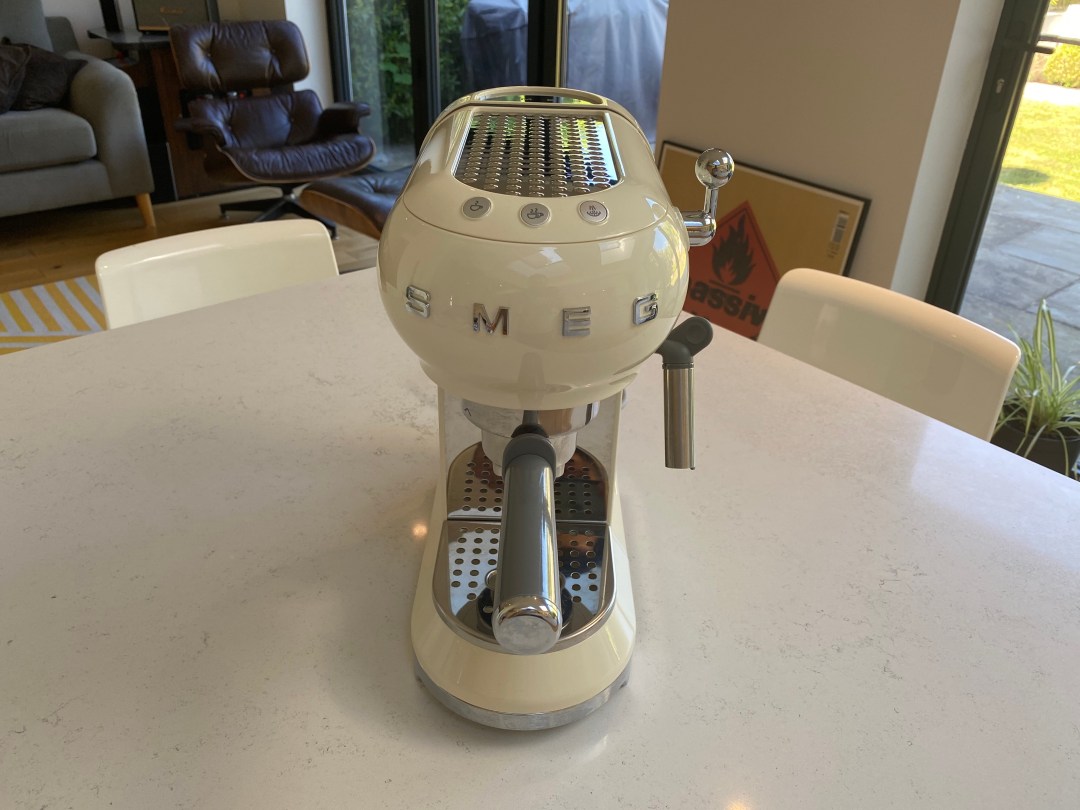 As anyone who has watched the (admittedly awful) London-set episode of Gomorrah will attest, Italians don't care much for our coffee.
Perhaps it was down to the indifference of swapping the Amalfi Coast for the Euston Road, or we'd served the cast Mellow Birds, but had they had a Smeg ECF01 Espresso Coffee Machine at their disposal things might have been different.
Smeg's manual machine is as much an educational tool as it is a means to get your quality morning roast without leaving the house. The operation involves ground beans (pods work too), filtering, tampering, and the optional steaming and frothing of milk.
You have to work for your hit, but this might just be the perfect stepping stone to take you from coffee pod padawan to barista Jedi.
Design: A FAB throwback
Smeg's 50s style design aesthetic is used on its iconic FAB fridges and carried over to its range of small domestic appliances, of which there are many. In fact, if you're really into your coffee craft, the company produces a new dedicated bean grinder and milk frother.
They're available in cream, red, black and colourful pastels, with each displaying bold Smeg branding in raised chrome lettering. Having one on your worktop makes a statement – especially if you opt for the Dolce&Gabbana special edition sporting traditional Sicilian artwork.
Weighing 4.9kg and standing 33cm tall, the espresso machine needs room to breathe. Materials are a mix of plastic, stainless steel and polished chrome, and there's no denying it looks fantastic, with protruding handles, nozzles and levers begging to be fiddled with.
Features: Frothing at the mouth
Calling the ECF01 an espresso machine is doing it a disservice. Yes you get your single and double shots, but deep dive into the settings using the three-button interface and you'll discover methods for mixing up cappuccinos, lattes and macchiatos.
There are options to adjust the volume, strength and temperature, set things to match your water hardness, and if you fancy a longer drink, the steam wand used for frothing milk (more on that later) doubles as a hot water dispenser to top things up and create an Americano.
The tidy touches don't end there, because the chrome top is in fact a cup warmer, there's the option to fit a water softener filter, and an automatic shut-off timer to save energy. Packing 1350W of power and a 15 bar pump pressure, it's comparable to similarly priced machines from De'Longhi and others.
Controls: Baby's got a tamper
Given the importance of routine right now, there's a pleasing set of steps to working the Smeg espresso machine, and once you're in your stride the process is almost rhythmical. Begin by choosing your water hardness settings and temperature, then fill the 1 litre water tank and clip it in at the back. Remove the weighty filter holder, pause while you consider whether it would constitute an offensive weapon for spooking intruders, and slide in a filter for either ground coffee or, if you're cheating, an Easy Serving Espresso (ESE) pod. Tamp down ground coffee in the filter and twist the filter holder back into its boiler outlet holster. Press for one or two cups and watch the taps open in hypnotic fashion. It's here you need to decide whether to wave your steam wand on the right of the machine. Operated by the steam knob lever, you can use it to froth containers of milk for a cappuccino, or spurt out hot water for an Americano.
Performance: Flow shizzle my nozzle
Using a combination of Smeg's own blend, Illy Classico arabica ground coffee, and Lavazza Qualitia Rossa beans fresh from the grinder, the results are consistent and coffee shop quality, even if you don't get the pleasing waft of coffee passing through the house like you do with a drip filter machine.
Using the steam wand can be a bit of a faff if you don't want a dairy volcano to erupt in your face, but after a few tries you'll soon become that person creating patterns atop their cappuccino. There's the cleaning process to contemplate too of course, but on the whole it's not the chore you think it's going to be.
Verdict: Smeg ECF01 Espresso Coffee Machine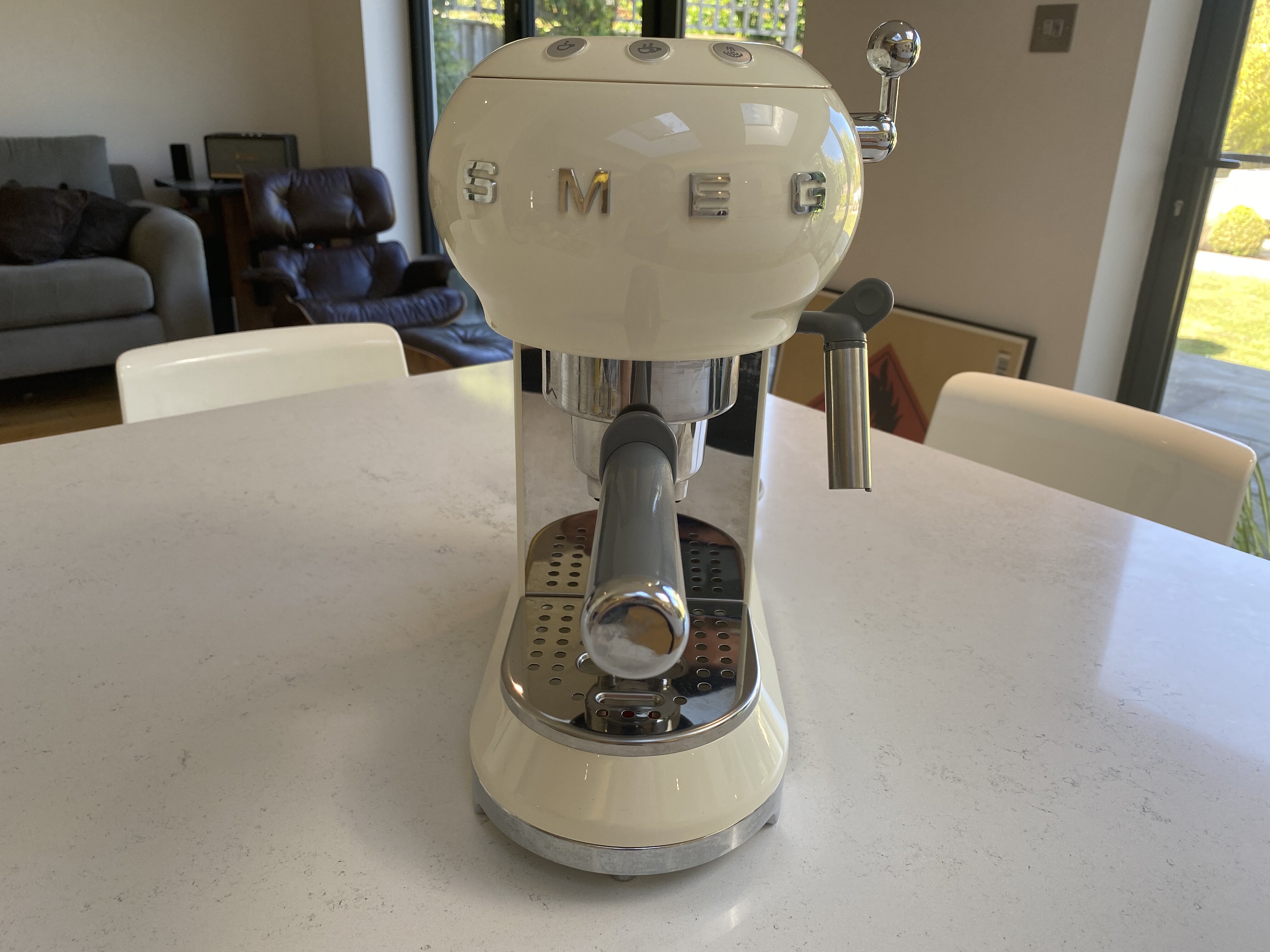 It's hard to pick any holes in Smeg's espresso machine… but let's give it a go. For a start it makes all the classics and not just espressos, so it's got a stupid name. The ratio of plastic to stainless steel is balanced a bit too much in the former's favour, but for a sub £400 machine I guess that feels about right. Also, a display of some kind would have been nice when deep diving into settings.
An automated machine this is not, so if your mornings are a mad rush of bundling scalded Pop Tarts in a top pocket and dashing out the door, either make some much needed life changes or buy a pod device that does everything for you. Of course, if you prefer your coffee aromatic and not the muddy watery stuff you get from a vending machine, learning the craft can be a liberating experience.
A bit like a folding bike, or Birmingham New Street Station, once you've worked out what the hell is going on, making espressos, cappuccinos, lattes or macchiatos with verve becomes second nature and soon you'll be able to barista blindfolded (don't do that).
Stuff Says…
A stylish step on the stairway to proper coffee paradiso
Good Stuff
Oozes retro style
Solid build quality
Makes damn good coffee
Bad Stuff
Manual operation
No display
Time consuming