Sonos Move review
Sonos has finally made its Move
The Sonos range of wireless speakers has been crying out for a battery-powered portable offering for ages now – and, finally, Sonos has caved in.
Could it be, though, that Sonos has left it too late? After all, every brand with half a reputation for wireless speakers has had a portable, Bluetooth (and sometimes waterproof) version in its range since Boris Johnson was just the harmless old Mayor of London. Are there any customers left to woo?
Fingers crossed there are – because not only is the Move the speaker Sonos should have launched years ago, it's one of the best products of its type and price you've ever heard.
Design and build: Drop It Like It's Hot
There have been some concessions made to Move's outdoorsy potential where design and build are concerned, but not so many that you wouldn't immediately pick this out as a Sonos product.
At 24cm it's on the tall side, but its mildly cylindrical shape serves to make it look like a Sonos One on steroids. The bottom of the cabinet is heftily rubberised for durability – the Sonos website shows a Move being heedlessly dropped from a height with no ill effects, but we're not about to test that theory. Not until all the other testing is done, anyway.
The top of the Move is basic touch-controls and mics, and from there down to the apparently bomb-proof base it's pretty much all sturdy acoustic grille. Except at the back of the speaker, at least – there you'll find a sculpted handle, plus USB-C for charging, a 'power on/off' control and a switch to toggle between Bluetooth and Wi-Fi inputs. There's also a set-up/reset control.
The Move certainly feels hard-wearing and built to last – the 'shadow' black finish (which is currently your only option) is supposedly able to withstand all sorts of outdoor unpleasantness like heat, cold, sunscreen and (obviously) mustard. Its IP56 rating means humidity, rain, salt-spray, dust and all the rest shouldn't put a crimp in the Move's performance either.
Features: Make Your Move
First things first: Sonos may have waited an age to introduce a Bluetooth speaker, but it's hardly pushed the technological boat out. Connectivity is of the 4.2 variety – a decent enough standard, but it puts the Move at a (theoretical) disadvantage in sound quality terms and a (definite) disadvantage in battery life terms against rivals with Bluetooth 5.0 or aptX.
Just as well, then, that Move has the best wireless range of any Sonos product, so if you're just popping out into the garden (with the sunscreen and the mustard in the other hand, obviously) there's every chance you'll be able to maintain a Wi-Fi connection and not have to resort to Bluetooth at all.
Regardless of whether you use Wi-Fi, Bluetooth or Apple AirPlay 2 to get music into the Move, though, it'll be dealt with by a 16bit/44.1kHz DAC and delivered by a forward-facing mid/bass driver and a downward-facing tweeter sitting above an acoustic lens. In time-honoured Sonos fashion, details about the amount of Class D power delivered by the pair of onboard amplifiers, or indeed about the composition of the drivers, is conspicuous only by its absence.
Sonos has finessed its 'Trueplay' feature to take account of the Move's portability. As well as using its own exhaustive mapping of numerous different listening environments, 'Auto Trueplay' also draws on user's calibrations to recalibrate Move each time it's, well, moved. Thanks to onboard accelerometers, Move knows when it's been repositioned and will recalibrate itself accordingly.
Sonos reckons the Move will last for ten hours on a single charge of its (replaceable) battery, and that the battery itself is good for 900 charges before it will need changing. As well as the USB-C socket, the Move is provided with a large mains-powered plastic ring in which it sits to charge – a bit like it's got its own toilet seat.
Interface: Freedom Of Movement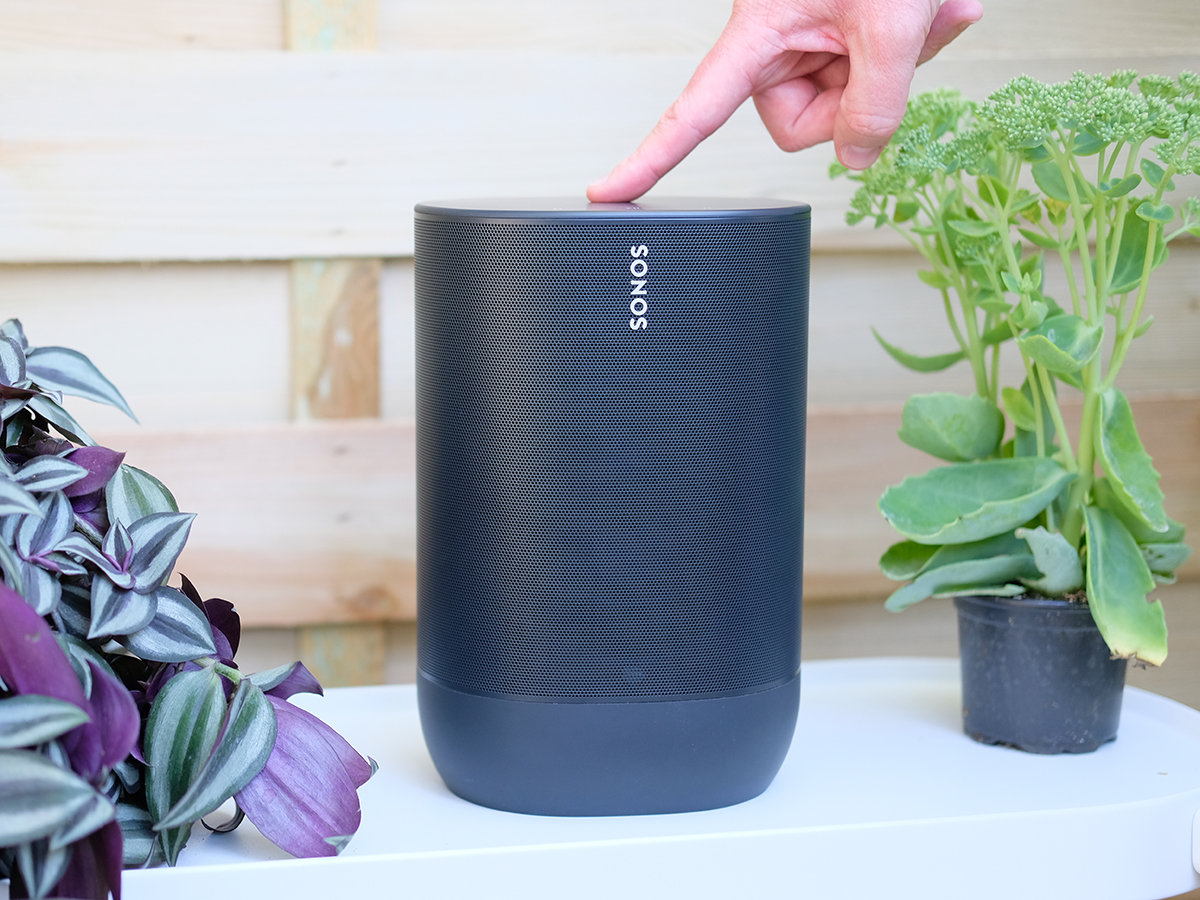 Of course, there would be little point to the Move if it didn't play nicely with the rest of the Sonos range and, sure enough, it's child's play to introduce it into your Sonos multi-room system or form a couple of Moves into a stereo pair.
A big part of Sonos's ubiquity is down to the straightforward excellence of its control app, and the ability to incorporate your favourite streaming services, to specify Google or Amazon voice control, or to access the world's radio stations via TuneIn, all without very much effort at all, shouldn't be underplayed.
Physical controls are brief but effective, and the mics for voice control prove bat-like. Or is it hawk-like? It has really good ears, either way.
Performance: Outstanding Outside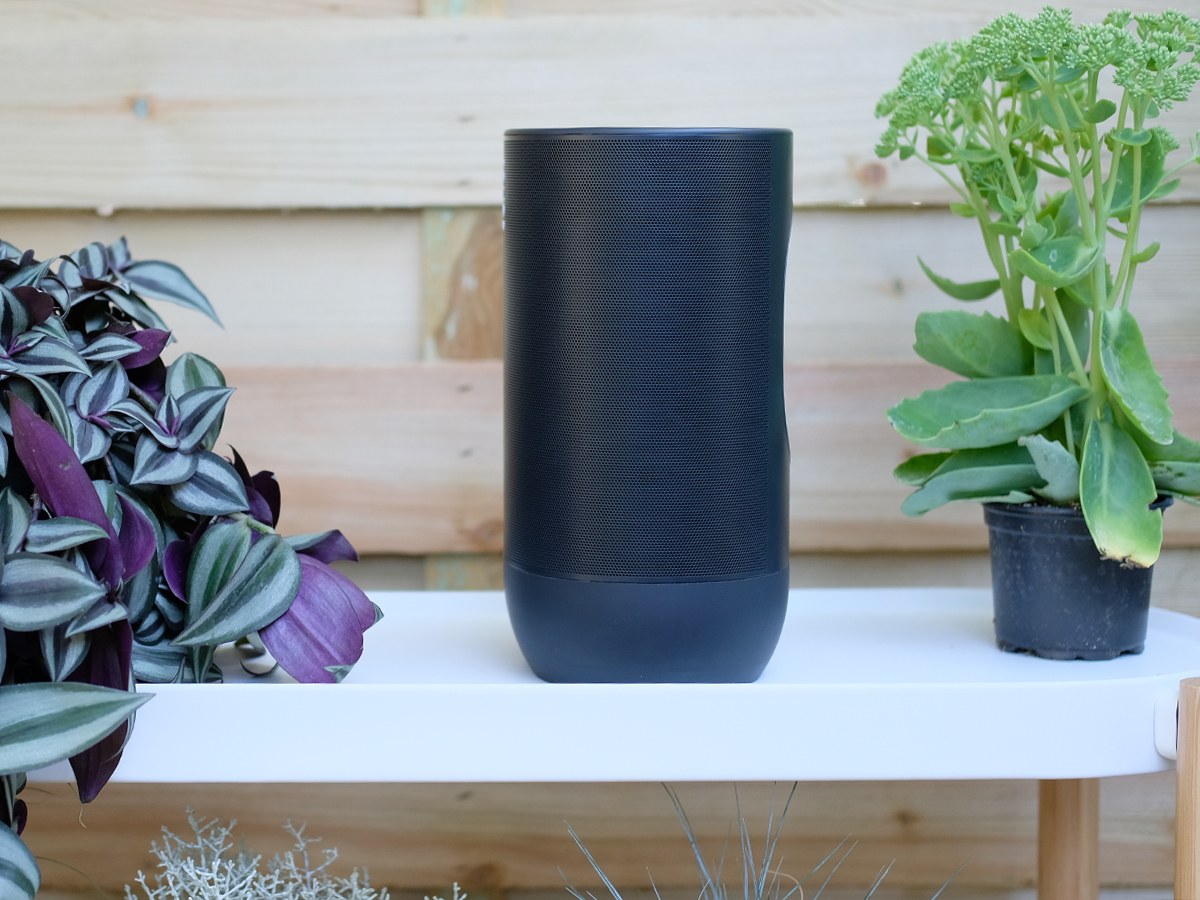 We've waited long enough for a portable Sonos speaker, so it's good to find the company's done a bit more than shoehorn a battery into one of its existing speakers and hoped for the best. The Move may share quite a lot, tonally at least, with its Play:5 stablemate, but it's a far more effective outdoor proposition than anything else in the Sonos range.
The trouble with the outdoors, of course, is how open it is. In your home there are physical boundaries everywhere, which helps the sound of a speaker no end. Down in the garden there are none of these boundaries, so if a speaker isn't going to sound a) weedy or b) lost or c) both, it needs to be loud and punchy. Which is exactly what the Move is.
Koushik's Battle Rhymes for Battle Times demonstrates the 'loud' and 'punchy' aspects of the Move's performance perfectly. There's real control and authority to the bass sounds, despite how deep the Sonos extends and how hard it hits – everything moves along speedily, with negligible overhang. Bass notes start and stop on time, so the sound is of individual notes rather than a badly defined drone. And there's plenty of texture and detail revealed, which helps definition no end.
The extraordinary vocal performance during Tom Waits' Heartattack and Vine allows the Move to show off its midrange poise and detail, too. There's no mistaking Waits' voice, but even so the Sonos exposes so much detail it's enough to make a listener's throat sore. It's as adept at articulating a singer as any similarly priced portable rival.
Up at the top end, though, the rattle and hiss of The Magnetic Fields' Andrew in Drag lacks a little body. There's no shortage of attack, but the relative lack of substance makes treble sounds slightly splashy – and that's a trait that becomes more apparent the more you up the volume.
Not too many folks take a speaker outside for a bit of solitary listening (or, at least, that's what we reckon), so the ability to play at considerable volume is important. And as befits an outdoor speaker, the Sonos Move is plenty loud enough.
In every other audio respect, too, the Move is competitive. It times pretty well, giving a pleasing sense of coherence and unity to even quite fragmented recordings, and it can deal with the squared-edged amphetamine rhythms of Gang of Four just as confidently as King Tubby's rolling skank. It's comfortable with big dynamic variances and low-level harmonic shifts, and it describes quite a big soundstage while it's at it – that downward-firing tweeter helps the impression of scale no end.
'Auto Trueplay' is successful inasmuch as the Move knows when it's been repositioned and doesn't take too long to adjust itself to its new surroundings. And if you don't like the balance it strikes, there's some EQ adjustment in the control app. Of course, moving the Move means you might need to switch from Wi-Fi to Bluetooth reception, which is simply a case of pressing the switch on the back of the cabinet and waiting for the LED on the top panel to switch from white to blue.
The change to Bluetooth impacts sound quality somewhat – there are no glaring drop-offs, admittedly, but the overall presentation loses some positivity and expansiveness. It's by no means a catastrophe, but if you have a choice you'll want to stick with Wi-Fi every time.
Sonos Move Verdict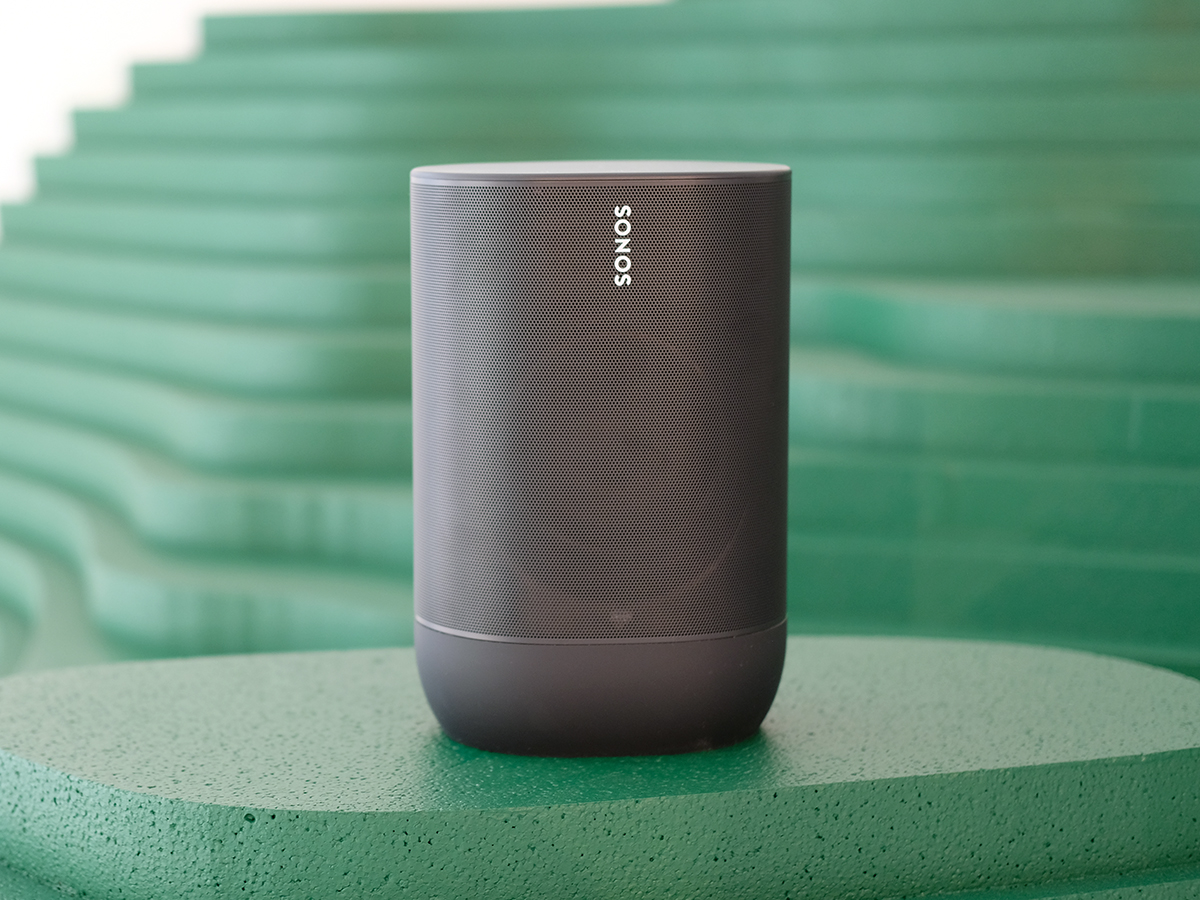 Even though it's taken an eternity to get here, Sonos's first portable speaker is entirely worth the wait.
Its adaptability and, most importantly, its sound mean it's fine value and a bit of a no-brainer for anyone already Sonos-inclined.
Stuff Says…
Sonos finally gets up to speed, and in style
Good Stuff
Big, bold sound
Hardy construction
Fits anywhere in your Sonos set-up
Bad Stuff
Not cheap
Splashy treble