Xiaomi Mi 9T Pro review
Xiaomi gives us a lesson in how to out-OnePlus OnePlus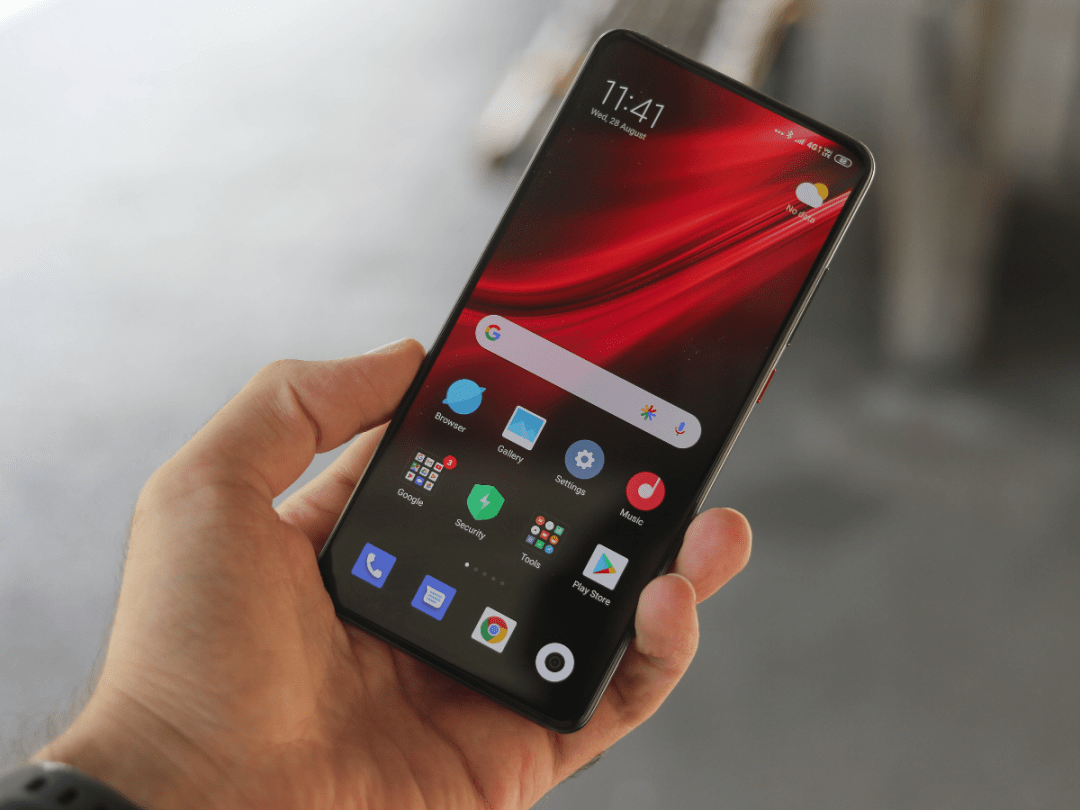 Xiaomi has made a £399 phone with a big battery, flagship processor, headphone port, pop-up camera and an all-screen display… where's the catch? Looking at the specs of the Mi 9T Pro, it's hard to find one.
Even after just a day with the phone, it's clearly very good, fixing a couple of issues we had with older Xiaomi phones like the Mi Mix 3 and Mi 9 SE. Gone are the adverts baked into the UI, for example.
The Mi 9T Pro also betters the Mi 9 by lasting longer, ditching the notch and adding a headphone port. It does lose wireless charging and lacks the water-resistance of pricier flagships – but is that really enough to make this phone anything less than excellent?
Design and screen: A slick beefcake
The Mi 9T Pro looks sleek, despite being a bit chunky. While it isn't a thin phone, it sits very well in the hand, combining a reassuringly solid build with a smooth curved glass back and buffed aluminium frame.
Compared to the original Mi 9, the Mi 9T Pro is heavier, weighing 191g versus 173g, and thicker, being 8.8mm thick rather than 7.6mm. This likely has a lot to do with the roughly 20% extra battery Xiaomi has squeezed into its latest phone, not to mention that headphone jack.
The design of the Mi 9T Pro is very simple: USB-C port and mono speaker at the base, buttons on the right, cameras at the back and headphone port and pop-up camera at the top. Look a bit closer, and it has something special to it. The black version has an almost reflective kevlar pattern under its glass, which, coupled with the red accents pops in the right light perfectly.
With a 6.39in Super AMOLED screen, the Mi 9T Pro packs the same display credentials as that of the Mi Mix 3, combining a 19.5:9 aspect ratio with 403ppi sharpness. It looks vibrant and deep, as we have come to expect from OLEDs, and is customisable too. Dive into the settings and there are tools to tweak contrast and colour balance.
While it can't stack up to Samsung Galaxy S10 or OnePlus 7 Pro displays, it's still among the best you can get for the price, with excellent viewing angles and strong enough brightness to make outdoor use comfortable in all but the most squinty conditions.
Protected by Gorilla Glass 5 and loaded up with a case in the box, the Mi 9T Pro is a robust phone, but without water or dust resistance, don't go dunking it any time soon.
Interface: Imperfect, but improving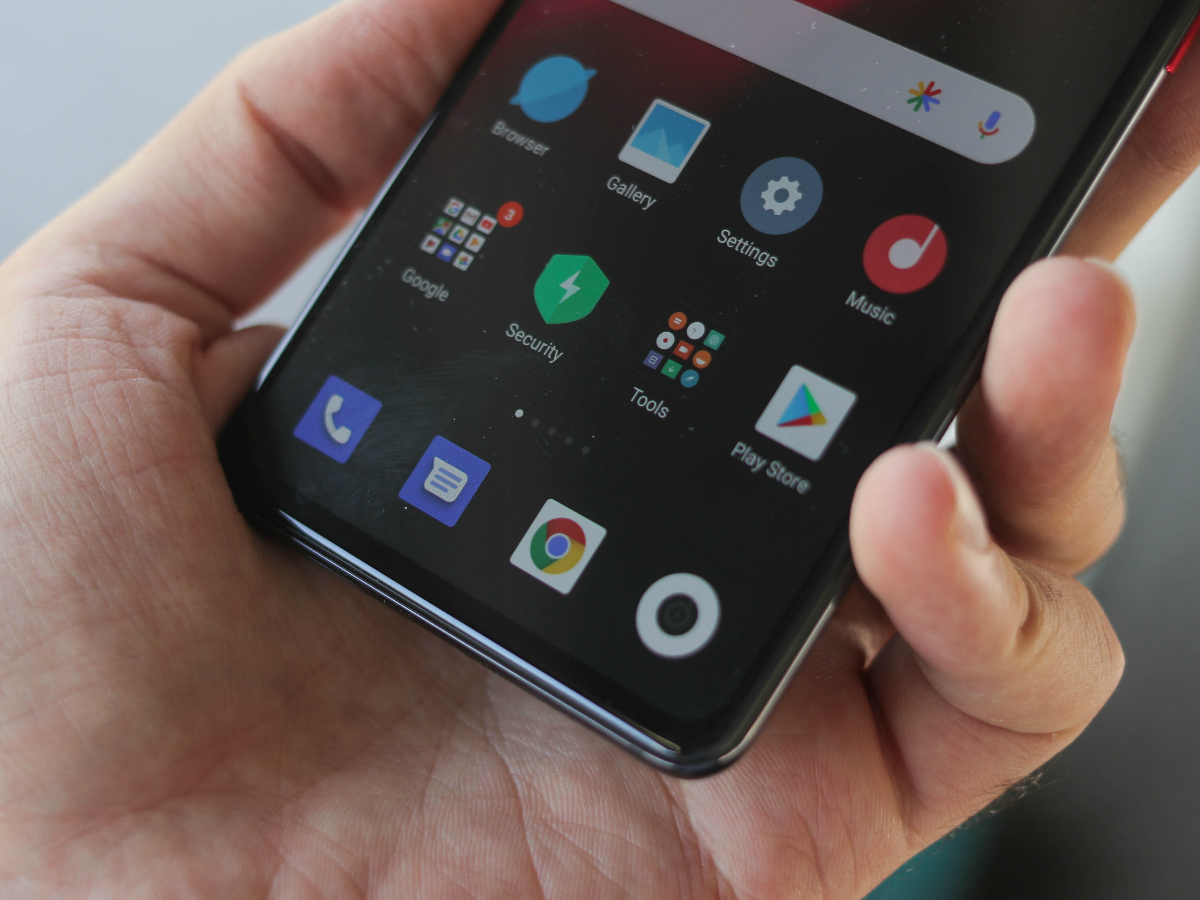 The Xiaomi Mi 9T Pro runs Android 9, which is the latest widely available version of Google's operating system. While we've had issues with Xiaomi's MIUI 10 interface in the past, a couple of these have been fixed here.
Initially, it's a pretty familiar look, especially if you're coming from an iPhone. All your apps are strewn across the home screens and you can put them into folders to keep things organised. If you prefer an apps tray though, which we do to help us keep our home screens folder free, you'll have to install a third-party launcher.
Bloatware has been stripped back by comparison to older Xiaomi phones, and the adverts that would run when apps were being scanned for viruses have also been removed. While MIUI 10 still isn't perfect, it's certainly a step in the right direction.
Thankfully, the interface is also stable, zippy and very customisable. You can turn off almost every frustrating thing about the UI, fire-up iPhone-esque gestures for button-free navigation and, this being Android, you can also install a custom launcher. So while the Mi 9T Pro may not deliver the best out of the box experience, at least it can be made to measure.
Camera: Pop-up pixels
The Mi 9T Pro's triple camera setup is very similar to that found on the Mi 9 and Samsung Galaxy S10: one wide (48MP, f/1.8), one telephoto (8MP, f/2.4) and one ultrawide (13MP, f/2.4) camera. With identical shooting modes to other Xiaomi phones – auto, portrait, panorama, pro mode etc – you have virtually every photography base covered other than raw capture.
For anyone looking for a point-and-shoot phone, the Mi 9T is a bit of a dream, grabbing a lot of detail in every shot, but before you start shooting, there are a couple of things you'll want to do:
1) Get rid of the Xiaomi watermark in the settings – why Xiaomi has this branding on by default is beyond us.
2) Flick on Auto-HDR by tapping the HDR toggle to the left of the phone's viewfinder – this improves shots taken in tricky conditions.
3) Turn on smart scene detection if you feel your images lack impact – just hit the AI icon on the left of the phone's viewfinder to fire it up.
Once you take those steps, you'll feel like you're snapping with a £500+ phone.
Even when the lights drop, pictures taken aren't bad. Activate night mode to engage a long exposure shot, and pull out as much detail as possible, Pixel 3 and Huawei P30 Pro style. While it can't compete with those phones, it goes up against the iPhone XS Max and OnePlus 7 Pro with gusto despite costing less than half the price of Apple's flagship. Blacks do pack a bit of noise, and you will get a blurry shot occasionally, especially if you're not using the native camera app. Along with the Honor 20, though, the Xiaomi Mi 9T is in a league of its own for the sub-£400 asking price.
With 4K video capture at up to 60fps, the Mi 9T Pro is up there with the Samsung Galaxy Note 10 Plus on paper, but where it falls down is image stabilisation at 60fps. Shoot at 30fps, and even handheld, the footage looks good. If the lighting's right, everything looks sensational. If not, or the lighting drops, then as with most smartphones, things start to fall apart, so bring it down to Full HD.
The 20MP f/2.2 selfie camera is also decent, popping up with a jingle and a light every time you activate it. It doesn't have autofocus but does benefit from smart scene detection and auto HDR, so can deal with backlighting respectably. There are plenty of effects you can apply to shots, overlaying lens blur, adding rainbow effects, stage lighting and standard beauty modes. In low light, the screen doubles up as a flash and brightens things up nicely.
Performance: Flagship for less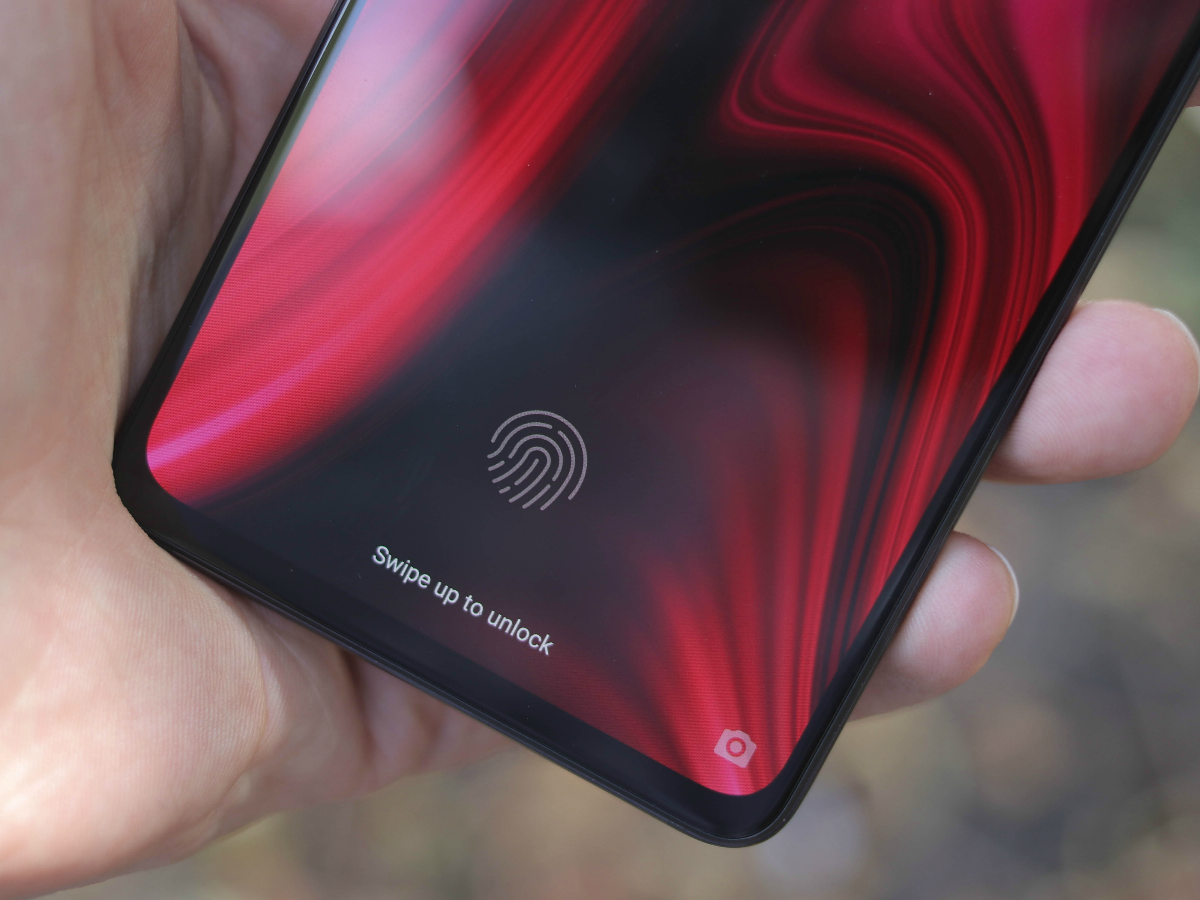 Flagship power lies inside the Xiaomi Mi 9T Pro thanks to a Snapdragon 855 combined with 6GB RAM. In the UK, we'll only be getting the 128GB storage capacity version, which, at £399 represents very good value for money.
There's no microSD card slot, although it does feature support for two SIM cards. Even when gaming the phone didn't get hot in our time with it, and everything from Darkness Rises to Injustice 2 plays back smoothly. The phone benchmarks better than the much pricier Samsung Galaxy S10 5G (Exynos version), and with both a USB-C and headphone port, it comes with all the connections you'll want.
The Mi 9T Pro doesn't include wireless charging as found on the original Mi 9, but it has a much larger battery, weighing in at 4000mAh. This easily lasts a full day with heavy use, likely seeing you through a day and a half if you aren't a power user. Charging it up is also speedy, given the fact the Mi 9T Pro supports up to 27W quick charging. While you only get an 18W charger in the box, this juices it up from 0-100% in little over an hour, so we doubt you'll need to upgrade your power brick unless you're incredibly impatient or tight for time.
Our only gripe with the Mi 9T Pro's performance is in regard to the in-screen fingerprint scanner. While accurate, it isn't always fast and occasionally forced us to punch in a password after a number of failed attempts. Enter face unlock data and you won't be waiting if both biometric unlock methods are working in tandem, but if you prefer to stick with the fingerprint it isn't quite as reliable as some of the competition. Still, we prefer it to the side-mounted scanner on the Honor 20.
Xiaomi Mi 9T Pro Verdict
Xiaomi has beaten OnePlus at its own game with the Mi 9T Pro – and for £100 less than the OnePlus 7. While the Xiaomi lacks stereo speakers and packs a clunkier UI, it betters the OnePlus with a triple camera, headphone jack and a notch-free screen. If you're looking for an affordable flagship and don't need wireless charging or waterproofing, the Mi 9T Pro just leapfrogged to the front of our recommended list.
Stuff Says…
The Mi 9T Pro makes all the right sacrifices to become one of, if not the most, desirable phones under £400
Good Stuff
Excellent value
Great battery life
Has a headphone port
Bad Stuff
No stereo speakers
No wireless charging
No water resistance