Apple iPhone 13 vs iPhone 12: what's the difference?
Should you upgrade to the latest fruity phone?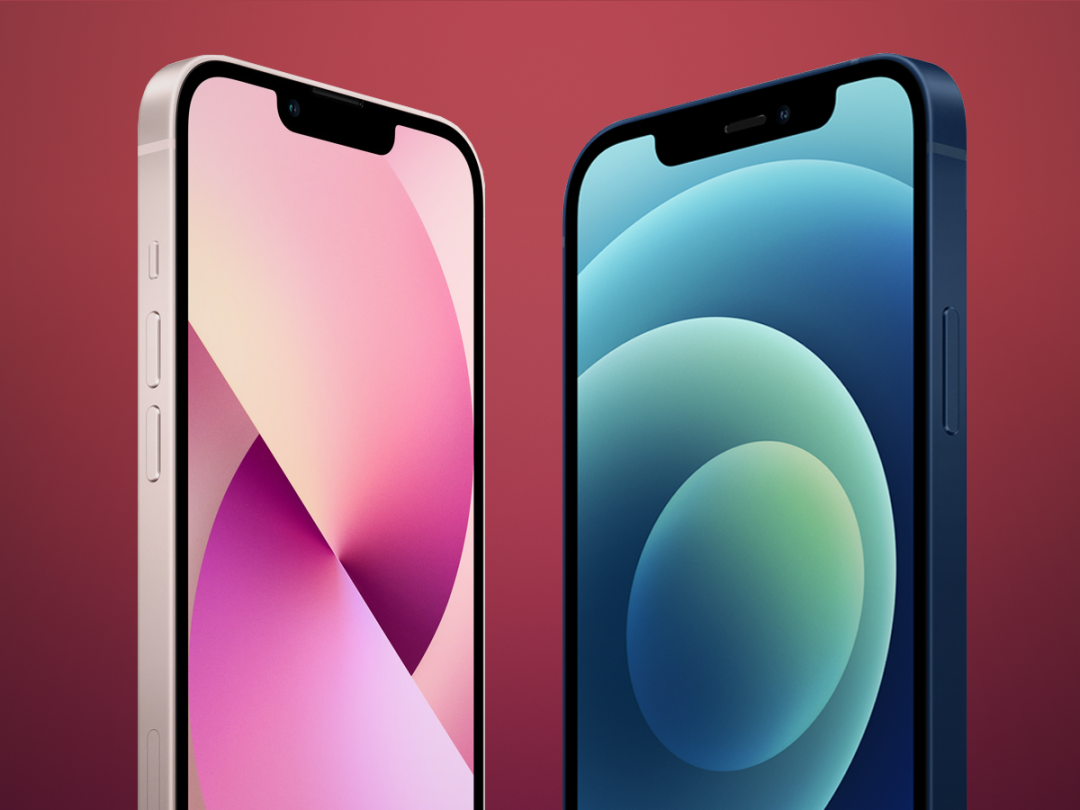 At a glance, you'd be hard pushed to pick out the iPhone 13 from an identity parade with its predecessor.
And that's no bad thing. We were big fans of the iPhone 12, with its slick design, stunning display and power in spades. Rather than revamp a proven package for the iPhone 13, Apple's instead made a few choice tweaks to key specs from its accomplished forebear.
We haven't had our hands on an iPhone 13 (yet) but it's almost certain to be a stellar smartphone. Perhaps the bigger question is this: if you're already an iPhone 12 owner, what fresh features will the new phone offer – and is it worth upgrading? We've stuck the suspects side-by-side to find out.
Design & build: same same, but smaller notch
Apple hasn't departed from its retro-futuristic design language with the iPhone 13. Just as the iPhone 12 shipped with a flat-panel chassis (aping Apple devices of a decade ago), so the iPhone 13 continues the same trend: streamlined aluminium around the edge, hardy glass on the back. Sure, it's familiar, but it's also slick and sufficiently distinctive.
There's still a sturdy Ceramic Shield up front, protecting a 6.1in display – the same diagonal as the iPhone 12 (more on that below). And the iPhone 13 also occupies the same space in your palm as its predecessor, measuring an identical 146.7mm tall by 71.5mm wide. From a distance, you'd be forgiven for thinking they're the same smartphone.
But the iPhone 13 does ship with a few subtle styling tweaks versus the iPhone 12. Probably the most noticeable change for long-term users of last year's model is the cutout at the top of the display. No, it's not gone – but it is 20% slimmer than before, and only marginally taller. That width reduction makes the notch look noticeably neater than it does on the iPhone 12. Whether it means anything for usability remains to be seen; we'd love to see the extra space utilised for additional icons in the status bar, but this isn't something Apple has addressed as yet.
The other design updates require a keen eye to notice. The Apple iPhone 13 is actually slightly thicker than the iPhone 12, with a depth of 7.65mm – an increase of 0.15mm. This is probably slim enough to go unnoticed in everyday use, but thick enough to mean your current iPhone 12 case might not fit if you choose to upgrade. The iPhone 13 is also 11g heavier at 173g. Only with hands-on time will we know how noticeable these changes are.
Finally, the camera array on the rear has been rearranged, so that the iPhone 13's two lenses now align diagonally, rather than sitting in vertical stack like they did on the iPhone 12. It's a minor change, which presumably has more to do with tech than aesthetics – although it does have the happy effect of making the back of the phone look a little less left-side heavy.
Display: familiar face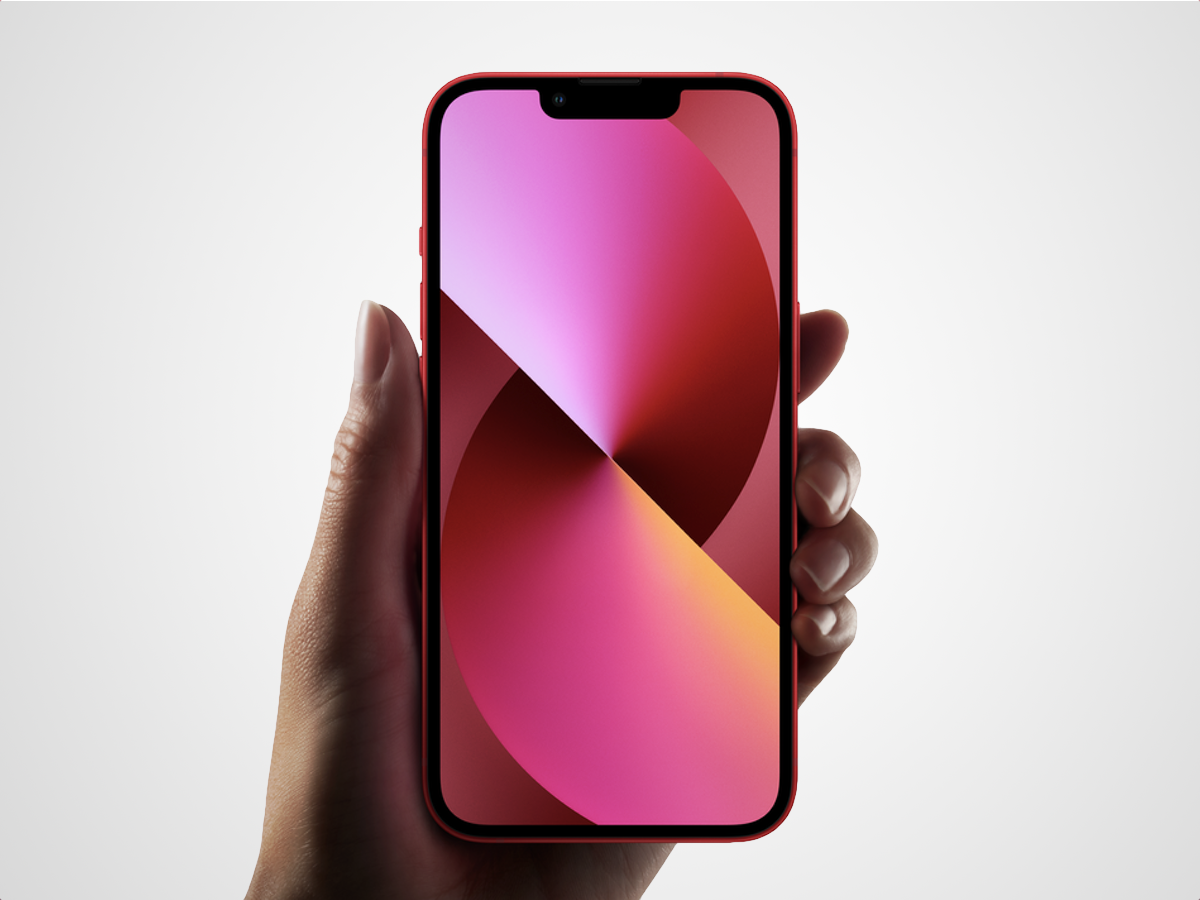 Apple hasn't overhauled the display from the iPhone 12 for the iPhone 13. So you still get a 6.1in Super Retina XDR panel protected by Apple's Ceramic Shield. That means the same inky blacks, rich colours and vibrant contrast we've come to expect from OLED, as well as the sharp 2532×1170 resolution (equivalent to 460ppi).
Sadly, the jump to 120Hz refresh rates is reserved for the iPhone 13 Pro models, so your standard edition won't offer the silky smooth visuals of something like the Samsung Galaxy S21. Yes, the iPhone 12 was a beauty in motion, but with several competitors taking a leap forward with screen tech in the last year, we're keen to see whether the iPhone 13 is able to keep pace.
What Apple has done for the iPhone 13 is tweak the brightness levels of the OLED display. It's supposedly 28% brighter outside (at 800 nits, up from 625). Apple also claims that peak brightness for HDR content is higher, which should enhance contrast. But nice as these improvements are, they're not enough to justify an upgrade on screen skills alone.
Cameras: cinematic snappers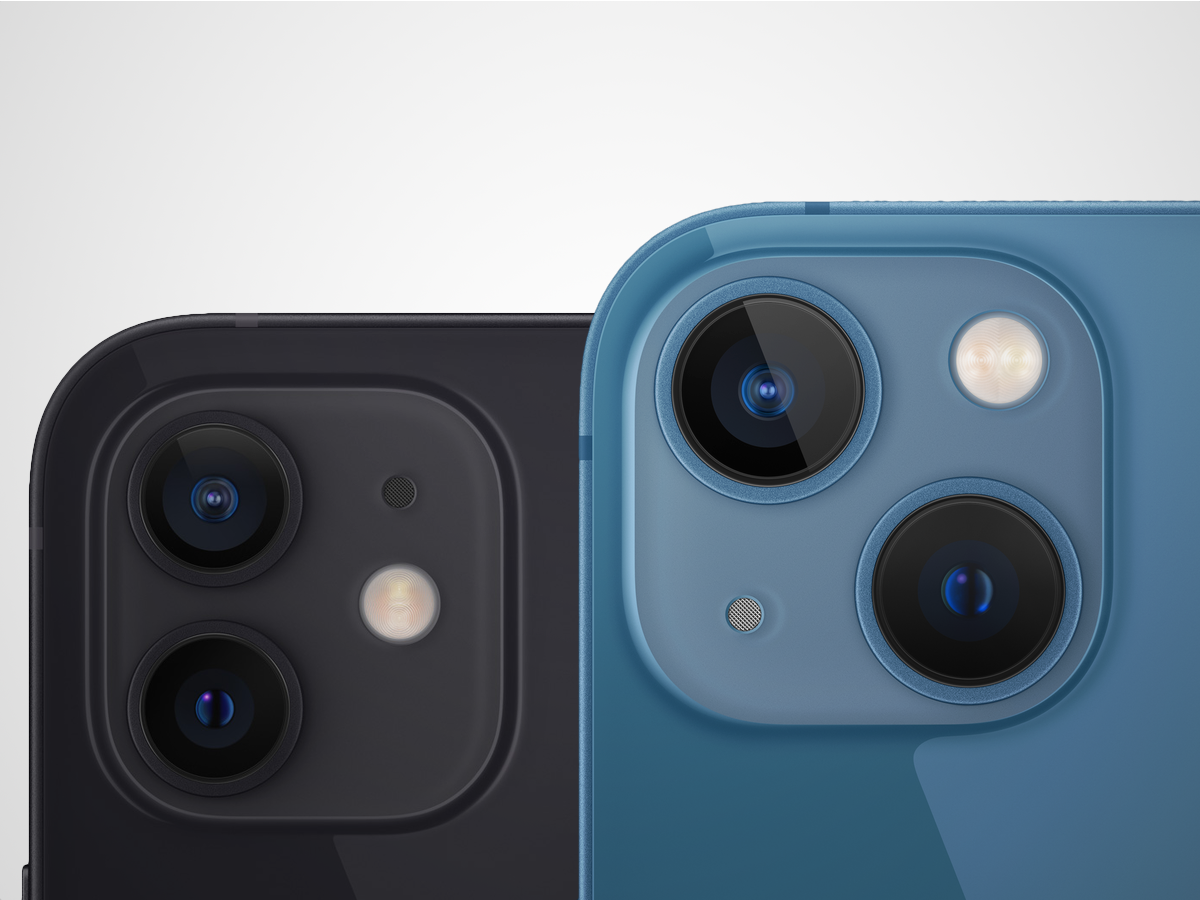 Like every standard iPhone since the X in 2017, the iPhone 13 features a dual-camera setup. And like the iPhone 12, it comprises a pair of 12MP snappers – one wide-angle, one ultra-wide angle. So far, so familiar. But Apple has done much more to the iPhone 13's lenses than rearrange them.
The updated wide-angle camera ships with the biggest sensor ever used on a dual-camera iPhone. It has larger pixels (measuring 1.7µm, if you're interested), which can grab 47% more light than the iPhone 12's equivalent. Bigger pixels should mean much better low-light performance, with less noise and brighter results in dimly lit scenes.
The wide-angle shooter also now benefits from sensor-shift optical image stabilisation, previously reserved for the iPhone 12 Pro Max. This steadies the sensor instead of the lens, for even sharper results. It should mean that your images are less susceptible to blur when snapping handheld.
Not to be left out, the ultra-wide camera on the iPhone 13 is equipped with a fresh sensor that's better able to pull out detail from dark areas.
When it comes to video, the iPhone 13 takes a major step forward. While the iPhone 12 could capture lovely 4K footage at up to 60fps, it only supported HDR with Dolby Vision at up to 30fps. The iPhone 13 has no such limitation, so it can record HDR footage at the fastest frame rates.
There's enhanced software trickery, too: Cinematic mode allows you to recreate Hollywood 'rack focus' effects right out of the box, shifting focus and depth from one face to another within the frame. It's something never previously possible with an iPhone and should do plenty to improve your Insta stories. As should custom Photographic Styles presets, which cleverly apply custom editing preferences to the right parts of your pictures.
Performance & battery: faster, better, longer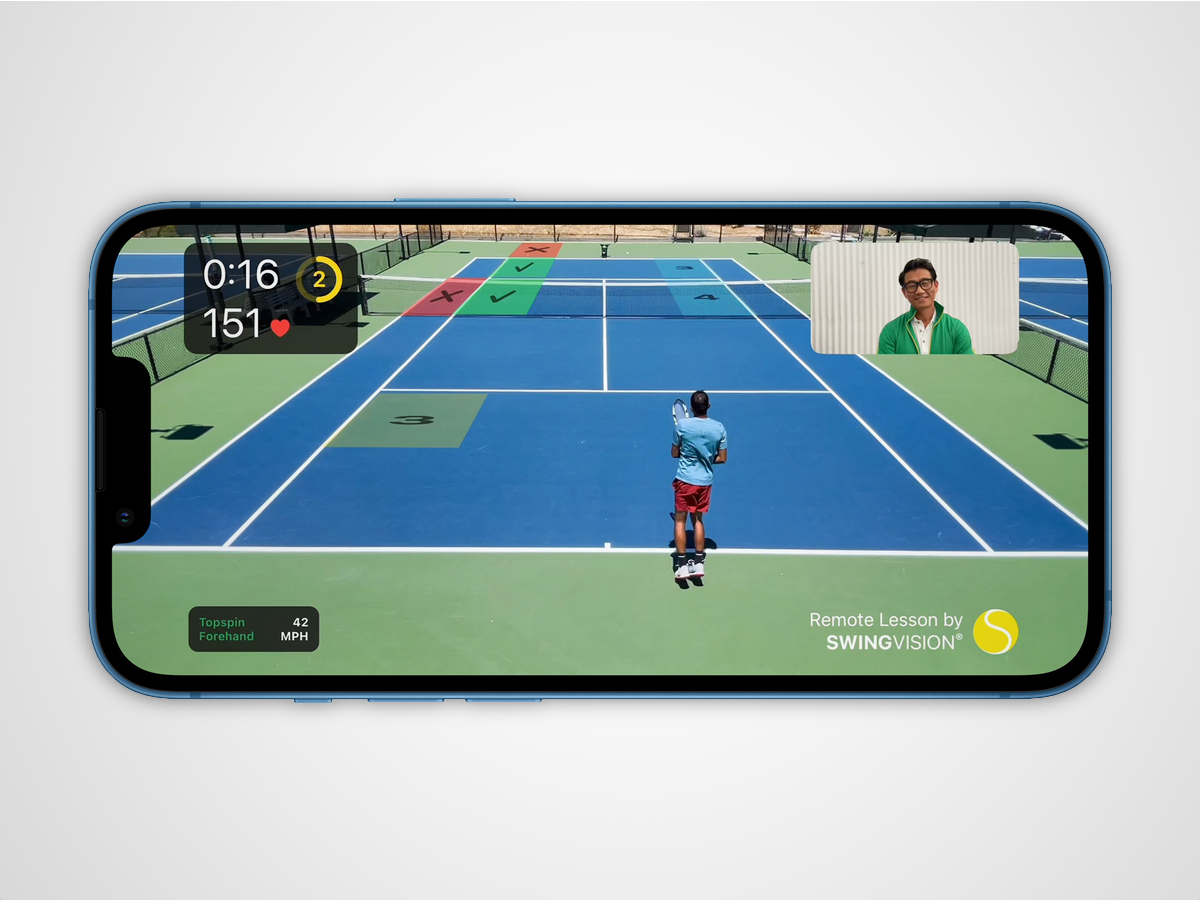 The iPhone 12 was no slowpoke. Its A14 Bionic chip could blitz through just about anything you threw at it with astonishing speed. Predictably, the iPhone 13 steps things up another notch with the new A15 Bionic chip.
Apple doesn't really go in for published processors stats, but it's happy to share some slightly abstract performance claims: it reckons the iPhone 13 will be up to 50% quicker than the (unidentified) competition, with 30% faster graphics. This jump is achieved through a fresh six-core CPU (with two performance and four efficiency cores), alongside a new four-core GPU for visuals, plus a 16-core Neural Engine – apparently capable of 15.8 trillion operations for second, for insanely speedy machine learning.
How this all feels in practice will have to wait for our proper hands-on tests. But for now, here's a simple translation: where the iPhone 12 was comically fast, the iPhone 13 should be comically faster.
Thankfully, those performance upgrades haven't beaten the battery life to a pulp. That's mainly thanks to a larger cell inside, as well as power efficiency optimisations across software and hardware components. Apple still claims 'all-day battery life' (as it did for the iPhone 12), but it's revised key longevity figures upwards: compared to the iPhone 12, the iPhone 13 should deliver a further four hours of streamed video playback and an additional 10 hours of audio playback. How these changes bear out in real-world conditions will be the true litmus test, but things look promising on paper.
Features & tweaks: future-proofed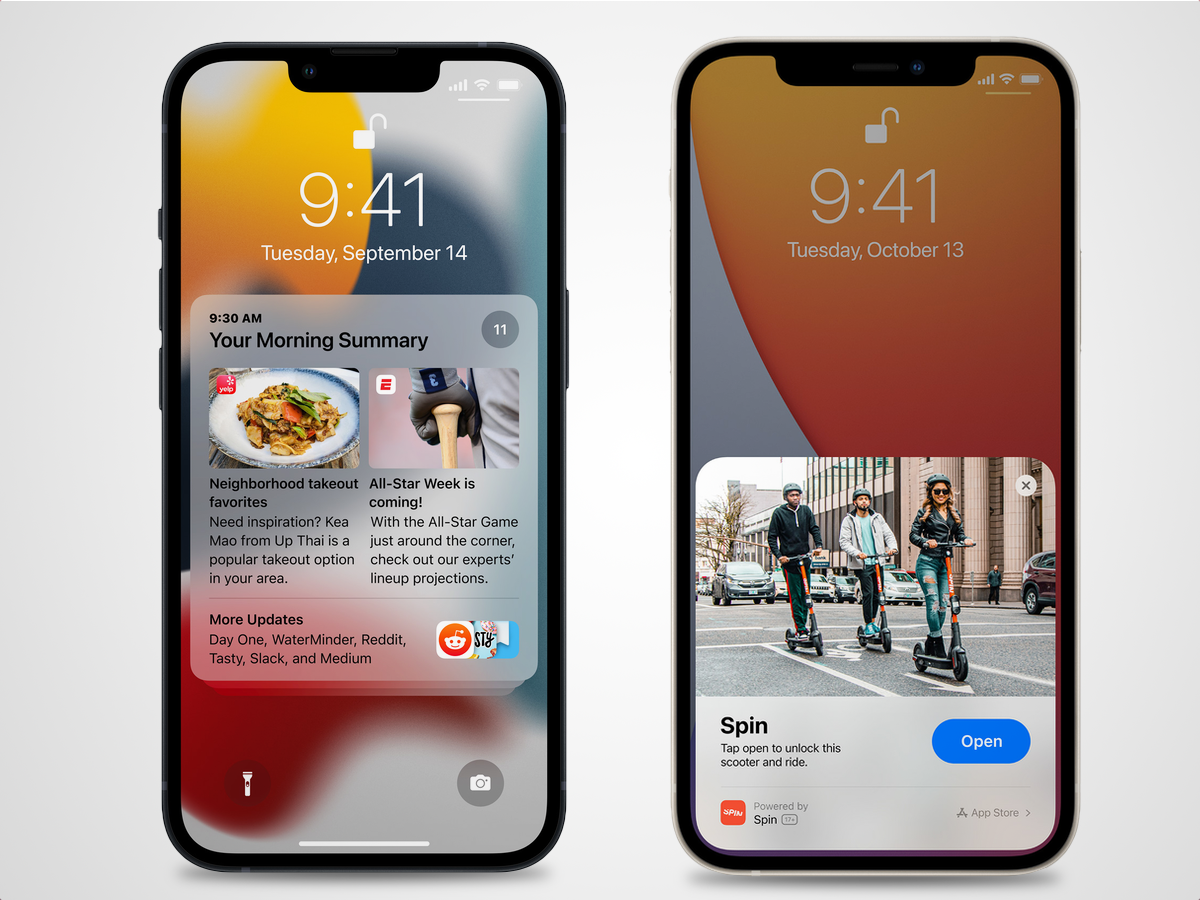 Apple touted 5G connectivity as a headline feature for the iPhone 12. While it did support more bands than many rivals, limited UK coverage meant it wasn't really a reason to upgrade. It's a similar story with the iPhone 13: the new model ships with custom antenna hardware for faster 5G across more bands, but until the UK enjoys more widespread 5G availability, it's a bit of a moot point. Still, the iPhone 13 is certainly as future-proof as phones come in 2021.
As for software, the iPhone 13 will ship with iOS 15 – an update which will also be available to iPhone 12 users. So you won't need to upgrade your hardware to get the incoming FaceTime enhancements, new Portrait mode, redesigned notifications and Focus features for reducing distractions.
But certain features may run quicker on the iPhone 13. Live Text in Camera, for example, will recognise text in an image and offer compatible actions, such as loading up a web link (a skill already performed by Google Lens). With its enhanced Neural Engine, there's a good chance the iPhone 13 will be speedier at detecting and processing image data than the iPhone 12.
Initial verdict: should you upgrade?
For many iPhone 12 users, the question of whether to upgrade will be pre-determined: if you're on a rolling contract or part of Apple's Upgrade Programme, you'll probably already be in line for the latest model.
But for those who aren't, is the iPhone 13 worth the upgrade? Arguably, no. The iPhone 12 remains a fast, attractive device with an OLED display and a versatile camera system. And at a reduced price of £679, it certainly makes more sense for first-time buyers.
That said, Apple is very clever when it comes to dangling the carrot – doing just enough to tempt potential upgraders, without totally overhauling the spec sheet. On paper, the iPhone 13 promises faster performance, longer battery life and camera updates that could transform low-light smartphone photography. If these tick your boxes – and you're susceptible to handset envy – then it might be time to look at an upgrade.
The iPhone 13 starts at £779 for the 128GB variant. That's £20 cheaper than the equivalent iPhone 12 cost when it launched last year, but it's still a fair whack for Apple's everyman smartphone.
Yet within Apple's latest line-up, the plain iPhone 13 probably offers the best balance of bang for buck: the compact iPhone 13 Mini costs £100 less but comes with compromises, while the more powerful iPhone Pro starts at a significantly more expensive £949. We recommended the iPhone 12 over all of its siblings – and the same could well prove to be the case for the iPhone 13.