Apple iPhone 6 vs HTC One M8: the weigh in
Hear that? That's the sound of metal clashing against metal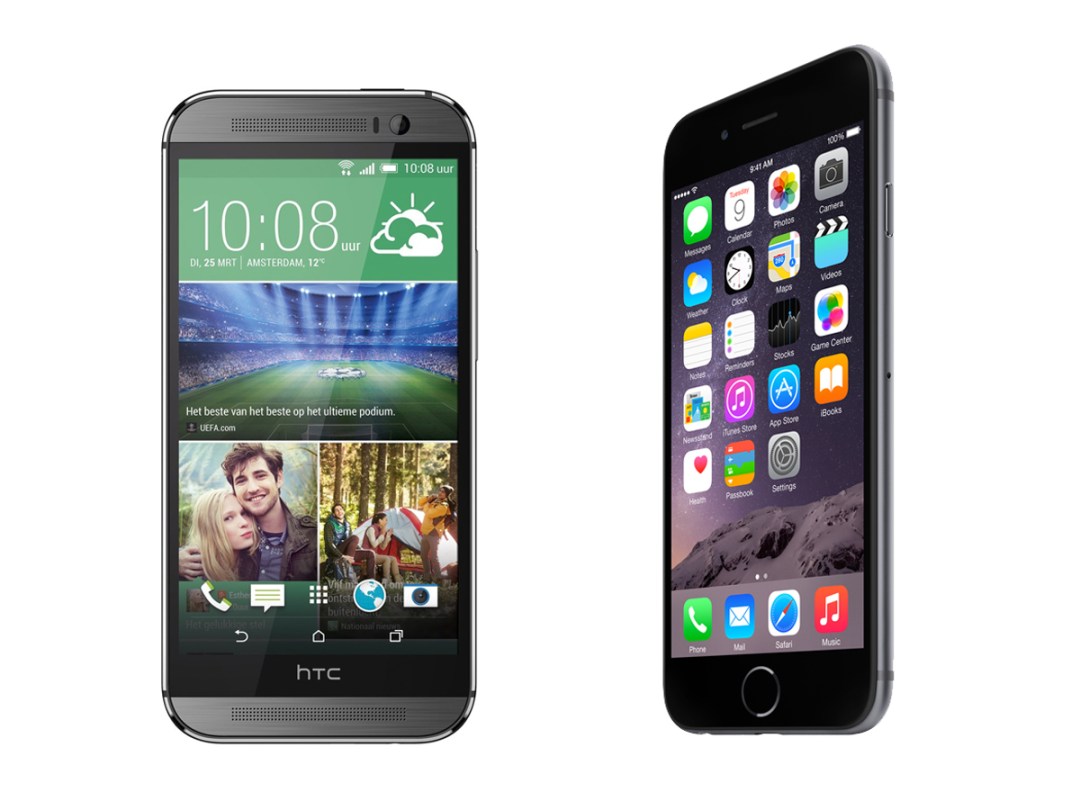 Death to false metal. It was the mission statement of slightly embarrassing 1980s heavy metal band Manowar, and it could easily be the tagline to either the HTC One M8 and iPhone 6. If their respective marketing departments lost their minds.
These are two of the most desirable metal phones in the world right now, offering high-end specs, beautiful screens and designs that'll make your friends want to break them over your head in jealousy.
But which is the best? There'll be some clangs as these two little metal monsters trade blows, but there can be only one winner.
(Caveat: in each small category. We withhold the right to refuse to decide your mobile future for you. It's just too much pressure.) 
Build: Let the sparks fly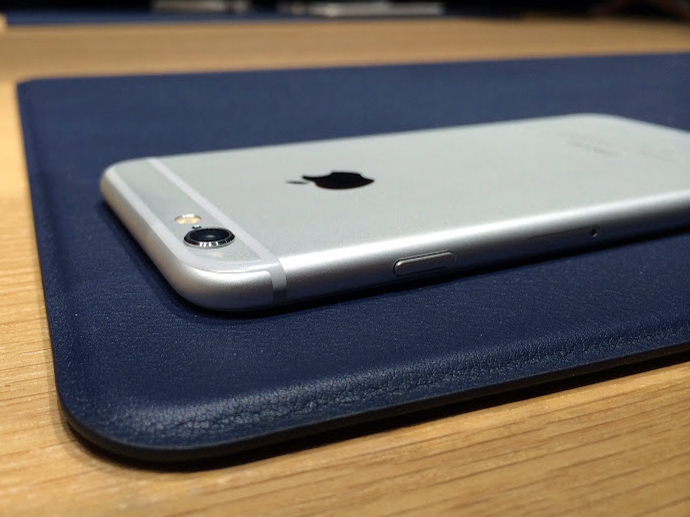 Aluminium: it's what all the most expensive-feeling phones are made of, and it's what both the HTC One M8 and iPhone 6 offer.
They're both curvy, both beautiful and both are very hard to criticise on this front. We think they are a delight to hold and use.
However, if you're used to a smaller phone you may well get on with the iPhone 6 better. It's 2.5mm thinner, a whopping 12.2mm shorter and 3.6mm less wide than the One M8.
While their screen sizes aren't worlds apart – 4.7in to 5in – the iPhone 6 is a significantly smaller phone. Why? Part of it is because the HTC One M8 doesn't really try to be all that thin, and part is because of the lovely stereo front-facing speakers you get on HTC's phone. They significantly increase the phone's footprint.
These BoomSound twins provide much beefier sound than most phone speakers including – we expect – the iPhone 6. There's more to sound than just volume, and it's these extra bits: tone, a bit of bass and power, that the BoomSound brothers provide.
Winner: Draw
READ MORE: iPhone 6 hands-on review
Screen: 1080p vs Retina HD – cutting through the noise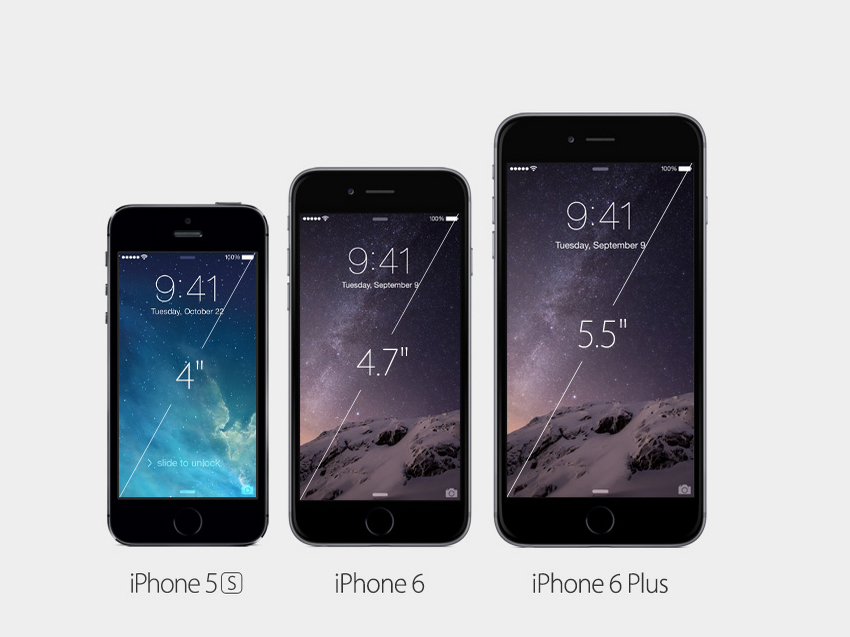 Apple jacked up the size of its iPhones this year – you can pick between the 4.7-inch iPhone 6 or the 5.5-inch iPhone 6 Plus. In a year or two Tim Cook will probably wryly refer to the 4-inch days like an old, slightly embarrassing holiday romance.
Still, bigger screens are better for just about everything apart from fitting in your pocket, and as we've already seen, the iPhone 6 is about as slim as a 4.7-inch phone is going to get.
Size has changed, but some other factors stay more-or-less the same as last year. The iPhone 6 still uses an IPS LCD panel, and from what we've seen so far it still looks lovely.
The HTC One M8 has a slightly larger 5-inch LCD screen. Its panel type is SLCD3 rather than IPS, but the technologies are so similar in their effects you could mistake them for twins. Overall, the M8's screen is a cracker, with great viewing angles, colours and (for an LCD) contrast.
Where the two differ a bit is in resolution. While Apple calls the new iPhone 6 resolution Retina HD, this is – as the more cynical among you may have guessed – marketing nonsense.
The iPhone 6 has a pixel density of 326ppi – the exact same density as the iPhone 5S. It does this by using a rather weird-sounding 1334 x 750 pixel resolution. You don't see those everyday.
We soon will.
HTC's One M8 has a much higher resolution 1080p screen that offers greater pixel density of 441ppi, despite having a significantly larger screen. To those with eagle eyes or a case of tech pedantry, this difference may be quite obvious. But you will need to get your eyes pretty close to the glass to notice it.
There's also a difference in the glass these phone use. The HTC One M8 has good old Gorilla Glass 3 – used here, there and everywhere these days – while the iPhone 6 has 'ion-strengthened' glass.
This could in theory mean it's Gorilla Glass 3 with an ultra-thin layer of Sapphire on top, But you'd need to get Tim Cook extremely drunk, or have incriminating pictures of Phil Schiller, to wring it out of them. Hopefully a teardown will tell us the truth soon.
It's tough to make a call on this without having spent an extended period with the new iPhone, but for now we're going to say that the bigger size and higher resolution of the M8 gives it the edge.
Winner: HTC One M8
Camera: Pixel frugal or pixel poor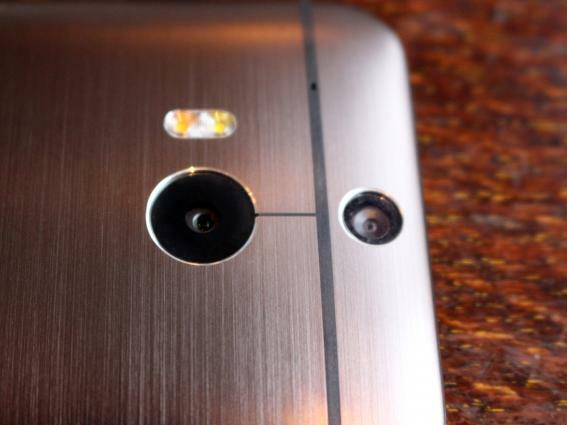 Apple and HTC are big believers in the idea that cameras aren't about megapixels.
So while rival flagships from Samsung, Sony and LG have 12, 16 or even 20MP cameras, the iPhone 6 sticks with just an 8MP sensor – exactly the same size as that on the iPhone 5S, the iPhone 5, and the iPhone 4S.
That's not to say that it hasn't been improved. Each individual pixel is now bigger, which should result in more detailed photos in good light, plus it should also be able to focus faster as it uses in-sensor phase detection, much like the Samsung Galaxy S5.
The iPhone 6 also has image stabilisation – software-based rather than the physical kind on the 6 Plus or LG G3 – which should improve low-light photography, and it can also now record super slow-motion video at 240fps in addition to capturing standard 1080p footage.
The HTC One M8 is even more extreme in its pixel hatred, bringing a mere 4-megapixel sensor to the smartphone party. It likes to call its megapixels UltraPixels, but all that really means is that the sensor pixels are a bit bigger than those of most mobile phones. If a giant DSLR uses megapixels, they're good enough for the HTC One M8.
It doesn't do this just on a whim, though – the idea being that a lesser number of bigger pixels will result in better low-light photography, at the expense of being able to blow your pictures up big. And it works, with the M8's low-light performance beating that of almost any other phone.
It also has a rather unusual trick up its sleeve: it uses two sensors and two lenses to help produce photos with a 3D element and ones with blurred backgrounds – making your photos look as though they've been taken with a much fancier camera and a much fancier lens. It doesn't always work, but with a bit of luck it can really pep up your portraits.
So both cameras have their special skills, but ultimately, the verdict's out on this round until we've really put the iPhone's camera through its paces.
Winner: Draw
Power and storage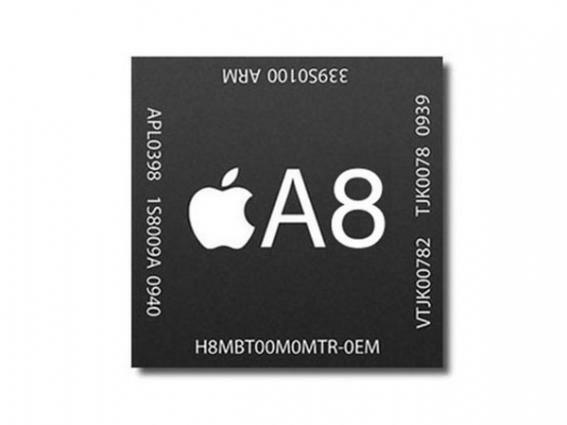 The HTC One M8 is an excellent performer among Androids. It has a quad-core 2.3GHz Snapdragon 801 CPU with 2GB of RAM and we've never known it to be fazed whether by high-end games, multi-tasking or full HD video.
Just look at the numbers and it seems like it should cream the iPhone 6, which has a dual-core CPU. It's not quite that simple, though.
The iPhone 6's new Apple A8 processor is a few steps more advanced than the Snapdragon 801. First, it's 64-bit where the Snapdragon is fundamentally a 32-bit processor.
The way it's made is also more advanced. Where the 801 uses a 28nm process, the iPhone 6 is a 20nm CPU. And, yes, the lower the number the better.
Without wanting to dig too deep, this means the transistors that make up the processor are 20 nanometers in size in the iPhone. And smaller transistors make a processor more efficient.
Comparing an iPhone with an Android is never going to be 100% fair, though, as their power is used in different ways. For now, we'll settle for saying that we expect the iPhone to at least match the M8.
Of course the other type of power is that which you get from a battery, and the M8 excels here too. We generally get a full day's use from it – and trust us, we're the kind of people who really do put a phone through its paces. Plus, it has a superb battery-saving mode which can eke hours more out of a mere few percent.
It's hard to say how the iPhone 6 will fare, but Apple itself only claims 10hrs of talk time (HTC reckons 20hrs for the M8), so we'd be very suprised if it ends up topping its rival on this front.
Finally, the M8 also has one other thing the iPhone 6 lacks: a microSD slot. No iPhone has ever offered one of these, and there are no signs that's going to change any time soon.
However, you can get a 128GB iPhone 6, which will store enough cat photos and episodes of Dawson's Creek to fill a month's worth of miserable, lonely evenings. Of course, you'll probably have to sell your kidneys and most of your family to afford a 128GB iPhone 6, but that'll just key you into Dawson's angst all the more.
Stepping back into the real world, a 128GB iPhone 6 will cost you £700. That's a £260 upgrade, while a 128GB microSD card costs about £70-80.
Winner: HTC One (M8)
OS: The classic battle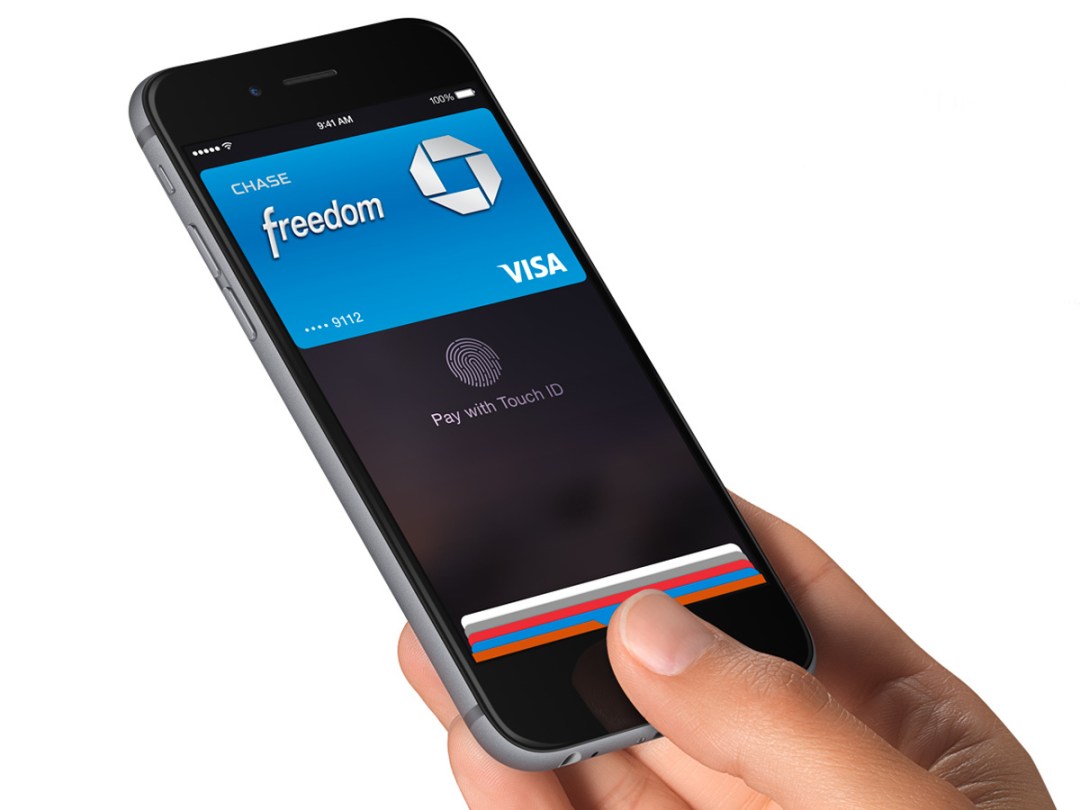 iOS or Android? It's a question we've ben dealing with for the better part of a decade now.
The HTC One M8 uses Android 4.4 with HTC Sense on top while the iPhone 6 has iOS 8. The big news for iOS 8 is that it massively increases support for mobile payments, now that NFC is included in the iPhone 6 and iPhone 6 Plus (and eventually the Apple Watch).
What's more, if you also have a Mac running the new OS X Yosemite (still in beta right now, but due to be released next month), you'll get access to extra tricks via Yosemite's new Continuity feature, such as being able to start an email on your laptop and seamlessly finish it on your iPhone.
Other features new to iOS 8 include the Health app, which will integrate the data from all of your fitness-tracking gadgets, the ability to run 3rd-party keyboards, improved notifications, extra gaming potential and improvements to iCloud. Frankly, there's too much new stuff to really go into it all here, so check out our iOS 8 preview for the full deal.
The HTC One M8 runs a customised version of Android 4.4, called HTC Sense. And as the One M8 already has NFC, it has the same mobile payments potential as the iPhone 6. Android just hasn't got its act together in the same way as Apple.
There's one key added feature in HTC Sense, and it's called BlinkFeed. This is a neat home screen page that gives you a stream of updates from your favourite online sources – including websites and social networks.
Which is better? This is a very tough one to call. iOS 8 is a bit more streamlined, and iOS still offers a better selection of games, and apps for creative types. However, HTC Sense is one of our favourite custom Android interfaces and Android on the whole is still a far more open, customisable platform.
It's close, but Google needs to release Android L to really pull ahead of Apple at this point.
Winner: iPhone 6
Initial verdict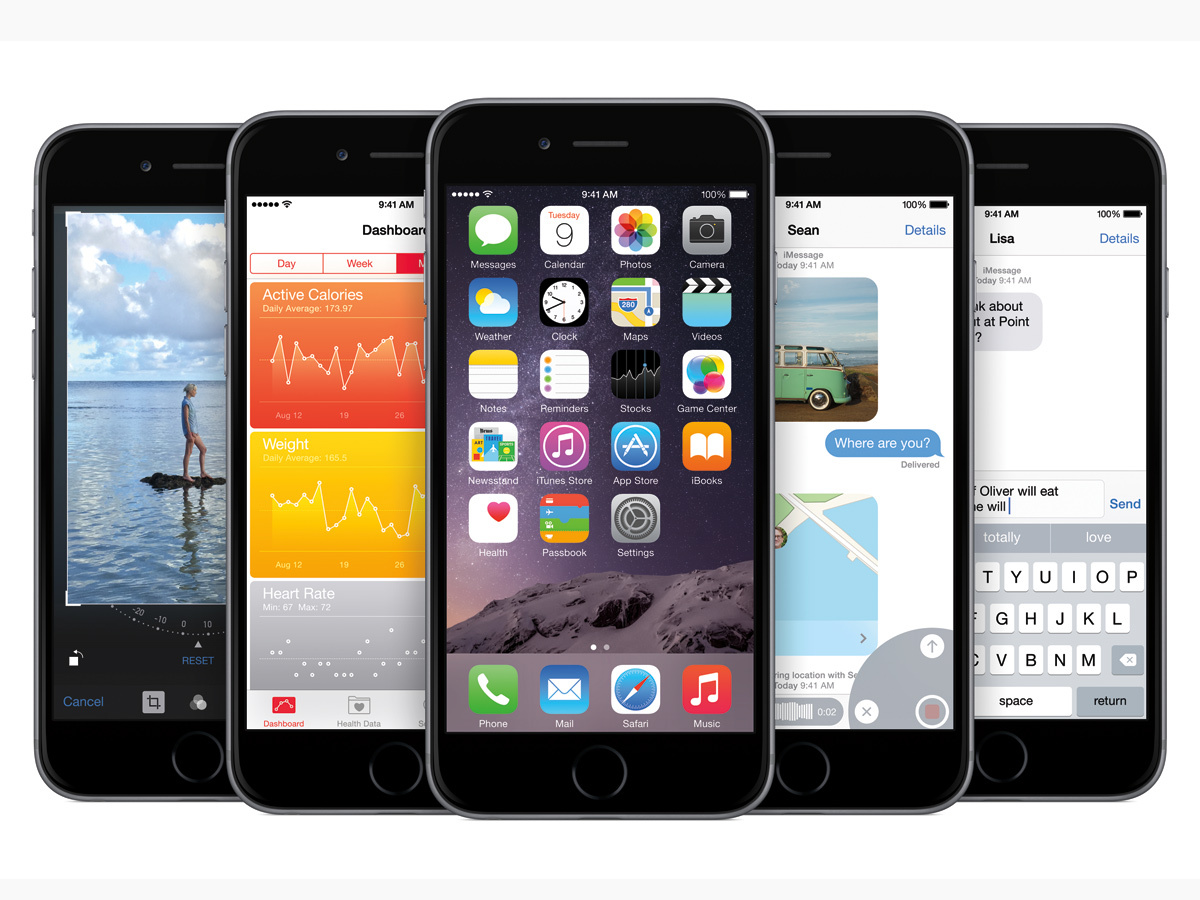 The iPhone 6 looks like being Apple's best iPhone yet, having had the size upgrade it so desperately needed while also gaining more power, a few new camera skills and a feature-packed new OS. It's still one of the best looking of all phones, it has more storage than before (if you have deep pockets) and the choice on the App Store remains unrivalled.
On the other hand, the HTC One M8 has been one of our favourite phones for half a year now, and with good reason. Physically it's a thing of beauty, performance-wise it purrs along like a high-end sportscar and its battery is one of the best. The microSD memory slot and cheaper price will appeal to some too, and on spec alone its full HD screen also beats that on the iPhone.
Can we choose between them at this stage? Not really. It's just too close to call.
What we can say is that we'll be reviewing the iPhone 6 very soon, and as soon as we've done so we'll give you a definitve judgement.
READ MORE: These are the top 10 best smartphones in the world right now