The best 4K camcorders in the world right now
This top trio will capture your world in Ultra High Definition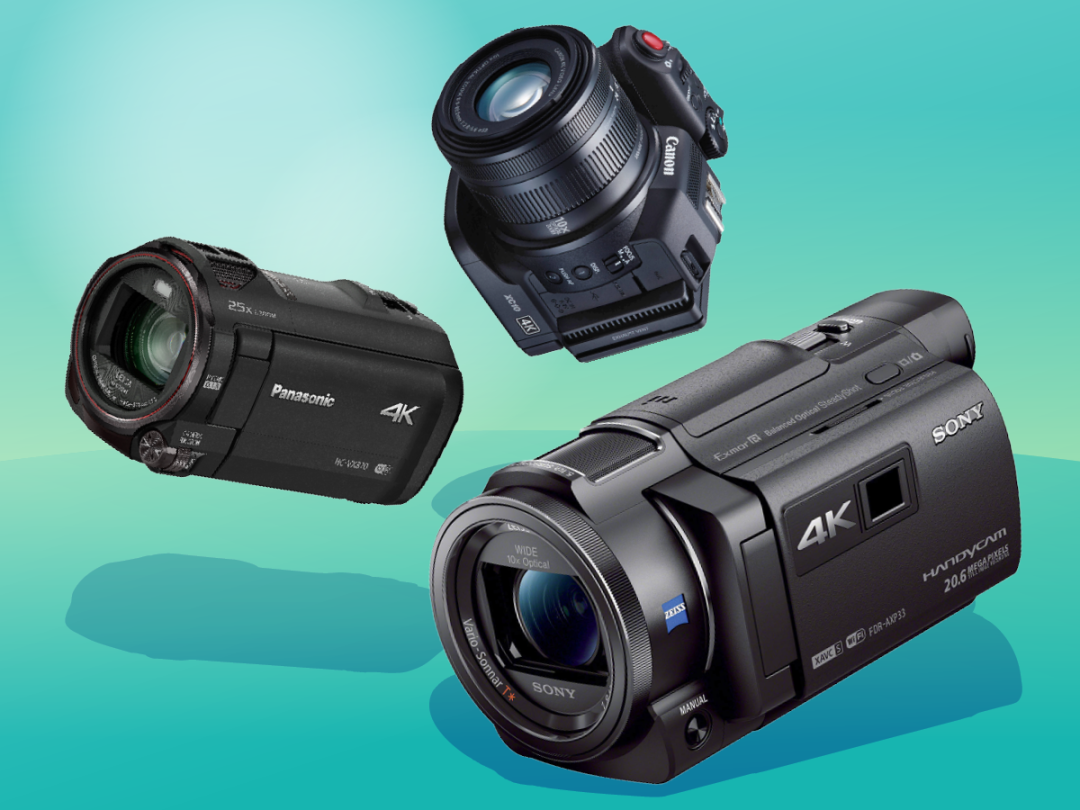 You may well own a 4K television by now – but how much 4K material have you been able to watch on it?
Sure, there's a bit of stuff on Netflix and YouTube, and BT Sport broadcasts the odd footie or rugby match to those willing to stump up an extra bit of cash, but until Sky Q pulls its finger out and the long-promised 4K Blu-rays turn up, the best way to actually get hold of 4K footage is to make it yourself.
Thankfully, there's no shortage of cameras able to record at 4K quality, whether they be compact, system, smartphone or camcorder. We've picked up three recently-released examples of the latter, each at different price points: the Panasonic HC-VX870, the Sony FDR-AXP33 and the Canon XC10. So are they any cop at capturing Ultra HD?
Canon XC10 (£1,525)
What's the story?
More so than the other models here, the XC10 is pitched as a professional tool – and it comes with a price tag to match. Yes, it's expensive, but Canon would point to its large lens and 1in sensor, its huge maximum ISO sensitivity and its ability to record 4K footage at immense bitrates as proof positive that, when it comes to camcorders, you really do get what you pay for.
The XC10 looks a lot like a DSLR, with a mode dial, rear-mounted tilting screen and plenty of physical controls on offer, but lacks an interchangeable lens mount – a missed opportunity perhaps, given the huge range of EOS lenses available. The optically stabilised fixed lens has a 10x zoom (controlled manually) and wide aperture though, so it's fairly flexible.
Unlike the other models here, the XC10 requires a CFast 2.0 card to record 4K internally. These are pricy (upwards of £80 for the smaller 32GB examples), so that needs to be factored into the camera's cost.
Picture perfect?
The XC10 may be the priciest camcorder here by some margin, but it really does deliver on its pro-quality promises. Its 4K footage, rendered using Canon's own XF-AVC codec, is incredibly detail-rich and smooth, with superbly realistic colour reproduction – and that's fresh from the camera; the professionals using this are more than likely to do their own tweaking too. It also delivers lovely results in low light, albeit without an actual night-vision mode.
You can record footage at various speeds for fast or slow-motion playback, although for the latter you'll have to reduce the quality to 1080p or 720p. Easy-to-reach full manual controls, meanwhile, make it easy to quickly tweak settings to change performance. The XC10's large, easily adjustable aperture also makes it easier to achieve a short depth of field than with the other cameras, resulting in those Hollywood-esque smooth, out-of-focus backgrounds.
Oh, and it takes pretty nifty 12MP stills too, producing cleaner, sharper photos than the other models here.
TECH SPECS
Resolution: 4K (3840 x 2160) at 25fps ● Zoom: 10x optical zoom ● Display: 3in screen ● Dimensions: 125 x 102 x 122mm ● Weight: 1040g
Sony FDR-AXP33 (£850)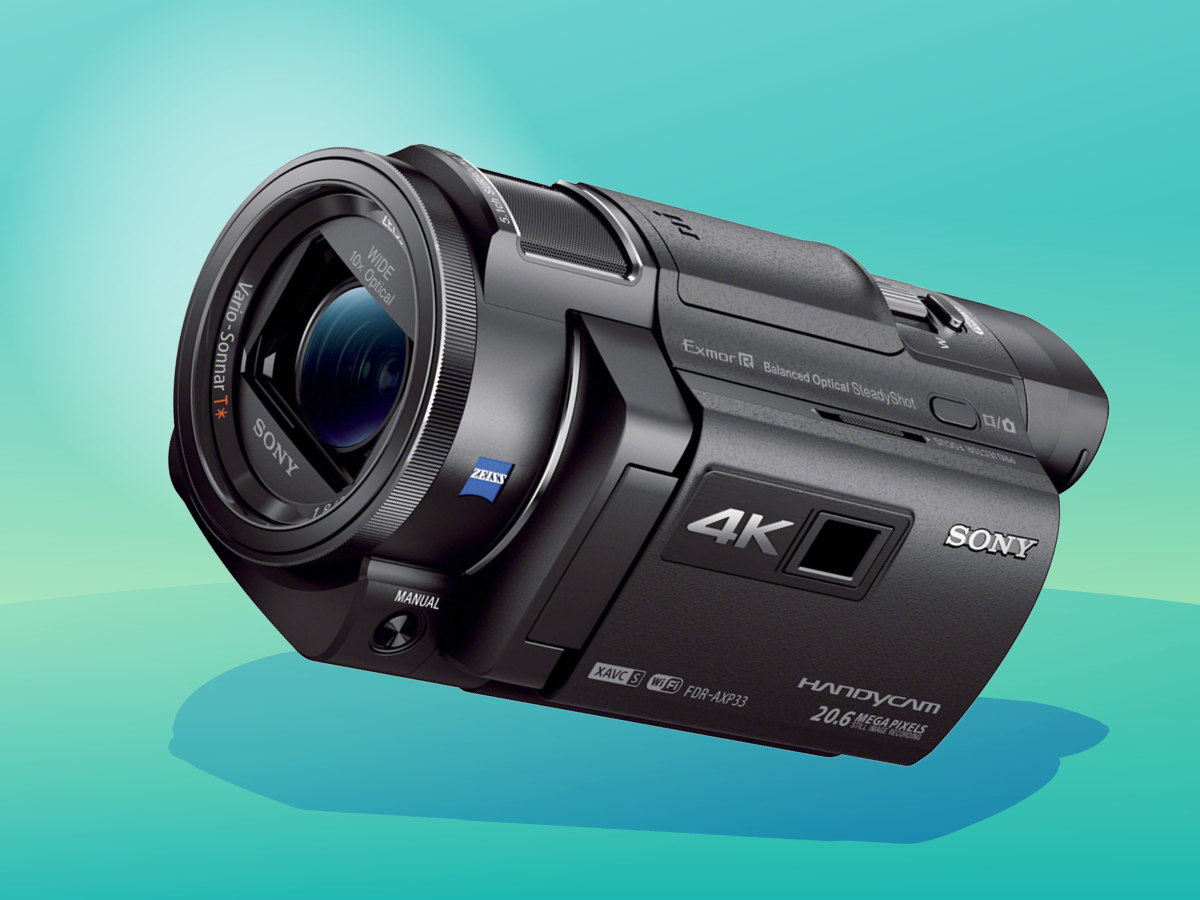 What's the story?
On paper, the AXP33 has one heck of a killer feature: a tiny built-in projector on the front of its flip-out screen, allowing you to instantly show off the footage you've just recorded to a roomful of (doubtless rapt) onlookers.
But there's more to this camcorder than just the ability to spoil a perfectly good party. Firstly, it's nicely compact, even if not quite as dinky as the Panasonic on the next page. It also has a particularly fancy type of image stabilisation tech inside, to smooth over the effect of your trembling hands, plus you get a range of manual controls, an OLED viewfinder, and, should you need it, the ability to shoot 20.6MP stills.
You want more? Well there's the Most Haunted-esque night vision mode, the 5.1-channel surround sound recording from a single mic, and the ability to record two movies at once – one in regular MP4 and another in higher bitrate AVCHD or XAVC S. It's a great feature for those times when you need one file to swiftly upload to YouTube and another to edit for professional use.
In short, it's packed with useful features.
Picture perfect?
In adequate lighting conditions (i.e. outdoors on a clear day) the AXP33 produces sharp, detail-rich 4K that makes your eyes pop, albeit at a relatively low 24 or 25fps. And if you do decide to dial the quality down to 'mere' 1080p, the footage isn't at all bad either – it can run at a smoother 50fps and remains watchable, if a tad grainy, when the ambient light starts to fade.
When the gloom really sets in, the Night Shot mode works fairly well in anything but total darkness – although your family will be rendered in a particularly ghoulish shade of pale green. The stabilisation is superb too, so much so that you can walk and film at the same time, assuming your brain can cope with that level of multi-tasking, or make steady pans without inducing sickness in those watching.
As for the projector? Well, it does work, and it's bright enough if you dim the lights and shine it on a light-coloured wall. Essentially, it's a neat gimmick that may come in useful once in a blue moon – but thankfully there are plenty of other reasons to buy the AXP33.
TECH SPECS
Resolution: 4K (3840 x 2160) at 24/25fps ● Zoom: 10x optical zoom ● Display: 3in screen ● Dimensions: 75 x 78.5 x 155mm ● Weight: 725g
Panasonic HC-VX870 (£550)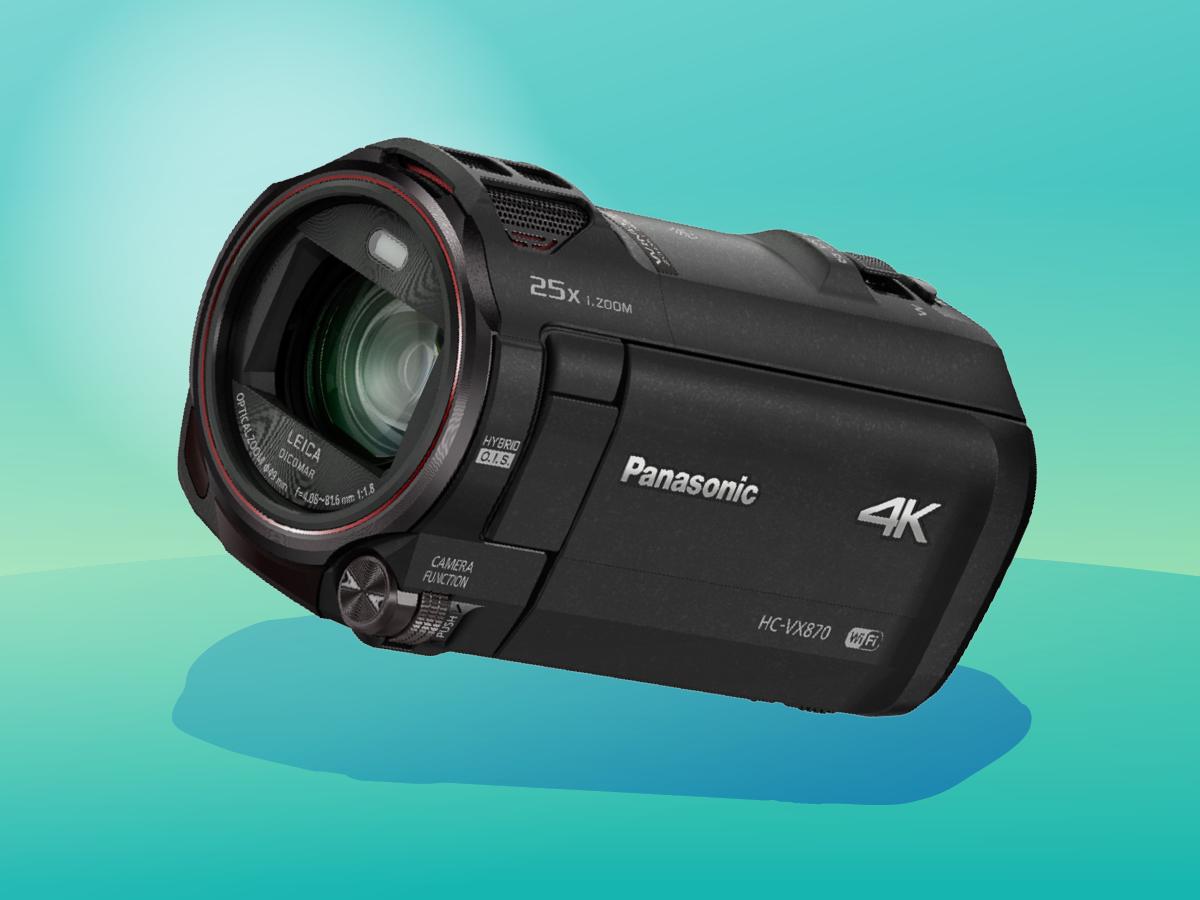 What's the story?
More compact and lightweight than the Sony and Canon models, this mid-range Panasonic camcorder still manages to pack a bunch of nifty features. There's 4K video recording, of course, alongside slo-mo at 1080p, an infrared night mode and 5-axis optical image stabilisation – and there's also a 20x optical zoom, which means the HC-VX870 easily trumps the other models here in terms of reach.
If there are downsides to its affordability, they come in the somewhat plasticky build quality and an over-reliance on the touchscreen for inputting commands and changing settings. The screen's touch interface is laid out well enough, but its touch sensitivity leaves a little to be desired by requiring a lot of force. You'll end up spending a lot of time fruitlessly prodding at the screen, and that's no fun if you're missing out on filming something amazing happening in front of you.
Picture perfect?
Despite its cheaper price, there's not a huge difference between the Panasonic and the Sony model in terms of imaging quality. Its 4K footage lacks the contrasty, intricately-detailed punch provided by the Canon XC10, and colours appear a touch washed-out in playback, but there's still plenty of sharpness, and the 20x zoom (which goes to 25x with 4K if you count digital zoom) means distant subjects can be videoed in lovely detail.
Of course, at 20x zoom any hand movements are going to wildly shift the lens around, but the Panasonic's 5-axis image stabilisation does an admirable job of keeping the lurching in check. You'll still be far better off using a tripod for long shots, but in a pinch the OIS will smooth things out fairly well.
The IR night mode, meanwhile, produces similar results to the Sony's, meaning you can record usable (albeit green-looking) footage in very low light conditions.
TECH SPECS
Resolution: 4K (3840 x 2160) at 25fps ● Zoom: 20x optical zoom ● Display: 3in screen ● Dimensions: 65 x 73 x 139mm ● Weight: 353g (without battery and card)