Best PS5 controller 2023: top options reviewed
You get a controller with your PS5, but it's handy to have an extra one for your mates
When you bought your PlayStation 5, it came with one official Sony PS5 controller and that undoubtedly felt like enough. Then your mate came over and you wanted to play some couch-based multiplayer and you realised that you need one of our list of the best PS5 controllers. Need a headset as well? Check out our guide to the best gaming headset.
These days, you can spend $200/£200 on a PS5 controller if you want. We're not automatically saying to do so but by investing that much, you often get more advanced controls with extra paddles or feedback, and you tend to be able to choose almost exactly how you want it to look. Even avid solo players may find such a premium controller enhancing their playing ability. Alternatively, you may prefer a cheap third-party solution to delegate to your friend, child, or second player in your life, but you don't want to pick a lemon.
Whatever your plan, we've picked out the best PS5 controllers you can buy right now, including cheaper options, premium picks, and ones for particular scenarios like racing games.
When you've finished reading about the best PS5 controllers, next take a look at everything we know about the PS5 Pro and Slim.
---
What is the best PS5 controller?
Best overall PS5 controller – Sony DualSense Controller (buy now)
For most players, the Sony DualSense Controller will more than suffice. It's a huge improvement over past Sony efforts. Its adaptive triggers are great for making you feel more in control of the action while combining it with haptic feedback means you can feel exactly what's unfolding in-game. It also has smaller advantages like a mute button and a comfy build that will keep all hands happy.
Best customisable PS5 controller – Scuf Reflex Pro (buy now)
Expensive yet highly customisable, the Scuf Reflex Pro should be the only controller you need for a long time to come. It's possible to spend a lot of time changing colour schemes and adjusting early every element imaginable on the controller. With removable and remappable paddles, you have extra functionality at your fingertips with an extra comfy non-slip grip helping out during tense moments.
Best alternative PS5 controller – Thrustmaster T248 (buy now)
No controller is quite up to scratch when playing the likes of Gran Turismo 7. That's where the Thrustmaster T248 comes into play, being a highly comprehensive steering wheel. It has three types of force feedback, a near never-ending supply of buttons, along with magnetic paddle shifters for changing gear. It makes you feel far more in control of your car, although you'll need to spend some time practising at first.
The best PS5 controllers you can buy today: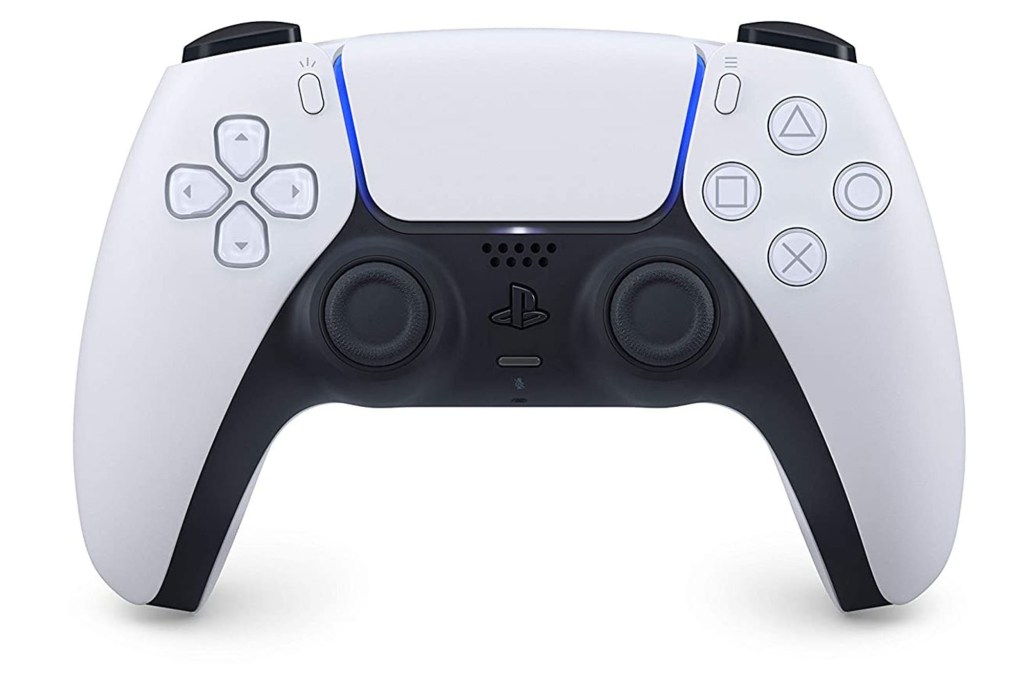 1. Sony DualSense Controller
Stuff Says…
Elegant yet effective, the Sony DualSense Controller will suit most players thanks to it offering the essentials.
Tech spec:
Connection: Wireless / USB-C | Buttons: 15 | Weight: 282g
The Sony DualSense Controller is an uncomplicated controller because it doesn't have anything to prove. You already have one bundled with your PS5 but a second one is ideal when gaming with others. It feels great in your hands with an ergonomic design that suits all hand sizes. Everything about the Sony DualSense Controller feels sleek and premium too but it's the new features that stand out most. There's now haptic feedback which is a superior form of vibration than we've seen before. It feels more visceral and more realistic than a simple rumble.
There are also tactile adaptive triggers that you can squeeze down on to feel in more control, whether you're web slinging or taking a tricky corner in a racing game. Battery life has never been a Playstation controller's strong point but other than that, the Sony DualSense Controller is perfect for the majority of needs and budgets.
2. Sony DualSense Edge Controller
Stuff Says…
More premium with some excellent ergonomic back buttons, the Sony DualSense Edge Controller is a classy device despite some issues.
Tech spec:
Connection: Wireless / USB-C | Buttons: 17 | Weight: 300g
The Sony DualSense Edge Controller should be the controller to beat all controllers given it's made by Sony. It's certainly a more high-end version of the regular DualSense controller. It has all the advantages you expect along with useful software integration so you can fine-tune the adaptive triggers and haptic feedback to your liking. You can also customise function buttons under the control sticks, as well as benefit from two back button attachments. It's also a little heavier so it feels more high-end, while still feeling comfy in your hands.
That's all certainly very appealing but there are third-party solutions with more customisation options as well as better battery life.
Ultimately, the Sony DualSense Edge Controller could have gone further but if you appreciate having the official article every time, you'll still like how well this works. It'll also appeal if you find too many triggers intimidating or confusing.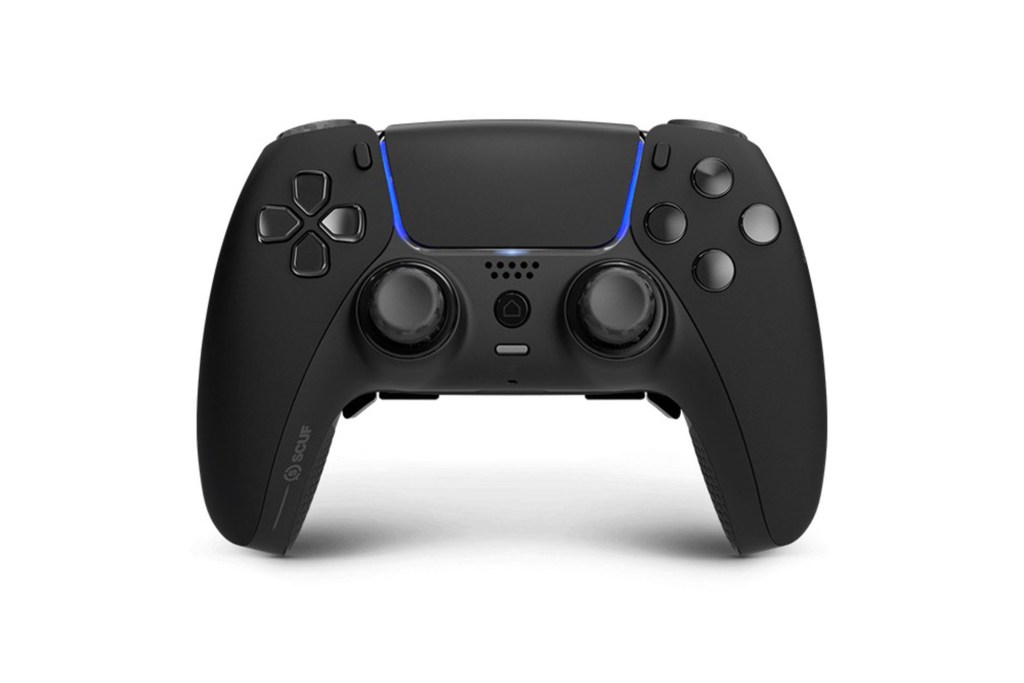 3. Scuf Reflex Pro
Stuff Says…
Full of great features, customisation options, and more, the Scuf Reflex Pro is the ultimate controller but it costs a fortune.
Tech spec:
Connection: Wireless / USB-C | Buttons: 19 | Weight: 300g
The Scuf Reflex Pro is the controller we grab first but it's a heck of an investment to make. The most personal a controller can feel, the Scuf Reflex Pro offers a vast amount of customisation options as you can change the colours of every single element of the controller from the thumbtacks to the triggers. It comes with four removable and remappable rear paddles so you can get things set up just how you need them to be, giving you the potential edge while playing.
There are three on-board configuration profile options so you won't need to worry about remapping all the time if you frequently play the same few games. There are interchangeable thumbsticks too, thereby suiting every hand and grip. Potentially more comfortable than even the official model, the Scuf Reflex Pro is a force to be reckoned with but one that can be very expensive as you make more adjustments.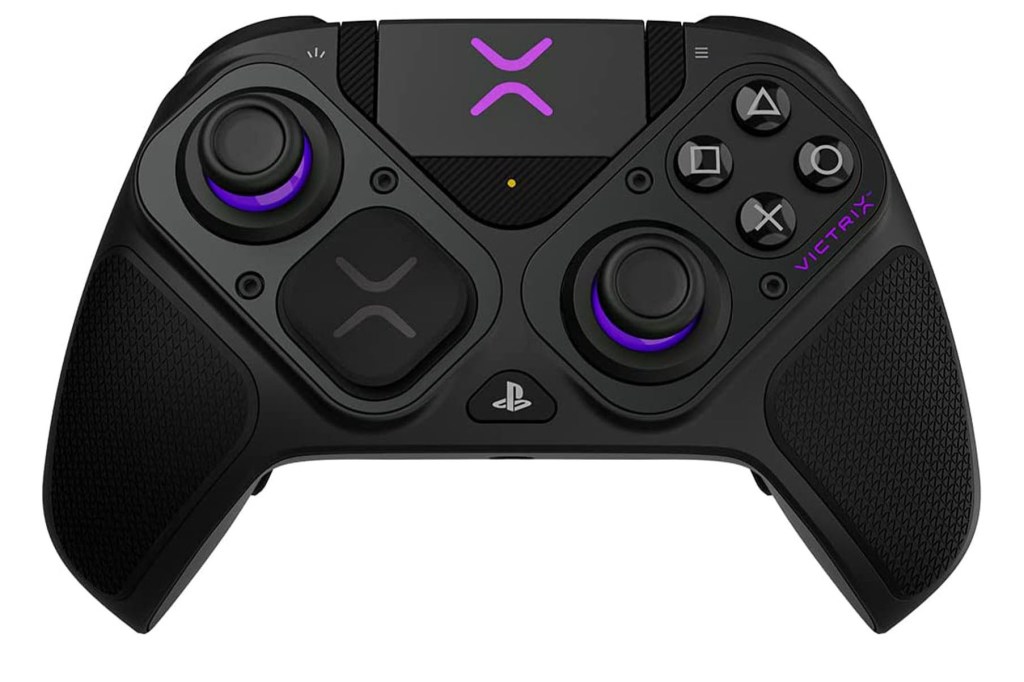 3. Victrix ProCon BFG
Stuff Says…
More affordable than most with plenty of customisation options, if the Victrix Pro BFG had haptics, it could be even better.
Tech spec:
Connection: Wireless / USB-C | Buttons: Up to 20 | Weight: 298g
We'll get the bad news out of the way — the Victrix Pro BFG doesn't have a vibration pack in it. That means you're missing out on any kind of feedback, let alone haptic feedback. We're frustrated too as the Victrix Pro BFG has so much to love while being better priced than much of the competition. It has a neat modular design so you can set up all its attachments just as you need it. That can mean a taller analogue stick, different D-Pads or even a flight pad module with extra face buttons. It also has four back buttons which are great for certain commands.
The downside is its frustrating lack of rumble function. It's strange going back to a world without haptic feedback or even a rumble or two. It's also a bit on the light side so it feels less satisfying in your hands.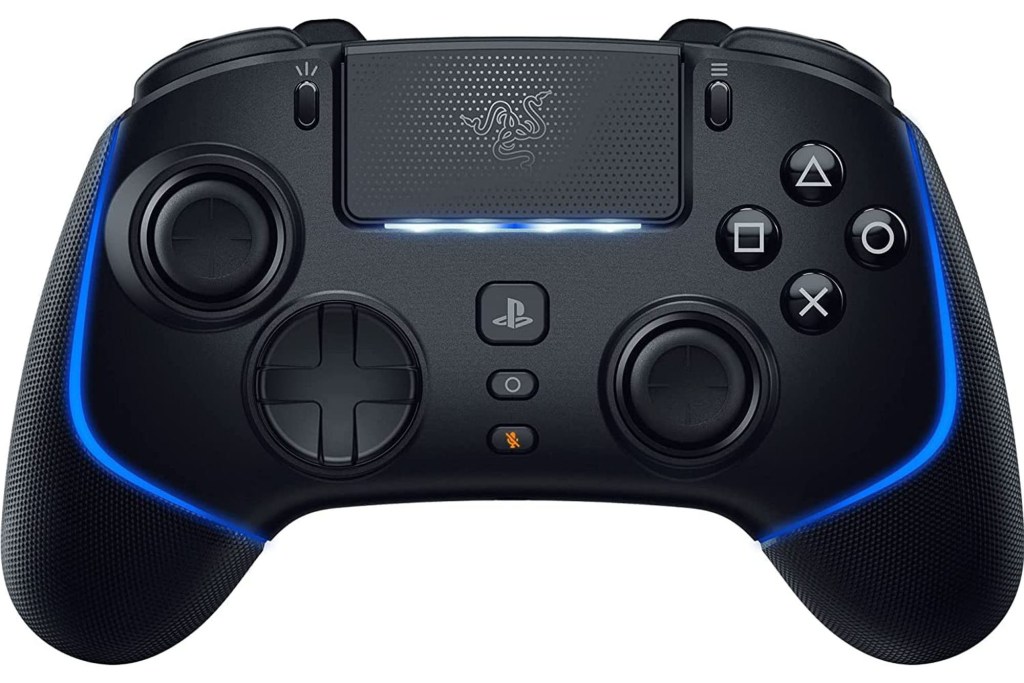 4. Razer Wolverine V2 Pro
Stuff Says…
Having so many buttons is great, but the Razer Wolverine V2 Pro misses out on vibration and a more accurate design.
Tech spec:
Connection: Wireless / USB-C | Buttons: 21 | Weight: 279g
More buttons are better, right? The Razer Wolverine V2 Pro certainly gives you plenty of functionality with a handful of extra buttons compared to the competition. The extra triggers are useful even if its buttons rarely feel as satisfying as others. Also, the back buttons can be awkward to reach for given they're quite high up the controller. It all feels a bit third-party controller from old, even though it has great functionality.
Better news comes from the wide thumbsticks that benefit anyone with larger hands. It also offers better battery life than most and a sizeable build that feels good in your hands, providing you can reach for everything. There are some rather nice RGB lighting effects too if you're that way inclined. We just wish it felt a bit more comfortable. Besides being hefty on smaller hands, the Razer Wolverine V2 Pro's controls really don't feel as premium as the price tag would suggest.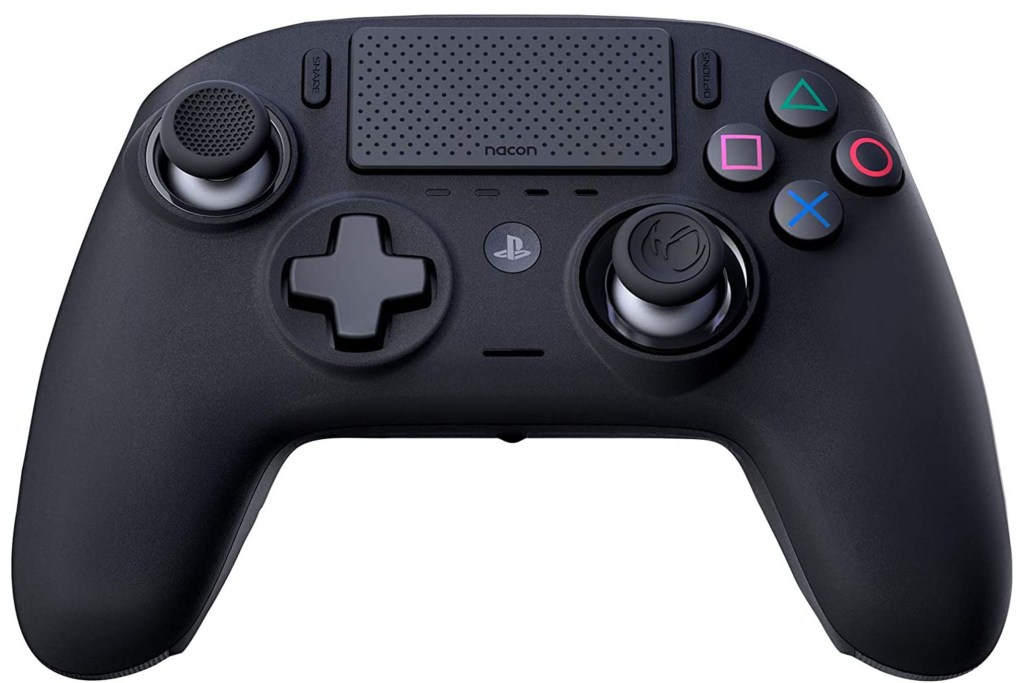 5. Nacon Revolution Unlimited Pro
Stuff Says…
The Nacon Revolution Unlimited only works with PS4 games but it's the ideal addition alongside your PS Plus games library.
Tech spec:
Connection: Wireless | Buttons: 19 | Weight: 230g
The Nacon Revolution Unlimited Pro has an important issue we'll get out of the way – it'll only work with PS4 games. As many players will have spotted, there are a lot of PS4 games to catch up on via the PS5 so this isn't a crucial issue but something to be aware of. It's still featured here because we love how you can customise its weightiness. It's possible to add small weights into the handles of the controller, so you can get things feeling just how you need them to. Like all the advanced controllers, not everyone needs this but it's a nice option.
It's also possible to create custom profiles for the plethora of buttons including the four back buttons. Those buttons are positioned perfectly so you can grip onto everything without an issue. A choice of thumbsticks is useful and the whole thing feels classy. If it worked with PS5 games, it could well be vying for top spot.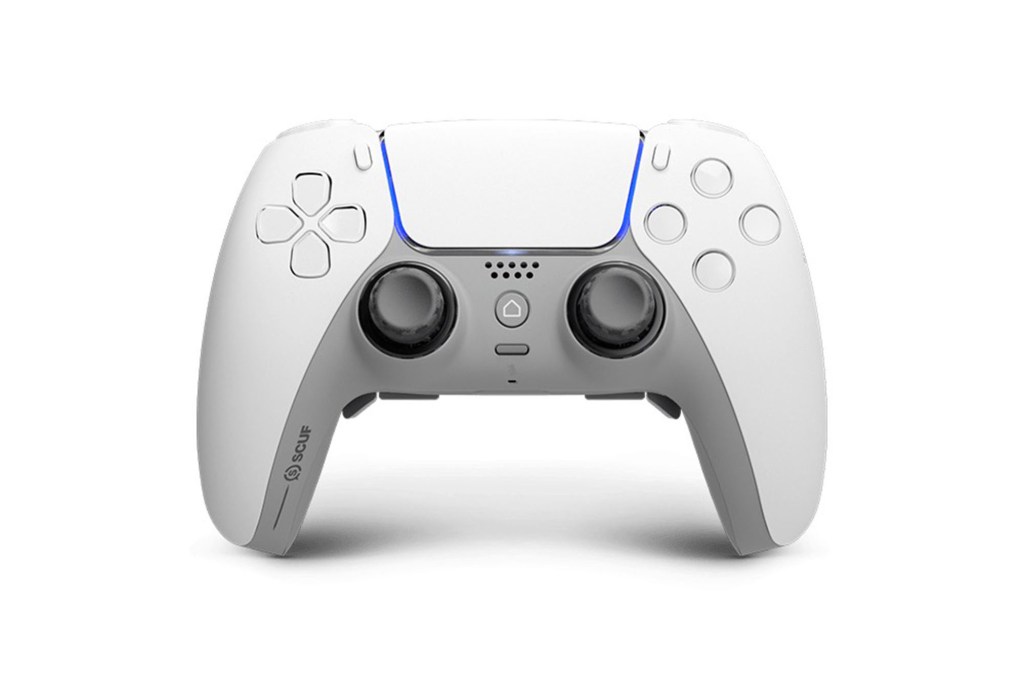 6. Scuf Reflex
Stuff Says…
Slightly cheaper than the Pro, the Scuf Reflex will still give you fantastic customisation options.
Tech spec:
Connection: Wireless / USB-C | Buttons: 19 | Weight: 300g
When you look at the differences between the Scuf Reflex and Scuf Reflex Pro, you might wonder if a 'high-performance' grip is really worth the £20. It's a bit like paying for your choice of paint on a brand new car – it barely makes a difference to your budget. Still, we do rather like the ever so slightly cheaper Scuf Reflex. The non-stick grip is nice but not too vital depending on how you play. It has all the benefits we like to see. These include remappable paddles, adaptive triggers that feel good under your fingertips, and interchangeable thumbsticks.
You can opt to customise the colour scheme of the Scuf Reflex too if you don't mind paying extra although that does negate the point of going with the cheaper model. Stick with the standard options and you still get a sleek looking controller that matches well with your PS5. It feels good in your hands, even if it'll hurt your bank account.
7. AIM PS5 Controller
Stuff Says…
If you want your pad to be as imaginative as possible, the AIM PS5 Controller comes with truly unique designs.
Tech spec:
Connection: Wireless / USB-C | Buttons: 19 | Weight: 335g
The amount of choice when designing your AIM PS5 Controller is a little overwhelming. The European company certainly appreciates we all have different tastes. A choice of 50 predesigned controllers is a start but you can also break it down component by component with varying colours too.
In all cases, you can remap the buttons upon arrival with four back button/triggers helping you gain the edge, particularly when playing FPS games or other titles that require fast reactions. Its smart triggers and bumpers are a tad more precise than the standard triggers with faster response times potentially making a difference. A rubberised texture on the back means it's easy to grip too even on those hot summer days where things get sweaty. And, of course, you can change the thumbsticks around. The controller feels light and effective if a little more flimsy than others out there. It works well though so we won't hold that against it.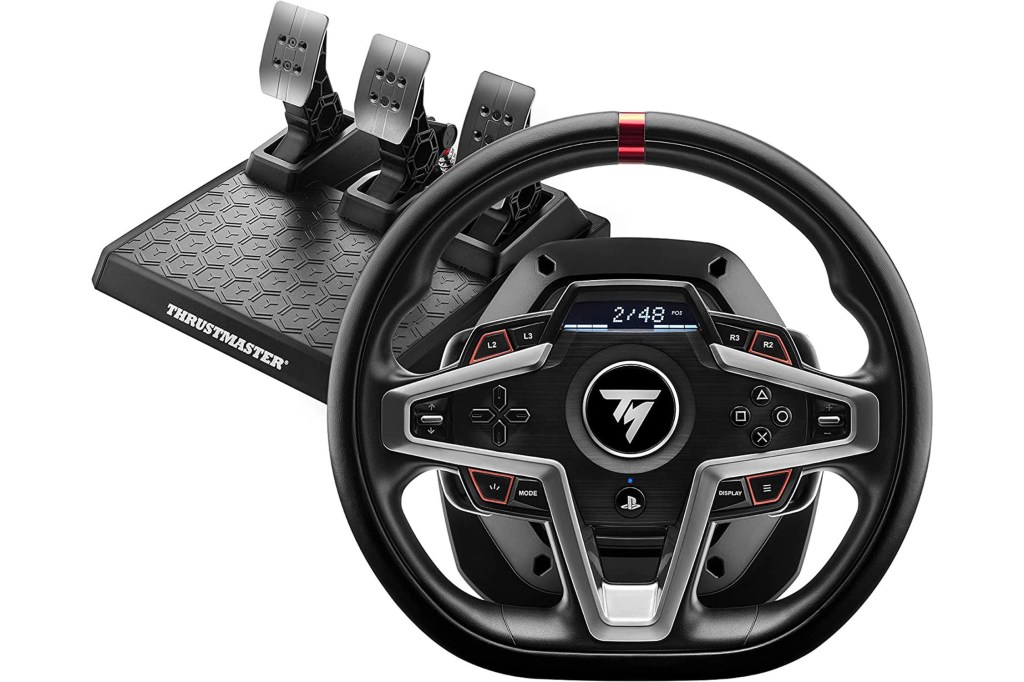 8. Thrustmaster T248
Stuff Says…
The Thrustmaster T248 might only be any good for racing games but it's a truly exceptional experience.
Tech spec:
Connection: USB | Buttons: 25 | Weight: 2.7kg
If you love to play racing games like Gran Turismo 7, a controller doesn't really cut it. You need the Thrustmaster T248 steering wheel. It feels incredibly satisfying once you've got used to it. Three types of force feedback throws you into the action while there are magnetic paddle shifters for working your way up (or down) the gears. Pedals are also included so you don't have to rely on pressing a button although there are 25 action buttons in all.
It's likely you'll need to spend a day mastering things, setting up the customised buttons, and learning how to use the built-in display, but you won't go back to the usual way of playing. It feels far more realistic this way, giving you a real sense of speed and progression. For those certain occasions, the Thrustmaster T248 suits your needs wonderfully even if you may not use it every day.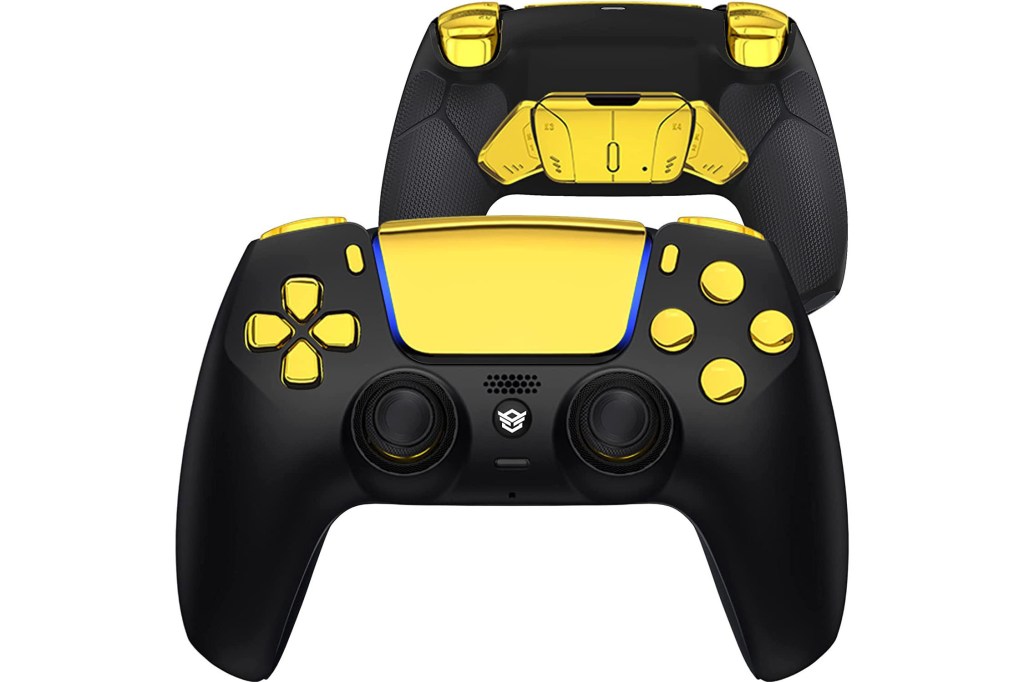 9. HexGaming Rival Pro Controller
Stuff Says…
A slightly different take on the usual bevy of adjustments, the HexGaming Rival Pro Controller offers some attractive differences.
Tech spec:
Connection: Wireless | Buttons: 19 | Weight: 330g
The HexGaming Rival Pro Controller is a little trickier to track down than some, but its site's offering of over 150 designs is certainly enticing. Whatever colour scheme you choose, the HexGaming Rival Pro Controller offers quite a lot. There's the usual option of remapping the back triggers but you can also adjust to different thumb grips and thumbstick sizes, all in the matter of seconds. We're not expecting you to swap one out mid-game but you could if you really wanted to. Three different heights are available so if you're an avid sniper, this could be the one for you.
The controller also has hair triggers that supposedly decrease the distance needed to activate to 1.5mm. Again, a tiny advantage that could be vital for certain players. It's all a bit niche depending on how you play, but if you're determined to never need to blame your tools, this is likely the solution.