Best retro handhelds 2023: emulate classic console and computer games
Console yourself with gaming having moved on from 1985 with these four retro handhelds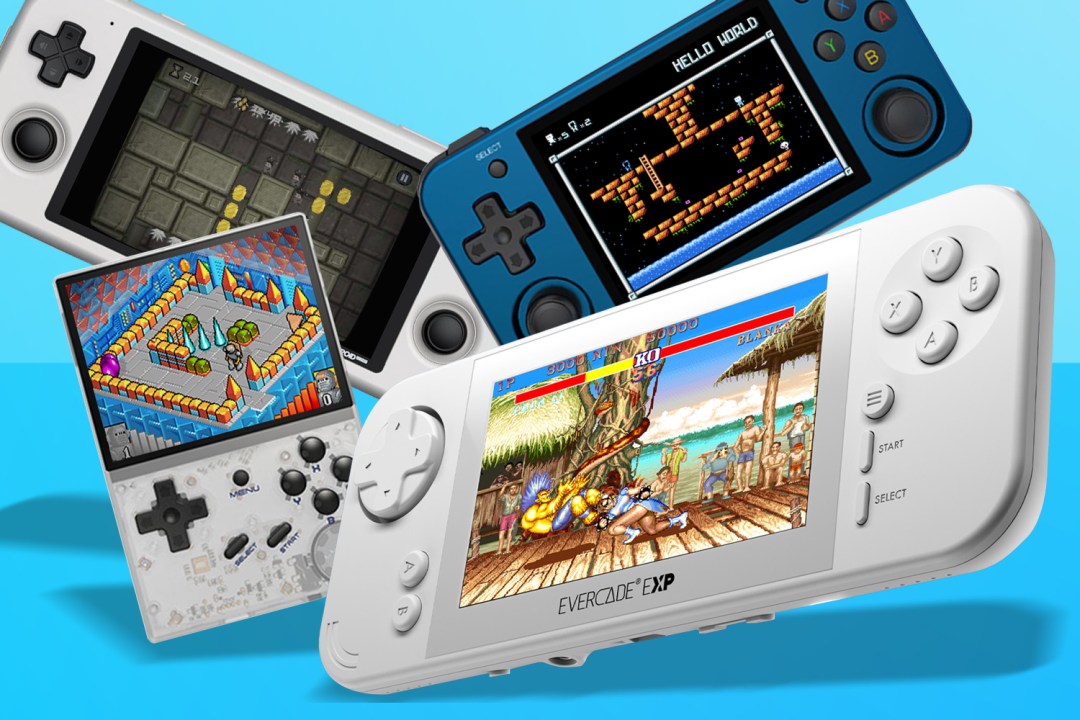 Old games consoles never die – they just get emulated. These days, even very affordable modern tech is powerful enough to let you cart around decades of gaming history in your trousers.
Dedicated retro handhelds emulate classic consoles and computers – everything from ancient Ataris to comparatively modern Dreamcasts (and beyond).
But which is the right retro handheld for you? And what do you need to consider before splashing out on a dinky device to make your thumbs twitch in a flurry of rose-tinted retrogaming bliss? Find out in this Stuff guide to the best retro handhelds.
What to look for when buying a retro handheld
Retro handhelds aren't created equal. Watch out for:
Screen size: Bigger means less pocketable. Some screens are sharper than others. And be mindful that a screen's aspect ratio might not be optimal for the games you favour.
Hardware quality: Build. Controls. Battery. You don't want hardware to fail you when your thumbs are doing just fine.
Where to buy: Retroid and Anbernic are based in China and sell direct. They're reputable, but faults/returns can take time to resolve. UK/US resellers also exist, but you often pay far more for the same devices.
Faff factor: Some handhelds are plug-and-play. Others are plug-away-for-days-setting-the-thing-up and play (if you still have the energy).
Hackability: Do you like bending hardware to your will? Then buy a handheld with alternative firmware options.
On those last two points, we strongly recommend Retro Game Corps for set-up tips.
---
Best for widescreen and raw power: Retroid Pocket 3+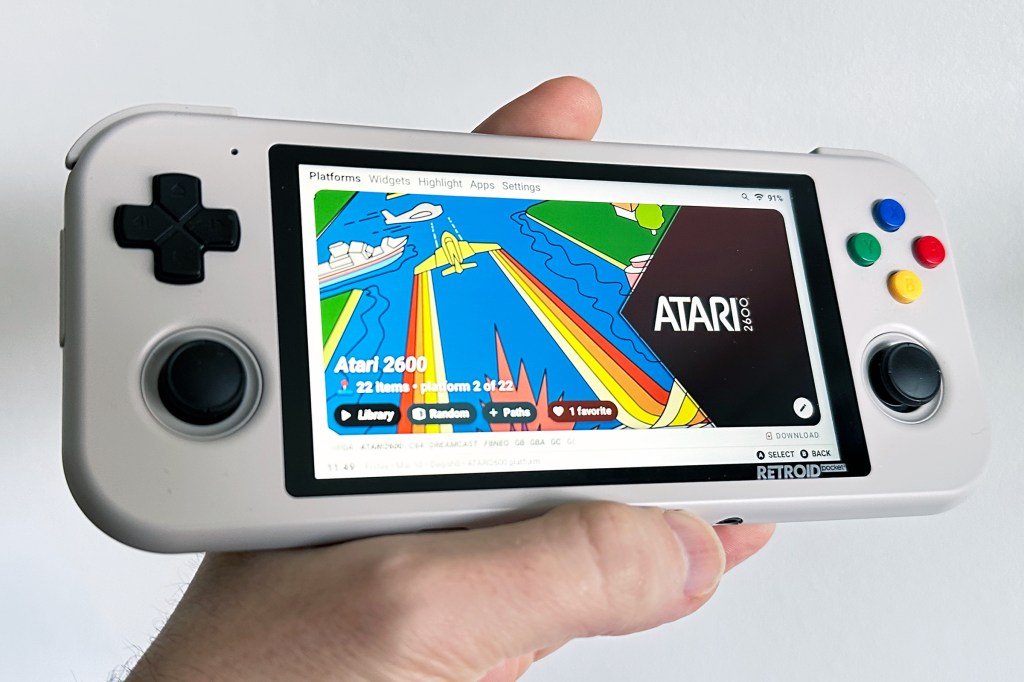 This Android device is the most powerful unit on test. It runs up to PSP in rock-solid fashion, and some GameCube and PS2 fare. Native Android titles are hit-and-miss: controller support is spotty on Android, and while games like Horizon Chase and Mos Speedrun are great with physical controls, the Pocket 3+ chipset can't cope with the more demanding Rocket League Sideswipe.
Back in retroville, set-up is more daunting than with Linux-based systems, since you start from scratch, installing emulators and such. Retroid's built-in games launcher is merely serviceable, and doesn't play well with all retro formats. The free Daijishō is far better, even as a full replacement for the default Android launcher.
The 4.7in 1334×750 touchscreen is impressive. Its widescreen aspect suits PSP and Android, and it's big enough that black bars flanking 4:3 (and similar) systems don't irk. The controls are solid but the analogue sticks are inferior to the Anbernic 353M's, and Start/Select being atop the unit is awkward. When playing games in vertical mode, the triggers (and headphone jack, if you've got headphones plugged in) get in the way.
Given that this is an Android device, you might argue you could plonk your phone in a controller instead. But there's something to be said for a dedicated retro handheld, and physical controllers for Android cost almost as much as the Retroid Pocket 3+ anyway.
To that end, this device represents great value – especially if you favour titles that take fuller advantage of the widescreen display.
Flip out: Retroid Pocket Flip
If you like the sound of the Retroid Pocket 3+ but aren't keen on the form factor, try the Pocket Flip instead. This $159 handheld has a clamshell form factor that recalls the Nintendo DS and GPD XD. While that makes it no good for vertical games, it's ideal for on-the-go retrogaming, since the screen will be protected when the Flip's in a pocket or a bag. And when it comes to playing games, the angled screen is top-notch. In fact, of all the devices in this round-up, the Flip's the one that most feels like a games console.
---
Best for solid controls and 4:3 systems: Anbernic RG353M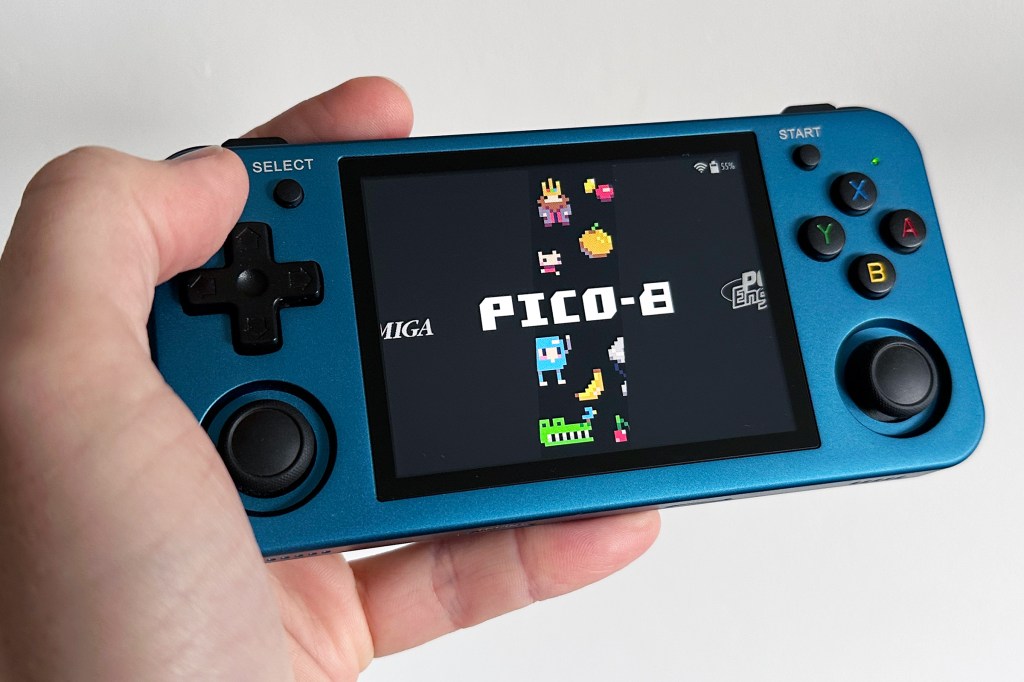 With Anbernic having released approximately five billion handhelds to date, picking one is tricky. We like the 353M best. It's a premium number, with a solid metal shell and great controls – not least the wonderful analogue sticks. The device is compact – the same size as an iPhone, but thicker – and feels good in the hand, even when playing vertical games. We like that Anbernic has the confidence to leave a logo off the front.
The 4:3 3.5in 640×480 display looks fab and is ideal for older systems and modern mimics (hello, Pico-8); but the unit's powerful enough to emulate up to Dreamcast, even if it doesn't quite have the clout of the Retroid Pocket 3+. There is dual-boot functionality, though, to leave the default Linux OS and head to Android to eke out extra power. However, we didn't find the experience great and quickly abandoned it.
Part of the reason for that is because the default Linux OS is so easy to use. You drop a bunch of games into folders on an SD card, boot the device, and it organises everything for you. The UI is top-notch, and if you connect to Wi-Fi, the 353M can suck down box art and preview videos. And for the tinkerers out there, alternative systems exist.
So, what's the catch? With our review model, audio interference, which was sometimes noticeable when on Wi-Fi, and very apparent when using headphones. Still, this is the retro handheld we return to most often. Just be mindful of that one big flaw if you prefer headphones over speakers when playing old games.
---
Best for cheap and cheerful retro thrills: Anbernic RG35XX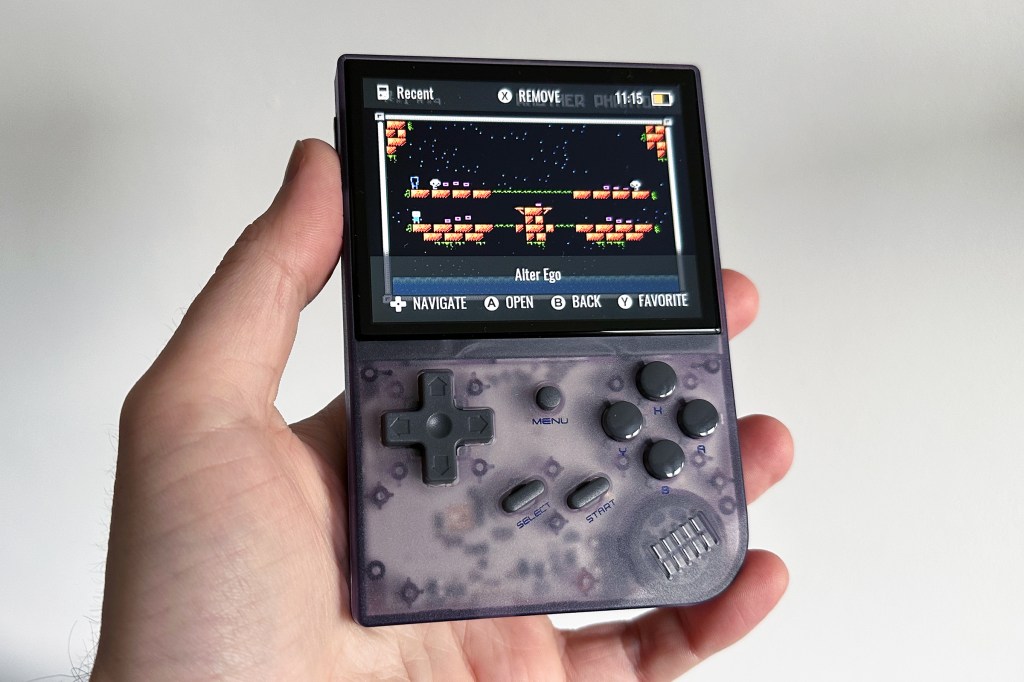 The RG35XX is the cheapest retro handheld on test. It's also the sole vertical one, with nice Game Boy vibes. But you realise why most folks prefer horizontal form factors, when cramp sets in during a long playing session. Also, while this unit has L1/2 and R1/2 buttons around back, they're not ideally placed. Still, they do make for somewhere to rest your index fingers.
The low price impacts on a few areas with the 35XX, but not the 3.5in 640×480 screen, which is very nice indeed. However, the D-pad is prone to accidental diagonals, the speaker's weak, and there's no Wi-Fi. Also, the default OS is best described as 'serviceable'. Fortunately, you can flash Garlic OS to an SD card and use that instead, which opens up more platforms and options.
The snag is they won't all work. That's because the 35XX is less powerful than the two previous units we've covered. It's fine for 8-bit consoles and computers (such as the C64 and Game Boy) and 16-bit consoles, along with PlayStation; but it struggles with some arcade and Pico-8 games. With GarlicOS, you can press Select to temporarily overclock the unit to squeeze out extra power, which noticeably improves Pico-8 compatibility. But our review unit choked on Amiga games, whatever we tried. Sorry, Stunt Car Racer fans.
Still, it's hard to be too critical of a device that exists in full impulse purchase territory, costing barely more than a third of a Pocket 3+ or a 353M. Know its limitations and you'll find the 35XX a capable, pocketable and fun addition to your gaming collection.
Note: If you're reading and are thinking "man, I wish you could have the power of the 353M and the form factor of the 35XX", you're in luck.
---
Best for cart collectors: Blaze Entertainment Evercade EXP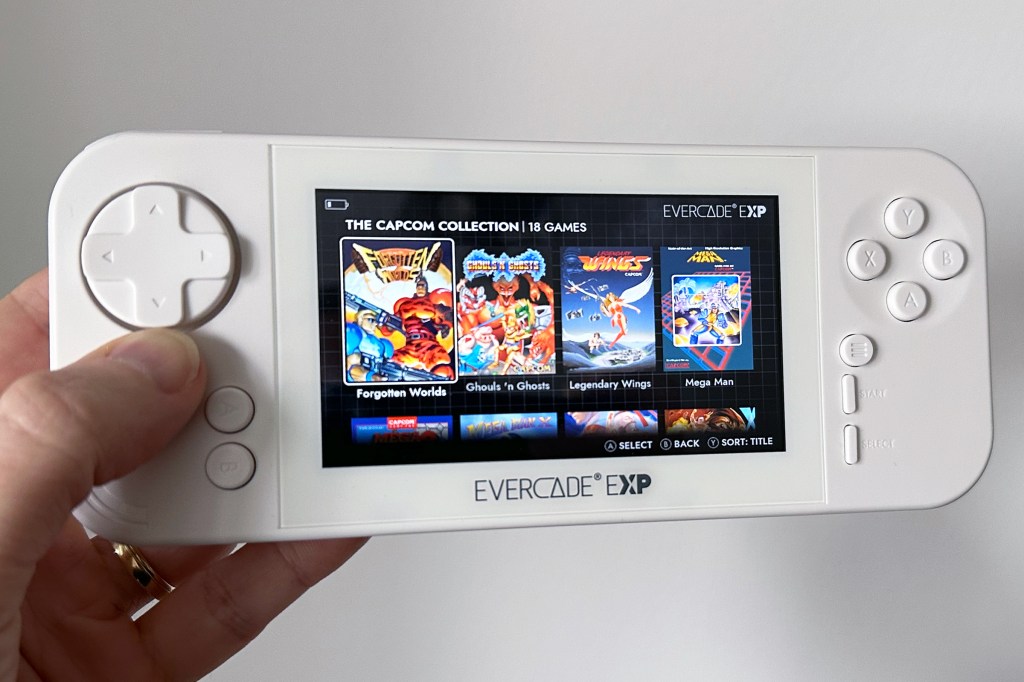 Every other retro handheld on test invites you to throw a bunch of sometimes dubiously sourced games on to an SD card and load it up to access your favourite retro titles. The Evercade EXP scratches a different itch for people who grew up in the days of Spangles and Smash Hits: it uses physical cartridges.
The carts are proprietary, and come in custom boxes with little paper manuals. Collections look rather lovely on a shelf, and you soon realise how handy physical instructions are when it comes to mastering games your brain forgot how to play decades ago.
Evercade is also doing right by IP owners – they get a cut. With the company curating indie collections, that's a particularly good thing. And because the collections are finite, you don't end up with choice paralysis on firing the unit up. Well, unless you can't decide between a cart's games and the 18 on-device Capcom hits.
But what of the hardware? Our full review goes into depth, but the UI is great, the 4.3in 800×400 screen is just OK, and the controls are quite nice – even if we'd prefer more precision in the D-pad, and less cramped buttons in tate (vertical) mode.
But this one's really there for a kind of nostalgia factor that goes beyond the games alone. Again, Blaze deserves credit for doing right in licensing old titles; but it deserves more kudos for conceiving a complete package that understands what makes a certain type of retro gamer tick.