The best smartphone camera of 2017 – here's what you think
We let you cast your eyes over 2017's stellar smartphone snappers to pick a winner
It's not often we let you, the readers, make our decisions for us – after all, when was the last time democracy worked out nicely for all involved?
We ran caution to the wind last month, when we published a blind test of photos shot with the eight best smartphones doing the rounds right now: Apple's iPhone 7 Plus, the Google Pixel XL, HTC U11, Huawei P10 Plus, LG G6, OnePlus 5, Samsung Galaxy S8 and Sony's Xperia XZ Premium. Then we opened up the voting to you.
Thousands of you picked your favourite image from seven categories: Landscape, Portrait, HDR, night (no flash), night (with flash), selfie, and Macro. But did you make the right decision?
Scroll on down to see which phones won in which categories, and which one was your overall winner.
ROUND 1: LANDSCAPE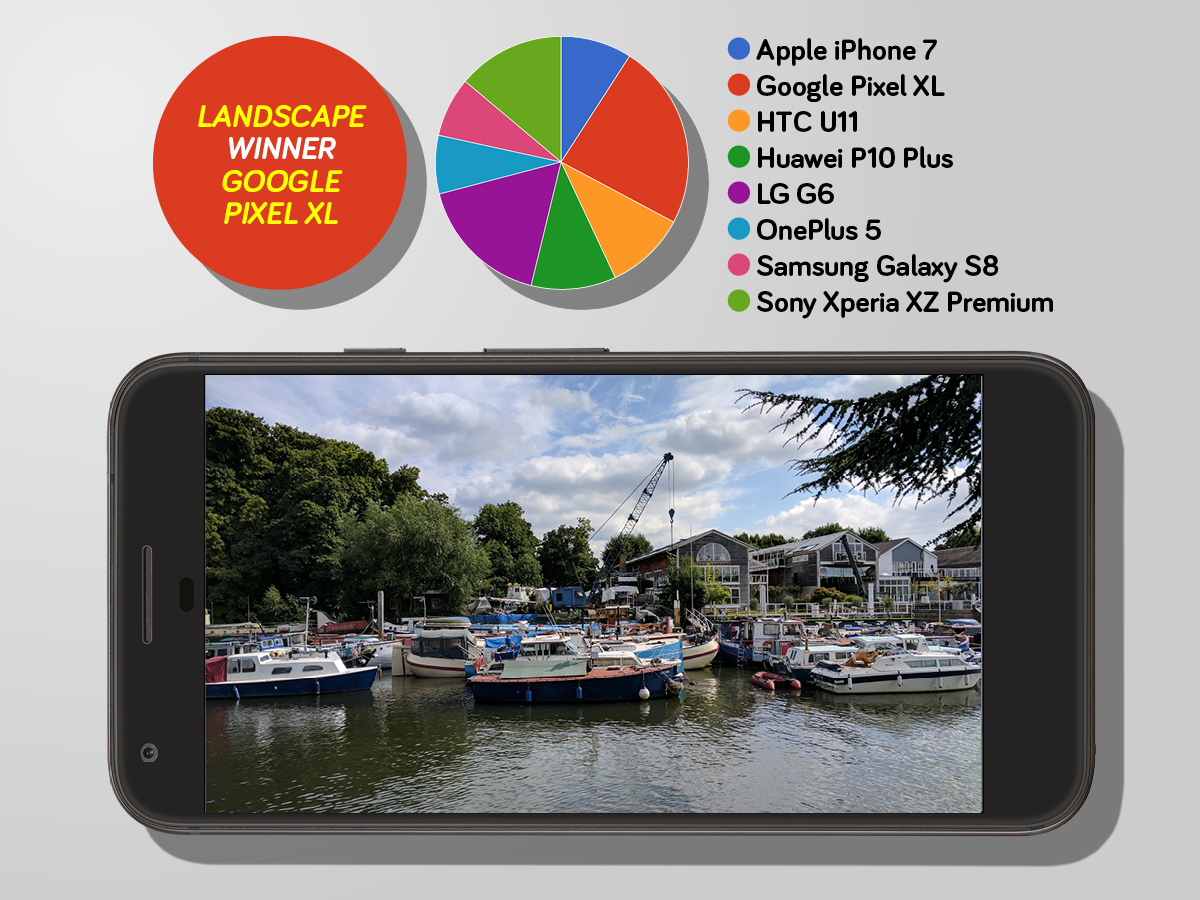 We kicked off the test with a fairly common scenario: a landscape photo in daylight conditions. The presence of water, foliage and sky should test each phone's ability to cope with colour and tone, and there's plenty of detail to be looked at too.
The result was comprehensive, with Google's Pixel XL taking the win by a sizeable margin: about 24%, with the second-place LG G6 getting just 17% and the Sony Xperia XZ Premium managing 13.9%.
It's easy to see why – the Pixel does a fantastic job with dynamic range, exposing the sky and the river to a fantastic degree. Some other shots, particularly the OnePlus 5, which struggled to make the sky stand out against the clouds. We were surprised Sony's Xperia XZ Premium got such a high percentage, as it clearly over-exposed the sky, leading to blow outs.
ROUND 2: PORTRAIT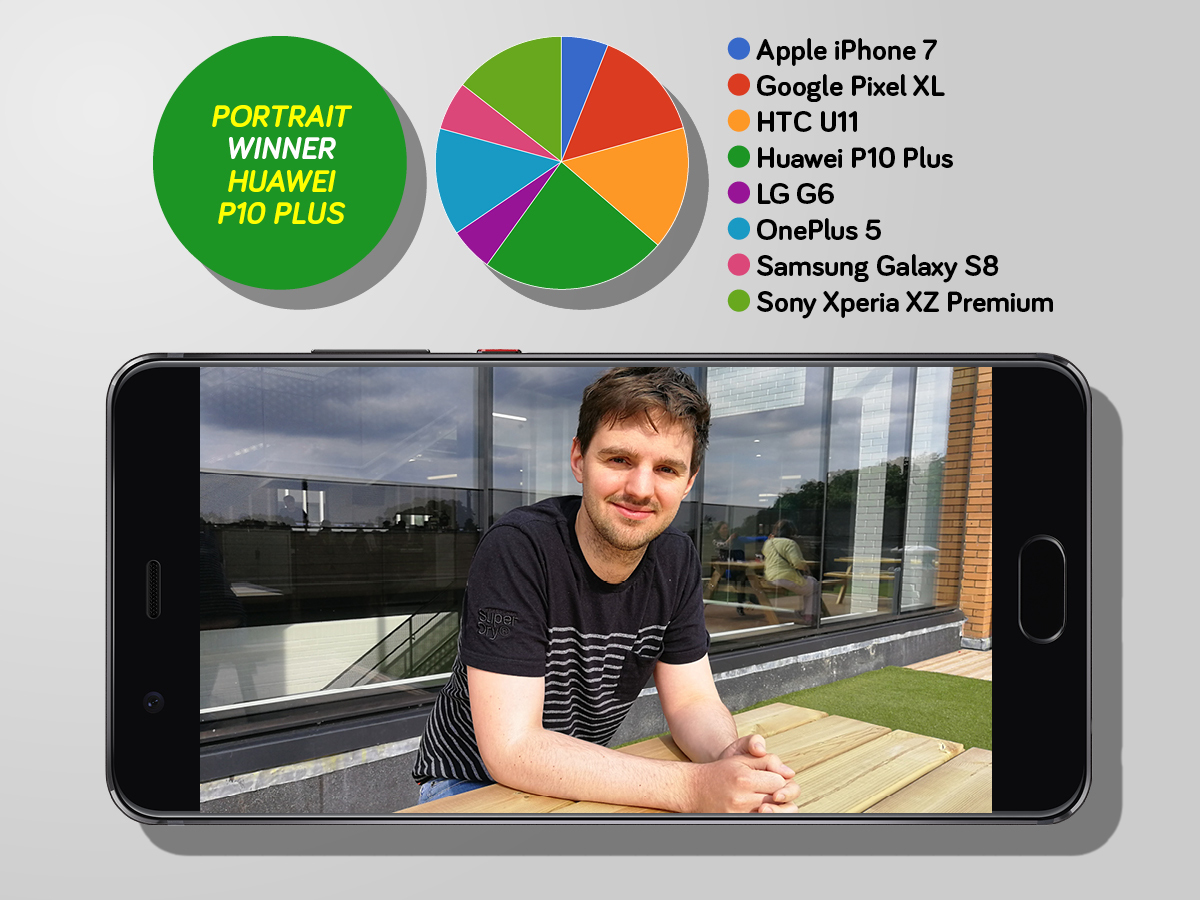 Having to click through eight photos of magazine editor Rob Leedham is tough for anyone to stomach, so good on those of you that stuck with it and voted in this category. It was here that Huawei pulled off its only category win, earning around 24% of the vote. HTC came in second with 16%, but was closely followed by Google and Sony.
We get the feeling Huawei's over-eager sharpening algorithm gave it the edge here, creating the impression of more detail in facial features. For our money, the HTC U11 looks a little more natural – but then we're not in charge, here. This one's all on you, the readers.
ROUND 3: HDR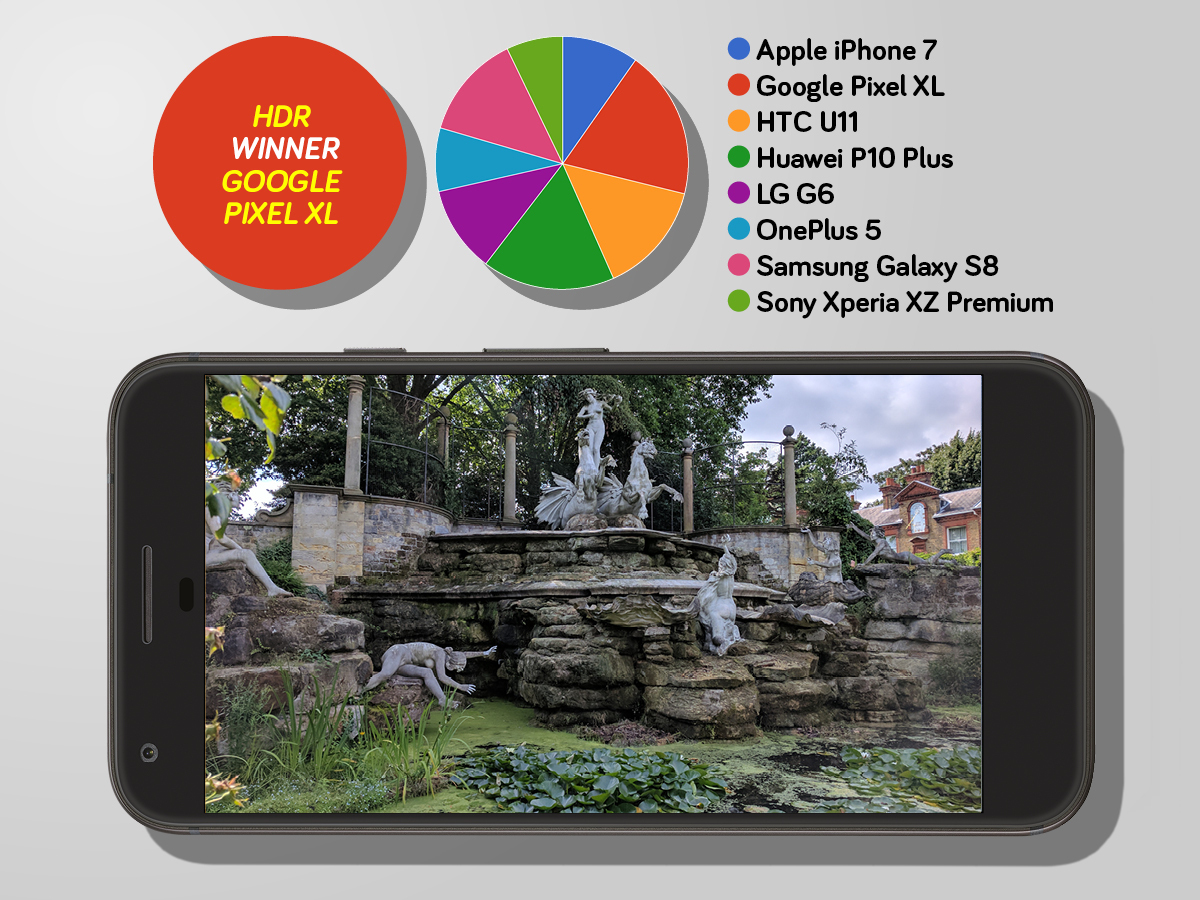 An automatic version of HDR is all but standard on most high-end smartphones these days, but for this test we forced on the slower, manual mode.
The subject, a complex statue fountain with blue skies in the background, proved tricky for many phones, but the Pixel XL managed it better than the rest. Colours are beautifully balanced, without blowing out the sky or losing definition in the statues..
Results were a lot closer here than in other categories, though, with Google only taking 21% of the vote and second-placed Huawei getting 17%. Mid-table results from HTC and Samsung matched our own opinion, leaving the rest of the field down in single-digit territory.
ROUND 4: LOW LIGHT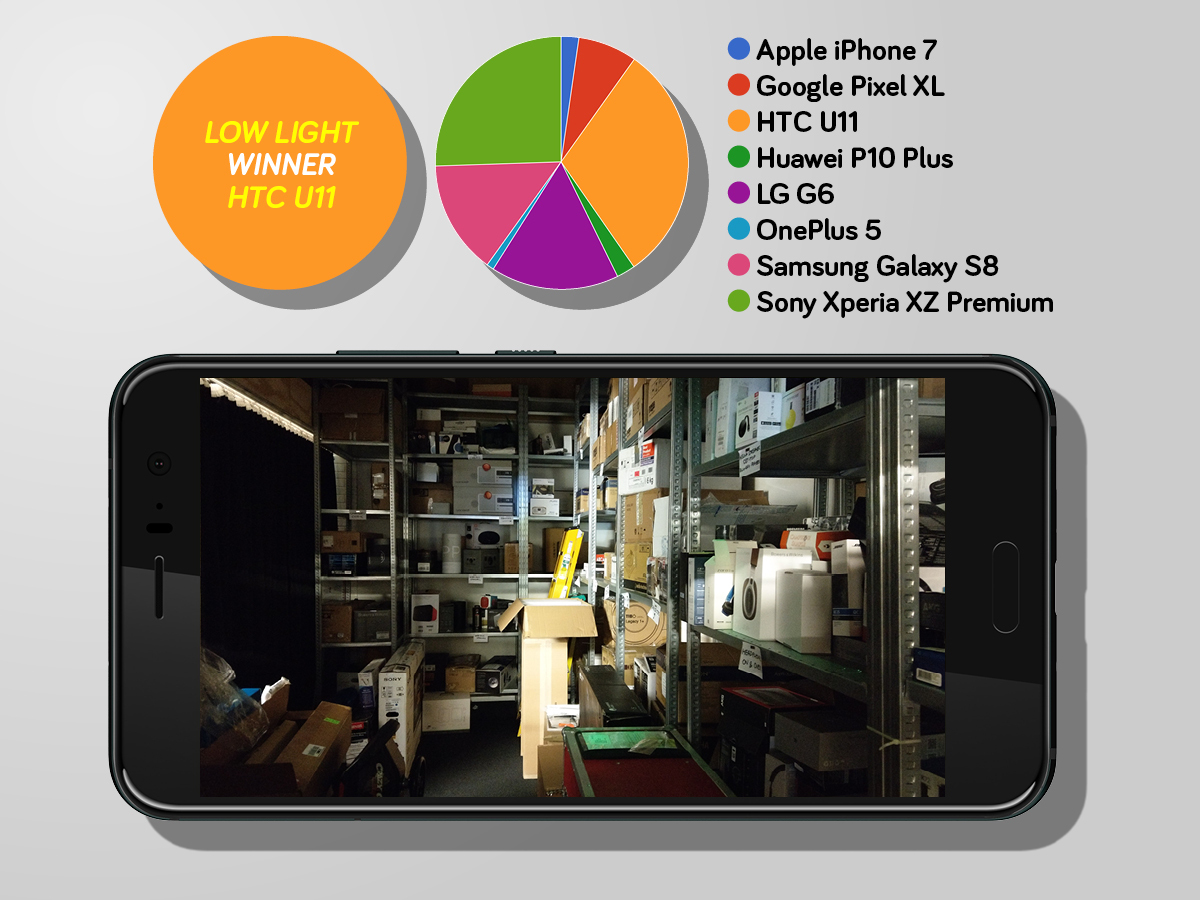 How a smartphone handles itself in low-light is one of the toughest tests it will face, and if you go by these results, then you'll want to pick up an HTC U11. It picked up a whopping 31% of the vote, although it was closely followed by the Xperia XZ Premium, which scored 26%.
It depends on what you want from your low-light photos, though: HTC undeniably packs in a lot of detail when the lights get low, but we think it tends towards over-exposure at the centre of the frame. The Pixel XL isn't quite as bright, but we reckon it stayed closer to real life – even if you didn't agree, awarding it just 8% of the total vote.
ROUND 5: LOW LIGHT WITH FLASH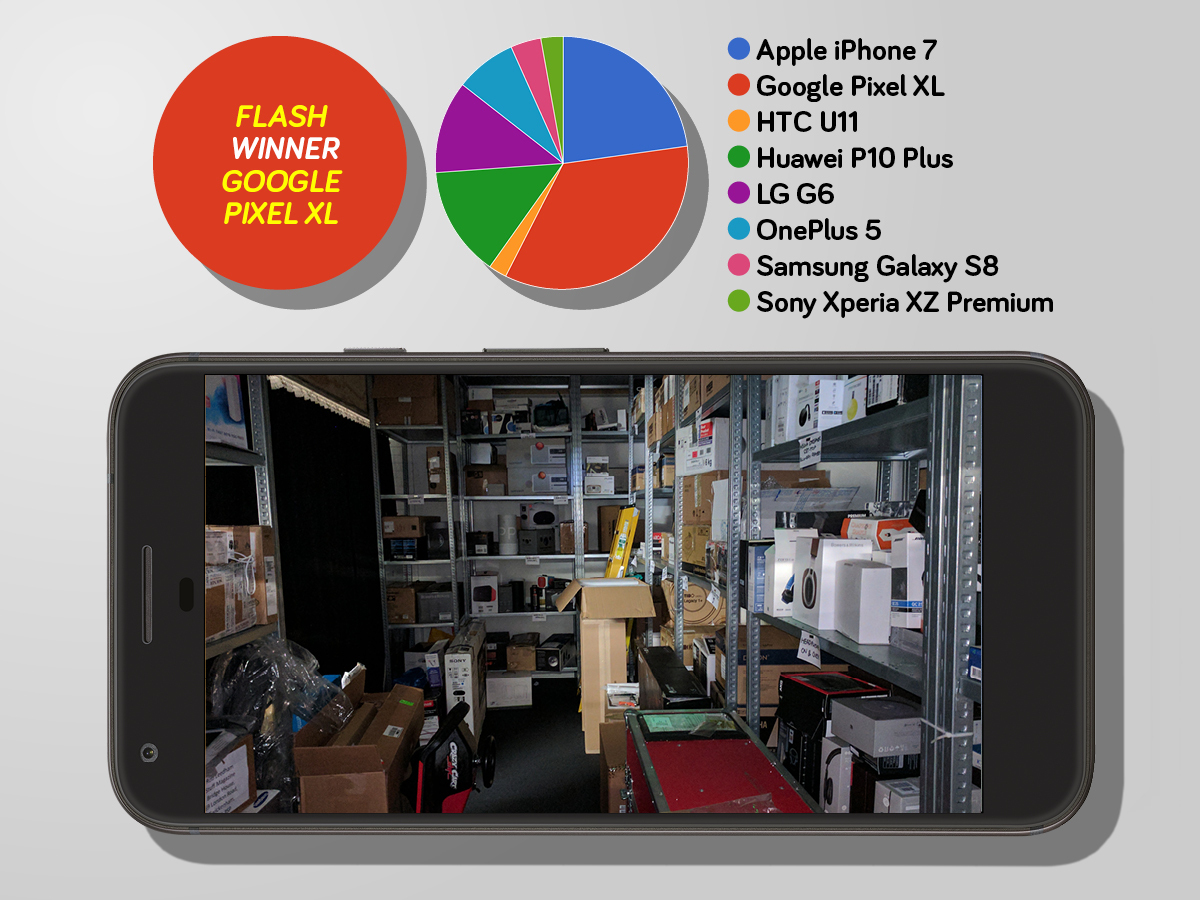 The other side of the low-light coin is the LED flash. Things get flipped around here, with Google actually taking the top spot and HTC falling right down to the bottom of the field.
Google undeniably takes the most realistic photo here, with the flash filling the entire room but avoiding the tell-tale yellowish hue that usually comes when you snap photos with the flash on. It earned 35% of the vote, knocking the iPhone 7 Plus into second place with 23%.
ROUND 6: SELFIE
Apologies to all the voters that has to click through eight pictures of Reviews Editor Tom Morgan's bespectacled face for this category. We wouldn't blame you for clicking on random images just to move onto the next section as quickly as possible.
At least the results were consistent, with HTC pulling off the win and Google coming in second. LG had a surprise surge into third place, but more amazingly was Samsung's failure to score here – it fell to the back of the pack, which is odd seeing as it performed better elsewhere.
ROUND 7: MACRO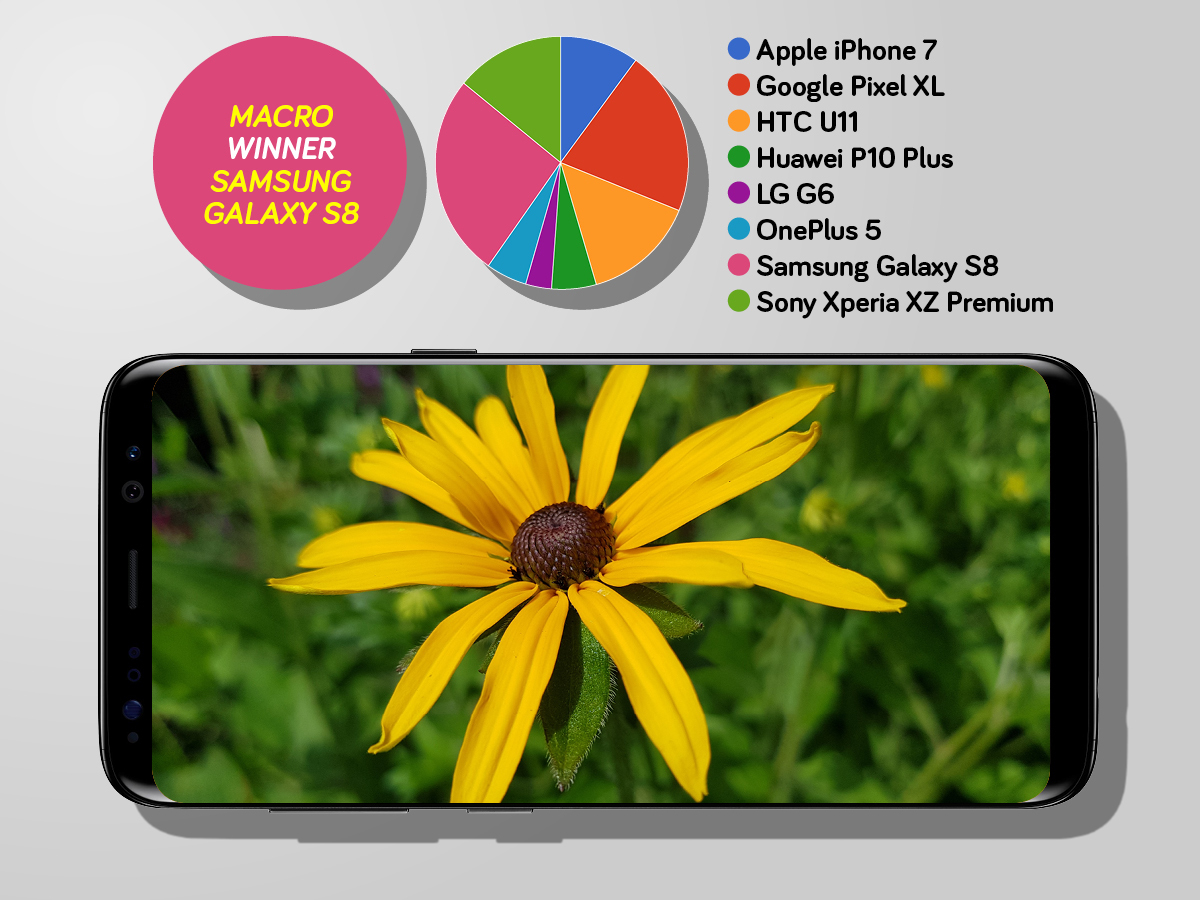 Finally, to macro mode. This tests focusing distance, colour and detail, with the best phones making the flowers look pin-sharp and vivid. The Samsung Galaxy S8 was the winner here, taking just over 26% of the vote; the second-placed Google Pixel XL managed 21%, leaving most of the other phones down in single-digit territory.
It's easy to see why: the Galaxy S8's colours are so rich and vibrant, several other phones look washed out in comparison. It is also as sharp as a lemon and vinegar smoothie, while keeping the background beautifully blurry.
And the winner is…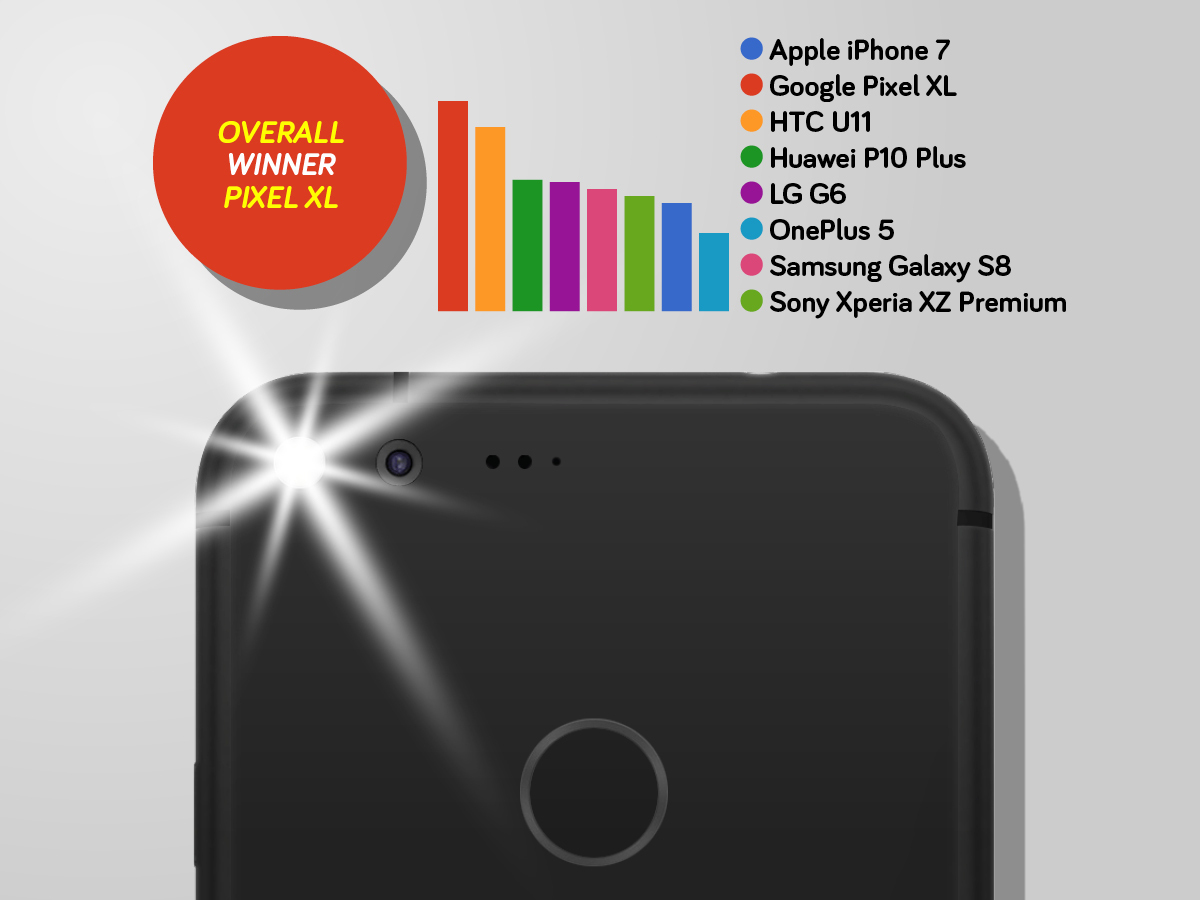 So after seven rounds, who walked out the winner? The result was pretty clear, with the overall leader taking a sizeable lead over second and third place, which themselves carved out a gap above the rest of the pack.
Your favourite 2017 smartphone camera is… the Google Pixel XL.
Here's how we worked it all out: we tallied up the votes in each category then assigned points to them as follows: 1st = 10pts, 2nd = 8pts, 3rd = 6pts, 4th = 5pts, 5th = 4pts, 6th = 3pts, 7th = 2pts, 8th = 1pt. We did it like this to weight the vote slightly towards the phones which performed best in the most categories, rather than rewarding consistently average performance.
Once we'd done the number crunching bit we ended up with these final totals:
#1 Google Pixel XL (56 points)
#2 HTC U11 (45 points)
#3 Huawei P10 Plus (40 points)
#4 LG G6 (31 points)
#5 Samsung Galaxy S8 (29 points)
#6 Sony Xperia XZ Premium (29 points)
#7 Apple iPhone 7 Plus (26 points)
#8 OnePlus 5 (17 points)
The Pixel came out on top in three rounds – landscape, HDR and low-light (with flash), but had podium finishes in four others. HTC won the low-light (no flash) and selfie categories, plus took second or third place in three others. Huawei's P10 Plus earned third place overall with a win in the portrait category, but placed more consistently towards the middle of the pack in other areas.
We were shocked that the iPhone 7 Plus and Samsung Galaxy S8 placed so low down the field, especially when last year's models traded blows at the top of our 2016 poll. Samsung only claimed victory in the macro category, where its vibrant colours and sharp detail helped push it to the front. It goes to show how much the rest of the smartphone world has improved in such a short space of time.
What is absolutely clear here is that the very best phones all have great cameras. Six of the eight handsets has already earned a slot in our Smartphones Top 10, with the Pixel XL only just missing out due to a few missteps in other areas.
Sure, some of these phones will outperform the others in particular areas, but you can be pretty sure they'll all do a great all-round job – and that's doubly true of Google's Pixel XL.