Google Pixel 3 vs Apple iPhone XS: The weigh-in
The tech titans square up once again for a smartphone brawl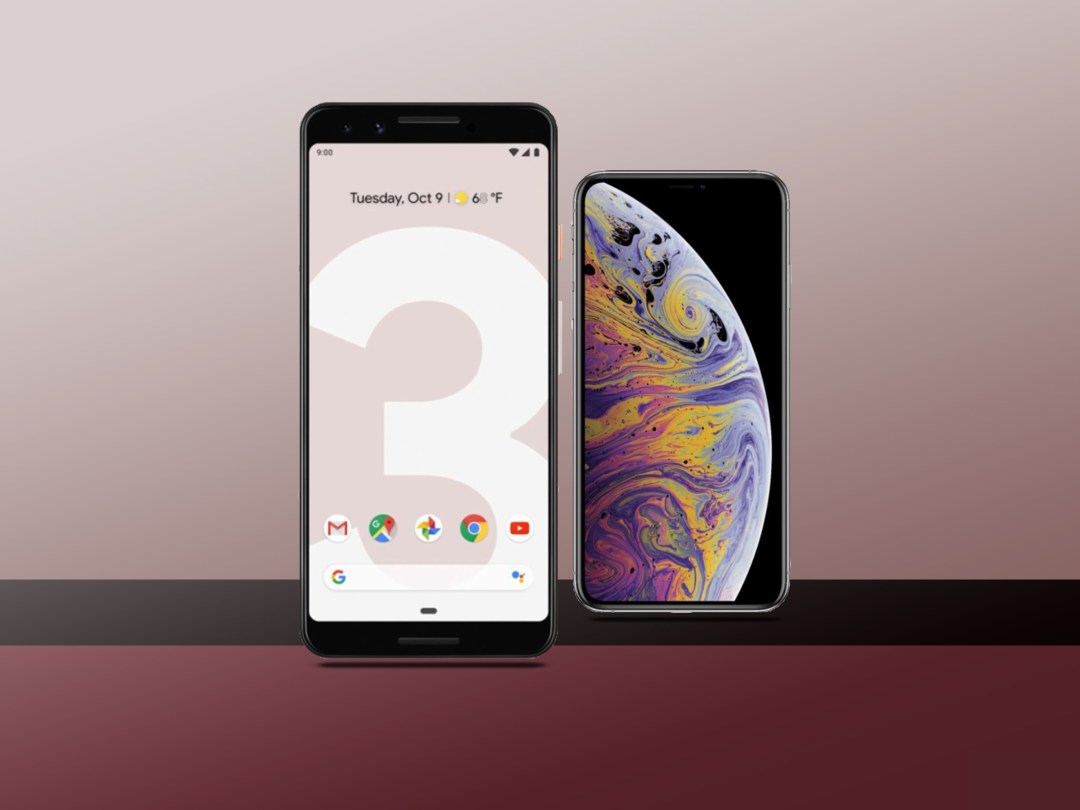 The original Google Pixel handset was obviously inspired by the Apple iPhone design of the day, but the iPhone no longer looks like that anymore.
With last year's iPhone X, Apple embraced an edge-to-edge notched screen with slick new navigational gestures, not to mention a rather steep price – and now the iPhone XS is an even better version of that approach.
Meanwhile, Google's handset has gradually evolved away from an iPhone doppelganger into something a little bit more distinct, and the newly-announced Pixel 3 packs in some compelling software perks while refining the hardware to a new degree.
It's the classic Apple vs. Google battle all over again, albeit with even stronger contenders in the mix. Which will win? We won't know for sure until we review the Pixel 3, but 'til then, here's what we think so far.
Design: Front or back?
The Pixel 3 thankfully packs a lot more polish than last year's featureless black rectangle, with a curvier aesthetic and a bit less bezel than before. It's not quite as eye-catching as a Samsung Galaxy S9, but it feels like Google tried nudging closer to that example.
Meanwhile, the iPhone XS is identical to the iPhone X before it, but that's no complaint. The nearly bezel-less, all-screen approach is fantastic, with a glossy stainless steel frame to add to the premium allure.
From the back, however, we have to give the slight edge to Google with the new two-tone glass backing. It's more distinctive than Apple's plain glass rear, although we think the overall advantage still goes to Apple here.
Screen: Pretty close
The iPhone XS' panel is one of the best around, as the 5.8in OLED is bold and bright at 1125p resolution. The wider colour gamut on this year's panel is truly felt when watching HDR video and viewing your own photos and clips.
Google is pretty close on specs here: a smidge smaller at 5.5in for this OLED, and a little lower-resolution at 1080p. Given the smaller size, the pixel density is nearly equal – the Pixel 3's 443ppi is so close to the iPhone's 458ppi. If Google produced a brilliant panel here, then it ought to be darn close.
Camera: Photo finish
Last year, the single-camera Pixel 2 was our smartphone shooter champion. And that held true until the Huawei P20 Pro released this past spring. Can the Pixel 3 retake the crown?
It looks promising so far. The Pixel 3 sticks with one back camera again, still at 12.2 megapixels, but sample shots looked crisp and clean with plenty of detail. A.I. lends a strong helping hand here, and the Pixel 3 will snap extra frames with its Top Shot feature and suggest the best version to hold onto.
Improved nighttime shooting is also in the mix, and the video capabilities – including the Motion Auto Focus feature – look pretty amazing. We'll have to see how much it all impresses once we've done our own extensive testing, however.
On the other hand, we already know that the iPhone XS has a brilliant camera setup. The dual 12MP array improves upon last year's design with a larger sensor that captures more detail and delivers much-improved night shots, while expanded dynamic range captures more vibrant shots and helps avoid blown-out areas.
Meanwhile, the Smart HDR feature snags several frames with each shot and stitches them together into one oft-fantastic result. Add in the 2x optical zoom and Portrait mode, along with the sheer speed of the camera, and there's plenty to love about the iPhone XS in this regard. We can't wait to see how these phones compare.
Up front, meanwhile, the iPhone XS of course has Apple's sleek Face ID security functionality, as well as Animoji and animated Memoji that look just like you. The Pixel 3 puts two cameras on its front, but the extra one is just for group selfies… it doesn't have any kind of facial scanning ability.
Performance: Bionic blast
Going on benchmark stats, this one's a clear win for Apple. The A12 Bionic chip inside the iPhone XS has been crushing the Android competition in testing, including the months-old Qualcomm Snapdragon 845 chip inside the Pixel 3. Even the iPhone X's A11 Bionic chip was faster.
All that said, the Pixel 3 should be plenty speedy with Android 9 Pie, just like the Apple iPhone XS is super swift with iOS 12. Both have 4GB RAM in there for smooth multitasking, and Apple's extra power here is more than you'll conceivably need for most tasks… but it's there, and it could come in handy at some point.
Battery and perks: Mixed bag
The Pixel 3 does go a bit larger on battery capacity, with a 2,915mAh cell within compared to the 2,658mAh pack in the iPhone XS. Apple's phone provides a strong day's usage without hammering it too hard, and we imagine the Pixel 3 will be pretty close overall. It's certainly not built for much more than a day, at least.
And thanks to the Pixel 3's new glass backing, it joins the iPhone XS in offering wireless charging. Google's new Pixel Stand accessory is also intriguing, as it props the phone up while wirelessly charging it and delivers a tweaked Google Assistant experience while docked.
Both phones have 64GB of internal storage in the base model, while the next step up on the Pixel 3 goes to 128GB. On the other hand, the iPhone XS jolts up to 256GB. And no, you can't use a microSD card on either of them.
Google does have the unique perk of mobile VR support via Daydream, while the iPhone XS has nothing comparable on offer.
Initial verdict: Too early to tell
In some ways, these phones seem pretty close. The screens should be pretty comparable, both should have excellent camera setups, and battery life ought to be pretty even overall. We'd give the edge on design to the iPhone XS, and Apple's phone definitely comes out ahead on raw power.
Of course, there's a £260 difference here, which is pretty substantial. The Pixel 3 might lack some of the design pop and wow factor of the iPhone XS, but it doesn't enter the highest stratosphere of smartphone pricing in 2018 – even if the price bump over last year's Pixel 2 is higher than anticipated.
It's hard to call at first blush. To be honest, the better comparison might be to the Apple iPhone XR, as both are the new entry-level flagships for each company, and both launch at the end of the month.
But in this battle between Apple's core handset and Google's new Pixel, we'll have to loop back with a final verdict once we complete our full review.