Google Pixel 4 vs Samsung Galaxy S10: Which is best?
Does the Pixel 4 pack enough of a punch to knock out the GS10?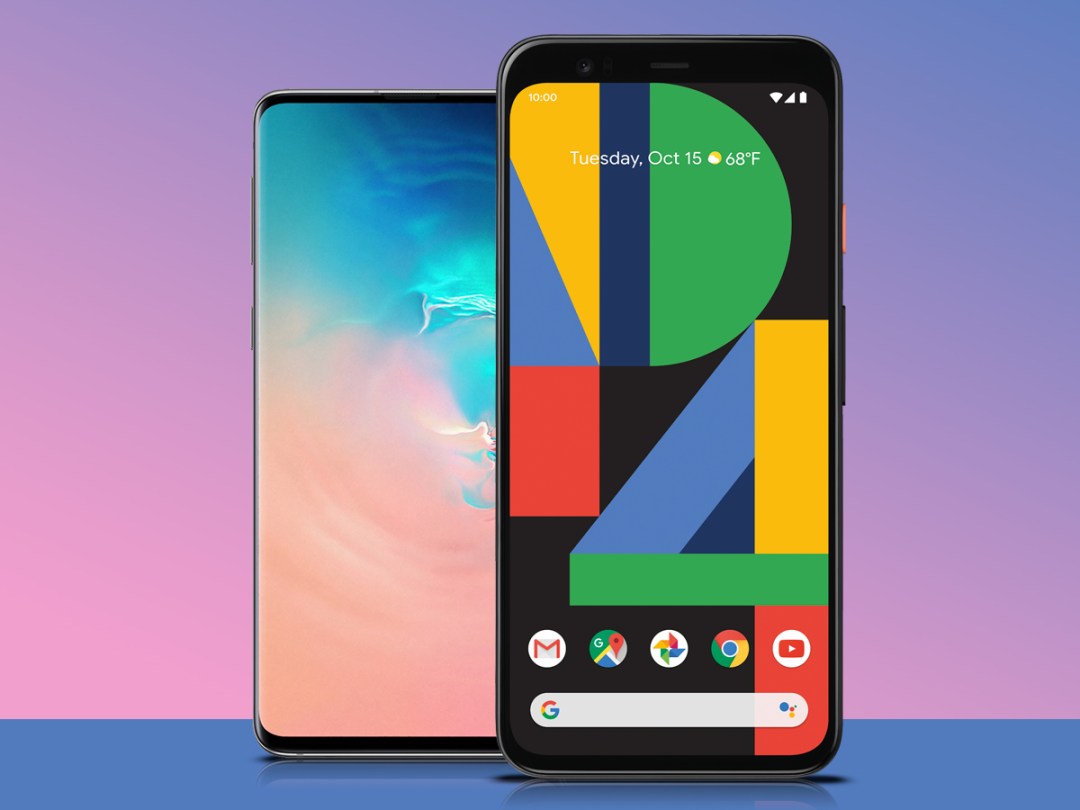 Samsung and Google are two of the most prominent Android handset producers today, but they couldn't be more different in approach.
Google takes cues from Apple's ultra-minimalism and puts its focus on streamlined efficiency and software perks. The design may be boring, but you're sure to get a smooth, thoughtful all-around experience. Samsung, on the other hand, goes for high-end hardware gloss and perks aplenty, pumping each flagship with the latest and greatest tech and standout design.
And the battle between the Samsung Galaxy S10 and Google Pixel 4 might spotlight the widest differences between those two extremes to date. Here's which one we think is best.
Design: Drab or delicious
We called the Pixel 4's design "boringcore" in our review, so that just about tells you what you need to know. The Pixel 4 shaves off what little was distinctive about the previous models, axing the two-tone backing in favour of plain matte glass. On the front, the extensive bezel really stands out, especially with that huge "forehead" with the radar sensor up top.
Meanwhile, the Galaxy S10 is all about sleek curves and premium style, with minimal bezel around the punch-hole display, and flashy backing options (or just black, as seen here). It's one of the year's most beautiful phones put up against a rather dull competitor. Easy win for Samsung.
Verdict: Samsung Galaxy S10
Screen: Benefits both ways
At the start of the year, the Galaxy S10 had the best screen you could find on any smartphone. It's still brilliant, with a vivid QHD+ 6.1in Dynamic AMOLED display that's crisp and gorgeous.
The Pixel 4 isn't as sharp, but this 1080p 5.7in OLED panel has the benefit of a 90Hz refresh rate, which means navigating through menus and webpages feels much smoother and faster. Each has a fantastic benefit, but neither is the complete package in the screen department.
Verdict: Draw
Camera: Pixel perfect
The Galaxy S10 has a very versatile triple-camera setup, with standard wide-angle, telephoto, and ultra-wide-angle cameras on the back. Between the three, you'll snag strong everyday shots in most scenarios. It takes solid nighttime shots, but not the best around.
Meanwhile, the Pixel 4 does more with two cameras, snapping frequently amazing shots with its wide-angle and telephoto cameras. Google's software algorithms pull intricate detail out of most situations, and the Night Sight mode is better than ever – plus it has an astrophotography mode. True, it doesn't have an ultra-wide camera, but we think its various software perks are a significant step above.
Plus, the Pixel 4 has 3D scanners for proper, secure facial scanning. Granted, you get the phone's big "forehead" as a result, but at least it's functional. The Galaxy S10's simple 2D facial scanning isn't nearly as secure, although it's still fast.
Verdict: Google Pixel 4
Performance: Near equals
In Europe, the Galaxy S10 runs Samsung's own Exynos 9820 chip, while some other territories (including the States) see a Qualcomm Snapdragon 855 chip inside. They're not far off in performance, although the Snapdragon 855 shows slight advantages in some benchmark testing.
Meanwhile, the Pixel 4 has the Snapdragon 855 everywhere. Ultimately, we don't think that there's enough of a difference to harp on. The Galaxy S10 is plenty speedy regardless of which chip is onboard, and the Pixel 4 is similarly swift.
Verdict: Draw
Battery and perks: Big S10 win
Google has a rather Apple-like (at least pre-iPhone 11 Pro/Pro Max) approach to battery and storage: just enough to be fine, but not enough to really satisfy. The Pixel 4 is a little underwhelming with its 2,800mAh battery, which will last you a full day with moderate usage – but push it any harder and you'll need a top-up by late afternoon.
Meanwhile, the Galaxy S10 has a meatier 3,400mAh pack, and it can take a little more of a beating in terms of media, games, and more. Both phones offer wireless charging, although only the Galaxy S10 lets you put another wirelessly-chargeable phone or accessory on the back to share some juice.
On the storage front, you can get the Pixel 4 with 64GB or 128GB internal storage… and that's it. You can't add anything further via expandable storage. Meanwhile, the base Galaxy S10 starts at 128GB, or you can bump up to 512GB – and in either case, you also can slot in microSD cards for cheap, additional storage. Samsung has such a clear advantage on this front.
The Pixel 4 has a couple of hardware perks in the form of the Motion Sense gestures, which are hit-or-miss in execution, as well as squeezable "Active Edge" sides to bring up the Google Assistant. Neither feels essential.
Verdict: Samsung Galaxy S10
Verdict: Good vs great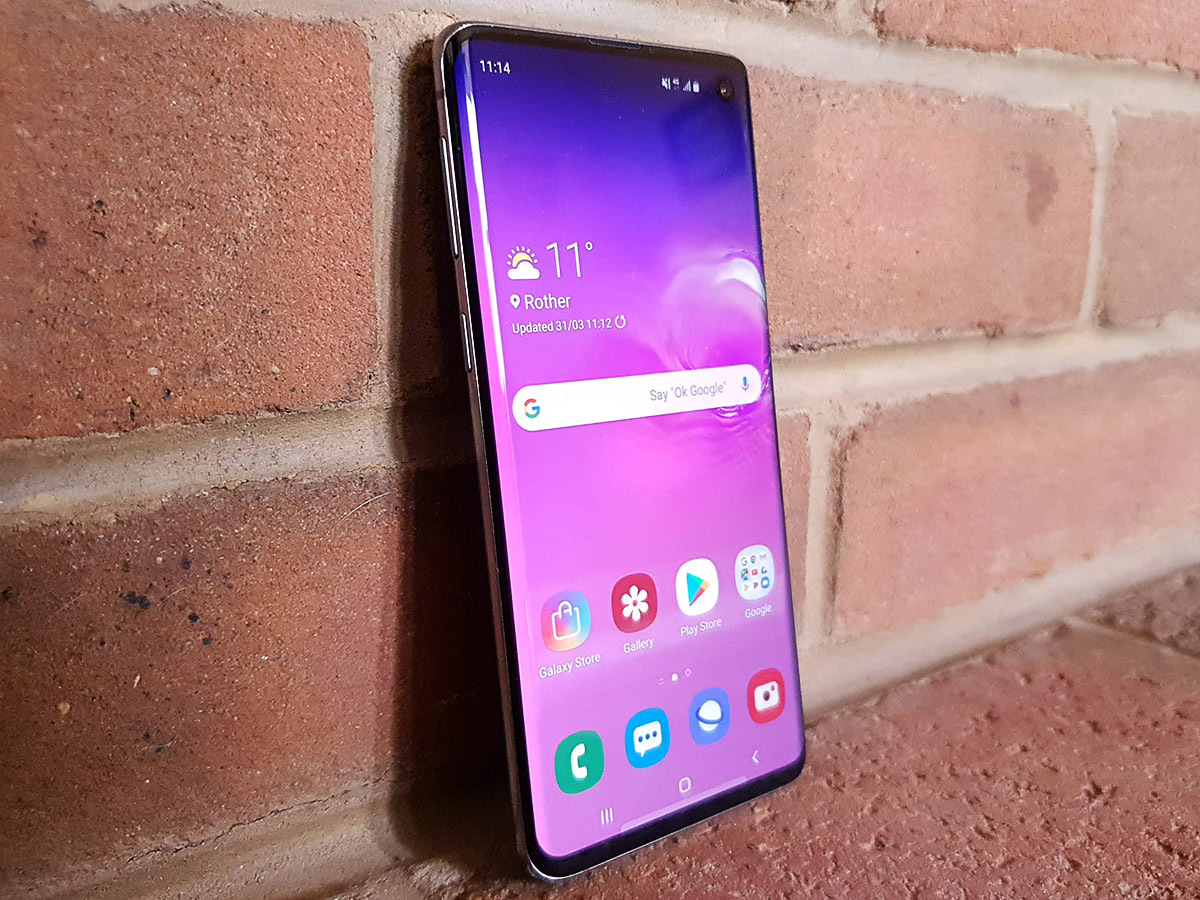 Compared to other Android flagships in 2019, the Pixel 4 can't help but underwhelm. It comes ahead in camera quality compared to most (but not all) rivals, yet in other ways it's handily beaten. And in this case, we think the Galaxy S10 provides a much better overall experience.
Granted, you'll pay more for it. The Pixel 4 actually undercuts its predecessor with a £669 price point, while the Galaxy S10 weighs in at £799 – and still hovers around that price point. That extra cash gets you a better design, extra battery life, and much better storage options, making for a more pleasurable flagship experience. It's one of the best phones you can buy right now.
Winner: Samsung Galaxy S10