Google Pixel vs OnePlus 3
Our favourite phone of the year goes toe-to-toe with Google's new game-changer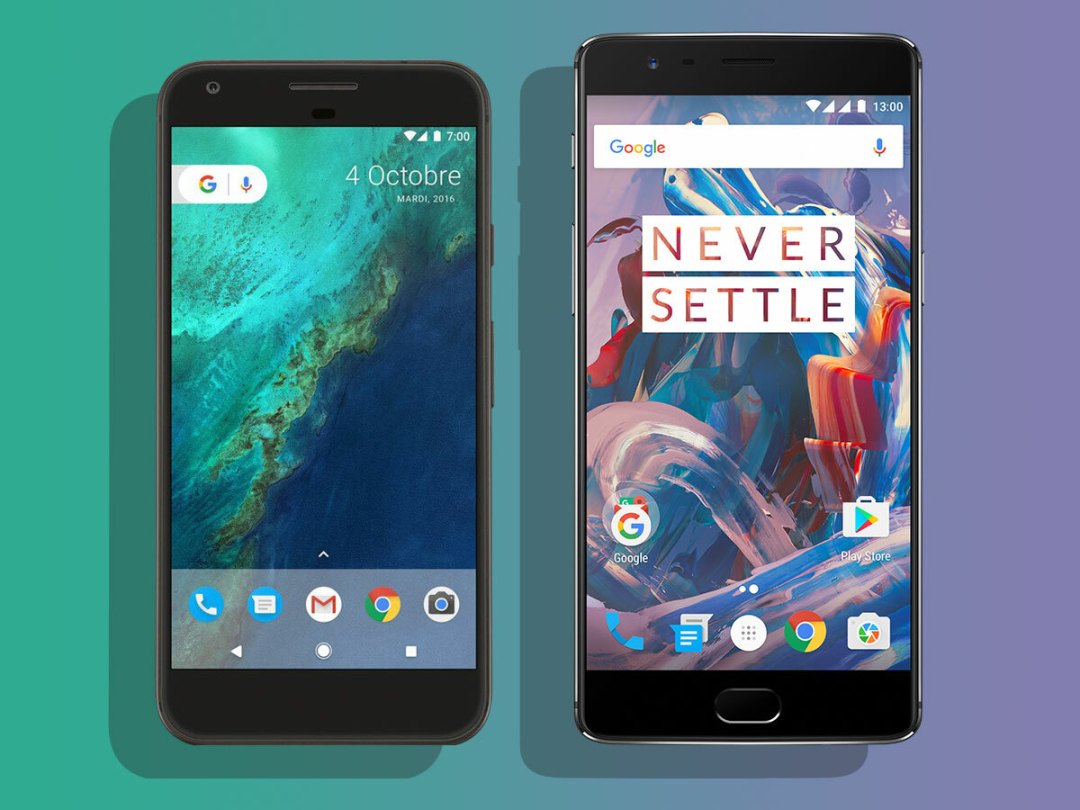 So the Pixel, Google's latest flagship is finally here – and it's a glitzy, high concept phone designed to show off the very best of the company's software and Android platform.
But how does it compare to our favourite Android phone – in fact, our favourite phone, full stop – of the past year, the glorious, wallet-friendly OnePlus 3?
Now that we've had a chance to put the Pixel through our review rundown, let's take a deep dive into how these two high-profile Androids compare in terms of hardware, capabilities, and cost.
Design: Full metal jackets
Both the Pixel and OnePlus 3 are metal and glass-bodied phones, with aluminium unibodies. The Pixel and Pixel XL are 8.5mm thick, while the OnePlus 3 is a more wafer-like 7.35mm. So the OnePlus 3 is thinner, but which phone looks better? After all, size isn't everything.
At a glance, we gave this category to the Pixel thanks to its cool two-tone back, which puts a slight spin on the otherwise iPhone-esque design. However, once we had the phone in hand, we ultimately weren't all that impressed by the design or feel of the phone. It doesn't live up to its inspiration, to be quite frank.
The OnePlus 3's all-metal backing might be more typical, but it's also refined and feels like a phone that should cost twice as much as it does. Unfortunately, the Pixel gives off the opposite impression, particularly since it really does cost twice as much here.
Winner: OnePlus 3
Screen: Display of power
The OnePlus 3 has a 5.5in 1080p OLED screen, protected by Gorilla Glass 4. Google's standard Pixel offers a 5in 1080p AMOLED screen, also protected by Gorilla Glass 4. So there's not a great deal of daylight between these phones' screens, especially with their OLED DNA, which means punchy colours, and rich, true black.
While the slightly larger OnePlus 3 screen means the crispness is technically a hair lesser, you won't notice it on a handheld screen: both displays look great, and whether you like it larger or slightly smaller is entirely up to preference. We're calling this even.
Winner: Draw
Camera: Pixel punchout
Google made much of the fact that the Pixel's 12.3MP rear camera garnered a DxOMark score of 89 – higher than any other smartphone camera on the market. While we're not quite ready to call it the best around (the Galaxy S7 and iPhone 7 Plus have something to say about that), it is an absolutely impressive shooter.
The Pixel has phase- and laser-detection autofocus and electronic image stabilisation, an f/2.0 aperture, 1.55-micron sensor pixels and the ability to capture 4K video at 30fps or high-speed video at 240fps. It also throws in continuous burst shots capable of HDR+, thanks to its nippier innards.
Especially with the HDR+ shooting mode, we found that the Pixel grabbed routinely excellent shots, with really great outdoor exposure in particular. And the electronic image stabilisation is a delight for steady video shooting.
The OnePlus 3's rear camera has a 16MP sensor, but with smaller 1.12-micron pixels. There's phase-detection autofocus (but no laser), optical and electronic image stabilisation, an f/2.0 aperture, 4K at 30fps and high-speed at 120fps.
In our experience, the OnePlus 3's camera is great for a £329 phone, but it doesn't have the sharp colors and reliable crispness of the kind of camera found in the Galaxy S7 – or indeed, the Google Pixel here. You'll pay a lot more for the Pixel, certainly, but one of the benefits is a more consistent and more feature-packed camera. That might be worth it for some buyers, we imagine.
Winner: Google Pixel
Power: Thanks for the memory
Google's Pixel is powered by a quad-core Snapdragon 821 CPU with two cores operating at 2.15GHz and two at 1.6GHz, and has 4GB of RAM. The OnePlus 3, meanwhile, has an older Snapdragon 820 CPU, with two cores at 2.2GHz (which may be rounded up from 2.15GHz) and two at 1.6GHz, plus a whopping 6GB of RAM.
If we relied only on benchmarks, we'd probably find a slight uptick for the Pixel due to its slightly enhanced processor, but in real-world testing, both phones are speedy, can handle all of the games and apps you throw at it, and don't buckle under the weight of multitasking. Honestly, we're not sure there's a big enough difference here to shift the discussion in either way.
It's also worth noting that both phones have fingerprint sensors, USB-C connectors, and fast-charge batteries. The Pixel has a 2770mAh battery, while the OnePlus 3's battery is 3000mAh, and both are solid all-day performers if you're not pushing the battery with constant game and media use. All told, these phones are pretty even here.
Winner: Draw
Storage: Different strokes for different folks
Both the Pixel and the OnePlus 3 are bang on trend with smartphones' recent tendency to eschew expandable storage. With these handsets, what you see is what you get (well, sort of – but we'll get to that in sec).
For the OnePlus 3, that's 64GB. A decent amount of on-board storage, you'd have to say, although not tip-top by today's standards – the highest-priced iPhone 7, for instance, offers 256GB (albeit it a massive cost).
For the Pixel, that's a choice between 32GB and 128GB (respectively, that's £599 and £699 for the Pixel, £719 and £819 for the Pixel XL). However, anyone who buys a new Pixel phone gets unlimited storage of their photos and videos at full resolution through Google Photos. Yep, even 4K videos will be shot up into the cloud at their original quality, which is pretty handy.
Still, Google's been rather naughty by forcing people between the slightly-to-small 32GB option and the far more expensive 128GB option. The OnePlus 3's 64GB of storage hits a happy medium, at a much, much cheaper price, and you can still upload unlimited up-to 12MP camera snaps on it using Google Photos.
Winner: OnePlus 3
Extras: AI vs £££s
When Google introduced the Pixel, it spent more time demonstrating its software functions than raving about its design or camera – and that's because one of the main selling points of this phone is that it's the first to offer Google Assistant.
Essentially a supercharged, smarter and more natural replacement for Google Now, this is Google's take on Siri, Cortana, or Alexa. It's clearly intended to be a major part of the Pixel's appeal, and the OnePlus 3 simply doesn't have anything to match it. However, as our full Pixel review explains, the Assisstant isn't as smart or conversational as we'd hoped right out of the gate.
What the OnePlus 3 does have in its favour though, is its price. We haven't yammered on about it too much thus far, but the £329 price tag is probably the best argument for buying the OnePlus 3 over any other flagship out there. Because make no mistake: this is a high-end handset at a mid-range price – and the Pixel costs almost twice as much (at its very cheapest configuration) without offering twice the functionality, performance, or features.
Google Now – while not quite as advanced as Google Assistant – is still perfectly capable of meeting almost every whim you throw at it, and it's simply impossible to ignore the incredible price difference between the two handsets.
Winner: OnePlus 3
Verdict: 3's still the magic number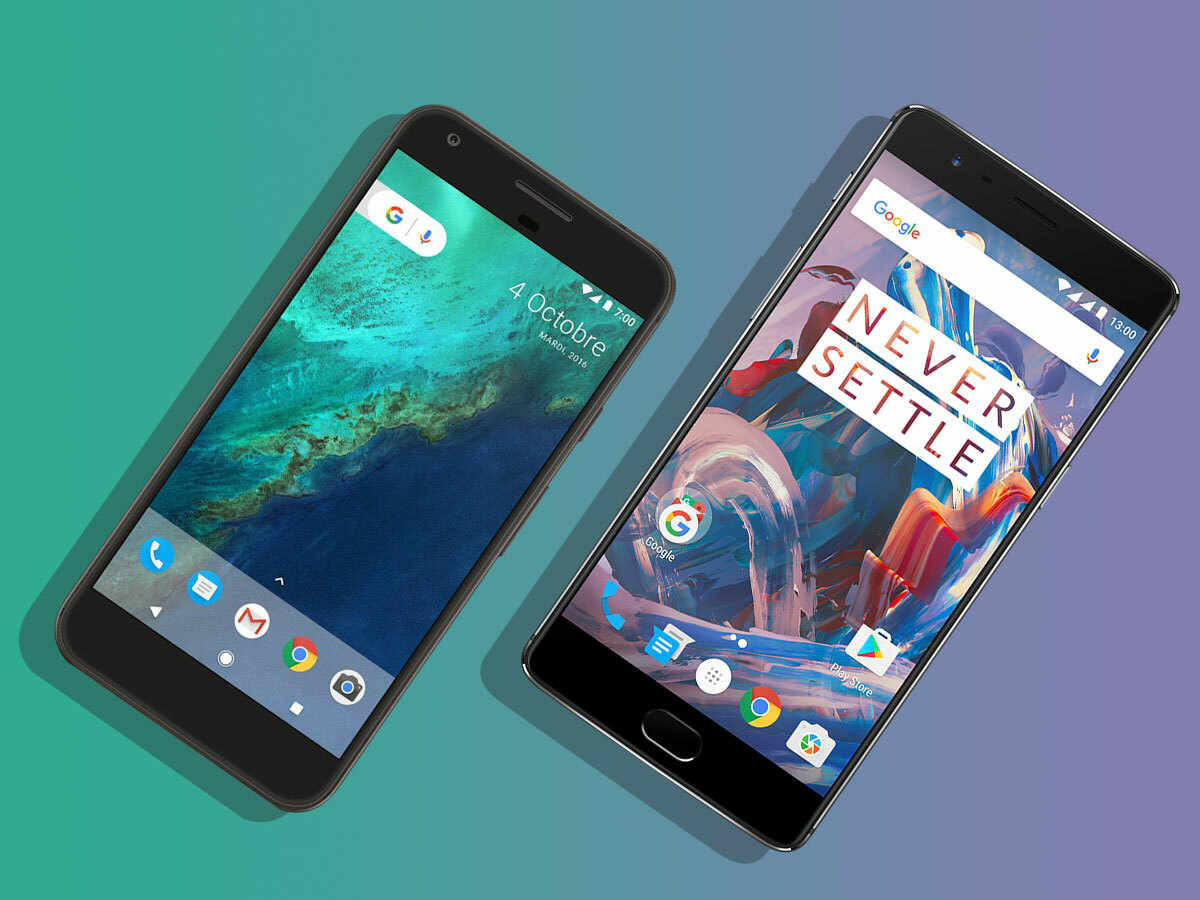 Google Pixel has some perks for its high price tag, including an excellent camera and the first taste of Android Nougat 7.1 with the Google Assistant – but just as the OnePlus 3 dominated the Android competition months back, it does much the same here too.
The latest and greatest OnePlus handset matches or beats the Pixel in nearly every other way that counts, whether it's the screen, design, or hardware power. And honestly, the price is the biggest factor: the OnePlus 3 looks, acts, and feels like a flagship at nearly half the cost of the Pixel.
We like the Pixel, but Google's premium power play can't help but feel overpriced compared to the very, very strong competition. The OnePlus 3 is still our favourite phone in the world right now, and despite Google's best efforts, the Pixel can't change that.
Overall winner: OnePlus 3