Hands-on Apple iPhone 5S review: the smartphone that knows you're you
It scans your fingerprints, it tracks your every move and it's the world's first 64-bit phone - but is it any cop?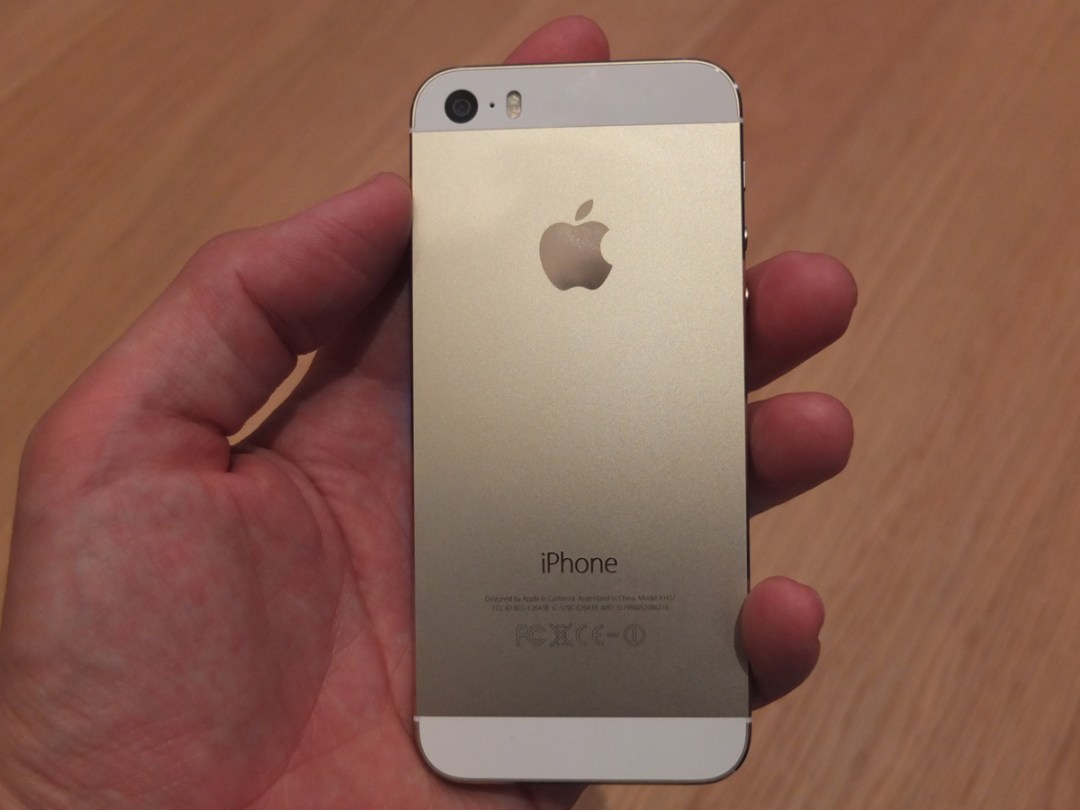 The iPhone 5S is much more than an iPhone 5 with a fingerprint sensor grafted on.
Apple's not indulging in the same spec arms race that competitors such as the LG G2, HTC One and Samsung Galaxy S4 are. This new flagship is Apple's opportunity to show the world that it can trump the competition by innovating in considered, meaningful ways.
Based on first impressions, we think it's done that – but we also wish it had done a fair bit more besides. Let's take a closer look.
Design and build: we're actually quite taken with the gold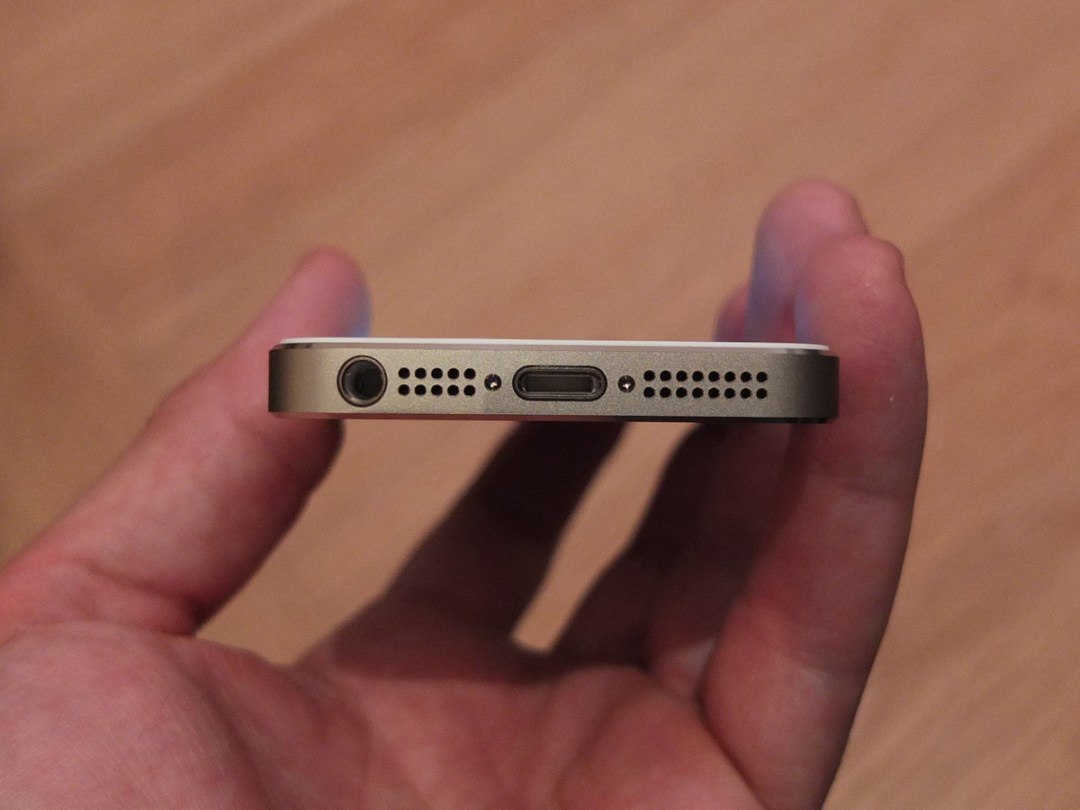 You've met this aluminium and glass design before. Just as every other year Apple keeps the design of its flagship consistent, it's an iPhone 5 retread, which means its finish is only rivalled by the HTC One's. It's still slim and light, it's still built to almost watch-quality standards and it'll probably still scratch up if you look at it angrily.
There are a couple of changes that give the iPhone 5S away, though. There's another LED next to the camera lens around the back, and the squarish icon that's been present on every iPhone's home button to date has been scrubbed off. Indeed, the home button is no longer curved but totally flat: it's the stainless steel ring around it that adds a curved effect.
Oh, and then there's that gold version. If you have one of those, it'll be very obvious that you're clutching an iPhone 5S and not a 5. It's much subtler a finish than we thought it might be, and we'll be blown if it's not the most popular colourway.
Touch ID: Apple's fingerprint tech is impressive, and could be so much more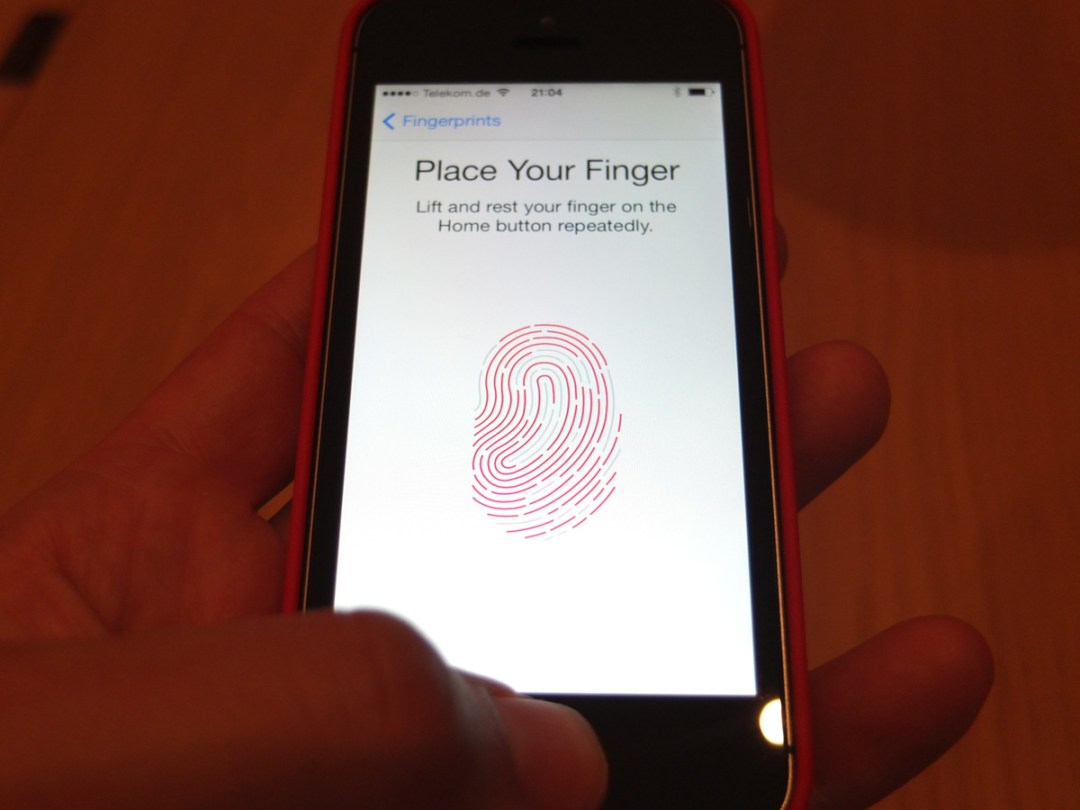 The rumours were spot-on: the iPhone 5S can indeed read your digits to unlock the phone or make purchases in iTunes with a touch of its home button. Critics have said that rivals have been able to do this for years – even decades in the case of HP's iPad PDAs – but the truth is, Touch ID is nothing like the rub-over scanning bars of other gadgets on the market.
In use it's just as friction-free as you'd expect from Apple. Power on, touch the home button, and you're done. Up to five digits can be registered (yours, or those of trusted accomplices), and it theoretically works whatever angle you approach it from.
Logging a digit is a simple case of entering settings and tapping the home button as prompted. You do this several times from a couple of angles, filling in the on-screen image of a fingerprint as you go, and the process takes less than a minute.
Prints are hardware encrypted and stored only on your iPhone, so even MI5 will struggle to get at them.
So far, so cool. The trouble for us is that this is as far as it goes for now. We would have liked Apple to have introduced a couple more features that use Touch ID, such as the ability to assign a specific finger to an app for seamless access. At the moment, Touch ID is closed to devs, but we hope Apple opens it up soon and lets the fingerprint scanning creativity commence.
Camera: slow motion and burst mode bring the 5S back into contention
In the confines of the testing area it was impossible to tell whether the iPhone 5S' new dual-LED flash (which uses a white and an amber bulb for more even lighting) make any useful difference, or if the 15% bigger 8MP sensor, improved optical system or 15-point autofocus will live up to their promise. But given Apple's history of making great cameras, we have high hopes, and it's good to see another company eschewing the megapixel arms race to plough a similar furrow to HTC, with its low-light-friendly UltraPixels.
What we were able to try out was the 10 frame-per-second burst mode: you simply hold down the shutter button for as long as you like, and the 5S will keep shooting. When you're done, your iPhone 5S will tell you which it thinks is best, or you can then choose to keep the lot. It's a handy addition, but it's something we've seen on competitors going back beyond the HTC One X. Certainly, similar modes are available on the likes of the Samsung Galaxy S4, HTC One and LG G2.
The 120fps slow-mo mode isn't exactly original, either, but the way in which you can segue between normal framerates and slow-mo in captured 720p HD footage is unique to the iPhone 5S. It works very neatly – there's an editing bar up top of your captured footage that allows you to expand and contract the slow-mo portion of your video just by pinching. We can see this adding drama to video clips, which means you're going to see a flood of them in your social networks soon.
Power: 64-bit A7 and the location-aware companion chip
The 5S is the world's first 64-bit mobile. What does that mean? Firstly, it needs to be 64-bit in order to make Touch ID's encryption work. Secondly, it should make for some impressive graphical capabilities. Will the Apple A7 chip be as mighty as a Snapdragon 800-powered Android blower such as LG's G2? Can it handle 4K? We don't know as yet, but we're certain the enhanced graphics are part of Apple's strategy to get even bigger in gaming.
As you'd expect, iOS 7 is utterly fluid on the iPhone 5S. Nothing appears to tax it, although as with the 5C, we were unable to try out any truly gruelling apps. We were disappointed to learn that the 5S claims similar battery performance to the iPhone 5, as its barely-a-day longevity has been one of our primary bugbears with the current device. We're hoping iOS 7's improved battery management will mean we can get a little more life out of it.
Another enhancement that may assist battery life is the M7 chip, a coprocessor that constantly monitors the accelerometer, GPS and gyroscope sensors inside the iPhone so the A7 doesn't need to. We're told that this is intelligent enough to know that when you're not moving for a while, it can switch off to preserve energy. It also theoretically dramatically improves the 5S' location and context-awareness, which could be a boon for fitness-tracking apps.
Like the 5C, the iPhone 5S has the full complement of connectivity, including 802.11n dual-band Wi-Fi, Bluetooth 4.0 (with Bluetooth LE for connecting smartwatches and interacting with iBeacons and 4G LTE. We'll test the lot when we get more time with a handset.
Screen: we wanted more
The iPhone 5S' screen is anything but bad. It has outstanding viewing angles and colour reproduction, and it's impressively bright and vivid. But it's the same panel offered by the cheaper iPhone 5C and old-school iPhone 5, and that means it's well beaten by Android rivals. Its sub-HD, 1136×640 resolution has less than half the pixels of full HD phones such as the HTC One and LG G2, which doesn't matter in itself, but even with its far smaller 4in screen proportions, it's not as crisp as those of these rivals. In fact, the HTC One offers 468 pixels per inch, while the iPhone has 326 – and that's a difference you really can see if you look for it, especially at the edges of text and in fast-motion graphics.
We applaud Apple for not getting sucked into a numbers race with Android rivals, but an increase in screen resolution would have provided a genuine and meaningful upgrade to the iPhone experience. As it is, whether you like big-screen phones or not, the 5S is looking outdated.
OS and apps: iOS 7 just looks fantastic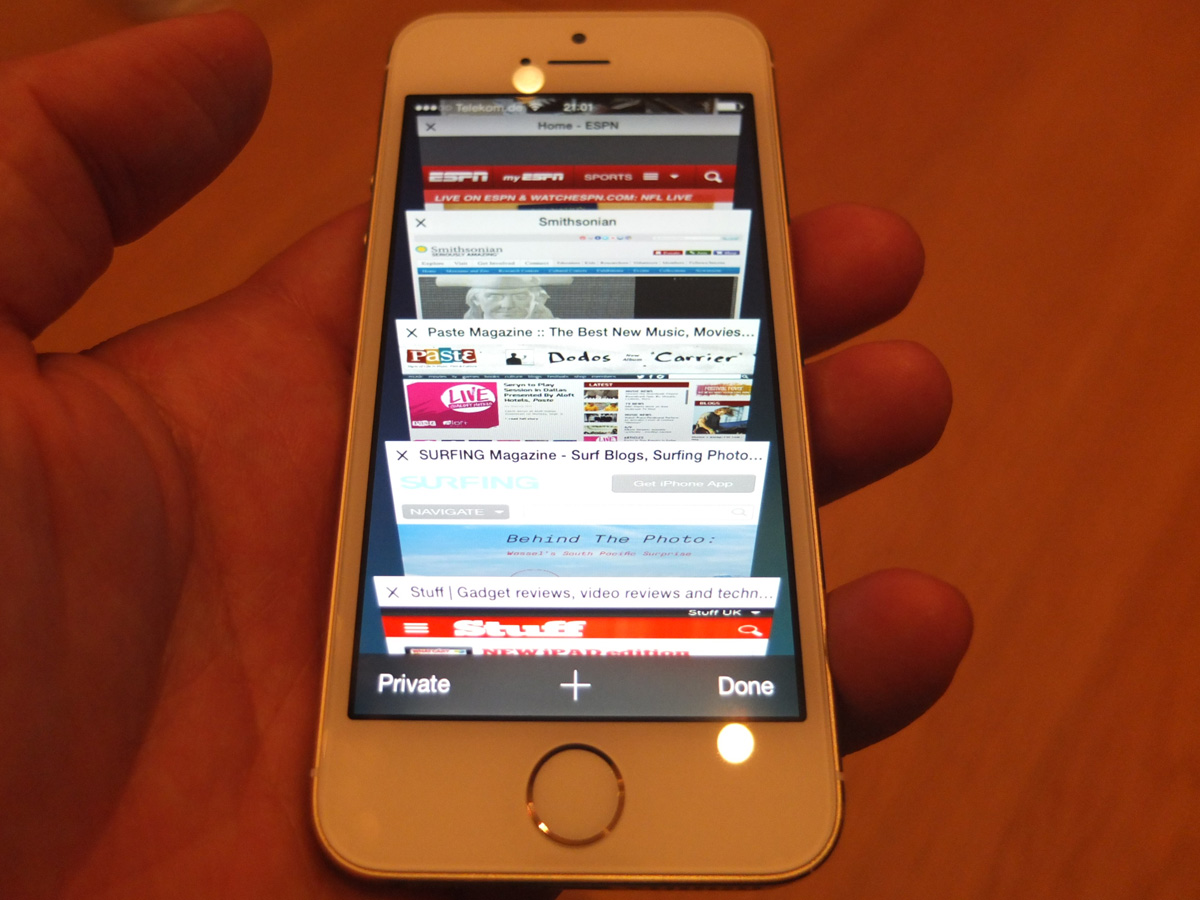 In many ways iOS 7's breezy new design suits the 5S better than it does the technicolour 5C. The 5S has an air of seriousness about it that's softened by the simplified icons, transparencies and primary colours of Apple new mobile OS. They look great together, and as iOS 7 is tailored for 64-bit, seem to work in perfect unity, too.
We're used to this from flagship Apple devices, but there sems to be no lag even when testing out demanding new functions like the camera burst mode. It just works. In our demo new features such as the new Palm webOS-like multitasking interface and the control panel you summon from the bottom of the page ran equally seamlessly, as did apps such as iTunes and Safari.
We didn't get the chance to see any apps that make the most of the new M7 coprocessor, so it will be interesting to see how developers use the new capabilities the location-tracking silicon affords.
Initial verdict
The iPhone 5S looks like a killer smartphone to us. With its fingerprint scanner and 64-bit architecture it can legitimately claim to be the most advanced mobile phone in the world, and brings genuinely useful innovation when rivals are stuck squabbling over pixels per inch and screen proportions.
The trouble is, a lot of people want more ppi and bigger screens, and there's no doubt that each brings benefits the iPhone line isn't currently tapping into. So, aside from the security-paranoid and seekers of all things next-gen, we can't see the 5S converting many to the iOS cause. It doesn't help that it looks and feels just like the iPhone 5 most Apple fans are already carrying.
None of that stops it from being a great device. We're looking forward to giving the 5S a proper going-over when it hits our labs – stay tuned for updates as we get them.