Huawei Mate 10 Pro vs Apple iPhone 8 Plus: Which is best?
Can the Mate topple Apple's extra-large iPhone?
Android's flagship pool is absolutely stocked with top-end competition right now, with the Samsung Galaxy S8 and the Google Pixel 2 XL owning our strongest recommendations of late. But here's another phone you'll want to consider.
The Huawei Mate 10 Pro fits in well with those first couple of options, with a taller-than-average screen that dominates the front of the phone, plus plenty of top-end tech within. But if you're thinking about spending big on a large phone, there's something outside of the Android world worth considering, of course: Apple's iPhone 8 Plus.
While it's lost a bit of momentum thanks to the iPhone X, Apple's revised Plus packs in a number of incremental perks that could sway you in its direction instead. Wondering which phone is the best of 'em? Here's the showdown, now that we've reviewed both handsets in full.
Design: Fresh or familiar?
Apple's ultra-minimal modern design once seemed fresh and inviting, but that was three years ago – and it hasn't changed much since. Not from the front, at least, where you still get a lot of bezel wrapped around the familiar rectangle.
It's different from the back this time around, at least, as the iPhone 8 Plus swaps out the usual aluminum backing for glass. Not only does that unlock wireless charging capabilities for the first time in an iPhone (more on that later), but it's also much sleeker to boot. It's an upgrade that gives the phone a very clean and crisp look from the back, but it's not a hugely transformative shift.
Meanwhile, the Huawei Mate 10 Pro isn't our pick for the best looking Android right now (the Galaxy S8 wins that), but it's got more pop than Apple's old iPhone aesthetic. We like the mostly-screen front, even if that Huawei logo is annoying, and the back side glistens with its multiple layers of glass atop aluminum. The curved glass makes it a bit slippery, though, unfortunately.
Truth be told, the Mate 10 Pro is very close to the Galaxy S8 at a glance, and that's not a bad thing.
Winner: Huawei Mate 10 Pro
Screen: Big and bright
Huawei's screen is larger and taller, at 6in and 18:9 aspect ratio – compared to 5.5in at 16:9 for the iPhone 8 Plus – but they're both sitting in the 1080p zone. That's below the Quad HD standard that many Android flagships shoot for these days, but it's still plenty crisp for a pocket-sized device.
The Mate has the advantage of an OLED display, with its impressive contrast and deep blacks, plus it supports HDR10 content with a wider colour gamut. Meanwhile Apple's LCD panel has True Tone tech, which adjusts the colours based on your ambient lighting, and it too uses a wide color gamut. But the added punchiness of the Mate 10 Plus screen deserves the slightest of nods here.
Winner: Huawei Mate 10 Pro
Camera: Double threats
Both of these phones offer a double-camera experience on the back, albeit with some notable differences between the two. With the Apple iPhone 8 Plus, you get a pair of 12-megapixel camera: a main wide-angle one at f/1.8 aperture and a telephoto one at f/2.8. Only the main sensor has optical image stabilisation onboard.
And the results are rather fantastic – we called it "one of the best smartphone cameras we've ever used." You'll get detailed, balanced, and lifelike shots with good lighting, and even in more challenging outdoor scenarios, the exposure is typically spot on. Low light shots are pretty solid, too – cleaner and sharper than in previous models.
Of course, you get some dual-camera perks as well. You can swap to the secondary camera for optical-style zooming, while the Portrait mode – with its blurred backdrops – works better than ever. The new Portrait Lighting feature even lets you tweak the results to your heart's content.
Over on the Mate 10 Pro, you'll find a 12MP main RGB sensor and a 20MP monochromatic sensor alongside. It's the same kind of setup from Huawei's P10 and P10 Plus, albeit now with both lenses at f/1.6 aperture.
And the results are pretty excellent overall. Only the 12MP camera has optical image stabilisation, like the iPhone here, but the 4-in-1 hybrid zoom ensures speedy focusing. AI-assisted scene detection also comes into play, with machine learning algorithms helping to recognise the scene and adjust accordingly.
They're close, and we haven't done a head-to-head camera battle just yet, so we're calling it even for now.
Winner: Draw
Performance: Strongmen here
The comparison here is exactly the same as between the Mate 10 Pro and iPhone X, since both Apples have the same kind of muscle inside: the new A11 Bionic chip alongside 3GB RAM.
Meanwhile, the Mate 10 Pro has Huawei's new Kirin 970 chip (with 6GB RAM), itself promising a solid improvement in speed over the Kirin 960. On top of that, it also has a dedicated neural processing unit (NPU) to help with the phone's automated, AI-driven processes.
The Mate 10 Pro feels about as speedy in everyday usage as Apple's offering here, handling games, apps, and media with ease. However, the A11 Bionic has been slaying all Android comers in benchmark testing, showing that Apple has even more raw muscle available to play with – and that's true again here against the Kirin 970. It's just a beast.
Winner: Apple iPhone 8 Plus
Battery and perks: Pretty good, Mate
When it comes to battery life, this one's a sure win for Huawei. The huge 4,000mAh battery pack inside the Mate 10 Pro is a far sight better than the iPhone's 2,675mAh cell, not to mention a nice improvement over its flagship Android rivals.
That means you'll see extra hours of uptime, and the iPhone already provides a strong day's charge. Many users will be able to stretch deep into a second day with the Mate!
As for storage, the Mate 10 Pro gives you a nice internal cache of 128GB, but has no option for microSD expandability. Of course, that's true for Apple, as well, as the iPhone 8 Plus starts at 64GB storage – but you can bump up to a 256GB version instead for a staggering £150 more.
As far as other perks, each side has a fairly minor offering. Apple's 3D Touch pressure sensitivity on the screen is moderately useful, but it hasn't proven to be a hugely critical part of the iOS experience.
Meanwhile, Huawei has a desktop mode that lets you plug the phone into an external display, pair a Bluetooth keyboard, and use it as a proper PC. But that's a pretty niche benefit that we imagine most people won't even bother trying.
Overall, Huawei comes out ahead on battery life, plus it has double the starting storage, even if Apple ultimately offers a larger version… for quite a bit more money. Huawei it is, then.
Winner: Huawei Mate 10 Pro
Verdict: Mate's matchup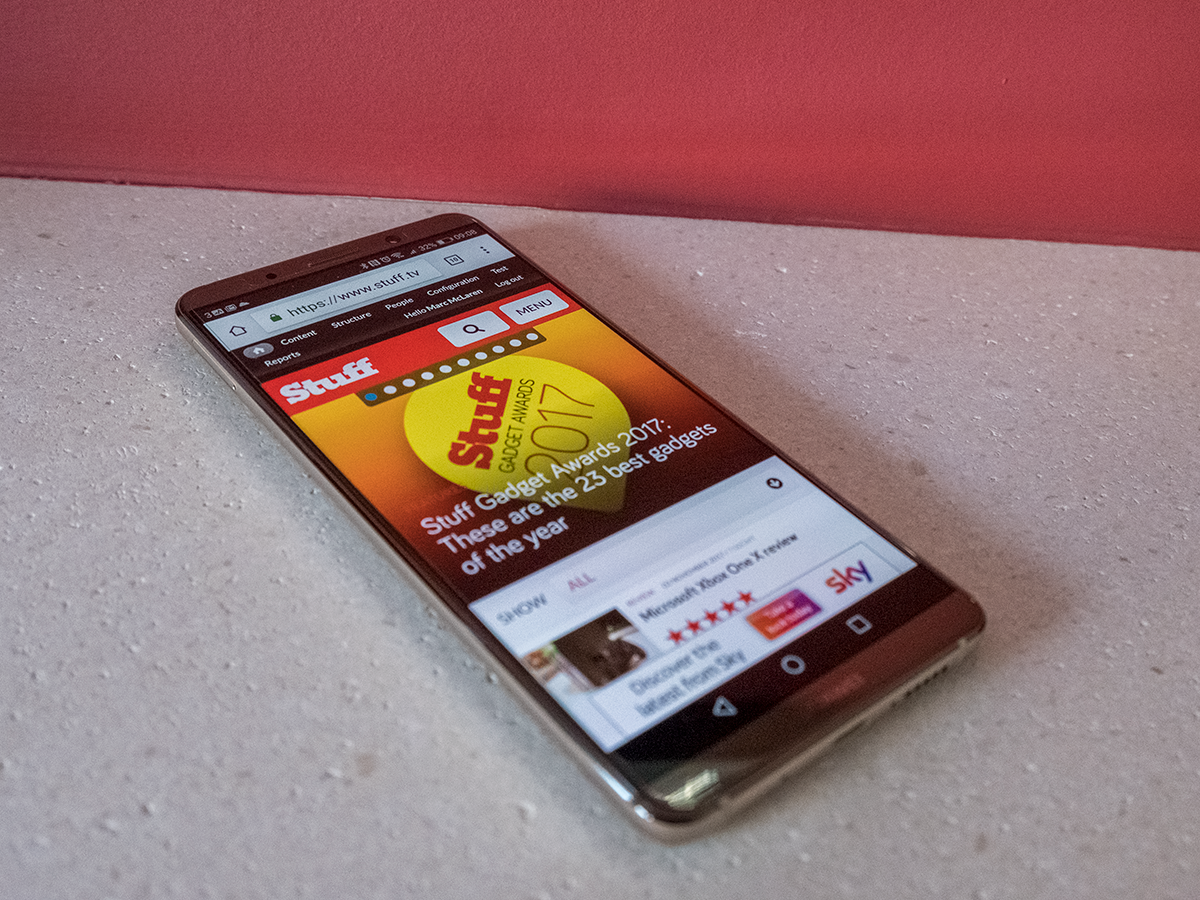 Truth be told, these phones seem largely comparable on paper and at a glance. The Huawei Mate 10 Pro has the fresher design here and an advantage on battery life and storage, while the iPhone has more raw power to play with. Meanwhile, the screens and cameras are about even in terms of overall quality, with a slight edge to the Mate on the display panel tech.
Overall, the Mate 10 Pro has some small advantages when it comes to the categories listed here. On the other hand, iOS 11 is a more attractive mobile operating system than Huawei's EMUI 8.0 skin over the great Android 8.0 Oreo, and the iOS ecosystem still has a nice lead on essential apps and games over Android. Both things worth considering.
But once price comes into play, Huawei's overall edge seems well founded. The Mate 10 Pro hits the UK at £699, while Apple's got a hearty £799 price on its largest iPhone. Neither is cheap, and if you're into Apple's style of smartphones, then it's well worth the extra £100 to get what you want. Why skimp when you're already spending that much?
In this specific battle, we think price is just enough of a difference to tip the average, undecided buyer towards the Huawei Mate 10 Pro. That said, if you're looking for an Android flagship in this price range, we'd rather point you towards the now-cheaper Samsung Galaxy S8 and S8 Plus instead, the slightly pricier Google Pixel 2 XL, or the much more affordable OnePlus 5 instead.
Winner: Huawei Mate 10 Pro