Huawei Mate 20 vs Apple iPhone XS: Which is best?
Can Huawei's main new Mate topple Apple's pricey flagship?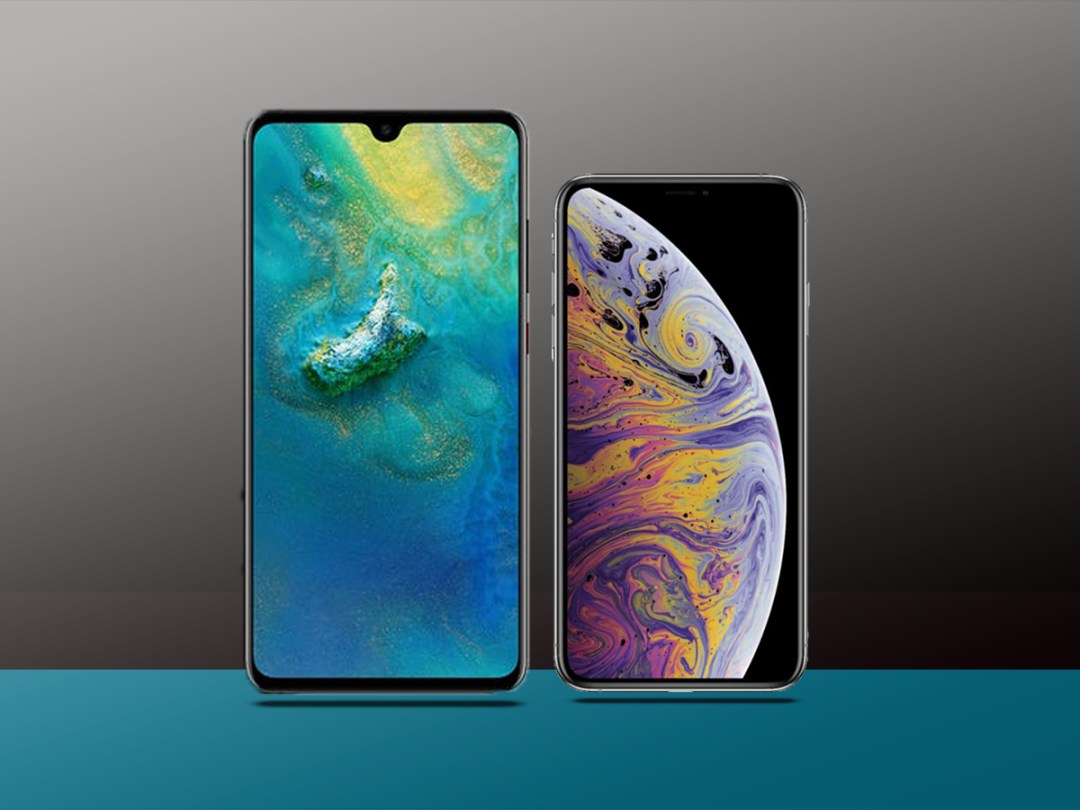 Huawei's new Mate 20 Pro is the most direct competitor to Apple's iPhone XS, given the similarly-sized screen notch and top-end tech all around – but what about the cheaper, standard Mate 20?
It trims down on a few things from the Pro model, including the size of that notch: this one's a tiny teardrop around a single camera, since it doesn't have all the bonus facial-scanning sensors alongside. It also has a lower-resolution (but larger) screen and chops some megapixels from the back triple-camera setup, but overall remains a pretty alluring handset.
But what about when it's put head-to-head against the iPhone XS? There's a significant price difference here, certainly, but is there as much of a quality difference? Here's what we think, now that we've reviewed both handsets.
Design: Key differences
The iPhone XS is visually indistinguishable from the iPhone X (unless you have the new gold model), which means it's still a pristine and stunningly minimalist chunk of tech. It's the most refined iPhone to date, with all screen on the front, all glass on the back, and glossy stainless steel for the frame to sell the premium allure.
Huawei's Mate 20 had a similar starting point, but makes a few tweaks to the formula. As mentioned, the notch up front is much smaller as there's less advanced tech within. It also has a small bezel "chin" at the bottom, so it's not quite as edge-to-edge as the iPhone. And the more common aluminium is wrapped around the sides.
On the curved back, Huawei definitely offers more alluring options, from the dazzling gradient effect of the Twilight colour to the new "Hyper Optical Pattern" etched glass finishes, which give it more texture and might help with your grip.
Note that the standard Mate 20 doesn't have an IP rating for water and dust resistance, which isn't terribly reassuring. Meanwhile, the iPhone XS has an IP68 rating, which Apple says means it can survive 30 minutes spent in up to 2m of water.
Water resistance aside, they're both fine-looking phones – and we can see why you'd choose either one over the other.
Verdict: Draw
Screen: Apple's advantage
This one's a solid win for Apple. The 5.8in OLED display is one of the best on the market, even if the 2436×1125 resolution is less than some Quad HD screens on other flagships. It's a stunner, and the wider colour gamut over the iPhone X delivers even more vivid images than before.
The Mate 20's 6.53in display is definitely larger, but it's also lower resolution at 1080p. More critically, however, it's an LCD screen that doesn't have the same kind of punchiness, deep blacks, or strong contrast as an OLED panel. It's big and bright, but Apple's OLED is still better. It also has 3D Touch pressure sensitivity, but given how few apps and games use it in any essential fashion, that doesn't factor into our decision at all.
Verdict: Apple iPhone XS
Camera: Two or three?
Huawei pioneered the triple-camera setup in this year's P20 Pro, still our favourite camera on the market, but the Mate 20 swaps out a monochrome sensor for an ultra wide-angle one – and then cuts down the megapixel count across the board.
You'll get a 16-megapixel wide-angle sensor, an 8MP telephoto sensor, and that 12MP ultra wide-angle sensor. That's down from 40MP/8MP/20MP on the Mate 20 Pro, and it only does 2x optical zoom instead of 3x on the Pro. The Mate 20's camera setup can't match up on all fronts, but it's still great: you'll get plenty of detail, punchy colours, and great dynamic range.
Apple's dual-camera setup is also excellent, though, delivering 2x optical zoom and brilliant Portrait shots that now let you alter the background blur and bokeh well after you take the photo.
It also has a Smart HDR feature that snaps several consecutive photos and then merges their elements to produce one standout shot, thus enhancing highlights and shadows. The results are typically excellent, making the iPhone XS one of the best smartphone cameras on the market today.
In short: as all-around, everyday shooters, they are very close in overall quality. You won't be disappointed with either one.
Of course, on the front, Apple's abilities are unmatched by the Mate 20. The iPhone XS' facial scanning skills are used for Face ID security and Animoji, while the Mate 20 sticks with a simple selfie camera. It still facial unlock capabilities like the Mate 20 Lite, but it's not nearly as secure or precise given the lack of accompanying scanning sensors.
Verdict: Apple iPhone XS
Performance: Plenty of power
Both of these handsets use bespoke chips produced via a 7nm process, which jams in loads more transistors into the same tiny processor. The end result on both ends is super-speedy performance, regardless of what you're running: games, apps, media, or anything else.
That said, benchmark testing suggests that Apple's A12 Bionic chip has more processing prowess than Huawei's Kirin 980 chip, as reported by Phone Arena. Even if the Android 9 Pie-powered EMUI 9.0 feels about as swift as Apple's iOS 12 in executing everyday tasks, the iPhone XS appears to have more power on reserve.
There are 4GB and 6GB RAM variants of the Mate 20, while the iPhone XS sticks with 4GB, but we don't expect any significant performance bump from having the extra RAM on hand.
Verdict: Apple iPhone XS
Battery and perks: Huawei for sure
You might expect a £999 smartphone to push the boundaries of battery life, but nope, Apple's iPhone XS actually has a smaller battery than the iPhone X before it. The 2,658mAh cell is strong enough to power a solid day for most users, but it can be hammered down before bedtime if you go hard on games and media.
On the other hand, the massive 4,000mAh cell in the Mate 20 can easily push into day two with average usage, or at least avoid a late-afternoon top-up in all but the most extreme usage scenarios. Both handsets support wireless charging here, too.
When it comes to storage, the iPhone XS can hit higher peaks… but for significantly more money. The base model comes with 64GB, and then you can jump up to 256GB (£150 more) or 512GB (£350 more) if you're willing to spend a lot more.
Meanwhile, the Mate 20 has 128GB internal storage on both models, but then you can use Huawei's Nano Memory Cards to expand that tally. Huawei has 128GB and 256GB cards up for grabs, but we don't yet know the price. They're also likely to be more expensive than microSD cards, given that it's a new, proprietary format.
Verdict: Huawei Mate 20
Verdict: XS, but…
Like a lot of near-top-end Android flagships, there's a significant price gulf between the Huawei Mate 20 and Apple's iPhone XS. The Mate 20's UK price of £699 is a far cry from the £999 iPhone XS asking price.
But there are deficiencies here, too. The Mate 20 doesn't have the 3D-scanning camera on the front for strong security and other tricks, and the screen isn't as sharp or impressive.
On the other hand, both impress on design and camera quality, while the Mate 20 has the better battery life and more flexibility with storage. And while it's not the most critical detail in a direct head-to-head like this, the £899 Mate 20 Pro outshines the standard Mate 20 in nearly every way. It's overshadowed from birth.
We think the pricier Mate 20 Pro is a better overall pick than the iPhone XS, even just slightly, but not the standard Mate 20. It's a great phone with a lot of strong qualities, but the iPhone XS is a more capable and feature-rich handset that's worth paying extra for.
Besides, the Mate 20's real competition is phones like the OnePlus 6T and Xiaomi Mi 8 Pro, which offer comparable feature sets at a £499 price point for each. That leaves the Mate 20 in a wierd middle ground of pricing that doesn't do it any favours in seemingly any reasonable comparison.
Winner: Apple iPhone XS