Huawei Mate 30 Pro vs Apple iPhone 11 Pro: The weigh-in
Can the latest Mate top Apple's new-and-improved iPhone?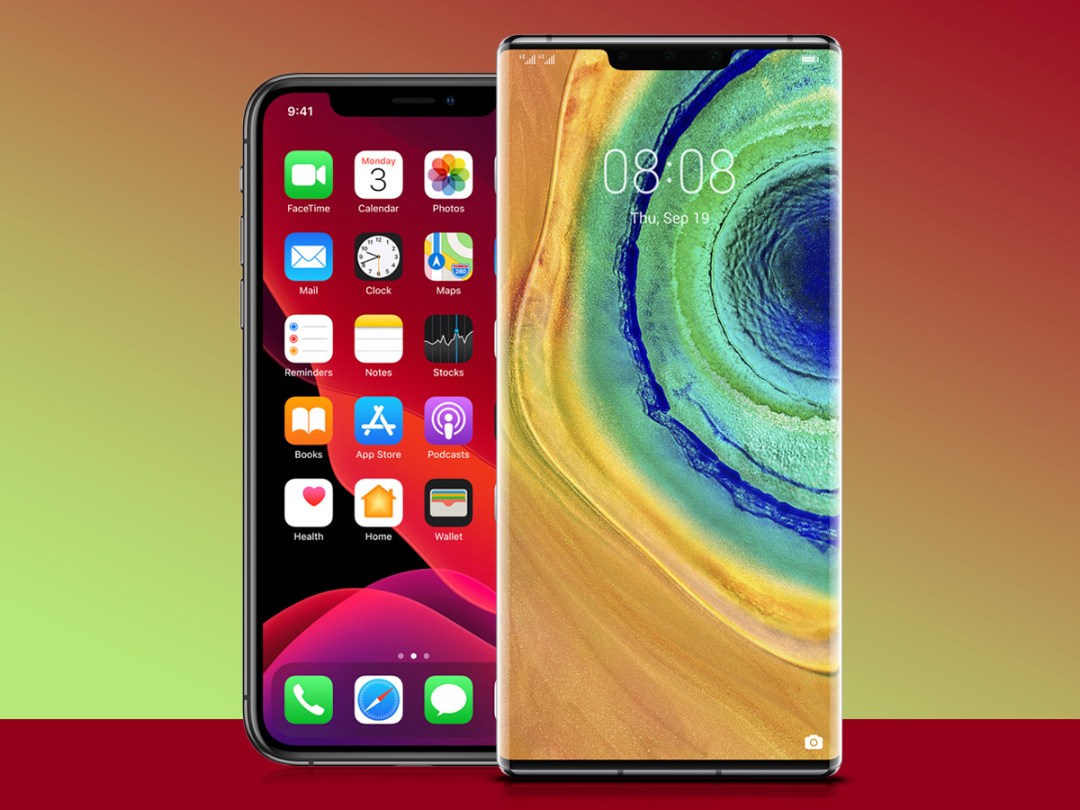 Huawei just unveiled the Mate 30 Pro, and as the sequel to the Mate 20 Pro – previously our favourite phone in the world – we're pretty stroked to wrap our paws around it.
Unfortunately, Huawei's problems with the United States mean there's no Google services on it… at all. And that could really suck the life out of what otherwise might've been one of the year's best phones. Still, the hardware looks fantastic, so maybe there's hope.
It's launching at the same time as Apple's iPhone 11 line, which lightly evolves the previous iPhone XS/XR models with some seriously sweet-looking new cameras and other tweaks. Can the Mate 30 Pro take down the iPhone 11 Pro? Here's what we think based on specs and our hands-on experience with each.
Design: Faux-leather or familiarity?
Is there any side bezel on the front of the Mate 30 Pro? You wouldn't know from the front. Huawei's Horizon Display has the sharpest curves we've seen on a screen, to the extent where it looks like the screen has no end on either side. The Mate 30 Pro also skips some of the physical buttons now, with the screen handling that functionality… somehow.
On the back, Huawei has shifted away from the flashier backings of the last few flagships, but the large center camera module is certainly eye-catching. We like the faux-leather options, too.
On the other hand, the iPhone 11 Pro doesn't make any enormous changes from the iPhone XS. The camera module is larger and square and the glass has a matte finish now instead of glossy, but that's about it. The new Midnight Green colour looks appealing, at least. We'd definitely call the Mate 30 Pro more of a looker overall, but Apple's understated approach has its charms.
Screen: Flat or curved?
You'll get an OLED screen on both counts, and both shoot for a resolution just higher than 1080p. The Mate 30 Pro goes larger at 6.53in with a 1176×2400 resolution for its very-curved screen, which results in a pixels-per-inch count of 409ppi.
The flat iPhone 11 Pro screen is noticeably smaller at 5.8in and is slightly lower-resolution too, at 1125×2436… although it's ultimately crisper at 458ppi. There probably won't be a very noticeable difference between them, however. Both ought to look fantastic, but we won't know for sure until we see them side-by-side.
Camera: Three or four?
Both of these phones add one more back camera than the previous model, bringing the tally to three on the iPhone 11 Pro and four on the Huawei Mate 30 Pro.
On the Mate 30 Pro, that gets you a pair of 40-megapixel shooters – one called a Cine Camera, the other a SuperSensing Camera – as well as an 8MP telephoto camera and a 3D time-of-flight camera for measuring depth.
They work together to form Huawei's SuperSensing Cine Camera system, which is said to produce high-end camera-esque results with special abilities when it comes to 7680fps super slow-motion and low-light performance. We're expecting very good things, although it's disappointing that the P30 Pro's 10x zoom feature isn't here; it maxes out at 5x hybrid zoom, like the Mate 20 Pro.
The iPhone 11 Pro, meanwhile, gets you a trio of 12MP sensors: wide-angle, ultra-wide, and telephoto. Apple promises the best 4K video you can shoot on a smartphone, along with portrait mode improvements, a new night mode, and improved Smart HDR processing. Has Apple caught back up with the Android flagship leaders in this department?
Performance: Bionic… or not?
Apple's A13 Bionic is likely to have the edge here on sheer processing prowess. Last year's A12 Bionic led the entire pack, and this year's chip is supposedly 20% faster. Benchmarks suggest that too, and we have no reason to doubt it given Apple's track record in recent years.
Huawei's Kirin 990 chip also promises improvements over the previous Kirin 980, but it's unlikely to top Apple. A purported leaked benchmark suggests as much, as well, although we'll wait until we can run our own tests. Huawei has twice the RAM at 8GB vs 4GB in the iPhone, and quite likely, both phones will feel super-fast in usage.
The Mate 30 Pro has an optional 5G edition for a bit more money, while the iPhone 11 Pro is purely limited to 4G LTE. Keep that in mind if you're aiming for cutting-edge connectivity here.
Battery and perks: Big differences
The Mate 30 Pro has a nearly 50% larger battery pack, at 4,500mAh vs reportedly 3,110mAh in the iPhone 11 Pro. We suspect the Mate 30 Pro will have more lasting power as a result, although Apple suggests that the iPhone 11 Pro will have pretty good uptime as well – about four hours more than the iPhone XS.
Both have wireless charging capabilities, but only the Huawei has reverse wireless charging for topping up a pal's phone, or perhaps wireless earbuds.
The iPhone 11 Pro comes with 64GB in the base model, with the option to bump to 256GB or 512GB for more cash. Meanwhile, the Mate 30 Pro starts with 256GB and then lets you insert Nano Memory cards for more as needed. That's a big benefit on Huawei's end.
Of course, Apple's biggest perk in any smartphone battle is its brilliant app ecosystem, which is better than that of Android's Play Store. Unfortunately, the Mate 30 Pro might have the worst selection of apps and games of any flagship phone today, since it won't have any Google services and can't even access the Play Store. That's bad, bad, bad news.
Initial verdict: Too early to tell
We're still not 100% sure whether the Mate 30 Pro will even make it to the UK, although the converted €1099 price tag (about £970) for the LTE version is still less than Apple's boosted iPhone 11 Pro asking cost, which is £1,049.
Last year's Mate 20 Pro topped the iPhone XS in our eyes, and this year's battle might've been the same… but this Google-less version of Android might be too hobbled to justify the Mate 30 Pro's massive price, no matter how appealing the hardware looks.
We'll have to wait and see whether Huawei makes it available here, as well as how the company opts to fill the clear void with the Google restrictions. Here's hoping the Mate 30 Pro isn't entirely sunk, as we've grown quite fond of Huawei's flagships over the last year-plus.
All that said, the iPhone 11 Pro looks brilliant – although as usual, you'll pay extra to get Apple's level of polish, app selection and services, and overall user-friendliness. We'll know soon whether it's worth it or not. Check back soon for our reviews of both phones, as well as our finalised verdict in this showdown.