Huawei P20 vs Apple iPhone 8: Which is best?
Can Huawei's iPhone X knockoff take out Apple's own base flagship?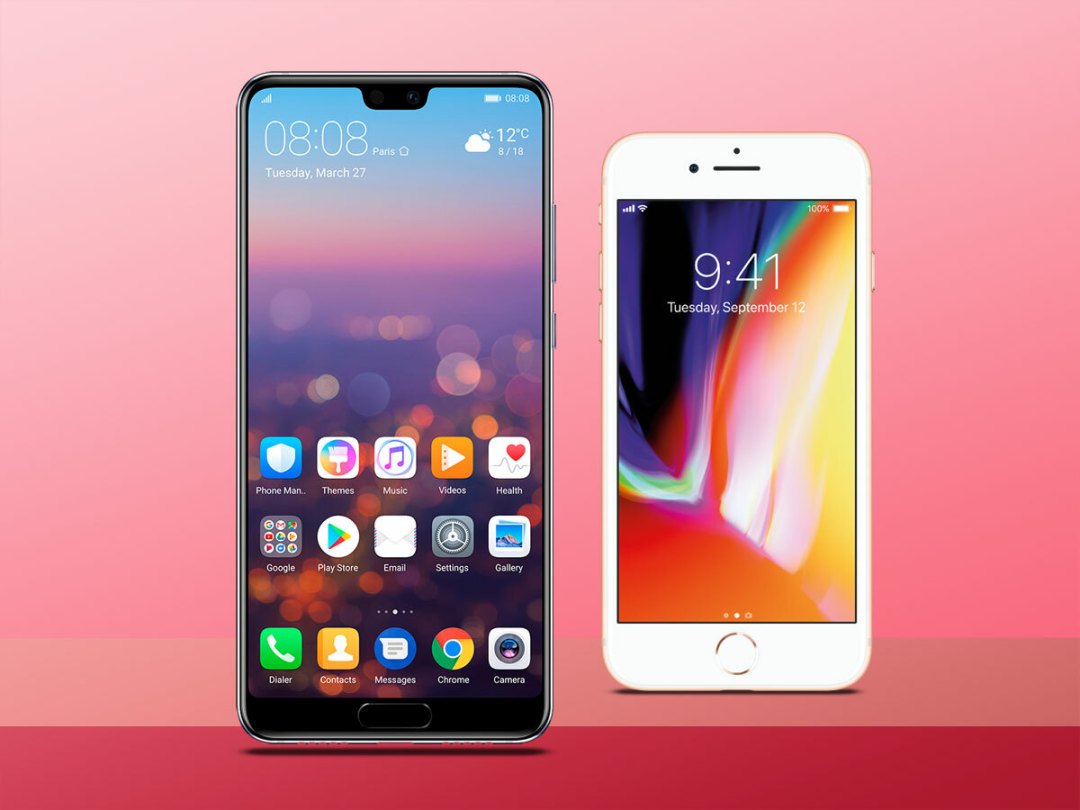 Huawei's new P20 flagship looks like a mash-up between the Apple iPhone X and the Samsung Galaxy S9, but it's priced much less than both of them. Actually, it's less than an iPhone 8.
Indeed, despite its appealing aesthetic, the P20 doesn't break the bank as hard as a lot of other flagship-level handsets of late – especially on-contract. But if we're talking about a comparison between an Apple-like flagship and Apple's own core flagship, which one is actually worth the cash?
Here's a look at how the Huawei P20 compares to the Apple iPhone 8, now that we've reviewed Huawei's latest.
Design: Derivative or tired?
Huawei won't win any points for originality with the look of the P20, but then again, that's never been its thing. The P20 is almost a dead ringer for the iPhone X, from the (slightly smaller) screen notch on the front to the glass backing and positioning of the dual-camera module.
We've seen this phone before. That said, the gradient Pink Gold version is a real dazzler from the back, upping the iPhone X itself in that regard… and the iPhone 8 too.
On the other hand, we've seen some version of the iPhone 8 for four years now. The minimal iPhone aesthetic is still fine, but we were bored of it before the iPhone X released – and now we're extra, totally-done-with-it bored.
The glass backing is a nice improvement over the previous editions, but we expect flagship phones to be a bit more daring in their design moves.
Verdict: Huawei P20
Screen: Clear differences
This one's easy: it's Huawei again. The P20's 5.8in LCD display comes in at a higher resolution at 1080p. Notch-haters might struggle with the full-screen design, but if you've spent any considerable time with the iPhone X, then you've probably gotten over that very quickly. Besides, you can "disable" the notch and have the status bar be fully black on either side of it. Nice one.
Like the design, Apple's base iPhone screen has felt very outdated for a while now in the realm of several-hundred-quid handsets. It's pretty compact at 4.7in, but this LCD tops out at just 750p. It's still a solid screen with great colour reproduction thanks to True Tone, but it's the lowest-resolution flagship screen on the market and can be a bit fuzzy by comparison. That's super frustrating for a £699 phone.
Verdict: Huawei P20
Camera: Strong shooters
The larger Huawei P20 Pro has overtaken the Google Pixel 2 and Pixel 2 XL for the title of the world's greatest smartphone camera. However, the standard P20 isn't quite as well-equipped.
Lacking the triple-camera rear array of the Pro, the Huawei P20 packs in a pair of back cameras: a 12-megapixel RGB lens and a 20MP black-and-white one. You'll get dual-camera portrait blurring effects and 2x hybrid zoom, and the shots we took packed in plenty of colour, detail, and sharpness.
Meanwhile, the iPhone 8 sticks with a single back camera at 12MP – and as is usually the case with iPhones, it's a point-and-shoot delight. The addition of optical image stabilisation helps deliver clearer results, and you'll get plenty of detail and strong contrast with solid lighting.
Neither of these phones is at the absolute top of the flagship class, but they're both very strong options that can take some sensational shots. The P20 isn't as fully-featured as its Pro sibling, but the dual-camera setup still packs some features you won't get on the iPhone.
Verdict: Huawei P20
Performance: Plenty of power
Alongside the iPhone X and iPhone 8 Plus, the iPhone 8 packs the world's most powerful smartphone chip according to benchmark tests: Apple's own A11 Bionic chip. It's a speed demon, even with just 2GB RAM here, and iOS 11 runs silky-smooth on the handset.
Meanwhile, the Huawei P20 uses the company's own Kirin 970 chip, the same one seen in last year's Mate 10 Pro. It impressed greatly there, and it's more than capable on the P20 with 4GB RAM and Android 8 Oreo alongside it.
Benchmarks have shown an Apple advantage over the competition, but in everyday usage, we suspect that there isn't any dramatic difference: both of these phones are powerhouses, and are more than capable of handling any apps, games, media, and multitasking needs. That said, Apple deserves the nod for the benchmark boost, which is pretty sizable.
Verdict: Apple iPhone 8
Battery and perks: Double double
The iPhone 8 uses a pretty meager 1,821mAh battery pack, but Apple's ultra-efficient chip and iOS do a solid job with it: you'll typically get a full day of usage if you don't push too hard, but fire up some games or streaming media and it won't be difficult to find yourself coming up short by dinnertime.
On the other hand, the Huawei P20 has a rather large 3,400mAh cell within (almost twice as large), which beats some of its Android flagship competitors. You'll get stronger full-day usage as a result, as it can better withstand heavy usage, although it's still not really built to last into a second day. Also, the iPhone 8 lets you top up with a wireless charger, while the P20 doesn't.
As for storage, these phones are alike in lacking any support for expandable storage – you're stuck with what's inside. For the P20, that's a pretty strong 128GB. With the iPhone 8, you'll get 64GB in the base model, or you can bump up to 256GB for extra cash.
On the other hand, the iPhone 8 is IP67 water resistant, while the Huawei P20 is rated IP53 – merely splash resistant. It's your call on whether that sways your decision significantly or not.
Verdict: Huawei P20
Verdict: Huawei has it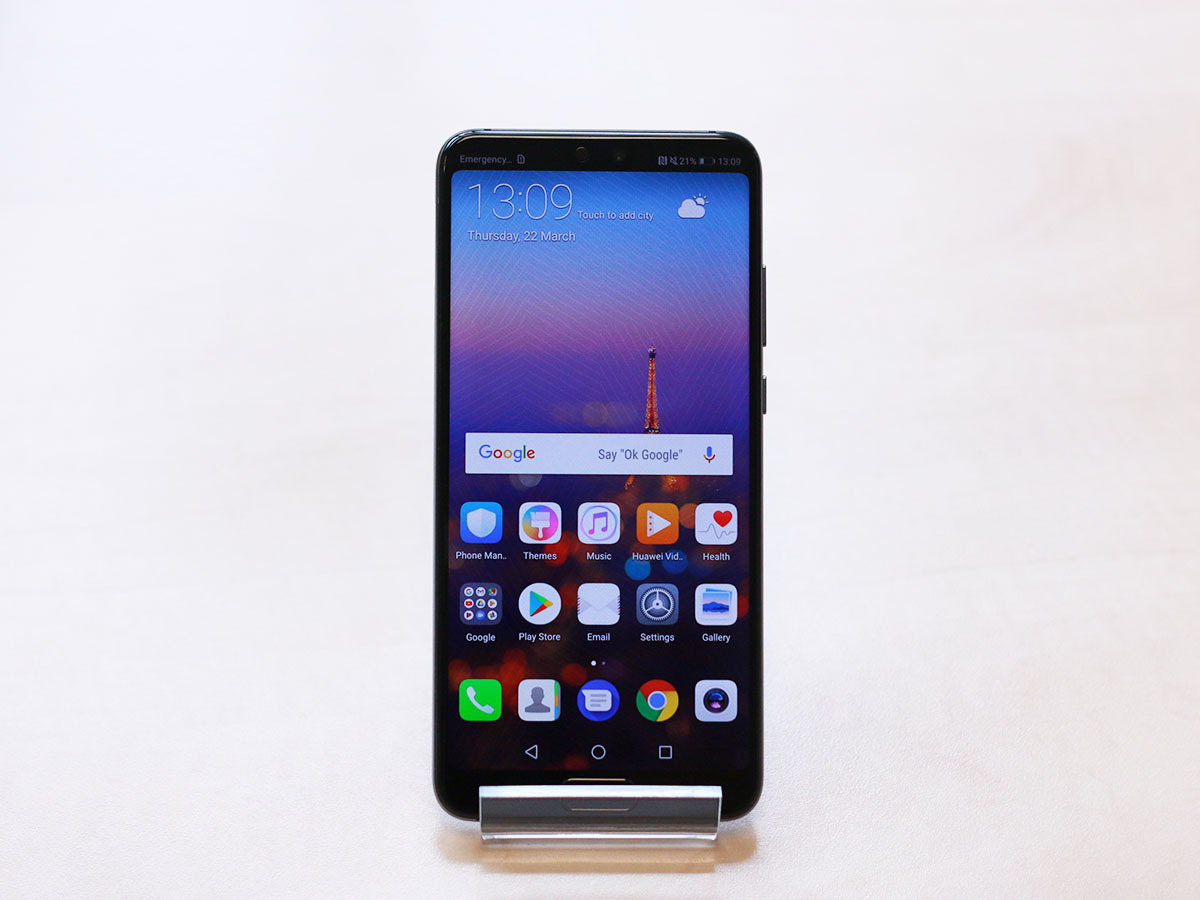 The iPhone 8 is a very good phone, but it's underwhelming. Apple has been following the same template for four editions now, making tiny tweaks and upgrades while sticking with some dated elements all the while. It's a fine handset, but there are two better iPhones on the market today, and quite a few Androids we'd rather have.
And the Huawei P20 is another one of those phones. It makes a fine impression, with it's dazzling design, crisp full-screen display, and strong dual-camera shots. It's plenty powerful, has a huge battery, and offers a nice bounty of internal storage to work with.
That said, it's also overshadowed by a sibling, as the P20 Pro makes some key upgrades (most notably with the triple-camera setup) – and if you don't mind shelling out the extra cash, the P20 Pro is well worth the added investment. It's our favourite phone in the world right now.
But in this comparison of smaller, slightly cheaper handsets, we're a lot more excited about the P20 than we would be to start rocking an iPhone 8 right now.
At £599 for the P20 as opposed to £699 for the iPhone 8, you'll also save £100 in the process. That's SIM-free. On-contract, the deal can be even sweeter: carriers are selling it with service starting at about £35 per month, while the iPhone 8 begins at about £50/month.
Those savings add up significantly, and help sway this battle even more towards the P20.
Winner: Huawei P20